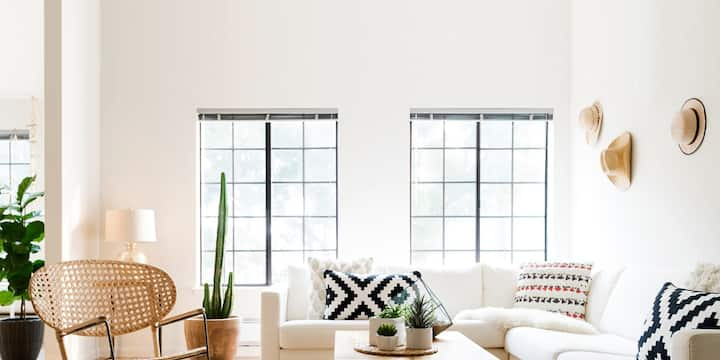 Découvrez des logements pour Logandale Fall Festival sur Airbnb
Découvrez des chambres privées et des logements entiers, parfaitement adaptés pour Logandale Fall Festival
Logements près de Logandale Fall Festival
Logements près de Logandale Fall Festival
Logements près de Logandale Fall Festival
Logements près de Logandale Fall Festival
This apartment has a queen size bed and pullout queen size in living area. Full bath with steam shower and whirlpool bath. Apartment also has a Kitchenette with mini fridge, microwave, and hot plate.
Great, quiet lil spot. Clean and great options w the wirlpool and steam shower. A needle in a haystack! I'd go back for sure!
Tim
2017-12-28T00:00:00Z
What a nice place to stay! We arrived later than expected, our host Julie had the out sofa bed ready for us. The apartment was clean, so much larger than we expected and the perfect location. My mother is handicapped, the shower/steam room was perfect for her. We will return this summer!
JoJo
2019-02-03T00:00:00Z
Great place to stay. Everything was expected, if not better. Would recommend staying here if going to Valley of Fire!
Zachary
2018-05-11T00:00:00Z
This was such a comfortable apartment. We had no trouble checking in and were able to come and go as we needed to. The area was clean and had everything we needed.
Jessica
2018-10-31T00:00:00Z
My wife and I stayed here 1 night and had no issues. It's a big apartment with plenty of space for a family to stay. I would recommend this place to stay to anyone. The local places to eat were good and it's a great location if you're planning on visiting The Valley Of Fire.
Jacob
2018-01-27T00:00:00Z
Nice place to stay for the night. Close to Valley of Fire SP.
Max And Chrissy
2017-05-28T00:00:00Z
The apartment was comfortable with unexpected luxuries. The steam shower was lovely after long days. We weren't able to use the whirlpool tub, but we hope to return. The kitchen has a small fridge and a microwave, but no stove. The bedroom is large and the living room comfortable. The property is peaceful with beautiful sunsets.
Cyndie
2018-11-03T00:00:00Z
This place was amazing! Very cool apartment with an amazing bathroom. Would love to stay here again next time we make it to Moapa Valley.
Daniel
2017-07-17T00:00:00Z
Type de logement
Logement entier
---
Type de propriété
Appartement
---
Capacité d'accueil
4
---
Chambres
1
Moapa Valley, Nevada, États-Unis
Located 25 minutes from Lake Mead, and Near Valley of Fire. We have a lot of room for a large family who want to enjoy Logandale trails or have a comfortable night after being on the lake all day. Our house sits on 3 acres giving you a lot of room for parking atv's and boats. Sitting on a hill you can overlook the valley while soaking in the pool and spa.
If you love a great home, a great secluded area with a view, this place is for you. The owners are very nice and went above and beyond for our large group. The house has everything you need for a beautiful get-away without any worries. We plan to come back sometime soon.
Charissa
2017-07-10T00:00:00Z
Beautiful home, quiet setting. Perfect location for base to go and see Zion, Valley of Fire, Lake Mead and still close enough to Vegas to go spend time there. Grocery store close has everything you would need. Best stocked kitchen of anywhere I've ever stayed. Owner ridiculously quick to respond to questions, was an awesome stay.
Timothy
2018-05-07T00:00:00Z
Wonderful place to stay and Julie is a great host. Would recommend it to others.
Diane
2018-09-16T00:00:00Z
Julie was a fantastic host and her home was absolutely beautiful. The layout of the house was very spacious and nicely decorated. We had a very relaxing stay and really enjoyed the backyard. The pool/spa, BBQ, cabana, and fire pit was enough to keep us very entertained and comfortable in the backyard despite the summer heat. We went for my wife's birthday and Julie was even nice enough to bake us a cake for her birthday! That was so thoughtful. We couldn't have asked for a better host or place to relax for the weekend. We would absolutely stay here again!
Danny
2017-06-18T00:00:00Z
We loved our stay here! Julie was great to work with and her house was lovely.
Priscilla
2017-05-07T00:00:00Z
Staying here was amazing. Great views from the pool and a beautiful home. I wish we could have stayed longer!
Jenni
2018-08-18T00:00:00Z
We had a wonderful stay at Julie's. It was a perfect spot to get a restful night's sleep to continue on with our vacation. Thanks for your hospitality!
Dianne
2018-06-30T00:00:00Z
Book this place. Why are you waiting?! We had high expectations but we're still impressed - the home is immaculate, the bedding luxurious, the pool and hot tub pristine, and the kitchen a dream. We had a fantastic time in this stylish, perfectly appointed home.
Joy
2018-06-18T00:00:00Z
Type de logement
Logement entier
---
Type de propriété
Maison
---
Capacité d'accueil
7
---
Chambres
4
Moapa Valley, Nevada, États-Unis
4200sqft custom home on 1.3 acres. 50 minutes from Las Vegas and Lake Mead! Desert off road trails on site, Logandale Trails, Valley of Fire, Lake Mead, Hoover Dam, Summer Reservoir, Warm springs, Mountain hikes, camping, fishing, bike riding, and horseback riding all near by! Open space for outside fires and lots of noise, so make it!! Experiences for ATV ing, Boating, Horseback riding, hiking, and Shooting is available! A 31 day lease must be signed, regardless of lesser length of stay!
Live like an American!! This is a country home! Great for dogs as guest! There could be coyotes, snakes, lizards, scorpions, insects and spiders! Relatively excluded, exclusive area! Quiet and beautiful! Sunsets on balcony! Backyard fire pit or bon fire! Open area, so make some noise! Certain pets allowed! Great experiences available for Horseback Riding, ATV ing, 4 Wheeling, Water Sports, Hiking, Biking, Shooting, and Ball Sports! Some are included!!!
Quiet distant neighbors! Noise is okay!
Type de logement
Logement entier
---
Type de propriété
Maison
---
Capacité d'accueil
16
---
Chambres
6
Moapa Valley, Nevada, États-Unis