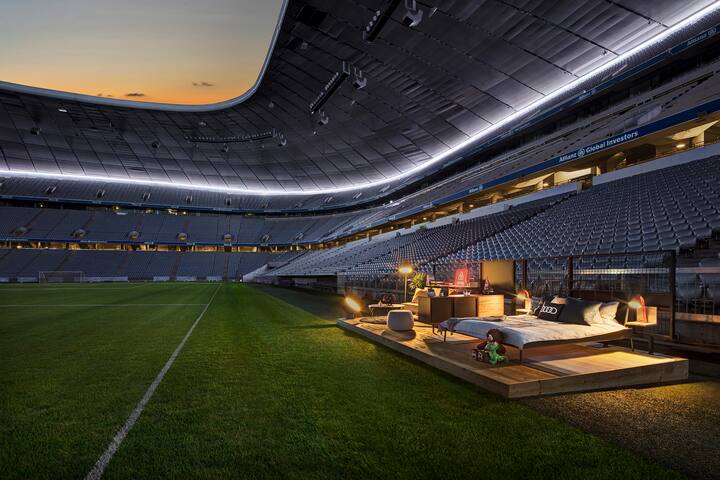 Night At
Pitch-side home during Audi Cup 2017
Logement entier
4 voyageurs
1 chambre
2 lits
À propos de ce logement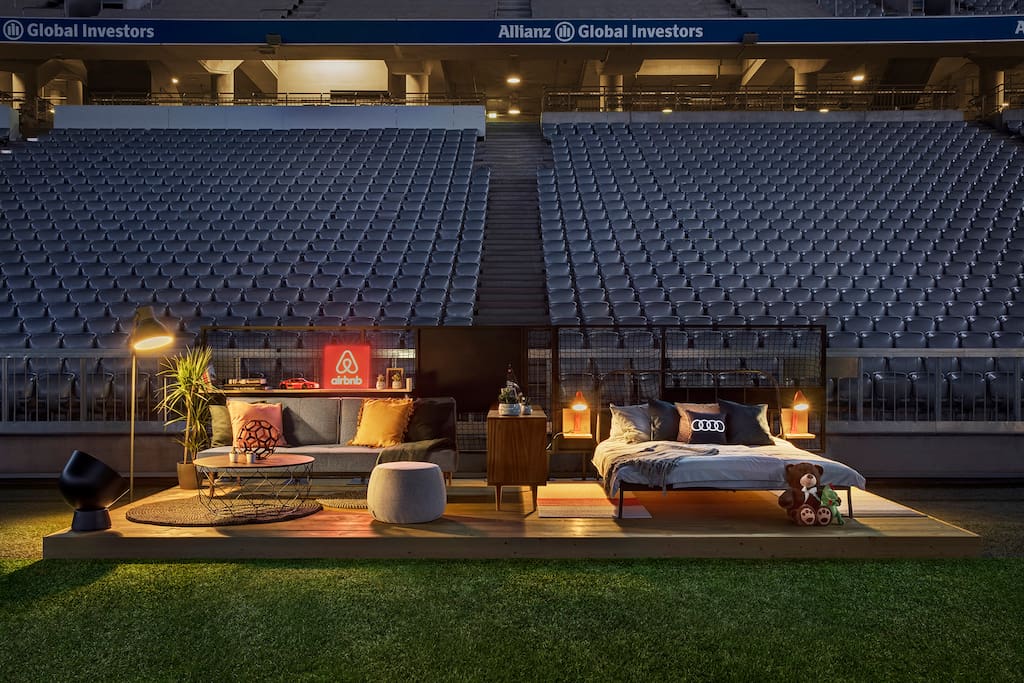 Enjoy watching four games of world-class football from the most comfortable couch during the tournament.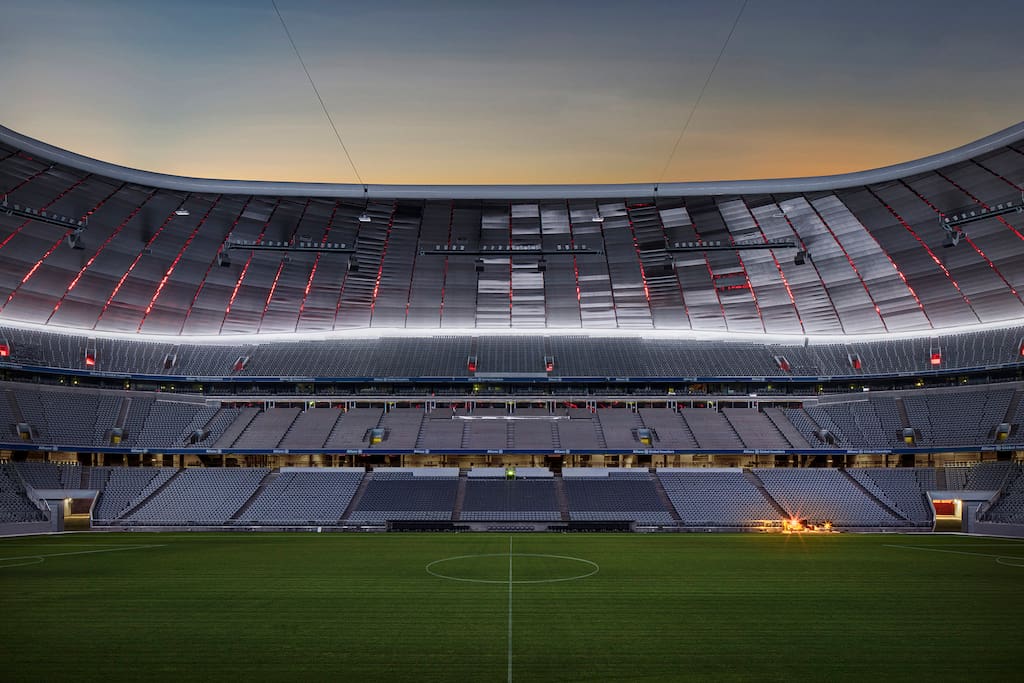 The pitch will be your garden, the players your neighbors, and the open walls of your bedroom will give you an intimate view of the action.
---
Type de logement : Logement entier
Type de propriété : Autre
Capacité d'accueil : 4
Chambres : 1
Salles de bain : 1
Lit : 2
Arrivée : Après 15:00
---
Équipements
Équipements de base
Serviettes, draps, savon et papier toilette
Parking gratuit sur place
Wifi
Accès permanent dans le logement
Petit déjeuner
Le petit déjeuner est inclus
Cuisine
Cuisine
Espace où les voyageurs peuvent cuisiner
Internet
Télévision
Équipements de base
Équipements de base
Serviettes, draps, savon et papier toilette
Chauffage
Climatisation
Lave-linge
Sèche-linge
Parking gratuit sur place
Parking gratuit dans la rue
Parking payant à l'extérieur
Wifi
Wifi
Accès permanent dans le logement
Télévision par câble
Petit déjeuner
Petit déjeuner
Le petit déjeuner est inclus
Animaux acceptés
Animaux acceptés
Les animaux d'assistance sont toujours autorisés
Pour familles/enfants
Adapté aux événements
Adapté aux événements
Le logement permet d'accueillir un groupe de 25 personnes ou plus
Logement fumeur
Accessible aux personnes à mobilité réduite
Accessible aux personnes à mobilité réduite
Accès facile au logement et logement pour voyageurs en fauteuil roulant
Ascenseur
Ascenseur
La maison ou le bâtiment dispose d'un ascenseur d'au moins 132 cm de profondeur avec une porte d'au moins 81 cm de largeur.
Cheminée
Interphone
Portier
Piscine
Jacuzzi
Salle de sport
Cintres
Fer à repasser
Sèche-cheveux
Espace de travail pour ordinateur
Espace de travail pour ordinateur
Une table ou un bureau pouvant accueillir un ordinateur portable, et une chaise pour travailler
Salon privé
Entrée privée
Entrée privée
Entrée par une rue différente ou un immeuble séparé
Entrée dans les lieux 24h/24
Entrée dans les lieux 24h/24
Boîte à clé sécurisée, système d'entrée sans clé, sonnette ou personne disponible
---
Description
Call Allianz Arena, one of Europe's most famous football stadiums, your home for two days and one night during the Audi Cup 2017. Your modern and spacious accommodation will be built directly on the sideline of the field, so you can watch four games of world-class football from the most comfortable couch during the tournament.
For your chance to win, enter by 11:59pm CEST on July 23 introducing your family and telling us about the best football-related moment you share.
Stepping onto the pitch with 75,000 fans creating waves of sound and color around you is an experience usually reserved for the legends of football. On August 1st and 2nd one lucky family will break this barrier between sport and fan, making the Allianz Arena home for the Audi Cup. Your family-friendly accommodation for the tournament, including a bedroom and living space, will be built just meters from the sideline. The pitch will be your garden, the players your neighbors, and the open walls of your bedroom will give you an intimate view of the action. These aren't just the best seats during Audi Cup--they're the best, and most comfortable seats a football fan has ever had!
Getting there: Audi will welcome you at the airport with a taste of the future: "Jack", the Audi A7 piloted driving concept, will pick you up for the 30-kilometer drive to the arena. You will be among the first passengers worldwide to experience future piloted driving functions.
The tournament: Once you've arrived in the stadium, put on your jersey and get ready for a training session at the Audi Intelligence Court. After you've worked up a good sweat, you'll be ready to explore the stadium with full access granted, even to the dressing rooms, where your kids will meet their favorite players to escort them for kick off. When the games begin, you'll retreat to your modern pitch-side home to get comfy and cheer on your favorite teams. Just watch out for flying footballs--you might have to catch a few!
After the final whistle, Jerome Boateng--world champion, FC Bayern München defender, Audi brand ambassador, and your host for the tournament--will meet you at your bedroom-on-the-pitch to recap the biggest moments of the match and any other football lore he might share.
Once the crowds have left the stadium, a private late-night Bavarian feast will be a fitting end to the first day. Then the lights will dim and you and your family will spend the night in a place no fan has ever slept, beneath the great dome of the Allianz Arena.
The next day, Audi has a special field trip planned: a test drive of their latest models at the Audi experience driving center. Take a few laps around the track before heading back home to the stadium for the final two matches of the Audi Cup. Get comfy on the couch again, grab some snacks, and cheer one last time.
You'll close out the tournament with an intimate view of the winning team's celebration ceremony. No need to rush the field--you're already there.
House rules
• If your kids are between the ages of 6-10 and max height of 140cm, they can walk their favorite player onto the field before each kickoff. Sorry, parents you'll have to wait on the sidelines.
• Leaving your accommodation during the matches is not possible for safety reasons. Good thing it's stocked with everything you will need.
• No running onto the playing field during the matches. You do not want to get to know the stewards.
• With goalkeeper gloves, you'll be prepared to throw back any ball that's kicked into your living room.
• Treat the grass gently--it is one of the best-cared-for fields in the world. The greenkeepers might even give you a few gardening tips.
• Be sure to get lots of rest before you arrive--you are in for two activity-packed and exciting days.
• "Jack" only has space for two passengers, but don't worry, your whole family will have a chance to experience his futuristic piloted driving.
---
Terms & Conditions
Night at Audi Cup on August, 1st and 2nd 2017
NO PURCHASE OR PAYMENT NECESSARY TO ENTER OR WIN. A PURCHASE OR PAYMENT WILL NOT INCREASE YOUR CHANCES OF WINNING.
When you submit a submission for this Contest, you agree with the Official Rules below.
Sponsor. The Sponsor of this Contest ("Contest") is Airbnb Ireland UC, The Watermarque Building, South Lotts Road, Dublin 4, Ireland ("Airbnb").
How to Enter. Participants who have reached the age of 18 at the time of participation, may enter the Contest from July, 14th 2017 at 10 am Central European Summertime until July, 23rd 2017 at 11:59 pm Central European Summertime by following the process below. Submissions must be received through the below process by the close of the Contest to be eligible.
Process: To participate in the Contest and to try to win the prize described below, you have to: 
Sign in with an Airbnb account 
Go to the Night@ Audi Cup competition listing page 
Click on the "Enter to Win" button 
In the form provided write an artistic and creative story of 550 characters maximum – in English, German, Spanish, or Italian – introducing you and your family members that will join you and telling your most memorable football moment for you and your family (the " Submission").
The Submission must be sent from the participant's Airbnb account to be verified and reviewed. Each participant can only participate once and you represent that you are more than 18 years old. Airbnb is not responsible for computer or network problems, problems with servers, problems with email accounts or the failure to receive any Submission for any reason whatsoever. By entering the Contest, participants agree, on their behalf and if applicable any guest that as a winner they are permitted to share the prize with, that they may be contacted by Airbnb in relation to the Contest and agree to take part in any publicity that occurs as a result of the Contest and grant Airbnb and their group companies and agents the right to use their name and/or image and/or town/country of residence.
Eligibility. 
The Contest is for residents of the following countries only: United Kingdom. Italy, Spain and Germany. If you are not resident in one of those countries, you are not eligible to enter or participate in the Contest. By entering eligible participants agree that the individual winner(s) will be selected from all Submissions received from these countries. Directors, officers, employees, independent contractors and agents of Airbnb, or their subsidiaries or affiliates, and the members of their immediate families or households, are not eligible.
Winner Selection. The prize is for a group of four people (two adults and two children(aged 6-10). Children´s age restriction results from maximum age of children accompanying players to the pitch. Participant(s) will be selected from the Submissions and will be nominated winner(s) and best story writer(s) of the Contest. The winners will be chosen entirely on merit, based on the following criteria applied by a panel of judges:
Originality and creativity of the submitted story. Does it surprise and delight us?
Spirit of the Submission. How does your Submission relate to Audi Cup 2017?
The panel of judges will be comprised of members of the marketing team of Airbnb and one independent judge. The judges' decisions are final and binding. If substantially similar Submissions are submitted by different entrants, judges will select only the best version of that idea, as determined by the judges in their sole discretion. If in the opinion of the judges no suitable Submissions are received, or no winner can be contacted or responds as set out in these Official Rules, then the Sponsors may cancel, extend or repeat the Contest in their sole discretion.
Prohibited Content. Submissions/content must be the original work of the participant and not have been previously published, or entered in any other competition, and must not violate the rights of any other party, including but not limited to intellectual property rights or rights of privacy, publicity or other moral rights. Submissions must NOT contain: (a) advertising or commercial content for any party other than Airbnb; (b) content that endorses/promotes illegal or harmful activity; (c) violent, profane, vulgar, obscene, defamatory or otherwise objectionable material; (d) adult material; or (e) defamatory content. The Sponsors reserve the right to disqualify any participant who violates these prohibitions or any other provision of these Official Rules, or that the Sponsors deem inappropriate for any reason, in their sole discretion.
License. By submitting a Submission, participants grant each of Airbnb a perpetual (or for the term of the protection granted by the relevant intellectual property rights), worldwide, irrevocable, royalty-free license to transform, edit, modify, reproduce, distribute, transmit, publish, communicate to the public, broadcast, perform, display, or otherwise use the submitted story, in whole or in part, with or without modifications, in any form or medium (including but not limited to: internet, any printed medium distributed via press, billposting, point of sale advertising, flyers, leaflets…), whether now existing or later developed, for entertainment, promotional and/or advertising purposes and/or any other purpose. To the greatest extent permitted by law, participants agree to waive and not to assert or invoke any so-called moral rights in relation to their Submissions (including without limitation the right to be identified as the creator of the work and the right to object to derogatory treatment of the work). For the avoidance of doubt, the license referred to in this paragraph is a fully paid-up license. By entering, you guarantee that your Submission is original as referred to above, and that you have all necessary rights to provide the Submission and to grant to Airbnb as applicable the rights set out in these Official Rules, as well as the consent of any person identified, depicted or referred to in the Submission. You will indemnify and hold Airbnb harmless for any breach of these provisions. Only the winner(s) will receive a prize according to the next paragraph: 'Prize'.
Prize. Each winner will receive, in recognition of their personal writing talent and as full and comprehensive consideration for the License described above, the following trip
The prize includes the following: 
The prize is for one winner, one further adult and two children (aged 6 - 10 years); included in the prize: travel from home airport/station to Munich airport/main station, transfer from Munich airport/station to Allianz Arena/Airbnb listing, transfer during the stay, accommodation and meals The winner and family will sleep in Allianz Arena on August, 1st to 2nd, optional stay at Airbnb listing provided by Airbnb night July 31 to August 1 and August 2 to August 3. 
3 meals a day (breakfast, lunch, dinner) on August 1 and August 2, optional dinner on July 31 and breakfast on August 3; 
Experiences at Allianz Arena: 
4 tickets to Audi Cup (August 1 & 2) 
Training session 
Behind the scenes tour of Allianz Arena 
Overnight stay at Allianz Arena in close to pitch bedroom 
Test drive in Audi Experience Driving Center 
Return trip – Economy class
The prize DOES NOT include, e.g.: 
Visa fees, airport transfers from the winner's home to/from their home airport or home train station, expenses, any meals (except for any meals which are expressly included in the prize description), any expenses (except for any expenses or spending money which are expressly included in the prize description), etc.
Participants represent that they are available to travel to Munich to be there on July 31 or August, 1 until 2. Participants can stay at an Airbnb listing the night August 2 to August 3. Participants must have a valid passport (or EU Identity Card) to travel to Germany during the period of the trip to redeem the prize. The total value of the prize is approximately 10000 EUR (or the equivalent in local currency). The Sponsors are allowed to ask for a written confirmation or proof of the place of residence and age of the winners and any guest(s) they are permitted to share the prize with before awarding the prize. No substitution or transfer of the prize is permitted. The prize may not be redeemed for cash. If due to circumstances beyond Airbnb's control, Airbnb is unable to provide the stated prize, Airbnb reserves the right to award, as substitute, a prize of equal or higher value.
Notification/Announcement of Winner. 
The winner(s) will be selected on July, 25th and will be notified by [email / via the Airbnb message centre] within 24 hours. Each winner must confirm their acceptance of the Prize in writing within 24 hours of such notification. The Sponsors reserve the right to disqualify any winner who does not confirm acceptance of the Prize in accordance with these Official Rules, and reserves the right to select an alternative winner in such event. In the event of a dispute about the identity of a winner, the Sponsors will award the prize to the authorized account holder of the Airbnb account from which the winning Submission was sent. The Sponsors may publicly announce the name of the winner within 30 days of the close of the Contest, including through social media channels such as TW (@airbnb) and (SENSITIVE CONTENTS HIDDEN) .
Prize Conditions. Save as may be required by any applicable mandatory laws, the prize will be as referred to in these Official Rules and is provided as-is with no express or implied warranty or guarantee. This Contest is subject to applicable local laws and regulations, including but not limited to tax laws. The winner is solely responsible for any taxes applicable to or resulting from the award of the prize, and the Sponsors will have no obligation for any taxes that may be payable. Sponsors may require the winner, and where applicable, the winner's guests, to sign and return an affidavit of eligibility, a liability release and a publicity release permitting the Sponsors to use the winner's and winner´s guests name, image and winning Submission in promotional materials where permitted by law and subject to applicable rules. Refusal or inability to sign and return such forms within 72 hours of receipt may result in disqualification and awarding of prize to an alternate winner. The winner and guests represent they will behave as good citizens during their stay at Allianz Arena during Audi Cup 2017 and that they will cooperate with the security personnel that will be present at Allianz Arena on August, 1 - 2.
General Liability Release. By entering this Contest, participants release the Sponsors and their agents from any liability whatsoever, on any theory, and waive all claims and causes of action arising from or related to this Contest and/or fulfillment and/or use of the Prize, to the extent permitted by applicable law. However, nothing in these Official Rules limits or excludes any person's or entity's liability for death or personal injury caused by their negligence or any other liability which may not as a matter of law be limited.
Data. By entering the Contest and submitting a Submission and any other personal information, participants are expressly consenting to the processing of their personal information by the Sponsors for the purpose of the Contest or any associated publicity by Airbnb. Airbnb's privacy policy will apply. Airbnb may share the Submissions with third party prize providers for Contest administration and prize fulfillment purposes. 
Interpretation and Disputes. Participants agree: (a) to be bound by these Official Rules and all decisions of the judges, which are final and binding; (b) that any disputes shall be governed by the laws of Ireland (or by mandatory local laws, if applicable), and shall be resolved only in the courts in Ireland (or in mandatory local jurisdiction, if applicable), without resort to any form of class action or other form of collective action, to the extent permitted by applicable law; and (c) that they consent and waive any objection to the jurisdiction of said courts for any such disputes. 
Miscellaneous. The Contest is void where prohibited. If any provision or part-provision of these Official Rules is held by a court of competent jurisdiction to be invalid, illegal or unenforceable, it shall be deemed modified to the minimum extent necessary to make it valid, legal and enforceable. If such modification is not possible, the relevant provision or part-provision shall be deemed deleted. Any modification to or deletion of a provision or part-provision under this clause shall not affect the validity and enforceability of the rest of these Official Rules. To the extent permitted by applicable law, the Sponsors may suspend, modify or terminate the Contest if they believe, in their sole discretion, that malfunction, error, disruption or damage is impairing or will impair the administration, security, fairness, integrity or proper conduct of the Contest, in which case the prizes will be awarded among the eligible Submissions received that were unaffected by the problem, if possible. With reference to the Italian participants please note that this Contest does not constitute a "Manifestazione a Premio" under the provisions of D.P.R. (PHONE NUMBER HIDDEN)
because winner(s) are selected and prizes are assigned to them on the basis of their personal writing talent and consequently the exception described under Article 6, par. 1, letter a) of the above mentioned decree shall apply.
---
À propos de l'hôte, Jérôme
Hi, I'm Jérôme Boateng. I'm a defender for FC Bayern München and the German national team. Allianz Arena is my football home--I've played some of the most important matches of my career on its field. I have so many stories to tell, from glorious victories to bitter defeats.
As an Audi brand ambassador, I am excited to welcome you to your home in Allianz Arena during Audi Cup 2017 for this unforgettable experience. You'll spend two days so close to the pitch that you'll almost be able to field a pass, and you'll tuck yourselves in at night in your bedroom under the Munich night sky.
So come on over and enjoy the matches. Maybe I'll even help you with your footwork.
--
Hi, ich bin Jérôme Boateng, Abwehrspieler des FC Bayern München und der deutschen Fußballnationalmannschaft. Die Allianz Arena ist für mich wie ein zweites Zuhause – hier haben einige der wichtigsten Spiele meiner Karriere stattgefunden. Es gibt so viele Erinnerungen, die ich mit euch teilen könnte: von glorreichen Siegen bis hin zu bitteren Verlusten.
Als Markenbotschafter von Audi freue ich mich schon richtig darauf, euch während des Audi Cup 2017 für dieses einzigartige Erlebnis in eurer Unterkunft in der Allianz Arena willkommen zu heißen. Ihr werdet zwei Tage so nah am Spielfeld verbringen, dass ihr fast den Ball berühren könntet. Und nachts sagt ihr euch unter Münchens Sternenhimmel "Gute Nacht".
Also kommt vorbei und genießt die Spiele hautnah – und vielleicht gebe ich euch sogar ein paar Tipps zu eurer Fußarbeit.
--
Ciao, mi chiamo Jérôme Boateng e sono un difensore dell'FC Bayern Monaco e della nazionale tedesca. Allianz Home è come una casa per me: qui ho giocato alcuni tra gli incontri più importanti della mia carriera. Ho molte storie da raccontare su questo luogo, dalle vittorie più gloriose alle sconfitte più amare.
In quanto testimonial Audi, non vedo l'ora di di ospitare te e la tua famiglia presso questo stadio nel corso dell'Audi Cup 2017. Sarà un'esperienza indimenticabile: per due giorni, sarete così vicini al campo da gioco che avrete l'impressione che qualche passaggio sia per voi. E potrete godervi il cielo notturno di Monaco direttamente dalla vostra camera da letto.
Cosa aspetti? Potrei anche aiutarvi a migliorare il vostro gioco di gambe!
--
¡Hola! Soy Jérôme Boateng, defensa del Bayern de Múnich y de la selección nacional de fútbol de Alemania. El Allianz Arena es como mi casa, el estadio en el que he jugado algunos de los partidos más importantes de mi carrera. He reído y llorado sobre este césped, con las victorias más arrolladoras y las derrotas más amargas.
Como embajador de la marca Audi, estoy deseando darte la bienvenida al Allianz Arena durante la Copa Audi 2017. Aquí disfrutarás de una experiencia que recordarás durante toda tu vida y estarás tan cerca del terreno de juego que pensarás que los pases son para ti. Además, por la noche tendrás la oportunidad de dormir bajo el cielo de Múnich, dentro del mismo estadio.
¡Aquí te espero para disfrutar de los partidos! ¡Y puede que también tengamos tiempo para intercambiar algunos toques con el balón! Night At
Découvrez les lieux où d'autres voyageurs ont séjourné pour une nuit unique en son genre.