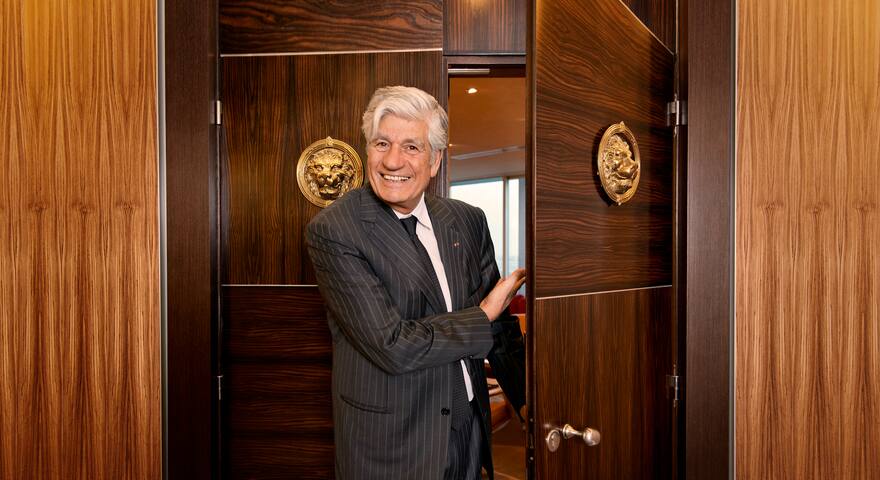 Night At
The top of the ad world
Logement entier
2 voyageurs
1 chambre
1 lit
À propos de ce logement
Etes-vous capable de passer une journée dans la peau d'un boss de la pub ? Aujourd'hui, vous pouvez saisir votre chance de vivre 24 heures la journée trépidante d'un Président car le bureau de Maurice Lévy est désormais vacant. Enfin, presque. Contrairement à la plupart des présidents très occupés, vous ne passerez pas la nuit au bureau, mais dans un magnifique appartement tout proche.
---
Type de logement : Logement entier
Type de lit : Vrai lit
Type de propriété : Autre
Capacité d'accueil : 2
Chambres : 1
Salles de bain : 1
Lit : 1
Arrivée : 08:00 - 10:00
---
Équipements
Équipements de base
Serviettes, draps, savon et papier toilette
Wifi
Accès permanent dans le logement
Petit déjeuner
Le petit déjeuner est inclus
Cuisine
Cuisine
Espace où les voyageurs peuvent cuisiner
Internet
Télévision
Équipements de base
Équipements de base
Serviettes, draps, savon et papier toilette
Chauffage
Climatisation
Lave-linge
Sèche-linge
Parking gratuit sur place
Parking gratuit dans la rue
Parking payant à l'extérieur
Wifi
Wifi
Accès permanent dans le logement
Télévision par câble
Petit déjeuner
Petit déjeuner
Le petit déjeuner est inclus
Animaux acceptés
Animaux acceptés
Les animaux d'assistance sont toujours autorisés
Pour familles/enfants
Adapté aux événements
Adapté aux événements
Le logement permet d'accueillir un groupe de 25 personnes ou plus
Logement fumeur
Accessible aux personnes à mobilité réduite
Accessible aux personnes à mobilité réduite
Accès facile au logement et logement pour voyageurs en fauteuil roulant
Ascenseur
Ascenseur
La maison ou le bâtiment dispose d'un ascenseur d'au moins 132 cm de profondeur avec une porte d'au moins 81 cm de largeur.
Cheminée
Interphone
Portier
Piscine
Jacuzzi
Salle de sport
Cintres
Fer à repasser
Sèche-cheveux
Espace de travail pour ordinateur
Espace de travail pour ordinateur
Une table ou un bureau pouvant accueillir un ordinateur portable, et une chaise pour travailler
Salon privé
Entrée privée
Entrée privée
Entrée par une rue différente ou un immeuble séparé
Entrée dans les lieux 24h/24
Entrée dans les lieux 24h/24
Boîte à clé sécurisée, système d'entrée sans clé, sonnette ou personne disponible
---
Description
Le logement
Maintenant que nous avons aidé Maurice Lévy à vider son bureau dans le cadre de la vidéo de ses vœux pour 2017, #WhatsNext, nous sommes prêts à vous en remettre les clés. Ce prestigieux « office » est situé avenue des Champs Elysées, tout en haut, au 6ème étage de l'emblématique immeuble de Publicis.
Ancien QG du Général Eisenhower, l'immeuble Publicis fut le lieu où certains des plus importants « deals » de l'histoire ont été signés. C'est maintenant votre tour d'entrer dans l'histoire avec une personne de votre choix.
24h de votre journée de Président
Pour vous assurer que vous ne manquerez aucun RDV, un chauffeur privé viendra vous chercher et vous conduira directement au bureau, où votre garde du corps, un photographe professionnel et un assistant personnel seront à votre service.
Votre journée débutera par un petit-déjeuner sur la terrasse de 560m2 avec vue sur l'Arc de Triomphe. Vous serez briefé sur votre impressionnante « to-do list » du jour.
Votre première tâche de la journée : un cours intensif de leadership. Dur, mais essentiel lorsque vous dirigez une société où 80 000 personnes passionnées travaillent sans relâche.
Diriger une entreprise peut être fastidieux, aussi sera-t-il temps de faire une courte pause pour une rapide collation. Vous serez accompagné jusqu'à la salle à manger privée de Publicis pour savourer votre déjeuner. Et chacun le sait, comme il est pratiquement impossible de travailler juste après un repas, vous pourrez vous rendre dans la salle de cinéma de Publicis pour une projection privée et vous installer confortablement dans des fauteuils en cuir moelleux.
Quand on vit à un rythme aussi soutenu, il est crucial de se détendre de temps en temps, aussi nous vous avons réservé une séance privée de méditation pour vous aider à rester serein dans votre nouvelle vie.
Après tout ce travail, vous aurez probablement un « petit creux ».
Comme la gestion de votre le temps est essentielle, vous aurez à cœur de trouver le restaurant le plus proche : le restaurant étoilé Michelin « L'Atelier de Joël Robuchon », situé au Drugstore Publicis, où vous pourrez vous délecter du menu dégustation.
Epuisé après une longue journée, il sera enfin temps de vous reposer.
Votre chauffeur vous conduira à un bel appartement à proximité où vous pourrez passer une bonne nuit de sommeil, en sachant que vous n'aurez pas à vivre le lendemain une nouvelle et difficile journée de Président.
Bon, il ne s'agit pas exactement d'une journée de la vie de Maurice Lévy, mais puisque vous ne vivrez cela qu'une fois, nous avons tenu à ce que cela soit exceptionnel.
Participation
Vivre un tel jour ne laisse pas de place à l'indécision. Donc à vous de nous dire: que feriez-vous toute une journée dans le bureau de Maurice Lévy ?
Envoyez-nous vos réponses au plus tard le 22 Décembre 2016, heure limite 23:59 CET, en vous conformant aux règles du concours, et si vous êtes choisi(e), vous pourrez passer une journée dans le bureau d'un Président leader de la communication.
Vous n'habitez pas à Paris ? Pas de soucis. Les gagnants pourront bénéficier d'une prise en charge de leur déplacement quelque soit le lieu de leur résidence.
Accès des voyageurs
Vous et votre invité devez être âgés de plus de 18 ans.
Vous devez être disponible pour passer la nuit du 4 au 5 Février 2017.
Autres remarques
Dans le formulaire fourni, envoyez votre candidature - 100 mots maximum - en anglais ou en français, en répondant à la question «Que feriez-vous de votre journée dans le bureau de Maurice Lévy, si vous êtes sélectionné?». En expliquant pourquoi vous devriez être le candidat retenu. Soyez créatifs et motivés.
S'il vous plaît, prenez soin de lire l'intégralité des règles du concours (sous la rubrique «House Rules», ci-dessous) pour plus de détails sur les conditions.
------
Terms & conditions
One day at MAURICE LEVY'S OFFICE – Publicis Groupe 133 Avenue des Champs Elysées Paris and One night in Paris on 4 February 2017.
NO PURCHASE OR PAYMENT NECESSARY TO ENTER OR WIN. A PURCHASE OR PAYMENT WILL NOT INCREASE YOUR CHANCES OF WINNING.
When you submit a submission for this Contest, you agree with the Official Rules below.
Sponsors. The Sponsors of this Contest ("Contest") are Airbnb Ireland UC, The Watermarque Building, South Lotts Road, Dublin 4, Ireland ("Airbnb") and Publicis Groupe, 133 Avenue des Champs-Elysées, 75008 Paris, France ("Partner").
How to Enter. Participants who have reached the age of 18 at the time of participation, or have reached the age of 18 or the age of majority in their jurisdiction, whichever is higher, may enter the Contest from 13 December 2016 at 10 am Central European Time until 22 December 2016 at 11:59 pm Central European Time by following the process below. Submissions must be
received through the below process, by the close of the Contest to be eligible.
Process: To participate in the Contest and to try to win the prize described below, you have to:
1. Sign in with an Airbnb account
2. Go to the One Day at Maurice Maurice Levy's Office and One night in Paris competition
listing page
3. Click on the "Enter to Win" button
4. In the form provided write an artistic and creative story of 100 words maximum, in English or French, answering the question "What would you do with a day in the office of Maurice Lévy?" and explaining why you should be the one to stay one night in Paris France (the " Submission").
The Submission must be sent from the participant's Airbnb account to be verified and reviewed. Each participant can only participate once and you represent that you are more than 18 years old or the age of majority in your jurisdiction, whichever is higher. To the maximum extent permitted by law, Airbnb is not responsible for computer or network problems, problems with servers, problems with email accounts or the failure to receive any Submission for any reason whatsoever. By entering the Contest, participants agree on their own behalf and on behalf of any guest that they are permitted to share the prize with, that (a) they may be contacted by Airbnb in relation to the Contest and agree to take part in any publicity that occurs as a result of the Contest, and (b) grant Airbnb and Partner and their group companies and agents the right to use their name and/or image and/or town/country of residence. In the event that the guest does not agree to take part in such publicity, the participant shall not be permitted to share the prize with such guest.
Eligibility.
1. The Contest is not open to residents from: Cuba, the Crimea Region of Ukraine, North Korea, Syria, Iran, Sudan, any country subject to embargo by the United States of America, or the Province of Quebec, or any jurisdiction where the Contest would be prohibited or restricted by law. This means that you are not allowed to participate if you reside in one of these jurisdictions. The Contest is for residents of all other countries of the world and by entering participants agree that the individual winner[s] will be selected from all Submissions received from these countries.
2. Directors, officers, panel of judges, independent contractors and agents of Partner and Airbnb, or their subsidiaries or affiliates, and the members of their immediate families or households, are not eligible.
3. Participants who are selected as finalists must provide their passport as verified ID through their Airbnb account in order to be eligible to win the prize. Airbnb or Partner will notify any finalists who have yet to provide passport as verified ID. Finalists must submit verified ID by following this link: https://www.airbnb.co.uk/verify#section/jumio within 24 hours of the request in order to be eligible to win the prize.
Winner Selection. 1(one) participant will be selected from the Submissions and will be nominated winner and best story writer of the Contest. The winner will be chosen entirely on merit, based on the following criteria applied by a panel of judges:
- Originality and creativity of the submitted story. Does it surprise and delight us?
- Spirit of the Submission. How does your Submission relate to One day at Maurice Levy's Office?
The panel of judges will be comprised of members of the marketing teams of Airbnb and Partner (Publicis Groupe), and one independent judge. The judges' decisions are final and binding. If substantially similar Submissions are submitted by different entrants, judges will select only the
best version of that idea, as determined by the judges in their sole discretion. If in the opinion of the judges no suitable Submissions are received, or no winner can be contacted or responds as set out in these Official Rules, then the Sponsors may cancel, extend or repeat the Contest in their sole discretion.
Prohibited Content. Submissions/content must be the original and personal work of the participant and not have been previously published, or entered in any other competition, and must not violate the rights of any other party, including but not limited to intellectual property rights or rights of privacy, publicity or other moral rights. Submissions must NOT contain: (a)
advertising or commercial content for any party other than Airbnb or Partner; (b) content that endorses/promotes illegal or harmful activity; (c) violent, profane, vulgar, obscene, defamatory or otherwise objectionable material; (d) adult material; or (e) defamatory content. The Sponsors
reserve the right to disqualify any participant who violates these prohibitions or any other provision of these Official Rules, or that the Sponsors deem inappropriate for any reason, in their sole discretion.
License. By submitting a Submission, participants grant each of Airbnb and Partner a perpetual (or for the term of the protection granted by the relevant intellectual property rights), worldwide, irrevocable, royalty-free, license to transform, edit, modify, reproduce, distribute, transmit, publish, communicate to the public, broadcast, publicly perform, publicly display, communicate to the public or otherwise use in any manner they deem fit (a) the Submissions and all other information and material provided by the participant arising out of or in connection with this Contest at any time; and (b) the participant's name, likeness, photographs, personal information
and all other personal attributes and forms of personality or publicity rights, in whole or in part, with or without modifications, in any form or medium (including but not limited to: internet, any printed medium distributed via press, billposting, point of sale advertising, flyers, leaflets…), whether now existing or later developed, for entertainment, promotional and/or advertising purposes and/or any other purpose. To the greatest extent permitted by law, participants agree to waive and not to assert or invoke and waive any so-called moral rights in relation to their Submissions (including without limitation the right to be identified as the creator of the work and the right to object to derogatory treatment of the work). The participants also waive any revisionary rights or any rights that have a similar effect. The participants further agree that non-use of the Submission by Airbnb and Partner shall not be grounds for revocation of such license. For the avoidance of doubt, the license referred to in this paragraph is a fully paid-up license and entry into the Contest is adequate consideration for such license. By entering, you guarantee that your Submission is original and personal as referred to above, and that you have all necessary rights to provide the entry and to grant to Airbnb and the Partner as applicable the rights set out in these Official Rules, as well as the consent of any person identified, depicted or referred to in the Submission. You will indemnify and hold Airbnb and the Partner harmless for any breach of these provisions. Only the winner[s] will receive a prize according to the next paragraph: 'Prize'.
Prize. The winner will receive, in recognition of their personal writing talent and as full and comprehensive consideration for the License described above, the following trip for themself and one guest :
- A Day in Maurice Lévy's Office, in Publicis Groupe, 133 avenue des Champs-Elysées, 75008
Paris, France on January XX 2017 and one night in Paris.
The Prize includes for the winner and their guest :
- Roundtrip Airfare or train travel costs to Paris up to €3000 maximum. This amount corresponds to the cost of transport for the winner and his/her guest from their home city and Paris, and return. If actual value is less than advertised value, the difference will not be awarded to the winner and/or his/her guest.
- A private chauffeur from arrival (airport or train station) to 133 avenue des Champs Elysées and from 133 avenue des Champs-Elysées to the Airbnb accommodation in Paris.
- A private security guard and a personal assistant for the day, during the presence in the Publicis Groupe offices
- Maurice Lévy will meet the winner and the guest, at his office to hand over the keys for the day
- A VIP Breakfast served on the 7th Floor of Publicis Groupe.
- A leadership class, taught in Maurice Lévy's Office.
- A VIP Lunch served on the 7th Floor of Publicis Groupe.
- 2 tickets to Publicis Cinema (movie depending on programmation on event Day)
- A meditation session in Maurice Lévy's Office.
- A tasting menu dinner for 2(two) at the restaurant l'Atelier Etoile de Joël Robuchon, located in the Publicis Drugstore at 133 avenue des Champs Elysées
- A personal photographer to remember this special day.
- Double-occupancy accommodations with host on Airbnb , as selected by Partner , in Paris on February 4, 2017.
The Prize does not include :
- additional costs or expenses not expressly included in the prize description (airport extras, in-flight extras),
- additional travel within Paris,
- visa fees,
- airport transfers from the winner's home to/from their airport or train station,
- any meals (except for meals expressly included in the prize description),
- any expenses (except for any expenses or spending money which are expressly included in the prize description).
Participants represent that they are available to travel to Publicis Groupe, 133 avenue des Champs-Elysées, 75008 Paris, France to be there on February 4, 2017. Participants must have a valid passport with mandatory visa if needed (or EU Identity Card, as applicable) to travel to France during the period of the trip to redeem the prize. It shall be the sole responsibility of the participants to avail of the necessary authorizations including visas for such trip. The total value of the prize is approximately 5000 EUR (or the equivalent in local currency). The Sponsors are allowed to ask for a written confirmation or proof of the place of residence and age of the winner[s] and any guest(s) they are permitted to share the prize with before awarding the prize. No substitution or transfer of the prize is permitted. The prize may not be redeemed for cash. If due to circumstances beyond Airbnb's or Partner's control, Airbnb or Partner are unable to provide the stated prize, Airbnb and Partner reserve the right to award, as substitute, a prize of equal or higher value.
Notification/Announcement of Winner.
The winner will be selected by January 13th 2017 and will be notified by email / via the Airbnb message centre within 24 hours. The winner must confirm his/her acceptance of the Prize, while specifying the name of his/her guest, in writing within 72 hours of such notification. The Sponsors reserve the right to disqualify any winner who does not confirm acceptance of the Prize in accordance with these Official Rules or who is in breach of these Official Rules, and reserves the right to select an alternative winner in such event. In the event of a dispute about the identity of a winner, the Sponsors will award the prize to the authorized account holder of the Airbnb account from which the winning Submission was sent. The Sponsors may publicly announce the name of the winner within 30 days of the close of the Contest, including through social media channels such as Twitter (@airbnb / @publicisgroupe) and Facebook.
Prize Conditions. Save as may be required by any applicable mandatory laws, the prize will be referred to in these Official Rules and is provided as-is with no express or implied warranty or guarantee. Nothing in these terms and conditions operates to limit or exclude the application of relevant consumer protection laws or the liability of Airbnb under such laws. This Contest is subject to applicable local laws and regulations, including but not limited to tax laws. The winner is solely responsible for any taxes applicable to or resulting from the award of the prize, and the Sponsors will have no obligation for any taxes that may be payable. Sponsors may require the winner, and where applicable, the winner's guest, to sign and return an affidavit of eligibility, a liability release and a publicity release permitting the Sponsors to use the winner's name, image and winning Submission in promotional materials where permitted by law and in accordance with the authorization form for use which has to be signed by the winner and the guest. Refusal or inability to sign and return such forms within 72 hours of receipt may result in disqualification and awarding of prize to an alternate winner. The winner and guest represent they will behave as good citizens during their stay at Publicis Groupe, 133 avenue des Champs-Elysées, 75008 Paris, France and that they will cooperate with the security personnel that will be present at Publicis Groupe, 133 avenue des Champs-Elysées, 75008 Paris, France on February 4, 2017.
General Liability Release. By entering this Contest, participants release the Sponsors and their agents from any liability whatsoever, on any theory, and waive all claims and causes of action arising from or related to this Contest and/or fulfillment and/or use of the Prize, to the extent permitted by applicable law. However, nothing in these Official Rules limits or excludes any person's or entity's liability for death or personal injury caused by their negligence or any other liability which may not as a matter of law be limited.
Data. Airbnb's privacy policy will apply and Airbnb is the sole responsible for the processing of participants' Data and undertakes to comply with the applicable rules, and in particular European Data Protection Legislation. By entering the Contest and submitting a Submission and any other personal information, participants are expressly consenting to the processing of
their personal information by Airbnb for the purpose of the Contest or any associated publicity by Airbnb or Partner. Airbnb may share the Submissions with Partner and third party prize providers that may be located outside of your home jurisdiction, only for Contest administration and prize fulfillment purposes. Participants who do not consent to the collection of their personal
information will not be able to enter the Contest. For information on how to access or seek correction of your personal information, or how to make a complaint in relation to our handling of your personal information, please see our privacy policy at www.airbnb.com/terms/privacy_policy.
Interpretation and Disputes. Participants agree: (a) to be bound by these Official Rules and all decisions of the judges, which are final and binding; (b) that any disputes shall be governed by the laws of Ireland (or by mandatory local laws, if applicable), and shall be resolved only in the courts in Ireland (or in mandatory local jurisdiction, if applicable), without resort to any form of class action or other form of collective action, to the extent permitted by applicable law; and (c) that they consent and waive any objection to the jurisdiction of said courts for any such
disputes.
Miscellaneous. The Contest is void where prohibited. If any provision or part-provision of these Official Rules is held by a court of competent jurisdiction to be invalid, illegal or unenforceable, it shall be deemed modified to the minimum extent necessary to make it valid, legal and
enforceable. If such modification is not possible, the relevant provision or part-provision shall be deemed deleted. Any modification to or deletion of a provision or part-provision under this clause shall not affect the validity and enforceability of the rest of these Official Rules. To the extent permitted by applicable law, the Sponsors may suspend, modify or terminate the
Contest if they believe, in their sole discretion, that malfunction, error, disruption or damage is impairing or will impair the administration, security, fairness, integrity or proper conduct of the Contest, in which case the prizes will be awarded among the eligible Submissions received that
were unaffected by the problem, if possible. With reference to the Italian participants please note that this Contest does not constitute a "Manifestazione a Premio" under the provisions of D.P.R. 430/2001 because winners are selected and prizes are assigned to them on the basis of
their personal writing talent and consequently the exception described under Article 6, par. 1, letter a) of the above mentioned decree shall apply. With reference to the Chinese, Japanese and Korean participants, please note that any local language version of these Official Rules is
for reference only, and the English version shall prevail.
---
• Bring a friend. It can get lonely at the top.
• No matter what - it's always your fault.
• Don't get any bad ideas.
• Only sign deals with black pencils.
• Don't even pretend like you have a cat when you spin around in the chair.
• Ties are optional. But if you are to wear one, the tip should always touch your belt line.
• Leave screaming "I'm the king of the World" to Leo.
• Never let them see you cry.
• No pets. You won't have time for them anyway.
• If you type the wrong code for the safe twice it... Just don't.
• Ironically, leaders have to follow the rules.
---
À propos de l'hôte, Maurice
Bonjour! I am Maurice Levy, you might know me from some of my wishes videos, or maybe you've heard of the company I have been running since 1987, Publicis Groupe. While I may be a legendary advertising executive according to some, here, I am your humble host. I started at Publicis as an IT Director back in 1971, and worked my way up to the office that could now be yours for a day.

I'm a passionate fan of modern art, chess and skiing – very executive level hobbies, I know – but I am also a proud father of three, grandfather of six and husband for over 50 years. Night At
Découvrez les lieux où d'autres voyageurs ont séjourné pour une nuit unique en son genre.