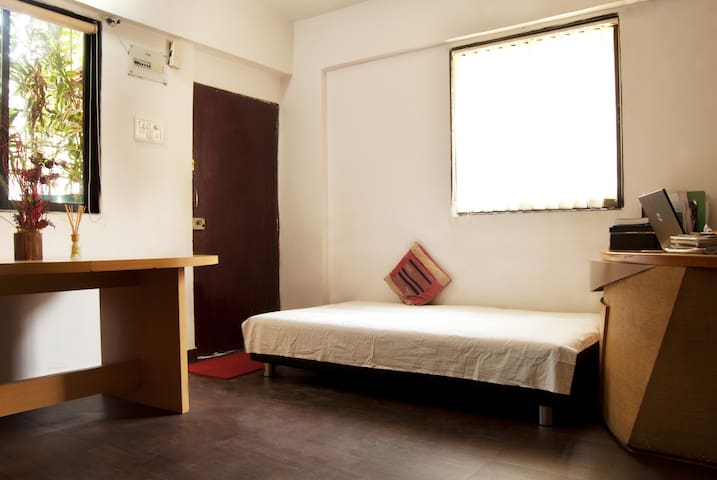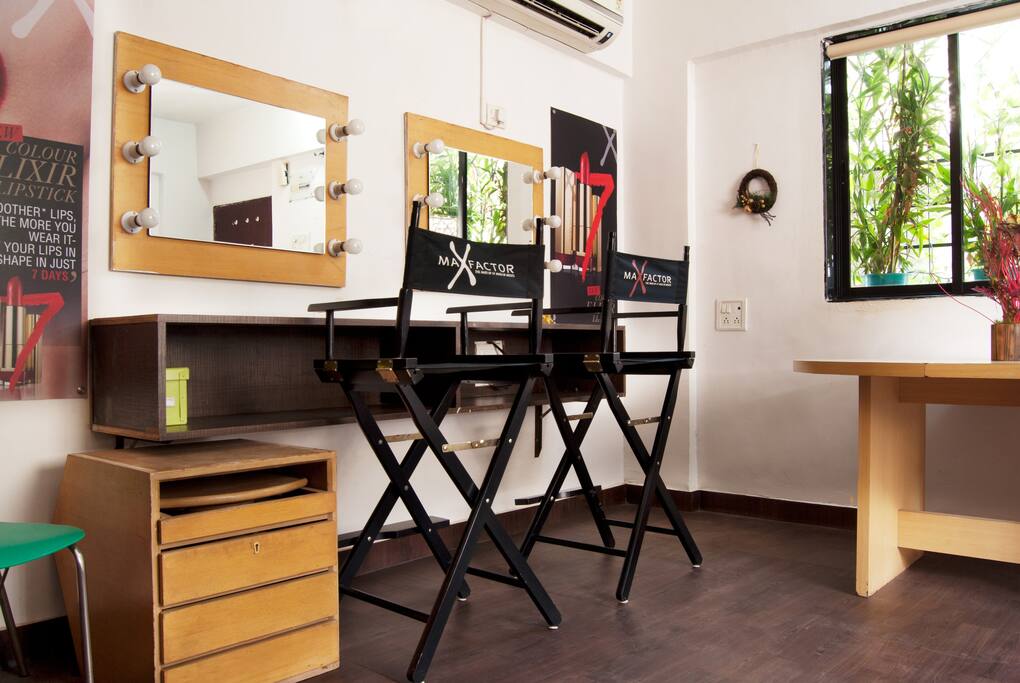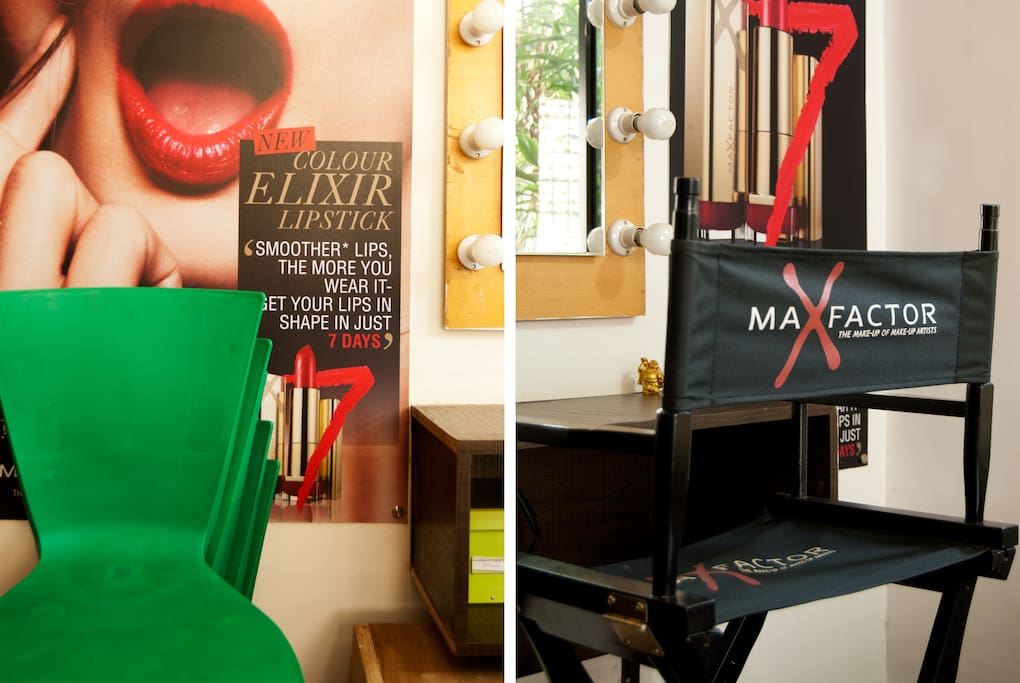 Le logement
We have a one room studio in an old Bandra village.Most days its used for commercial classes but a fews days each month its available for people looking for short stays (1 to 3 (URL HIDDEN) includes a sofa that is actually a small double bed,a pantry,a clean loo and shower (no geyser though),an AC and a small fridge.
Its ideal for backpackers tourists or anyone just cruising through the city,and needs a comfy clean and beautiful but low cost place to stay.The charm of the place is that its located in an antique village surrounded by old portugese style cottages and villas full of character and nostalgia.The place would be more suitable for animal lovers or people who are comfy with animals,as everyone in the village has dogs and cats.Smokers are also welcome but we apologise the studio is a non smoking area so they will have to smoke outside.
We offer:
1,A great location-highly convenient in the queen of Mumbai suburbs, with all major shops/ restaurants/entertainment facilities within a 3 km radius.The local train station is less than 1 km away and the domestic airport about 10km away.
2.A Neat, Clean and green space with fresh clean sheets.
3.Warm and welcoming hosts who are happy to assist you anyway we can.
4.A perfect place for 1 person and reasonably good place for 2.
5.A good place for backpackers,women travelers,couples ,those who love the quaint and quirky and have a sense of adventure.
6.A Small Fridge to store your goodies.
7.We are also working on a free guide ebooklet that tells you about all the best kept secrets in Bandra (restaurants/entertainment/hang outs etc).Till we get the book done you can ask the host any details regarding the above:-)

However please note the following:
1.Our Sofa bed can accommodate two but its a small size(approx 4 feet wide and 6 feet long).Each person can get about 2 feet of width space on the bed.In our experience,this is perfectly fine with most guests but may not be suitable for those who need more space.

2.The Loo is small and has a hand shower and a western style toilet..The loo ceiling is quite low.So if you are more than 5 feet 5 inches tall you may have to crouch or use a sitting position to have your shower.

3.If you are scared of animals,the outside surroundings of the studio may not be suitable for you.We do not have or allow pets inside the studio,but all the residents of the village have pet animals.

4.If you are two people who need large amounts of individual space this place may not be right for you.

5.The place may not be suitable for older people or people with special needs.

6.Long stay guests :Normally the place is only available for up to 3 nights.However we make make exceptions when the place is not being used as a studio for longer periods.We however strongly recommend that a long stay may not be suitable if you need large amounts of space.


---
---
3 RULES YOU MUST ABSOLUTELY ABSOLUTELY FOLLOW WHILE USING THIS STUDIO!!!!
1. THE BEAUTIFUL FLOORING IS A VERY DELICATE VINYL, SO PLEASE ENSURE IT STAYS BEAUTIFUL BY OBSERVING THE FOLLOWING:
A.PLEASE DO NOT SWITCH OFF THE FRIDGE SWITCH AS THIS WILL CAUSE THE FRIDGE TO DEFROST AND FLOOD THE SPACE.
B.PLEASE ENSURE YOU HAVE TURNED OFF ALL WATER OUTLETS AS WELL.
ANY FLOODING WILL AND CAN DAMAGE OFFICE EQUIPMENT ESPECIALLY THE FLOORING WHICH WILL PEEL OFF IF EXPOSED TO SUFFICIENT QUANTITIES OF LIQUID.
C.PLEASE DO NOT DRAG ANY FURNITURE ACROSS THE FLOOR INCLUDING CHAIRS .DRAGGING WILL TEAR THE FLOOR.THERE IS A FINE OF RS 3500 IF THE FLOORING IS TORN OR DAMAGED BY THE STUDIO OCCUPANT.
2. PLEASE ENSURE THAT YOU LOCK BOTH THE MAIN AND COLLAPSIBLE GATE AND CLOSE THE WINDOW AND THE BLINDS BEFORE LEAVING.
3.PLEASE DO NOT LEAVE THE EXHAUST FAN IN THE LOO ON FOR MORE THAN 10 MINS AT A TIME AS IT HEATS UP THE HOUSE BEHIND AND WILL SEND THEIR OCCUPANTS BANGING ON YOUR DOOR TO TURN IT OFF!!!
And then some more…………
1. PLEASE ENSURE THAT YOU HAVE SWITCHED OFF ALL ELECTRICAL EQUIPMENT, ELECTRICAL SWITCHES BEFORE LEAVING.
2. THERE ARE TWO SETS OF SWITCH PANELS ON THE WALL OF THE MAIN (URL HIDDEN) SWITCH PANEL UNDER THE MAKEUP COUNTER, ONE ON TOP OF THE BOSSES DESK AND TWO IN THE PANTRY.
ADDITIONALY THERE IS ONE AC SWITCH.PLEASE ENSURE THAT ALL ARE PUT OFF BEFORE LEAVING EXCEPT THE SWITCH FOR THE FRIDGE!
3. PLEASE REPORT ANY DAMAGE OR ANOMOLIES TO THE CONCERNED PERSONNEL IMMEDIATELY ON DISCOVERING SAME.
4. PLEASE MAKE SURE THAT THE BEVERAGE AND MILK SUGAR BOXES ARE STORED APPROPRIATELY, IE CLOSED TIGHTLY MINUS WET SPOONS!! WE LOVE OUR FELLOW ANTS AND ROACHES, LIZARDS ETC BUT DON'T WELCOME THEM THERE
7. PLEASE ENSURE YOU HAVE COLLECTED ALL YOUR BELONGINGS –WE CANT ENSURE THAT WE CAN PROTECT THEM OR HOLD THEM FOR YOU LONG ENOUGH! DUE TO LIMITED SPACE, LOST AND FOUND STUFF WILL BE DISPOSED OFF BY MANAGEMENT AT THEIR DISCRETION!!
8. KINDLY DON'T SMOKE IN THE PREMISES, IF YOU WISH TO SMOKE, YOU CAN SMOKE OUT SIDE.
9.SINCE THIS STUDIO IS ALSO A PLACE FOR COMMERCIAL BUSINESS,WHEN WE ACCEPT YOUR RESERVATION,WE FORGO OUR BUSINESS INCOME TO DO SO,CONSEQUENTLY WE ARE UNABLE TO ACCEPT ANY REQUESTS TO ALTER YOUR RESERVATION TO REDUCE THE NUMBER OF DAYS OF STAY ONCE MADE.WE STRONGLY RECOMMEND YOU READ THE LIST OF AMENITIES AND ENSURE THAT THEY ARE TO YOUR LIKING BEFORE MAKING A RESERVATION.
IF YOU WISH TO ALTER YOUR STAY TO EXTEND THE SAME IT WILL BE CONSIDERED ON A CASE TO CASE BASIS.

---
We had an over all nice one night stay at Lipi's studio. The location is in a cute village part, very central to the Bandra area. The studio is independent, clean and tidy. Specially, if u are a girl and u like to prepare your make up for a night out, this place has the perfect set up! The bathroom is as descried very little. The bed conform is ok. The key exchange was little uncomfortable and could be easily improved. First we needed to wait quite for some time on the route till someone came and picked us up, to bring us to the apartment. When we were leavening, we were asked to drop the keys at a restaurant 1km alway from the apartment. If you are new to mumbai its a little task to find and also there were some confusion in finding the right person to give the keys. So it totally took us 90mins to return the keys. My recommendation would be a small postbox at the venue itselve to drop the keys... Lipi is a very friendly person on the phone, sad she isn't present at the apartment... In total I recommend a stay ;)
---
Every night when I came back to the studio, I was thrilled I had chosen to stay there. The location is perfect -- walking distance from the best restaurants, bars, and shops in ritzy Bandra, but tucked away in a quiet old village, where cars are not allowed, with beautiful architecture and winding roads and tiny neighborhood shops. The room itself was basic -- just a makeup studio -- and it did not have wifi (closest we found was Bru World Cafe, a 10-minute walk south) but as a place to crash it was totally fine. If your back is okay after a night's sleep on a futon, it will be okay with this one. Being based in Bandra is the best way to escape from the craziness of Mumbai, and this place is definitely below market rate for the area. Thank you, Lippi, for making the room available.
---
Had a wonderful stay at Lippi's place, the studio was clean, simple and had everything a visitor could want. Instructions and rules where clear and I felt very comfortable. The locality, a borough of bungalows in West Bandra was something special. I had a great time talking to the locals who made me feel very welcome. Special thanks to Lippi and Nalini for providing a fabulous list of things to do, restaurants and points of interest. The list made my exploratory walks much smoother and directed. I would recommend Lippi's studio to any backpacker visiting Mumbai from India or abroad. A+
---
It was my first Airbnb experience. I was in mumbai with my girlfriend for the first time. I was able to pick up the keys from Lippi directly right before she left for Pune. She seemed like a lovely person. she was very keen to stress that she was always available to assist. The location is bang in the middle of a great shopping district. The studio is an actual make up studio. so that was a bit of a surprise. the bathroom was tiny, but I'd expected this after reading all the other reviews. unfortunately the AC wasn't working, but Lippi had offered me a concession on that front. couple of things that i didn't like : 1. the place was on the ground floor, and being new to mumbai, the dilapidated charm of mumbai left me a bit nervous with the constant stream of sounds. i think it was just me. 2. the windows did not have curtains. they were blinds, which had quite a lot of see-through space. so i had to make up for it tying up one of the spare bedsheets(i hope you dont mind Lippi) 3. the bed was a convertible sofa. so it was nowhere near as comfortable as an actual bed. also, it seemed a bit old, so the material was sticking only my skin. but, it served the purpose. overall, a great place to crash, in an unbelievable location. but, its not a great place to spend time indoors. so pick wisely. I definitely intend to use Lippi's place again, but only if I come alone.
Thanks Abilash we would be happy to welcome you back:-) Just a few things am noticing from your review that you may not have read our description in detail or looked at our photos.which clearly describe/show that we have a sofa cum bed and and the windows in the photos clearly show blinds.Also we have mentioned that we are inside a village.Finally our place is quirky and more suitable for backpackers (which is also mentioned clearly in our decription).We hope Abhilash would be a more responsible BNB traveller and read descriptions thorougly,as accomodations cannot be seen beforehand and reading and looking at pics in detail can help you decide better whether it is suitable for you or not:-)
---
I am a qualified beauty professional and entrepreneur,who lives in both Pune and Mumbai,India (shuttle between both cities).Currently I own two businesses in areas am passionate about namely,Luxury beauty and fashion.When Im not working I love to cook,paint,back pack,snorkel,kaya…
Découvrez d'autres options à Bombay et dans ses environs
Plus de logements à Bombay :