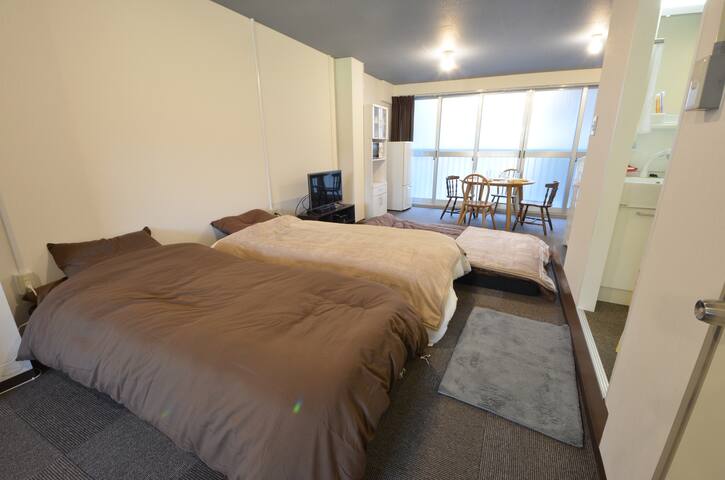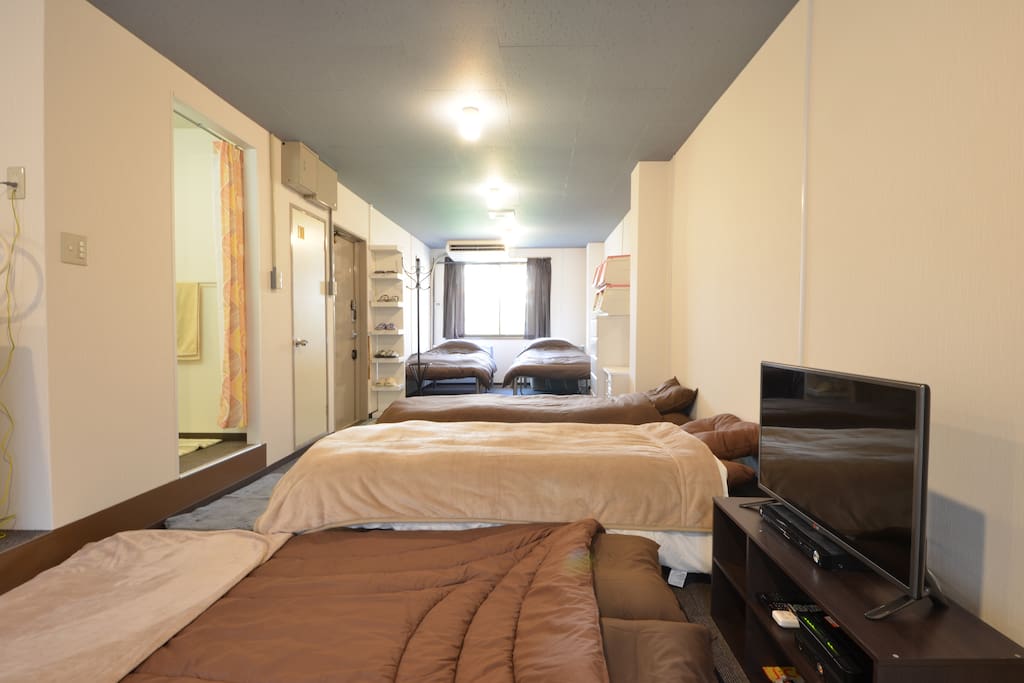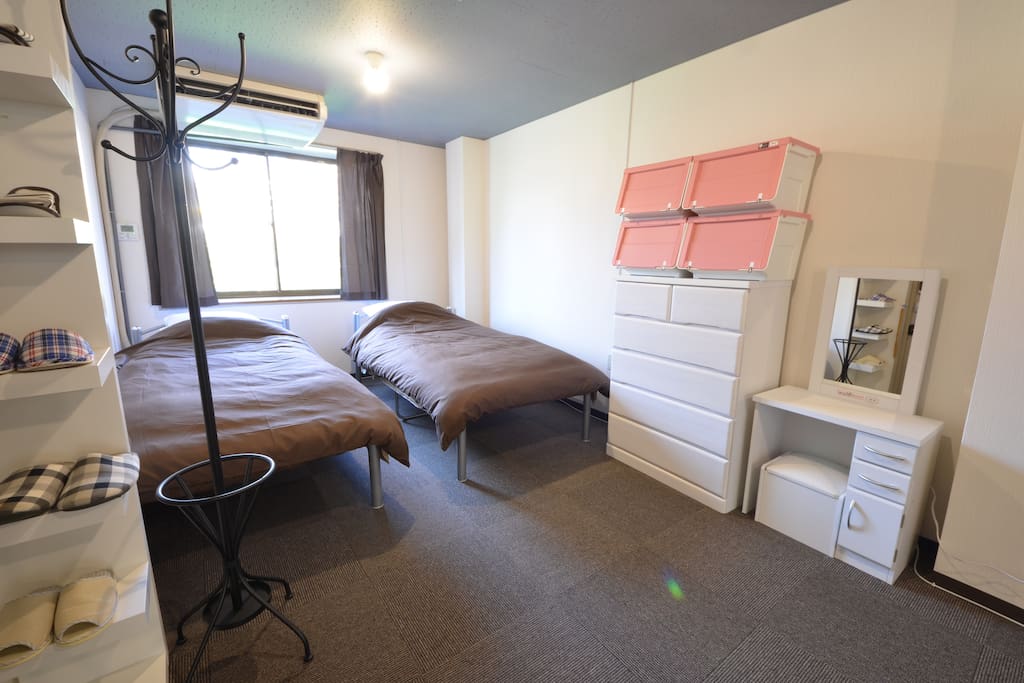 Logement entier
6 voyageurs
Studio
5 lits
À propos de ce logement
※Please be sure read the "House rules" below carefully. It will tell you how to check-in and some of the house rules. If you came to our listing place without reading it, you are possible not be able to check-in.
---
Salles de bain : 1
Chambres : Studio
Lits : 5
Arrivée : À partir de 15:00
Départ : 11:00
Type de logement : Logement entier
Voyageur supplémentaire : 17€ / nuit après 2 voyageurs
Frais de ménage : 52€
※Please be sure read the "House rules" below carefully. It will tell you how to check-in and some of the house rules. If you came to our listing place without reading it, you are possible not be able to check-in.
We will try to response in English,Chinese,Thai,Malay,Korean as much as possible.
Just 60 min from KIX!!(Kansai Airport)
We'd like to offer the best house for your trip!!!
Osaka(Umeda) 2min by train.
Namba 11min
It is a popular area.
Just one station from Oosaka station. Just 10 mminutes on foot to center of Osaka Kita area.
Nearest station is Subway Midousuji line Nakatsu station.
Midousuji line has Namaba, Shinsaibashi, ShinOsaka station. And you can go to Minou easily.
In addition, Osaka station is convenient to go to Kyoto and Kobe.Kyoto is famous Japanese caluture and Kobe is hobour town.
Of course,Osaka is not only for sightseeing but also famous for foods.
Takoyaki, Okonomiyaki,fashionable cafe,Restraunt and shopping mall are there. So you can enjoy during your stay.
Quiet place so you can have a good sleep in the night.
Introduce my room.
Spacious room.50㎡.
(Facility of WI-FI)
WI-FI provided

(Bed)
4 Single beds
1 Sofa bed,semi-double
Up to 6 people.Available for couple,family and friends.
(Amenity)
Bath towewls,Face towel.
(Kitchen)
IH kitchen
Cookware
Dishes
(Shower room and Toilet)
Constantry tidy Shower room and toilet.

從大阪車站(梅田)只要一站!走路大約10分鐘就可以到大阪的市中心!
離公寓最近的車站是地下鐵御堂筋線的「中津車站」!
如果要去地下鐵御堂筋線的「難波」「心斎橋」「新大阪」「箕面方面」的話不需要轉車非常方便哦!
而且在步行到JR大阪車站的話去京都、神戶也是非常方便!
當然不只觀光,說到大阪就是美食啦!
大阪的名物「章魚燒」「大阪燒」還有很多時尚的咖啡店、餐廳、購物中心。讓您在大阪的期間可以很盡情享受哦!
我們公寓是在住宅區,晚上可以好好地休息哦
但只要走幾分鐘的路程就可以到市中心,真的是非常棒的位置哦!
介紹一下房間的設施哦
是一間非常寬敞的房間,大約50㎡
【網路設備】
提供Wi-Fi!!
【床型】
單人床:4張
沙發床(準雙人床尺寸):1張
總共可以容得下六位哦。
不管是情侶、家族旅遊或是朋友旅行都是非常適合哦
【生活用品】
浴巾・毛巾
→提供所有人數分。
此外還提供牙膏、牙刷、棉花棒

【廚房】
IH:1台
調理器具、食器類
→完整提供。
【浴室、廁所】

大阪駅(梅田)から電車で1駅、徒歩でも10分程度で大阪キタの中心地へ行くことが出来ます!!
最寄駅は地下鉄御堂筋線「中津駅」です。
御堂筋線は「なんば」「心斎橋」「新大阪」「箕面方面」へ行くことが出来る便利な交通機関。
更に主要駅「大阪駅」から街が文化の「京都」、港都市「神戸」までアクセスがすごく便利です。

もちろん観光スポットのみならず、「食」というえば大阪。
名物の「たこ焼き」「お好み焼き」やお洒落なカフェやレストラン、ショッピングモール等、滞在期間中楽しいこと盛りだくさんです。
夜は静かな場所なので、ゆっくりお休み頂くこともできます。

では、お部屋の設備を紹介します。
広いお部屋です。50㎡くらいの大広間。
【インターネット設備】
Wi-Fi完備!!
【ベッド】
シングルサイズ:4台
ソファベッド(セミダブルサイズ):1台
合計6人まで宿泊することが出来ます。カップルで広く利用することも、家族旅行にも、友人たちとの旅行でも楽しんでいただけます。
【アメニティ】
バスタオル・フェイスタオル
→人数分完備しています。
歯磨き粉、歯ブラシ、綿棒等も揃っています。
【キッチン】
IHコンロ:1台
調理器具、食器類
→一式完備しています。
【シャワールーム、トイレ】
常にキレイで清潔なシャワールームとトイレを利用することが出来ます。
Basically you can use anything in the room
基本上房間的設備皆可以使用
基本的にはお部屋の中は自由にご利用いただけます。
If you have question about sightseeing or our room, please message me and ask me any time! We can also communicate using SNS application for a faster communication!
如果您有任何其他的需求,請聯繫我們讓我們幫助您
ご希望が御座いましたら連絡先をお伝え致します。
There are many local shop, restaurant, Bakery, Japananese Bar, Cafe around "Nakatsu Station" which is Midousuji Line.
It is available to go to Osaka station(Umeda) by walk. It is convenient for shopping and sightseeing.
御堂筋線「中津」站附近的店家:道地餐廳、麵包店、居酒屋、咖啡店等等
走路就可以到到大阪車站(梅田)是非常便利的地點哦!
御堂筋線「中津駅」周辺はローカルなお店、レストラン、パン屋、居酒屋、cafe等がたくさんあります。
徒歩圏内に大阪駅(梅田)があり、そこまですぐ行けるので、ショッピングや観光に最適な場所です。
Just 4 mins from "Nakatsu station"(Midousuji Line) to our room.
Good access to "Umeda" , "Shinsaibashi", "Namba", "Shi-Osaka".
從公寓到御堂筋線「中津站」只要走路4分鐘
到「梅田」「心齋橋」「難波」「新大阪」都非常便利!
アパートから徒歩4分で御堂筋線「中津駅」があります。
ここから「梅田」「心斎橋」「なんば」「新大阪」へアクセスが便利です。
※You must obey the Japanese manner during staying. (If you can not, you have to check out in case.)
1) It will be sent you after comfirmed your booking that message about check in and explanation of the room. Pleas check messages.
2) In case of you can not use internet during your travell so, please save your smart phone what you need.
※If you have not checked our messages before you arrive Japan and call us after you arrive Japan, you will wait for a long time in case.
3) Do not do anything to annoy for neighborhood.
・Do not make a noise in the room and at sharing spaces. Especially,be careful your noise in the night time.
・Do not invite in the room anyone who is not guest.
・Please distinct your rubbish.(Bottle・Can, Plastic and other)
4) Please gather you rubbish.
5) Do not dye hair in the room, bathroom or dressing room.
6) Do not take any fixtures in the room.
7) If you destroy something in the room, please tell me as soon as possible.
8) Do not stay beyond check out time. If you beyond, you have to pay 5.000 yen for fine.
・Accommodation fee for children.
A child who under 12 years old for free. Just for one child.
※ 請在住宿期間遵守日本及住房的相關規定(如有沒遵守的情況發生,將可能要求客人在住宿期中退房)。
1) 確定客人的預約後,將會通知您有關入住及房間的住宿規定,請務必詳閱說明。
2) 旅行中可能會有無法使用網路的情形,為了避免此類狀況發生,請您務必先截取說明的畫面,以便能隨時閱覽及確認我們的說明。
※如果您選擇不閱讀我們的說明而是直接來日本才打電話聯絡我,可能會有無法立即接電話的情況發生,請您諒解。
3) 請勿做出打擾鄰居的行為。
・如大樓的共用空間,及晚上請勿產生過大的噪音。
・除預約者外,請勿讓其他人入住。
・垃圾丟棄時請分類(瓶罐類、塑膠類、其他類)
4) 請於最後退時前將垃圾集中整理好。
5) 請勿於室內(包含浴室、廁所、流理臺等地)染頭髮。
6) 請勿帶走房間內的用品(包含毛巾牙刷等備用品)
7) 如有損壞房間內物品的情況,請立即聯繫我。
8) 請務必遵守退房時間,無故延遲者,將向您酌收5,000日幣的罰金。
・有關孩童的價位
首位12歲以下的孩童免費。
1)예약확정 후 체크인에 관련 된 내용이나 방의 설명을 보내드리니 반드시 메시지의 확인을 부탁합니다.
2)여행중 당신은 인터넷 환경을 사용할 수없는 경우가 있습니다.그런 경우에도 당황하지 않도록 필요한 것은 스마트 폰의 화면 캡처 하십시오.
※만약 당신이 우리의 연락을 한번도 확인 하지 않고 일본에 도착하고 전화를 해 온 경우 당신은 우리가 해당 할 때 까지 장시간 기다려야 않을 수 있습니다.
※ 숙박 중 일본의 매너를 지켜주세요.(지켜주실 수없는 경우는 숙박도중에라도 체크 아웃하실 수 있습니다.
3) 이웃에게 페를 기치는 행위는 삼가해주십시오.
・객실과 공용공간에서는 떠들지 마십시오.특히 밤에는 소음에 주의하시기 바랍니다.
・숙박자이외의 사람을 방에 초대하지 마십시오.
・쓰레기를 분리하십시오.(병,캔,플라스틱,기타)
4)쓰레기는 모으십시오.
5)실내,욕실,화장실등에서 헤어 컬러 금지합니다.
6)객실의 비품을 가지고 돌아가지 마십시오.
7)실내의 물건을 망가 졌을경우 즉시 연락을 주세요.
8)체크 아웃시간엄수입니다.무단 늦은 경우는 5000엔의 벌금을 징수합니다.
・어린이의 요금에 대하여
12세이하의 어린이는 1명무료입니다.
※ 宿泊中は日本のマナーを守って下さい(守って頂けない場合、宿泊途中でもチェックアウトをしていただく場合があります)。
1)予約確定後チェックインの関する内容や、お部屋の説明をお送りしますので、必ずメッセージの確認をして下さい。
2)旅行中にあなたはインターネット環境が使えない場合があります。そのような場合でも困らないように、必要なものはスマートホンの画面キャプチャして下さい。
※もし、あなたが私からの連絡を一度も確認せず日本に到着し、電話をしてきた場合、あなたは私が対応するまで長時間待たなければならない可能性があります。
3) 近隣に迷惑をかける行為はおやめ下さい。
・お部屋や共用スペースでは騒がないで下さい。特に夜は騒音にご注意下さい。
・宿泊者以外の方をお部屋に招待しないで下さい。
・ごみを分別してください(瓶・缶、プラスチック、その他)
4)ごみはまとめて下さい。
5)室内、浴室、洗面所などでヘアカラー禁止です。
6)部屋の備品を持って帰らないで下さい。
7)室内の物を壊してしまった場合、すぐに連絡下さい。
8)チェックアウト時間厳守です。無断で遅れた場合は5000円の罰金を徴収します。
・お子様の料金について
12歳以下の子供は1人無料です。
Ne convient pas aux animaux
L'entrée dans les lieux se fait après 15:00
1. After the reservation is confirmed, we will send you information such as method of check-in and important information via e-mail. Please be sure to check out the e-mail.
2. During your visit to Japan, you might facing no WIFI situation. So please be sure screen capture or save a hard or soft copy of the information before you come.
※ If you come here without checking those information; and during that time I unable to rush to the place where you are, you might facing a situation that you cant check-in. So please be sure to check the e-mail I sent to you.
※ Below is some of the common Japanese manner and etiquette, please get into consideration.
1) Please show respect and consideration to surrounding neighbors.
・Please keep all noise and activity to minimum within the buidling (entrance, evelator, staircase, public space such as the corridor and around the balcony etc.) during day and night time.
If there have any complain from the neighbors or the building manager, you might be asked to check out early and we also will be prohibited to use the place for hosting purpose anymore. Especially when staying with few number of people, it might leak out even a little bit of voice during day and night time. So please take note.
・Please do not party inside the room.
2) Please separate flamable trash (paper, raw food etc), can, glass bottle and plastic bottle during your stay. We will handle all the garbage after you check out.
3) When staying in house,
・You are not allowed to smoke inside the house and within the building.
・You are only allowed to smoke on the balcony. Please throw the cigarette butts into the ashtray.
・Please do not dye hair inside the house. If the drug is attached to the wall or floor, it is almost impossible to be cleaned.
・You are not allow to bring home any of the equipment and amenities
・If you accidentally breaking something, please contact us.
4) Bringing more guests
・Please tell us when you wish to add more guests. if you fail to tell us, Surplus fee of 5,000 yen per night per person will be charged.
・ For children
The first child below 12 years old is free of charge. The second child onward will be counted as 1 person.
For example, 2 adults and 2 children (both below 12years old) will be counted as 3 adults
5) If you brought back or lost the pocket WIFI, 20,000 yen for the compensation will be claimed.
Kawanishi, Japon
·
Membre depuis janvier 2016
Hello.Nice to see you.
Welcome to Osaka!!

I'm Takeo.

I decide my empty room to be able to stay.
I would like to you who come from around the world know about good point of Japan and Osaka.

I aim to support you as much as possible!!

Please feel free to contct me!

I'm looking forward to seeing you.

初次見面 大家好
歡迎來到大阪!!

我是Takeo

我開放了自己的空間讓大家來住宿哦
我想要讓來自世界各國的朋友 更了解大阪是多麼好的地方!

也希望可以幫忙來大阪旅遊的大家
推薦美食、景點!!

請不要客氣和我聯絡哦!

期待與世界各國的大家相遇!!

こんにちは。はじめまして。
ようこそ大阪へ!!

Takeoです。

私の空いているお部屋を開放することにしました。
世界中の方々に、日本の大阪のいいところ、素敵なところをもっともっと知ってほしいです。

少しでもみなさんのサポートが出来るように頑張ります!!

いつでもお気軽にご連絡ください!

たくさんの人との出会いを楽しみにしています。

Taux de réponse :

100%(30 derniers jours)
Délai de réponse :
Moins d'une heure
Découvrez d'autres options à Ōsaka et dans ses environs
Plus de logements à Ōsaka :