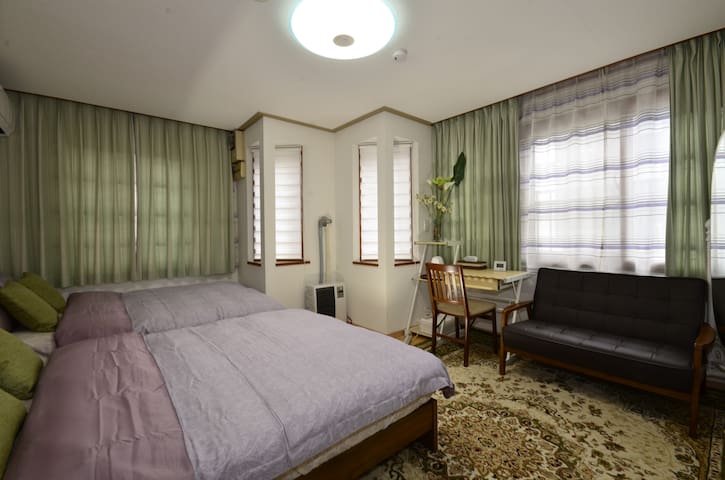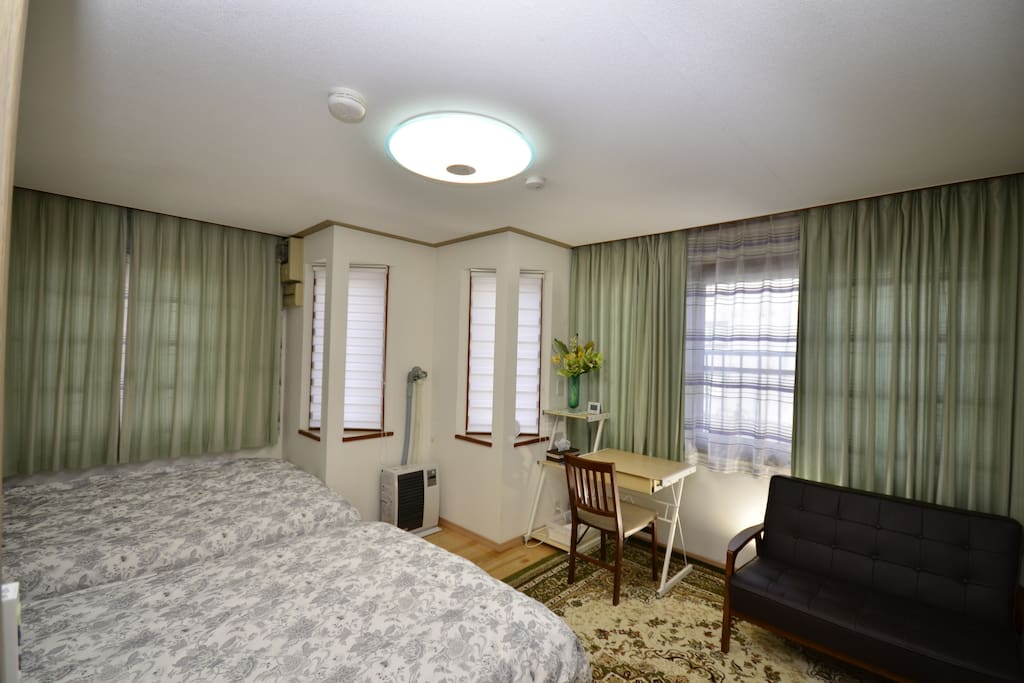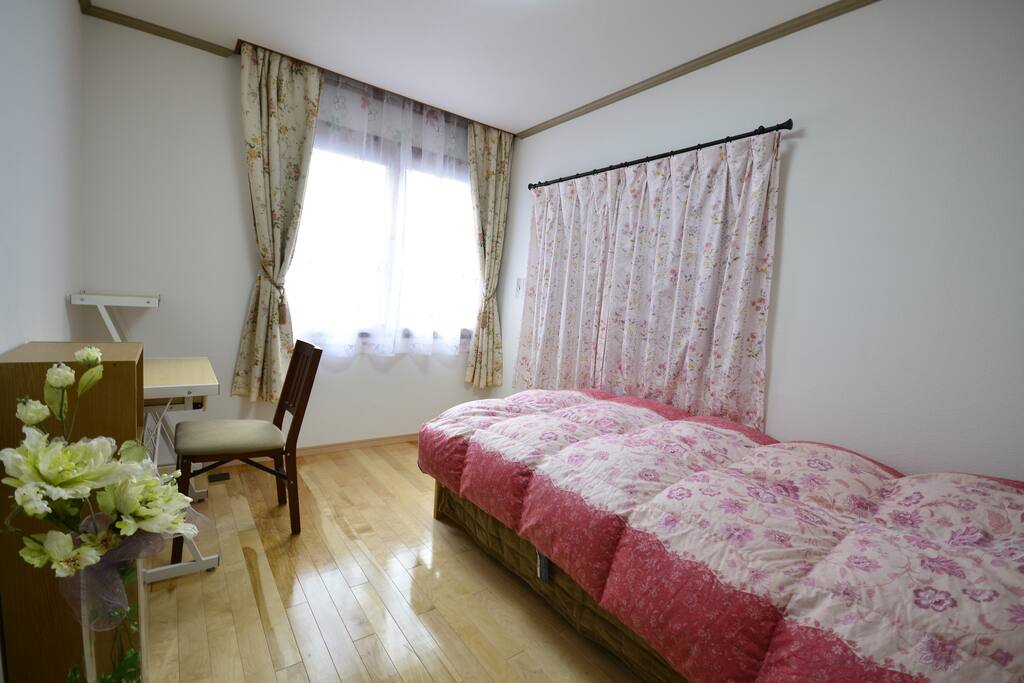 À propos de ce logement
---
---
Voyageur supplémentaire : 35€ / nuit après le premier voyageur
Tarif week-end : 48€ / nuit
---
Hello
Open our NA love Sapporo share house.
Renovated by myself and invite you to a beautiful place.
Living in a foreign country is difficult sometimes, so i want help your travel being comfortable as much as i can.
Our location is fatastic.
Really close to central city but it is reall calm and cozy town here.
So it is good for saving times and relaxing.
Location and near enviroment. (by walk)
2-minutes from the Renaissance Hotel.
1 minute, Seven-Eleven and post office exist.
10 minutes, there is a supermarket is.
Traffics. (by walk)
The nearest station Gakuen mae station 7 minutes.
Gikusui station 10 minutes.
Susukino Station is 12 minutes.
Benefits
Provides a simple breakfast (Dinner is option)
Facilities
Total12 rooms, 5 rooms are Tadamio-type, 8 rooms are bed.
2 Bathrooms, 3 toilets, 2 sinks, 2 washing machines.
Internet Wi-Fi, public PC and printer, public iron, public dressing table.
About share house rental.
Please have consult with owner.
Share house: includes light and heat expenses
Other initial cost: 0
Prohibited
All rooms non-smoking, pet-friendly prohibition.
Pleasebe be quiet after 10:00 pm for other guests.
Near 1km.
Seven-Eleven - 70m
Post Office - 100m
Chitose airport bus stop - 300m
Gikusui station - 600m
Nijo Market - 700m
Bus Center-mae Station - 800m
School-mae Station - 800m
Large supermarket - 900m
Around 1.0-2.0 km.
Sapporo TV Tower - 1.10 km
Susukino Station - 1.2 km
Nakajima Koen Station - 1.2 km
Misleading Lee Station - 1.4 km
Sapporo Clock Tower - 1.4 km
Over 5.0 km
Sapporo Okadama Airport (OKD) - 6.5 km
Sapporo New Chitose Airport (CTS) - 39km
Contact + +
            + ( FAX talk ID: nasangun LINE ID: nasangun
Links:
---
L'entrée dans les lieux se fait entre 15:00 et 22:00
Hostel (reserved) use, rules,
# 1 person, no appointment / more than 2 persons available!
# Always use the kitchen and get guidance on how to use the administrator!
(Hotplate gas equipment usage instructions)
# DO NOT SMOKE!
(When smoking accommodation refusal)
# Absolute quiet after 22:00!
(For the rest of other travelers)
# 23:00 after the kitchen / bathroom / living room use restrictions!
(The limit for the sleep of the other guests late jointly used facilities)
# Washing laundry, guest are required to contact the administrator!
All rooms are non-smoking and no-pet.
# For use in the kitchen and living room
A space for a all guest use.
The meals are available.
It is not possible to use it for a long time like party after 10pm.
---
Strictes
Si vous annulez jusqu'à 7 jours avant le voyage, vous recevez un remboursement à hauteur de 50 % et les frais de service vous sont remboursés intégralement.
---
Détecteur de monoxyde de carbone
Porte de la chambre avec verrou
---
Séjour de 2 nuits minimum
I stayed in this guest house for 3 nights. I thought it should have private toilet and bathroom at this room rate. However these should be shared with others. In my floor, there are 5 guest rooms but only two toilets and one bathroom. You can imagine that these facilities would be too busy when all rooms are booked. It takes almost 15 minutes to subway on foot. It is acceptable but is not convenient. For those people enjoy shopping , I would suggest them to choose the room near Sapporo JR. It takes about 5 minutes walk to the airport bus stop. It is very convenient. The host provide foods for breakfast.
The subway is two places near the hostel, 学院 station, walk 6 minutes! 菊 水 station is on foot 8 minutes. City bus stop is 2 minutes walk away. Airport is only 5 minutes bus ride where The airport bus down here is 4 minutes walk. The first use of public transport, the way I went in the other direction!
---
Sapporo, Japon

·

Membre depuis avril 2013
Japanese is always best here tourist city Sapporo!

Is the central city of Hokkaido with Sapporo snow, clean natural environment,
Hokkaido travel
Is where it serves as a base camp, it is a city where there is a fresh and delicious food.
From the center of Sapporo Susukino There are NA House in a 10-minute walk away.
The peripheral NA House,
There is a beautiful Toyohira that can be trekking sucking the clear air early in the morning,
Odori Park through the Susukino across monopod, modern and contemporary
You can see the Sapporo figure coexist.
Sapporo in more than 15 years
In a living have experience, while exploring the important sights of Hokkaido directly,
Whether where is happy trip to the molar fun heart struck by feelings of travelers
Has been studied.
In Hokkaido and Sapporo
And where it was already well-known, it looks well in your thoughts
It has been introduced to Nukimu after seeing back looking for hidden attractions directly,
Short trip period
It operates a helpful tour guide to use more efficiently.
Four seasons is clear in Hokkaido, has beautiful unexplored region is hidden here and there.
The world can be changed if you happened to sleep every day, you want to you to show you to everyone,
Rivers and mountains and fields,,
Then you out on a journey in search of beauty visible.
And, I will present the information about the results to everyone
NA House, facing a 2015
I am waiting for the family to share the happiness.
As the best of the bedding to the newly made space in the renewal,
You comfortable resting place, you are ready to carry comfortably.
There is a comfortable and value, and we believe a safe trip to the first
** Photo of creating, is a service, such as Hokkaido coverage support.
** Only because their favorite camp I will camp life with you.
** By the travel guide tour is the ultimate goal of the trip to Hokkaido,
To the destination I will introduce the driver to carry safely.
NA House, will do our best so that you can return home to have a happy memories of Hokkaido.

Thanks you.

日本是在这里总是最佳旅游城市札幌!

是北海道的札幌与雪,洁净的自然环境的中心城市,
北海道旅行
是它作为大本营,它是一个城市,那里是一个新鲜和美味的食物。
从札幌薄野中心有NA House酒店有10分钟的步行路程。
外围NA楼,
有一个美丽的丰平,可以徒步吸清气一大早,
大通公园对面,通过独脚架,现代和当代的薄野
你可以看到札幌的身影并存。
札幌超过15年
在客厅有经验,而直接探索北海道的重要景点,
无论在哪里开心之旅摩尔乐趣心脏遭旅客感受
进行了研究。
在北海道和札幌
而且它已经熟知,它看起来好你的想法
据介绍Nukimu看到后面直接寻找隐藏的景点后,
行程短时期
它的工作有帮助的导游更有效地利用。
四季显然在北海道,有美丽的未开发的区域,在这里和那里隐藏。
世界可以,如果你碰巧睡觉每天更换,要你向你展示给大家,
河山和领域,,
然后,你出去寻找美容可见的旅程。
而且,我将介绍一下,结果给大家的信息
NA楼,面对2015年
我在等待家人分享快乐。
作为最好的铺垫到新的空间做了更新,
您舒适的休息场所,你就可以轻松随身携带。
有一个舒适和价值,我们相信一个安全之旅第一
**创造的照片,是一个服务,如北海道报道的支持。
**只因为自己喜欢的阵营,我会军营生活与您联系。
**通过旅游指南之旅是前往北海道的终极目标,
到了目的地,我会介绍司机进行安全。
NA房子,会竭尽所能,让你可以回老家北海道有一个美好的回忆。

感谢您。


日本人が常に最高ここ観光都市札幌!

札幌雪、清浄な自然環境を持つ北海道の中心都市であり、
北海道旅行の
ベースキャンプとなるところであり、新鮮で美味しい食べ物がある都市です。
その札幌の中心部すすきのから徒歩10分の距離にNAハウスがあります。
NAハウス周辺には、
早朝澄んだ空気を吸ってトレッキングすることができる美しい豊平川があり、
一脚渡るすすきのを経て大通公園まで、近代と現代の
姿が共存する札幌を見ることができます。
札幌で15年以上
生きてきた経験に、北海道の重要な観光スポットを直接探訪しながら、
どこが旅行者の感情に打たれ楽しく心に盛る幸せな旅行になるかを
研究してきました。
北海道と札幌で
すでに有名になったところや、自分の考えで良く見える
隠れた名所を直接探して戻って見た後ヌキムに紹介しており、
短い旅行期間
より効率的に利用するのに便利なツアーガイドを運営しています。
四季がはっきりして北海道には、美しい秘境があちこちが隠れています。
毎日寝て起きたら変えられる世界を、皆さんにお見せしにしたい、
川と山、そして野原、
そして、目に見える美しさを探して旅に出ます。
そして、その結果についての情報を皆さんにプレゼントします
NAハウスは、2015年を迎えて
幸せを分かち合う家族を待っています。

일본인들이 항상 최고로 여기는 관광 도시 삿포로!

삿포로 스노우, 청정한 자연환경을 지닌 홋카이도의 중심 도시이자,
홋카이도 여행의
베이스캠프가 되는 곳이고, 신선하고 맛있는 먹거리가 있는 도시입니다.
그 삿포로의 중심부 스스키노에서 도보 10분 거리에 NA하우스가 있습니다.
NA하우스 주변에는
이른아침 맑은 공기를 마시며 트레킹 할수 있는 아름다운토요히라강이 있으며
다리하나 건너면 스스키노를 거쳐 오도리공원까지, 근대와 현대의
모습이 공존하는 삿포로를 보실 수 있습니다.
삿포로에서 15여년
살아왔던 경험으로 ,홋가이도의 중요한 관광 명소를 직접 탐방하면서,
어느곳이 여행객의 정서에 맞으며 즐겁고 마음에 담는 행복한 여행이 될 것인가를
연구하여 왔습니다.
홋가이도와 삿포로에서
이미 유명해진 곳이나, 자신의 생각으로 좋아보이는
숨은 명소를 직접 찾아서 돌아본후 느킴대로 소개하고 있으며,
짧은 여행기간
더 효율적으로 이용 하시기에 편리한 투어 가이드를 운영하고 있습니다.
사계절이 뚜렷한 홋가이도에는, 아름다운 비경이 곳곳이 숨어 있습니다.
매일 자고일어나면 바꾸어지는 세상을, 여러분에게 보여드리고 나누고 싶어,
강과 산 ,그리고 들판,
그리고 눈으로 보이는 아름다움을 찾아 길을 떠납니다.
그리고 그 결과에대한 정보를 여러분에게 선물합니다
NA하우스는 2015년을 맞이하여
행복을 함께나눌 가족을 기다리고 있습니다.
리뉴얼로 새로워진 공간에 최상에 침구로,
여러분에 편안한 휴게소 , 편하게 모실 준비가 되어있습니다.
편안하고 가치있고 안전한 여행투어를 제일로 생각하며
**사진작성,홋카이도취재 서포트 등 서비스 합니다.
**자신이 좋아하는 캠핑이기에 여러분과함께 캠프생활을 합니다.
**홋카이도 여행의 최종목적인 여행가이드 투어를하며,
목적지까지 안전하게 모실 드라이버를 소개합니다.
NA하우스는 여러분들이 홋카이도의 행복한 추억을 가지고 귀국 할수 있도록 최선을 다하겠습니다.

감사합니다.



Taux de réponse :
100%
Délai de réponse :
Moins d'une heure
L'adresse exacte est communiquée uniquement lorsque la réservation est confirmée.
Découvrez d'autres options à Sapporo city et dans ses environs
Plus de logements à Sapporo city :