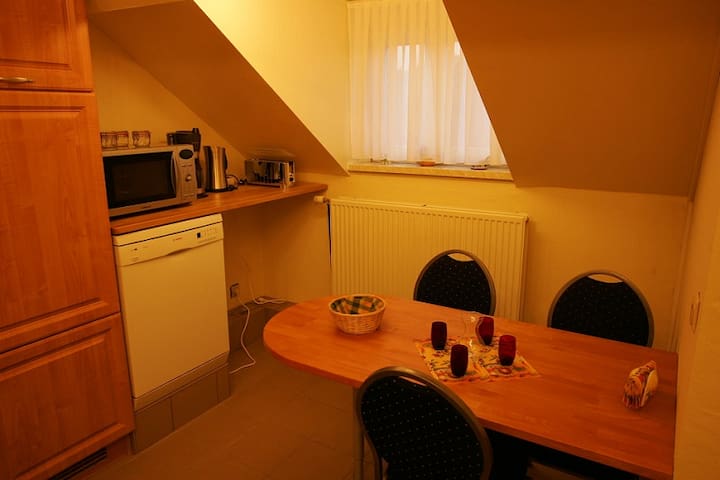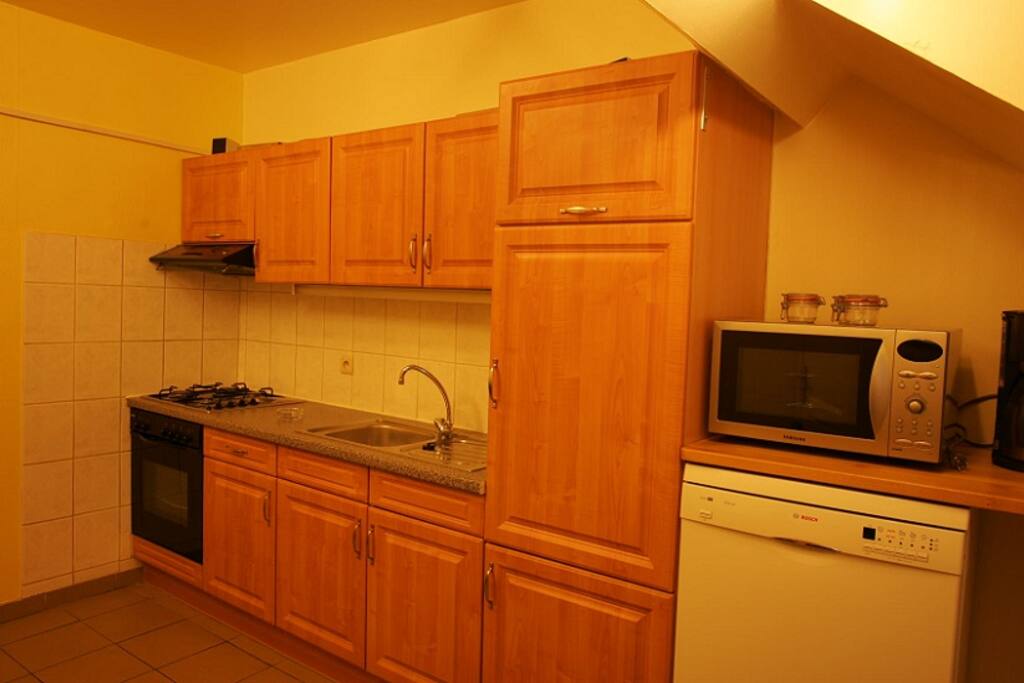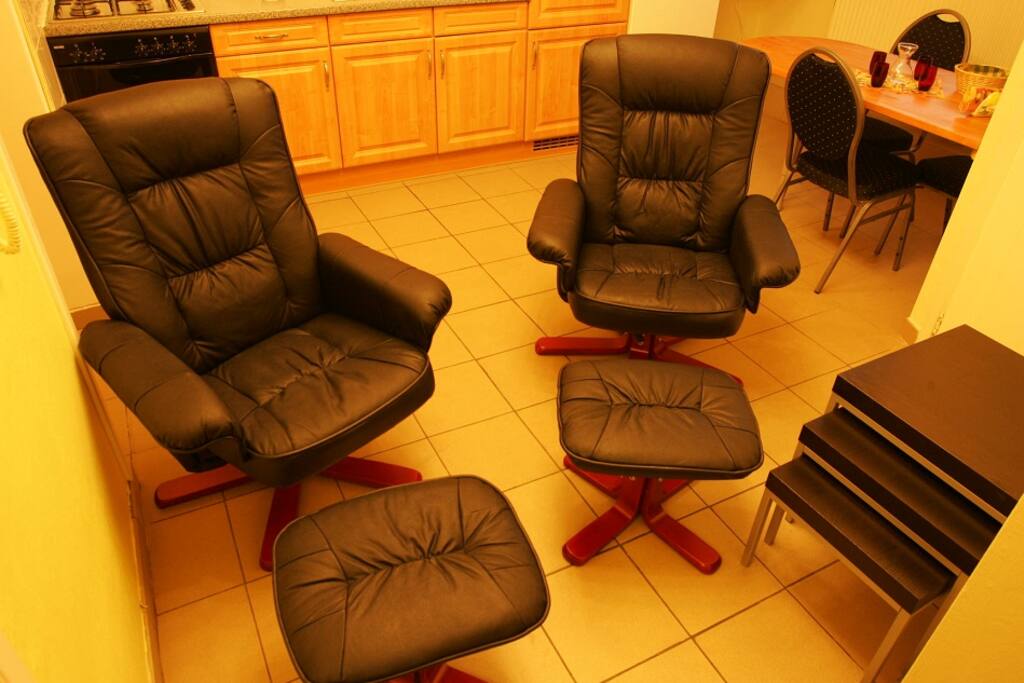 À propos de ce logement
Very nice furnished apartment situated at Rue Gray 238 (eu area), suitable for 1 person, or a couple. It has a private bathroom, and includes all comfort.
We have 20 years of experience in renting short time furnished apartments and studios.
---
Arrivée : À partir de 16:00
Type de logement : Logement entier
---
---
Voyageur supplémentaire : 10€ / nuit après le premier voyageur
Réduction à la semaine : 11%
---
Very nice furnished apartment situated at Rue Gray 238 (eu area), suitable for 1 person, or a couple. It has a private bathroom, and includes all comfort.
We have 20 years of experience in renting short time furnished apartments and studios.
Fully furnished ONE bedroom apartment (65 m²) situated at third floor Rue Gray 238, situated between place Jourdan and place Flagey, at walking distance of Eu and place Shuman.
one bedroom apartment (65 m²) with twin beds (each 200 x90cm), the beds can be separated. The apartment is provided with separate bathroom and have bath and shower;
The apartment is fully equipped and has its own kitchen equipped with a cooker (gas), fridge, freezer, oven, microwave, coffee machine, toaster, blender, cutlery, dishwasher, etc…
The apartment has conventional central heating and air conditioning, Well isolated and has double glazing.
It is equipped with free high speed internet, free cable TV, TV stereo and home cinema system, laundry facilities in the apartment. (or in the building).
Sheets and towels provided, iron table + iron at your disposal.
Possible for a stay for 1 to 2 persons.
Bus at a few steps from the house, subway 10min walk.
INVENTAIRE RUE GRAY 238 - 3ème étage
"Article
Entrée: Entrance
Tapis/mat1
Armoire à chaussures/shoe cabinet1
Lustre avec 3 lampes*/light fitting with 3 lughtbulb1
Etagère/ Bookshelf1
avec coupe en verre bleu2
avec pot + couvercle en faïence1
avec petit pot + couvercle en porcelaine chinois3
avec vase en faïence1
avec plat en porcelaine chinois1
avec petite verre en porcelaine chinois1
avec petite plat en verre1
Garde-robe /Wardrobes1
"planche à repasser
ironing board"1
fer à repasser type Calor Aquaspeed 115 /iron Calor Aquaspeed1151
aspirateur AFK 2200w/ vacuum cleaner AFK1
Brosse/ Brush1
Raclette/ Squeegee1
brosse recurer + manche/scrubbing brush1
balayette et ramassett/ dustpan and brush1
Salle de bain Bathroom
"Meuble avec lavabo et bonde, miroir et armature avec 3 lampes*
Vanity unit with sink and plug, framed mirror + 3 lightbulbs*"1
Support de savon/soap holder1
Gobelet/cup1
Douche avec porte et bonde/cabine de shower1
Support de serviette/towel holder1
Support de serviette/towel holder1
WC avec couvercle/ Toilet with lid1
"Balayette et support
Toilet brush and holder"1
"Support pour papier de toilette fixer au mur
wall-mounted toilet roll holder"1
Tapis de WC Santens 60 x 60 cm/toilet mat1
Tapis de bain Santens 60 x 100 cm/bath mat1
Serviette/towel5
Serviette de bain/bath towel2
Gant de toilette/washmitt4
Radiateur Delonghi/radiator Delonghi1
Poubelle/bin1
Hairdryer1
Coin de salon/TV corner
Portemanteau/coat rack + 1 umbrella1
Parlophone/intercom1
télécomande d'airco/Airco remote control1
Fauteuil type « relax » + marche pied / Relax seat + footstool2
Ensemble de 3 tables d'appoint/ 3 table-set1
Meuble TV/ TV stand1
TV type SONY Triniton1
Sony Stereo STR-DG500S1
DVD type Packard Bell1
Digital Home cinema système avec 6 bafles type SONY1
Lustre avec 12 lampes**/light fitting with 12 lightbulbs1
Lampadaire + lampe*/ fraa-standing lamp1
Draperies/curtain1
Surgélateur Friac / freeser Friac1
Coin cuisine/kitchen
Lustre avec 6 lampes*/light fitting with 6 lightbulbs1
Rideau/net curtain1
Draperie/curtain1
Table/table 1
Cendrier/ashtray1
Corbeille/basket1
Petit vase/vase1
Petit pot/small pot2
Support de serviette/serviette holder1
Caraf de vin/wine carafe1
Place mate yellow4
Underlayer for glasses yellow6
Petit verre/glasses4
Chaise/chair4
"Cafétière electr. Avec thermos type ROWENTA BRUNCH
Electric coffee maker with Rowenta Brunch thermos jug"1
"Bouilloire type CLOER
CLOER kettle"1
Toasteur type Nova / Nova Toaster1
"Four micro-onde combi 3 en 1 type Samsung avec 2 grille
micro-wave 3 in 1 combi Samsung with 2 grill"1
Lave- vaiselle type BOSCH SGS46M22EU/73/dishwasher1
Multiprice avec sécurité/plug adaptor with security1
Petit corbeille/small basket1
Armoire élément mural1
Théière avec thermos/ Thermos teapot1
oeuf à thé/thee-egg1
bol de spaghetti résistant au / fire-proof bowl for spaghetti1
Armoire élément frigo1
frigo type IGNIS ARL 353/fridge Ignis1
Armoire élément bas1
"mixer type Braun + gobelet et couvercle/
Braun blender + beaker and lid "1
passoire/sieve1
essoreuse à salade/ salad spinner1
Pressoir à main/ Hand juicer1
gaufrier nova/waffle iron1
mixer/blender1
Armoire élément mural avec 2 portes1
verre à bière/beer glass6
verre à vin blanc/white wine glass6
verre à vin rouge/red wine glass6
verre pour l'eau/ waterglass6
cafétière en porcelaine/coffeepot in porcelaine1
sucrier en porcelaine/sugarpot in porcelaine1
Crémier/ Milk-jug1
grande assiette creuse en porceliane/plate in porcelaine1
assiettes creuses/deep plate6
assiettes plates/dinner plate6
assiettes à dessert/side plate6
sous-tasses/under tass6
tasses /cup6
"Tube au néon placard de cuisine
kitchen strip light"1
Armoire élément bas avec 2 portes1
poubelle 25 litre + couvercle/ bin with lid 25 litre1
seau 10l/ 10l buccket1
torchon/ cloth1
peau/ chamois cloth1
éponge végétale/ natural sponge1
brosse à vaiselle/ washing up brush1
spongidou/ sponge cloth1
éponge grafix/ grafix sponge1
raclette lave vitre/ window scaper1
planche à découper en plastic/plastic chopping board1
Armoire élément mural1
3 pyrex + couvercle/ 3 pyrex glass dishes with lids1
3 Boîte en plastic/ 3 Plastic box 1
planche à pain/bread board 3
Tiroir1
range-couvert en plastic/ plastic cutlery tray1
couteau/ knife6
cuiller à soupe/ soup spoon6
fourchette/ fork6
cuiller à café/ coffee spoon6
Allume-gaz/ Gas lighter1
cuiller en bois/ wooden spoon2
spatule en bois/wooden spatule1
leche-pot/ spatule 1
fouet/ whisk1
presse-ail/ garlic crusher1
couteau de cuisine/ kitchen knife1
couteau- éplucheur/ peeler-knife1
tire-bouchon/ corkscrew1
ciseaux /scissors1
louche (anti-griffe)/ scratch-resistant ladle2
ouvre-boîte/ tin-opener1
spaan anti-griffe/spoon1
presse- purée (anti-griffe/ potato-masher scratch-resistant1
couteau à pain/bread knife1
couteau de chef/kitchen knife1
couteau de cuisinier /knife 1
Armoire élément bas1
"caserolle 8/8 inox avec couvercle
saucepan 18/8 stainless steel and handle "3
casserole à manche en 18/8 inox/18/8 stainless steel saucepan1
Poêle en Tefal/ Tefal pan3
Dessous-de-plat ( en liège)/Underlay3
Armoire élément mural1
essuie-vaiselle/ kitchen towel6
Manique/ Pot holder2
Hotte type ZANKER avec 2 lampe/Hod with 2 lights1
Taque à gaz ( 4) intégré BOSCH/ 4 ring gass hob BOSCH1
Four éléctrique intégré type IGNIS/electric oven Ignis1
Chambre à coucher/ bedroom
Lit 1-pers./ Bed 1 person2
Sommier à lattes 1-pers./ Single slatted matress base2
Matelas latex 1-pers./ Latex matress1-pers.2
Sous-protège matelas/ Matress base protector2
Protège-matelas/ Matress protector2
Drap-housse 1 pers./ Fitted sheet 1-pers.2
Oreiller/ Pillow2
Protège oreiller/ Pillow protector2
Taie d'oreiller/ Pillowcase2
Couette en duvet 1-pers./single duvet 4 saison2
Housse de couette 1-pers./ Double duvet cover2
Table de nuit/table2
Lustre avec 6 lampes*/light fitting with 6 lightbulb1
Commode 3 tiroirs/ 3- drawner-chest 1
Unité airco-chauffage + split à l'extérieur/AIRCO1
Table de bureau/table1
Armoire blanc avec 2 tiroirs/2-drawner-chest1
Corbeille à papier/ Wastepaper basket1
Ordinateur HP vectra + clavier Logitech/PC HP vectra1
Ecran ACER AL1717/monitor acer1
Lampadaire/free standing lamp1
Multiprice avec sécurité/plug adaptor with sécurity1
Multiprice (4)/plug adaptor1
Garde-robe /Wardrobes1
Portemanteau/ Hanger20
Petit pot en verre/small glass pot3
Vase en porcelain/vase1

Halle commun Communal hallway
Machine à laver typeMIELE/ MIELE washing machine1
Séchoir type MIELE/ MIELE tumble dryer1
---
L'entrée dans les lieux se fait après 16:00
Article 1 :Object of the agreement – description of the property.
The landlord puts a furnished flat/apartment at the tenant's disposal and the latter accepts the furnished apartment located as indicated on the site of AIRbnb :
The tenant declares having received the property in the state described in the description of the premises. An will be handed over to the tenant on arrival. The inventory must be checked by the tenant, and be signed within 24 hours, fitted with the observations of the tenant. After being signed, it will form an integral part of the agreement.
The tenant commits himself to handing over the property to the landlord at the end of his stay in the state described in the inventory, an exception being made for the charges caused by the use or by the wear and tear, and after permission, for the transformations and improvements.
In case of considerate changes to the property, the parties commit themselves by mutual agreement to make an annexe to the inventory.
Article 2 : Destination.
The flat is put at the tenant's disposal for personal use only. The tenant formally declares that he will use the flat as secondary and temporary residence, and only with the objective of doing a working-traineeship in Brussels.
The tenant can in no case establish his domicile in the flat. The tenant's domicile is the one written down on his passport on arrival. The law on leases is not applicable to the present agreement.
The exercise of any commercial or professional activity is formally prohibited, except after written permission by the landlord.
For any loss suffered by the landlord due to a fiscal deduction or whatever kind of declaration to the authorities by the tenant, the tenant will be held responsible.
The flat will be occupied by the number of persons the tenant made reservations for, whether they are adults or minors of age. For every occupation (full stay) of an extra person, the rent and the charges will be increased by 25 %.
For any additional occupation, per additional person the rent and the charges will be increased by 10 euro per day and per person for a short stay (i.e. less than 7 days) and by 60 euro per person per week for every stay longer than 7 days.
Any occupation that has not been previously reported in writing (at least 1 day in advance) to the landlord, entitles the landlord to cancel the lease, immediately and without previous formal notification. In these circumstances, a compensation for the value of the remaining rent with a minimum of the rental guarantee will be charged.
Article 3 : Lease transfer and sublease.
The tenant is not allowed to transfer his rights or part of his rights, nor to sublease the flat or part of it.
The landlord is free to grant exceptions to the tenant, after having been consulted first in writing.
Article 4 : Changes and transformations.
The tenant can only carry out changes, transformations or refittings after having obtained a previous and written permission given to him by the landlord.
The changes, transformations, refittings or improvements will be fully acquired by the landlord, who does not have to pay any compensation to the tenant, not at the moment the works are being carried out, nor at the moment the present agreement expires.
Article 5 : Maintenance and small reparations.
The tenant is responsible for all the reparations and the maintenance caused by his fault except for the reparations and maintenance caused normal use by hazard or in cases of force majeure.
The tenant will do the maintenance of the washing machine, the dryer and the dishwasher, and he will use the appropriate products for the well-functioning of these machines.
In case the tenant should lose his keys, be it those of the main front door, or those of the door of the building, the landlord will change the locks at the tenant's charges. In any circumstance, the tenant is formally prohibited to replace the locks or the cylinders. Any intervention at this level will be undertaken by the landlord. Any infringement by the tenant to this rule, entitles the landlord to put an end to the agreement immediately and without previous formal notification. In these circumstances the tenant will be charged a compensation that equals the value of the remaining dues with a minimum of the rental guarantee.
In the case of cancellation of the lease, the landlord has the right to have the locks changed and to refuse to give access to the building and to the flat.
The landlord has the right to visit the flats after having informed the tenant by e-mail, except in cases of emergency when he has the right to visit the flats without prior notice.
It the tenant refuses, this will be considered a cancellation of the lease by the tenant, and it will have the same consequences as the cancellation by the landlord as described in article 6 of the present agreement.
It is formally prohibited to paint or to re-paper the flat.
Article 6 : Insurances – energy consumption.
The landlord has underwritten a insurance policy against fire for the whole property, and for the cover of possible damages to his furniture and to his other moveable property, like integral fire and civic responsibility, with dismissal of recovery against the tenant.
Consumption of electricity, heating, water and gas are not included in the dues. An imprest of €60/month (non-refundable) is included in the rent. Electricity and gas according to meter reading, heating 0.75€/radiator/day, warm water 0.5€/day. If the consumption exceeds the amount of the imprest, the supplement will have to be paid by the tenant.
The adjustment will be made at the end of the stay.
The tenant can in no case claim an anticipated adjustment.
At the end of the stay, the amount of 90 euro is payable to have the flat cleaned.
Article 7 : Pets.
The landlord does not allow pets.
Article 8 : Use of the apartment.
It is very important to ventilate the apartment in the way we will indicate to you on arrival. If you don't and you get mould on the walls you will be charged for the repairs.
After showering, the bathroom MUST be ventilated. Bath or shower should be cleaned. Hair and other bigger items should not be flushed down the drain, IT COULD CAUSE BLOCKING.
HYGIENIC TOWELS OR TAMPAX DO NOT BELONG IN THE TOILET.
If you block the drain, you will be charged for the repairs.
Internet is for free, it is wifi. Follow the instructions on the rooter.
---
Détecteur de monoxyde de carbone
---
Séjour de 91 nuits minimum
BE

·

Membre depuis novembre 2015
Taux de réponse :
100%
Délai de réponse :
Moins d'une heure
L'adresse exacte est communiquée uniquement lorsque la réservation est confirmée.
Découvrez d'autres options à Ixelles et dans ses environs
Plus de logements à Ixelles :