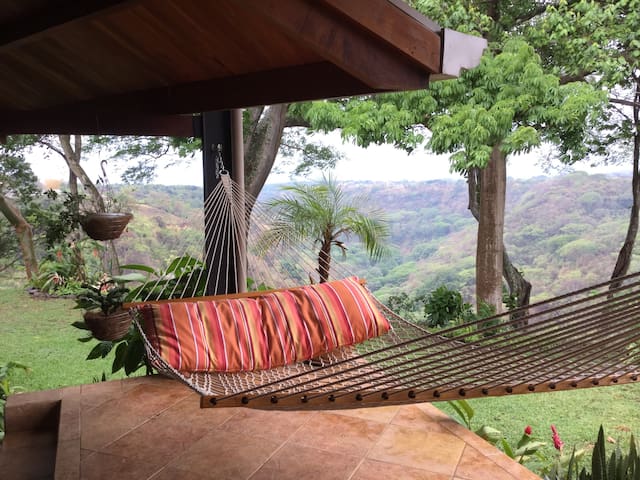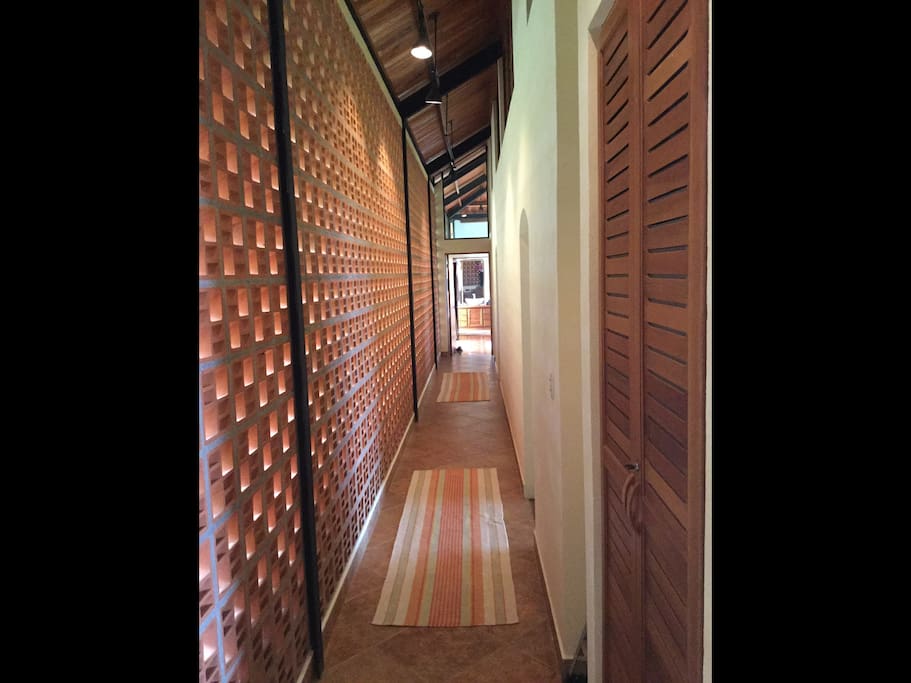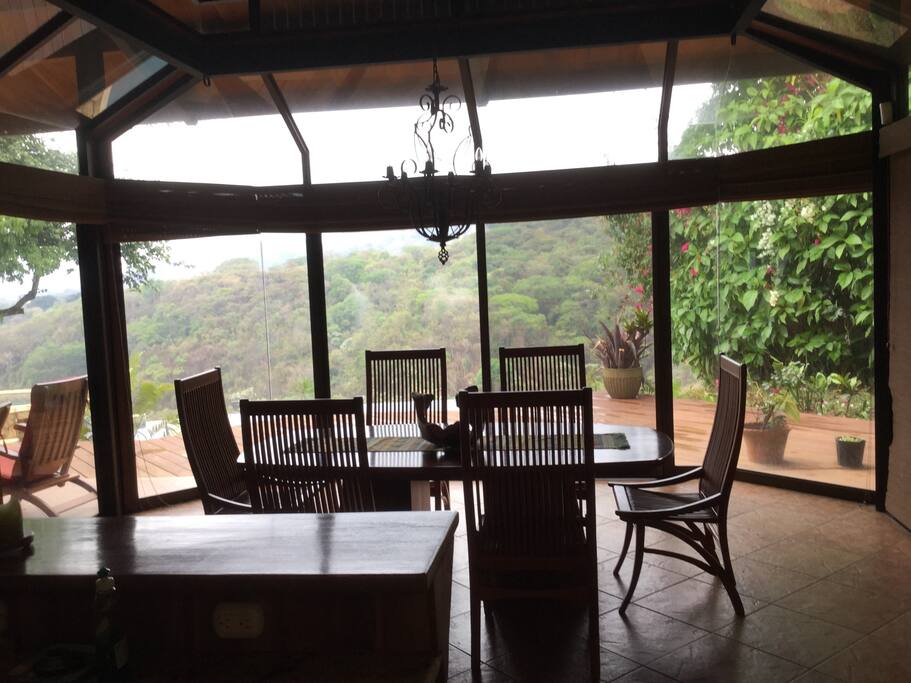 Retraite de vacances privée et isolée disponible à la location Impeccable, romantique, luxueux et composé privé - Objets d'architecture, Enclave exclusif dans le pays du café du Costa Rica - Situé sur le terrain d'une ancienne plantation de café et d'orange
Private and secluded vacation retreat available for rent
Impeccable, Romantic, Luxurious and Private Compound - Architectural Masterpiece, Exclusive Enclave in Costa Rica's Coffee Country - Located on grounds of an old Coffee and Orange plantation
Le logement
-Infinity pool with hot tub (intégralité de la vie privée et l'isolement) -Chef's cuisine avec vaste jardin d'herbes - Douches intérieures et extérieures Plafonds en bois voûté de 20 pi avec planchers de bois franc et de terre cuite en terre cuite -Câbles personnalisés et construits localement - Literie de luxe et matelas Internet sans fil haute vitesse Apple TV et US Dish Network TV - Système stéréo sans fil qui peut jouer de la musique à partir de votre iPod ou iPhone -La bibliothèque de livres et livres stockés - Communauté gérée avec des résidents internationaux -Fermer assez pour les excursions d'une journée à la plage, les volcans, la tyrolienne, le rafting, les ballons à air chaud, les randonnées en cascade, etc. -Pour voir des images à croire et les images ne font pas notre justice à la maison. Villa Las Clementinas est vraiment l'une des maisons les plus belles et bien construites du Costa Rica et possède l'une des plus belles vues de toute l'Amérique centrale. Perché au sommet d'un des plus grands et plus beaux canyons privés de la région, à travers laquelle coule le fleuve Rio Grande, notre maison est une retraite privée très magnifique. Ici, vous pouvez regarder les nuages se former et se lancer dans le ciel, traversant parfois la maison. La maison entière est construite pour maximiser les vues du canyon et des vues incroyables peuvent être vues de chaque pièce. Les vues sont inégalées et votre séjour ici est certainement quelque chose que vous n'oublierez jamais! Récemment rénové en 2014, cette belle villa de luxe de 3 chambres se trouve à seulement 45 minutes de la métropole en plein essor de la capitale du Costa Rica de San Jose, mais est un monde éloigné de ce «fouet et de l'agitation» et à seulement vingt minutes de San Jose International Aéroport (le code de l'aéroport est SJO). Voiture de location recommandée mais pas nécessaire. Vous n'avez pas besoin de 4 roues motrices pour accéder à notre propriété ou pour circuler localement, mais dans votre exploration du pays, cela vous est utile. Voir la note ci-dessous concernant les logements spéciaux Être négocié. Conçu et construit en 2007 par l'architecte internationalement reconnu Édgar Brenes, fondateur de l'École d'architecture de l'Université de San José, Villa Las Clementinas a été conçu pour compléter la beauté naturelle de l'environnement local et se fondre harmonieusement dans le canyon extérieur éthéré - Scape c'est notre arrière-cour. Cette maison de luxe présente de hauts plafonds en bois voûtés de 20 pieds de haut et possède une porte d'entrée magnifiquement incroyable de 18 pieds de haut. Les sols en bois de teck et les carreaux de terre cuite sont présentés dans toute la maison, tous fabriqués à partir de matériaux locaux et fabriqués avec une qualité impeccable. Chacune des pièces de la maison a des vues canyon et des patios et des terrasses extérieures avec des portes vitrées et blindées, vous permettant d'apprécier la beauté de notre environnement naturel de l'intérieur comme de l'extérieur. Le couloir des chambres est construit dans des pavés de Zacate et permet à la brise du canyon de circuler dans la maison, de réchauffer et de refroidir la maison au besoin. C'est tout simplement magique! Note: Le climat dans notre région est tel que la climatisation n'est jamais nécessaire (et personne dans la vallée centrale n'en a). La moyenne moyenne quotidienne des moyennes de 80 F et des nuits est de 68 F, plus fraîche de nuit en hiver. Il y a aussi plusieurs ventilateurs de plafond dans toute la maison. La maison maintient une température ambiante très confortable et dans tout notre temps là-bas, je n'ai jamais été chaud. Je peux fournir des références à cela si vous craignez que le manque de climatisation rend la maison une température inconfortable. La maison est construite autour d'un jardin paysagé et d'un jardin en pierre arrière avec une piscine à débordement qui dispose d'un bain à remous qui a été construit à partir de pierres de la rivière qui court au-dessous du canyon. Les douches extérieures et intérieures, les beaux meubles, les draps de luxe et les matelas américains haut de gamme sur les lits sont quelques-unes des choses qui rendent notre maison de vacances si spéciale. Tous nos meubles ont été conçus et construits par des artisans locaux provenant de feuillus locaux durables (teck, cinecero et bois de guanacastes). Nous avons une grande famille et nous aimons cuisiner et divertir. Notre cuisine gastronomique est bien équipée avec des casseroles et des ustensiles et tout l'équipement dont vous aurez besoin pour faire et déguster un repas fabuleux à la maison (comptoirs en granit, cuisinière gazière européenne, lave-vaisselle, mélangeur Kitchen Aid, etc.). Il existe un jardin d'herbes très robuste juste à l'extérieur de la cuisine où nous cultivons une grande variété d'herbes pour la cuisine. Les marchés verts, les charcutiers, les boulangeries et les épiceries ne sont qu'à une quinzaine de minutes de trajet dans la ville de Grèce. Des chefs privés disponibles pour venir faire votre cuisine pour vous si vous le souhaitez. Informez-vous auprès du directeur de la maison si vous êtes intéressé. Prix très raisonnable. Chaque chambre dispose d'un porche privé donnant sur le canyon. Vous pouvez organiser avec un spa local pour faire une maison Appelez pour vous offrir un massage, un soin du visage ou d'autres services de spa. Nous avons également des professeurs de yoga qui seront heureux de venir à la maison pour vous guider dans une leçon privée. Le coût pour cela est peu coûteux par rapport à ce qu'il en coûterait aux États-Unis et est une indulgence de vacances abordable comme aucun autre. La maison est équipée d'un accès Internet haut débit sans fil, d'une réception par téléphone cellulaire aux États-Unis, d'une télévision avec lecteur DVD et d'une réception de télévision par satellite aux États-Unis, d'une téléviseur Apple, d'une bibliothèque de DVD, d'un système stéréo et d'un système de sécurité. Ne vous inquiétez pas, vous n'êtes pas complètement hors de la grille si vous ne voulez pas l'être! Notre maison est un paradis très confortable et serein pour se détendre et rajeunir et profiter de la paix, du calme et de la beauté du Costa Rica. L'observation des oiseaux est l'un de nos passe-temps préférés ici. (Jumelles, librairie et une variété folle d'oiseaux inclus). C'est l'endroit idéal pour se détendre. Que vous cherchiez à voler à San Jose et passez quelques nuits à réétalonner avant de vous aventurer sur les merveilles que ce pays a à offrir, ou vous cherchez l'endroit idéal pour vous détendre complètement, cette magnifique maison répond parfaitement à vos besoins . La maison est également un endroit idéal pour utiliser comme base pour faire des excursions d'une journée pour explorer toutes les merveilles que le Costa Rica a à offrir. Notre maison est à proximité immédiate de nombreuses activités les plus belles et les plus riches du Costa Rica ... les forêts tropicales, les volcans, les forêts nuageuses, la tyrolienne, les sources thermales volcaniques, les cascades, le rafting, les circuits d'alimentation au crocodile (☺), les marchés des agriculteurs multiples ... Et beaucoup d'autres choses fabuleuses! Toutes ces activités magnifiques sont bien à portée de main depuis la maison. Notre responsable de la propriété est nommé Dan Schild, un charmant gentleman américain et un expatrié de St. Louis qui vous rencontrera à la propriété à votre arrivée pour vous orienter vers la maison, le système de sécurité, comment faire fonctionner la piscine et le bain à remous et répondre Toutes les questions que vous pourriez avoir. Il peut également vous donner quelques conseils sur les excursions d'une journée, où aller, etc. et vous mettre en contact avec notre chauffeur, chef personnel, masseuses, professeurs de yoga, etc. Nettoyage quotidien de la maison disponible moyennant des frais supplémentaires. Le nettoyage à la semaine est inclus pour les locations d'une semaine de plus. Nous avons un chauffeur que nous recommandons, Oscar, qui peut vous emmener sur vos sorties d'une journée pour un tarif très raisonnable si vous optez pour ne pas vous conduire. Dan peut vous mettre en contact avec lui avant ou pendant vos vacances afin que vous puissiez faire des plans avec lui. Si Oscar n'est pas disponible, son cousin Olgar est tout aussi merveilleux et pourra vous conduire. J'ai pris des dispositions avec une entreprise de location de voitures qui vous donnera une réduction de 10% sur leurs tarifs lorsque vous louez la maison. Ils vont également déposer et ramasser la voiture à la maison sans frais pour des locations d'une semaine ou plus, et vous pouvez négocier cela pour des locations plus courtes. Ils offrent les meilleurs taux et les taux d'assurance de toutes les compagnies de location de voitures au Costa Rica et c'est un excellent bonus supplémentaire lors de la location de la maison. Un taxi vers la maison de l'aéroport devrait coûter environ $ 35 dollars. Possibilité de négocier pour la société de location de voiture pour vous conduire à la maison de l'aéroport et à l'aéroport de la maison dans votre voiture de location. Ils ont l'intention de faire plaisir et sont très faciles à travailler. Vous pouvez avoir le meilleur des deux mondes ... venez vous relaxer dans une intimité et une intimité totale et, si vous voulez, quitter la grille pendant un certain temps. Ou, restez branché et connecté avec le monde extérieur. Le Costa Rica a autant ou peu de choses à faire que vous le souhaitez! L'une de nos façons préférées de passer la journée est de se détendre, de prendre le soleil et de lire à la piscine, de préparer le déjeuner dans la cuisine gastronomique, puis de terminer l'après-midi avec un appel au spa. Un plaisir spécial est de s'asseoir sur le porche et de regarder les averses tombent et ensuite les nuages qui se forment dans le canyon et se lèvent à travers la maison parfois, vers le ciel. Nous apprécions également de faire des excursions d'une journée à la plage, les volcans, la tyrolienne et à quelques restaurants merveilleux à proximité, à San Jose et dans les villes voisines et sur la plage. Je suis heureux de vous entretenir avec vous afin de vous donner une idée de ce qui est amusant à faire et de suggérer des choses que vous souhaitez inclure dans votre itinéraire. Lorsque vous séjournez à Villa Las Clementinas, vous serez dans la localité exacte que Travel and Leisure choisit comme «le meilleur climat du monde». Vous retrouverez ce que cela signifie d'être totalement détendu et rajeuni. Pura Vida! Remarque: si vous me consultez avant votre voyage, je peux également vous aider avec des recommandations pour les visites guidées, les chauffeurs, les excursions d'une journée, etc. L'hôtel à côté de notre communauté fermée (Vista del Valle) est sous une nouvelle propriété et est pour l'heure Être fermé. Il y a des restaurants dans les villes voisines de Palmares et en Grèce et il y a un excellent restaurant italien appelé La Formata à propos de s
-Infinity pool with hot tub (complete privacy and seclusion)
-Chef's kitchen with extensive herb garden
-Indoor and outdoor showers
-20-ft vaulted wood ceilings with teak hardwood and terra cotta tile floors
-Custom designed and locally built furniture
-Luxury bedding and mattresses
-High-speed wireless internet Apple TV and U.S. Dish Network TV
-Wireless stereo system that can play music from your iPod or iPhone
-Well stocked game and book library
-Gated community with international residents
-Close enough for day trips to beach, volcanoes, zip lining, white water rafting, hot air balloon trips, waterfall hikes, etc.
-Must see pictures to believe and the pictures do not do our home justice.
Villa Las Clementinas is truly one of Costa Rica's most beautiful and well-built homes and has one of the most gorgeous views in all of Central America. Perched high on the edge of one of the region's largest and most beautiful private canyons, through which the Rio Grande River flows, our home is a very magnificent private retreat. Here you can watch the clouds form and rise up into the sky, sometimes wafting through the house. The entire home is built to maximize the views of the canyon and unbelievable vistas can be seen from each room. The views are unmatched and your stay here is certainly something you will never forget!
Newly renovated in 2014, this 3 bedroom beautiful luxury villa is just 45 minutes outside of the booming metropolis of Costa Rica's capital city of San Jose, but is a world away from "that" hustle and bustle and just twenty minutes from the San Jose International Airport (airport code is SJO). Rental car recommended but not necessary. You do not need a 4WD to access our property or to drive around locally but in your exploring the country, it is certainly helpful. See note below about special rental car accommodations be have negotiated.
Designed and custom built in 2007 by internationally acclaimed architect Édgar Brenes, founder of the School of Architecture at the University of San Jose, Villa Las Clementinas was designed to complement the natural beauty of the local surroundings and to harmoniously blend into the ethereal outdoor canyon-scape that is our back yard.
This luxury home features amazing 20+ feet high vaulted wooden ceilings throughout and has a magnificently unbelievable front door that is 18 feet tall. Teak hardwood floors and terra cotta tiles are featured throughout the home, all made of locally sourced materials and crafted with impeccable quality. Each of the rooms in the home has canyon views and outdoor patios and decks with glass and screened doors, allowing you to appreciate the beauty of our natural surroundings from both inside and out. The corridor to the bedrooms is constructed of screened in zacate pavers and allows the canyon breezes to flow throughout the home, heating and cooling the home as needed. It is simply magical!
Note: The climate in our region is such that air conditioning is never needed (and nobody in the Central Valley has it). Daily average temperature averages 80 F and nights are 68 F, cooler at night in winter months. There are also multiple ceiling fans throughout the home. The house maintains a very comfortable ambient temperature and in all of our time there, I have never been hot. I can provide references to this if you are concerned that the lack of air conditioning makes the home an uncomfortable temperature.
The house is built around a gorgeously landscaped wood and stone back yard area with an infinity pool that features a hot tub that was constructed from stones from the river that runs below through the canyon.
Outdoor and indoor showers, beautiful furnishings, luxury linens and top of the line American mattresses on the beds are just some of the things that make our vacation home so special.
All of our furniture was custom designed and built by local artisans from sustainable local hardwoods (teak, cinecero and guanacaste woods).
We have a large family and we love to cook and entertain. Our gourmet kitchen is well stocked with pans and utensils and whatever equipment you will need to make and enjoy a fabulous meal at home (granite countertops, European gas range, dishwasher, Kitchen Aid mixer, etc.). There is a very robust herb garden right off of the kitchen where we grow a large variety of herbs for cooking. Green markets, butchers, bakeries and grocery stores are only a fifteen-minute ride away into the town of Grecia. Private chefs available to come and do your cooking for you if you wish. Inquire with the house manager if you are interested. Prices VERY reasonable.
Each bedroom features a private porch overlooking the canyon. You can arrange with a local day spa to make a house call to give you a massage, facial or other spa services. We also have yoga teachers who will gladly come to the house to guide you in a private lesson. The cost for this is inexpensive compared to what it would cost in the United States and is an affordable vacation indulgence like no other.
The home is equipped with high-speed wireless internet, US Cell Phone reception, TV with DVD player and U.S. satellite TV reception, Apple TV, DVD library, stereo system and security system. Don't worry, you aren't completely off of the grid if you do not want to be!
Our home is a very comfortable and serene haven to relax and rejuvenate and enjoy the peace, quiet and beauty of Costa Rica. Bird watching is one of our favorite pastimes here. (Binoculars, book library and an insane variety of birds included.) This is the ideal place to come and unwind.

Whether you are looking to fly into San Jose and spend a few nights recalibrating before you venture out to explore the wonders this country has to offer, or you are just looking for the perfect place to completely relax, this gorgeous home will perfectly suit your needs.
The home is also an ideal place to use as a home base to take day trips to explore all of the wonders that Costa Rica has to offer. Our house is in great proximity to many of Costa Rica's finest and funnest activities … rainforests, volcanoes, cloud forests, zip lining, volcanic hot springs, waterfalls, white water rafting, crocodile feeding tours (☺), multiple farmer's markets.... and many other fabulous things! All of these magnificent activities are well within a day trip's reach from the house.
Our property manager is named Dan Schild, a lovely American gentleman and expat from St. Louis who will meet you at the property upon your arrival to orient you with the home, the security system, how to operate the pool and hot tub and to answer any questions that you may have. He can also give you some tips on day trips, where to go, etc. and put you in touch with our driver, personal chef, masseuses, yoga teachers, etc. Daily house cleaning available for an additional charge. Mid week cleaning is included for rentals of a week of more.
We have a driver who we recommend, Oscar, who can take you on your day trips for a very reasonable rate if you opt not to drive yourself. Dan can put you in touch with him before or during your vacation so you can make plans with him. If Oscar isn't available, his cousin Olgar is equally wonderful and will be able to drive you.
I have made arrangements with a rental car company who will give you a 10% discount off of their rates when you rent the house. They will also drop off and pick up the car at the house for no charge for rentals of one week or longer, and you can negotiate this for shorter rentals. They offer the best rates and insurance rates of all of the car rental companies in Costa Rica and this is a great added "bonus" when renting the home. A taxi to the house from the airport should run around $35 dollars. Possible to negotiate for the rental car company to drive you to house from airport and to airport from house in your rental car. They aim to please and are very easy to work with.
You can have the best of both worlds... come and relax in complete privacy and seclusion and, if you want, go off the grid for a while. Or, stay plugged in and connected with the outside world. Costa Rica has as much or as little to do as you please!
One of our favorite ways to spend the day is relaxing, sunning and reading by the pool at the house, fixing lunch in the gourmet kitchen, and then to wrap up the afternoon with a spa house call. A special treat is to sit on the porch and watch the rain showers fall and then afterwards the clouds that form in the canyon and rise up, through the house sometimes, to the sky.
We also enjoy taking day trips to the beach, volcanoes, zip lining and to some wonderful restaurants that are around, in San Jose and also in neighboring towns and on the beach. I am happy to speak with you to give you an insider's perspective of things that are fun to do and to suggest things that you may want to include on your itinerary.
When you stay at Villa Las Clementinas, you will be in the exact locale that Travel and Leisure singled out as the 'best climate in the world'. You will rediscover what it means to be totally relaxed and rejuvenated.
Pura Vida!
Note: if you consult with me prior to your trip, I can also help you with recommendations for tours, drivers, day trips, etc. the hotel next to our gated community (Vista del Valle) is under new ownership and is for the time being closed. There are restaurants in neighboring towns of Palmares and Grecia and there is an excellent Italian restaurant called La Formata about seven minutes drive from the house.
Accès des voyageurs
Une communauté fermée avec une maison de garde, le gestionnaire de la propriété vit à l'intérieur de quelques portes vers le bas, à l'intérieur de la propriété, il peut vous rencontrer pour vous donner accès et les clés de la maison
gated community with guardhouse, property manager lives within compound a few doors down, inside of the property, he can meet you to give you access and keys to house
Échanges avec les voyageurs
Le directeur de la maison vit à proximité. Peut organiser le chef, la femme de chambre, la masseuse, le conducteur, etc.
House manager lives nearby. Can arrange chef, maid, masseuse, driver, etc.
---
---
Réduction à la semaine : 5%
Communiquez toujours via Airbnb
Pour protéger votre paiement, ne transférez jamais d'argent et n'établissez pas de contact en dehors du site ou de l'application Airbnb.
En savoir plus
---
Espaces communs
1 lit queen size, 1 canapé
---
L'entrée dans les lieux se fait à partir de 14:00
Small events considered on case by case basis. No wild parties. Groups of travelers who are polite and considerate of our beautiful home and our lovely neighbors.
---
---
Séjour de 3 nuits minimum
---
The view was seriously amazing. Very beautiful and comfortable home. It was as nice and beautiful as hotels I've stayed at in Costa Rica that cost 4x as much. It is a little remote, so swing by a convenience store before you settle in for the first night so you can get coffee and other essentials.
---
We had a great stay. Excellent communication by the Host. Great location. Close to Airport and super market. The pool was clean and the Hot tub worked very well. Lots of towels and linen were available to us. The Local Manager was excellent. The view is awesome. Wi-Fi works in the Living Room. Apple TV Works. Cable TV works. Very functional Kitchen.
---
A hidden jewel in the mountains. The house is amazing, very well equipped, the view is simply breathtaking. It definitely exceeded our expectations. Getting to the house is super simple, even more if you use Waze. Anne-Caroline and Dan (the property manager) made sure we had everything we needed for a wonderful stay at the house. Can't recommend this enough!
---
My sister & I were traveling with our families so we needed a house to accommodate our group and this location was AMAZING! Not only is there so much room and everything we could need but the view is incredible, the kitchen is a dream and there is so much space in the rooms, in the common areas and in the backyard. We posted pictures during our stay and many of our friends asked for details so they could stay there too! Anne-Caroline is lovely and so helpful; Then she also has Dan who was our local contact and took care of any requests we had and offered helpful tips about the area. The house is centrally located to many places, although they require lots of driving so look into maps & routes ahead of time (we recommend WAZE). A storm hit while we were staying here and the house had everything we needed to hang out with our families indoors for a couple of days. I would highly recommend this location for your family vacation to Costa Rica!!
---
The house is beyond beautiful. The architecture and style are gorgeous. The views are breathtaking. All the amenities of home, plus some. A stay you will never forget. Only regret is that we didn't stay longer!
---
Beautiful spot with great potential. Could use some general up keep and has the wrong number of bed's listed (soon to be changed I believe). Overall a beautiful spot and would make a great getaway for a smaller group.
Réponse de Anne-Caroline :
Hi Matt. Thanks for your review. I spoke with Airbnb and they noted that the confusion was within the use of the app.... There was apparently a misperception that you thought the house had six bedrooms, instead of six beds. I did have two twin beds that were able to be set up in addition to the three bedrooms wiyh King beds and the Queen sleeper sofa, but wasn't aware that they had already been given away to our caretakers daughter who had no beds for her children. Regardless, the problem was solved with Dan supplying air beds for your property on the first day you arrived. I have actually blocked a maintenance block off to reglaze the pool and replace the deck stairs, etc. in April. I actually discounted the price for your stay by approx 50% to adjust for the inconvenience of having to endure the few tiles that had fallen out of place on the hot tub . I'm sorry the bed situation made your trip difficult but hopefully the free rides into town and to the airport that our property manager gave you and your five friends made up for that? My understanding is that the beds were all in place before the end of the evening so hopefully the inconvenience wasn't too much. Airbnb said its not uncommon for a traveler to mistake the "bed" column for the "bedrooms" column on the app. Thanks for staying with us, I hope it wasn't too much of an inconvenience. Regarding the "trash" in the showers, those were actually shampoo bottles that I leave there in case somebody forgets to bring some. It's a traveler convenience, I apologize if it seemed like "trash" to you. That's certainly is the opposite of the intent! Cheers!
---
Langues :
English, Español, Français
Taux de réponse :
100%
Délai de réponse :
Quelques heures
Découvrez d'autres options à Naranjo et dans ses environs
Plus de logements à Naranjo :