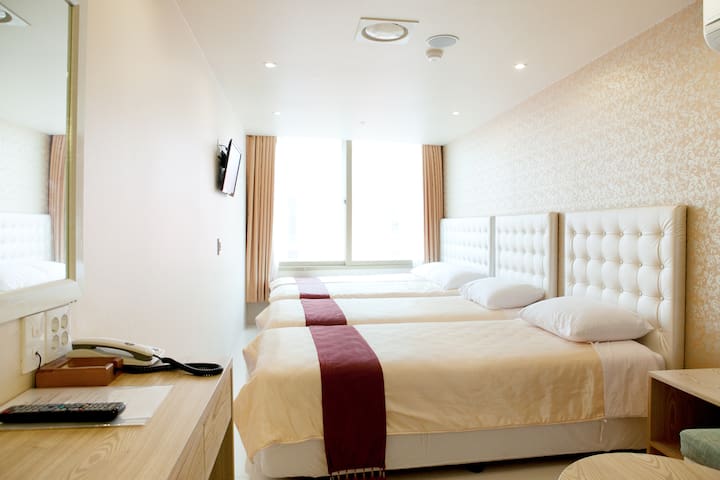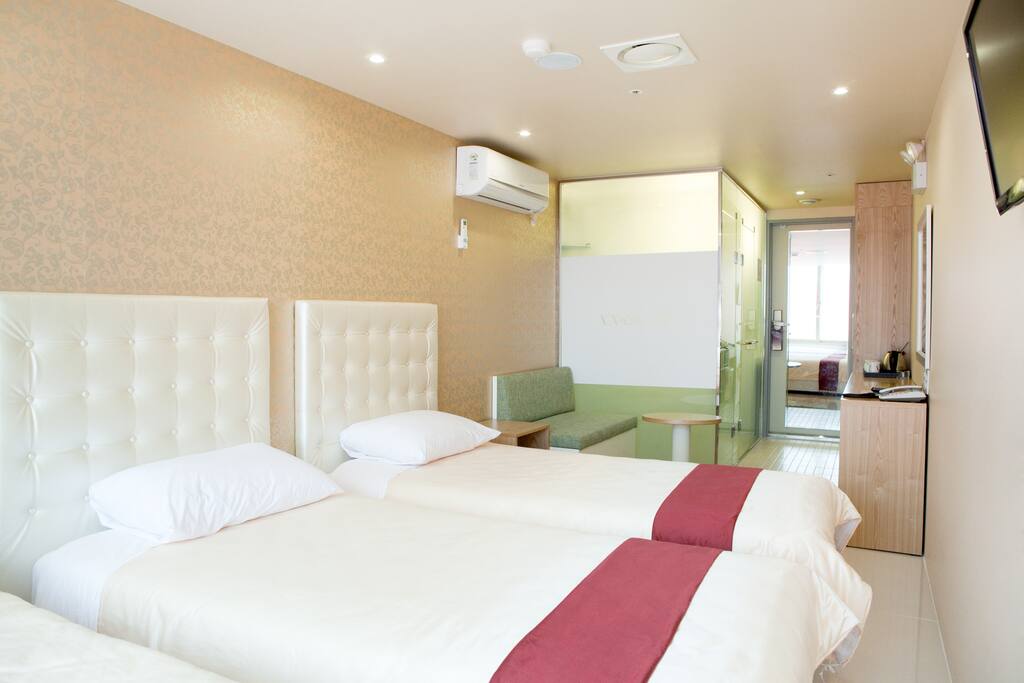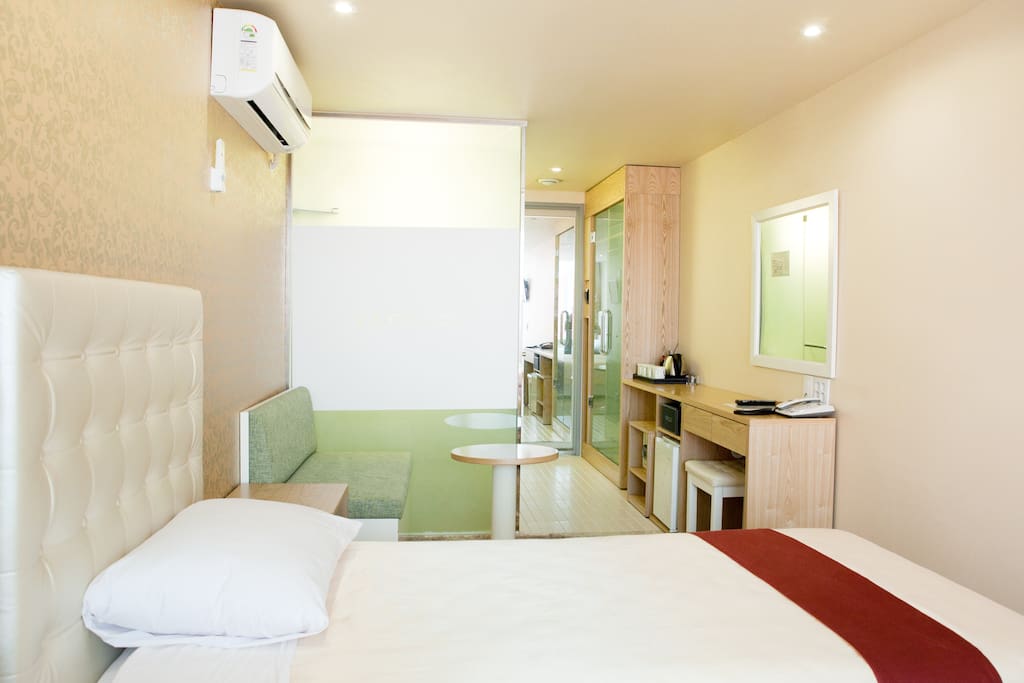 HotelCozy Myeongdong Triple Room(3)
5 min to Myeongdong by walking (3 min from Hyehyun subway station by walking)
Economic stay with high-quality room make-up
Free continental breakfast and lounge for tea time
Free WiFi, 24-hour front staff and PC at the business cente
---
---
L'entrée dans les lieux se fait entre 14:00 et 00:00
---
First of all, cozy hotel is NOT located in myeongdong. It is located in NAMDAEMUN MARKET and you need to walk about 1 KM to myeongdong. And cozy hotel's building is shared another hotel called MYOUNGDONG HOTEL, which can be misleading because it is NOT in MYEONGDONG. Cozy hotel is located near hyoheon station and namdaemun market busway station, which is a plus. Second, entering the building, you are welcomed with STAIRS leading to the one and only elevator. So it was very hard for us because we were bringing heavy luggage. Third, I remind you that cozy hotel is shared with myoungdong hotel and also they share the SAME ELEVATOR. So you need to read carefully on which button leads to which. And one time, the elevator was BROKEN. And there was no other option than walking up the stairs up to the 7th floor. VERY TIRING. Fourth, the room you see in airbnb is NOT THE SAME as you get. It looks very spacious in airbnb, and the room we get is very small. We tried asking the receptionist to have the same room, but they said it was not available. Apparently, they recommended us another room but it was EXACTLY THE SAME AS OURS so you can't get the one in airbnb. We have 3 people in one room with 3 beds, but there was no room for us to put out lugage. There was a bench which is very unecessary and giving less space. The bathroom was very small too. And there was NO HANGER in the bathroom which made us buy our own PORTABLE HANGER. Last and very least, the DAILY COOK. When you want to have breakfast on a week day you will meet the GRUMPY COOK. As we enter, she doesn't smile, or greet you. Making us not in a good mood. Also, they don't have a variety of food. We are muslims and cannot eat PORK. But they only serve bacon, and pork sausages. So we end up eating toast, egg and salad. Hotel cozy maybe be a cheap option to stay, but i recommend to NOT STAY at cozy hotel.
Good morning, I'm sorry if I made you uncomfortable. However, I am correcting some incorrect facts. The hotel is located in Namdaemun Market. However, this is included in the Myeongdong region in the Korean administrative district. It is also a 5 minute walk to Myeongdong Main Street. Next, in case of Myeongdong Hotel, we operate illegally. Korean law allows one hotel to be on the water. We have a hotel license but in case of Myeongdong hotel it is illegal. We are taking legal action. In addition, the first floor of the hotel is Namdaemun Market. So I am sorry that the hotel can not be located on the ground floor. So the hotel's elevator starts on the second floor. I am sorry that the elevator broke down in the middle. But then the manager of the hotel worked 24 hours a day and did his best, helping with heavy loads. Finally, we will retrain the kitchen staff. However, our breakfast is a simple service. We offer a generic American breakfast. Since there are not many Muslims visiting Korea in general, it is difficult to prepare a Muslim-only diet. If so, the breakfast will be converted to a fee. However, this is not the direction our hotel pursues. Thank you
---
Hidden right in the smack of Namdaemun. 1 min walk to Namdaemun Market, 3 min walk to Hoehyeon station, 7-10 min walk to Myeongdong, 5 mins walk to Airport Limo bus stop. Location made it accessible to move around. Room space and necessities suffice. Toilet roll and drinking water provided daily. Room cleaned daily. Towels changed daily. Reception staffs were helpful although language is a barrier. But they do speak decent English and tried to help as much as they could. No regrets.
---
Hotel Cozy is a great place to stay for easy going travelers. It's in the middle of the best shopping districts: Namdaemun Market, Myeongdong, and Dongdaemun. You can easily access the places through a five minute walk or subway if you're feeling a little bit lazy. Also, the hotel is surrounded by malls: the high end duty free Shinsegae, the Mesa mall where you can find the best fashion deals and the underground shopping areas of Hwoehyeon and Myeongdong if you like a little adventure. Foreigners need not to worry about getting low in cash because the hotel is surrounded by international banks Keb and Woori bank that has atm machines where you can directly withdraw Korean Won from your account with the best deals in exchange. A lot of food choices around the area are available, for coffee addicts like me you can cross the street for your dose of Starbucks coffee or get a homey cup of coffee at Bellagio Cafeteria right next to the hotel. There is also a convenience store right next to the hotel, GS 25, where you can rundown to whenever you need something. From tetra packs of iced coffee, midnight snacks, even an adapter for your electronics. The service was great. Every employee was accommodating, they can speak English conversationally, and are very understanding of how little Korean we know. The rooms are well kept and tidy. Though some noises can be heard through the walls it was tolerable as the place is naturally chill and cozy. The free breakfast was hearty and appetizing with choices of scones, toast, cereals, eggs, sausages, ham and salad. Wifi connection is amazing. Hotel Cozy also offers really cheap wifi egg rental that you can carry around the city. We had no trouble of connecting even in subways or the suburbs area with their internet provider Olleh. For smokers, they have smoking rooms and you can easily go down the lobby area and smoke by the streets just throw your cigarette butts properly in the provided trash can along the lobby area. Overall we would definitely get a room at Hotel Cozy on our next trip in South Korea.
---
Taux de réponse :
100%
Délai de réponse :
Moins d'une heure
Découvrez d'autres options à Jung-gu et dans ses environs
Plus de logements à Jung-gu :