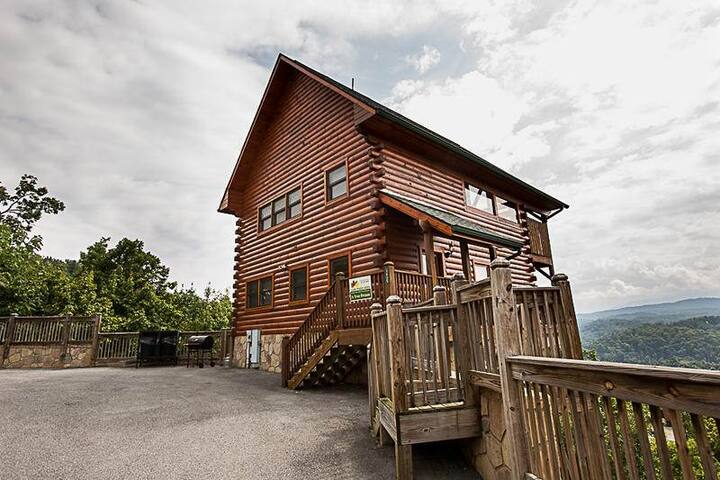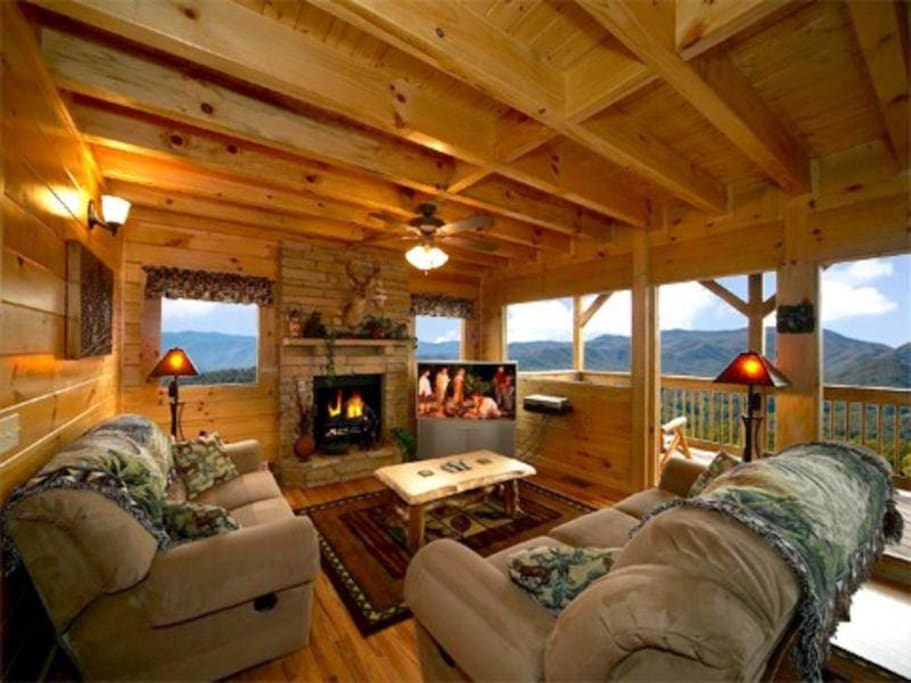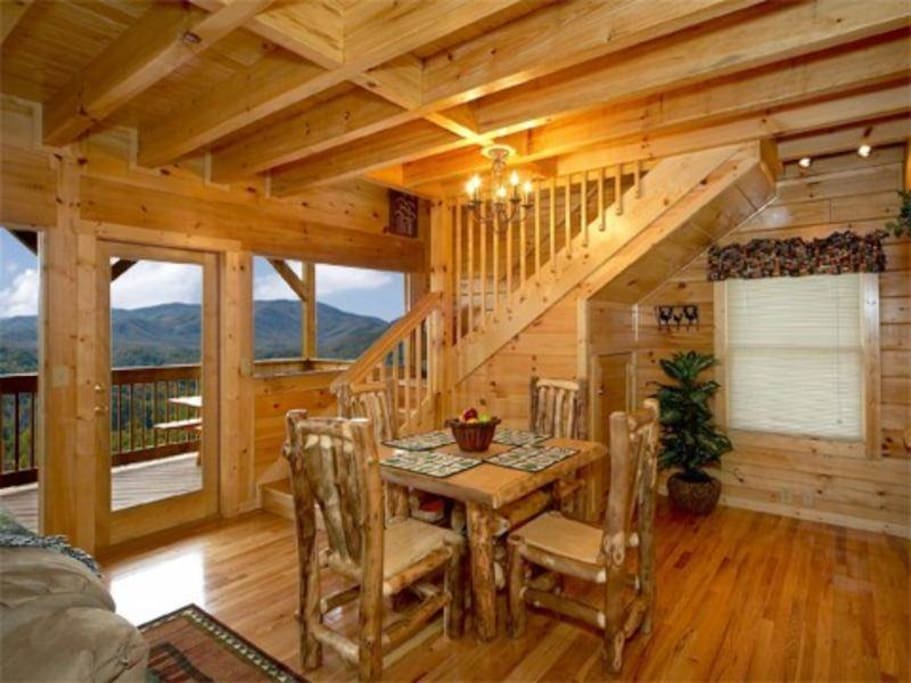 Make your getaway A True Dream with a natural stone fireplace that warmly welcomes you to a two-story, one-bedroom and two-bath luxurious log cabin.
Le logement
This property has a 10AM checkout time

The windows around the cabin invite you to a majestic view of the Smoky Mountains with no obstructions and throughout the cabin the custom designed Aspen log furniture gives you a taste of the vast forests surrounding you.
Step out and sit on a rocking chair on the first level deck to shake all your worries off down the cliff. Soothe away all your stress in the bubbling hot tub on the second level deck. Blend yourself into the rolling mountains and enjoy the full picture of the Smokies. Bring a bottle of wine to the second floor and burn your energy on the pool table, air hockey, foosball or the original Ms. Pacman/Galaga Arcade games. If you lose, point to the windows and blame the view that distracts you. The master bathroom upstairs features a romantic jetted tub and a Japanese bidet.
Link your own computer to the Wi-Fi and explore the outside world. Relax on the beautiful log king-bed in the master bedroom downstairs and feel the privacy and the peace of the mountains at night while the stars and the moon accompany your kids/guests on the unique log queen/full size bunk bed upstairs. Is this a dream? Or is this true? Yes, it is a dream and yes, it can be true. This A True Dream cabin is here to make your dream come true.
The check-in office is easily located on Upper Middle Creek Road for quick friendly service. With your stay at A True Dream within Starr Crest Resort guests have access to the seasonal outdoor swimming pool, playground and pavilion. Enjoy staying in peaceful tranquility but only minutes from Dollywood Theme Park, shops on Pigeon Forge Parkway, horseback riding and golf.
Take a short drive to Pigeon Forge for the best dinner show attractions in the Smokies! Dixie Stampede, Lumberjack Feud or Hatfield McCoy Dinner Show, all feature shows that are entertaining and will make memories you will never forget. Spend the day at Dollywood's Splash Country on hot summer days. Shop at Tanger Five Oaks Outlet Center for tons of bargains on brand names then go on over to Smoky Mountain Alpine Coaster, with over a mile of track to zoom down the mountainside. Take a spin to the top of The Great Smoky Mountain Wheel for a mesmerizing view of the Smokies from the glass gondolas located on The Island.
Roam down the Parkway to charming town of Gatlinburg and let the exploration continue with a visit to Guinness World Records to see the legendary book come to life. Hit the Great Smoky Arts and Crafts Trail an 8-mile loop full of extraordinary shopping with local artisans. Tour the stills and smell the shine at Ole Smoky Distillery offering samplings of their potent moonshine in a variety of flavors. Load up on hearty meals at the Greenbrier Restaurant a log cabin setting.
Let the serenity wash over you when your head is in the clouds with a visit to Clingmans Dome, the highest vantage point in the Great Smoky Mountains, where on a clear day you can see 100 miles. Take to the tree tops with a zip line tour guided by Legacy Mountain Ziplines for three hours of tree canopy adventures.

DETAILS
-Proximity:
Convenient to Main Retail Area, Scenic/Nature, Drive to Shops/Restaurants, Off the Beaten Path
-Distance To:
Town 5 MilesPool, Private Hot Tub
-Interior Features:
# of Floors: 2, Electric Fireplace, Central Air Conditioning, Stairs, Central Heat, Vaulted Ceilings
-Parking Features:
Free Parking, Room to Park: 2 Mid-size cars, Limited Parking Available, Steep Driveway, Off Street Parking
-Services Available:
Keyless Entry
-Policies:
Minimum Age to Rent: 21, Pet Notes: No Pets, No College Groups, Non-Smoking Rentals

This property is subject to these additional Terms & Conditions which are included by reference in the Rental Agreement.
Please Note: Prices & Minimum Stay Requirements below are general seasonal guides - click "Check Availability" and select desired dates for exact rental pricing and minimum stay requirements.
Booking Instructions: Please send an inquiry for the dates you are interested in, we'll respond with a Special Offer which will include the total price of your reservation and applicable fees/taxes. You will be able to book directly from the special offer. Please note, rates during holidays may vary. Thank you!
Voyageur supplémentaire Sans frais
Communiquez toujours via Airbnb
Pour protéger votre paiement, ne transférez jamais d'argent et n'établissez pas de contact en dehors du site ou de l'application Airbnb.
Ne convient pas aux animaux
L'entrée dans les lieux se fait à partir de 16:00
1. Have fun!
2. The number of guests this property Accommodates is the maximum number of guests allowed. No parties or other gatherings are allowed.
3. The primary Guest must be age 25 or older.
4. No smoking is allowed at any of our Accommodations in or around the property.
5. No pets are allowed at any of our Accommodations unless specifically listed as "Pets Allowed".
These additional terms apply to all our Accommodations in addition to the standard Airbnb terms:
(URL HIDDEN) RENTAL TERMS
This Property Rental Agreement is made by and between the owner, either directly or through its authorized leasing agent ("Owner") of a vacation rental property ("Property"), the renter of the Property ("Guest"), and (SENSITIVE CONTENTS HIDDEN) Inc., a California corporation ("(SENSITIVE CONTENTS HIDDEN)") (each, a "party", collectively, the "parties"). This Property Rental Agreement and all exhibits, linked pages and attachments referenced below, which by this reference are incorporated herein as though fully set forth, are, together, the "Agreement". Guest desires to rent the Property from Owner, Owner desires to rent the Property to Guest, and (SENSITIVE CONTENTS HIDDEN) desires to facilitate such rental, all upon the terms and conditions set forth in this Agreement.
1. Rental Specifics. Guest and Owner agree to the specific terms of the vacation property rental ("Booking") set forth on the (SENSITIVE CONTENTS HIDDEN) Booking Summary Page ("Booking Summary"), including without limitation, the Property description, any additional terms referenced or linked from the Property description page, the rental dates, the rental charges, the damage reporting procedure, the cleaning fees, the deposit amounts and total charges, all of which terms are by this reference incorporated into this Agreement as though fully set forth. The terms of the Booking Summary shall control any conflict between the terms of this Agreement and the Booking Summary.
2. General Terms. The following terms shall apply to the Booking:
a. Check-In. Check-In Time is 4PM, unless otherwise arranged with (SENSITIVE CONTENTS HIDDEN).
b. Check-Out. Check-Out Time is 11AM, unless otherwise arranged with (SENSITIVE CONTENTS HIDDEN).
c. Payment Processing. Payments of the fees and other charges set forth on the Booking Summary shall be processed by (SENSITIVE CONTENTS HIDDEN) as part of the Services.
d. Cleaning Fees. The stated Cleaning Fees include only the cost of standard cleaning services engaged at the end of Guest's rental term.
3. Guest agrees there shall be no holding over or late departure without prior approval. Any unauthorized holding over by Guest shall be subject to a charge of 1 and 1/2 times the daily prorated rent ("Holdover Rate"), plus any additional damages incurred including, but not limited to, the cost of alternative housing for other guests displaced by Guest's holding over. Unapproved late check-outs will be charged 50% of the Holdover Rate.
4. If the condition of the Property following the rental term requires extra cleaning beyond such standard level, or if Guest at any time requests additional cleaning services, Guest shall be solely responsible for the cost of such cleaning, and Guest hereby authorizes and directs (SENSITIVE CONTENTS HIDDEN) to retain such amounts from the security or other deposit amounts held by (SENSITIVE CONTENTS HIDDEN) or affirmatively charge or debit, as the case may be, such amounts from Guest's charge or debit account on file with (SENSITIVE CONTENTS HIDDEN).
5. No refund shall be given for cancellations due to poor snow conditions, severe weather, road closures, traffic delays, early departures, or illness or injury. (SENSITIVE CONTENTS HIDDEN) offers a Travel Insurance option that would cover some of these reasons for cancellation. Please contact our reservations department for information on this option.
6. Utilities/Telephone: Owner is to pay for all utilities, driveway snow removal (if applicable) and hot tub maintenance (if applicable), except long distance telephone charges. Guest may use the telephone for local calls only and should use a credit card or call collect to make any long distance calls. Guest agrees to pay for all long distance telephone charges during their stay and acknowledges that these charges may be levied on their credit card up to two months after check out. Note that phone, Internet, cable, and satellite connections, where available, cannot always be guaranteed, especially in mountain locations, and no refund will be given if they are not functional.
7. Smoking. All Properties are smoke free. No smoking is allowed inside the home, or within ten feet of any structure at the Property, including any garages and sheds. If evidence of smoking is found, Guest will be charged an additional cleaning fee of at least $500 to clean the carpet, upholstery, and drapery.
8. Occupancy. Occupancy may not exceed the number of people included in Guest's Booking. Occupancy calculation includes infants and children. Occupancy also includes any and all guests who visit the property, and no parties or other gatherings which exceed the Occupancy limit shall occur without prior approval of the Owner.
9. Children. Guest agrees to supervise children at all times while using the Property, and to take necessary precautions with children who may wet their beds including utilizing plastic protection sheets or "Pull Ups". Costs to replace mattresses or linens damaged by bed wetting will be charged to the credit card on file. Note: Hot Tubs are not a safe environment for children under 12 at any time. Children aged 12 and over must be supervised at all times while using a hot tub.
10. Pets. If this Property does not allow Pets, then no pets are allowed inside the home or any other structure at the Property, including any garages or sheds. If evidence of pets is found at a Property which does not allow pets, Guest will be charged an additional cleaning fee of at least $500 to clean the carpet, upholstery, and drapery.
11. Allergies. Guest agrees that they are not entitled to a refund for any allergic reactions from any member of their party due to pollen, animals or environmental conditions.
12. Damage Waiver. As a convenience and benefit to you for booking through (SENSITIVE CONTENTS HIDDEN), Owner hereby agrees to waive and release you from claims for damage, loss or injury ("Unintentional Damage") to the Property interior caused by the unintentional, non-breaching acts or omissions of you or others under your Booking that occurs during your stay. The foregoing is a limited waiver that is strictly conditioned on, and subject to, compliance with the following:
a. Reporting. You must report the Unintentional Damage to Owner or (SENSITIVE CONTENTS HIDDEN) promptly upon occurrence and in no event later than forty-eight (48) hours from the end of your Booking. Failure to timely report the Unintentional Damage as required will automatically void the waiver, in which event you will be liable for the entire repair or replacement cost of the Unintentional Damage.
b.Waiver Cap. The actual repair or replacement cost of Unintentional Damage covered by this waiver is limited to, and cannot exceed, three thousand dollars ($3,000) (the "Waiver Cap"). Any repair or replacement costs exceeding the Waiver Cap shall be and remain your sole liability and obligation to pay and perform.
c.Intentional Damage and Breach. Damage that you or others under your Booking (1) intentionally cause, (2) cause by conduct that is in breach of your obligations under this Agreement and/or the Booking Summary, or (3) cause due to the removal of any item(s) of personal property or fixtures from the Property (together "Intentional Damage") is not waived under this Section 12, but shall be and remain your sole liability and obligation to pay and perform.
d.Payment Authorization. You hereby authorize Redwning to charge your credit card on file with (SENSITIVE CONTENTS HIDDEN) for the cost of repair or replacement (1) for any Unintentional Damage exceeding the Waiver Cap; and (2) for all Intentional Damage.
e.You acknowledge and agree that Owner's waiver under this Section 12. is an Owner-provided courtesy and accommodation and not an insurance policy or a substitute for an insurance policy.
13. Property Complaints.
a.If, on arrival, Guest does not feel the Property has been fairly and accurately represented on the property information page or there is some other issue with the Property, Guest must notify (SENSITIVE CONTENTS HIDDEN) within 12 hours of arrival and provide a reasonably accurate description of the non-conforming condition(s). Upon receipt of such notice, and if Owner is unwilling or unable to resolve the issue, (SENSITIVE CONTENTS HIDDEN) shall undertake good faith efforts to obtain what (SENSITIVE CONTENTS HIDDEN) concludes in its sole reasonable discretion is reasonably appropriate relief for Guest, including by way of example only, sourcing services required to remedy the Property's non-conforming condition, obtaining a rental fee discount from Owner, or locating alternative local accommodations having features that (SENSITIVE CONTENTS HIDDEN) reasonably concludes match or exceed those offered by the Property as originally represented.
b.Guest must promptly report to (SENSITIVE CONTENTS HIDDEN) all other complaints or obvious damage to the Property caused by previous guests. Owner, either directly or through its third-party agent, shall make good faith efforts to promptly remedy the condition(s) at issue.
14. Property Unavailability. In the event a Property subject to a Booking is damaged or destroyed by fire or other casualty or otherwise becomes unavailable for use by Guest for any reason at any time prior to the Check-In date, (SENSITIVE CONTENTS HIDDEN) shall promptly undertake commercially reasonable efforts to source and secure an alternative property with characteristics reasonably similar to the Property for use by Guest at no additional cost to Guest pursuant to the terms of the Booking. In the event an alternative property cannot be located or secured for any reason, including without limitation, inventory scarcity, low vacancy rates and other restrictions or limitations, (SENSITIVE CONTENTS HIDDEN) may elect in its sole discretion to cancel the Booking, effective immediately upon written notice to Guest. (SENSITIVE CONTENTS HIDDEN) shall cause all payments billed to and collected from Guest as of the date of notice to be promptly refunded to Guest in full, and upon payment of such refund, (SENSITIVE CONTENTS HIDDEN) and Owner shall each have no other or additional liability or obligation owing to Guest of any kind, which liability and obligations are hereby (i) disclaimed by (SENSITIVE CONTENTS HIDDEN) and Owner, and (ii) expressly waived and released by Guest notwithstanding the provisions of Section 1542 of the Civil Code of California, which provides that "[a] general release does not extend to claims which the creditor does not know or suspect to exist in his favor at the time of executing the release, which if known by him must have materially affected his settlement with the debtor."
15. Representations and Warranties.
a. By Guest. Guest represents and warrants to Owner and (SENSITIVE CONTENTS HIDDEN) as follows:
i. Guest is at least 25 years old and has full power and authority to enter into this Agreement and perform his/her obligations hereunder without restriction or limitation of any kind.
ii. Guest will abide by all conditions, restrictions and requirements (1) imposed by controlling law; (2) set forth in this Agreement, and (3) posted or provided at the Property or on the grounds of the Property, whether by Owner or by a homeowners association or similar group or body.
iii. Guest will keep all exterior access points to the Property (e.g. doors, ground-floor windows) locked at all times during the rental period when the Property is not occupied by Guest or its guests.
iv. Guest will not do, or allow others to do, anything on or near the Property that could be considered a nuisance to any third party.
v. Guest will not sublet the Property to any third parties.
vi. Guest and its guests will not damage the Property or any appointments, furniture or fixtures in the Property, nor shall Guest and its guests remove any article of personal property from the Property premises. Guest acknowledges and agrees that damage, loss or injury to the Property due to failure by Guest and its guests to abide by these reasonable restrictions shall be subject to remedy through all available legal, equitable and contractual means.
vii. Guest understands that they may be occupying premises in a winter mountain environment and as such have to be responsible for avoiding situations that may cause injuries or falls. Changing weather conditions can create hazardous and icy conditions on and around the Property. Guest agrees to hold harmless the Owner and (SENSITIVE CONTENTS HIDDEN) in case of accident or injury sustained while using the Property.
b. By Owner. Owner represents and warrants to Guest and (SENSITIVE CONTENTS HIDDEN) as follows:
i. Owner is the owner or authorized leasing agent of the owner of the Property and has full right, power and authority to enter into and perform its obligations under this Agreement.
ii. The rental of the Property as contemplated herein does not violate any applicable laws, rules, regulations, ordinances or contracts to which Owner and/or the Property are bound.
iii. To Owner's knowledge after due inspection there are no unmarked hazards on the Property of any kind, visible or otherwise, that could cause reasonably foreseeable injury to Guest or Guest's guests.
iv. The Property contains adequate and operational furnishings and appointments, ordinary wear and tear excepted, suitable for the number of persons the Property sleeps and is otherwise consistent in all material respects with the description of the Property on the Services property information page, including without limitation, (1) in the kitchen: cooking implements and utensils, paper towels, plates and silverware, pots and pans, refrigerator and freezer, stove or oven, coffee maker, table or bar, and chairs or barstools, (2) in the bathrooms: toilet paper and towels, (3) in the living room or similar rooms: couches, chairs or their equivalents, (4) in the recreation room, on the patio/porch and such other locations as described on the Services property information page.
v. The Property is free of pest, rodent and/or insect infestation and other nuisance.
vi. The Property is in clean and useable condition, ordinary wear and tear and use by Guest excepted.
16. Indemnity.
a. Personal Property and Injury. Guest's personal property, including vehicles, are not insured by Owner, (SENSITIVE CONTENTS HIDDEN) or any homeowners association against loss or damage due to fire, theft, vandalism, rain, water, criminal or negligent acts of others, or any other cause. Owner and (SENSITIVE CONTENTS HIDDEN) do not insure against personal injury to Guest, its invitees or licensees for any reason. Guest agrees to indemnify, defend and hold harmless Owner and (SENSITIVE CONTENTS HIDDEN) from all claims, disputes, litigation, judgments, costs and attorney fees resulting from loss, damage or injury to Guest, their invitees or licensees or their personal property.
b. By Guest. Guest shall defend, indemnify and hold harmless each of Owner and (SENSITIVE CONTENTS HIDDEN), and their respective agents, affiliates, subsidiaries, directors, officers, shareholders, employees, assigns and insurers against any claim, action, liability, loss and expense, including reasonable attorneys' fees and related costs (collectively "Loss") relating to or arising out of Guest's and/or its guests' breach of this Agreement or violation of any applicable federal, state, local or association law, ordinance, rule or regulation (together, "Law").
c. By Owner. Owner shall defend, indemnify, and hold harmless each of Guest and (SENSITIVE CONTENTS HIDDEN), and their respective agents, affiliates, subsidiaries, directors, officers, shareholders, employees, heirs, personal representatives, assigns and insurers against any Loss relating to or arising out of Owner's breach of this Agreement or violation of any applicable Law.
17. Limitation of Liability. EXCEPT AS EXPRESSLY PROVIDED IN THIS AGREEMENT, NEITHER REDAWNING NOR OWNER MAKES ANY WARRANTIES TO GUEST OF ANY KIND, WHETHER EXPRESS OR IMPLIED, INCLUDING ANY IMPLIED WARRANTY OF MERCHANTABILITY, FITNESS FOR A PARTICULAR PURPOSE OR NONINFRINGEMENT. NEITHER REDAWNING NOR OWNER WARRANTS, AND NEITHER SHALL BE LIABLE, TO GUEST OR ANY THIRD PARTY FOR ANY UNAVAILABILITY OR INOPERABILITY OF REDAWNING'S SERVICES, TELECOMMUNICATIONS SYSTEMS OR THE INTERNET, TECHNICAL MALFUNCTION, COMPUTER ERROR, CORRUPTION OR LOSS OF INFORMATION, OR OTHER INJURY, DAMAGE OR DISRUPTION OF ANY KIND TO PERSON OR PROPERTY ARISING FROM EVENTS BEYOND THE REASONABLE CONTROL OF REDAWNING AND/OR OWNER. IN NO EVENT SHALL EITHER REDAWNING OR OWNER BE LIABLE TO GUEST FOR ANY INDIRECT, INCIDENTAL, CONSEQUENTIAL, SPECIAL OR EXEMPLARY DAMAGES, INCLUDING, BUT NOT LIMITED TO, LOSS OF PROFITS, LOSS OF SAVINGS OR LOSS OF BUSINESS OPPORTUNITY, EVEN IF SUCH DAMAGES ARE FORESEEABLE AND WHETHER OR NOT SUCH PARTY HAS BEEN ADVISED OF THE POSSIBILITY THEREOF. EACH OF REDAWNING'S AND OWNER'S MAXIMUM AGGREGATE LIABILITY HEREUNDER SHALL NOT EXCEED THE TOTAL AMOUNT PAID BY GUEST TO OWNER UNDER THE RENTAL AGREEMENT FACILITATED THROUGH REDAWNING'S SERVICES.
18. Arbitration. In the event of a dispute between the parties arising out of or relating to this Agreement, including with respect to any Bookings or sums billed, collected and/or distributed hereunder, the parties shall first attempt to resolve the dispute through informal good faith negotiations entered into promptly upon the request of a party. In connection with such process, each party shall share all information relating to such matter reasonably requested by the other party. In the event such dispute is not successfully resolved within 30 days of the parties' initial dispute resolution conversation, the matter shall be submitted to binding arbitration for resolution. Such arbitration shall be conducted by the Berkeley, California offices (or such offices nearest Berkeley) of the Judicial Arbitration and Mediation Services, or its successor ("JAMS"). Arbitration shall be conducted by JAMS in accordance with applicable JAMS rules governing the resolution of commercial disputes, generally, provided that notwithstanding any contrary provision within the JAMS rules, the arbitrator shall determine the rights and obligations of the parties according to the substantive laws of the state of California. The parties shall share equally in the cost of the arbitration subject to the arbitrator's discretion to allocate such cost among the parties in accordance with equitable considerations. Any award, which may include legal and equitable relief, will be final and binding and judgment may be enforced by any court of competent jurisdiction.
19. Priority; Waiver; Controlling Law; Etc. In the event of any inconsistency between the terms of this Agreement and the Booking Summary Page, the terms of the Booking Summary Page shall prevail. Subject to Section 8 below, no modification of any Booking shall be binding unless in writing (email confirmation OK) issued by an authorized representative of (SENSITIVE CONTENTS HIDDEN), Owner and/or Guest, as the case may be, with written, affirmative acceptance and approval of such modification by an authorized representative of the other parties (electronic signature or email confirmation OK). No waiver of any right or obligation under this Agreement shall be binding unless in a writing signed by the party to be bound. If any provision herein is held to be unenforceable, the remaining provisions shall remain in full force and effect. All rights and remedies hereunder are cumulative. Affirmative clicking of (a) the "I agree" checkbox and (b) "Book Now" button on the Booking Summary Page by Guest shall constitute Guest's binding agreement to and acceptance of the terms of the Booking, including without limitation, this Agreement. This Agreement shall be governed by the laws of the State of California (without regard to its conflict of law provisions) and, subject to Section 6 hereof, all actions arising from or relating to this Agreement shall be brought exclusively in the state or federal courts situated in Alameda County, California. No terms, provisions or conditions of any email, acknowledgment or other writing or form that Guest may use, or any handwritten changes or notations by Guest on a (SENSITIVE CONTENTS HIDDEN) or Owner-provided form shall serve to alter, modify or have any effect on the terms of this Agreement and the parties' resulting rights and obligations.
20. Modification. (SENSITIVE CONTENTS HIDDEN) may modify any of the provisions of this Property Rental Agreement, at any time in its sole discretion, by posting a new Property Rental Agreement on (URL HIDDEN) Unless otherwise provided in the revised Property Rental Agreement, the modified terms shall take effect immediately when posted. (SENSITIVE CONTENTS HIDDEN) shall use commercially reasonable efforts to notify Owner and/or Guest in advance of any such modifications, provided it shall remain Owner's and Guest's duty to review the Property Rental Agreement from time to time to inform themselves of the provisions and requirements thereof. IF ANY MODIFICATION IS UNACCEPTABLE TO EITHER OWNER OR GUEST, SUCH PARTY'S SOLE AND EXCLUSIVE RECOURSE AND REMEDY IS TO CEASE USE OF THE SERVICES. OWNER'S AND/OR GUEST'S CONTINUED USE OF THE SERVICES FOLLOWING THE MODIFICATION OF THE AGREEMENT SHALL CONSTITUTE SUCH PARTY'S BINDING ACCEPTANCE OF AND AGREEMENT TO THE PROPERTY RENTAL AGREEMENT AS MODIFIED.
La durée minimum de séjour pour cette annonce peut varier.
Aucun commentaire (pour l'instant)
Taux de réponse :
100%
Délai de réponse :
Quelques heures
Découvrez d'autres options à Pigeon Forge et dans ses environs
Plus de logements à Pigeon Forge :