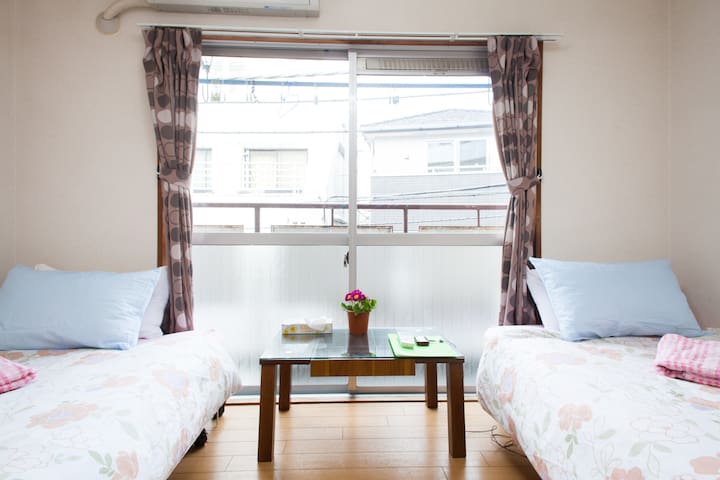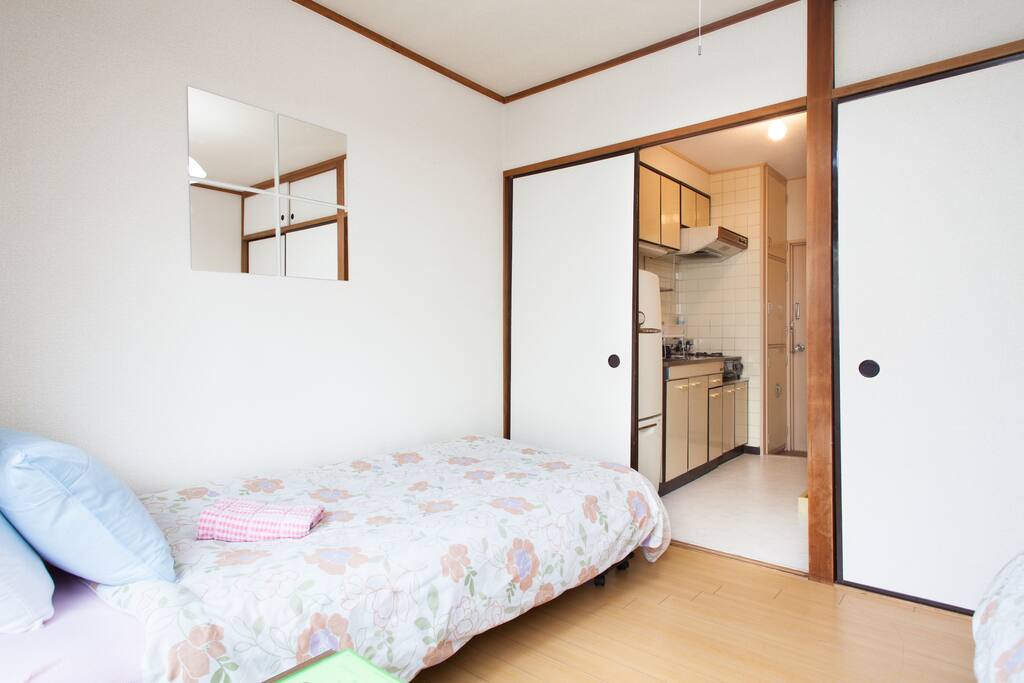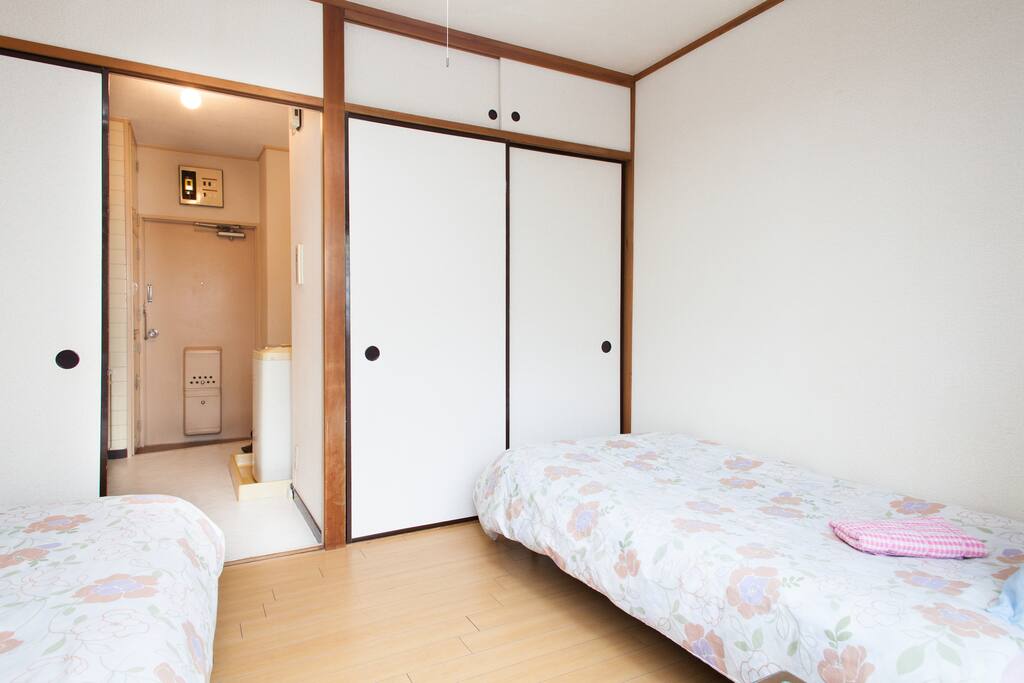 ROPPONGI next to KILL BILL / NISHI-AZABU Area!! #2
Soyez assuré que vous êtes en de bonnes mains avec l'hôte le plus expérimenté dans tout Tokyo: 5000 commentaires positifs +! Tous mes endroits sont mis en place pour un auto check-in, donc avec mes instructions détaillées, vous êtes assuré d'avoir un CHECK-IN SMOOTH. Mon équipe et moi sommes TOUJOURS disponibles en ligne et sur le terrain pour vous aider si nécessaire. Si pour une raison quelconque, vous n'êtes pas satisfait de votre appartement lors de l'enregistrement, vous êtes invités à passer à un autre de mes 100 + Tokyo listes immédiatement. SATISFACTION GARANTIE!!
Rest assured that you are in good hands with the MOST EXPERIENCED host in all of Tokyo: 5000+ positive reviews! All of my places are set up for a self check-in, so with my detailed directions, you are guaranteed to have a SMOOTH CHECK-IN. My team and I are ALWAYS available online and on the ground to help you out if needed. If for any reason you aren't satisfied with your apartment upon checkin, you are welcome to move to another of my 100+ Tokyo listings right away. SATISFACTION GUARANTEED!!
Le logement
BIENVENUE SUR MA LISTE - Ci-dessous un résumé détaillé de l'unité et des environs. J'ai également fourni des réponses à de nombreuses questions fréquemment posées pour faciliter le processus de réservation et rendre votre séjour plus agréable. Veuillez vérifier ces informations pour vous assurer que cette liste répond à tous vos besoins. Mon agenda est TOUJOURS À JOUR! Et INSTANT BOOK est disponible pour sécuriser immédiatement votre réservation! Je suis un hôte expérimenté (4 ans maintenant) qui continue à s'efforcer de rendre votre séjour pratique et agréable. Mon équipe et moi avons plus de 80 listes à TOKYO. Nous en avons aussi à BANGKOK, MANILA et HONG KONG. C'est dans NISHIAZABU !! Vous ne verrez pas dans tous les guides mais c'est une fantaisie communauté au milieu de toute l'action !! C'est une grande traversée de ROPPONGI qui est un quartier amical étranger réputé pour sa vie nocturne animée avec beaucoup de restaurants incroyables et beaucoup de grands magasins. ~~~ L'APPARTEMENT ~~~ Cet appartement a une belle grande cuisine avec un poêle double brûleur. Une cuisine bien meilleure que la moyenne pour le Japon! - Studio 1 chambre avec 2 lits - Couchage 3 personnes maximum (draps frais inclus) - Cuisine séparée avec la cloison (comprend la cuisinière intégrée de 2 brûleurs, grille-pain, cuiseur de riz, réfrigérateur, micro-onde, bouilloire instantanée d'eau chaude, ustensiles de cuisine, vaisselle, verres et argenterie) - Salle de bain privée (avec douche très chaude, serviettes, sèche-cheveux, articles de toilette de base) - Climatiseur / Chauffage avec télécommande - Portable gratuit, Pocket Wi-Fi avec Internet haute vitesse - Balcon - Linge de maison, serviettes et articles de toilette fournis - Sèche-cheveux - Appartement 3e étage - Lave-linge à pièces 1 Minute Away - Check-in tardif Bienvenue BUS DIRECT à l'hôtel Roppongi à proximité de l'aéroport NARITA. ~~~ CHECK-IN & CHECK-OUT ~~~ (Pour votre commodité, nous vous proposons un check-in / check-out individuel à l'aide d'une porte-clés combinée pour vous assurer d'entrer dans l'unité dès votre arrivée.) CHECK-IN: 4PM ou en tout temps APRÈS. Late Night est toujours OK! CHECK-OUT: 12PM NOON ou à tout moment AVANT Voir QUESTIONS FRÉQUEMMENT POSÉES ci-dessous pour plus de détails sur: - Arrivée tôt / Départ tardif - Transport vers / depuis l'appartement ~~~ MOBILE WIFI UNIT ~~~ LIBRE! Restez Connecté 24h / 24 et 7j / 7 en TOKYO !! Taille de poche, ROUTER PORTABLE Wi-Fi INCLUS !! Petit, léger et facile à transporter avec vous Peut UTILISER avec votre smartphone, votre tablette, votre ordinateur portable, etc. Pas besoin de louer un téléphone ou d'acheter une carte SIM! Attendre dans l'appartement pour vous à l'arrivée Data Unlimited (peut ralentir si vous téléchargez beaucoup) ~~~ A PROXIMITE DE L'APPARTEMENT ~~~ DE L'APPARTEMENT --- MARCHE: Station Roppongi --- 11 minutes Roppongi Hills --- 7 minutes Station Hiroo --- 15 minutes Station Omotesando --- 15 minutes Station Gaienmae --- 10 minutes Shibuya zone --- 25 minutes (10 minutes en bus) Gonpache Restaurt --- 2 min (Site de combat à l'intérieur dans le film Kill Bill Vol. 2) ~~~ ZONE ~~~ Nishi-azabu est juste un endroit génial. C'est entre Shibuya et Roppongi, les 2 endroits que vous voulez être tous les soirs pour dîner et profiter de cette ville géniale. Haut de gamme, pratique et très central. Si vous voulez rester dehors tard dans Roppongi, c'est l'endroit où séjourner car vous n'aurez pas besoin d'un taxi. En fait, de nombreux endroits où vous pouvez aller sont accessibles à pied d'ici! L'appartement est un appartement minute d'un croisement de Nishi Azabu et d'une promenade de 10-12 minutes à Roppongi et de 8 minutes aux collines de Roppongi. Il est à 2 minutes de 2 grandes boîtes de nuit (Muse et Eleven) et de nombreux restaurants géniaux. Il est à 15 minutes à pied de plus de 50 bars / discothèques et 100 d'excellents restaurants! ROPPONGI: Un endroit idéal pour la vie nocturne, restaurants et divertissements ainsi et est à seulement 10-12 minutes à pied d'ici. SHIBUYA: Est le Times Square de Tokyo et très lumineux, passionnant, et plein de lieux intéressants et les gens. Il est à 10 minutes en bus. Il ya un arrêt de bus à l'angle 2 minutes de l'appartement qui vous mènera là ou n'importe quelle autre direction que vous voulez aller. Si vous restez dehors tard et manquez le train, ne vous inquiétez pas. Taxi à / de Shibuya pour 1000 ¥ et à pied de Roppongi. LISTINGS: J'ai 2 listes proches les unes des autres dans la région de Nishiazabu / Roppongi !! Alors laissez-moi savoir si vous avez un grand groupe ou besoin d'un couple places !! CONCIERGE DE VOYAGE GRATUIT (** NOUVEAU **)! Exclusif pour réserver avec Will! Vous avez des questions sur votre séjour au Japon? Un service de conciergerie de voyage professionnel prendra soin de lui! Voyage expérimenté Les experts ne sont qu'un texte. Envoyez-leur un texte en tout temps et ils donneront leur conseil d'initié GRATUITEMENT! Exclusif pour réserver avec Will! Le service d'experts couvre une variété d'aspects - Pré-voyage: vol / activités / réservation de voiture, planification de voyage, forfaits de voyage, etc. Sur la route: réservation de restaurant, rabais de magasinage, support de transport et Traduction, etc. VISITES PERSONNALISÉES: TABICA est votre clé pour déverrouiller la beauté de la vie locale. Passez une journée avec un natif en tant que guide et rendez votre séjour à Tokyo inoubliable en vous joignant à un voyage d'aujourd'hui. Excursions d'une journée incluant le maître Bushido, la fabrication de Soba, la journée avec un moine, la restauration et l'agriculture. ~~~ QUESTIONS FRÉQUEMMENT POSÉES ~~~ 1) L'UNITÉ EST-ELLE DISPONIBLE? Pour des raisons de commodité, mon calendrier est TOUJOURS À jour. N'hésitez pas à utiliser INSTANT BOOK si disponible ou soumettez une demande de réservation avec votre 1er courriel. Premier arrivé premier servi. Les réservations de dernière minute ne sont généralement pas un problème. 2) PUIS-JE ENTRER EN PREMIERE FOIS ET / OU RETOURNER TARD? CHECK-IN: 4PM ou en tout temps APRÈS. Fin de soirée est OK! CHECK-OUT: 12PM NOON ou à tout moment AVANT Une courtoisie 1-2 heures peuvent être disponibles SEULEMENT si demandé dans les 24 à 48 heures de l'arrivée ou le départ (c'est à dire que je sais et il n'est pas garanti) plus que cela exigera des frais ou pour vous de réserver une autre nuit. BAGGAGE HOLD: Je recommande d'utiliser des casiers de pièces de monnaie à une station proche. Beaucoup de stations principales ont des casiers assez grands pour les valises en taille réelle. Si pas plus de 3 heures avant le check-in, les sacs PACKED peuvent être rangés dans l'appareil. RÈGLE: Prévenez-moi et laissez la CLÉ dans la boîte à clés pour le nettoyeur. Le jour du départ, il n'y a pas de bagages disponibles en raison de la préparation de l'unité pour les invités. 3) COMMENT ACCÉDER À L'APPARTEMENT? DIRECTIONS: L'adresse et les excellents itinéraires à pied depuis la gare (s) la plus proche sont indiqués dans votre ITINÉRAIRE DE CONFIRMATION une fois que vous avez payé et confirmé. ENTRÉE: Une clé LOCKBOX COMBINATION est utilisée à l'arrivée et au départ. Des renseignements détaillés sur ma procédure d'enregistrement SELF seront fournis dans la section DIRECTIONS de votre ITINÉRAIRE DE CONFIRMATION. Wifi: Le routeur portable et le MOT DE PASSE seront dans l'appartement quand vous arrivez 4) Puis-je ajouter des personnes ou des lits supplémentaires? Cette unité a un maximum de 3 lits: 2 Lit simple (100cm par 200cm) 1 Lit simple Futon (100cm par 200cm) Veuillez noter que les tailles de lit ne peuvent pas être changées Elle peut accueillir: 1-2 personnes avec beaucoup d'espace 3 personnes maximum. C'est un peu bondée (mais possible avec 2 personnes sur le lit et une personne sur le sol avec un futon) 5) CHARGEZ-VOUS POUR LES ENFANTS? 2 ans et moins gratuit si elles partagent un lit ou vous fournissez la surface de couchage Les enfants de 3 ans et plus sont comptés comme invités Veuillez noter que les lits bébé ne sont pas disponibles. 6) COMMENT PUIS-JE LIRE DE L'AEROPORT? Gare la plus proche: ROPPONGI (11 minutes à pied) 2 lignes de train: ligne HIBIYA (ligne grise) Ligne OEDO (ligne rose) DIRECT trains à de nombreux endroits dans la ville, y compris Shinjuku, Ebisu, Ginza, Akihabara, et Ueno! DE L'AEROPORT DE NARITA: EN TRAIN: 74 minutes --- Tarif: 2 810 ¥ Aéroport de NARITA à la station ROPPONGI (Besoin de transférer deux fois aux stations Nippori et Yurakucho) PAR TRAIN LENT: 87 minutes --- Tarif: 1 380 ¥ DE L'AEROPORT DE HANEDA: EN TRAIN: 28 minutes --- Tarif --- 670 ¥ TOKYO-MONORAIL à la station Hamamatsucho / Daimon. --- Ligne OEDO jusqu'à la station ROPPONGI NUIT TARDIVE: Dernier train à 12h10 Arrivée à la station Roppongi à 12h48 AEROPORT LIMOUSINE BUS: Disponible à Shibuya à 12h50 DERNIÈRE AUTOBUS: Disponible à Shibuya à 2h20 Ensuite, vous auriez besoin d'un taxi à environ 1500 yens. RENSEIGNEMENTS SUR LE TRAIN: Consultez les sites Hyperdia ou Jorudan Trains au Japon INFORMATIONS SUR LE BUS: Rechercher Aéroport Limousine Bus Japon (pas aussi fantaisie que cela sonne) 7) POURQUOI LE PRIX EST-IL DIFFÉRENT QU'IL EST CALCULE? Le prix total est composé de trois parties: 1. Prix par nuit x # de nuits (plus tous les frais de nuit pour les clients supplémentaires, le cas échéant) 2. Frais de nettoyage (frais uniques) 3. Frais de service (une fois les frais fixés et collectés par airbnb, généralement entre 6 et 12%) Prix hebdomadaire: Le prix peut varier en fonction des vacances de pointe et des événements spéciaux. Entrez vos dates pour voir le prix actuel
WELCOME TO MY LISTING - Below is a detailed summary of the unit and surrounding area. I have also provided answers to many frequently asked questions to ease the booking process and make your stay more pleasant. Please review this information to ensure this listing meets all your needs. My calendar is ALWAYS UP-TO-DATE! and INSTANT BOOK is available to immediately secure your reservation!
I am an experienced host (4 years now) who continues to strive to make your stay convenient and enjoyable. My team and I have over 80 listings in TOKYO. We also have some in BANGKOK, MANILA, and HONG KONG.
This is in NISHIAZABU!! You won't see it in any guidebooks but it's a fancy community in the middle of all the action!! It's one major crossing down from ROPPONGI which is a foreign friendly district renowned for it's lively nightlife with plenty of amazing restaurants and lots of great shopping.

~~~ THE APARTMENT ~~~
This apartment has a nice big kitchen with a double burner stove. A much better than average kitchen for Japan!
— 1 Room Studio with 2 Beds - Sleeps 3 People Maximum (fresh linens included)
— Separate Kitchen with Partition (includes built-in 2 burner stove top, toaster, rice cooker, fridge, microwave, instant hot water kettle, cooking utensils, dishes, glasses, and silverware)
— Private Bathroom (with very hot shower, towels, hairdryer, basic toiletries)
— Air Conditioner/Heater with Remote Control
— Free Portable, Pocket Wi-Fi with High Speed Internet
— Balcony
— Fresh Linens, Towels and Basic Toiletries Provided
— Hairdryer
— 3rd Floor Apartment
— Coin Laundry 1 Minute Away
— Late Night Check-in Welcome
DIRECT BUS to Roppongi hotel nearby from NARITA Airport.

~~~ CHECK-IN & CHECK-OUT ~~~
(For your convenience, we provide self check-in/check-out using a combination key lockbox to assure you entry into the unit the moment you arrive.)
CHECK-IN: 4PM or anytime AFTER. Late Night is always OKAY!
CHECK-OUT: 12PM NOON or anytime BEFORE
See FREQUENTLY ASKED QUESTIONS below for more details on:
— Early Check-In / Late Check-Out
— Transportation To/From Apartment

~~~MOBILE WIFI UNIT~~~ FREE!!!
Stay CONNECTED 24/7 while in TOKYO!!
Pocket size, PORTABLE Wi-Fi ROUTER INCLUDED!!
Small, light, and easy to carry around with you
Can USE with your smartphone, tablet, laptop, etc
No need to rent a phone or buy a SIM!
Waiting in the apartment for you upon arrival
Data Unlimited (may slow down if you download a lot)

~~~ NEARBY THE APARTMENT ~~~
FROM THE APARTMENT --- WALKING:
Roppongi statio(URL HIDDEN) --- 11 mins
Roppongi Hill(URL HIDDEN) --- 7 mins
Hiroo statio(URL HIDDEN)--- 15 mins
Omotesando station --- 15 mins
Gaienmae statio(URL HIDDEN) --- 10 mins
Shibuya are(URL HIDDEN)--- 25 mins (10 minutes by bus)
Gonpache Restaur(URL HIDDEN) --- 2 min
(Site of indoor fight in the movie Kill Bill Vol. 2)

~~~ AREA ~~~
Nishi-azabu is just an awesome location. It's between Shibuya and Roppongi, the 2 places you want to be every evening to eat dinner and enjoy this awesome city. Upscale, convenient, and very central area. If you want to stay out late in Roppongi, this is the place to stay as you will NOT need a taxi. Actually, many places you may want to go are walkable from here!
The apartment is one minute flat from Nishi Azabu crossing and a 10-12 minute walk to Roppongi and 8 minutes to Roppongi Hills. It is within 2 minutes of 2 great nightclubs (Muse and Eleven) and many awesome restaurants. It's within 15 minutes walk of over 50 bars/clubs and 100's of great restaurants!
ROPPONGI:
A great place for nightlife, restaurants, and entertainment as well and is only a 10-12 minute walk from here.
SHIBUYA:
Is the Times Square of Tokyo and very bright, exciting, and full of interesting places and people. It is 10 minutes by bus. There is a bus stop on the corner 2 minutes from the apartment that will take you there or any other direction you want to go.
If you stay out late and miss the train, don't worry.
Taxi to/from Shibuya for 1000¥ and walk from Roppongi.
LISTINGS: I HAVE 2 listings near each other in the Nishiazabu/Roppongi area!! So let me know if you have a big group or need a couple places!!

FREE TRAVEL CONCIERGE (**NEW**)! Exclusive for booking with Will !
Got any questions about your stay in Japan? A professional travel concierge service will take care of it! Experienced travel experts are only a text away. Flick them a text anytime and they'll offer their insider advice for FREE! Exclusive for booking with Will !
The expert-based service covers a variety of aspects --
Pre-trip: flight/activities/car booking, trip planning, travel packages, etc.
On-the- road: restaurant booking, shopping discount, transport support and instant
translation, etc.

PERSONALIZED TOURS:
TABICA is your key to unlocking the beauty of local life. Spend a day with a native as your guide and make your stay in Tokyo unforgettable by joining a trip today.
One day tours including Bushido Master, Soba Making, Day with a Monk, Dining and Farming.
~~~ FREQUENTLY ASKED QUESTIONS ~~~
1) IS THE UNIT AVAILABLE?
For convenience, my calendar is ALWAYS UP-TO-DATE.
Feel free to use INSTANT BOOK if available or submit a booking request with your 1st email. First come, first serve. LAST-minute bookings are usually not a problem.

2) CAN I CHECK IN EARLY AND/OR CHECK OUT LATE?
CHECK-IN: 4PM or anytime AFTER. Late Night is OKAY!
CHECK-OUT: 12PM NOON or anytime BEFORE
A courtesy 1-2 hours may be available ONLY if asked within 24 to 48 hours of arrival or departure (that is when I will know and it is NOT guaranteed) more than this will require a fee or for you to book another night.
BAGGAGE HOLD: I recommend using coin lockers at a nearby station. Many main stations have lockers big enough for full size suitcases. If no more than 3 hours before check in, PACKED bags can be stowed in the unit. RULE: Notify me of this and leave the KEY in the key lockbox for the cleaner. On check-out day there is no baggage hold available due to the preparation of the unit for incoming guests.

3) HOW DO I ACCESS THE APARTMENT?
DIRECTIONS:
The address and excellent walking directions from the nearest train station(s) are provided in your CONFIRMATION ITINERARY once you have paid and been confirmed.
ENTRY:
A COMBINATION KEY LOCKBOX is used at arrival and departure. Detailed information for my SELF check-in procedure will be provided in the DIRECTIONS portion of your CONFIRMATION ITINERARY.
Wi-Fi:
The portable router and PASSWORD will be in the apartment when you arrive

4) CAN I ADD EXTRA PEOPLE OR BEDS?
This unit has a maximum of 3 beds:
2 Single Bed (100cm by 200cm)
1 Single Futon Bed (100cm by 200cm)
Please Note: Bed sizes can NOT be changed
It accommodates (sleeps):
1-2 people with plenty of space
3 people maximum. This is a bit crowded (though possible with 2 people on the bed and 1 person on the floor with futon)
(URL HIDDEN)5) DO YOU CHARGE FOR CHILDREN?
Ages 2 and under free if they share a bed or you provide sleeping surface
Ages 3 and up are counted as guests
Please Note: Baby cots are not available

6) HOW DO I GET THERE FROM THE AIRPORT?
Nearest station: ROPPONGI (11 min. walk)
2 Train Lines: HIBIYA Line (grey line)(URL HIDDEN)OEDO Line (pink line)
DIRECT trains to many places in the city including Shinjuku, Ebisu, Ginza, Akihabara, and Ueno!

FROM NARITA AIRPORT:
BY TRAIN: 74 minutes--- Fare---2,810¥
NARITA Airport to ROPPONGI Station
(need to transfer two times at Nippori and Yurakucho stations)
BY SLOW TRAIN: 87 minutes--- Fare---1,380¥
FROM HANEDA AIRPORT:
BY TRAIN: 28 minutes--- Fare---670¥
TOKYO-MONORAIL to Hamamatsucho/Daimon Station.
--- OEDO Line to ROPPONGI Station
LATE NIGHT: Last train at 12:10am
Arrives Roppongi Station at 12:48am
AIRPORT LIMOUSINE BUS: Available to Shibuya at 12:50am
LAST BUS: Available to Shibuya at 2:20am
Then you would need a taxi at about 1500 yen.
TRAIN INFORMATION:
Check websites Hyperdia or Jorudan Trains in Japan
BUS INFORMATION:
Search Airport Limousine Bus Japan (not as fancy as it sounds)

7) WHY IS THE PRICE DIFFERENT THAN I AM CALCULATING?
The total price is composed of three parts:
1. Nightly price x # of nights (plus any nightly charges for extra guests when applicable)
2. Cleaning fee (one-time fee)
3. Service fee (one-time fee set and collected by airbnb, typically between 6 and 12%)
Weekly Price: Price may fluctuate based on peak holidays, and special events.
Enter in your specific dates to see the current price for those days.

8) IS THE PLACE CLEANED DURING MY STAY?
It is professionally cleaned prior to your arrival and after your departure.
For your privacy, no one enters the house during your stay except for you and your group.
For cleaning concerns, email me immediately upon arrival and we will come to resolve them.

9) ANY QUESTIONS I MISSED?
Please email me on the airbnb website. Click on 'Contact Host' to send a message.
CHEERS AND HOPE TO HEAR FROM YOU SOON!!!
Will
---
Chambre 1
2 lits simples, 1 matelas au sol
---
---
Voyageur supplémentaire 12 € / nuit après 2 voyageurs
Réduction à la semaine : 10%
Tarif week-end 65 € / nuit
Communiquez toujours via Airbnb
Pour protéger votre paiement, ne transférez jamais d'argent et n'établissez pas de contact en dehors du site ou de l'application Airbnb.
En savoir plus
---
Ne convient pas aux animaux
L'entrée dans les lieux se fait entre 16:00 et 02:00 (jour suivant)
1. The apartment will be all yours so please take good care of it.
2. Please be quiet and discreet. Very important to respect your neighbors in Japan as everyone lives close together! Absolutely no partying in the unit. Please enjoy yourself outside and make new friends.
3. You must turn off the air conditioner/heater when not there.
4. Please take off your shoes when you enter.
5. NO SMOKING inside the apartment. Outside on the balcony is fine. Standing and smoking in front of the building entrance is not allowed. Please dispose of your buds properly. Do not put in recyclable cans or bottles.
6. SELF CHECK-IN: For your convenience and privacy this is a self-catering unit. It is your responsibility to find the place. Don't worry because I give very detailed and accurate directions in the confirmation.
7. This is NOT a HOTEL: As such, you cannot ask anyone in the building for assistance. My team and I are always available between the hours of 7 AM and 1 AM via Airbnb messaging. Phone calls are typically unanswered due to the Japanese culture of answering phones in public.
8. BEDS: By booking, you acknowledge the total number of beds and bed sizes. Please read carefully to make sure your party will be comfortable with the available accommodations.
9. DEPOSIT: We don't take a deposit, but you will be held liable for any damages. Please report any damages as soon as they occur. Honesty is the best policy and will be rewarded.
10. CLEANING: The place is professionally cleaned before your arrival. Our standards are very high, but if you have any concerns contact us upon arrival.
11. YOU MUST separate the trash*** #1 VITAL thing in Japanese culture!!
Trash is divided into categories and put in different bags.
Please separate your(URL HIDDEN) burnable, recyclables (cans, plastic bottles, glass), and non-burnable items.
Please put these in separate bags. Using any clear plastic bag is okay in Tokyo.
---
---
La durée minimum de séjour pour cette annonce peut varier.
---
It has been another great, very comfortable and pleasant stay at Will's place. This is my second time and he is always reliable and quick to resolve any issues that may arise. Looking forward to future visits.
---
Lots of great things about staying at Will's place. The location is perfect, close to amenities and close to nightlight, bars and restaurants in Roppongi. The portable wifi is really useful and the check in/check out procedure is the best and most hassle free I have experienced in an airbnb ever. Comms were good and I would definitely stay at Will's again if I was to visit Tokyo again.
---
Pros: 1) Will is a great host. Though I never got to meet him in person, he was quick to respond and thorough in the guides for checking in, locating the Airbnb and our stay. 2) The portable WiFi was fast and incredibly integral to our stay. Don't know if I'd have been able to find my way around without it! 3) The Airbnb is located within walking distance of some fantastic restaurants - the Innocent Carvery was an AMAZING wagyu beef spot. 4) The National Art Center is right there. RIGHT THERE. Go! Especially if the Yayoi Kasuma exhibit is going on. 5) Though it sounds a bit morbid, the Aoyama Cemetery had a beautiful array of cherry blossom trees. 6) It's pretty easy to catch a taxi on the main road. 7) There's a balcony. Cons: 1) I think the location is slightly misrepresented a bit here. Though you can walk to Roppongi (about 15 min), it's actually located in Nishiazabu. If you want to get around Tokyo or go to the heart of the nightlife in Roppongi, you have to walk pretty far. The closest public transportation is a bus, which I didn't use. The closest trains are Nogizaka station (about 12 min walk), Roppongi Station (about 15 min walk), Omotesando Station (about 16 min walk). With luggage, these would mostly be brutal hill walks. After a night of drinking, these would also be rough walks. If you wanted to stay in Roppongi, this is not in Roppongi. 2) The beds are very uncomfortable. Instead of beds, they're more like futons with a mattress topper and should be listed as such in the description. 3) Bring ear plugs - the walls are thin and people in the neighborhood wake up around 6 am every day and talk very loud. 4) There's no elevator and it's on the third floor, so if you have heavy luggage, it might be tough going up and down. Conclusion: Would I stay here again knowing what I know now? Probably not. Though having WiFi on the go was excellent and Will was kind enough to let us leave our bags in the apartment early, I think I paid more than what I got in exchange for the Airbnb. I found myself taking taxis often because of how far the walks were to and from the stations. And the "beds" took some getting used to. If I hadn't stayed at another Airbnb in Tokyo in the beginning of my trip or seen some of my friends' Airbnbs in the same neighborhood, I would probably think that this is common of Tokyo. But I had friends with better amenities at their Airbnbs who paid the same if not less compared to what I did. If the price of the Airbnb was cheaper, then it would make sense for the value. But for how much I paid, I could have gotten a better bed or better location at a hotel or different Airbnb. If this...
Thank you Alexa for your review. I would like to clear up some details. Roppongi station exit 2 is 11 minutes walk from here and no more than 1km. Roppongi Hills is less than 10 minutes on foot. Yes, this is Nishi-Azabu but most guests no Roppongi. Nogizaka station can actually be reached in 7-8 minutes walk so this place is not far from transportation at all. There is a bus to Shibuya as well only 3 minutes from here at Nishi-Azabu crossing! The apartment is on the side street and I have never heard of noise complaints. Alexa did pay more than normal due to cherry blossom season. The rates all other times are very competitive. Thank you for reading.
---
Nice to meet you. My name is Will. I am a host about to have my 6 year anniversary and one of the original hosts in Tokyo. When I started there were only 54 listings in all of Tokyo. Now, there are thousands! I love hosting on airbnb and it is my life. It is tons of fun and there are new surprises every day! I have met so many interesting people as a host and I look forward to those I will meet in the future.

I am a sports fan, reader, movie goer, and I like to try new things. I play golf, basketball, and just about any sport you can think of. I love ramen, yakiniku, yakitori, and shabu shabu here in Japan. I love to try pizza all over the world when I travel.

Relationships are the most important thing for me in my personal life as well as business. I like to go out and have a good time with my friends and meet new people.

I have learned so much from my over three years as an airbnb host and I am pleased to say I have most questions answered for you before you ask them, whether it be in the description of the listing or in the detail I supply you with at confirmation. Still, I am always thinking of ways to make the guest experience more comfortable, efficient, and hassle free. This is my goal as a host. I will continue to get more places every month so I can host more travelers. I want everyone to see Tokyo at least once!

Tokyo is a great place to come and people from all over the world visit here making it a truly international city. I love Tokyo and seeing the amazing sights and people. It is a great place to explore and every day can be different. This is an awesome destination for walkers and wanders filled with friendly people, tasty restaurants, and plenty of lights. My tip is to make the initial contact with Japanese people because they are typically shy at first. They will be happy to try to practice their English with you.

Hope I can host you soon! May your trip to Tokyo be as amazing as my 11 years here has been!
Langues :
English
Taux de réponse :
100%
Délai de réponse :
Moins d'une heure
Découvrez d'autres options à Minato et dans ses environs
Plus de logements à Minato :