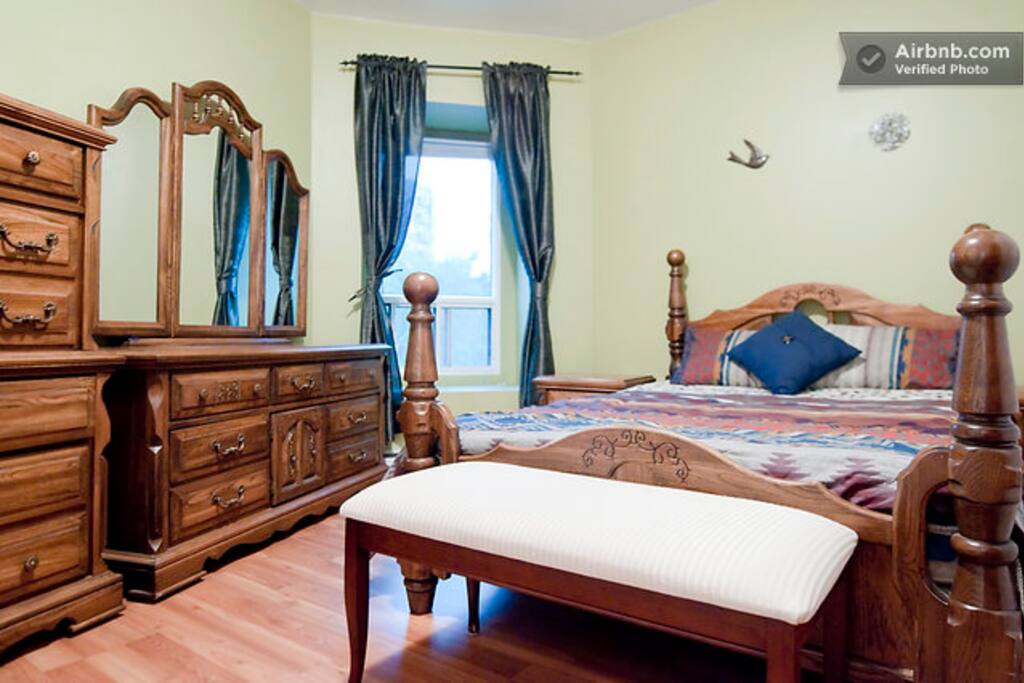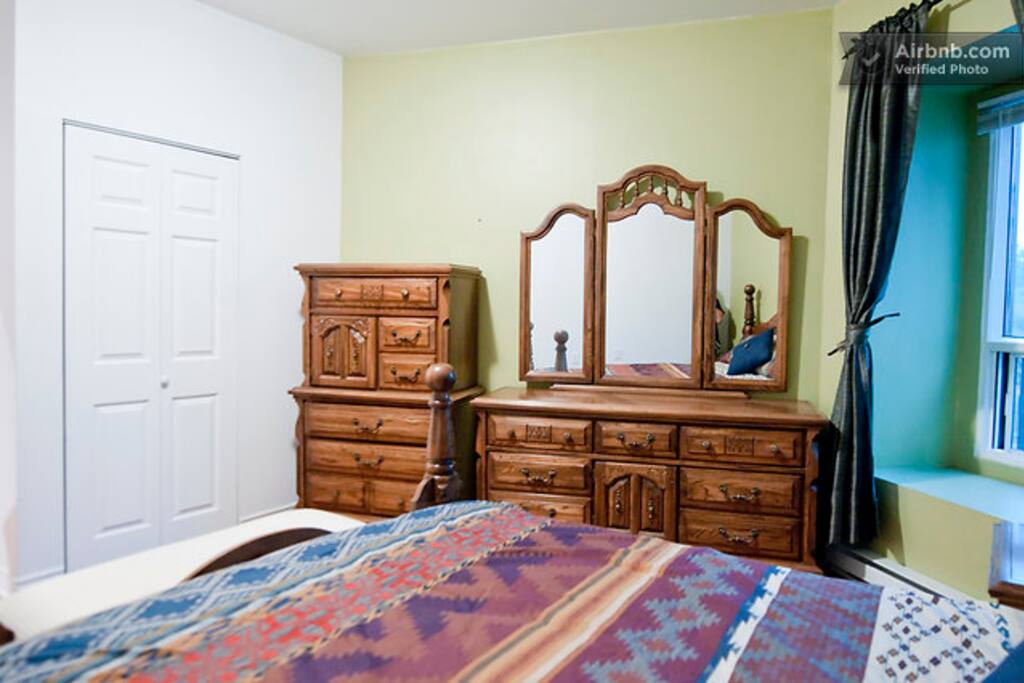 ★☆★ CUBA HAUS I ★☆★ room 4
Bonjour! Hi! Hola! Ciao! Hej! Guten Tag! Gruezi! Dzień dobry! Добридень! привет! Jambo! Merhaba! გამარჯობა! Բարեւ Ձեզ! !سلام! הלו! السلام عليكم नमस्ते! வணக்கம்! བཀྲ་ཤིས་བདེ་ལེགས།! ᠲᠠ ᠰᠠᠢᠢᠨ ᠤᠤ! 你好! สวัสดีครับ! Xin chao! 안녕하세요! こんにちは!
Thanks for stopping by!
Cuba Haus is a small community in Montreal. We are very selective with our residents. If you want to live with us please answer our questions in the "join us" section from our profile page:
https://www.airbnb.ca/users/show/6508215
---
---
Communiquez toujours via Airbnb
Pour protéger votre paiement, ne transférez jamais d'argent et n'établissez pas de contact en dehors du site ou de l'application Airbnb.
En savoir plus
---
---
---
Séjour de 25 nuits minimum
---
Kevin was a great host. He took care about everything. The location is great! You can walk to Montreal downtown in five minutes. The (SENSITIVE CONTENTS HIDDEN) are really welcoming and do lots of activities together. My room was good (only a little noisy on Saturday night because of the club downstairs).
---
★ CUBA HAUS INTERNATIONAL ★
.
Welcome to Montreal!
CubaHaus is celebrating it's 5th year! :)
.
Come join our community and rent your room in our very special home! Cuba Haus started in 2012 by an anthropology student. After coming back to Montreal from 4 years traveling around the world. He decided to find a way to keep his mind traveling while being at home. Cuba Haus was born. A place where great minds unite.
.
Our community consist of 5 separate apartments located in the same street block. This is a unique living situation you won't get to live anywhere again. We believe that our community has extra value... your life, sociology and management courses right at home. It's a complete experience. It is always important to have a good atmosphere in the house. We are like big family and your roommates will be those who listen to your day after you are back home in the evening. We take our work studies/work seriously and our place is DEFINITELY NOT the place for constant parties. However we like to organize various outings, activities, philosophical debates, climbing mountains, cottage weekends, restaurants, bars, basketball, football, swimming (there is a free public pool nearby), baking, cooking, play guitar, running, yoga, BBQ on our amazing terrace in the summer etc.
.
.
.
WHO ARE WE?
.
Since it's inception, Cuba Haus hosted people from every continents and 41 different countries!
.
We had residents from Canada, USA, Mexico, Colombia, Brazil, Uruguay, Argentina, England, Spain, France, Belgium, Netherlands, Luxembourg, Germany, Italy, Denmark, Norway, Sweden, Austria, Czech Republic, Slovakia, Russia, Turkey, Morocco, Algeria, Tunisia, Ghana, Lebanon, Syria, UAE, Iraq, Iran, Pakistan, India, China, Korea, Japan, Taiwan, Thailand, Philippines, Australia and New Zealand.
.
List of the current resident (Last update: Spring 2017):
.
Females:
.
- Luxembourg. Mathematics.
- Germany. Chemical Engineering.
- Canada. Faculty of arts.
- France. Ergonomist.
- Taiwan-New Zealand. Neurosciences and organic chemistry.
- China. Biology and computers.
- Philippines. Fine Art.
- Slovakia. Communication.
- Korea. Engineering.
- France. Communication and marketing.
- France. Marketing.
- Brazil. Electrical engineering.
.
Males:
.
- Mexico. Information Technology.
- Lebanon. Mechanical Engineering.
- United States. Engineering.
- Canada-Irak. Finance.
- Syria. Software Engineering.
- India. Atmospheric Sciences.
- United States. Nuclear Physics.
- England. Racket professional.
- India. Mechanical and Electrical Engineering.
- Canada. Anthropology.
- Argentina. Industrial engineering.
- Germany. Nanotechnology.
.
.
.
YOU WANT TO JOIN US?
.
Tell us about yourself. It doesn't have to be long... but we are very selective with our roommates so just try to stand out.
.
- Tell us why you want to live in our community.
- Your personality, living habits, lifestyle, activities...
- Study or work field. What will be your occupation in Montreal...
- Where are you from? Where you grew up?
- Try to convince us that you are clean and tidy!
- When you want to move in? For how long?
- Which type of room you are looking for and your budget per month. (See prices below)
.
If we feel you will match with us, we'll meet up or have a video conversation call. Waiting to hear from you!
.
The Cuba Haus
.
Airbnb reviews: https://www.airbnb.ca/users/show/6508215
.
.
.
DETAILS OF THE HOUSES & WHAT'S INCLUDED?
.
- All utilities are all included in the rent: Electricity, hot water, heating, unlimited WiFi Internet.
- Our apartments range from 3 to 7 bedrooms.
- Bedrooms are furnished with dressers/drawers, working desks, beds.
- Kitchens are equipped with microwaves, toasters, pots, pans, glasses, plates, utensils etc.
- All have washer and dryer ether directly in the apartment or in the building. (One flat has a washer only.)
- Some apartments have a terrace to hang out.
.
IMPORTANT NOTE!
.
We have a few rooms that are located over a trendy nightclub. If you need a quiet room ask us for bedrooms that are not over the bar. If you enjoy working late you can benefit from the cheaper prices of those rooms above the bar. The bar is only open on Thursdays, Fridays and Saturdays but one those nights you can hear quite loudly the vibration of the bass sound from 11pm to 3am. Some of us use it as a positive thing for late night studies! It keeps our mind alert! ;-)
.
.
.
CLEANING
.
One of our main criteria for selecting new roommates is cleanliness and tidiness! We realized that this is the main issue while sharing a flat so we will pick a socially weird compulsive cleaner over a cool and fun roommate! Haha! We are half joking but if you're not really into cleaning then please don't write us unless you are willing to pay to have a cleaning lady do your part. We have zero tolerance for unwashed dishes or dirty kitchen table or stove after cooking! We believe that a tidy environment is psychologically healthy. In short if we are dedicating a whole paragraph for this matter so you can guess that it is important to us!
.
Note #1: We love animals but unfortunately we are not allowed to have them.
.
Note #2: Absolutely no smoking in the house. Period.
.
.
.
PRICES (CAD)
.
Price will vary depending on your room and the length of the lease you want to sign. We have various size of room ranging from small single size bedrooms to large queen size bedrooms with private bathrooms.
.
12 MONTHS:
From 750 to 1200/month.
.
8 MONTHS:
From 800 to 1300/month.
.
4 MONTHS:
Fall (Sept-Dec): From 950 to 1500/month.
Winter (Jan-Apr): From 850 to 1400/month.
Summer (May-Aug): From 850 to 1400/month.
.
4 MONTHS OR LESS: Rarely available but we might have something to offer you. Just ask...
.
.
.
WHERE ARE WE LOCATED?
.
Near here: H2X 3V8
.
We are located in the best area of Montreal! (At least that's what we think!) ;-) Haha! We have everything around us. Ste-Catherine, St-Denis and St-Laurent. All 3 are in the top 10 most popular street to go out for a drink, eat or go shopping. We are living in front of Parc where there is a Basketball court, a soccer field and ice rink in winter. We are 5 minutes walk from a free indoor public swimming pool. 7 minutes from Place-des-arts where 80% of the major events and festivals in Montreal are happening (Jazz festival, Just-for-laugh festivals, nuit blanche etc). 10 minutes walk to Desjardins Complex shopping mall which is also the central segment of RESO (The world's largest Underground City). 15 minutes to reach China Town or the old port of Montreal... and in a short 30 minutes walk you can reach the top of Mont Royal and admire the beautiful view of the Skyline.
.
Distances to...
.
METRO STATIONS
By Walk:
-5 min. to "SAINT-LAURENT"
-10 min. to "PLACE DES ARTS"
-10 min. to "BERRI-UQAM".
.
SCHOOLS
By walk:
-5 min. to CEGEP DU VIEUX MONTREAL
-10 min. to UQAM
-15 min. to MCGILL University
By public transportation:
-10 min. to CONCORDIA University
-25 min. to ETS
-35 min. to HEC
-35 min. to UDEM (Universite de Montreal)
-35 min. to Ecole Polytechnique.
.
FOOD
By walk:
-5 min. walk to Depaneure Bright (corner store)
-5 min. walk to Madina (Indian grocery store)
-10 min. walk to IGA (supermarket)
-15 min. walk to GD (Chinese supermarket)
-15 min. walk to Provigo (supermarket)
Langues :
Deutsch, English, Español
Taux de réponse :
95%
Délai de réponse :
Quelques heures
Découvrez d'autres options à Montréal et dans ses environs
Plus de logements à Montréal :