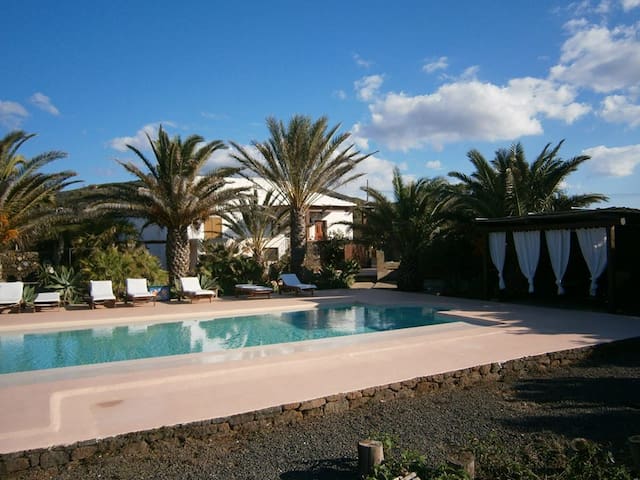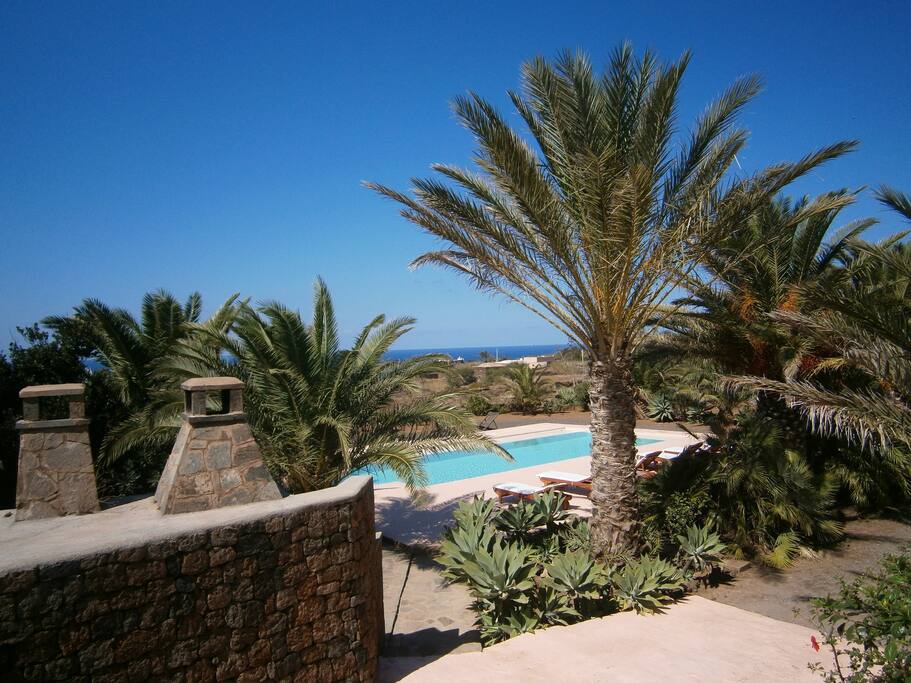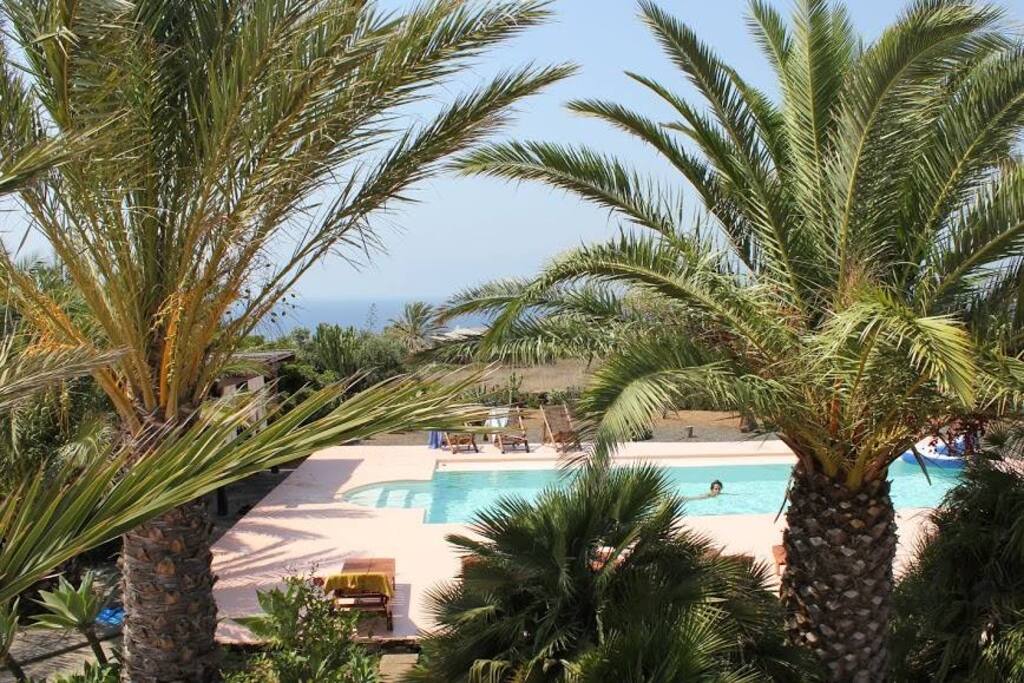 À propos de ce logement
Overlooking magnificent views of Mediterranean Sea, breathtaking sunsets, make it the ideal retreat for couples or families that wish to spend a holiday in total luxury, serenity and privacy.
---
Arrivée : À partir de 13:00
Type de logement : Logement entier
---
---
Voyageur supplémentaire : Sans frais
---
Overlooking magnificent views of Mediterranean Sea, breathtaking sunsets, make it the ideal retreat for couples or families that wish to spend a holiday in total luxury, serenity and privacy.
Overlooking magnificent views of Mediterranean Sea, breathtaking sunsets, make it the ideal retreat for couples or families that wish to spend a holiday in total luxury, serenity and privacy.
This villa is part of Oasi Pantelleria complex. It is located in the northwest part of the island. Overlooking magnificent views of Mediterranean Sea, breathtaking sunsets, make it the ideal retreat for couples or families that wish to spend a holiday in total luxury, serenity and privacy. Oasi Pantelleria can accommodate 8 people. The main villa is comprised of a living room, 3 bedrooms, bathroom, kitchen and big terrace. Next the main Villa is situated a little apartment comprised of living room with kitchenette, bedroom, bathroom and big terrace. All bedrooms have air conditioning.
Villa Oasi Pantelleria has very spacious outdoor relaxing areas with vast private swimming pool and the aforementioned pergola-shaded area with its beautiful outdoor furniture and stone BBQ!
The swimming pool and outdoor areas are accessible to the all complex's guests.
All the facilities necessary to the visitors such as supermarket, bakery, pharmacy, restaurants and cafeterias are easily accessible from the villa in 5 minutes.
There isn't a good public transport servicing the area; vehicle hire is recommended
For any kind of question or information, the owner will be more than happy to help
Arrivals and Departures:
Free transfer to/from the airport or port
---
Ne convient pas aux animaux
L'entrée dans les lieux se fait à partir de 13:00
- L'utilizzo dell'aria condizionata ha un costo aggiuntivo di 80 € a settimana
- Use of air conditioning has an additional cost of 80 € for week
- Si può fumare nelle zone esterne
- You can smoke in outdoor areas
Termini e condizioni
La prenotazione di una villa è completamente diversa dalla prenotazione di una camera di albergo. La durata della prenotazione, pagamenti, cancellazioni, ecc, sono tutti diversi, quindi prima di accettare questi "termini e condizioni" leggere attentamente quanto segue.
Ogni volta che, "l'Ospite" effettuerà una prenotazione per la Villa Oasi Pantelleria:
a.), un contratto d'affitto si crea tra "l'Ospite", in nome della quale è fatta la prenotazione e, naturalmente, a nome di tutti i membri del suo partito, e Villa Oasi Pantelleria, "il proprietario", per il periodo concordato denominato "Periodo di affitto";
b) si accettano i termini e condizioni che seguono:
Danni o perdite
Villa Oasi Pantelleria è di proprietà altrui; quindi l'ospite deve trattarla di conseguenza e lasciare la proprietà e tutti i suoi contenuti in buon ordine e in una condizione abbastanza pulita.
Eventuali danni o perdite causate durante il periodo di noleggio, nonché le eventuali esigenze di pulizia speciali saranno a carico del cliente e possono essere detratti dal deposito cauzionale del cliente. In caso di danni eccessivi o inaccettabili in qualsiasi momento durante il "periodo di affitto", il proprietario o rappresentante del proprietario possono richiedere "all'Ospite" di lasciare la proprietà immediatamente, senza alcun compenso o rimborso.
Accesso
Villa Oasi Pantelleria e le sue strutture sono disponibili per il pieno godimento "dell' Ospite" durante il periodo di noleggio. Tuttavia il proprietario, rappresentante del proprietario, o di altro personale possono avere bisogno di accedere alla proprietà di volta in volta (ad esempio per scopi di manutenzione della casa, giardino, piscina, utenze e servizi, o ai fini della fornitura di servizi aggiuntivi richiesti dal l'ospite, etc.). Il cliente è tenuto a dare loro l'accesso alla proprietà per questi scopi.
L'utilizzo della proprietà
Tutte le prenotazioni per Villa Oasi Pantelleria si presume siano solo a fini di villeggiatura, e l'ospite concorda sul fatto che l'uso della proprietà sarà limitata a questo scopo, se non diversamente confermata per iscritto.
Se l'ospite sta progettando di organizzare un evento, come un matrimonio o una festa, che coinvolge avere un numero maggiore di persone presso la struttura, oppure se l'ospite ha in programma di utilizzare la proprietà per uno scopo diverso da quello per le vacanze, si prega di comunicarlo a Villa Oasi Pantelleria al momento della prenotazione, in quanto necessitano di approvazione o accordi particolari. A seconda della natura della manifestazione, un pagamento e/o deposito cauzionale aggiuntivo sarà richiesto, che verrà concordato e confermato per iscritto prima di confermare la prenotazione.
Schiamazzi e disturbo della quiete pubblica
Villa Oasi Pantelleria si trova in aree residenziali. L'ospite è pregato di rispettare questo, e di garantire che tutti gli ospiti della villa si comportino in modo appropriato. In particolare, gli ospiti hanno la responsabilità di seguire le ore della quiete. In nessun caso saranno Villa Oasi Pantelleria o rappresentante del proprietario, individualmente o collettivamente responsabili per eventuali problemi riguardanti il rumore e disagi, con le forze dell'ordine o dei vicini di casa della Villa.
Condotta
Gli "Ospiti" di Villa Oasi Pantelleria sono tenuti a rispettare le norme e regolamenti vigenti in Italia. Le attività illegali o immorali, tra cui il gioco d'azzardo, la prostituzione, droghe proibite, il possesso o l'uso di materiale pirotecnico o merci pericolose, e il possesso o l'uso di armi da fuoco e altre armi sono tutti rigorosamente proibiti.
In caso di eventuali "Ospiti" che non si comportano in modo adeguato, Villa Oasi Pantelleria o un nostro rappresentante, a loro assoluta discrezione, possono richiedere "all'Ospite" di lasciare immediatamente la Villa, senza alcun compenso o rimborso.
Per motivi di sicurezza, maggiore attenzione deve essere assunta presso la struttura in ogni momento, soprattutto con i bambini, in particolare intorno la piscina, scale, barbecue e quando si utilizzano i servizi della proprietà.
Fluttuazione dei prezzi
Villa Oasi Pantelleria afferma che, se la prenotazione "dell'Ospite" è confermata, il prezzo della prenotazione della Villa è pienamente garantito; anche se alcune modifiche al prezzo del noleggio della proprietà si verificano. Nessun rimborso sarà effettuato per eventuali fluttuazioni del tasso di cambio successive alla prenotazione.
Villa Oasi Pantelleria si riserva il diritto di imporre tasse o altri oneri che possono essere attuati dal governo o altro organismo di regolamentazione, che erano sconosciuti al momento della prenotazione. Villa Oasi Pantelleria avviserà l'ospite tempestivamente nel caso improbabile che venga a conoscenza di eventuali tasse o oneri che verranno applicati per la prenotazione del cliente.
Denunce, contestazioni
Villa Oasi Pantelleria cecherà di rendere il vostro soggiorno il più piacevole possibile. Se l'ospite avrà un problema durante il periodo di affitto, deve informare immediatamente Villa Oasi Pantelleria o il nostro rappresentante, che cercherà di risolvere tutti i problemi e mettere le cose a posto. In mancanza di reclami durante il periodo di affitto, per Villa Oasi Pantelleria vorrà dire che la proprietà ha soddisfatto l'ospite e nessun reclamo verrà preso in considerazione.
La responsabilità di Villa Oasi Pantelleria
La descrizione di Villa Oasi Pantelleria che viene pubblicata è fornita in buona fede e nella convinzione che essa sia accurata sulla base delle ultime informazioni della villa. Tuttavia, Villa Oasi Pantelleria non può essere ritenuta responsabile per eventuali modifiche o inesattezze alla villa, in particolare nei suoi contenuti (tappeti, piatti, bicchieri, ecc).
Avvertenze
Oasi Pantelleria Villa non accetta alcuna responsabilità per:
- qualsiasi danno fisico, malattia, morte, perdita, danno, inconvenienti o spese aggiuntive sostenute dal Cliente, indipendentemente dalla causa.
- veicoli di proprietà o noleggiati sull'isola
- Incapacità "dell'Ospite" o qualsiasi membro di usufruire della Villa durante tutto o parte del periodo di affitto a causa del mancato ottenimento della documentazione di viaggio (biglietti aerei/navali, carta d'identità, passaporto, visto, ecc..) cancellazione, ritardo o modifica dei titoli di viaggio.
- cancellazione o ritardi della prenotazione a causa della guerra, minaccia di guerra, sommossa o disordini civili, scioperi, dimostrazioni, attività terroristiche (minacciato o effettivo), disastri naturali, incendi, malattie, condizioni meteorologiche, problemi tecnici relativi al trasporto e Regolamento di Scalo causati da guasti tecnici, meccanici, elettrici o altri problemi, o qualsiasi altra circostanza che ammontano a 'forza maggiore', o di altri eventi che sfuggono al controllo del proprietario.
In nessun caso Villa Oasi Pantelleria o il nostro rappresentante saranno responsabili e non verrà elargito alcun rimborso o risarcimento al di là dell'importo totale del noleggio pagato.
Gli oggetti di valore e sicurezza
Eventuali oggetti di valore lasciati presso la struttura sono lasciati a proprio rischio. Né Oasi Pantelleria Villa né i nostri rappresentanti si assumono la responsabilità per qualsiasi perdita o danno. L'ospite è responsabile per la proprietà durante il periodo di noleggio. Qualsiasi atto o omissione da parte "dell'Ospite", che possa negare o pregiudicare l'ordine e/o la sicurezza della proprietà causando danni o perdite è responsabilità del cliente.
La vostra sicurezza e protezione
Oasi Pantelleria Villa può includere "pericoli", come scale a giorno, piscina, ecc, ed è imperativo che l'Ospite si assuma la responsabilità per la propria sicurezza.
Piscina
Villa Oasi Pantelleria dispone di una piscina. La piscina non ha caratteristiche di sicurezza come allarmi, coperture e recinzioni. Si prega di familiarizzare a fondo con la profondità della piscina e sul come uscire, prestare attenzione in ogni momento, soprattutto con i bambini o persone che non sanno nuotare. I bambini e non nuotatori sono a vostro carico in ogni momento. La piscina è solitamente disponibile da metà giugno a fine settembre.
Tempo
Oasi Pantelleria Villa non può essere ritenuta responsabile per le condizioni meteorologiche avverse o le conseguenze di condizioni meteorologiche avverse. Nessun rimborso si applica nei casi di condizioni climatiche avverse.
Confermando la prenotazione presso Villa Oasi Pantelleria, l'ospite conferma di aver letto, compreso e accettato i termini e le condizioni senza riserve e senza eccezioni.

Terms and Conditions
Booking a Villa is completely different from booking a hotel room. The duration of the booking, payments and cancelations, security, etc. are all different, so please do not just tick the box to accept these terms and conditions without reading the following conditions carefully.
Whenever you, "the Guest" make a reservation and book a Oasi Pantelleria Villa":
a.) a rental contract is created between "the Guest" in whose name the booking is made and of course on behalf of all members of his party, and Villa Oasi Pantelleria, "the owner" for the agreed period named "Rental Period" b.) You accept the detailed terms & conditions that follow:
Damage or Losses
Oasi Pantelleria Villa is someone's home; therefore the Guest must treat it accordingly and leave the Property and all its contents in good order and in an acceptably clean condition.
Any damage or losses caused during the Rental Period, as well as any special cleaning requirements will be the Guest's responsibility and may be charged to the Guest's account and deducted from the Guest's security deposit. In cases of excessive or unacceptable loss or damage at any time during the Rental Period, the Owner or Owner's Representative may require the Guest and their party, including visitors to vacate the Property immediately, without compensation or refund.
Access
Oasi Pantelleria Villa and its facilities are available for the Guest's full enjoyment during the Rental Period. However the Owner, Owner's Representative, or other staff and contractors may need access to the Property from time to time (e.g. for maintenance purposes to the house, garden, swimming pool, utilities and services, or for the purposes of providing additional services requested by the Guest, etc.). The Guest is required to give them reasonable access to the Property for these purposes.
Use of Property
All bookings to Oasi Pantelleria Villa are assumed to be for normal holiday purposes only, and the Guest agrees that the use of the Property will be limited to this purpose unless otherwise confirmed in writing.
If the Guest is planning to hold an event, such as a wedding or party, which involves having a larger number of people at the Property, or if the Guest is planning to use the Property for a purpose other than holiday, please communicate this to Oasi Pantelleria Villa at the time of booking, as special approval or arrangements will be required. Depending on the nature of the event, a surcharge and/or additional security deposit will be required, which will be agreed and confirmed in writing prior to confirming the reservation. Note that Oasi Pantelleria Villa are in residential areas, and therefore, they are subject to rules and regulations regarding their use. Note that all the events must be held within the Quite Hours of Italy.
Noise & Disruption
Oasi Pantelleria Villa are located in residential areas. The Guest is asked to respect this, and ensure that all guests and visitors to the villa behave appropriately. It is especially very important that residents take the responsibility to follow the Quiet Hours of the country.
In no case will Oasi Pantelleria Villa or the Owner's Representative individually or collectively be liable to any problems concerning noise & disruption, with the police or the neighbors of the Villa.
Conduct and Due Care
Oasi Pantelleria Villa's residents and their guests are expected to comply with the rules and regulations set by the Italy Government. Illegal or immoral activities including gambling, prostitution, prohibited drugs, possession or use of pyrotechnics or dangerous goods, and possession or use of firearms and other weapons are all strictly prohibited.
The Guest is responsible for the behavior of the guests staying at the Villa, as well as visitors to the Villa during the Rental Period. Should any guests or visitors not behave in a suitable manner, Oasi Pantelleria Villa or our Representative may, in their absolute discretion, require the Guest, their party and/or visitors to leave the premises and/or vacate the Villa immediately, without compensation or refund
In the interests of safety, due care should be taken at the Property at all times, especially with children. Suitable supervision should be given around pools, beaches and roads, and when using all Property's facilities.
Price Fluctuation
Oasi Pantelleria Villa states that, if the Guest's booking is confirmed, the price of the Guest's reservation is fully guaranteed; even if some changes to the price of the property rental occur. In return for this commitment, no refunds will be made for any exchange rate fluctuations that would otherwise reduce the rental cost.
Oasi Pantelleria Villa reserves the right to impose any taxes or other charges which may be implemented by the government or other regulatory body, which were unknown at the time of publishing. Oasi Pantelleria Villa will tell the Guest promptly in the unlikely event that it becomes aware that any taxes or charges will apply to the Guest's booking.
Complaints
Oasi Pantelleria Villa will make every attempt for the Guest to have an enjoyable stay. If the Guest should have a problem during the Rental Period, he should inform immediately Oasi Pantelleria Villa or our Representative, who will try to solve any problems and put things right. In order for the Guest's complaint to be addressed, the Guest must communicate any problem whilst on location. If no complaint is reported during the Rental Period, Oasi Pantelleria Villa will assume that the Property was to the Guest's satisfaction and no complaint will be entertained.
Oasi Pantelleria Villa's Responsibility
The descriptions of Oasi Pantelleria villa that are published are provided in good faith and in the belief that they are accurate based on the latest information of the villa. However, Oasi Pantelleria Villa cannot be held responsible for any modifications or inaccuracies to the Villa, especially in its contents (carpets, plates, glasses etc.).
Disclaimers
Oasi Pantelleria Villa do not accept any responsibility or liability for
- Any physical injury, sickness, death, loss, damage, inconvenience or additional expenses incurred by the Guest, their party or visitors regardless of the cause.
-Any vehicle or the contents of any vehicle used, hired or engaged by the Guest or their party during the Rental Period.
- Inability of the Guest or any member of the Guest's party to enter the location of the Property or stay at the Property for all or part of the Rental Period as a result of failure to obtain appropriate travel or visa documentation, cancellation or amendments to travel arrangements or the missing of flights or travel connections.
-Any delay or cancellation of the booking as a result of war, threat of war, riot or civil strife, strike, demonstration, terrorist activity (threatened or actual), natural disaster, fire, sickness, weather conditions, action at an airport or port by any government or public authority, technical problems relating to transport and airport regulations caused by technical, mechanical or electrical breakdowns, or any technical, structural, electrical, plumbing or other problems or difficulties with the Property which make it unsafe or unusable, or any other circumstances which amount to 'force majeure', or other events beyond the Owner's control.
In no case will Oasi Pantelleria Villa or our Representative individually or collectively be liable to make any payment or give any refund or compensation of any amount over and above the total rental amount paid.
Valuables and Security
Any Guest valuables or property left or used at Oasi Pantelleria Villa are at the Guest's own risk. Neither Oasi Pantelleria Villa, nor any of our representatives accept any responsibility for loss of or damage to Guest property. The Guest is responsible for the Property during the Rental Period. Any act or omission by the Guest, their party and/or visitors which may negate or prejudice the Property's insurance policy and/or results in loss or damage is the Guest's responsibility.
Your Safety & Protection
Oasi Pantelleria Villa may include "hazards" such as open staircases, pool, etc, and it is imperative that your party take responsibility for their own safety.
Swimming pool
Oasi Pantelleria Villa has a swimming pool. The swimming pool has no safety features such as pool alarms, covers and fences. Please familiarize yourself thoroughly with the depth of the pool and how to get out, and exercise safety and caution at all times, especially with children, non-swimmers and if diving. Children and non-swimmers are your responsibility at all times. The swimming pool is usually available from mid June to end of September.
Weather
Oasi Pantelleria Villa cannot be held accountable for adverse weather conditions or the consequences of adverse weather. No refunds will apply in the cases of no sunshine or other adverse weather conditions.
By making its booking request, the Guest agrees that these terms and conditions have been read, understood and have been accepted and agreed to by the Guest without reservation and without exception.
---
Cet hôte applique des conditions d'annulation strictes
Si vous annulez jusqu'à 30 jours avant le voyage, vous recevez un remboursement intégral. En cas d'annulation au cours des 30 jours précédant le voyage, vous recevez un remboursement à hauteur de 50 % du prix à la nuit. Les frais vous sont remboursés intégralement.
---
Les vendredis et samedis la durée de séjour minimale est de 7 nuits.
---
L'adresse exacte est communiquée uniquement lorsque la réservation est confirmée.
Il Dammuso di Rossana è posto magnifico!!! Palme e rigogliose piante grasse locali fanno da contorno ad una piscina pazzesca. Assolutamente da provare l'aperitivo al tramonto: da casa si vede l'Africa ed è possibile ammirare dei tramonti mozzafiato!!! I locali interni sono molto spaziosi e perfettamente puliti ; la posizione del dammuso è davvero ottimale. Dal nostro arrivo in aeroporto e durante tutto il corso della vacanza Rossana è stata incredibilmente disponibile ed ospitale: ci ha portati all'interno dell'isola alla scoperta di aziende locali dove assaggiare deliziosi prodotti tipici. Rossana grazie mille di tutto, è stato stupendo e tu davvero super ;) CONSIGLIATISSIMO
---
IT

·

Membre depuis juin 2016
Taux de réponse :
86%
Délai de réponse :
Dans la journée
Découvrez d'autres options à Pantelleria et dans ses environs
Plus de logements à Pantelleria :