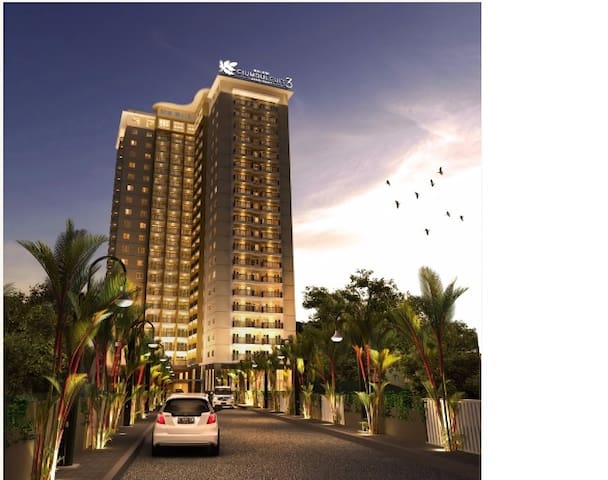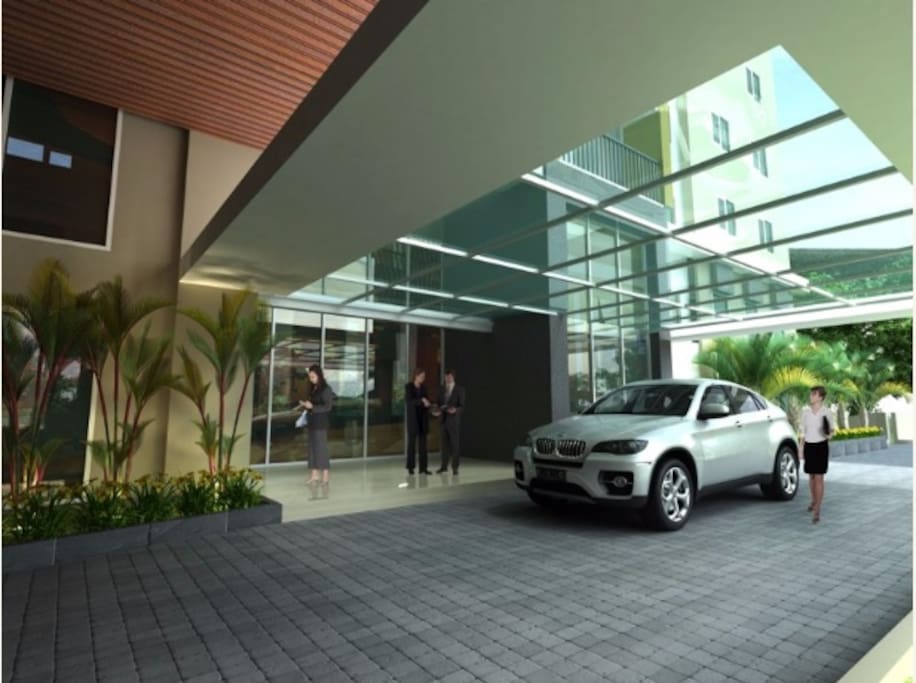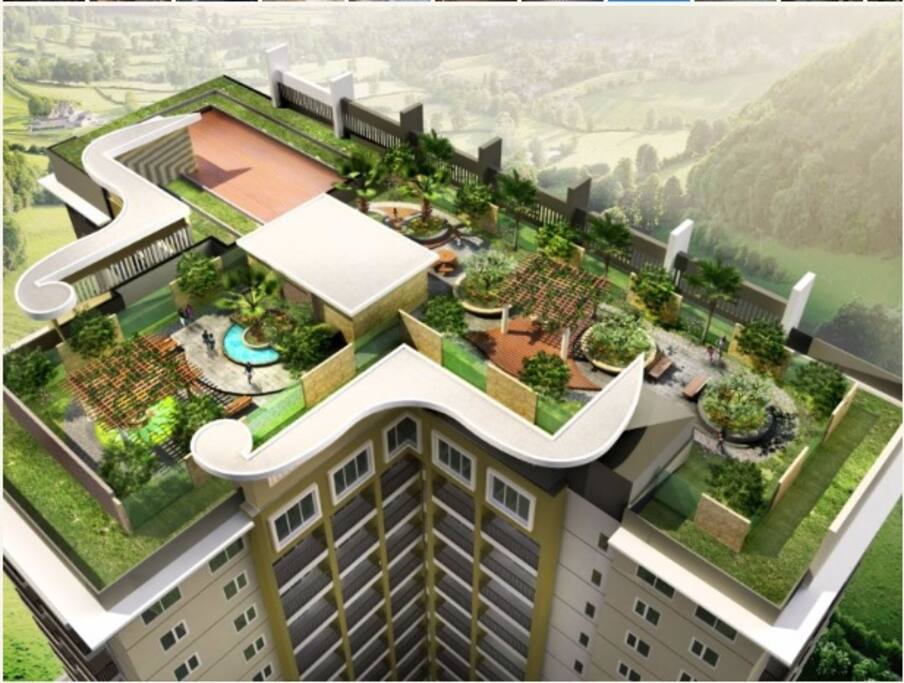 À propos de ce logement
Long stay only, Minimum 6 months. Available from June 2017.
Cost per month (excluding service charges, local tax & utility bills) £650.
Extra occasional guest mattress provided, no charge for extra guest nights.
Ideal for any Expat who works and lives in Bandung.
TV, A/C, fridge freezer, microwave, toaster, electric kettle, vacuum cleaner, hairdryer, double bed, hot water shower, balcony terrace & a whole host of creature comforts to enhance your stay.
Le logement
It is with great anticipation that we are able to offer our new, state of the art studio apartment in Ciumbuluit, Bandung, Indonesia. This will be a brand new build with final completion in June 2017. Measuring a total of 33.24 sq.m, "Magnolia" apartment 20 is on floor 6 and has a northerly aspect with far reaching views towards the volcanic mountains of Tangkuban Perahu, a popular tourist destination.
The apartment sleeps 1 or 2 persons comfortably and will be tastefully decorated to a high standard, with a European feel about it. Galeri Ciumbuleuit 3 Apartment comprises of 600 green concept apartments that offer breathtaking views of the city and mountain region of Bandung. The apartments are equipped with full recreational facilities including a communal swimming pool, fitness centre and a fantastic "Sky Garden" located on the roof floor that gives a peaceful connection with nature. In addition to this, the Ciumbuleuit area boasts a cleaner, fresher air quality and somewhat less congested roads; a real plus for either that busy commute to work or a trip to the countryside. Ciumbuleuit 3 also offers 24hr security, secure parking and free Wi-Fi , Cable TV along with a full compliment of on-site staff and admin base etc.
Our apartment is located in close proximity to Bandung's top university, prime shopping areas and a host of fantastic entertainment and dining hotspots. Internally, the apartment will contain large flat screen TV, air conditioning, fridge freezer, microwave oven, toaster, electric kettle, vacuum cleaner, hair dryer, double bed, hot water shower, 3.5m X 1.2m balcony terrace over looking the river and a whole host of creature comforts to enhance your stay (please see our photo set illustrating CGI photos of the development on completion and in its current state).
This outstanding development compliments the existing Ciumbuluit 1 & 2 not far away. It represents the newest chapter in the 'trilogy' of Hegar Amanah Jaya Bersama's apartment/hotel developments and would be an ideal base for either a single or professional couple requiring medium to long term accommodation within the city.
Initially, we are looking to rent the apartment for a minimum 6 month period, extending to 12 months if possible. Further extension to this period would be also considered for the right occupant(s). In addition to the monthly rent, the occupant(s) would be responsible for their own service, local taxes and utility charges. There would also be a £650 fully refundable deposit bond required to insure against any wilful or careless damage to the property or its contents. It's also worth noting here that, as owners of the property, we speak both fluent English and Indonesian; a big advantage when it comes to communication, if you are from another foreign country. We also benefit from having 'family' members within the city "on the ground" as it were to help out or assist if ever the need arose.
We both pride ourselves with the fact that we have worked with AirBnB extremely successfully for the last 4 years at our main residence in North Wales, United Kingdom. Our client "reviews" say it all and have placed us as the top hosts both on quality and price in our homeland area (see our Uk listings for Penmaenmawr, North Wales). We now intend to replicate that same high standard in our "other" home, Wonderful Indonesia!
Please note that our apartment no.20, floor 6 is ONLY available from the end of June 2017 and selecting a tenant via AirBnB will be on a first come first served basis using AirBnB's strict cancellation policy and terms & conditions. Please do not hesitate to contact us via AirBnB if you require any further details or wish to clarify any points.
Cost per month (excluding service charges, local tax and utility bills) £650. Extra occasional guest mattress provided, with no charge for extra guest nights.
Places to visit:
- Local walking / climbing / touristy stuff (non guided): Tangkuban Perahu volcano, Crater Domas, Crater Ratu, Cimahi waterfalls, the incredible Ciwidey sulfur lake (Kawah Putih), Situ Patengang (48 ha freshwater lake) surrounded by stunning tea plantations and Ciater Hot Springs.
- For serious outdoor enthusiasts: Guided walking & climbing tours can be organised to any volcanic mountains in Indonesia such as; Gunung Gede/ Pangrango, Salak, Semeru, Slamet, Rinjani, Cikuray, Ciremai, Patuha, Papandayan etc. We have access to one of the finest trekking guides in the archipelago and have used his expertise on several previous occasions. These are expedition type ascents involving long days at altitude with unpredictable weather conditions. They require a good level of physical fitness and some personal specialist walking equipment. Please get in touch with us for further details.
Échanges avec les voyageurs
Anytime via telephone, email or WhatsUp
---
Type de logement : Logement entier
---
---
Voyageur supplémentaire : Sans frais
Communiquez toujours via Airbnb
Pour protéger votre paiement, ne transférez jamais d'argent et n'établissez pas de contact en dehors du site ou de l'application Airbnb.
En savoir plus
---
Espaces communs
1 lit double
---
Ne convient pas aux animaux
Ne convient pas aux enfants (0-12 ans)
- Long stay only, minimum Stay 6 months
- Available from June 2017
- Ideal for any Expats who works & lives in Bandung
---
Strictes
Si vous annulez jusqu'à 7 jours avant le voyage, vous recevez un remboursement à hauteur de 50 %. En cas d'annulation au cours des 7 jours précédant le voyage, la réservation est non remboursable.
---
Détecteur de monoxyde de carbone
---
Aucun commentaire (pour l'instant)
JIM KELLY: Jim Kelly was born in London in 1963. He first entered outdoor sports whilst at school in the late 1970's and early 80's. Climbing became his main passion with early ascents of Alpine Peaks such as Mont Blanc and Monte Rosa/ Dufourspitze between 1982 and 1983. Thereafter, Jim went on to instruct climbing and caving at several outdoor centres in England and Wales. In 1988 he moved to Sheffield in order to undertake a degree in Sports and Recreation Management. It also allowed him plenty of time to climb in the Peak District!
Most recently Jim moved to North Wales where mountain running has become a new 'obsession' with him. It also happens to be where he met Julia, his wife.
In his 18 months of running Jim has completed both the arduous Snowdonia Marathon (his first ever marathon attempt!) in 03:44:05 and went on to complete the International Snowdon Run in a very respectable 01:35:07.
Although Jim now works in retailing, guide book writing and feature writing for running and climbing magazines is increasingly absorbing more and more of his spare time. With several other titles in the pipelines, the future looks set to become a whole lot busier for him!

JULIA KELLY: Julia Kelly was born in Indonesia in 1967 where she trained as a merchandising manager for many big-name designer fashion houses. She came over to the UK in 2007 where she met and married Jim. Julia has keen interest in rock climbing, mountain scrambling, photography and design. Her knowledge of information technology has been invaluable in the production of this guide. Most recently Julia & Jim have established "Run to the Hills(North Wales)" guided off-road running services for beginners and experienced runners alike.

"A MOUNTAIN RUNNER'S GUIDE TO SNOWDONIA" REVIEWS :

* REVIEW 1 : By Martin Cortvriend (Welsh Fell Runners Association Newsletter December 2010)

It was early December, and Santa, in the form of TrailGuides editor Keven Shevels, arrived early, a
crisp new copy of A Mountain Runner's Guide to Snowdonia landing on my doorstep.
I became acquainted with Keven purchasing the company's pocket training guides on all things
off-road running which proved very popular prizes at IMRA races in 2008 and 2009.
TrailGuides have published a significant number of walking guidebooks over the past years, but
this is their first guide with mountain runners in mind. Volumes of this genre are scarce: Steven
Fallon covers "Classic Hill Runs and Races in Scotland" while two books detail the Rocky
Mountains ("Running Colorado's Front Range" by Brian Metzler and Steven Bragg's "Run the
Rockies").

It is the publishing company's largest running book so far (at 192 pages) and the first in full colour
(indeed richly adorned with pictures). The new cover design template is sleek and, all things
considered, adds-up to warrant the retail price of £18.99 also considering the limited print-run. Hill
running remains a niche-market, even if a growing one, a fact we may cherish on reflection.

Let me move on to what I liked in particular about the book. Firstly, as a mountain runner I
appreciated the sympathetic vision that author Jim Kelly brought to the book. He clearly loves
Snowdonia in the way Kenny Stuart loves his Lake District, Kevin Shevels his Cheviots, and I my
Wicklow Mountains, and what mountain runner would not like to see their favourite areas best runs
put to print?

The book early chapters deal with where to stay, where to eat and other basic information before
launching into a description of the Ferguson Grading System. Here-in routes are rated from 0
(easiest) to 16 (hardest) across three categories (Trail, Fell, and Mountain) and five aspects of the
route: Distance, Navigation, Terrain, Remoteness and Height Gain, a comprehensive system
which left me missing only the total climb of the route (route descriptions provide starting and
finishing elevation and gradient).

You can use the Ferguson rating to get a quick idea of each run and the author has extracted a
wide span of routes to cater for runners of all levels. You will find a selection of entry level routes,
the easiest rated "4", such as the popular 5 mile Moel Y Ci fell-race, and the hardest a series of
runs rated at an ominous "13". These more beastly challenges include the Nantlle Ridge Circuit
consisting of "long grassy ridge slopes and cwrms with intervals of steep rocky sections and easy
scrambling" or the Peris Horseshoe Circuit (based on the Peris Horseshoe race) with a daunting
17.5 miles and this advice from the author "It would be totally inadvisable to attempt this route in
bad or uncertain weather."

The many, like this reviewer, who were introduced to Snowdonia through the International
Snowdon Race, would rightly expect to see the route as part of the book and we are not
disappointed. The low rating of "7" may not be recognised by all former competitors but the
description of the gradient certainly plays on the memory, to pick a snippet: "This route is sustained
uphill with some steep sections. Fast, hard descent..watch your knees and don't trip!"

Apart from descriptive text and a Ferguson rating, the book provides everything I would imagine to
need should I venture into Snowdonia: You have a rough map (with information on what map to
buy for the area), key grid references, expected time, starting point, and notes on access (always
crucial).

I felt suddenly more closely acquainted with most routes reading through the detail which both
goes into the terrain ("the terrain is a cocktail of steep rocky paths, loose scree, high rocky
pinnacles, steps and ridges…"). The bulk of detail for each route is dedicated to step-by-step
instructions accompanied by pictures, no lack of humour and colourful commentary, and even a sly
dig at hill-walkers footwear!

The author does not intend to dumb down the content or leave us with the false impression that
you can simply pick up the book and go out with no further preparation, the raised finger in the
description of the "Snowdon Horseshoe" a warning to all: "Despite its "marketing" as a tourist
attraction, regrettably, it (red: Snowdon) claims several lives each year, often through personal
negligence and/or inexperience".

A Mountain Runners Guide to Snowdonia is tightly edited throughout except for the
unfortunate "forward by Kenny Stuart" on page 7, but this is quickly forgotten as you enjoy the old
champions opening.

Once I put down the book, I felt inclined to join in on Kenny's encouragement for TrailGuides to
publish a series on the Lake District. While no guidebook is likely to ever surpass Wainwright's
seminal series, unbolting the door to the Lakeland fell-racing routes would not be a redundant
effort.

What did I miss? Well my first instinct was to look for the Welsh Three Thousand Foot Challenge
and the "Paddy Buckley Round" but these are not confined only to Snowdonia and, as the author
points out in the early chapters, are aptly covered by Roy Clayton and Ronald Turnbull's
meritorious "The Welsh Three Thousand Foot Challenges". In any case, you will find several parts
of the Paddy Buckley as separate routes among the total twenty-five on offer (such as the afore-
mentioned Nantlle Ridge Run).
I gladly place A Mountain Runner's Guide to Snowdonia next to its older cousin on my bookshelf
and while lighter on exposition, it is certainly the easier of the two books to bring with you and apply
in the field, thanks in no small part to the sturdy binding and durable cover. If you're interested in
Snowdonia already, you should buy this book, if you're looking for ideas for a running holiday, you
should buy this book and if you are merely curious or a collector of mountain running books, the
advice still stands.


* REVIEW 2 BY RENE BORG Borg Mud, Sweat and Tears website January 2011

There are dozens of guides for walkers in Snowdonia lining the bookshelves of outdoor stores from Betws Coed to Caernarfon to Conwy not to mention hundreds of B & B's and guest houses in between. Not any on running in Snowdonia - they're rarer than hen's teeth, although I did read an excellent book on the Welsh 1000's some years ago (which will have to be rewritten in the light of the remeasuring of Glyder Fawr!) Jim Kelly's book is therefore a very welcome production and he's clearly had a most enjoyable time putting it together. His chapters consist of a list of 25 routes in Snowdonia, most of them traversing much the same ground as some of the many mountain races in the area. This includes classic routes such as the Carneddau and the Peris Horseshoe but Jim has also included some shorter circuits based on Mike Blake's Tuesday nigh t race series. Maps are included with grid references and a detailed description of each route and the type of information included is just what a runner would want to know about the terrain, etc. The format is easy to follow and, being used to the 'A', 'B' and 'C' categorization of fell races, I was interested to see the more detailed Ferguson Grading System applied to each run.

So often during race s I have wished that I'd previously recce'd the route and although this book does refer to many specific races it should not be relied on as an authoritative guide to race routes. Race organiser's (including me!) have a habit of changing routes for various reasons. In some cases Jim has described the specific race route as with the Snowdon Mountain Race, in others he has, understandably, devised an alternative more interesting circuit than the straightforward up and down race route (e.g. Cnicht, Moel Hebog and Moel Siabod). Furthermore the Moel Wnion route follows a quite different circuit to that of James McQueen's race in March and Jim has managed to shorten the Tal-y-Fan route by a couple of miles. Nevertheless the various routes stand on their own as excellent runs in their own right and I'm sure even the most traveled runner will find something new in this book. I'm particularly tempted to try the alternative descent of Cadair Idris!

In short it's an excellent book full of useful and detailed information about the varied and beautiful running terrain to be found in Snowdonia. It's amply illustrated with plenty of photos taken by Julia Kelly – quite a lot depict Jim himself either racing the race or in a more relaxed mode with a grin on his face. If only I 'd known in advance I could have sent him one or two photos of me to include as well!


BOOK 2 "A Trail Runner's Guide to North Wales is available NOW.



Langues :
Bahasa Indonesia, English
Taux de réponse :
100%
Délai de réponse :
Moins d'une heure
L'adresse exacte est communiquée uniquement lorsque la réservation est confirmée.
Découvrez d'autres options à Cidadap et dans ses environs
Plus de logements à Cidadap :