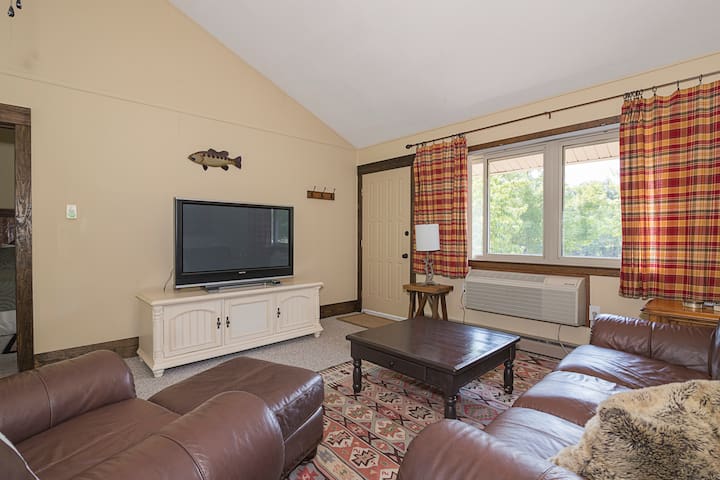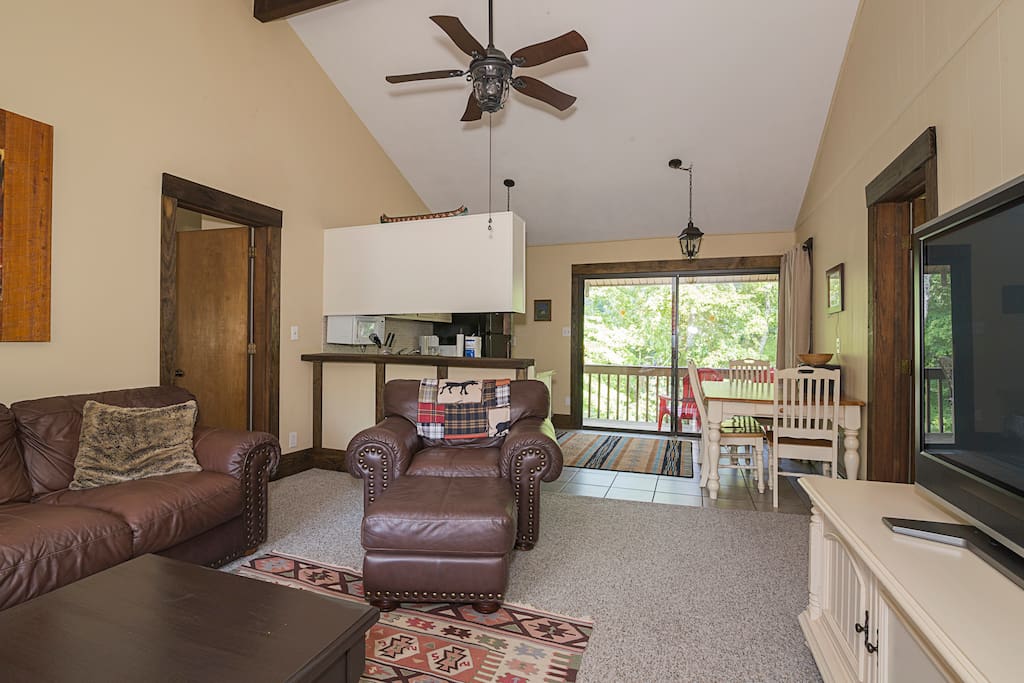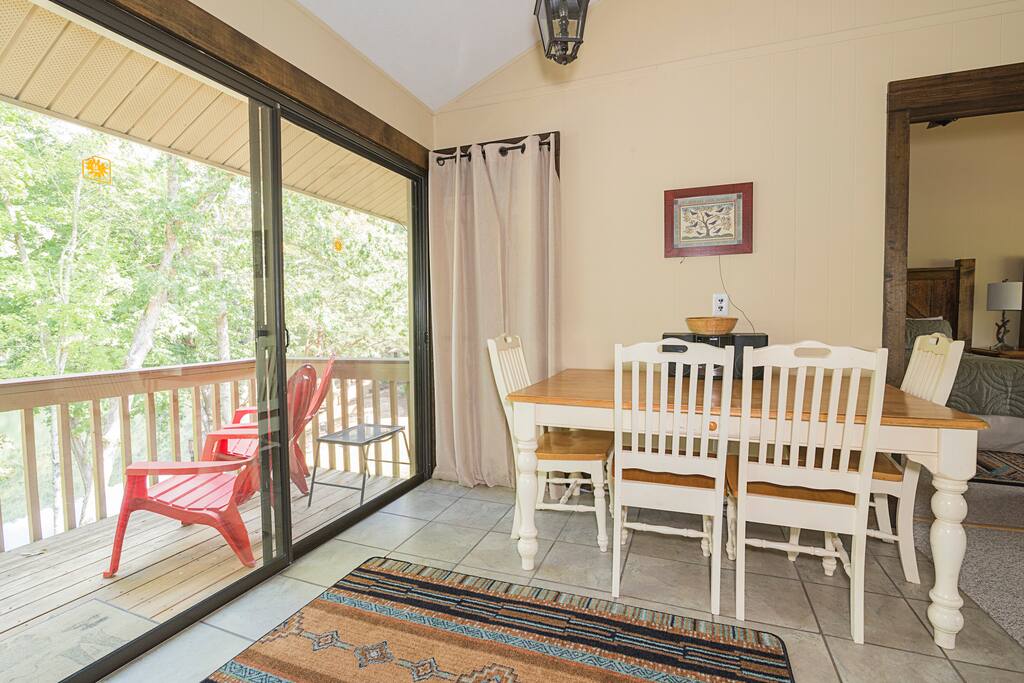 À propos de ce logement
Enjoy the rugged outdoors in style with a view of the golf course off the front deck and Bald Mountain Lake from the back deck. This home has a comfortable living room and kitchen area. From the dining room, the back porch overlooks the lake. This condo features two bedrooms with two queen beds each and two full baths. With easy access to all resort amenities, this is ideal for golfers, families or guests seeking lodging within walking distance to the beach, fitness center and restaurants.
---
Arrivée : 16:00 - 02:00 (jour suivant)
Type de logement : Logement entier
Entrée dans les lieux autonome : Concierge
---
---
Voyageur supplémentaire : Sans frais
Communiquez toujours via Airbnb
Pour protéger votre paiement, ne transférez jamais d'argent et n'établissez pas de contact en dehors du site ou de l'application Airbnb.
En savoir plus
---
Accès des voyageurs
Guests have access to the entire home and to the resort amenities.
Échanges avec les voyageurs
After check in, I am available to help, but guests should reach out to the Guest Service Desk and/ or security team for assistance. Guest have 24 hour help via the lodging guest service service desk and/ or the resort security team.
Le quartier
Nestled on the north shore of beautiful Lake Lure in the foothills of western North Carolina sits an escape, Rumbling Bald Resort. Surrounded by the towering cliffs of Rumbling Bald Mountain, our 3,000+ acre property is home to a private white sand beach, children's water park, distinct dining experiences and numerous hiking and biking trails, all tailored for relaxation in our authentic mountain getaway. Our two championship golf courses weave themselves through the property and are specifically manicured for world-class play.
Transports
Private transportation is necessary, there is no public or for- hire transportation in the area.
Autres remarques
A "starter kit" of essentials (soaps, detergents, toilet paper, and trash bags) is supplied to guests but it is recommended that guest bring their own toiletries and essential items if they will be staying longer than a couple days.
All linens are included.
Cell phone signal is spotty in the area and varies depending on service provider.
---
Ne convient pas aux animaux
L'entrée dans les lieux se fait entre 16:00 et 02:00 (jour suivant)
THIS IS A VACATION RENTAL AGREEMENT UNDER THE NORTH CAROLINA VACATION RENTAL ACT. THE RIGHTS AND OBLIGATIONS OF THE PARTIES TO THIS AGREEMENT ARE DEFINED BY LAW AND INCLUDE UNIQUE PROVISIONS PERMITTING THE DISBURSEMENT OF RENT PRIOR TO TENANCY AND EXPEDITED EVICTION OF TENANTS. YOUR PAYMENT OF MONEY OR TAKING POSSESSION OF THE PROPERTY AFTER RECEIPT OF THE AGREEMENT, IS EVIDENCE OF YOUR ACCEPTANCE OF THE AGREEMENT AND YOUR INTENT TO USE THIS PROPERTY FOR A VACATION RENTAL.
CANCELLATIONS/TRANSFERS. NO refunds will be given by the resort for cancellations, early departures or unused portions of packages unless otherwise noted in this contract by an agent.
CHECK-IN. Check in begins at 4:00 pm. **Late Arrivals: Guest Arriving after 5:00 p.m. will pick up their arrival packets at Resort Security Gate. The guest will need to come by the Guest Service desk the following day to complete check in process. Check in before 4:00 p.m. can not be guaranteed.
CHECKOUT. Checkout time is at 10:00 a.m. Departures after 10:00 am will be charged an additional $25 per hour until noon. Guests departing after 12:00 p.m. will have a full night charge plus tax applied to their bill- unless late check out is otherwise discussed with an agent.
KEYS. Two sets of keys are issued at check-in. Tenant will be assessed a $25.00 charge per key not returned upon departure.
PETS. Most properties do not allow pets on the premises. Violation of a no pet property will result in immediate eviction without refund and will be subject to all cleaning costs, any losses incurred by Property Owner and/or Agent due to this violation, and a $250.00 handling fee. It is Tenant's responsibility to make Agent aware of number of pets they will be bringing. Tenant in a pet permitted house will be responsible for the costs of cleaning and/or repairing any damage caused by the permitted pets which exceed nonrefundable pet fee (if applicable).
NO SMOKING. None of our units or homes allow smoking within the building. When in violation of the smoking policy, Tenant agrees to pay all costs associated with cleaning to remove smoke odors, any losses incurred by Property Owner and/or Agent, and a $250.00 fee(URL HIDDEN)10(URL HIDDEN) TRANSFER OF PROPERTY BY OWNER. Section 42A-19 of N.C.G.S. provides that if the property is voluntarily transferred by the landlord, a Tenant has the right to enforce the vacation rental Agreement against the grantee of the property if the vacation rental is to end 180 days or less after the date the grantee's interest in the property is recorded; if the vacation rental is to end more than 180 days after recording of the grantee's interest in the property, the Tenant has no right to enforce the terms of the Agreement unless the grantee agrees in writing to honor the Agreement. If the grantee does not honor this Agreement, Tenant is entitled to a refund of all advance rent paid by Tenant (and other fees owed to third parties not already lawfully disbursed). Section 42A-19 also provides that the grantee or grantee's Agent, within 10 days after transfer of the property shall: i) notify each Tenant in writing of the property transfer, the grantee's name and address, and the date the grantee's interest was recorded; ii) advise each Tenant of whether he or she has the right to occupy the property subject to the terms of the vacation rental agreement and the provisions of this section; and iii) advise each Tenant of whether he or she has the right to receive a refund of any payments made by him or her. Section 42A-19 provides that upon termination of the landlord's interest in the property, whether by sale, death, assignment, appointment or receiver or otherwise, the landlord, landlord's Agent, or real estate Agent is required to transfer all advance rent paid by the Tenant to the transferee within 30 days (and other fees owed to third parties not already lawfully disbursed) and notify the Tenant by mail of such transfer and the transferee's name and address. However, if the vacation rental is to end more than 180 days after recordation of the landlord's successor-in-interest in the property, and the landlord's successor-in-interest has not agreed to honor the vacation rental Agreement, all advance rent paid by the Tenant (and other fees owed to the third parties not already lawfully disbursed) must be transferred to the Tenant within thirty days. In addition, Section 42A-19 provides that if the landlord's interest in the property is involuntarily transferred to another prior to the Tenant's occupancy of the property, the landlord shall refund to the Tenant any payments made by the Tenant within sixty days of the transfer. The management firm shall conduct all brokerage activities in regard to the lease agreement without respect to the race color, religion, sex, national origin, handicap or familial status of any Tenant.
WAIVER OF LIABILITY for spa, hot tub, Jacuzzi, whirlpool, pool herein called special feature, if a rental unit is so equipped. The Tenant understands that there are special risks that may be involved in using the special feature, as well as using other areas of the cottage, in particular, the Tenant understands that there are potential dangers that the special feature may present to children who are not carefully supervised as well as the danger to any person using the special feature, or if a person has known or unknown health risks or if a person uses the special feature while intoxicated or using any kind of drugs or medication, or uses the special feature if pregnant. The Tenant agrees to explain the risks of using the special feature to any guests he may have at the cottage and to be fully and solely responsible for any accidents his guests may incur. The Tenant understands the risks discussed above and agrees that he will assume all responsibility for himself and his guests for the consequences of those risks. Tenant agrees to waive any claim whatsoever against Landlord or Agent for accidents or claims arising form Tenant's guests' use of special feature. The Tenant also understands and agrees that he is responsible and liable and will pay Agent upon request for any damages that occur to the special feature and its support equipment through his or his guests' misuse and/or negligence, for example, but not limited to walking on the hot tub cover or damaging the liner, or allowing the water level to become too low, or causing water overflow inside the house.
MANDATORY EVACUATION. If State or local authorities order a mandatory evacuation of an area that includes the Premises, Tenant shall comply with the order. Upon compliance, Tenant will be entitled to refund of the prorated rent for each night that Tenant is unable to occupy the Premises because of the order. However, Tenant will not be entitled to a refund if, prior to taking possession of the Premises: (i) Tenant refused insurance offered by Agent that would have compensated Tenant for losses or damages resulting from loss of use of the Premises due to a mandatory evacuation order, or (ii) Tenant purchased such insurance from Agent.
EXPEDITED EVICTION. If the tenancy created here under is for 30 days or less, the expedited eviction procedures set forth in the Vacation Rental Act will apply. Tenant may be evicted under such procedures if Tenant: (i) holds over in possession after Tenant's tenancy has expired; (ii) commits a material breach of any provision of this agreement (including any addendum hereto) that according to its terms would result in the termination of Tenant's tenancy; (iii) fails to pay rent as required by this agreement; or (iv) has obtained possession of the Property by fraud or misrepresentation. Please note that a material breach of any provision of this agreement (including any addendum hereto) will result in termination of Tenant's tenancy.
INDEMNIFICATION AND HOLD HARMLESS; RIGHT OF ENTRY; ASSIGNMENT. Tenant agrees to indemnify and hold harmless Agent and the owner from and against any liability for personal injury or property damage sustained by any person (including Tenant's guests or visitors) as a result of any cause, unless caused by the negligent or willful act of Agent or the owner, or the failure of Agent or the owner to comply with the Vacation Rental Act. Tenant agrees that Agent, the owner, or their representative may enter the Property during reasonable hours to inspect the Property, to make such repairs, alterations or improvements thereto as Agent or owner may deem appropriate, or to show the Property to prospective purchasers or Tenants. Furthermore, Agent reserves the right to enter the Property at any time to inspect for suspected House Parties or pets, which are strictly prohibited. Tenant shall not assign this agreement or sublet the Property in whole or part without written permission of Agent.
AGENT DUTIES PART 1. Agent and Property Owner will provide property in fit and habitable condition in accordance with Section 42A31 of the Vacation Rental Act of N.C.G.S. In addition, Agent and Property Owner agree to provide the property in a fit and habitable condition for a normal person as determined by local building codes, market standards, and owner's tastes. If at the time Tenant is to begin occupancy of the Property Agent cannot provide the Property in a fit and habitable condition or substitute a reasonably comparable property in such condition, Agent shall refund to Tenant all payments made by Tenant. Agent shall conduct all brokerage activities in regard to this Agreement without respect to the race, color, religion, sex, national origin, handicap or familiar status of any tenant.
AGENT DUTIES PART 2. Rumbling Bald Resort will make every effort to ensure that Tenant's stay is safe, comfortable, and enjoyable. No refunds or discounts will be made for inclement weather, mechanical breakdowns, or other "nuisances" beyond our control. Examples of these "nuisances", which DO NOT warrant any refund, discount, or another property, etc. include but are not limited to: breakdown of air conditioners, TV's, VCR's, electronics or appliances, construction in the area, presence of bugs when the property has been treated, disruption of utility services, a home not decorated/accommodated/improved/ updated to Tenant's tastes, problems which have not yet been reported to Agent, bad weather, or noisy neighbors. Tenant agrees to report any and all problems to Rumbling Bald Resort immediately. Rumbling Bald Resort agrees to make every effort to resolve the problem as quickly as possible, however, cannot guarantee when the problem will be resolved. Speed of service cannot be guaranteed. The Tenant recognizes that a vacation rental is different than a hotel due to individual, private ownership of each property.
TENANT DUTIES. Tenant agrees to maintain the property in accordance with Section 42A32 of the Vacation Rental Act of the North Carolina General Statutes. Furthermore Tenant agrees to: (i) leave the Property in the same condition as when tenancy began except for normal wear and tear, (ii) be financially responsible for unwarranted or unneeded service calls and service calls caused by Tenant's misuse of the property, (iii) report any and all problems to Rumbling Bald Resort immediately, (iv) not to enter owner's private storage spaces and (v) to abide by occupancy limits of the Property at all times. Upon Departure, Tenant agrees to;(i) wash and put away dishes, (ii) place all garbage from the unit in the provided receptacles and (iii) place rental items where they were found. Tenant agrees to pay any charges associated with failure to complete the above. Tenant agrees not to use the Premises for any activity or purpose that violates any criminal law or governmental regulation. Tenant's breach of any duty contained in this paragraph shall be considered material, and shall result in the termination of the Tenants' tenancy. The Tenant, being the person whose name the contract is in, will be the sole contact person in regards to this Agreement and the tenancy. Such Tenant is responsible for all guests'/visitors' adherence to this Agreement. Tenant understands and agrees that it is Tenant's responsibility to ensure that all aspects of the property meet their standards through previewing the property or other means prior to entering into this Agreement. The Tenant recognizes that tastes, opinions, standards of living, and other expectations vary greatly from person to person and what may be "nice" to one Tenant may be unsuitable to a Tenant with different standards.
SEVERABILITY. The invalidity or unenforceability of any provision in this Agreement shall in no way affect the validity or enforceability of any other provision. In the event that any term, portion, or provision of this Agreement is declared or determined to be invalid or unenforceable, the remaining provisions shall not be affected and shall continue as if the unlawful or unenforceable term, portion, or provision was a part of this Agreement.
LEGALLY BINDING. Tenant agrees to abide by and fulfill all parts of this Agreement, all additional policies, rules, regulations and addenda to this Agreement, and furthermore agrees that it is a legally binding agreement, either in whole or in part. If Tenant does not understand any portion of this Agreement, they should consult their attorney. All parties agree that in the event of a dispute, the agreement will be interpreted in accordance with North Carolina law. Should Agent be forced to resort to the employment of legal counsel, litigation, or professional collection services in the collection of any amounts due the Agent under this agreement, Tenant shall be responsible for all costs, including reasonable attorneys fees, associated with such collection. In the event of a lawsuit or other legal proceeding, all parties agree that such actions shall be held in the venue of Rutherford County, North Carolina.
OTHER TERMS AND CONDITIONS. Resort packages including golf, recreation programs, trips, meeting rooms, meals require a 72 hour notification of cancellation. Please advise reservations of other bookings for assistance in canceling these services. Unused portions of packages are non-refundable. MOTORCYCLES ARE NOT PERMITTED INSIDE AMENITIES GATE
---
Strictes
Si vous annulez jusqu'à 7 jours avant le voyage, vous recevez un remboursement à hauteur de 50 % et les frais de service vous sont remboursés intégralement.
---
Détecteur de monoxyde de carbone
---
La durée minimum de séjour pour cette annonce peut varier.
Cet espace n'attend que votre commentaire
Lake Lure, Caroline du Nord, États-Unis

·

Membre depuis juillet 2015
Properties are managed by friendly and knowledgeable staff at Rumbling Bald Resort. Please feel free to contact us with any questions or assistance with reservations.
We look forward to your visit!
Taux de réponse :
91%
Délai de réponse :
Quelques heures
L'adresse exacte est communiquée uniquement lorsque la réservation est confirmée.
Découvrez d'autres options à Lake Lure et dans ses environs
Plus de logements à Lake Lure :