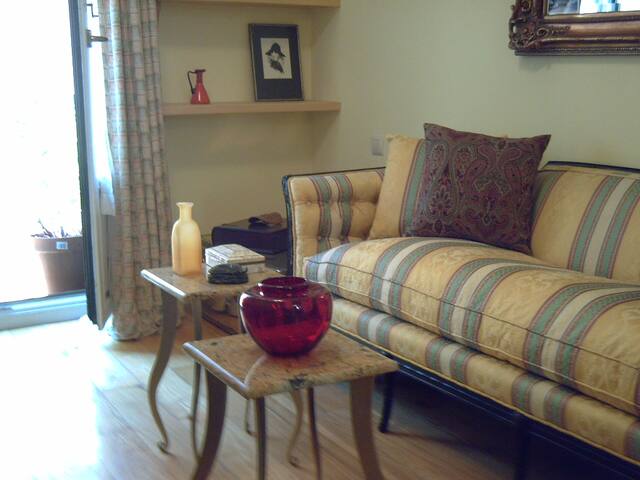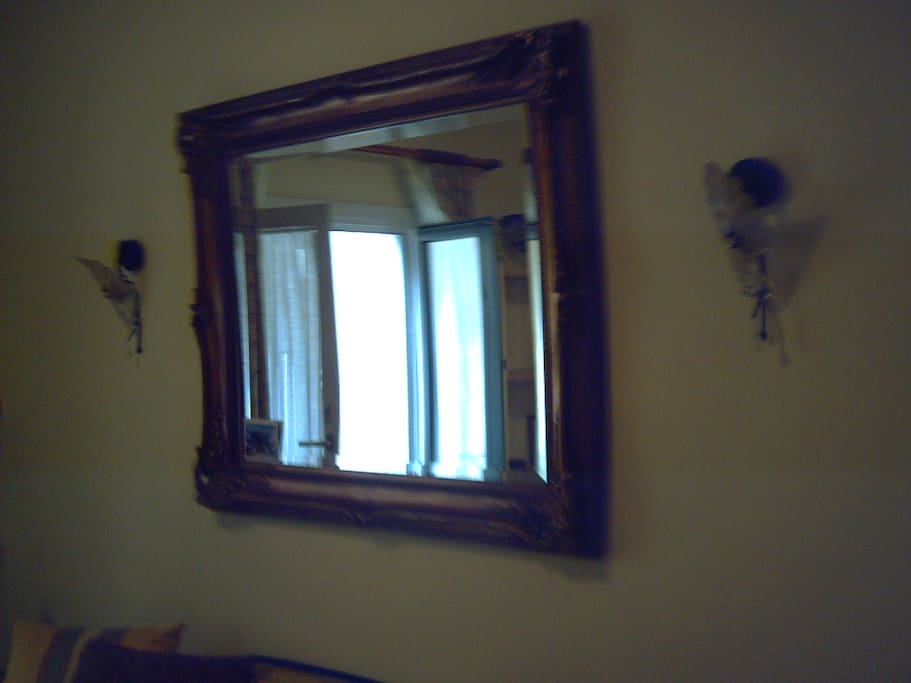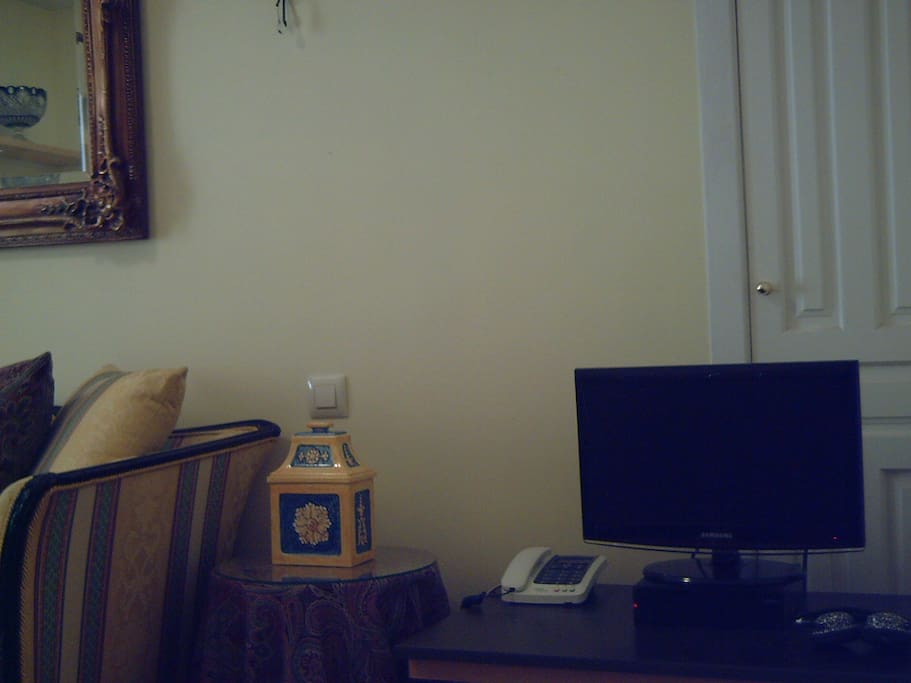 À propos de ce logement
THE ROOM IS FURNISHED LIKE A SUITE, IT HAS A SECTION TO SHARE FOR THE TWO (OR ONE) GUESTS. THE ROOM IS HANDICCAPED AVAILABLE AND IT IS IN THE LOWER PART OF THE APT . THERE IS A LIFT THAT TAKES YOU UP TO THE APT. THE BATH HAS A JACUZZI BATHTUB.
---
Arrivée : À partir de 10:00
Animal sur place : Chien(s)
Type de logement : Chambre privée
---
Parking gratuit sur place
---
Réduction à la semaine : 15%
Communiquez toujours via Airbnb
Pour protéger votre paiement, ne transférez jamais d'argent et n'établissez pas de contact en dehors du site ou de l'application Airbnb.
En savoir plus
---
Le logement
The room is very large and it has two single beds that are separated by a set of nestled tables that has a modern white glass lamp which gives a white and comfortable light.
The room has a balcony with plants and it also has on the side of the balcony three shelves on each side of the door and there are bric a brac that adorns the room. There is a cut crystal punch recipient in cobalt blue and transparency cuts in clear crystal glass. Other objects include three vases in cobalt blue as well, two small paintings and a decanter in crystal glass as well as three other clear vases in art noveau style and other small vases that give color to the room .
The room affords an antique sofa of the early XIX century, Regency Colonial, upholstered in yellow silk. In front of the sofa there are two arab style tables with discreet yellow marble tops. There is a tv and CD and a DVD player reproductor and there is an internet player and a cable TV ADAPTER FOR MOVIESTAR. called Imagenio. There is a big mirror in bronze color frame and then there are two appliques in yellow crystal that flank the mirror. There is a gold color metal trunk with bric a brac on it as well as a covered table with cloth of the same material as the treatment of the window in the hall. It communicates the room with the bathroom and that leads to the door that opens up to the foyer of the apt.. The wall that flanks the beds have a long headbed in the same material as the curtains that flank the two doors to the balcony. Furthermore, there is an art poster of a drawing of a chinese horse from XII century and a collection of glass, ceramic, iron etc. horses in miniature in a wood stand on the wall.The wall on the head of one of the beds has a ceiling high panel covered in a matte red-green silk cloth and in front of it hangs a a portrait of Charles V. as a 10 yrs old boy. It is a portrait of him in an armed suit specially designed for him from The Prado collection
The bathroom has a jacuzzi bathtub that is very comfortable as it has a hand appliance to have showers.. The great thing about the bathroom is that it has a white marble vanity with a very big mirror that can easely reflect almost the whole body and there is a wash basin that is comfortable as well. There is an exhaust system installed and there are two different light artifacts that give a very bright and white light. The bathroom has a set of bronze pieces in fish or tritons that hold the sanitary paper, the soap, three towels and a shelve of glass that give the room coherence. There are some art paintings and a Max Ernst poster . The bathtub has a plastic protector to prevent falls. The bathroom door opens to a window in the hallway, that shows the central patio and it also has plants on the window sill. There is a curtain treatment of this window in the same material as the covered little table next to the sofa.. The tub has a pair of white canvas curtains lined with a blue ribbon which fits with the tiles of the bathroom that are white with blue tiles ribetting it.
The room is on the main floor of the duplex and its door is near to the entrance door to the left of it,.There is wheel chair availability if needed as there are no stairs to reach the apt and there is an elevator and there are also no stairs to reach your room. I have the notion that a slim wheelchair will fit through the doors of the apt. You can avoid the building´s entrance stairs by using the garage entrance to the building which has access to the elevator. There are no stairs to reach the garage. The elevator will bring you directly to the apt..
The guests can expect a great breakfast with cereals or eggs in a spinach omelette or in a peppers omelette with onions and also potato and peppers omelette covered with olive oil fried onions. if the guests want they can choose between a variety of jams, croissants, and yougurts. There will be two kinds of cheese served and the coffee will be percolated coffeeof different kinds and the toasts will be as the guests like: either pan toasted in butter or machine toasted with butter on the side. The omelletes will be chosen freely by the guests. THE GUESTS CAN TAKE THEIR BREAKFAST IN THE FOYER OR ON THE SMALL TABLES IN FRONT OF THE SOFA. PLEASE REMEMBER, IF THE GUESTS WANT TO HAVE BREAKFAST IN THE FOYER AND ITS SCHEDULE CONFLICTS WITH THE OTHER GUESTS, THE GUESTS OF THIS ROOM CAN HAVE THEIR BREAKFAST IN THE MAIN DINING ROOM INSTEAD OF THE FOYER. Information is also available in my other listing BNB SUITE NEXT TO LA GRANJA PALACE..The information you can find there is about the sights you can visit both at La Granja and at Segovia. The offerings IN TERMS OF TOURS OF NEIGHBORING TOWNS SUCH AS PEDRAZA, PEÑAFIEL, PALACE OF RIO FRIO, COCA, AND A LITTLE FURTHER THE TOWN OF LERMA, SANTA MARIA LA REAL DE NIEVA, AYON, MADERUELO, TUREGANO, ETC. There are also very wonderful tour to the national park of Navacerrada to the monastery and church of EL PAULAR AND THE NEARBY TOWN OF RASCAFRIA. THESE ARE THE TOURS THAT WE AS HOST OFFER IN OUR CAR AND INCLUDES LUNCH OR MERIENDA DEPENDING ON THE TIME OF DAY. We would like to offer assistance in your visits to the sites in case you decide not to take the tours and decide to do your thing regarding the sites to explore. Do not be shy , just ask for our help There is a very REAL INTENT TO BE CLOSE AND AMIABLE TO THE GUESTS AND IT IS NOT ABOUT EARNING MONIES. THE IMPORTANT THING WOULD BE THAT YOU CAN LOOK UP THE SITES OF THE TOWNS AND IF YOU CAN HAVE THE TIME TO VISIT THEM BY YOURSELVES OR WITH OUR ASSISTANCE IN THE TOURS. THESE TOURS CAN BE HELPFUL BEYOND WHAT YOU MIGHT READ IN THE INTERNET. THE HELPFULNESS THAT MAKE OUR TOURS EXCITING LIES IN MY OWN KNOWLEDGE ABOUT THE ARTS TO BE SEEN THERE, THE ARCHITECTURE TO BE ENJOYED AND THE CHARACTERISTICS THAT THERE ARE TO BE some of the sites there will be an exciting visit to a "bodega" for a wine tasting that costs 10 euros for the wine bodega owners ALSO, OUR KNOWLEDGE OF THE SITES AND WHAT THEY OFFER AND SPECIALLY WHERE NOT TO DALLY AND THINGS MUST BE SEEN AND TO LEARN CRITICAL OPINIONS THAT CAN BE ONE-SIDED AND PERSONAL YET VERY MUCH INFORMED. THE SITES CAN BE WONDERFUL WHEN YOU UNDERSTAND WHAT YOU SEE AND NOT JUST TO LOOK AT THE LOVELINESS WITHOUT TRULY UNDERSTANDING WHAT YOU SEE OR THEIR RELATION TO THE HISTORY OF THE REGION OR HOW IT RELATES TO WHAT WAS HAPPENING AT THE TIME WHEN THE EDIFICES WERE BUILT AND HOW THEY INTERACTED WITH THE EVERYDAY LIFE OF THE PEOPLE OF THAT TIME IN OTHER WORDS IT WILL MAKE YOUR VISIT MORE ENCHANTING AND EFFECTIVE. YOU CAN DEPEND THAT THE PRICE WILL BE ACCORDING TO WHAT IS DUE AND WORTH. THERE IS ONE TOUR, SEGOVIA BY NIGHT WHICH IS A PRELUDE TO THE DAY VISIT YOU WILL DO BY YOURSELVES THE NEXT DAY AND IT WILL BE LIKE HAVING US WITH YOU. MY OWN DESIRE IS FOR YOU ALL TO HAVE A WONDERFUL TIME AND TO HAVE THE KNOWLEDGE TO UNDERSTAND THE SIGHTS.. THE OTHER PURPOSE IN PROPOSING THE TOURS IS TO GIVE YOU A MORE COMPLETE VIEW OF THE REGION WHICH CAN THEN BE HELPFUL TO PLACE WHAT YOU WILL SEE IN SEGOVIA IN THE LARGER FRAME OF HISTORY, ART.AND ARCHITECTURE IN THE RURAL AMBIANCE OF THE REGION. HOWEVER, WE WOULD LIKE TO STRESS THAT WE ARE COMPLETLY SURE THAT THE TOURS WILL BE AS ENJOYABLE TO YOU SO MUCH SO, AND THAT WE HAVE ONLY YOUR INTEREST IN MIND. PLEASE READ THE DESCRIPTION OF MY OTHER LISTING AND YOU CAN MAKE A DECISION ON YOUR OWN. MOREOVER, IT WILL BE HELPFUL TO YOU NOT WITHSTANDING WHAT YOU MIGHT READ ELSEWHERE.. THANKS TO YOU ALL AND DON´T FORGET THE OMELETTES. THE OTHER ADVERT IS EXHAUSTIVE IN SO FAR AS A PICTURE OF THE TOURS WE OFFER AND IT DOES NOT MATTER IF YOU DID NOT BRING A CAR YOU CAN USE OURS FOR THE TOURS
ROMANTIC WEEK-END:
FOR THOSE GUESTS THAT WANT TO CELEWBRATE WE OFFER A SPECIAL PRICED EXTRAVAGANZA OF GASTRONOMIC AND SPECIALLY DESIGNED TOURS THAT WILL EXCITE YOU AND YOUR PARTNER ORT WIFE TO PAROXISIMS OF ENJOYMENT AND TRUE LUXURIOUS EXPERIENCES: THE MENUS WILL CONSIST OF LATE BRUNCH WITH EGGS FLORENTINE OR EGGTHERE WILL BE AN ACCOMPANY OF LARGE FRESHLY CUT FRIED OR MASHED POTATOES AND A SALAD OF ARUGULA OR OF "BERROS" or some other great gourmet greens THERE WILL BE FRESHLY SQUEEZED ORANGE JUICE OR GREATLY LOVED PINNAPLE JUICE , PEAR OR PEACH JUICE.
THE BRUNCH WILL START WITH DRINKS OF MIMOSA: CHAMPAGNE WITH FRESH ORANGE JUICE OR IF THEY WISH A BLOODY MARY INSTEAD. THESE DRINKS AND ANY OTHER WILL BE SERVED IN OUR BOHEMIA CUT CRYSTAL GOBLETS , THEIR MEALS CAN BE SERVED IN THE FORMAL DINING ROOM IN A TRAVERTINE MARBLE TABLE WITH DAMASQUE NAPKINS AND WHITE PIQUE COTTON PLACE MATS. THE TABLEWARE SHALL BE OF NAVY OR COBALT BLUE ENAMEL AND 24K GOLD ELECTROPLATED CUTLERY. DISHES THAT ARE THE FINEST AND MOST EXCLUSIVE DESIGN OF ROYAL DOULTON´S TABLEWARES. THE DISHES HAVE NAVY OR COBALT BLUE GLASS COASTERS (VERY HEAVY) THAT WILL SHOW OFF THE R.D. DISHES AND WILL PLAY WITH THE DESIGN OF THE R.D. DISHES. THE MIMOSA WILL BE SERVED FROM THE LEGENDARY "FEDERICA" RED PITCHER FROM ITALY OR THE BEAUTIFUL COBALT BLUE PITCHER WE HAVE. THERE WILL BE FRESHLY BOUGHT FLOWERS TO MATCH THE TABLEWARE COLORS AND THE OPERA HIGHLIGHTS WILL PLAY FROM OUR BOSE LOUDSPEAKERS. THERE WILL BE A CENTRAL ARRANGEMENT OF FLOWERS THAT ARE GOING TO BE IN THE HUGE CUT CRYSTAL FROM BOHEMIA (YOU CAN SEE IT IN THE TOP SHELVE AT THE LEFT IN YOUR ROOM). THE MAIN COURSE WILL BE EITHER LEG OF LAMB OVEN ROASTED OR A LARGE PIECE OF SALMON STEAMED. THESE WILL BE SERVED IN THE MOST SOPHISTICATED MANNER THE DESSERT WILL A REGIONAL ONE CALLED PONCHE SEGOVIANO OR A MILLE FUEILLE FULL OF SOFT WHITE MERENGUE. THERE WILL BE A MOST CHERISHED WINE TO ACCOMPANY THE MEAL EITHER WHITE OR RED WHILTHE DESSERT WILL BE ACCOMPANIED BY PINK CHAMPAGNE FROM FRANCE. YOU CAN CHOOSE TO HAVE A LIQUER MADE OF "ORUJO" OR A PLAIN NAPOLEON BRANDY. REMEMBER YOU CAN CHOOSE TO HAVE DINNER IN THE PRIVACY OF YOUR ROOM AND WE WILL BRING YOU THE MEAL THERE. THE VERY BEST PRODUCTS WILL BE USED. THE GUESTS CAN HAVE A FIRST COURSE OF THE FAMOUS "JUDIONES DE LA GRANJA STEWED BIG WHITE BEANS THAT ARE A REGIONAL DELICACY WHICH THEY ENJOY VERY MUCH THEY CAN ALSO CHOOSE TO HAVE "MANITAS DE CERDO" OR PIG´S FEET THAT WILL TAKE NEARLY SIX HOURS TO COOK BUT EVEN THOUGH THEY ARE CHEAP IN SO FAR AS THE CENTRAL INGREDIENT IT WILL BE STEWED VERY EXPENSIVE ADDITIONS THAT MAKE IT AN EXRORDINARY DISH IF THERE WAS EVER ONE WE COOK IT INFRECUENTLY BECAUSE OF THE TIME IT TAKES AND THE EXPENSE. THERE WILL BE ANOTHER BRUNCH AND ANOTHER DINNER THAT WILL CONSIST OF A PUERTRRICAN NATIONAL DISH OF ROASTED LEG OF PORK AND TOSTONES OR FRIED GREEN PLAINTAINS WHICH WILL BE LIKE A TRIPTO THE ANTILLES. A FIRST DISH OF
"MORO" OR PINTA BEANS COOKED TOGETHER WITH RICE DOMINICAN STYLE. THE REAL CULINARY SURPRISE WILL BE THE MASHED GREEN PLAINTAINS WITH ONIONS IN VINAGER AND ABUNDANTLY SPLASHED WITH OLIVE OIL.tHERE WILL ALSO BE SERVED WITH THE "MORO" OR RIPE PLAINTAINS FRIED IN OLIVE OIL.
FRESHLY BREWED COFEE OF THER MOST EXCLUSIVE BRAND WILL BE SERVED AT THE END OF THE MEAL HOWEVER, SINCE IT WILL BE A SPANISH HOUR DINNER IT WILL BE LATE AND THE GUESTS MIGHT DECIDE NOT TO HAVE IT. PLEASANT DREAMS TO YOU BOTHSOME SORT OF SOUVENIR WILL BE AVAILABLE SO THE GUESTS CAN REMEMBER THEIR ROMANTIC WEEK-END. LOVE TO YOU FOREVER!!!!!
Accès des voyageurs
THE GUESTS WILL HAVE ACCESS TO THE LIBRARY IN ORDER TO LOOK AT THE ART BOOKS AND TO THE HISTORY BOOKS ON LA GRANJA. THE GUESTS WILL HAVE ACCESS TO THE LIVING ROOM-DINING ROOM THAT HAS A FIREPLACE DURING THEIR TETE A TETES WITH THE HOSTS AND WILL ONLY HAVE THAT PRIVILAGE WHEN ACCOMPANIED BY ONE OF THE HOSTS. THE GUESTS OF THIS ROOM WILL HAVE ACCESS TO THEIR PRIVATE BATHROOM IN THEIR ROOM AND THEY WILL NOT HAVE ACCESS TO THE SECOND FLOOR WHERE THE OTHER SUITES ARE SITUATED. The guests will not have access to the kitchen, or to our washing machine which is also in the kitchen. these rules are flexible so if you absolutly need something we shall try one way or the other to provide your needs. the apt. is always accesible to the guests as they will have a set of keys to the door downstairs and to our front door. The guests will be carefulto put the lights off of the stairs or of the hallway. Only the guests of the suite downstairs (with the jacuzzi bathtub) can have private access to the library.
Échanges avec les voyageurs
We try to interact with the guests when they arrive and SERVE THEM A DRINK OR/AND SOMETHING TO ACCOMPANY IT. We have instituted the practice to offer our clients a time to talk about the experiences they have had during the day and to plan with us to guide them and offer our expertise on the town of Segovia. according to the guests we accompany them after serving them breakfast and so we can talk about ourselves and our experiences of the past and our histories, or stories of our travels and anything under the sun.
Le quartier
It is a very exclusive neighborhood and it has first class apts and some of the best stores in La Granja but as it is mainly a residential area it is not a burden to walk in our streets where beauty takes precedence over material things. It is a few steps to the palace and the beautiful gardens which are the main attraction of the region. but there is more: there are three of the most interesting buildings in all of Spain and the history around them justify the fact that they were rehabilitated from ruins and given other roles to play in our modern history These are right in our neighborhood and they represent the most beautiful and extravagant buildings in the area. THEY WERE THE BUILDINGS THAT 1) HOUSED THE ROYAL GUARDS THAT PROTECTED THE ROYAL FAMILY WHEN THEY WERE IN THE PALACE 2) THE BUILDING THAT HOUSED THE HORSES AND THE CARRIGES THAT TRANSPORTED THE ROYAL FAMILY IN THE EXCURSIONS IN THE AREWA OR IN THE TRAVELS TO MADRID OR ELSEWHERE 3) THE THIRD AND THE LARGEST BUILDING IN LA GRANJA. IT WAS USED TO HOUSE THE SERVANTS THAT CARED FOR THE CHILDREN OF THE ROYAL FAMILY . OTHER SERVANTS CAME FROM THE SORROUNDING AREA AS LA GRANJA IS A PALACE TOWN THAT STARTED WITH THE PALACE ONLY IN VIRGIN LAND. THESE BUILDINGS ARE NOW A PARADOR AND A HOUSING EXCLUSIVE BUILDING AND A CONFERENCES AND BUSINESS CENTER THEY MAKE UP THE BEST ATTRACTION TO OUR NEIGHBORHOOD. TO END THERE IS A RECONDITE AND ALMOST HIDDEN PINTORESQUE SMALL GARDEN WITH SMALL HOUSES OF PEOPLE THAT WANT TO ENJOY THE BEAUTY THAT SURROUNDS THEM AND ADD TO IT WHEN SHOWN TO TO TURISTS THEY ARE ENCHANTED. THE FACT THAT THE CIVIL GUARD BUILDING IS ALSO IN FRONT OF OUR BUILDING ADDS THE MOST IMPORTANT FACTOR IN THE NEIGHBORHOOD: SAFETY AND GARANTEED ORDER. OF COURSE DURING THE WEEK ENDS THE NEIGHBORHOOD IS SWAMPED BY TURISTS THAT COME TO ENJOY THE BEAUTY. BUT IN THE WEEK DAYS IT IS SIMPLY MARVELOUS TO ENJOY THE QUIET STREETS, THE CAFES AND THE RELAXED ATMOSPHERE OF THE TOWN. OF COURSE, THE WEEK ENDS PROVIDE A FESTIVE AMBIANCE AND A VERY GREGARIOUS AND VARIED SORTS OF PEOPLE AS WELL AS BUSTLEROUS CAFES THAT SERVE YOU DRINKS TO RELAX AND TO NOURISH YOU DEPENDING ON THE HOUR YOU CHOOSE TO SIT IN THEIR TERRACES THE CAFES IN OUR NEIGHBORHOOD ARE ELEGANT AND ONE CAN ENJOY THE FRONT GARDENS OF THE PALACE AND EVEN THE BACK GARDENS AS WELL WHERE THERE IS A CAFE THAT IS NAMED FOR THE MOST FAMOUS CHARACTER IN THE 19TH CENTURY: LA CHATA, A SISTER OF THE KING ALFONSO
XIII WHO WAS BANNED FROM SPAIN, THE STATUE OF THE LA CHATA IS NEARBY THE CAFE THAT CALLS ITSELF AFTER HER. SHE WAS VERY CLOSE TO THE PEOPLE IN GENERAL. LA GRANJA IS FAMOUS FOR THEIR HOT CHOCOLATE. THERE IS A NEARBY CAFE THAT HAS PHOTOS OF THE ROYAL FAMILY IN THE LATE 19TH CENTURY AND EARLY 20TH. THE PALACE AND THE SMALL BUT EXCITING CHURCH WITH PAINTINGS IS NOW USED FOR WEEDINGS OF THE ROYALS AND IT IS AVAILABLE FOR ROYAL GUESTS INVITED TO SOME EVENT. THE VISITORS ARE VERY EXCITED BY THE VISIT OF THE ROYALS.
Transports
THERE IS NO NEED TO USE TRANSPORT IN LA GRANJA. THERE IS HOWEVER A STOP FOR THE BUSES THAT GO TO SEGOVIA EVERY 15 MINUTES AND THEY LEAVE ABOUT A FIVE MINUTE WALK THROUGH THE ALAMEDA WHICH IS THE STEET THAT GOES FROM THE MAGNIFICENT GATES TO THE TOWN TO THE PALACE GOING BY TWO OF THE AFOREMENTIONED BUILDINGS THE RECONSTRUCTON HAS BEEN TOTALLY RESPECTING THE FACADEOF THE ORIGINAL BUILDINGS AND TGHEY ARE EXTREMELY BEAUTIFUL. THERE IS AMPLE PARKING PLACES TO PAND THERE ARE FEW RESTRICTIONS AND PARKING IS FREE IN LA GRANJA.
Autres remarques
WE HAVE 2 SMALL DOGS AND WE NO LONGER ACCEPT ANY DOGS NOR ANY OTHER ANIMALS. WE OFFER MANY TOURS OF THE REGION AND TO FIND OUT ABOUT THEM YOU MUST READ THE OTHER ADVERT WE HAVE WITH AIRBNB "BNB SUITES NEAR LA GRANJA PALACE" WE ALSO RECOMMEND THAT YOU ASK IF YOU WOULD LIKE MORE INFORMATION AND DO NOT BE SHY, WE LIKE TO HELPYOUIN ANY WAY WE CAN.
---
L'entrée dans les lieux se fait à partir de 10:00
NO SMOKING ANYWHERE IN THE APT. THE OWNER IS ALLERGIC.
THIS IS A RESIDENTIAL NEIGHBORHOOD AND WE ASK YOU KEEP NOISE TO A MINIMUM AFTER 11 PM.
NO DOGS OR MASCOTS OF ANY KIND ARE PERMISSIBLE IN THE ROOMS OF THIS ADVERT AS THE SOFA IS OF A VERY EXPENSIVE SILK AND WOULD BE DAMAGED EASILY SORRY FOR THAT. THERE IS NO SMOKING IN THE APT, AS I AM ALLERGIC TO IT AND I ALSO SUFFER FROM ASTHMA AND CAN NOT BE ANYWHERE NEAR WHERE PEOPLE SMOKE.
---
Flexibles
Si vous annulez jusqu'à 24 heures avant le voyage, vous recevez un remboursement intégral, frais de service compris.
---
---
I 'm busy person made last minute plan to hit Segovia and got Enrique's accommodation as my first try in BNB type of setting had little wavery mind until I reach or hear from them. We I finalised the deal Enrique was behind me over call to know from guest, how to serve- impressive I said In my mind, when I arrived there he surprised me by his way of keeping his accommodation - Supper clean since I am obsessive about cleanliness I look for that and rest he was very articulative with rich knowledge about spain as well about various subjects such as arts, painting and adorable psychology. He made the stay memorable by providing valuable information. If I come segovia again I shall visit him again.
Dear Harris: AS I TOLD YOU EVERYTHING IS SOLVED AS THE HACKERS WHO HAD TRIED TO FOOL ME ARE FOOLED BY THEIR OWN GREEDINESS. THEY HAT TRIED TO CASH A PAYMENT AND MY BANK KNEW THAT THEY HAD TRIED SOMETHING SIMILAR BEFORE. MAYBE WE SHOULD THINK OF PUNISHING ROBBERS LIKE THEY DO IN THE COUNTRY YOU ARE LIVING AT THE MOMENT. I KNOW THEY HAVE CONTROL OF MY COMPUTER AND I WILL HAVE IT FORMATTED AND TO INFORM THE AUTHORITIES. ALSO THE PEOPLE I BOUGHT THE COMPUTER PROMISED TO CONTINUE WORKING ON IT. AS I BEALIVE THAT THEY ARE USING MICROSOFT AS A FRONT THEY WILL ALSO BE INFORMED IF THEY CONTINUE TO TRY TO DISRUPT MY COMMUNICATIONS. ON ANOTHER THEME I MUST THANK YOU FOR THE LOVELY REVIEW AND I HOPE MY REVIEW MET YOUR HIGH STANDARDS OF JUDGEMENT. I COULD FEEL WHILE WE WERE IN PEDRAZA THAT YOU LIKED THE WHOLE VISIT THERE. I WAS VERY HAPPY TO SEE THAT YOU ENJOYED YOURSELF. I FEEL A CLOSENESS TO YOUR FEELINGS TOWARDS YOUR PARENTS AND TO THE OBSERVATIONS OF THE TRADITIONS THEY EMBODIED. I AM VERY HAPPY YOU CHOSE OUR ESTABLISHMENT FOR YOUR STAY IN LA GRANJA. I WISH YOU HAD MORE TIME TO SHARE WITH ME BUT THEN ONE HAS TO ACCEPT WHATEVER IS GIVEN US. HOPE YOU COME VISITING AGAIN.
---
Hemos tenido una experiencia excelente en casa de Enrique y Juan. Son unos anfitriones maravillosos y atentos, así como unas excelentes personas. Repetiremos sin dudarlo un instante.
THE YOUNG COUPLE HAVE THE BEST CHARACHTERISTICS OF THE YOUNG. WE WERE SO VERY HAPPY TO HAVE THEM AND THEIR LOVELY , WELL BEHAVED DOG WHO NEVER BASKED AND WAS A PERFECT GUEST TOO. THANKS FOR SMOKING OUTSIDE AND FOR WHO YOU ARE. WE APPRECIATED THE QUALITIES YOU HAVE.AND THANKS FOR THE CALL.
---
La Granja de San Ildefonso, Espagne

·

Membre depuis septembre 2012
Two retired gentlemen that speak English, Spanish and French.
Enrique (left) and Juan (right) with our two adorable dogs - Turandot and Radames.
Originally from Spain and Puerto Rico, we've lived and studied in Washington DC, Madrid, Paris, New York City Salamanca, Bologna Seville and Malaga. We have lived throughout Spain. Before moving to La Granja we lived in NYC. After we started our retirement we first moved to Valencia.but the weather there did not agree with me. We have now retired in La Granja, Segovia for nearly 11 yrs, where we look forward to hosting your next visit. Our interests include traveling through Europe and attending opera and classical music performances all over Europe. We like to cook and to be hosts to our friends in our lovely home.
.Our extensive interests and experience in arts, general culture, opera, architecture, history and dance will help us to point you to the different cultural events that go on in La Granja or Segovia. We usually travel by car or by bullet train due to the inherent comfort which is important to us. We also travel to eat at different regions and in other countries, to discover gastronomic delights of other countries.
We have lived in Paris, Bolognia, Salamanca, Madrid, Seville,Valencia, and Copenhagen, In the United States we have lived in New York City and Washington,D.C.. Moreover, in the United States we have visited San Francisco, and Denver. In the lower part of the hemisphere I have traveled to Mexico City D.F.and Acapulco..
We have traveled to Munich, Tolouse, Vienna, Salzburg, Bayreuth, Prague, Budapest, Dresden, Cologne, Aachen, Bruges, London, Salisbury, Berlin, Jaen, Baeza, and Ubeda, as well as Copenhagen, Amsterdam, Paris, Versailles and Brussels with a long etc of sites. In Spain, I have visited far too many towns and cities such as Bilbao, Sepulveda,, Pedraza, Coca, Astorga, Leon, Teruel, Siguenza, Soria, Almanzor, Calatañazor, Campillo de Ranas, Riaza, Burgo de Osma, Aiyon, Maderuelo, Toledo, Jaen, Ubeda, Ciudad Rodrigo, Salamanca, Burgos, Salamanca, Avila, Arevallo, Seu de Urgel, SOS del Rey Catolico, Lleida, Olitte in Navarre and Valladolid, Baeza and many many others.
We can not live without our dogs and we positively revear our past dogs. We like French movies and adore Jeanne Moreau. Our love of art and music has taken us to visit cities for performances by our favorite singers, although now a days we are mourning for two of our favorite singers , Joan Sutherland and Ghena Dimitrova. We tend to visit exhibits and museums and recently we have visited a `plethora of exhibits in Madrid which we visit every month at least twice, to visit and eat with old friends, go to Original Version movies, exhibits and conferences. Recently we discovered two museums in Valladolid that are incredible in scope and in depth of their investigation of the objects there in. One of them deals with the religious statues and paintings that are related to the historical styles and the spanish epochs of historical worth: Museo Nacional Colegio de San Gregorio. We spend our money in art books, cooking books and historical novels. We have a large library and some expensive leather bound books that are one of my joys in life. By now, I bealive you know enough of us and we are expectant to know about you and to help you enjoy your stay with us. We are here to serve you and our extensive education will help you enjoy your vacation. We do not feel more educated or more lofty because of our knowledge. I have learned in life, more outside the institutions of learning and I really become angry when a person uses that knowledge to demean others. I am very comfortable with people that are quite different from us and we like to have a variety of friends that are to me as important as life itself. I could not live without music and even though I have a preference in music I love other kinds of music which surprises people I know because they can be so different and seem foreign to me but they are not. We could never be without going to live performances of music that we love. We could never be without our dogs past and present and we tend to revere our families and we are rabid about them in general..
I am interested in traveling and I am looking forward to going to Gante and to see other places that I missed in Belgium. Having recently read a biography of Catherine de Medicis I was reminded of our visit to the Loire Valley in which we visited Chartres, Chennonceau, Bois, Tours, Amboise, Le Mans, Bourges, Chinon and many others. We visited palaces of the French Renaissance that indeed are bigger and have more grandeur as well as fuller of historical significance than our little palace with its beautiful small Colegiata church. Certainly; not as grand as the palace built by Francis i, Chambord or the palaces that express one of the grandest love stories in history, the one between Diane de Poitiers and Henri II in the two palaces that exemplefy the reality of their love afffair: Chennonceau and Chaumont. The castle ruins at Chinon where Joan of Arc was introduced to the king of France and many others and last but not least, the castle where both tombs of Eleanor of Aquitaine (one of my favorite historical women) and of her last husband Henry II; The Queen and King of England rest in medieval splendor in their stone sarcophaguses at Fontlevraut. The splendid gothic churches, which beauty we will never forget, such as Chartres. Bourges and Le Mans. This not to mention eating in great gourmet restaurants in the countryside, surrounded by vegetation and large trees. We took our loved dog Tuca who was invited at all the restaurants. in one she was not only admitted but they let her sit at the table and the other customers came to render her a welcome. She was not a particularly attractive dog but she acquiesed the pleasant people. She was also a well mannered dog during the travel from NYC. There are more trips in our life but the next to last which was to Italy in which we visited Tuscany and the marvels of Florence, Pisa, Siena and on our way back, Aix en Provence, Cannes, Barcelona, Seu de Urgel, Siguenza and SOS del Rey Catolico andrevisited Sitges before returning to La Granja. The last trip was of gargantuan proportions: we drove through Northern Spain till we got to San Sebastian where we stayed to rest. From there we drove through the french Pyrenees to Tolouse where we stayed. From there we drove to Munich and had a wonderful stay visiting the reconstructed and rebuilt German Baroque catholic churches and the beautifuly but too extravagant castles built in the xix century by Ludwig II of Baviera. From there we drove to Prague to visit the wonderful hurches and attend the classical music concerts given therein The old royal emplacement with its gothic cathedral and the famous clock and the bridge, etc. are worth mentioning. We attended the check opera, Jenufa as well as a concert of Rolando Villazon another new favorite. Exhibits of the drawer and painter MUCHA, LEARNED ABOUT ART NOVEAU STYLE IN CHEKOSLOVAKIA AND ATE AT THE MOST BEAUTIFUL EXPRESSION OF THIS STYLE, A RESTAURANT NEXT TO THE CITY HALL AND THE MUNICIPAL THEATER WHERE ROLANDO VILLAZON SANG. We visited and ate in Dresden and visited the palace whose outside still show wear and tear from the last world war when the incendiary bombs almost destroyed the city.. We drove through all of Germany to Cologne where my partner Juan got to see another of the important gothic churches ( I had seen it before in one of my frecuent travels through Germany before we met) in one of my travels to visit Denmark by train. I also visited the roman city of Agripinna in the outskirts of Cologne. Then, I experienced the height of that last trip; which was to visit Aachen, or Agristan that was the capital of the Carolingian Empire and it´s beautiful inside Bizantine style church and the rebuilt outside in the Gothic style. In this church the most amazing was the gold sacophagus high on top of the main altar and it reminded me of the trunk of Mio Cid at Burgos, also placed high on the wall. We then drove through Belgium to Paris where we spent many days resting and going to the opera. From there we travelled to Amboise where we visited the castle and stayed in Tours overnight, and where we saw a surprisingly good Sound and Light spectacle for free. On our way back through Spain we stayed in San Sebastian overnight and SOS Rey Catolico and Lerma where we ate lunch at the Parador of the Duke of Lerma and Count- Duke of Olivares (one of the most beautiful castle/palaces in Spain). If I were to live again, i would not change an iota of my life. I have loved studying all my life and this nas been a way to keep myself young in (URL HIDDEN) life!
Enrique has two doctorates in Political Science and Clinical Psychology from Complutense university in Madrid and two masters from Columbia university in NEW YORK CITY. Juan has a degree of Teacher of General Education and a specialization as Teacher of Disabled Children. He attended 2 universities in New York City and 4 yrs. at Complutense university in Spain. .We are discovering new singers like Anna Netrebko, Patricia Petibon, Joyce de Donato, Jonas Kauffman, Rolando villazon and the last Russian singers both baritones and mezzos. To see our old idols either die or retire is a source of deep sadness. But we shall overcome and enjoy the parade while we can.

I love trying new recepies and inviting friends to surprise them with the goodies. i love spanish food but i prefer chinese food a la New York not the horrible stuff one gets in Spain that tries to PASS as chinese food. i also love indian food even if i do not like curry in abundance. i can make wonderful rice with a little curry and most people love it.
My favorite actress is the nouvelle vague´s priestess, Jeanne Moreau I HAVE SEEN HER FILMS COUNTLESS TIMES AND EVEN WHEN SOME OF THE FILMS SHE MAKES ARE TRITE THEY ARE ALWAYS GEMS DUE TO HER ACTING ABILITY. Other actresses are older and it surprises me that some people do not know the actors like Lauren Bacall, John Garfield , Claire Trevor AND NOT EVEN BETTE DAVIS OR SOPHIA LOREN JUST AS AN EXAMPLE. BUT SINCE I AM AN UNDENIABLE MOVIE FAN WHO KEEPS ABREAST OF MOST MOVIES OF AMERICAN, EUROPEAN OR FAR EASTERN FILMS. I DO NOT FOLLOW THE MIDDLE EASTERN FILMS, ACTORS OR DIRECTORS BUT IF ONE OF THEIR MOVIES IS NOTORIOUS I GO SEE IT TOO LIKE THE FILM OF THE ALGERIAN REVOLUTION. If I had the money I have spent on movies i would indeed be rich. As a child of 9 and onwards, I used to spend my allowance entirely on movies. I come from a time when movie theaters showed a couple of movies, a short episode of one like Superman or Fu Manchu, a cartoon and newsreels, and of course (EMAIL HIDDEN) SPAIN THERE ARE SOME SERIES THAT I WATCH, LIKE THE GOOD WIFE, OR DAMAGES OR HOUSE OF CARDS, and the historical series ISABEL AND CARLOS EMPERADOR.
In so far as books I tend to like history, political science, science fiction and psychological thrillers. I went through different stages of the kind of books I liked. I specially enjoyed the stage of reading Agatha Christie, when I was 19 yrs old or some other books of who done it. But after reading all of them I just discarded them as an exercise of fun, transitory and punctual enjoyment. However, the last book I ´ve read was 1777 B.C. AND EVEN IF I KNEW MOST OF THE DATA EXPLAINED IN THE BOOK IT WAS MORE ENJOYABLE DUE TO THAT AND I LEARNED FROM THE EXPLANATIONS. AND FROM THE WHOLE JOINING OF KNOWN DATA INTO A VERY CLEAR EXPLANATION OF IT. ANOTHER BOOKS ARE BIO BOOKS THAT ARE AT THE SAME TIME HISTORICAL LIKE THE LAST BOOK I READ OF CATHERINE DE MEDICI. A GREAT BOOK . I RECOMMEND BOOKS ABOUT THE WWI AND I LOVE BOOKS OF DIFERENT POLITICAL STORIES THAT GIVE AN IDEA OF CERTAIN PERIODS DIFERENT FROM OURS.Then there are favorite authors like Mary Renault a writer who writes about the greeks. There ARE WRITERS LIKE KAREN BLIKEN WHO I
FOUND VERY ENJOYABLE WHEN I READ THEM when i was 21 yrs old BUT I´VE MOVED ON TO OTHER WRITERS. BUT MY LOVE FOR THESE WRITERS REMAINS THE SAME.
I LOVE OPERA AND MY FAVORITE OPERA COMPOSER IS WAGNER AND RICHARD STRAUSS BUT THE CLASSICAL MUSIC THAT I LOVE ARE SO MANY THAT MAYBE MOZART AND BETHOVEN ARE MY FAVORITES WITH THE RUSSIAN COMPOSERS A CLOSE SECOND. I LIKE MAHLER AND OTHERS THAT ARE CLOSER TO THE MORE MODERN COMPOSERS LIKE PHILLIP GLASS..
FAVORITE DISHES IN MY LIFE ARE CALLOS MADRILEÑO, OR COCIDO MADRILEÑO. TO ME THERE ARE DISHES THAT WOULD SURPRISE MY FRIENDS WHO KNOW MY LOVE OF RED MEAT BUT FIND THAT CHINESE STEAMED FISH IS MY FAVORITE CHINESE FOOD BUT THERE ARE SO MANY DISHES IN THE CHINESE SPECTRUM OF TERRITORIES AND DIFERENT DISHES ARE A CONNUNDROM OF THINGS THAT WOULD CONFUSE ANYONE, BY THE WAY I LOVE MOVIES ABOUT FOOD AND RESTAURANTS. MY FAVORITE ARIA IS LIEBESTOD AND THE OPERAS I LOVE THE MOST ARE THE NIEBELUNG TETROLOGY OF WAGNER . I LOVE BAROQUE OPERAS LIKE LULLY, RAMEAU, AND VIVALDI, AND A LONG ETC. BUT I ALSO LOVE VERDI AND PUCCINI . THERE ARE NO OPERAS BY VERDI THAT I DO NOT LIKE BUT I CAN DO WITHOUT SOME OF PUCCINI´S OPERAS LIKE THE ONE ON AN AMERICAN THEME.
I AM A GOOD HOST BECAUSE I LET MY FRIENDS GO THEIR WAY AND TO FIND OUT THINGS FOR THEMSELVES AND TO EXPLORE BUT IF THEY ASK I CAN REALLY GO ON TILL THEY SAY TOO MUCH INFORMATION. I LOVE TO COOK AND I AM NOT PARTICULAR ABOUT THE TIME AS FRIENDS KNOW THAT I GIVE MORE IMPORTANCE TO THE TIME IT TAKES TO DELIVER GOOD FOOD THAN AT WHAT HOUR WE WERE SUPPOSED TO EAT. I KEEP THEIR TUMMYS BUSY BUT I ALSO SET A BEAUTIFUL TABLE AND I TRY TO KEEP IT ORIGINAL AND BEAUTIFUL AND JUST VERY VERY FORMAL TABLE THOUGH PEOPLE CAN SIT AS COMFORTABLE AS THEY WANT. YOU DO NOT HAVE TO DRESS AT MY TABLE. BUT THE TABLE IS VERY FORMAL BEAUTIFUL AND EXPENSIVE TABLEWARE, TABLECLOTHS THAT GO FROM DAMASK, SILK AND COTTON. ALL COLOR COORDINATED. THE GOBLETS MUST BE ALSO COLOR COORDINATED AND GOOD DISHES THAT ARE OF THE HIGHEST QUALITY. MEANING THEY ARE KNOWN CHINA LIKE ROYAL DOULTON OR FLATWEAR SILVER BY REED AND BARTON OR ELECTROPLATED 25K GOLD ETC. IT MUST BE JUST SO. MY COLLECTION OF CHINA COME TO 5 ENTIRE SETS AND A FEW MORE SMALL SETS FOR FEWER GUESTS. THE CONVERSATION MUST BE FLUID AND INTERESTING . GOOD HUMOR AND HIGH WIT ARE A PLACE OF HONOR AT MY REUNIONS AND AT MY TABLE. THE HOUSE MUST BE INMACULATE FROM TOP TO BOTTOM AND I BEALIVE IN NOT GIVING CHORES TO ANY GUEST., NO MATTER IF THEY ARE VERY CLOSE AND OLD FRIENDS , OR NEWLY ACQUIRED PROSPECTIVE FRIENDS. I LOVE TO HAVE GUESTS BUT EVERYONE MUST TALK AND SHARE EXPERIENCES AS WELL AS BE OPENLY APPRECIATIVE OF DISHES AND OF THE CONVERSATION. BACKGROUND MUSIC IS NOT LEFT TO THE TASTE OF GUESTS BUT OF MINE. ALL DETAILS ARE IMPORTANT NO MATTER WHAT OR HOW SMALL. I LIKE AN ABUNDANT TABLE RATHER THAN NOT, AND THE DESSERT IS ALWAYS MORE THAN JUST ONE KIND WHILE DRINKING IS NOT ALLOWED IF IT IS HARD LICOR. WINE MUST BE OF THE BEST QUALITY AND COORDINATED WITH THE FOOD. I AM AN EXCEPTIONALLY DEMANDING GUEST BUT NEVER EXPECT MY OWN WAY TO DO THINGS OR EXPECT THE HOSTS TO HAVE SO MANY KINDS OF TABLEWARE.
THE ONLY PHRASE AND MOTTO THAT DEFINES ME IS KAREN BLIKEN´S "THIS TOO SHALL PASS"
Taux de réponse :
100%
Délai de réponse :
Moins d'une heure
L'adresse exacte est communiquée uniquement lorsque la réservation est confirmée.
Découvrez d'autres options à Real Sitio de San Ildefonso et dans ses environs
Plus de logements à Real Sitio de San Ildefonso :