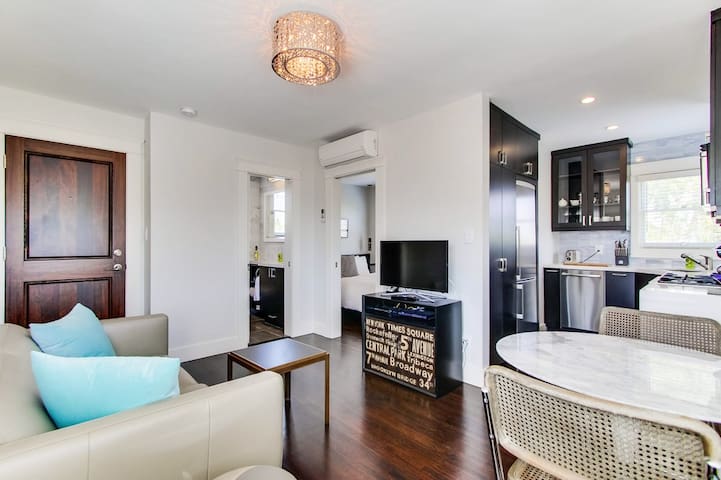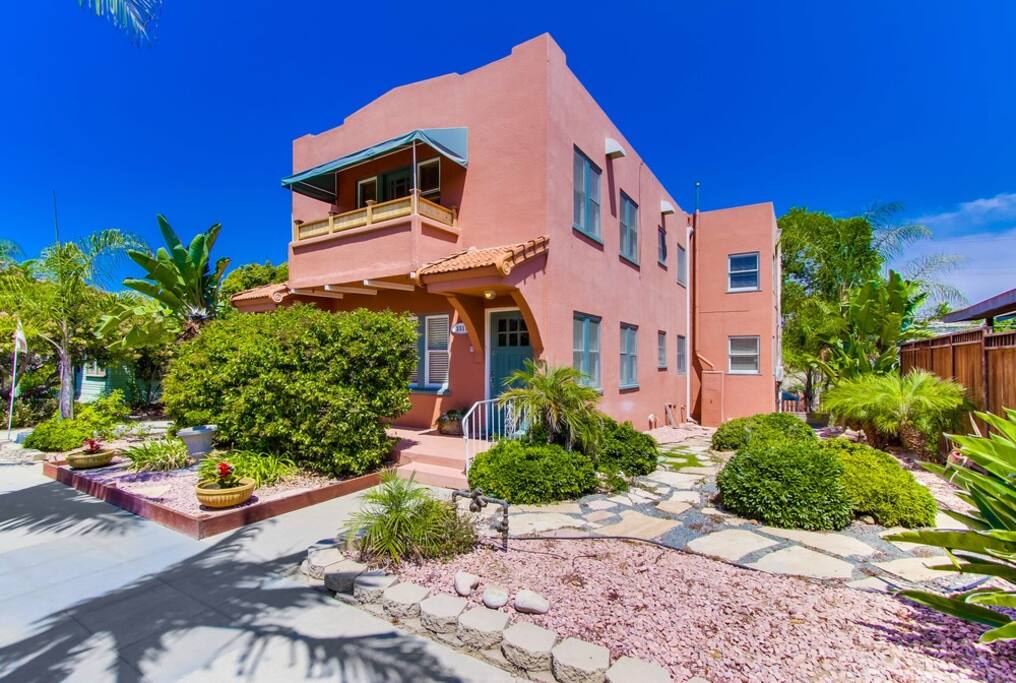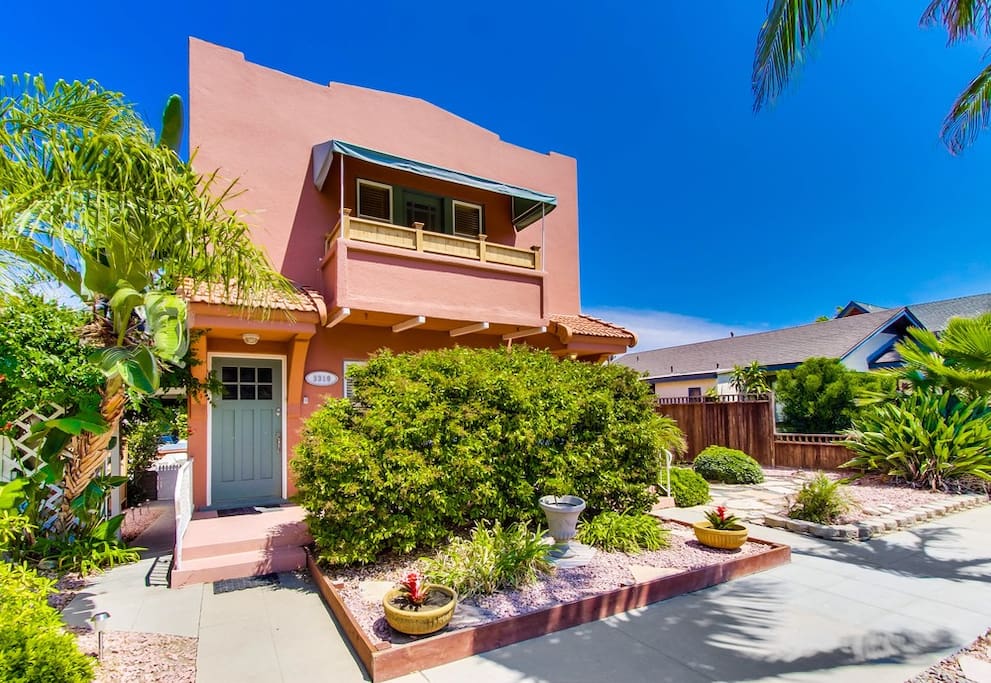 À propos de ce logement
Sunny, comfortable 1 bed-1 bath retreat for two on second floor. Has it all. Luxury equipment. Marble, stone, brick, beautiful wood floors. The feel is urban, sexy, modern and minimalist. Top North Park location. Walk everywhere.
---
Ce logement propose des équipements adaptés aux voyageurs d'affaires.
---
Arrivée : À partir de 16:00
Type de logement : Logement entier
Entrée dans les lieux autonome : Lockbox
---
---
Voyageur supplémentaire : Sans frais
Tarif week-end : 141€ / nuit
---
Sunny, comfortable 1 bed-1 bath retreat for two on second floor. Has it all. Luxury equipment. Marble, stone, brick, beautiful wood floors. The feel is urban, sexy, modern and minimalist. Top North Park location. Walk everywhere.
A home away from home in North Park, #13 on Forbes' list of the 'hippest' neighborhoods in the US. Our 1926 Spanish villa -- 'Villa Barajas' -- combines historic character with modern features. Enjoy an authentic local living experience, in luxury style, with the comforts of home!
Gorgeous original hardwood floors, large windows, exposed brick, fine cabinetry and furnishings, deep Euro tub/shower, central heat/AC, washer and dryer in suite, all new fully equipped kitchen and bath.
We also provide amenities -- K-cup and French press coffee makers, beach towels, blow dryer, iron, luggage rack, shampoo and conditioner, shower gel, hand soaps, other essentials. WIFI and smart TV -- Stream Netflix and Pandora while you relax or enjoy a light meal in the suite.
Spacious grounds with gas grill, ping pong table and delightful seating areas. Walk a few blocks to Balboa Park, restaurants, cafes, golf, community pool, tennis, recreation. 5 minutes to downtown -- Little Italy, The GasLamp Quarter, Seaport Village, Convention Center, the famous San Diego Zoo, Balboa Park and museums, Old Globe Theatre. 10 min to beaches and other major attractions, including Coronado Island and Seaworld.
Forbes magazine named North Park as one of America's best hipster neighborhoods, noting that "culturally diverse North Park is home to Craftsman cottages, cafes and diners, coffee shops, several microbreweries, boutiques, and the North Park Farmers Market. The North Park Theater and the Ray Street Arts District are also bastions of creativity in the area" [10]
The Los Angeles Times writes: "North Park has all the ingredients for the cool school: It's culturally diverse and has art galleries, boutiques, trendy bars with handcrafted cocktails and local brews, and foodie-approved eateries." [11]
An eclectic and diverse array of restaurants, as well as independent coffee shops, can be found along the main arteries of 30th Street and University Avenue. The area is also dotted with bars and night clubs that cater to a wide diversity of patrons.
Downtown North Park contains the Ray Street Arts District. Ray at Night is a gallery walk held the second Saturday of every month in North Park. It is the largest and longest running art walk in San Diego's history.
Nearby, the Birch North Park Theatre reopened after major renovations in 2005. It is the home of Lyric Opera San Diego.
North Park has a Farmers Market every Thursday which has been listed as one of the top 40 in the USA. [12] The market is located in the parking lot at University and 32nd Streets. The Spring/Summer hours are 3pm-sunset, Fall/Winter 2pm-Sunset. They feature over 35 independent vendors; locally grown produce/flowers; gourmet/ethnic foods; arts and crafts; books; and, often, live music.
The San Diego Music Foundation hosts a large musical festival—North Park Music Thing[13]--in the fall on El Cajon Boulevard, which helps add to North Park's reputation as a great community for the arts in San Diego.
As a tradition every December, North Park holds its annual holiday parade. Formerly known as the North Park Toyland Parade, it is now called the North Park Lions Club Holiday Parade.
Please email for availability and cost of your requested dates! Actual rate will depend on the days you stay. 3 night minimum stay required, unless otherwise noted. Certain holidays may require a longer stay.
---
Ne convient pas aux animaux
L'entrée dans les lieux se fait à partir de 16:00
By making a reservation for this property, you are agreeing to abide by all terms and conditions of the following rental agreement.
This short term rental agreement for unit(s) at (PHONE NUMBER HIDDEN) Grim Avenue, San Diego, CA, (hereinafter referred to as the "Property"), is by and between Beth Galdieri & Gail Feldman (hereinafter referred to as "Owners") and renter name as specified in the online reservation (hereinafter referred to as "Renter").
1.RENTER NAMED IN RESERVATION IS RESPONSIBLE - Renter named in the online reservation is subject to the terms and conditions as defined in this agreement, which Renter has accepted electronically as part of the online reservation booking process. This is a legally binding agreement. Renter is responsible for adhering to this agreement and ensuring that all occupants of the unit(s) as specified in Renter's reservation and visitors Renter may invite onto the premises adhere to this agreement.
2.LIMITED OCCUPANCY -- This rental agreement provides for the unit(s) and the number of occupants Renter has stated and confirmed with Owners via the online reservation system. No additional occupants or overnight guests are permitted without prior written consent of Owners.
3.RENTAL TERM AND CHECK-IN/OUT -- Rental term (arrival and departure dates) is/are as confirmed in the online reservation system.
a.Check-in time is 4:00PM PST or later on the date of arrival and check-out is by 11:00AM PST on the date of departure.
b.Renter agrees to meet Owners or Owners' representative at the Property for check-in or to use the lockbox with code that will be provided at the 4:00PM check-in time, at Owners' discretion,. Renter agrees not to distribute or share the lockbox code(s) with anyone other than their authorized co-occupants.
c.Early check-in is at Owners' discretion and will not be committed prior to Renter's arrival date, if offered.
d.There is no flexibility in the 11:00AM PST check-out time.
4.RATES AND COSTS -- Costs include rent (nightly, weekly or monthly rate), occupancy taxes (for reservations less than 31 nights, per City of San Diego), final cleaning (occurs upon/after check-out), mid-stay or biweekly cleanings (for reservation greater than 27 nights), insurance (if/as quoted) and refundable security deposit (refunded back to credit card used for payment via the online system if no damages or breach of agreement occurs). Additional fees may apply for special circumstances, as specified in the reservation.
5.PAYMENT -- Renter is responsible for payment in full for the entire rental term, according to the payment schedule established in the online reservation system or as separately agreed and documented with Owners. No change in dates, occupants or proposed use of the Property may be made without Owners' prior written approval.
6.NONREFUNDABLE RESERVATION -- The reservation and all payments are non-refundable. There are no refunds for discontinuation or change in work assignment, employment or location, personal or family issues, health emergencies, allergies, deaths or any other reasons, whether with or without notice. Renter may separately purchase travel insurance, as he/she deems appropriate. If Renter is a government employee or contractor, Renter assumes the risk of change in assignment or deployment and agrees to pay the rent in full for the term, unless otherwise agreed in writing with Owners. Renter agrees NOT to attempt to reverse credit card charges for payments made.
7.POTENTIAL UNIT REASSIGNMENT – Owners reserve the right to reassign Renter to a different unit on the Property that is of equal or greater function, at no additional charge. While infrequent, there are times when Owners must rearrange reservations to accommodate longer term renters, large groups, maintenance, repairs and other issues as they may arise, at Owners' discretion. Renter agrees to accept an equivalent or upgraded unit reassignment on the Property at no additional charge.
8.EARLY TERMINATION OF RENTAL TERM -- Should Renter wish or need to discontinue tenancy before the scheduled departure date, Renter agrees to provide written confirmation of intent to vacate to Owners stating the revised termination/check-out date and time. Owners will have option to rent the balance of the rental term to another party and are not obligated to return funds to Renter for dates that may be rented to others. Renter agrees to immediately surrender a vacant unit to Owners, i.e., Renter agrees not to hold or withhold a vacant unit. The security deposit will be refunded if there are no damages; no other payments will be refunded.
9.UTILITIES CHARGES – For Renter staying less than 30 days, all utilities charges are included. For Renter staying 30 days or more, the first $100 of the gas and electrical charges for the unit are included. Any usage above this amount will be deducted from Renter's security deposit. Amounts in excess of security will be payable by Renter prior to departure.
10.IMMEDIATE TERMINATION FOR CAUSE -- For breach of any of the following terms, Renter agrees to vacate/surrender the unit immediately to Owners or their representatives, at Owners' discretion. Renter agrees to forfeit all payments and security deposit. Renter agrees to immediately pay Owner for fines levied for city code violation, damages and/or missing items in excess of security deposit, as applicable.
a.NO parties, events or group gatherings
b.NO additional occupants without Owner's prior written consent
c.NO pets on Property (inside or out)
d.NO smoking on Property (inside or out)
e.NO firearms or other weapons, illegal substances/drugs or criminal activity on the premises
f.NO candle burning or open flames on Property (inside or out), excepting use of Owner provided BBQ grill, chiminea and fire pit, if/as applicable
g.Renter is at least 21 years old and is directly responsible for any occupants less than 21 years old
h.NO noise disturbances – San Diego has a noise ordinance to ensure quiet enjoyment by all residents and imposes a $500 fine for violations. Renter will observe the following:
7am-7pm = no more than 55 decibels (discussion without yelling)
7pm-10pm = no more than 50 decibels (quiet conversation)
10pm-7am = no more than 45 decibels (whisper)
i.Children less than 21 years old are NOT permitted on the Property (inside or out) without adult supervision and are NOT permitted to operate appliances, sofa beds, systems or equipment.
j.Property is a residential dwelling in a residential zone; as such, the Property may be used for residential dwelling purposes only. Renter will not conduct commercial activities or operations on the premises.
11.ADDITIONAL TERMS OF USE -- Renter agrees to the following additional terms of use of the Property:
a.Renter will immediately report to Owners any water leaks, odor of gas, damaged items or malfunctioning equipment.
b.Trash pick-up occurs each Thursday morning (or on Friday morning if a holiday has occurred that week). The trash containers are enclosed along the south wall of the back yard. Renter will deposit his/her trash there on Wednesday night.
c.San Diego recycles plastic and glass bottles and jars, paper, newspaper and metal containers (e.g., soda cans, aluminum pans, trays and wrap). Renter will deposit recyclable items in the blue cans in the back yard enclosures.
d.Renter will REMOVE shoes when entering unit and keep shoes OFF within unit
e.Renter will NEVER set AC(s) below 68 degrees. Renter agrees that AC(s) will NOT be operated when outside temps are below 72 degrees. Renter accepts responsibility for usage and repair charges, if either term is breached.
f.Renter will turn AC(s) OFF whenever Renter leaves the unit. Renter accepts responsibility for damages and repairs to Owners' equipment and Property resulting from AC(s) left running and unattended, such as damages from water leaks, ACs freezing up, fuses blowing, circuits breaking, or other malfunction.
g.Renter will NOT remove keys from the Property at any time. Renter will lock door(s) and store keys in lockbox whenever leaving the unit. Keys not in lockbox for scheduled cleanings or repairs about which Renter has been notified will result in forfeiture of cleaning services and fees or additional charges for contractor or housecleaning time.
h.Parking spaces on the Property are first come, first serve, not assigned. Renter accepts that parking on the Property is not guaranteed to Renter by Owners.
i.Renter will not remove items from the unit or move items from one unit to another, including, but not limited to, furniture, fixtures, equipment, dishware, utensils and supplies, except beach towels (which may be used and returned daily) – Charges will apply for time and materials to sort and/or replace
j.BBQ propane gas tank -- Renter will ensure valve is CLOSED/OFF when finished using
k.BBQ grill and tools - Renter will clean immediately after each use.
l.Renter will turn ALL APPLIANCES OFF whenever Renter leaves the unit.
m.Renter will restrict food and beverages to kitchen and dining areas and will NOT apply suntan lotion, hair products, oils or other stain producers on leather, fabrics, bedding
n.Renter will NEVER apply or use HAIR DYE or dyes of any kind on premises (inside or out)
o.Renter will not move or rearrange furniture (except as required to extend sofa bed, where applicable)
p.Renter will use placemats and coasters on wood furniture. Renter will exercise reasonable care with wood floors and custom wood cabinetry in kitchen and baths (e.g., no gouging, scraping, slamming, forcing, tugging)
q.Renter will hang nothing outside the unit (for example, Renter will not hang clothing or towels on balcony or stair railings)
r.Renter will flush toilet paper only and use waste basket for other items – Repair charges will apply
s.Renter will put only small amounts of table scraps in garbage disposal – Repair charges will apply
t.If laundering, Renter will wash white bath towels and bed linens separately from colored beach towels and personal items. Charges will apply for missing, damaged, stained or discolored items,
u.Renter agrees to hand-wash the steel knives located in the knife block after use, as the knives may rust from dishwasher cleaning. Charges will apply.
v.Renter understands that 'mid-stay' or 'bi-weekly' cleanings (if applicable) will be limited to general dusting, making beds, disposing trash, cleaning of cleared surfaces and wood floors throughout; cleaning bathroom mirror(s), tub/shower, toilet, sink, tile/stone floor; cleaning kitchen counter tops, stove top, microwave interior/exterior. These cleanings will NOT include cleaning oven(s), washing dishes or kitchen items, storing kitchen or bath items, laundering towels or linens, or touching, moving, organizing or storing Renter's personal property or that of other occupants or visitors.
w. Renter agrees not to use the Property address for personal mail.
12.EXIT PROCEDURES – Renter agrees to the following terms for vacating the Property:
a.If stovetop or oven is/are excessively stained/splattered, Renter will clean thoroughly before vacating or accept additional charges for thorough cleaning of this equipment by Owners or their representatives, at Owners' discretion.
b.If using beach towels, Renter will wash/dry, fold and stow them before vacating. (Owners will wash the bed linens and bath towels when Renter vacates.)
c.Before vacating, Renter will ensure dishware, cookware, cups, glasses and utensils have been washed, dried and returned to the cupboards.
d.Before vacating, Renter will close and lock doors and windows, turn OFF all appliances and HVAC(s) and return keys to lockbox – Renter agrees to forfeit security deposit in full for missing keys or Property left unlocked. Renter is responsible for excess usage charges for HVAC(s) left running.
13.LIMITATION OF LIABILITIES -- The Property is privately owned by Owners. Owners are not responsible for any accidents, injuries or illness that occurs while on the Property or using its facilities. Owners are not responsible for the loss or damage of personal belongings or valuables of the Renter or any occupants or visitors. Renter and occupants are advised to purchase Renter's insurance, as they deem appropriate. By accepting this reservation, Renter agrees that all occupants in the reservation are expressly assuming the risk of any harm arising from their use of Owners' Property or others whom they may invite to use the premises. Owner offers no warranties of safety or function of any items, elements or fixtures on the premises.
14.FALSIFIED RESERVATIONS – A reservation obtained under false pretense will be subject to forfeiture of all payments including security deposit, and the party will not be permitted to check in.

15.INTERNET USE – Downloading copyright material using the Property's WIFI services provider is illegal and may result in loss of internet access, fines, and forfeiture of the security deposit.
16.NO REFUNDS, NO CREDIT – Renter understands that in renting Owners' Property, there are many situations that are by nature out of the control of Owners and their representatives and contractors and that credits or discounts may not be offered for such. Examples that are not guaranteed nor warrantied and will not warrant any refund or credit of rental payments include, but are not limited to: failure of appliances or systems, AC/Heat, electrical, electronics, cable TV, WIFI/internet modems, routers and services, mechanicals, plumbing, or sofa beds, construction or repairs taking place on the property or in the area, road work, power outage, storm, insects, allergies or environmental sensitivities, home not decorated to Renter's tastes or preferences, bad weather, landscape condition, neighborhood noise or disturbance. In the rare event of a mechanical or other malfunction or inconvenience, Owners will make reasonable efforts to resolve the issue(s). Repairs, if any, will be accomplished as soon as possible taking into consideration workloads and schedules of contractors and services personnel, availability of parts, and nature of the repair(s). Renter accepts that no refunds or credits are guaranteed for any early departure due to any of the above circumstances or other circumstances beyond Owners' direct control. Renter accepts that expenses for unnecessary service calls (including, but not limited to, operator error) will be Renter's responsibility.
17.MAINTENANCE AND REPAIRS -- Renter shall allow Owners and Owners' representatives and contractors to access the unit when and as needed for the purpose of assessing and making repairs. Renter staying 30 days or more will be given 24 hours' notice and Renter staying less than 30 days will be given at least 30 minutes' notice, except for perceived urgent or emergency repair, at Owner's discretion, e.g., fire, smoke, water leaking, odor of gas, electrical sparks or outage, major appliance or system failure. Renter will be notified via email or phone before Owners or their representatives or contractors access the unit. Renter agrees it is not necessary for Renter to be present when assessments or repairs are conducted.
18.PROPERTY SHOWINGS -- Renter shall allow Owner or Owners' representative to show the unit to prospective tenants or buyers with 24 hours' notice.
19.RENTER IDENTIFICATION -- Renter agrees to provide full name, legal address, email address, phone number and photo of driver's license or passport page (clearly showing photo of Renter, name, address, license number, birth date, expiration date) upon request of Owners or their representative, at any time before or during the rental term or before the security deposit has been refunded, at Owner's discretion. This ID information requirement applies to both the named Renter on the reservation and all planned and actual occupants. Renter accepts and agrees that failure or refusal to provide this info upon Owner's request may result in cancellation of the reservation, refusal of access, or immediate forfeiture of the reservation and surrender of the property, at Owner's discretion, with no payments refunded.
20.TERMINATION BY OWNERS – Owners have right to terminate Renter's tenancy of 30 days or more and less than 1 year with 30 days written notice. Owners have right to terminate Renter's tenancy of less than 30 days with or without notice, for any breach of this agreement.
21.INSPECTION OF PROPERTY AND SECURITY DEPOSIT RETURN -- After Renter's departure, Owners or their representatives will inspect the Property for damages. Renter will be notified of any damages and charges to be deducted from security deposit and/or exceeding security deposit. If there are no missing items or damages to the Property and the Renter has not breached any terms of this agreement, the security deposit will be refunded to the credit card Renter had used to make payment, within fourteen (14) business days of departure.
22.CHARGES FOR NONCOMPLIANCE – Damages to Property or non-compliance with any of the aforementioned terms may result in additional charges and/or application of security deposit to clean, repair or replace items at full replacement value, including tax and expedited shipping, and time and effort of Owners at $100/hour, their representatives at $30/hour and contractors at their prevailing rates, including communications, coordination, driving, purchasing, hauling, delivery. Charges in excess of the security deposit will be covered by Renter's insurance policy or via legal claim by Owners.
23.OWNERS' LEGAL FEES -- If Owners incur attorney fees and expenses in an effort to recover the non-payment of rent, fees or damages, said rent, fees, damages and Owner's legal expenses shall be the Renter's responsibility to pay, in full, immediately upon judgment or settlement.
24.RELEASE OF LIABILITY – HOLD HARMLESS AGREEMENT - Renter shall indemnify and hold harmless Owners, Owners' representatives, employees and contractors, free and harmless from any and all liability, claims, loss, damages, demands or expenses, including counsel fees and costs, arising (a) by reason of the death or injury of any person, including Renter or any person who is an occupant or guest or invitee of Renter, or (b) by reason of damage to or destruction of any property, including property owned by Renter or any person who is an occupant, guest or invitee of Renter, caused or allegedly caused by (1) any cause whatsoever while that person or property is in or about the Property or in any way connected with the Property during Renter's occupancy; or (2) any matter connected with Renter's occupation and use of the Property.
25.ENTIRE AGREEMENT – This agreement constitutes the complete agreement between Owners and Renter and sets forth the obligations of the parties to each other. Any oral agreements or representations respecting the Property not expressly set forth in this instrument are null and void. All prior negotiations between the parties are included in this agreement. This agreement supersedes any rental agreement or terms that may have been previously set forth through the online reservation system. This agreement may not be amended, modified, or changed, except in writing signed by Owners and Renter.
26.VALID TERMS WITHSTANDING -- If any term(s) within this agreement is/are deemed by a legal authority to be invalid, all other valid terms of the agreement will remain in force.
---
Strictes
Si vous annulez jusqu'à 7 jours avant le voyage, vous recevez un remboursement à hauteur de 50 % et les frais de service vous sont remboursés intégralement.
---
Détecteur de monoxyde de carbone
---
Séjour de 3 nuits minimum
---
L'adresse exacte est communiquée uniquement lorsque la réservation est confirmée.
The apartment is efficiently laid out with nice amenities (washer and dryer FTW!) It's in a great location at the southern end of North Park that is both close to shops and restaurants, but also peaceful and quiet for sleep -- the view of palm trees blowing in the breeze outside the bedroom window only added to the sense of peace. Arrival communication was easy-breezy too! Thanks for a lovely stay!
---
The space was very modern and cozy. It was very clean and comfortable the bed and linens especially comfortable. It has a great location walking distance from a coffee and pastry shop and a couple bars. The communication was fantastic and prompt. I would definitely recommend this space and stay here again myself.
---
San Diego, Californie, États-Unis

·

Membre depuis octobre 2013
We love to travel and and enjoy walking all about new places. We love to eat, especially at chef-owned and ethnic restaurants. We love good wine and local brews. We enjoy regular fitness and a very healthy life style. We work more than we play, but we love the work that we do and all the people we meet in the process of managing our properties and hosting guests. We have created cool, comfortable accommodations in the hippest, most walkable urban village in San Diego -- This is where we would want to stay if we were travelers venturing here.
Taux de réponse :
100%
Délai de réponse :
Moins d'une heure