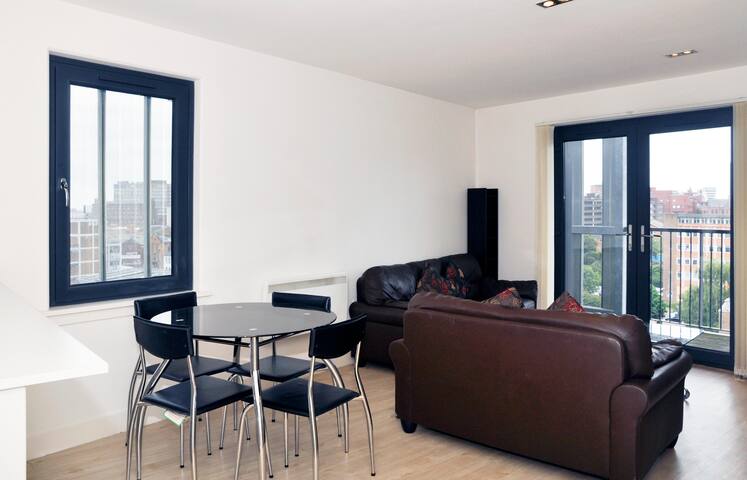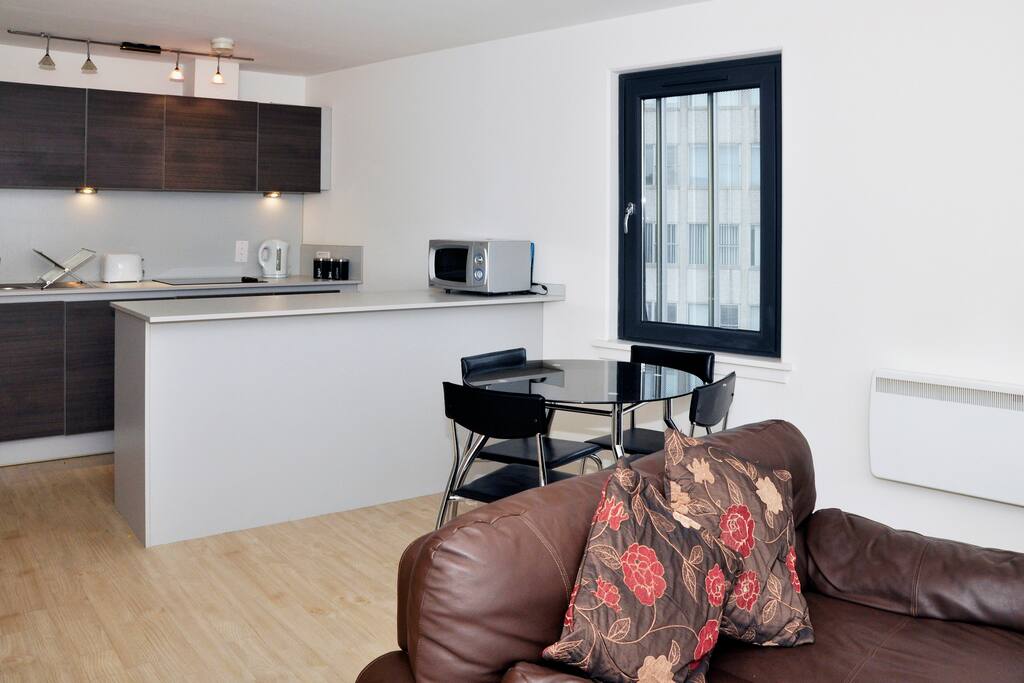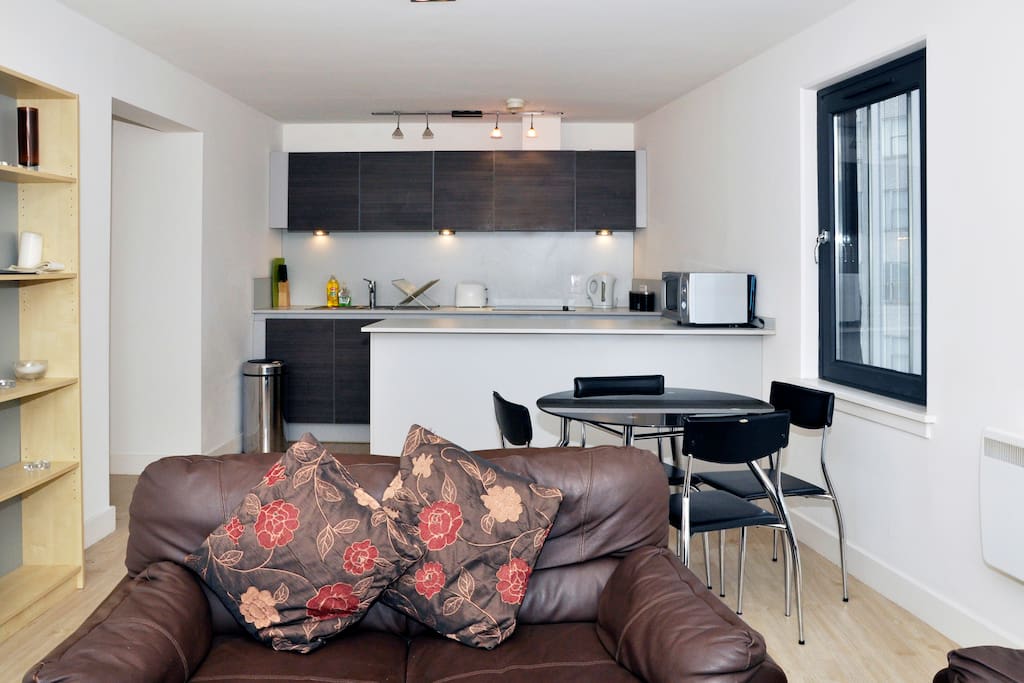 LUXURY 2 DOUBLE BEDROOM APARTMENT IN BIRMINGHAM
Appartement abordable, propre et confortable de 750 pieds carrés.
Affordable, Clean & Comfortable 750 sq ft Apartment.
Le logement
Un appartement abordable, propre, confortable, spacieux et moderne de 850 pieds carrés. ** S'il vous plaît noter que pendant la saison de pointe sur Noël / Nouvel An, la charge par personne sera de £ 20 par nuit après 4 personnes. Caractéristiques de l'appartement: Haut débit sans fil Votre propre cuisine entièrement équipée et moderne Votre propre salle de douche avec douche électrique En costume avec moderne carré b / douche 2 chambres doubles Votre propre salon privé avec TV et balcon pour se promener Parking privé et sécurisé Vue sur un canal Supermarché local à moins de 50 mètres À distance de marche du centre-ville, des stations de bus, de train et de métro. L'appartement peut être entretenu si nécessaire Cinq personnes dort sur le canapé en cuir confortable dans le salon
An Affordable, Clean, Comfortable, Spacious and Modern 850 sq ft Apartment.
**Please note that during Peak season over Xmas / New Year the charge per person will be £20 per night after 4 people.
Apartment Features:
Wireless broadband
Your own fully equipped and modern kitchen
Your own shower room with power shower
En suit with modern square b ath / shower
2 Double bedrooms
Your own private lounge with T.V and Balcony to walk along
Private and secure car parking
Views overlooking a canal
Local supermarket within 50 yards
Walking distance to Town Centre, bus, rail and tube stations.
Apartment can be serviced if required
5th Guest sleeps on the comfy leather sofa in the lounge
Accès des voyageurs
L'appartement entier est disponible pour accéder et n'a pas de limites. Le 5ème invité dormira sur le canapé en cuir confortable dans le salon.
The entire Apartment is available to access and has no off limits.
The 5th guest will sleep on the comfy leather sofa in the lounge.
Échanges avec les voyageurs
Je suis heureux de laisser les invités à leur vie privée, car certains invités veulent cela, et certains invités ont besoin de plus d'attention et donc je suis autour et beaucoup plus pour eux. Tous les invités obtiennent ce qu'ils veulent vivre dans mon appartement.
I am happy to leave the guests to their privacy as some guests want that, and some guests require more attention and so I am around and about a lot more for them.
All guests get what they want to experience in my Apartment.
Autres remarques
** S'il vous plaît noter que pendant la saison de pointe sur Noël / Nouvel An, la charge par personne sera de £ 20 par nuit après 4 personnes.
**Please note that during Peak season over Xmas / New Year the charge per person will be £20 per night after 4 people.
---
Parking gratuit sur place
---
L'entrée dans les lieux se fait à partir de 18:00
TERMS & CONDITIONS FOR ESCALADE PROPERTY'S LTD - TRADING AS (URL HIDDEN)
• The check in is after 3pm and the check out is 10am latest. Check in is 6pm earliest at the Birmingham apartment. For early check in before 3pm there is a charge of £25 for each hour prior to 3pm. There is no earlier check in option at the Birmingham Apartment. If you are late for your Birmingham Apartment arrival you may need to collect the apartment keys from a different location to the apartment itself. This address will be provided to you via text or email should this be necessary. If you wish to check out later than 10am you must obtain prior written consent a minimum 48 hours before your scheduled check out or £50 for each hour after 10am will be deducted from the deposit. A charge of £25 is made for any late check in's from 8pm till midnight. From midnight till 3am the charge is £50 and is to be paid in GBP cash upon check in. We reserve the right to alter the check in time after it has been confirmed in an email and without prior notice due to circumstances beyond our control.
• For credit card and debit card payments, we will direct you to our official website where payment is to made through Pay Pal at (URL HIDDEN) All £250 Damage Deposit payments will be held by us outside the Company's account for legal reasons and held by our Official Charity S.O.U.P where you will be directed via email to make the payment. Pease note that it will be made via the 'Donations' button on the Charity web site to prevent charges. Any credit card or debit card payment will incur a 3% surcharge added to the total payment. In attempting to take an authorised Credit card or Debit card payment, should the card payment be declined, we reserve the right to re-attempt to take the card payment again anytime in the future until the successful transaction has taken place. Once a reservation from (URL HIDDEN) has been received by Escalade Properties Limited trading as Short-Lets-Apartments, there is a legal contract in place between Escalade Properties Limited trading as Short-Lets-Apartments and the guest who has booked through (URL HIDDEN) (URL HIDDEN) are only a mediator and have no legal jurisdiction over Escalade Properties Limited trading as Short-Lets-Apartments. The contract is between the guest and Escalade Properties Limited trading as Short-Lets-Apartments only. Where Bookings are made through (URL HIDDEN) and passed to us and the guest who made the booking fails to pay as legally bound, we Escalade Properties Limited trading as Short-Lets-Apartments reserve the right to pursue due payment via a national or an International debt collection company who will act on our behalf to recover full payment. Additional fees will also be applied to the guest's outstanding debt to cover that equal to any and all of the national or International debt collection company costs involved with the recovery that we choose to act on our behalf. Interest will also be added at the rate of 3% above the Bank of England base rate from the date of cancellation or no show invoice. Esaclade Propertys Limited trading as short-lets-apartments will also add an admin fee of £99 to National debt collection and £199 to International debt collection, in addition to the debt collection fees.
• We will make a small charge for rental of towels and bed linen if required. This linen and towel rental is to be left in the apartment / house upon check out, it is not to be taken away. Full charges for replacment will be taken from your damage deposit if we discover it has been taken away. You may bring your own instead if you prefer. We will supply linen and 4 towels where a booking is made - and the guest has not replied to our attempted communications regarding if linen and towels will be needed. This charge will come off the damage deposit. If the guest does not reply to our emails the guest will understand that in our situation if we supplied nothing and the guest turned up without their own linen and towels that would create larger complications, thus our strategy here serves the guest in their best interest, if they don't communicative with us then we will supply the linen and towels to ensure sleeping arrangements are taken care of for the guest. We will also leave additional linen and towels in the apartment for the next guest, should we find any of this additional linen or towels have been used we reserve the right for health and safety reasons to charge the full amount for the linen and towels that were left, from your damage deposit. Once your short let say is over and you check out you must ensure you have locked the Apartment upon exit for obvious reasons. Should it be discovered that the Apartment was left un locked, we will charge you a £25 fee to be taken from the damage deposit. Our insurance Company carry's out random checks at the Apartment please be aware. Our insurance company require via their T&C a spare set of keys and perform random checks on check out to see.
• We will supply toilet roll, washing up liquid, hand wash and dish washing tablets at the beginning of the stay at the Apartment for you, after that, regardless of duration of stay, it will be your responsibility to supply your own during your stay. Upon check in, should you discover anything not working, such as the fridge or the boiler etc...then the procedure is to inform us first, from there we will investigate the matter accordingly and from there, should we deem it necessary we will arrange for a repair person to come out as soon as possible. Any interference by the guest with switches, sockets, plugs, or any electrics, wiring or plumbing etc...will be deemed as contributing to the problem / repair needed and as such an appropriate deduction will be made from the holding damage deposit to cover costs incurred as a result of the guest's unauthorized interference. It will be accepted by the guest that unforeseen circumstances do arise in the real world and some attention should be given to this.
• We have the right to charge for the full amount for a booking if this is cancelled at any point or not paid for by the guest either in part or in full once the booking (request for a booking by the guest and subsequent invoice confirming the booking being sent to the guest) whether directly though (URL HIDDEN) or through a third party web portal company representing (URL HIDDEN) and providing the said invoice) has been booked by the guest. Booked means the guest has requested the apartment online and confirmation as booked is shown to the guest online as 'confirmation is immediate' before they click the reserve button. If bookings are made directly through us then a £250 securing deposit needs to be made to secure the booking. The balance payment for the Apartment and a £250 damage deposit needs to be paid in full 30 days before the check in date, If this balance and damage payment have not been made within this time frame then the £250 securing deposit payment will be kept and the booking will become cancelled. If booking is made through a third party Company instead, then the T&C of that third party Company work alongside our T&C here in this website but that the T&C of Escalade Properties Limited trading as Short-Lets-Apartments are the primary and enforcing T&C that are applicable and take presidency and to which your contract is bound. If full payment has not been made by a guest for a reservation taking place and the check in is imminent, we reserve the right to charge an additional £25 admin fee for the extra work performed to request the payment or to cover the check in without a payment having been received. In addition, if we have to chase you for payment over and above the initial email communication out requesting the payment - after you have requested the booking - we reserve the right to charge an additional £25 admin fee for the extra work involved.
• We will ask you how many people will be staying at the Apartment in the reservation form, this is for insurance purposes. Should we find there is more people staying at the Apartment then declared, a charge of £20 per person per night over the number of people declared by the guest for the whole duration of the stay will be required in payment from the guest and taken from the damage deposit. Our insurance Company carry's out random checks at the Apartment please be aware and where they find additional guests they fine our Company, so we will pass that to you. If there is an increase in the number of persons staying post check in and we receive email confirmation of this increase during the stay then the option to charge will be at our discretion. An additional charge of £25 will be deducted from the damage deposit to cover the additional administration required as a result of the guest providing the false information, again at our discretion.
• By booking any of our property's the guest will accept that it is the guests responsibility to look after the welfare of their own children during their rental stay. Our Property's are safe, standard build property's but are not adapted for specific child safety, also some of our Apartments have opening French doors that may or may not lead on to a balcony on which you can walk on to, they will also be on varying floor levels. We advise that the children are closely looked after during their stay by the accompanying adults. Should any currency other than GBP be presented to us for any payment, we reserve the right to charge for the man hours needed to convert the currency in to GBP and the conversion rate will be whatever our bank has that day.
• If a current guest wishes to book a late room where a check out has already been confirmed, there is a 10% charge added for the late room to cover cancelled cleaners charge. The email address provided by the guest to our Company is the one we will send all email correspondence back to - any problems with the email not having been received by the guest, is deemed as - having been sent - and it is the responsibility of the guest to check, not our Company. Any breakages or damages within the Apartment by the guest must be reported to us in writing as early as possible during the stay. If there are any breakages or damages discovered in the Apartment after check out the guest will have to assume full responsibility for the repairs as no communication was made during their stay.
• Upon request, the damage deposit will be sent back after 48 hours of your departure time to check for damages etc....should a deduction need to be made. Payment back is made only by online bank transfer for national payments or a cheque is issued for International guests. If International guests request the payment back by bank transfer then they accept the charges made by either bank and payment back is made in GBP. If International guests request the payment back by (SENSITIVE CONTENTS HIDDEN) then they accept the (SENSITIVE CONTENTS HIDDEN) charges and if they request the payment back via Western Union then they accept the charges as well as a £20 admin fee for the extra work required. The name and address written on the cheque and envelope will be exactly as requested by email from us to you. If the cheque needs to be reissued due to incorrect spelling given the guest will then be responsible for our additional bank charges and postal costs. Damage deposits that are not requested back within 28 days of check out are Automatically gifted to a charity of our choice via an Automated transfer payment system. We can not hold on to a deposit for any longer than the 28 days as this payment is not income, it is as described a holding deposit and thus can not be deposited in to our business account since it is not income. It must therefore be requested to be returned or it will be passed to a registered Charity in the UK.
• Once the booking has been paid for in full or only a deposit has been paid, there is no cancellation / refund option if the guest cancels the reservation at any point. The damage deposit will be returned in full if it has been received by us. If a reservation needs to be modified such as a change of dates or any other reason, by the guest after the initial booking and thus deposit or full payment made, there is a 15% surcharge of the whole reservation cost payable and needs to be received by us within 48 hours of the modification request.
• Guests will be asked what time they expect to arrive in the first email sent to the guest after the booking as the check in clerk will be turning up for them to perform the check in. We will likely be performing several check in's each day and as such we need to keep to a schedule. We will instruct the guest to text or call at least 1 hour before arrival so we may mutually update each other accordingly should we need to. Should a guest not text or call and or not turn up on time at the specified time in their email, we reserve the right to charge £50 for each hour past the specified check in time to cover the cost that will be required to then arrange for someone else go to do the next check in elsewhere while the clerk hang around and wait for the guest to turn up. We will give a courtesy 1 hour window at our discretion.
• Before your check out date you will be sent an email asking you to please turn off the water boiler completely from the wall to prevent overheating and breakdown. Turn off all heating, lights and taps. Leave all windows and French doors closed to prevent incoming rain causing damage after you have checked out. Please leave the fridge / freezer ON. Please lock the Apartment door and then place the set of keys and the parking permit if provided in the post box numbered the same as the Apartment downstairs at the (URL HIDDEN) pets allowed in the premises, No walking with shoes on inside the Apartment and no smoking allowed in the premises. Should any evidence of a cigarette or any smoking piece in general be discovered inside the Apartment, we reserve the right to deduct £75 from the damage deposit. Should we find shoe marks on the carpet or other than carpet floor inside the apartment, we reserve the right to deduct a part payment of £100 from the damage deposit towards the full cost of a professional clean.
• For any breach of the T&C that requires an administrative action from us, we will deduct £25 from the damage deposit in addition to any other charges outlined below. Any complaints procedure is as follows: If there is anything that you are not happy with please put it in to an email so it is written down for the record and we will respond accordingly. This does not stop you from being able to phone or text us as well. Please note that we at Short Let Apartments will not tolerate any abusive language or behaviour. The Police will be involved at this point. We reserve the right to ask you to leave the premises immediately and make no return. You will be asked to leave the keys and parking permit, refusal to do so will result in the full cost for the keys and the permit along with the man hours required deducted from your damage deposit immediately. If for any reason you have already left the premises in some dissatisfaction and taken the keys and the permit with you, we will give you 24 hours to return the keys and the permit or we will action a new set of keys, a new lock and a new permit and again deduct this cost as well as the man hours required from your damage deposit. Your full payment will not be paid back in any part. The damage deposit will be returned so long as the Apartment has no damages.
• A parking permit will be provided during your stay. If for any reason you receive a parking ticket fine, it will be your responsibility to pay it. You will be required to leave the Parking Permit provided in the post box of the Apartment at the downstairs entrance upon check out. If you check out and fail to leave the permit, any and all parking fines received by the next guest or anyone representing our company will be deducted from your damage deposit. If a current guest does receive a parking fine because they are parked without a permit ( permit that you left with and did not return / you the outgoing guest ) then once we charge the outgoing guest the fine fee as stipulated, we are under no obligation to provide evidence to the outgoing guest / we have no jurisdiction to enforce a third party / current guest to give us their invoice / payment to pass to the outgoing guest. We also reserve the right to charge an admin fee of £25 to cover the extra work load caused by failure to leave the permit. These fines are currently £80 and are subject to an increase without prior notice as we can not control the parking fine company UKPC covering the premises. If you have not returned the permit within 24 hours of your check out time then in addition to the previous, we will order a new permit and the full cost of this will be deducted from your damage deposit too. We provide you with 1 set of keys for the Apartment during the check in. You will be required to leave the 1 set of keys ( or 2 sets where required ) in the post box of the Apartment at the downstairs entrance upon check out. Should you forget to leave the keys we will allow you a 1 hour window to return and drop of the keys. After the hour we will make a charge of £100 from your damage deposit toward the cost of labour and materials to get a new lock fitted.
• We reserve the right to withdrawal any special offers, discounts, alter our T&C or website at any time without notice. We also reserve the right to enter any of our Apartments during your reservation should we deem it necessary such as in the case of some emergency of some kind. We also reserve the right to record all phone calls made to us on the phone number shown hare anywhere on this website for safety and security measures. Any complaint to us about a property after check in must be supplied in written format, text or email. We do not recognise a phone call as sufficient because written format is easy to record objectively and helpful to you or to us at later date should there be a problem that arises. Equally, if a guest leaves a property after check in of their own accord and has not allowed us to remedy any issue they have raised in writing, then full payment for the stay will be taken / kept. Any issue the guest is unhappy with must be given to us with the logical opportunity to remedy it.
• We provide your details you give to us direct to the Police for their records before you check in to our Apartments. Any damage to the Apartment will be deducted from the security deposit, should the security deposit fail to cover in full the damage, we will pursue the outstanding costs from you directly and the Police will become involved should it be necessary if there is malicious damage done to the Apartment.
• It is your responsibility to have adequate travel insurance cover for your contents to protect your belongings and possessions during your stay at the Apartment. For the International guests, the returned cheque for the damage deposit will be sent back by post but will be out of our control as to the length of time it will take to reach the guest once sent as we do not control the postal system in this or any country. The guest accepts this as part of their booking. Please note that the storage heaters at the Apartments are not to be covered for any reason by anything. They are not designed to be covered and will break down if covered as the heat needs to be able to escape. Any damages caused by covering the heaters will be covered by the holding damage deposit.
• We make a minimal 1 off £15 charge to cover the £60 total cost for the pre and post clean of your stay that we pay. We will require this payment on arrival in GBP cash, if we do not then we will deduct this from the damage deposit upon check out. There may be additional charges implied if we need to action the dedeuction from the damage deposit as this is outside our control, hence the mutual benefit to both parties to take the payment in cash on arrival. There is also an option to have a cleaner service during your stay. This is a surcharge of £20 cash payment on the day of clean for the cleaner service for each clean. The cleaner will service the Apartment once each week on a week day during the day as to avoid causing a disturbance to you. Should you wish to change the day please let us know. The cleaner will have their own key and will take around 2 hours to perform the task.
• We do not allow pets of any kind at any of our property's under normal circumstances. Occasionally we do for various reasons, when we do, a separate pet insurance deposit will be required from the guest in addition to the regular damage deposit paid. The amount will be subject to the individual circumstances in question. We will also require the credit card details of the guest if not already received, to allow us to take any necessary payment caused by damage by the pet that exceeds the pet damage deposit provided.
---
I am a hard working person who enjoys meeting people. Being a host is a pleasure and my role is to ensure you enjoy your stay at one of my Apartments. I am always on hand to help out with travel arrangements, gathering information for guests etc....and once you are staying in my …
Taux de réponse :
100%
Délai de réponse :
Quelques heures
Découvrez d'autres options à Birmingham et dans ses environs
Plus de logements à Birmingham :