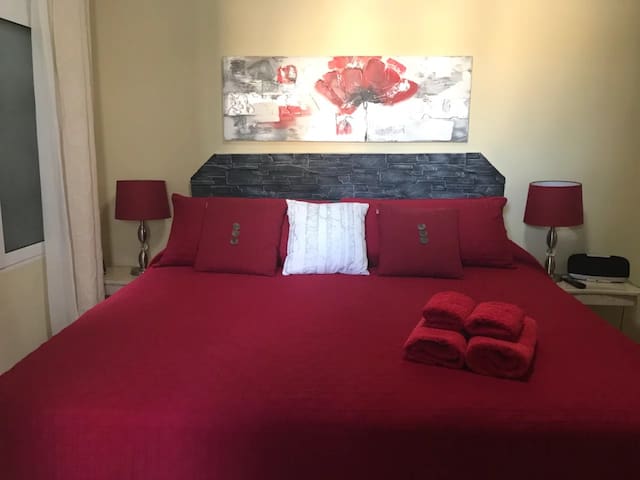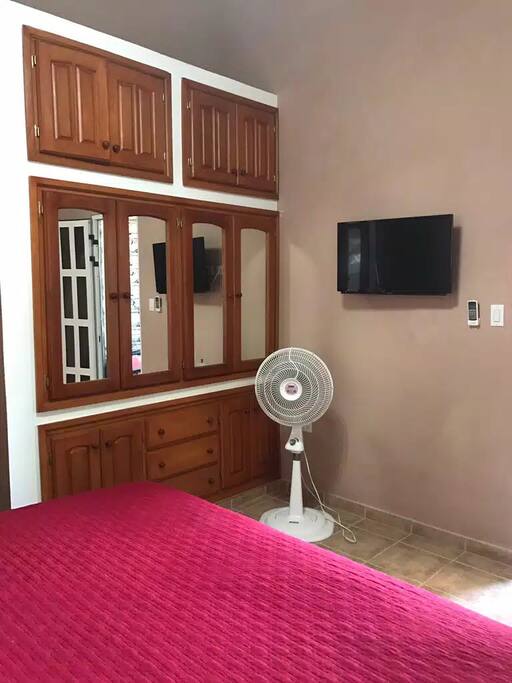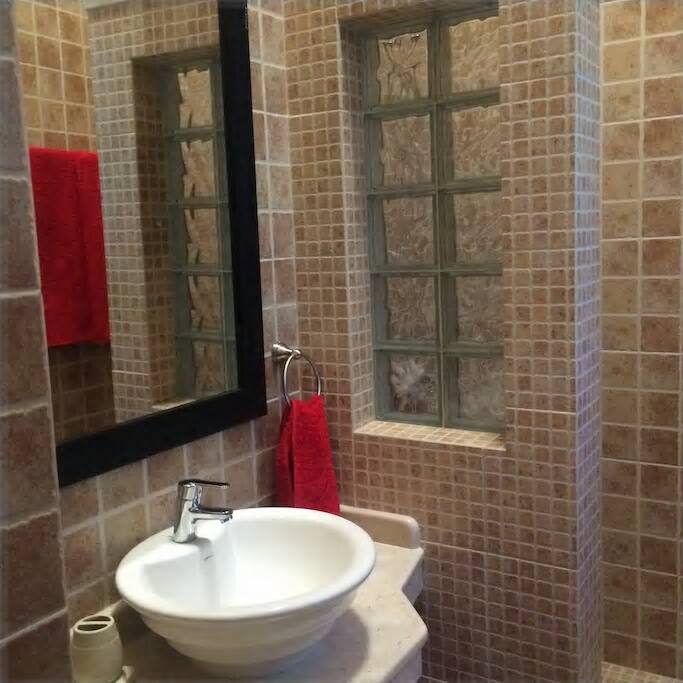 Loft luxueux de 5 étoiles au coeur du Vieux Habana, à proximité des sites les plus populaires. A distance de marche, vous pouvez voir les bateaux de croisière, le front de mer sur le Malecon. 3 minutes, vous pouvez vous rendre à la Plaza Vieja avec tous ses restaurants, Bars, Cafés et Cathédrale De La Habana et le Capitolio. Les épiceries, les marchés alimentaires, les boutiques, les hôtels avec connexion wifi (Hotel Santander) sont accessibles à pied. Découvrez la vie des habitants du confort d'un loft entièrement équipé!
Luxury 5 stars loft in the heart of Old Habana, close to the most popular spots. Within walking distance, you can see the cruise ships, the water front on the Malecon. 3 minutes away, you can get to The Plaza Vieja with all it's restaurants, Bars, Cafes and Cathedral De La Habana and the Capitolio. Grocery stores, food markets, boutiques, hotels with wifi connection (Hotel Santander), are all within walking distance. Experience the life of the locals from the comfort of a fully equipped loft!
Le logement
Notre appartement est très privé et calme, il est entièrement rénové et équipé de tous les produits que vous attendez d'une station de luxe: dans le salon, vous trouverez une belle salle de séjour, une télévision à écran plat avec un câble installé sur un mur de pierre. .. La cuisine est équipée de tout ce dont vous avez besoin ... La salle de bain a un comptoir en marbre et est très moderne ... Et dans la grande chambre, un lit king size, un grand placard et l'unité de conditionnement d'air, une sécurité Boîte et une autre télé à plat avec câble. Les stands de nuit sont également en marbre ... Tous les meubles, matelas, équipements et décorations ont été importés du Canada et sont de très haute qualité.
Our apartment is very private and quiet, it is fully renovated and equipped with all the commodities that you expect from a luxury resort: In the living room you will find a nice living room set, a flat tv with cable installed on a stone wall... The kitchen is all equipped with everything you need... The bathroom has a marble counter and is very modern... And in the huge bedroom, is a king size bed, a big closet and the air condition unit, a safety box and another flat tv with cable. The night stands are also made of marble... All the furniture, mattress, equipment and decorations were imported from Canada and are of very high quality.
Accès des voyageurs
Les invités ont accès à l'ensemble de l'appartement ... et à la terrasse au troisième étage avec une vue imprenable sur La Habana Vieja ... Cette terrasse est parfaite pour prendre un café le matin, bronzage ou pour se détendre et profiter d'un calme Et prendre un verre après une longue journée à explorer la belle ville de La Havane !!!
Guests have access to the whole apartement... and to the terrace on the third floor with an amazing view on Havana Vieja... This terrace is perfect for having a coffee in the morning, sun tanning, or to relax and enjoy some quiet time and have a drink after a long day exploring the beautiful city of Havana!!!
Échanges avec les voyageurs
Albita (le cousin de Mayuli) est toujours disponible quand les clients s'enregistrent ou sortent ... Et à tout autre moment, elle est à un coup de téléphone ... Elle peut vous aider avec tout ce dont vous avez besoin, des directions aux transports et des conseils sur la ville ... Le nettoyage de l'appartement est fait quotidiennement et est inclus. Nous fournissons également des serviettes propres et nous changeons les draps au besoin.
Albita (Mayuli's cousin) is always available when guests are checking in or out... And at any other time, she is only a phone call away... She can help with anything needed from directions to transportation arrangements and tips about the city...
Cleaning of the apartment is done daily and is included. We also provide clean towels and we change the sheets as needed.
Autres remarques
Attractions touristiques à centro habana et la vieille Havane. Les principales "attractions touristiques" pour guider nos clients dans leur visite à la capitale cubaine. Ceux-ci sont: Central Havana City: • Capitole National: Lieu: Paseo Del Prado entre San José et les dragons. Bâtiment construit en 1929, destiné à accueillir le siège du Congrès à l'époque. Inspiré par le panthéon de Paris, Saint Pierre de Rome et le Capitole des États-Unis à Washington. SES DÔMES MARQUENT KILOMÈTRE 0 du réseau routier national. • Paseo Del Prado: c'est une avenue à La Havane du Capitole National, parsemée d'arbres, de planchers et de bancs en marbre, avec huit statues de bronze représentant des lions qui semblent être des gardes. Il se caractérise par la permanence des expositions, la vente d'œuvres d'art et autres. • Teatro Martí: construit en 1884 dans les dragons et zulueta. L'un des plus beaux théâtres de Cuba, avec ses stands, balcons et balcons. Des pièces de théâtre et des concerts musicaux sont proposés dans quel théâtre. • Théâtre Alicia Alonso: situé sur le côté nord du Capitole National. C'est le théâtre le plus ancien d'Amérique latine, inauguré en 1838, siège de l'un des plus importants représentants de l'architecture cubaine. Il a été le théâtre de compagnies et de personnages remarquables tels que fanny elssier, Ana Palova, Enrico Caruzzo, ballet de leningrad, ballet de Maurice Béjart et autres. • Musée de la révolution: situé dans des abris rue entre zulueta et monserrate dans l'ancien palais présidentiel construit entre 1909 et 1920. En 1974 est devenu un musée de la révolution et en 2010 a été déclaré par UNESCO MONUMENT National. Il rassemble du matériel et des collections concernant la révolution cubaine, ce qui en fait le musée le plus important du pays. • Palais des Beaux-Arts: Musée d'Art Cubain et Art Universel. Il abrite 45000 pièces, des collections et des peintures d'artistes éminents tels que amelia peláez, Wilfredo Lam, René Portocarrero. Il a été ouvert en 1913 et classé comme tripadvisor comme le 9ème. Des 257 attractions de La Havane. Adresse: Trocadero entre Monserrate et Zulueta. • Malecon: il comprend une grande avenue à six voies et un long mur de huit milles à l'extrémité nord de la ville. Sa construction remonte à 1901 avec d'importants monuments et bâtiments représentatifs sur son parcours. Sa fonction, en plus de retenir l'eau de mer, est une attention touristique où des centaines de cubains passent la nuit en profitant de la brise et de la chute du soleil. • Parking Antique: situé sur le côté du cinéma, en face du Capitole National. Lieu où les vieilles voitures sont situées pour faire un voyage dans le temps, où vous pouvez louer l'un d'eux pour faire un voyage dans la capitale. • Chinatown: situé à quelques pas du National Capitol. C'est l'un des plus anciens et des plus grands quartiers chinois d'Amérique et le deuxième plus grand quartier asiatique du monde. Il est remarquable pour peu de chinois, coloré et quantité et variété de restaurants. • Restaurants: Lotus Flower sur la santé de la rue entre Gervasio et Escobar. Excellent site pour manger ou manger, cuisine créole, fruits de mer et poissons, d'excellents prix et nourriture abondante. Le devant le Capitole National. Vieux canton de La Havane: • Bishop's Boulevard: un site incontournable à visiter en ville, passage piéton. Tour à tour l'une des rues les plus célèbres et les plus anciennes (1519) de la capitale, avec ses boutiques, ses boutiques, ses librairies, son optique, ses vieilles pharmacies. Toute la belle architecture s'étend de l'avenue du port à la rue. • Centre-ville historique: situé à la fin de la rue Bishop. La plus ancienne zone de la ville, d'une nature cosmopolite, reflétant un mélange de témoignages architecturaux de différentes époques: Couronne espagnole, britannique, française et état. En 1982, un site du patrimoine mondial de l'UNESCO, avec différents sites tels que des restaurants, des églises, des forteresses, des bibliothèques, des musées, des foires artisanales, etc. • Le musée de la voiture: situé au cœur de La Havane, dans la rue. 12 entre pia et allée, avec des collections de plus de 45 voitures anciennes entre 1905 et 1989 où 1918 Ford T-1918, rouler roice fantôme, 1926, Cadillac v-6 qui appartenait au commandant Ernesto Che Guevara. • Musée du rhum: situé sur l'avenida de port no. 262 coin soleil, devant les coutumes générales de la République. Il offre au visiteur une vision de l'histoire et du statut du rhum cubain, une dégustation spéciale du rhum club de La Havane et la combinaison de l'alcool avec du tabac et du café cubain. • Plaza De Armas: c'est un point de la ville (1519). Son itinéraire évoque les places fortifiées de l'Europe médiévale. On y apprécie la folie, où la première messe catholique a été célébrée à La Havane. • 9 Cannon: dans la forteresse de San Pedro de la cabane, qui n'appartient pas au traité de la municipalité, mais par son importance et la proximité de la municipalité de habana vieja mérite d'être visité, offre un défilé militaire avec les attributs et la technique de la colonie étape . C'était, à l'époque, le manière d'alerter les gens et les visiteurs de La Havane qui resteraient alors derrière les murs entourant le village et protégeraient les attaques de pirates. • Morro-Cabin: complexe militaire situé à l'entrée de la baie de La Havane, créé pour la défense de la ville de toute attaque de l'ennemi pirate. • Christ de la baie: Sculpture colossale qui représente le cœur sacré de Jésus, l'œuvre du sculpteur cubain jilma bois, en marbre de Carrare, situé dans le village de la maison blanche, près de la vieille Havane, qui offre une belle vue panoramique sur Ville. • Salon de l'artisanat: situé sur l'Avenida Del Puerto et la rue Cuba, dans les anciens magasins de San José. Centre culturel important et marché artisanal où vous pouvez trouver n'importe quel type de souvenir tel que guayaberas, sculptures en bois, accessoires en cuir, peintures de bijoux, etc. • Place Saint François d'Assise: à côté du couvent du même nom sur Avenida Del Puerto et st. Montrer que cela ne doit pas être perdu. Dans les environs, vous trouverez des cafés, des boutiques, des e-mails, un terminal de croisière et un hall à San Francisco De Assisi, • Gare de La Havane: c'est le centre du système ferroviaire du pays, situé sur la rue de l'arsenal et l'égide. Monument national pour ses grandes valeurs architecturales architecturales et historiques. • Old Havana Square: située au confluent des rues murales, du Lieutenant King et des commerçants. Lieu de bonne ambiance, avec beaucoup d'endroits pour manger, prendre un bon café ou une bière, avec de l'artisanat. • Cathédrale de La Havane: Temple catholique, style baroque, situé dans l'ancien quartier de la ville (centre historique), déclaré par l'UNESCO en 1982 comme un patrimoine national, où des messes, des concerts d'orchestres symphoniques prestigieux sur son extérieur. • Château de la force royale: Forteresse militaire, situé dans la baie de La Havane, créé pour la ville des attaques de pirates et les ennemis de la Couronne espagnole. Aussi héritage de l'humanité • Le bar Sloppy Joe's: le bar habituel d'Ernest Hemingway et l'abri des célèbres stars du cinéma comme Frank Sinatra, John Wayne, etc. Situé dans le coin calle animas à zulueta. Si vous êtes un amoureux du glamour des années 30 et que vous voulez profiter d'une atmosphère de bon bar, ne manquez pas de visiter cet endroit. Emplacement, emplacement, emplacement ... Très centré, très proche de tout ce que vous voulez voir à La Havane!
Tourist attractions in centro habana and old Havana.
The main "tourist attractions" to guide our guests in their visit to the cuban capital. These are:
Central Havana City:
• National Capitol: Location: Paseo Del Prado between San José and dragons. Building built in 1929, intended to host the seat of Congress at the time. Inspired by the pantheon of Paris, Saint Peter of Rome and the United States Capitol in Washington. ITS DOME MARKS KILOMETER 0 of the nation's road network.
• Paseo Del Prado: it is an avenue in Havana from the National Capitol, strewn with trees, floors and Marble Benches, with eight Bronze Statues of lions figures that appear to be guard. It is characterized by the permanence of exhibitions, sale of works of art and others.
• Teatro Martí: built in 1884 in dragons and zulueta. One of the most beautiful theaters in Cuba, with its stalls, balconies and balconies. Theatre plays and musical concerts are offered in which theatre.
• Gran Teatro De La Habana Alicia Alonso: located on the north side of the National Capitol. It is the oldest theatre in Latin America, inaugurated in 1838, the headquarters of one of the most significant exponents of Cuban architecture. It has been the scene of notable companies and figures such as fanny elssier, Ana Palova, Enrico Caruzzo, ballet of leningrad, ballet of Maurice Béjart and others.
• Museum of the revolution: located in street shelters between zulueta and monserrate in the former presidential palace built between 1909 and 1920. In 1974 became a museum of the revolution and in 2010 was declared by UNESCO MONUMENT National. It collects material and collections concerning the Cuban revolution making it the most important museum in the country.
• Palace of fine arts: Museum for Cuban art and Universal Art. It Houses 45000 Pieces, collections and paintings of prominent artists such as amelia peláez, Wilfredo Lam, René Portocarrero. It was opened in 1913 and ranked as tripadvisor as the 9th. Of the 257 attractions of Havana. Address: Trocadero between monserrate and zulueta.
• Malecon: it comprises a large six-Lane Avenue and a long eight-mile wall at the northern end of the city. Its construction dates back to 1901 with important monuments and representative buildings on its route. Its function, in addition to retaining sea water, is a tourist attention where hundreds of cubans spend the evening night enjoying the breeze and the fall of the sun.
• Antique Car Parking: situated on the side of the cinema, in front of the National Capitol. Place where old cars are located to make a time trip, where you can rent one of them to take a trip to the capital.
• Chinatown: located just a few steps from the National Capitol. It is one of the oldest and largest Chinese neighborhoods in America and the world's second largest Asian quarter. It is notable for few Chinese, colorful and quantity and variety of restaurants.
• Restaurants: Lotus Flower on street health between gervasio and Escobar. Excellent site for eating or dining, Creole food, seafood and fish, of excellent prices and abundant food. The in front of the National Capitol.
Old Havana Township:
• Bishop's Boulevard: an essential site to be visited in the city, pedestrian transit. In turn one of the most famous and ancient street (1519) of the capital, with shops, boutiques, bookstores, optics, old pharmacies. All of beautiful architecture extending from the port avenue to street.
• Historic City Centre: located at the end of Bishop Street. The oldest area of the city, of a cosmopolitan nature, reflecting a mixture of architectural testimony from different times: Spanish Crown, British, French and state state. In 1982, a UNESCO World Heritage Site, with different sites such as restaurants, churches, fortresses, libraries, museums, crafts fairs, etc.
• The Car Museum: located in the heart of Havana, on the street. 12 between pia and alley's alley, with collections of more than 45 old cars between 1905 and 1989 where 1918 Ford T-1918, roll roice phantom, 1926, Cadillac v - 6 that belonged to Commander Ernesto Che Guevara.
• Rum Museum: located on the avenida de port no. 262 corner sun, in front of the general customs of the Republic. It offers the visitor a vision of the history and status of Cuban rum, a special tasting of Havana club rum and the combination of liquor with tobacco and Cuban coffee.
• Plaza De Armas: it is a point of the city (1519). Its route evokes the fortified squares of medieval Europe. In it the folly is appreciated, where the first catholic mass was celebrated in Havana.
• 9 Cannon: in the fortress of San Pedro de la cabin, which does not belong to the municipality treaty but by its importance and closeness to the municipality of habana vieja deserves to be visited, offers a military parade with attributes and technique of the colonial stage . It was, at the time, the way to alert the people and visitors of Havana who would then remain behind the walls surrounding the village and protect the pirate attacks.
• Morro-Cabin: military complex located at the entrance to Havana Bay, created for the defense of the city of any pirate enemy attack.
• Christ of the bay: Colossal Sculpture that represents the sacred heart of Jesus, the work of the Cuban sculptor jilma wood, made of Carrara Marble, located in the white house village, close to old Havana, which offers a beautiful panoramic view of The City.
• Crafts Fair: located on Avenida Del Puerto and calle Cuba, in the former San José stores. Important Cultural Centre and craft market where you can find any type of souvenir such as guayaberas, wooden sculptures, leather accessories, jewelry paintings, etc.
• St. Francis of Assisi Square: next to the convent of the same name on Avenida Del Puerto and st. Show that must not be lost. In the surrounding area you will find cafés, boutiques, e-mails, cruise terminal and hall in San Francisco De Assisi,
• Havana Railway Station: it is the centre of the country's railway system, located on arsenal street and egido. National Monument for its great architectural and historical architectural values.
• Old Havana Square: located at the confluence of the wall streets, Lieutenant King and merchants. Place of great atmosphere, with lots of places to eat, have a good coffee or beer, with crafts.
• Havana Cathedral: Catholic Temple, Baroque Style, located in the ancient area of the city (Historic Centre), declared by UNESCO IN 1982 as a National Heritage, where masses, concerts of prestigious symphonic orchestras on its exterior .
• Castle of Royal Strength: Military Fortress, located in Havana Bay, created for the city of pirate attacks and and enemies of the Spanish Crown. Also heritage of humanity
• Sloppy Joe's bar: Ernest Hemingway's regular bar and shelter from famous movie stars like Frank Sinatra, John Wayne, etc. Located in calle animas corner to zulueta. If you are a lover of the glamour of the 30 s and you want to enjoy an atmosphere of a good bar, do not miss visiting this place.
Location, location, location... Very centric, very close to everything that you want to see in Havana!
Ne convient pas aux animaux
L'entrée dans les lieux se fait à partir de 14:00
Don't let anybody that is not part of the reservation in the house.
When you are not in the apartment, make sure you lock all windows and doors and turn off all electric equipment.
We are a couple that share our time in between Cuba and Canada. Tony is Canadian and Mayuli is Cuban Canadian. We met 12 years ago in Montreal.
Langues :
English, Español, Français
Taux de réponse :
100%
Délai de réponse :
Moins d'une heure
Découvrez d'autres options à La Havane et dans ses environs
Plus de logements à La Havane :