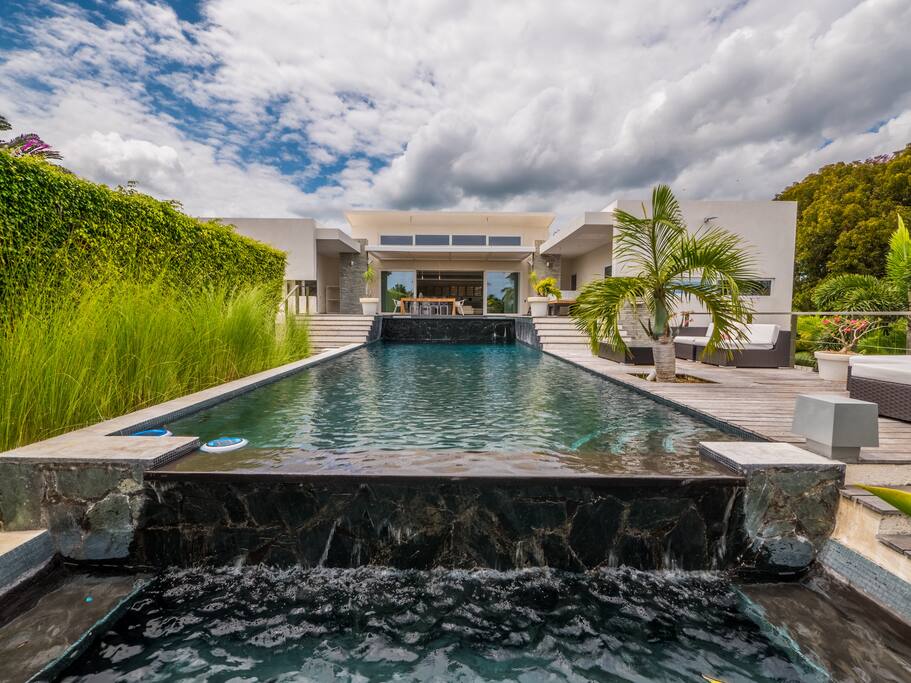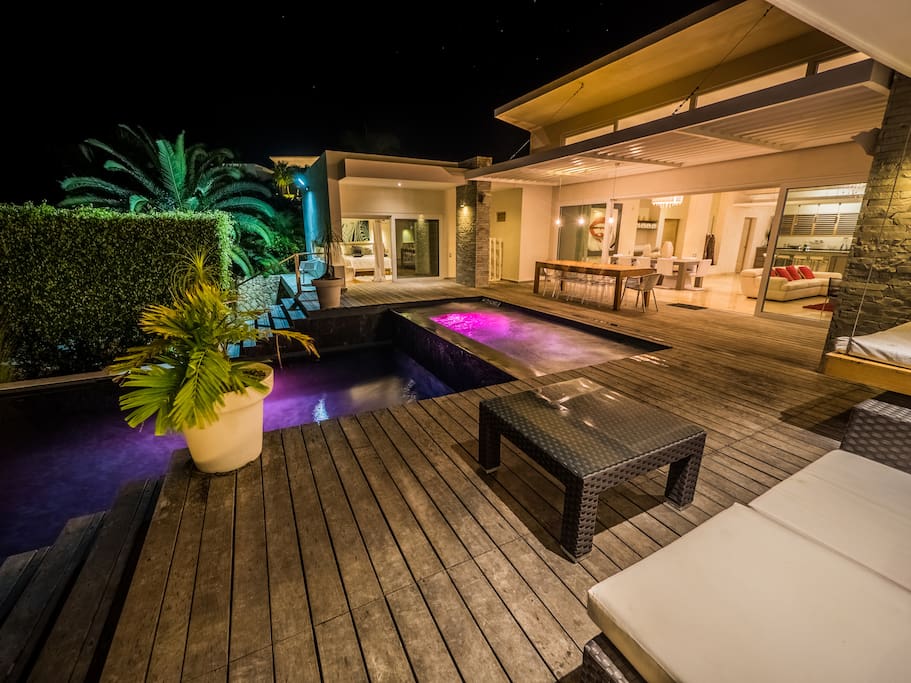 Casa Corazon
Our four-bedroom Villa Corazon is the perfect example of a place to call home. Furnished with timeless classic touches, such as Bertoia and Panton designer chairs, it perfectly combines simplicity and elegance. Our open floor plan evokes an instant feeling of freedom and endless possibilities.
Le logement
Casa Corazon, built on a 13,000 sq. st. lot , encompasses a living space of 4,500 sq. st. and can sleep up to 10 people.
Our main level (4BR/4 baths) offers a King Size bed and private bathroom in our Master Suite that has direct access to the central deck and swimming pool. Our three other bedrooms (one with a Queen size bed, two with king size beds) are all also fully equipped with their private bathroom.
As much as we are fond of the interior design that defines Villa Corazon, we can't deny you the inviting views that await you every day: two large decks made of exotic wood and a third terrace on the lower level look out over the astonishing tropical gardens that complete the villa's luxurious interior. On top of that, the three level infinity pool and the upper level jetted pool with its soothing effect will provide an excellent opportunity for some extra relaxation.
Additionally, there are a few other key elements that will guarantee your comfort: the large screen 50" LED television with satellite for maximum channel selection, an iPod docking station, DVD player and music system, air card internet access, American-style refrigerator, top of the line dinnerware & crystal glassware, and grill & housekeeping services offered 7 days a week will certainly contribute to a splendid vacation.
A stay in Villa Corazon will offer the utmost comfort and a perfect mix of relaxing and entertainment. Located in a very private gated community, offering the most inviting ocean views from the main living space (1,000 sq. ft), the two Master Suites and the rooftop terrace (645 sq. ft), it is the perfect getaway for everyone who values quality time and amusement in a timeless, yet trendy atmosphere.
Accès des voyageurs
Court de tennis et panier
Échanges avec les voyageurs
Nous sommes là pour vous aider quand vous le souhaitez, et expliquez toutes les excursions et différents endroits si belle dans notre pays.
we are here for help you when you want, and explain all the excursions and differents places sooo beautiful in our country.
---
---
Chambre 4
1 lit queen size
---
Ne convient pas aux animaux
L'entrée dans les lieux se fait entre 14:00 et 00:00
the guest need have an Id or passport for the gate.
---
My Stay at villa Corazon was beyond amazing. Prior to my arrival the owner; Sandrine, was very pleasant, hospitable, and helpful by giving me additional information for excursions and travel arrangements. She also had the Manager; Jovanny, contact me right away after my initial booking with documents of all amenities and activities that were available. I was having a surprise birthday party for my fiancé and they decorated and had the chefs cook while we were away on a boat ride, and the decorations and food were emaculate and so detailed; down to the balloons with my Fiancés name, carved fruits, palm leaves, as well as dining mats with his name, I could go on forever, it was amazing. The place is so beautiful from the breathtaking landscaping to the modern design of each villa. We had an array of food on the day of our arrival to the villa waiting for us, and each morning we had the most amazing breakfast from Chef Daniel and everyday was something different along with what we asked for. I was worried after reading the reviews but I found no issues while I was there, they were very attentive to all our needs and would text us each morning as well as come visit us to see if we needed anything. I must say as someone who travels pretty often it was one of the most beautiful and memorable experiences that I as well as my guests have ever had. All the villas are beautiful for my friend stayed around the corner from us and we were shown the other villas by our neighbors as well. The place is well secured and all the staff are pleasant and helpful. This is definitely a 5 star establishment. Thank you very much Sandrine, Jovanny, and Mary! I will return soon.
---
The home is a beautiful home, perfect for big families. But we did have a few issues, from day one of your trip the fridge was not working. We noticed an awful smell coming from the fridge so we told Jovany he said they would fix it. We heard the same story everyday, someone would come and check the fridge but nothing was done. Another issue we had was that the a/c in one of the bedrooms was not working at all, so we told one of the workers there, he came checked out the a/c and said he would be back in a few minutes but he never returned. The bathroom downstairs had an awful smell, I told them and the guy he came to check said "wow" he couldn't believe the smell. Nothing was done about that. When checking out I told Sandrine about these issues, and she told me that the fridge was fixed and that we were just leaving the door open, which was not true. Then told me I should of called, when I already had told all the employees there. That was really annoying but all in all its a beautiful home. They just need to work on the cleanliness and maintenance of the home. Something to keep in mind is that only the bedrooms have a/c. If you take rent this home ask for Chef Daniel, he's a great cook, he cooked every meal for us and it was delicious.
---
The villa is beautiful, breathtaking but we had a couple inconveniences during our stay. The rooms had a lot of dust, if you moved anything you find wrappers of condoms, dirt, dust, and the sheets one of the rooms had to be changed, another bedroom has ants that bit my niece while was sleeping. The kitchen was a little clean and the refrigerator smelled horrendous like something died in it, we couldn't use it. Down stairs the Ac wasn't working. One of the bathroom as well had a strange odor. We explained and gave all our complains to the staff and showed them proof of everything. They didn't say much and they knew that refrigerator had that odor and the AC didn't work. Showed them all the areas that were dirty but they didn't say much, my question why rent a villa that wasn't in conditions to receive guest.
thanks for your review. I'm apologize that your stay for one night in my residence wasn't perfect. we make the cleaning everyday completly in the house. I check by myself all the villas before the entrance of my clients. you was a big group of 12 pers in this house, now for make a better check in, we do that only with one person to verify everything.
---
When we arrived at Casa Corazon it was around 6pm and we were scheduled to arrive at 2pm yet the villa was just being cleaned and was filthy with the smell of hookah, dust, and there were many cockroaches. The Good? The place is very modern looking with colorful lights that illuminate the pool. Although there is no AC i.n the main living area, each room has its own unit and they worked well for our stay. The bad- The Villa is poorly maintained and the kitchen is not what it seems to be in the pictures. The stove has to be mannually lit and their was no gas when we arrived. It took 3 days to fix that. The wifi is really poor so expect to have bad communication throughout your stay. The hot tub didnt work for several days and the refridgerator stopped working coincidentally right after we filled it with food. Although the host apologized for all the problems of the villa, we received no compensation. In fact they attempted to hold my passport ransom for 70 dollars worth of incidentals that were eaten after our food was spoiled from the fridge being broken. If you are planning on staying in Sosua then do NOT stay in villa agua dulce and especially not villa #6 (Casa Corazon). This villa was poorly equipped and maintained. I cant speak for the other villas, but in general, these villas are too far from the action and you end up wasting a lot of time traveling back and forth to town.
first thanks for your comment, like you let me a message before leave the house: If we do not agree, then I will write a review on airbnb and also instruct my bank not to pay any charges! i keep the paper with your firm isola adetunji (not he name paul shafer who maked the reservation) Never I receive message for you that you have a problem, only one problem with the stove, when we was there at 8 pm for verify we see that alls button are broke, after ask to the cleaning lady, she told me that you used service with a chef from outside and He didn't know how use the button, and we need change now all this button broked. after we see you only one times and you tell me that everything was ok, i didn't think receive no complain from airbnb from your part and never on my message and nothing also to the office. the problem was the last day when we do the check out and surprise when we see the masterbedroom with everything burned, curtain, bedlines, carpets, all the wall,.. you tell me it was with the teelight?? they are there 6 years ago, the clients use that and never that's never happened. mery and christophe my partners explained that we will try cleaned everything and see if we can recupair all these but you told me if I need pay i will put a bad review. then you ask you to pay the bill for the minibar 70 us$ and you didn't want pay for that also. ok Your wrote your review, thanks but that change nothing you need pay for all damage in this house. I didn't want talk over everything by this way, I sended all pictures and informations to airbnb. I didn't want say thanks for your stay here because now we need close 1 weeks the villa for make all reparations.
---
Absolutely stunning home with amazing views. The home is situated at the top of a hill in a very quiet residential area. That is far away from the beach, and nightlife for those who are looking to venture out. The security on the premises is absolutely exceptional. The only thing that I can advise you on is the details for the chef and his cost. Chef is $50 per service including a $58 booking fee associated each time. Also, be mindful of the items in the home. As well as the provided beverages. Items such as towels, dishes, and glassware are fragile and if broken you will be charged accordingly. Please make sure that the towels are all accounted for each day. Aside from that the stay here was amazing and I will definitely do it again in the near future.
---
Check with host for basics & ask for what you need upfront. Do not assume anything. 1) Ac wasn't working in a bedroom 2) cleaning was sub optimal - barely cleaned - towels smelled horrible & had cig burn marks in them. 3) bathrooms - only 2 in a house with 4 bedrooms- no toilets in bedrooms- set up as community- but advertised as bathroom in each room - 4) lack of general amenities - extra toilet papers , paper towels and napkins , hand soaps , body soaps were all missing. The place is awesome but the service was sub par. Sandrine never reached out to check up on us or engage when asked for assistance. She pushed everything to her assistance who was ok but language barrier was annoying.
I am very surprised by your comment. I made you check out and you told me that everything was fine and that you will return ?? I had a meeting with the staff this morning because we are working together to see where was the problem and everyone is astonished. Your housekeeper, who came every day confirmed me having received a tip because you were satisfied with his service. Luis who is in charge is spending every day seeing you and everything was fine, mery who works on the WE because it's true actually on Saturday and Sunday I am not present, explained to me that you had same request for information when buying a Villa. I have myself verified our messages exchanged by (SENSITIVE CONTENTS HIDDEN) and nothing indicates this. I apologize but I confess that I do not understand at all. So I would like to point out that you have rented a villa with 5 bedrooms and not 4 as you indicate in your message, 5 bedrooms and 5 bathrooms as well as 4 toilets. the toilets are not in the bathroom but we have separate toilet like Europe. Please again apologize if you have had a bad experience but in this case the next time I advise you to come and see me at the office or contact me, there is a direct line from the villa to my office making the 100, you also had my personal telephone , which is indicated on the information book on the table. I am in my office from Monday to Friday from 8.30 am to 6.30 pm, and mery my assistant is in the office on saturday and sunday and if she can not answer your request in case of problem I am always disponible by telephone to give service for my clients.
---
Hi, you want to enjoy a lovely villa with a beautiful view, spend a family stay and visit our idyllic locations or make a party with friends, ... I'm here to help you. meet people from every corner of the world and for me a real pleasure. I love prepare the villa for my clients…
Langues :
Deutsch, English, Español, Français
Taux de réponse :
100%
Délai de réponse :
Moins d'une heure
Découvrez d'autres options à Cabarete et dans ses environs
Plus de logements à Cabarete :