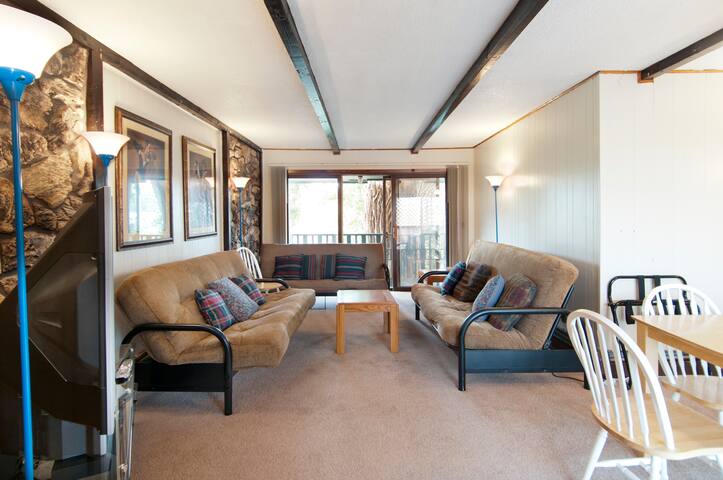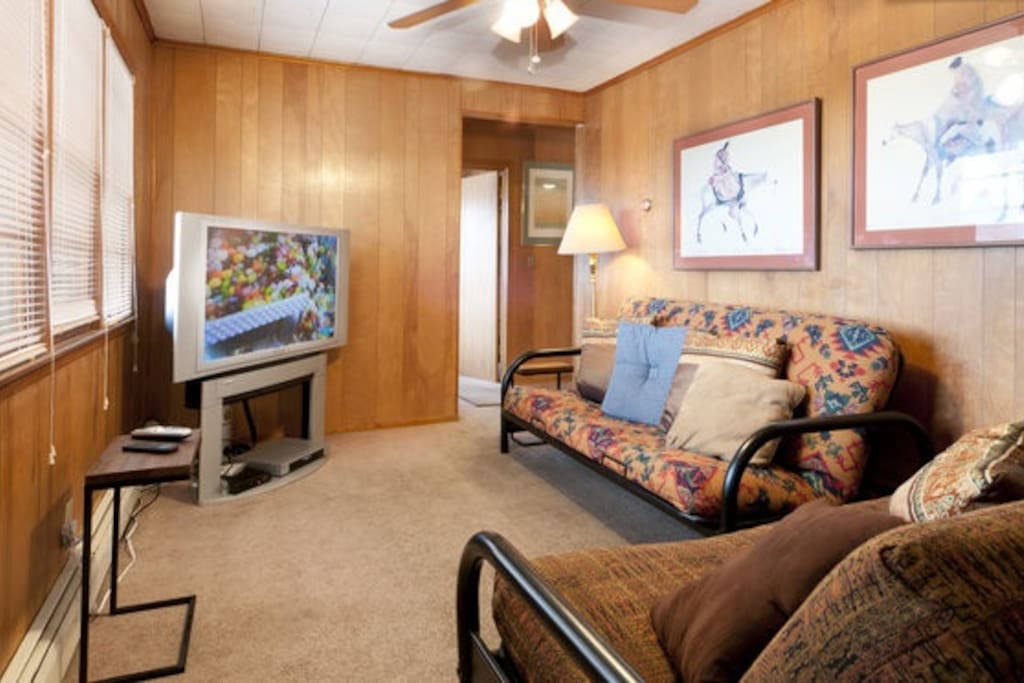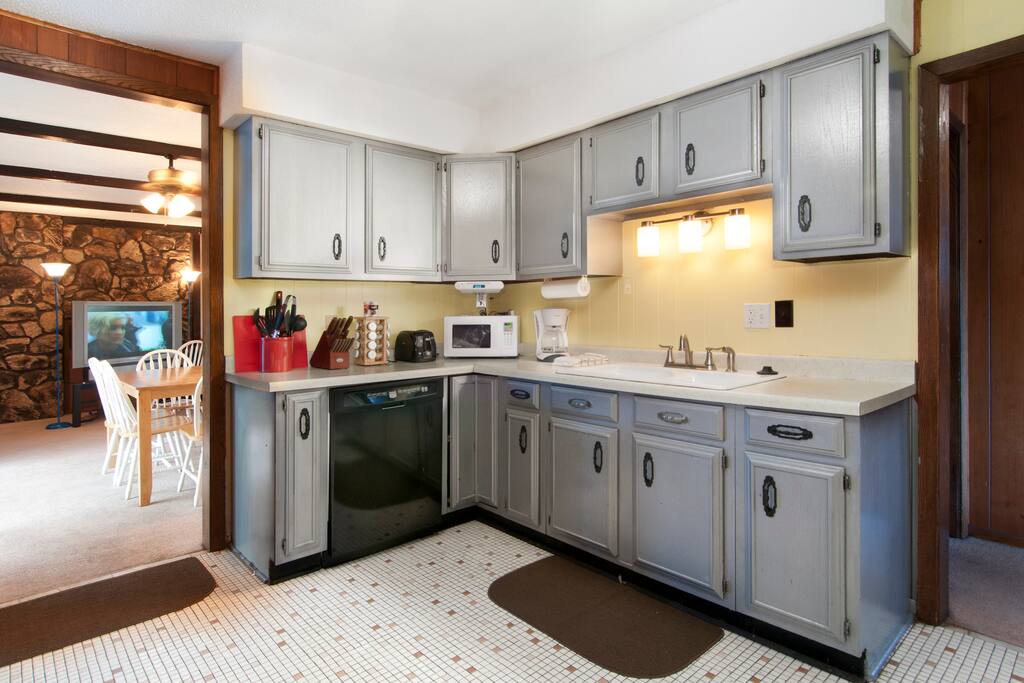 "Scott and Jenna Short Stay" is a family.
We have hosted over 4,000 families & groups (from all websites) in 30+ places!
(Search us or delve into our profile to see them all...)
We greet you in person! (Ask us about special$!)
This is a combination of two of our units in the same building. We own the whole building. It gives you six spacious bedrooms, two kitchens, two baths and two living rooms in connecting units. The neighborhood is very convenient. Many walkable shops, etc. On bus!
Le logement
NOTE we have links to ALL 30+ of our listings on this website at the end of this description! (Airbnb used to provide that, but changed their format...)
THIS IS TWO SIMILAR UNITS IN SAME BUILDING! #17 and #29
Connected by interior hall and stairs.
Each has...
Three Bedrooms
Fully- Equipped Kitchen
Dining Area
Living Room with 50 inch HDTV, DVD player, DVR
Broadband Internet Wifi
Walk to ALL Shops needed... Grocery, Drug, Dollar, etc.
Walk to Restaurants...
Walk to Movie Theater...
Walk to Library with Computer...
Walk to Transit Hub with easy access to Downtown, CONVENTION CENTER, MegaMall, Airport, etc.
Parks and Bike Paths...
Your vacation or business retreat has a direct private access entry, with parking a few feet from your door. This six-unit building is owned by your hosts.
Full Housekeeping three bedroom apartments. Sleeps six on one King and two Queen Size sleep number / Select Comfort beds in each three Bedrooms, Six on Convertible inner-spring full size futon sofas in Living Areas. Inflatable Mattresses available.
Spacious Kitchens with many cupboards.
Dining room with large table and available seating for six+.
Bath with tub/shower.
This is a diverse melting pot neighborhood "small town in the city".
Very convenient location. Exceptional value.
You can walk to everything, this unit is at the downtown of a small town that turned into a suburb, at the north end of the Minneapolis Arts District.
Also an express and regular bus stop transit hub for five bus lines is one half block away! Direct bus service to the Convention Center! (See list of bus routes below.)
Grocery, Drug Store, Dollar Stores, Convenience Stores all are within three blocks.
Movie Theater, Bowling Alley, Pool Hall, Library, Medical Clinic, Parks and Churches all within three blocks.
You are even walking distance to parks, including a golf course!
Near Downtown Minneapolis. Easy North Suburban access.
Just a few miles from University of Minnesota.
Near all the arts and cultural amenities that the Minneapolis area offers.
Just 23 miles from the Airport and Mall of America. Two miles south of the intersection of Interstate 694 and Central Avenue.
Coin Laundry one block away. (Also coin laundry in building.)
We want to emphasize the accommodations are fully appointed.
RESTAURANT NOTE: Many restaurants use an independent DELIVERY service, you have your own room service!
Scott & Jenna do not live in the building, but are always available by cell phone in case of emergency. (We have been property managers for over ten years, and have helped people in just about every situation!) '
Please note we have multiple properties!
If this place doesn't sound perfect, call us area code 612 prefix 701 number 0900 or through the Airbnb system, between 8 AM and 10PM Central) / email to find out if another listing may work. We have smart phones to respond promptly. We regret we can't keep all calendars up to date, due to multiple sites. We are searching for software to help!
Amenities List-
Yes - Need more space? We have other units too, with up to four bedrooms!
Yes - Individually Controlled Air Conditioning, Heating
Yes - Washer access
Yes - Dryer access
Yes - Freshly laundered Linens Provided.
No - Garage, however a parking space is directly in front of entrance door
Yes - Parking for RV or Trailer in the off-street dedicated parking spaces
No - Gas or Wood Fireplace.
No - Elevator. All but two bedrooms of this unit are on main floor, so you have main floor queen size bed available, right next to the bath.
Yes - King Size Bed (1). Dual Chamber Sleep Number/Select Comfort Bed
Yes - Queen Size Bed (2). Dual Chamber Sleep Number/Select Comfort Bed
Yes - Full Size Bed (3). Comfy Inner Spring or Soft Foam Convertible Mattress Sofas (Two in living area, One in lower level queen bedroom.
No - Twin Size Beds (0) (Inflatables available)
No - Crib
Yes - HDTV, 50 inch
Yes - Cable TV
Yes - DVD Player
Yes - DVD Movies (limited selection)
No - Video Games and Console
No - Musical Library (however TV has video music stations)
No - Jetted Tub
Yes - Bathtub + Shower (Bath has shower with dual head / removable head)
Yes - Exhaust fan in bath
Yes - Radio / Stereo
Yes - Full Kitchen
Yes - Cooking Utensils (Full set of pots and pans, knives, spatulas, etc.)
Yes - Eating Utensils (Full set of plates, glasses, cups, silverware, etc.)
Yes - Spices (set of 16 plus your salt and pepper)
Yes - Dishwasher (Portable, hook up to sink faucet)
No - Disposal
Yes - Coffeemaker and Coffee!
Yes - Toaster
Yes - Microwave
No- Quesadilla/Panini Maker
Yes - Gas Stove with oven and four burners
Yes - Exhaust fan at kitchen. Also kitchen window.
Yes - Refrigerator with true freezer compartment and ice cube trays
Yes - Catering through local restaurants, and of course many restaurants deliver
Yes - Barbecue Grill - Multiple. Charcoal. Shared with building!
Yes - Patio.
Yes - Patio Seating
No - Firepit
Yes - Gazebo for protection from Rain.
Yes - Lakes and Rivers. Not at your door, but very close!
Yes - Parks. Two city playground parks two blocks away. Many other parks.
Yes - View. Although the unit does not have an elevated view, it is not "closed in", because it is at the front of the building with South, East, West and North exposures. (Cross Ventilation!)
Yes - Internet. Wifi Broadband.
Yes- Pets allowed. Ask! We also have other spaces where pets are allowed.
Limited - Handicapped or Wheelchair Accessible. We also have other spaces with limited access. We do have another first floor 3BR also in this building, and other partially accessible spaces.
Yes - Kids allowed. Keep in mind this is the city! May not wander building, basement has storage!
Yes - Minimum age limit for renters. In general we do NOT rent to vacationing students or singles under the age of 22 unless accompanied by parent or guardian.
Yes - NON-smoking. Minnesota is the original clean indoor air state. Smoking on the covered entry area, or in gazebo.
Let's play, "If I stay here, how far am I from...?" :-)
Downtown Minneapolis zip code (PHONE NUMBER HIDDEN) mi, 12 mins
Downtown St. Paul zip code (PHONE NUMBER HIDDEN) mi, 24 mins
Como Zoo and Conservatory in St. Paul zip code (PHONE NUMBER HIDDEN) mi, 21 mins
University of Minnesota (Main Campus Mpls.) zip code (PHONE NUMBER HIDDEN) mi, 15 mins
Mall of America Bloomington zip code (PHONE NUMBER HIDDEN) mi, 29 mins
MSP International Airport, Bloomington zip code (PHONE NUMBER HIDDEN) Mi, 29 mins
Valleyfair Amusement Park, Shakopee MN zip code (PHONE NUMBER HIDDEN) mi, 37 mins
Heart of Uptown / Lakes in Minneapolis?, zip code (PHONE NUMBER HIDDEN) mi, 21 mins
Minnesota Zoo in Apple Valley? zip code (PHONE NUMBER HIDDEN) mi, 38 mins
Minnesota State Fair Grounds in Falcon Heights? zip code (PHONE NUMBER HIDDEN) mi, 18 mins
Renaissance Festival in Shakopee? zip code (PHONE NUMBER HIDDEN) mi, 44 mins
Blaine National Biking / Soccer Ctr.'s? zip code (PHONE NUMBER HIDDEN) mi, 21 mins
You can play too! Just use zip code 55421 as your starting point!
For your safety and security, we do not give out addresses on the Internet.
Room type:Entire home/apt
Bed Types:
One (1) King Size Adjustable Sleep Number
Two (2) Queen Size Adjustable Sleep Number
Three (3) Full Size Comfy Inner-SpringMattress Futon Sofa
Accommodates: 6 to 12 to 14
Bedrooms: 3
Daily rate starts at $350
Weekly rate starts at:$2400 /week (That's $342 per day)
Monthly rate starts at:$7200 /month (That's $256 per day, based on our 28 day month)
Prepaid Rent Deposit: $400 to $800/ per week
Departure Cleaning Fee: $140
(Optional Weekly Light Housekeeping / Linens Change - $210)
Regular Check In: 4:00 pm -- Check Out: 10:00 am
Rates subject to change based on Season, Holidays, Special Events
Transportation
Free Buses in Minneapolis and St. Paul
Campus Connector (note:pdf download) offers free service between the St. Paul, East Bank and West Bank campuses of the University of Minnesota. Designed for students, but they don't check student ID. Does not connect to Downtown Minneapolis.
Take a Free Ride on select Nicollet Mall buses (Nicollet Mall stretches from one end of downtown Minneapolis to the other.) Seeing a lot of things downtown? Park at an end of this route for less money! Goes very close to Convention Center.
Bicycle Rental comes in many flavors…
niceridemn is an org you can search... /bike_rental_shops/ tells you where to rent for your whole stay.
It gives you an interesting alternative. For $6 per day, you get access to a bike rental system centered on downtown Minneapolis. NOTE! There is a per trip charge for a trip of over 30 minutes! However you could hop skip and jump all over downtown with these bikes, for the daily or monthly fee. Closest ride station is two blocks away from our Southeast spaces! So you could get a bike there, ride downtown in just a few minutes, and go from one site to another downtown, the museums and Lakes in Minneapolis, and some parts of St. Paul. With trips of under 30 minutes, there is no per trip charge, so it would just be the daily fee of $6.
HOURCAR is the smart way to drive.
HOURCAR offers 32 cars in Minneapolis and Saint Paul. Find out where your nearest HOURCAR lives, and sign up to drive today. (This HOURCAR location is a short bus ride away.)
Northeast / Riverfront
15 2d St. NE
Minneapolis, MN
Cars here:
#10 - Red Toyota Prius (Daily Rates do not apply)
Car Rental: Enterprise will pick you up!
Bus / Light Rail / Commuter Rail
Metrotransit organization website has all the bus and public transportation information. Here is information about bus routes that have stops within a few blocks of this space. Remember the trip planner on the website can direct you to easy transfers to all over the city.
Bus lines include:
(PHONE NUMBER HIDDEN)
Details on Major Destinations of Bus Lines Below
Location is a few miles from Unity Hospital in Fridley,
Mercy Hospital in Coon Rapids,
North Memorial Hospital in Minneapolis (Robbinsdale),
Hennepin County Medical Center in Minneapolis,
University of Minnesota Hospital and Childrens Hospital in Minneapolis.
Bus lines include --
10 CENTRAL AVE UNIVERSITY AVE NORTHTOWN SHOPPING CENTER (Major Shopping Center)
(URL HIDDEN)
Major Destinations
Blaine
Northtown Mall
Spring Lake Park
Fridley
University Avenue NE
Hilltop
Columbia Heights
Columbia Heights Transit Center -- YOUR LOCATION
Central Avenue NE
NE Minneapolis
Downtown Minneapolis
11 COLUMBIA HEIGHTS
(URL HIDDEN)
Columbia Heights Transit Center -- YOUR LOCATION
NE Minneapolis
2nd Street NE
Downtown Minneapolis
South Minneapolis
3rd Avenue South
4th Avenue South
I-35W and 46th Street Station
59 LIMITED STOP BLAINE, HWY 65, CENTRAL, MINNEAPOLIS
Major Destinations
Coon Rapids
Blaine
Park of the Four Seasons
Oak Park Plaza
Spring Lake Park
Fridley
Columbia Heights
Columbia Heights Transit Center -- YOUR LOCATION
Central Avenue NE
Northeast Minneapolis
Downtown Minneapolis
118 Limited Stop CENTRAL AVE, LOWRY AVE, UNIVERSITY OF MINNESOTA
(URL HIDDEN)
Major Destinations
University of Minnesota
Columbia Heights
Columbia Heights Transit Center -- YOUR LOCATION
NE Minneapolis
Central Ave NE
Lowry Ave NE
Quarry Shopping Center
801 BROOKLYN CENTER COLUMBIA HEIGHTS ROSEDALE (Major Shopping Center)
(URL HIDDEN)
Major Destinations
Brooklyn Center
Brooklyn Center Transit Center
Brookdale Shopping Center
Columbia Heights
Columbia Heights Transit Center -- YOUR LOCATION
St. Anthony
Silver Lake Village
Roseville
Rosedale Shopping Center
=======================================================
We always reserve here when people find us here, but if you want to search our number and call, it can be easier to go through options that way.
(We have been on Airbnb a long time... did you know Airbnb used to facilitate phone calls between guests and hosts? We would dial Airbnb, and get connected through their system. Times change... *sigh*)
If you don't see what you need, inquire!
If you would like to rent from a family who has helped over 2,000 guest groups in Minneapolis, take a look at our 30+ other properties...
First the places we have north and east of downtown Minneapolis...
#47 Big 4BR2ba with event space in garage -- https://www.airbnb.com/rooms/124575284
#43 Big 3+BR1.5ba with event space in garage -- https://www.airbnb.com/rooms/12498075
#16 Cozy One bedroom --- https://www.airbnb.com/rooms/233664
#2 Large Basement studio --- https://www.airbnb.com/rooms/469497
#25 Small 3BR1ba on two levels --- https://www.airbnb.com/rooms/1300233
#17 Large 3BR1ba --- https://www.airbnb.com/rooms/312084
#24 Small one level 3BR1ba top floor --- https://www.airbnb.com/rooms/469445
#29 Large one level 3BR1ba balconies --- https://www.airbnb.com/rooms/312084
#49 Single family 3BR1ba fenced yard https://www.airbnb.com/rooms/13841704
#45 Two level 3BR2ba townhouse+gar. --- https://www.airbnb.com/rooms/5716056
#23M FourBR1ba --- https://www.airbnb.com/rooms/728715
#23U FourBR1ba Upper --- https://www.airbnb.com/rooms/5504548
#9 "Hotel Rec Room Suite" basement --- https://www.airbnb.com/rooms/312083 (note bed replaced by full size sofa futon, kitchen sink and stove deleted.)
And these are South and West of Downtown Minneapolis...
#15U ThreeBR1ba Upper --- https://www.airbnb.com/rooms/420080
#15M Two/ThreeBR1ba Main Floor ---https://www.airbnb.com/rooms/516314
#41M TwoBR 1ba Main Floor https://www.airbnb.com/rooms/13429289
#41U TwoBR 1ba Top Floor https://www.airbnb.com/rooms/14303222
#50 ThreeBR 1ba SideBySide https://www.airbnb.com/rooms/13839698
#46 SevenBR5ba Pool Spa Play Structure -- https://www.airbnb.com/rooms/8229316
#42 TwoBR1ba Single Family -- https://www.airbnb.com/rooms/9345980
#18 FourBR2ba Single Family Game Room -- https://www.airbnb.com/rooms/596919
#6 Studio1ba -- https://www.airbnb.com/rooms/233598
#5 ThreeRoom1ba -- https://www.airbnb.com/rooms/233600
#12 TwoBR1ba -- https://www.airbnb.com/rooms/276407
#14E ThreeBR1ba -- https://www.airbnb.com/rooms/1107895
#14W ThreeBR1ba -- https://www.airbnb.com/rooms/6292502
#13E FiveBR2ba -- https://www.airbnb.com/rooms/336117
#13W FiveBR2ba -- https://www.airbnb.com/rooms/10916988
#13X SevenBR3ba -- https://www.airbnb.com/rooms/6062994
#7A ThreeBR1ba Game Room https://www.airbnb.com/rooms/108809
#7B ThreeBR1ba Game Room https://www.airbnb.com/rooms/754715
#33A TwoBR1ba +2 more King Beds Game Room -- https://www.airbnb.com/rooms/1833199
#33B TwoBR1ba +2 more King Beds Game Room -- https://www.airbnb.com/rooms/1833149
#33D TwoBR1ba Game Room Similar to above, no extra King Beds.
https://www.airbnb.com/rooms/12973917/
#39 TwoBR1ba Single Family Games -- https://www.airbnb.com/rooms/10866047
Autres remarques
If renting this unit or others in the city of Columbia Heights we do need you to send us a photo of the Drivers License or other Identification CONTAINING the LEGAL NAME for ALL adults (18yrs of age and older). It is a requirement of the city to do a background check. We do NOT charge for the check. We do NOT have to send it to the city, and frankly we don't care... but it is paperwork we have to do and because it is mandated by the city we are allowed to place it here as a requirement which Airbnb will enforce. Because Airbnb will not allow an attachment, send to (EMAIL HIDDEN)
Please call with any questions or concerns.
---
---
Voyageur supplémentaire 4 € / nuit après 12 voyageurs
Réduction à la semaine : 25%
Tarif week-end 504 € / nuit
Soutien à l'engagement pour un salaire décent
Les personnes qui nettoient le logement de cet hôte perçoivent un salaire décent.
En savoir plus
Communiquez toujours via Airbnb
Pour protéger votre paiement, ne transférez jamais d'argent et n'établissez pas de contact en dehors du site ou de l'application Airbnb.
En savoir plus
---
L'entrée dans les lieux se fait à partir de 16:00
1. Smoking is NOT allowed inside the building. Smoking is allowed outside only. Please dispose of cigarette butts properly and be careful with the use of fire.

2. People other than those in the Guest party set forth above may not stay overnight in the property. Any other person in the property is the sole responsibility of guest.

3. All of the units are privately owned; the owners are not responsible for any accidents, injuries or illness that occurs while on the premises or its facilities. The Homeowners are not responsible for the loss of personal belongings or valuables of the guest. By accepting this reservation, it is agreed that all guests are expressly assuming the risk of any harm arising from their use of the premises or others whom they invite to use the premise.

4. Keep the property and all furnishings in good order

5. Only use appliances for their intended uses. Guest agrees that Internet access will not be used for illegal or illicit purposes and indemnifies Homeowner against criminal and civil prosecution for such conduct.

6. Pets are permitted only with prior approval, are generally limited to service animals, and the Pet Addendum must be used if a pet will stay at the unit. Note to those with allergies: cats reside in other areas of the building and dogs may have stayed in the unit in the past. Please keep in mind we thoroughly clean with HEPA type vacuums and all linens are laundered after every guest.

7. Parking: There is usually no limit to parking on the street near the building. NOTE that in winter, there are "Snow Emergencies" declared and your car must be off-street overnight. NOTE that maintenance crews may prohibit parking, please look for signs. Consult with management regarding where to park at that time. Off street parking is generally limited to one vehicle(s), however two vehicles may be parked one behind the another in a reserved space if they do not block other vehicles. Vehicles are to be parked in designated parking areas only. Any illegally parked cars are subject to towing; applicable fines/towing fees are the sole responsibility of the vehicle owner.

8. Housekeeping: While linens and bath towels are included in the unit, daily maid service or laundry is not included in the rental rate. It is an option, however. Please ask about cost. Please ask if you need beach towels. We do not permit standard bath towels or linens to be taken from the units.

9. Hot tub or jetted tub (if in this unit). No children are permitted to use any tub without constant adult supervision. When using the public beaches or tub, remember there is a certain health risk associated with all facilities. For instance diabetics should
not use tubs for extended periods. The timer on the tub should be the maximum time of individual use. Use at your own risk. Our housekeepers sanitize tubs prior to your arrival. Be careful in using a jetted tub. There must be adequate water, but not too much water. Please do not overfill, there is no drain in the bath area .

10. Fire. Candles use is not permitted inside the unit: Any outdoor firepit, gas barbecue or candles may be used with caution. Ask for assistance and instruction before using for the first time. Do not leave a fire unattended. Ask for instruction if you have not used these items before, or if they are not identical to those you have used in the past.

11. Underage Drinking ./ Illegal Drugs: Guest(s) agree not to allow anyone under the age of 21 to consume alcoholic beverages on the premises. Resident(s) agree not to use nor permit the use of any non-prescription drugs on the premises.

12. Disrespectful Behavior: Guest(s) agree and understand that certain things won't be tolerated, including (without limitation) disrespect of property, property owners, neighbors, or company management. Guest(s) shall be respectful at all times. In the event of disrespectful behavior, guest(s) shall be liable for an additional $500 fee.

13. Holdover: Guest(s) agree and understand that they must vacate the premises upon expiration of the rental term date and time of day (11 AM unless prior agreement). In the event Resident(s) remain on the premises after the expiration of the rental term, Resident(s) shall be liable for standard rental rate plus $200/day additional fee until the guest(s) voluntarily leave or are evicted from the premises by the authorities.
---
Détecteur de monoxyde de carbone
---
Les vendredis et samedis la durée de séjour minimale est de 2 nuits.
---
When home we wanted was not available,Scott and Jenna went out of their way to find another place of theirs which worked out perfect .Very close to work and shopping House is spacious ,was very clean beds are comfortable as is furinture.They will be my first call in the spring when we return for more work JP
---
Scott & Jenna don't get much time for traveling lately! We have over two dozen different properties and unit configurations to accommodate just about any size group for Airbnb travelers! (Look them all up in one place clicking on our picture to access our profile, then see "View All Listings" on the left side). All of our spaces are private individual units. Everything from one room studios to single family homes to an apartment building where we could host 50 people at once! (We own the whole place! Well, along with the bank!)

We very much enjoy helping others make the most of their visits to Minneapolis, St. Paul and the Lake Minnetonka area of our beautiful state, Minnesota.

When we travel, we like warm places when Minnesota is cold... Cali, Hawaii, Florida. But family ties take us to places like North Dakota and Ohio, too.

We like contrasts, Jenna loves food that wakes up your taste buds and Scott thinks cream of mushroom soup is a little spicy!

We especially enjoy the cultural scene in the Twin Cities area. More people per capita attend plays here than Manhattan! Modern dance is another one of our favorite "evenings out", and the music scene here is always lively -- from folk to rock and everything in between (one of us has an interesting point of view, having been a deejay at the club where Prince filmed Purple Rain).

People sometimes ask how we ended up doing this... it boils down to a very aggressive real estate agent! :-) Plus, we are both down-sized refugees from Corporate America. We like having our guests as bosses, instead of (some of) the guys and gals in the corner office that we worked for!

If you want to learn more about the area to make the most of your trip, we are happy to help. But we will never be intrusive. We try to greet in person, but can't always manage it with too many people arriving at the same time, or an emergency at one of the spaces.

However, we are always available by email and phone and emergency phone. We ask people to think of us as the front desk of the hotel.

If there is anything (we want to emphasize it) please get ahold of us if there is a challenge! There is nothing worse to us than hearing of a problem in a review, when we never heard it from the guest while they were here! Don't be shy!

Thanks for reading.

Scott and Jenna
Taux de réponse :
96%
Délai de réponse :
Moins d'une heure
Découvrez d'autres options à Minneapolis et dans ses environs
Plus de logements à Minneapolis :