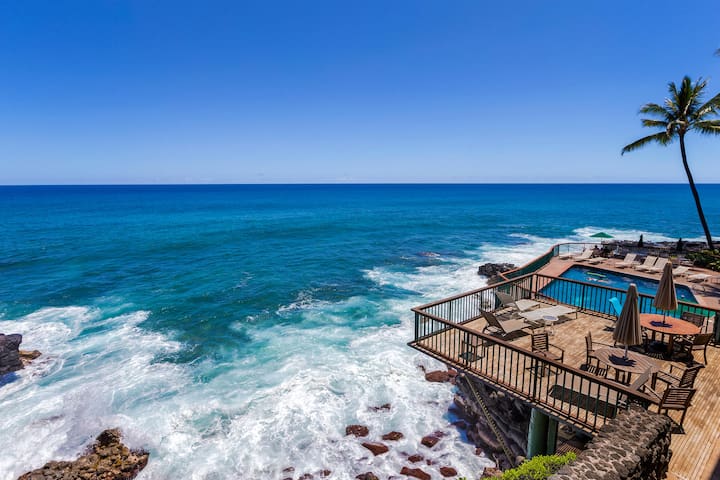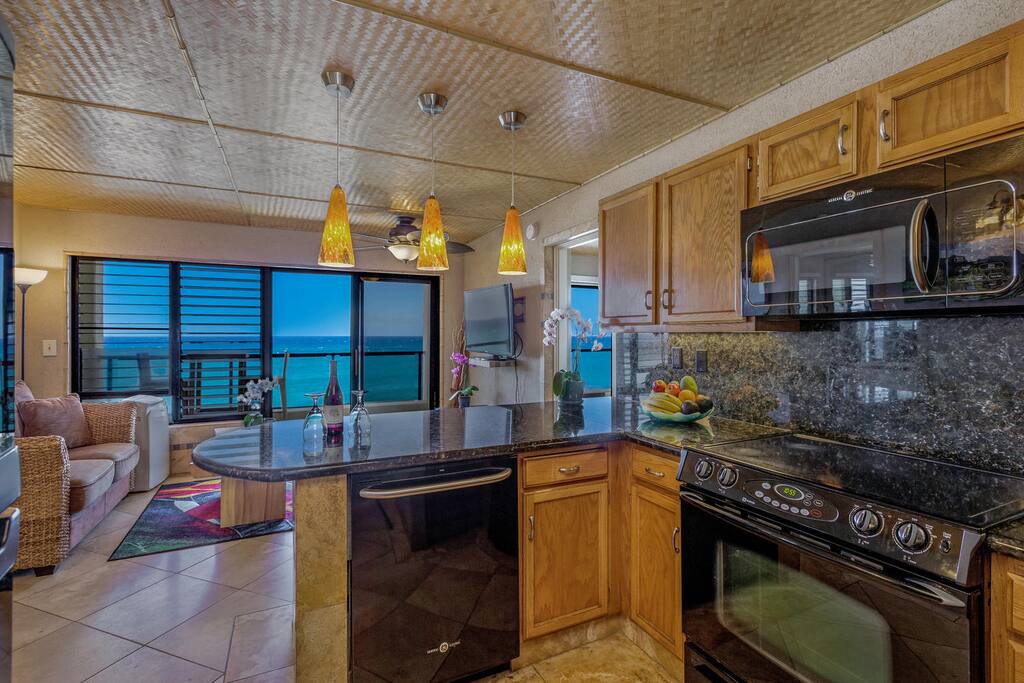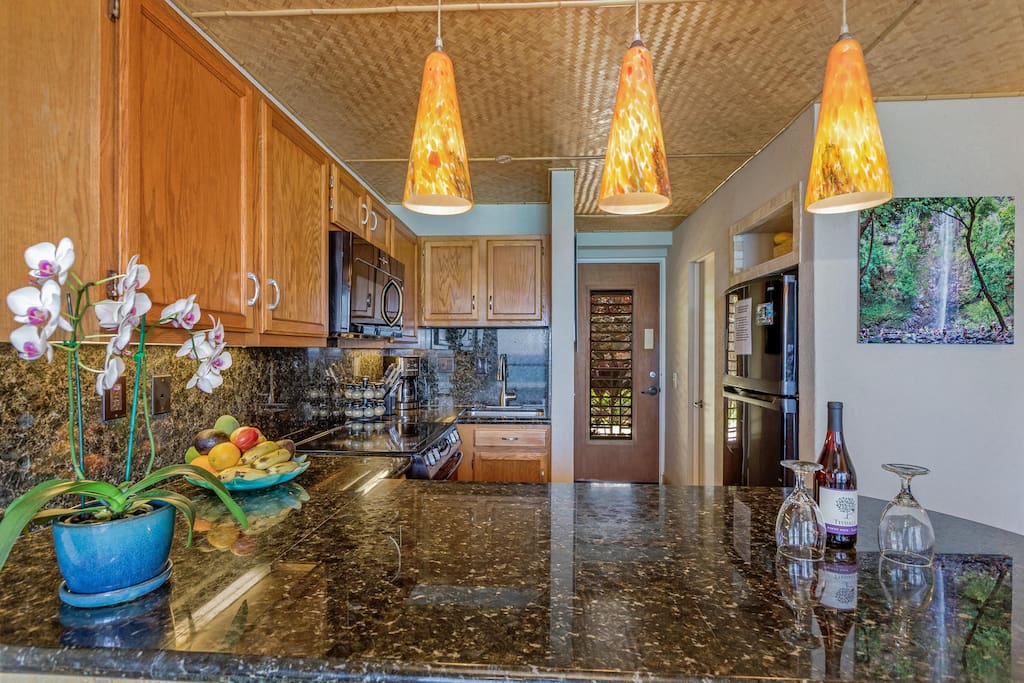 This second floor 2br/1ba condo has two king beds, with air-conditioning in each bedroom and in the living room. Poipu Shores B202 has a full kitchen, updated with elegant granite counters, and one bathroom, recently remodeled. Enjoy a private lanai with unobstructed, panoramic, oceanfront view.
Le logement
This second floor 2br/1ba condo has two king beds, with air-conditioning in each bedroom and in the living room. Poipu Shores B202 has a full kitchen, updated with elegant granite counters, and one bathroom, recently remodeled. Enjoy a private lanai with unobstructed, panoramic, oceanfront view. Both bedrooms also have fabulous oceanfront views
POIPU SHORES HAS THE MOST AMAZING OCEANFRONT VIEW! Poipu Shores Resort, on Kauai's sunny south shores, has amazing surf front views. Surf Front because the surf splashes high up into the air in front of your windows. Look over your lanai into the ocean and see the turtles that live right off the cliff. Watch the dolphins and whales play.
Relax to the sounds of the waves. Poipu Shores enjoys cool ocean breezes. Only a very short walk to both Poipu Beach and Brenneke's Beaches. Poipu Shores has oceanfront pool and large lanais. BBQ grills at pool.
300 yards from Brennecke Beach
8.6 miles from Lihue
9.6 miles from Lihue Airport (LIH)
600 yards from Poipu Beach
1200 yards from Moir Gardens
1300 yards from Poipu Bay Golf Course
1400 yards from Poipu Bay
Hawaii vacation rental registration number TA-(PHONE NUMBER HIDDEN).
Accès des voyageurs
Prior to your arrival, we will send you detailed, personalized arrival instructions with key codes, driving directions, wifi passwords, printable parking passes (if applicable) and house rules specific to your unique location.  You'll also receive an invitation to view those instructions on our mobile phone app.  We look forward to your arrival and will make the experience as seamless as possible for you.
Échanges avec les voyageurs
Our knowledgeable local staff is happy to assist you once you've arrived.  In your arrival instructions, you'll find information on concierge and babysitting services and directions to nearby shopping.  Our mobile phone app includes dining recommendations, info on beaches and activities, and more.  We answer 24/7 should you experience an emergency, and our cleaning and maintenance staff are just minutes away.
Autres remarques
Guests may keep surfboards on the lanai (NOT inside). There is insufficient space to store kayaks, they'll need to be unloaded off-site or remain on the roof of your car when not in use. In case of severe weather, we will notify you via email of road closures, airport closures, or of storm preparations such as bringing lanai furniture indoors. Please be sure to close all windows when going out to explore the island. Rain squalls may be unexpected and violent. Open windows may result in water damage to your rental property.
Communiquez toujours via Airbnb
Pour protéger votre paiement, ne transférez jamais d'argent et n'établissez pas de contact en dehors du site ou de l'application Airbnb.
L'entrée dans les lieux se fait à partir de 15:00
CHECK-IN TIME: 3:00 PM
CHECK-OUT TIME: 10:00 AM

DAMAGE WAIVER FEE: For all rentals this DAMAGE WAIVER covers unintentional damages to the rental unit interior that occur during your stay, provided they are disclosed to management prior to check-out. If, during your stay at one of our rental properties, an insured person causes any accidental damage to real or personal property of the unit as a result of inadvertent acts or omissions, the cost of repair or replacement of such property will be covered up to a maximum benefit of $1,000. Any damages that exceed $1,000 will be charged to the credit card on file. The DAMAGE WAIVER FEE is $35, included in rents, and is not refundable in the event of cancellation. The policy will pay a maximum benefit of $1,000. Damage MUST BE REPORTED TO AHH ALOHA in order to be covered.

DAMAGE WAIVER protection will not apply to, and guest will be responsible for, all repair or replacement costs if: guest fails to report damage to Ahh Aloha; the terms of the rental agreement have been violated; guest fails to return keys, pool keys, parking passes, or garage door openers; damage is done in a deliberate act by the guest or invitees of the guest; damage is the result of unauthorized entry into the owner's locked closet, smoking in the unit, or unauthorized pets in the unit; excessive cleaning is needed at check-out; parking violations result in a fine assessed to guest or property owner; fines result from violations of rental manager's policies, Home Owner Association Policies, or any laws. Theft, damage caused by an act of nature, and loss of use of the rental property are not covered.

OCCUPANCY: Only members of the rental party may stay at the property. All members of the rental party must be listed on the first page of this agreement. Please note that infants and children of all ages count as Guest(s). Guest(s) must immediately notify Agent by phone and in writing if the number of occupants changes. Additional charges may apply. The premises shall be used for residential vacation rental purposes only. Special events such as parties, receptions, etc. shall not be allowed without the express written consent of Agent. You shall not use the property for filmmaking, photo shoots or other commercial use, nor for any unlawful, improper, or offensive use.

NO ASSIGNMENT: Over-crowding or misrepresentation is grounds for immediate eviction without refund. This unit cannot be sublet or assigned to others.

LOST KEYS and PARKING PASSES: I understand that there is a $50 replacement charge for a lost (or unreturned) pool key, a lost (or unreturned) door key, and a lost (or unreturned) parking pass. (Note: not all properties will have a door key, if they are equipped with a keyless entry system. There are no pool keys at Sealodge or at our private homes.) The fee for a lost (or unreturned) garage door opener is $150. Because the next guest will require keys and parking pass, you will not be able to avoid the replacement charge by mailing the items back to us. Renters at Villas of Kamalii please note that the key replacement charge is $150.

DISCLOSURE & INDEMNITY: For purposes of the Disclosure & Indemnity, the following definitions shall apply: Premises refers to the real property, its contents and related amenities rented to the Guest(s) pursuant to the Vacation Rental Agreement; Guest(s) refers to the person or persons occupying the Premises, including members of Guest's family and any and all guests and invitees thereof; Owner refers to the legal owner(s) of the Premises. Guest(s) acknowledges (if applicable to property rented) the existence and dangers associated with but not limited to; hot tubs, BBQ, pool, sauna, gym (workout facility) and equipment, rivers, lakes, bluffs, lofts and ladders. In light of the foregoing, Guest(s) agrees to indemnify and hold harmless Owner, its employees and Sandra Greenberg Rental Network, Ahh Aloha Kauai Vacation Rentals, SZG rental Management, LLC and other agents from and against any loss, liability, damage or expense (including legal fees and costs) which Guest(s) may suffer, sustain, or become subject to as a result of, or in connection with, any injury arising from or related to Guest's use of any of the above mentioned.

NON-LIABILITY AND INDEMNIFICATION OF OWNER AND AGENT: Sandra Greenberg Rental Network and SZG Rental Management, LLC, Ahh Aloha Kauai Services and Owner are held harmless and will not be held liable or responsible for any disasters, acts of God, accident, or unforeseen event that may affect the vacation rental. Guest(s) agrees to hold harmless and indemnify the Owner and Agent from any and all costs, expenses, legal proceedings, legal fees, suits, claims, or demands, whether from loss of life or injury to Guest(s) and/or invitees of Guest.

Guest(s) accepts responsibility for the acts of his children and visitors. Sandra Greenberg Rental Network and Ahh Aloha Kauai Services and Owner are not responsible for articles lost, stolen, or left behind in the unit and are not liable for any damages to persons or their property while at the rental property. Sandra Greenberg Rental Network and Ahh Aloha Kauai Services acts as an Agent for the Owner; Owner's discretion prevails. If Ahh Aloha Kauai Services cooperates with another agency in securing the rental, we will not be held responsible for their course of action. .

If the property is near a golf course you assume the risk of being hit by a golf ball and will not hold the property owner or Sandra Greenberg Rental Network and Ahh Kauai Services liable.

SECURITY OF HOME & RENTAL EQUIPMENT: Guest(s) assume full responsibility for the premises rented, including its contents and their own personal property. Always lock the doors and windows when you leave. Lock your automobiles and put away any rental equipment. Use of rented equipment by Guest(s) is strictly at your own risk and could cause liability and/or additional expense. Sandra Greenberg Rental Network and Ahh Aloha Kauai Services is not held liable or responsible for any loss, damage or additional expenses incurred; nor does Sandra Greenberg Rental Network and Ahh Aloha Kauai Services endorse any suggested or recommended activities and/or services to Guest(s).

CONDITION OF PREMISES: The property and contents are privately owned. The Property is rented with Owner's furnishings and Sandra Greenberg Rental Network and Ahh Aloha Kauai Services will not be responsible for providing additional furnishings or equipment. No items belonging to the Owner shall be removed from the property. Should any equipment be out of order (including but not limited to hot tubs, washing machine), Agent will undertake reasonable efforts to remediate reported problems during normal business hours. Please keep in mind that being on a remote island can often delay (unlike the mainland) the receiving of parts and repairs. There will be no refunds for such inconvenience. Guest authorizes Sandra Greenberg Rental Network and Ahh Aloha Kauai Services or property Owner to repair damages or loses caused by Guest or invitees of Guest, at the expense of Guest. Guests are required to notify us of any defects or problems associated with the property immediately including but not limited to, appliances, audio/visual equipment, furnishings, hot tubs, jacuzzis, and pools, etc. Please be careful with items that you put down the garbage disposal. At home you might be able to put skins or vegetable leaves down your disposal but the one in your rental may stop up. We ask that you be very cautious. Also, please do not turn the dial on the refrigerator colder than the recommended setting. Doing so will cause the appliance to shut down. If you stop up the disposal or cause the refrigerator to stop working we will need to charge you for the service call.

ACCESS TO PREMISES: Owner or Agent may enter premises for the following reasons: Assessing damages or malfunctions, to perform repairs and/or maintenance, to supply services agreed upon, if the unit is for sale (We will provide 24 hours notice to show the unit at a reasonable hour), or in case of emergency. (We reserve the right to enter the property any time for the purpose of safekeeping and/or prevention of further damage)

NEIGHBORHOOD CONSTRUCTION: We are not responsible for any construction noise or inconvenience that may occur during your stay. No refunds will be given.

CHECK-OUT PROCEDURES: The property should be left in the same condition upon departure as at check-in. When checking out :
Leave the home neat and tidy
Put all perishable food items in the refrigerator
Wash all dishes
Turn off all lights, fans, air conditioning
Lock all windows, louvers and doors
Leave the keys where you found them at check-in
Leave no more than one set of towels per person and one set of sheets per bed for laundering.

SMOKING: All properties are smoke-free. Guests may smoke outside only. Please dispose of all smoking materials appropriately and do not discard on the grounds.

PETS: Pets are not allowed in the home or on the property.

RISKS ASSOCIATED WITH THE OCEAN: There are certain inherent risks to persons and property as occupants of property located near the ocean, including but not limited to damages to persons or property from high surf conditions and drowning. Guest(s) acknowledges that the Owner would not rent the property unless the Guest(s) fully accepts the risks associated with the property and its location.

CLEANING: The cleaning fee is mandatory. Mid-stay cleaning(s) may be required for extended rental periods at Guests expense. Maid service is not included (unless otherwise stated). If you would like additional maid service, it can be arranged for an additional cost. Cleaning fees are subject to change. The cleaning fee covers laundering one set of sheets per bed and one set of towels per guest. You are welcome the use the fresh sheets/towels available, but please launder and replace the used ones or you may be assessed an excess laundry fee of $15/load. Guests staying in houses must remove trash to the street once a week. The trash pick-up is early in the morning; therefore place your trash on the curb the evening prior to pick-up. Trash cans must be brought in following the pick-up.

ENERGY CONSERVATION: Please be energy conscious by turning off lights, fans, air conditioning, TVs, radios, etc., when leaving the unit. Also please use laundry facilities sensibly and with consideration.

DISPUTE RESOLUTION: Any dispute must be governed by the laws of the state of Texas. In addition, disputes must be resolved in the jurisdiction of courts of the state of Texas (unless stated otherwise in property rental terms or at owner/agent request).

SUBJECT TO CHANGE: Advertised amenities are subject to change without notice or compensation. Changes can occur after a reservation is made due to a sale of unit, remodeling, mechanical failure, or servicing. Should a property be made unavailable for any reason beyond the control of Agent, Agent may substitute (at their discretion) another property comparable or better. If the substitute is of lesser value, refunds may be made. If no other property is available, the limit of liability by property Owner or Sandra Greenberg Rental Network and Ahh Aloha Kauai Services, is to refund any pre-paid rents that have been paid by the registered Guest.

MULTIPLE PROPERTY BOOKINGS: Because all properties are individually owned, we kindly request that you do not take items to other properties from your rental or accept items brought to your rental from other properties. This includes, but is not limited to, beach towels, linens, lawn furniture, kitchen dishes, glasses, cups, kitchen utensils, etc. The owners wish to have their own items in their own unit. It can become costly to replace these items (and this may incur an additional fee charged to your credit card).

RULES, REGULATIONS, AND LAWS: Guest(s) will take all reasonable steps to assure that property occupants adhere to the Rules, Regulations, and Laws that affect the property, Homeowner's Association, Sandra Greenberg Rental Network and Ahh Aloha Kauai Services, and the State of Hawaii. Guest(s) shall not permit any use of pools, hot tubs or Jacuzzi by Guest(s) affected by drugs or alcohol or unsupervised children. All pool gates should be kept closed. Guest(s) and other invitees shall use pools and Jacuzzis at their own risk and at the responsibility of the tenant (applicable if amenities are provided at property).

DISCLAIMER: We are not held responsible for any noise pollution including construction outside the perimeter of the property. All information deemed reliable but not guaranteed. Any breach of contract can cause immediate cancellation and forfeit of funds.

ENVIRONMENTAL DISCLOSURE: Guest(s) hereby acknowledges the State of Hawaii is exposed to such environmental hazards including but not limited to Tidal Wave/Tsunami, Hurricane and Flood. Please refer to the local phone book regarding inundation area and evacuation instructions should a threat occur. We recommend Travelers Insurance for any unforeseen circumstances. Because we are in the Tropics, you may encounter geckos, and other pests. Our homes are treated regularly for pest control maintenance; however, pests are a normal part of life in the tropics. Neighbors of the subject property may also use pesticides and chemicals that may affect a person who is sensitive to pesticides and other chemicals. Every person reacts differently to various pesticides, chemicals, and molds. Some homes may be more prone to mold than others. If Guest(s) is sensitive to pesticides, chemicals, or molds, Guest(s) are urged to investigate this issue of possible health or safety prior to arrival.

For your convenience: Jeanie Ricciardi provides independent concierge services. She will help you select activities and book them for you, often at a discount. You can arrange pre-arrival grocery delivery, baby-sitting service, surfing lessons, and other services through Jeanie. If you would like to contact Jeanie, make sure to request her contact information from our front desk!

* please note that if you are renting Pali Ke Kua 119, Pali Ke Kua 202, Puu Poa 401, or Hale Ohana, these properties are owned by Sandra Greenberg, licensed Hawaii real estate broker.

TRAVEL INSURANCE: We advise all Guest(s) to secure travel insurance for your protection in case you have to cancel this reservation due to any unforeseen event. Because the unforeseen and unexpected can occur before you leave or when you're away from home we recommend CSA's Vacation Rental Insurance Plan. The premium for Vacation Rental Insurance can be included in the cost of your rental. Vacation Rental Insurance reimburses for pre-paid non-refundable expenses due to certain unforeseeable circumstances that may cause you to cancel, interrupt or delay your trip. Travel insurance premium is due in full at the time it is elected, and is non-refundable. Directions and General Information will be forwarded following receipt of full payment and completed, signed Vacation Rental Agreement. The cost of Travel Insurance is 6.95% or your total reservation cost.

EMERGENCY CONTACT: After booking, all guests must provide Sandra Greenberg Rental Network and Ahh Aloha Kauai Services with emergency contact information.

Agreement with the terms constitutes a contract, namely:
1) Acceptance of all terms, conditions, policies, procedures and addendums detailed therein.
2) Acceptance of full financial responsibility for late departure, any loss of inventory, excessive housekeeping, damage or repairs due to abuse or neglect of the property occurring within the duration of your stay.
3) Acceptance of full responsibility and liability for all guests or visitors at the property during your stay.
La durée minimum de séjour pour cette annonce peut varier.
Aucun commentaire (pour l'instant)
Ce logement n'a reçu aucun commentaire. Si vous y séjournez, votre commentaire apparaîtra ici.
Taux de réponse :
100%
Délai de réponse :
Moins d'une heure
Découvrez d'autres options à Poipu et dans ses environs
Plus de logements à Poipu :