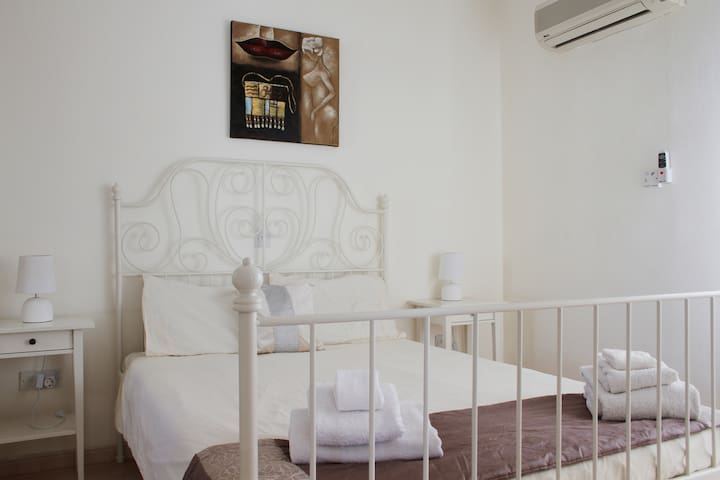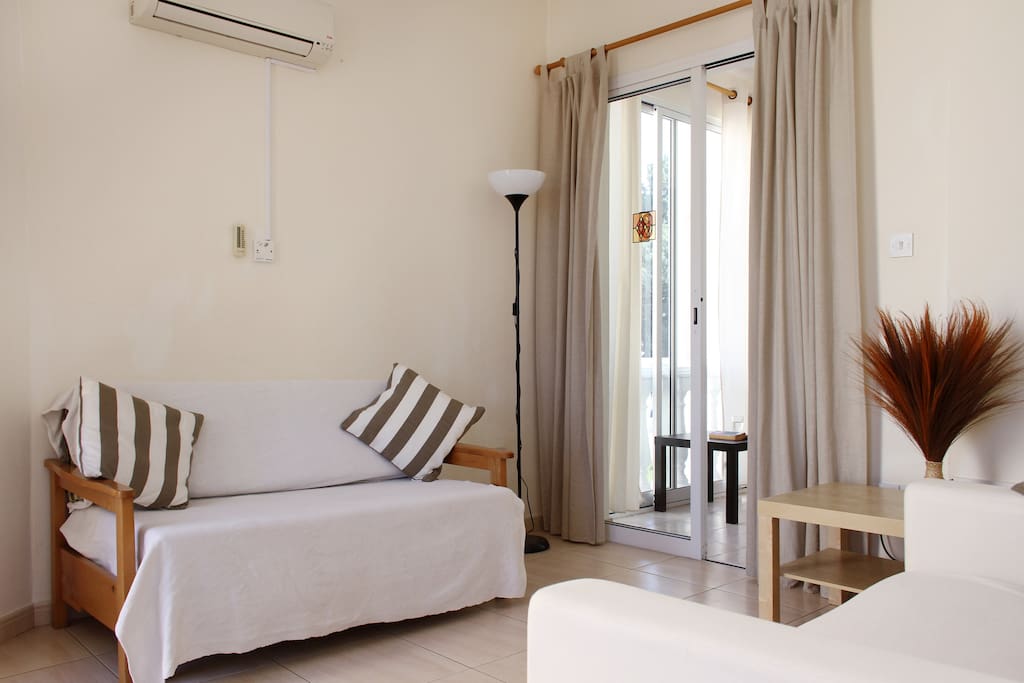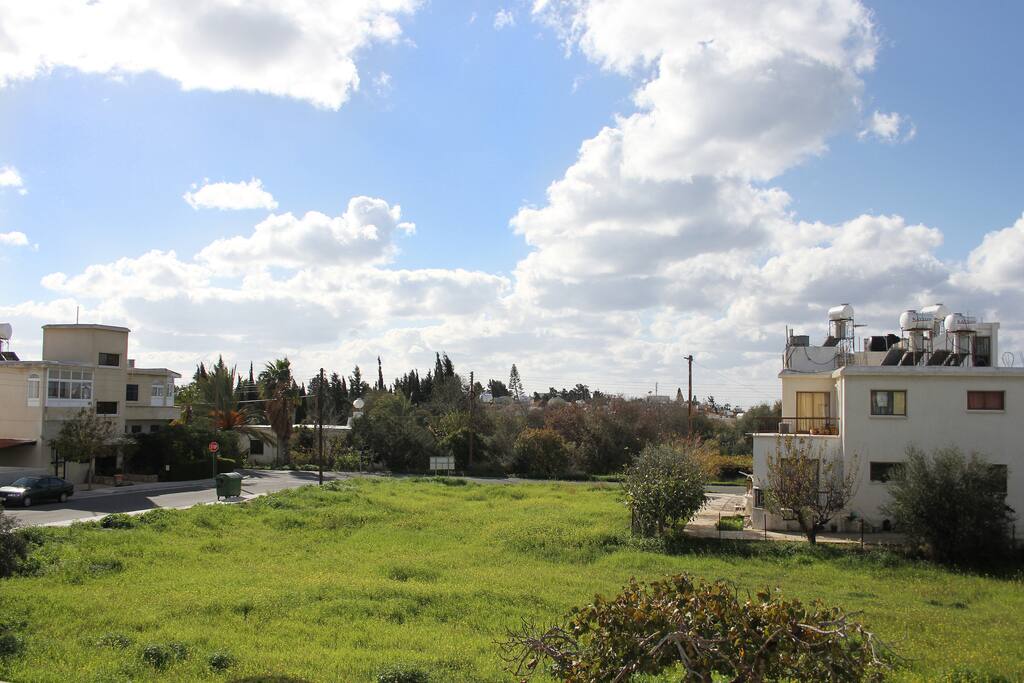 105 FIRST FLOOR 1 BDRM APARTMENT!!
L'appartement est au premier étage et est décoré avec goût et bien équipé. Toutes les chambres disposent de la climatisation et d'un mobilier confortable pour votre confort et votre détente. Il dispose d'un coffre-fort, d'un filtre à café, d'un sèche-cheveux, de ventilateurs de plafond, d'articles de toilette gratuits et de wifi.
The apartment is on the first floor and is tastefully decorated and well equipped throughout. All rooms have Air-Conditioning and comfortable furnishings for your convenience and relaxation. It has a safe, filter coffee maker, hair dryer, ceiling fans, complimentary toiletries and wifi.
Le logement
L'appartement lui-même est décoré avec goût et est bien équipé et conçu partout. Toutes les chambres disposent d'un climatiseur et d'un mobilier confortable pour votre confort et votre détente. Cet appartement est situé au premier étage avec l'entrée principale donnant sur un petit couloir puis dans un plan ouvert, salon / salle à manger / cuisine avec portes-fenêtres menant à une petite terrasse ensoleillée donnant sur la piscine. Le salon dispose d'un canapé-lit et peut accueillir 2 personnes de plus et dispose de 2 chaises et la salle à manger dispose d'une table et des chaises pour accueillir 4 avec la cuisine moderne, idéalement située entre les deux. Un petit couloir conduit à la chambre et à la salle de bains. La chambre a 1 lit double. La salle de bain a une baignoire avec douche. L'appartement dispose d'une eau chaude alimentée par énergie solaire, mais il existe un réchauffeur d'immersion si cela est nécessaire. Une porte de connexion du salon, mène à un appartement à image miroir, ce qui en fait l'idéal pour les personnes qui souhaitent être proches mais encore profiter de leur propre espace lorsque cela s'avère nécessaire. Le développement est situé à une courte promenade du front de mer et du port de Paphos avec de nombreux restaurants, bars et tavernes. Il y a un restaurant / pub / cafe local au coin des appartements qui sert un excellent petit-déjeuner. Il se trouve à proximité des bars et des restaurants, de tous les magasins dont vous auriez besoin de souvenirs, des supermarchés, des restaurants et du marché des fruits. Constantia Gardens est idéalement situé, au coeur de la zone touristique de Kato Paphos. Il se trouve à quelques secondes de bars, restaurants, clubs et cafés et à 5 minutes à pied d'autres commodités essentielles, y compris la plage et le port. Les bus sont le moyen le plus simple de se déplacer dans la zone touristique de Paphos. Il existe fréquemment des liaisons de bus entre Kato Paphos, Tombs of the Kings, Chloraka, Kissonerga, Coral Bay et Paphos Centre. Il y a des bus allant de Kato Paphos et Paphos Centre à l'aéroport international de Paphos. La propriété bénéficie d'un parking privé sur place. La climatisation est fournie dans tous les endroits pour l'air frais et chaud, selon les besoins, et WiFi gratuit. Nous aimons être là pour l'arrivée de nos clients, mais parfois cela n'est pas possible en raison de l'heure d'arrivée, de sorte que les arrangements sont pris au préalable pour la collecte des clés. Nous aimons rester en contact avec nos invités et nous espérons qu'ils se sentent libres de demander tout ce qu'ils peuvent avoir besoin. Tous les coordonnées sont fournies une fois que nos invités réservent. Il se trouve à seulement 5 minutes à pied de la plage, du port pittoresque, des magasins, des bars, des restaurants et de nombreux lieux d'intérêt historique de Paphos tels que l'ancien Odeon et les sols mosaïques du 3ème siècle. Achats : Le Kings Avenue Mall est un impressionnant centre commercial à concept plein idéalement situé au cœur du centre de Paphos, idéal pour les résidents et les touristes locaux. C'est le centre commercial le plus moderne de Chypre et offre aux visiteurs l'expérience de shopping ultime et se trouve à quelques pas des appartements. Rien ne révèle l'esprit d'un pays plus qu'un marché, alors assurez-vous de trouver le temps de visiter un pendant votre séjour à Pafos. Le marché principal dans la région de Pafos-Ktima est le marché municipal couvert connu des localités comme «l'Agora». Les stands de marché sont occupés avec les locaux à acheter leur nourriture hebdomadaire ou des fournitures essentielles. Contrairement aux marchés locaux dans les villes, le marché municipal est ouvert tous les jours sauf le dimanche. Supermarchés: Les supermarchés les plus populaires sont: Papantoniou Supermarché près du port 2 minutes en voiture 12 minutes à pied, Jardin d'Eden 2 minutes en voiture à 10 minutes à pied. Paphos lui-même se compose de deux villes, chacune avec son propre caractère. Ktima sur la falaise (Upper Paphos) et Kato Paphos par la mer (Lower Paphos). Une ville est pratiquement inchangée au cours des siècles et complètement chypriote, tandis que l'autre s'est développée au cours de la dernière décennie depuis un village de pêcheurs endormi et son port, dans une station cosmopolite dynamique qui se développe et s'améliore. Kato Paphos, (dans le parc archéologique), vous trouverez de nombreuses mosaïques fines et des bâtiments de périodes grecques et romaines, plus le château de Paphos, situé au bord du port. Il a été construit à l'origine comme un fort byzantin pour protéger le port. Il a ensuite été reconstruit par les Lusignans au treizième siècle après avoir été détruit lors du tremblement de terre de 1222. En 1570, il a été démantelé par les Vénitiens. Après avoir capturé l'île, les Ottomans l'ont restauré et renforcé. Tout au long des âges, il a vu de nombreuses utilisations. Il a servi de forteresse, de prison et même d'entrepôt de sel lors de l'occupation britannique de l'île. Plus récemment, le château sert de toile de fond au festival culturel public de Paphos en plein air qui a lieu en septembre. Il a été déclaré bâtiment classé en 1935 et représente l'un des repères les plus distinctifs de la ville de Paphos. Plusieurs archéologiques Des fouilles ont eu lieu pour enquêter sur son passé. Histoire: Tout près, l'église de Saint-Paul où vous pouvez voir les restes du pilier auquel St Paul aurait été attaché et fouetté. Plus loin cette route sont les tombeaux des rois où se trouvent les voûtes mystérieuses et les grottes, les tombeaux souterrains dont plusieurs datent du 4ème siècle av. J.-C., sont découpés dans des roches solides et sont censés être les lieux de sépulture de Les aristocrates paphitiques et les hauts fonctionnaires jusqu'au troisième siècle après J.-C. (le nom vient de la magnificence des tombeaux, aucun rois n'a été enterré ici). Certaines tombes présentent des colonnes doriques et des murs aux fresques. Des fouilles archéologiques sont encore en cours sur le site. Les tombeaux sont coupés dans la roche indigène et parfois imitent les maisons des vivants. L'ancien Odeon se trouve à Kato Pafos, au cœur de la zone touristique. C'est un petit Odeon du 2ème siècle construit entièrement en blocs de calcaire bien taillés. Aujourd'hui, il est utilisé en été pour des représentations musicales et théâtrales. Côte et plages: Pour l'Ouest, Coral Bay est l'une des meilleures plages de sable de la région, elle est située à Pegeia - facilement accessible par tous les moyens de transport et conduit vers la préservée Péninsule d'Akamas, couvre environ 230 kilomètres carrés et est située sur la pointe ouest De Chypre. C'est un domaine de grande beauté naturelle qui n'est pas affecté par le développement. L'unicité de la région pour Chypre et pour l'ensemble de la Méditerranée est centrée sur son écologie précieuse. Un court trajet en voiture sur la côte, vous pourrez profiter de la plage Lara presque déserte et vraiment idyllique dans le parc national d'Akamas. La station de conservation des tortues de Lara Bay à Akamas est une petite plage de tortues à seulement 15 minutes de Paphos. Les tortues sont spécialement conservées sur cette plage et surtout sur l'espèce Chelonia mydas, qui risque d'être éteinte. Il peut y avoir jusqu'à 50 nids en même temps sur cette plage et il est recommandé de regarder où vous marchez. Les signes sont affichés et les petits cylindres circulaires en cercle sont placés là où les oeufs suspects sont allongés. Super endroit pour les enfants surréalisés de voir les petites tortues ainsi que d'apprendre tout à leur sujet. En route vers le nord en voiture, c'est la route de Cedar Valley et de Troodos Mountains. Un must pour les amoureux de la nature, Cedar Valley à Paphos Forest est bien nommé. Il y a des cèvres ov (NUMÉRO DE TÉLÉPHONE CACHÉ) dans cette vallée isolée et paisible. Il y a une excellente route qui s'étend à tous les coins de Chypre, mais la route de la vieille route est la route la plus scénique. La route est poivrée avec de nombreux petits mais charmants villages en cours de route. Une promenade le long de plusieurs sites anciens tels que la place de naissance et le temple d'Aphrodite. La région de "Petra tou Romiou" est l'une des plus belles côtes de Chypre, où, selon la mythologie, Aphrodite a augmenté des vagues. Le nom grec "Petra tou Romiou" ("le Rocher du Grec") est associé au légendaire héros byzantin, Digenis Akritas, qui, selon la légende, a gardé à l'écart les Arabes sarracains maraudants avec sa force étonnante. D'une part, il aurait attrapé la chaîne de la Kyreneia, formant ainsi "Pentadaktylos", la montagne Five Finger, tandis que d'autre part, il a poussé une énorme roche et l'a jeté dans la mer aux Sarrasins qui essayaient d'atterrir . Le rocher demeure et donne ainsi à la région son nom. Le site est un arrêt sur la route culturelle d'Aphrodite. Ski: Les montagnes de Troodos sont accessibles en voiture avec une voiture de 30 à 40 minutes, avec des neiges de janvier à mars. Le golf: Secret Valley Golf Club est situé non loin de Paphos et plus près de Petra tou Romiou. Il n'est pas surprenant que Secret Valley joue dans une vallée, mais ce n'est pas une vallée ordinaire. C'est vraiment spectaculaire, avec des formations rocheuses aux couleurs vives, qui changent de couleur dans différentes lumières. The Aphrodite Hills Golf Club: Imaginez une vision du ciel ensoleillé et du sport de classe mondiale, imaginez un parcours ondulé parsemé d'oliviers et de caroubiers, de fairways bien entretenus et de bunkers de vaisselle stimulants surplombant la mer, un voyage qui commence par l'enthousiasme et finit par une immense satisfaction. Aphrodite Hills se trouve au sommet de 2 plateaux surplombant le littoral méditerranéen En direction de Limassol, Curium est délicieux et est joli avec les plus belles vues: Curium était une ville de Chypre qui a duré l'antiquité jusqu'au début du Moyen Âge. Curium est situé sur les rives sud de l'île. Aujourd'hui, le site se trouve dans la zone de base souterraine d'Akrotiri. Autres choses à noter: L'appartement est nettoyé et le linge de lit / serviettes changé avant et après l'arrivée / départ des invités. Si vous avez besoin d'un nettoyage supplémentaire ou d'un linge de lit ou d'un changement de serviettes pendant votre séjour, nous pouvons arranger cela pour un supplément de € 20 à régler sur place. Les services suivants sont également disponibles sur
The apartment itself is tastefully decorated and is well equipped and designed throughout. All rooms have Air-Conditioning units and comfortable furnishings for your convenience and relaxation.
This apartment is situated on the first floor with the main entrance leading into a small hallway then in to an open plan, lounge/dining/kitchen with patio doors leading out on to a small sun terrace which overlooks the swimming pool. The lounge has a sofabed and can accommodate 2 more people and has 2 chairs and the dining area has a table and chairs to seat 4 with the modern kitchen, conveniently situated between the two. A small hallway leads to the bedroom and bathroom. The bedroom has 1 double bed. The bathroom has a bath with shower. The apartment has solar powered hot water but there is a back up immersion heater should this be needed. A connecting door from the lounge, leads into a mirror image apartment making this ideal for people who wish to be close but still enjoy their own space when required.
The development is situated within a short stroll of the seafront and Paphos harbour with many restaurants, bars and tavernas. There is a local restaurant/pub/cafe on the corner of the apartments which serves a great value breakfast. It is near bars and restaurants, all the shops you would ever need from souvenir, to supermarkets, restaurants and the fruit market.
Constantia Gardens is ideally located, within the heart of Kato Paphos tourist area. It is within seconds walk of bars, restaurants, clubs and cafes and within 5 minutes walking distance of other essential amenities, including the beach & harbour. Buses are the easiest way to move within Paphos tourist area. There is frequent bus connections between Kato Paphos, Tombs of the Kings, Chloraka, Kissonerga, Coral Bay and Paphos Center. There are buses running from Kato Paphos and Paphos Center to Paphos International Airport.
The property benefits from private parking on site. There is Air-Conditioning provided throughout for both cool and warm air as required and free WiFi.
We like to be there for our guests arrival but sometimes this is not possible due to time of arrival so arrangements are made beforehand for key collection. We like to keep in touch with our guests and we hope that they feel free to ask for anything that they may need. All contact details are provided once our guests book.
It is a mere 5 minute walk to the beach, the picturesque harbour, shops, bars, restaurants and many of Paphos' places of historic interest such as the ancient Odeon and the 3rd Century Mosaic floors.
Shopping :
The Kings Avenue Mall is an impressive full concept shopping mall ideally located in the heart of central Paphos convenient for both local residents and tourists. It is the most modern mall of Cyprus and offers visitors the ultimate shopping experience and it's just a short walk from the apartments.
Nothing reveals the spirit of a country more than a market, so make sure you find time to visit one during your stay in Pafos. The main market in the Pafos–Ktima area is the covered municipal market known to the locals as the "Agora". The market stalls are busy with locals buying their weekly food or essential supplies. Unlike local markets in towns the municipal market is open every day except Sundays.
Supermarkets:
The most popular supermarkets are: Papantoniou Supermarket near the harbour 2 minutes by car 12 minutes' walk, Garden of Eden 2 minutes by car 10 minutes' walk.
Paphos itself consists of two towns, each with its very own character. Ktima on the cliff (Upper Paphos) and Kato Paphos by the sea (Lower Paphos).
One town is virtually unchanged over the centuries and thoroughly Cypriot, while the other has expanded over the last decade from a sleepy fishing village and harbour, into a vibrant cosmopolitan resort which is expanding and improving. Kato Paphos, (in the archaeological park), you will find many fine mosaics and buildings from Greek and Roman periods, plus the Paphos Castle which is located on the edge of the Harbour. It was originally built as a Byzantine fort to protect the harbour. It was then rebuilt by the Lusignans in the thirteenth century after being destroyed in the earthquake of 1222. In 1570 it was dismantled by the Venetians. After capturing the island, the Ottomans restored and strengthened it. Throughout the ages it has seen many uses. It has served as a fortress, a prison and even a warehouse for salt during the British occupation of the island. More recently the castle serves as a backdrop to the annual open air Paphos cultural festival which takes place in September.
It was declared a listed building in 1935 and represents one of the most distinctive landmarks of the city of Paphos. Several archaeological excavations have taken place to investigate its past.
History:
Close by, is the church of St. Paul where you can see the remains of the pillar to which St Paul was allegedly tied and whipped. Further down this road are the Tombs of the Kings where there are the mysterious vaults and caves, the underground tombs many of which date back to the 4th century BC, are carved out of solid rock, and are thought to have been the burial sites of Paphitic aristocrats and high officials up to the third century AD (the name comes from the magnificence of the tombs; no kings were in fact buried here). Some of the tombs feature Doric columns and frescoed walls. Archaeological excavations are still being carried out at the site. The tombs are cut into the native rock and at times imitated the houses of the living.
The ancient Odeon lies in Kato Pafos, in the heart of the tourist area. It is a small 2nd century Odeon built entirely of well-hewn limestone blocks. Today it is used in the summer for musical and theatrical performances.
Coast and Beaches:
To the West there is Coral Bay one of the best sandy beaches of the region, it is located in Pegeia – easily reached by all means of transport and leads towards the unspoilt Akamas Peninsula, covers about 230 square km and is located on the western tip of Cyprus. It is an area of great natural beauty unaffected by development. The uniqueness of the area for Cyprus, and for the whole of the Mediterranean, is centered on its precious ecology. A short drive up the coast you could enjoy the almost deserted and truly idyllic Lara Beach in the Akamas National Park.
The Lara Bay Turtle Conservation Station at Akamas is a small turtle beach just 15 minutes away from Paphos. The turtles are specially conserved at this beach and especially the Chelonia mydas species, which is in danger of extinction.
There can be up to 50 nests at one time on this beach and it is recommended to watch where you step. Signs are shown and small circle open air cilindros are placed where suspected eggs lay. Great place for supivised children to see the small turtles as well as learn all about them.
Heading North by car, is the route to Cedar Valley and the Troodos Mountains. A must for nature lovers, Cedar Valley in Paphos Forest is aptly named. There are ov(PHONE NUMBER HIDDEN) cedars in this secluded and peaceful valley.
There is an excellent highway which runs to all corners of Cyprus but the old coast road is the most scenic route. The route is peppered with many small but charming villages along the way. A drive along here past various ancient sites such as Aphrodite's Birthplace and Temple. The "Petra tou Romiou" area is one of the most beautiful coastlines in Cyprus, where, according to mythology, Aphrodite rose from the waves. The Greek name "Petra tou Romiou" ("the Rock of the Greek") is associated with the legendary Byzantine hero, Digenis Akritas, who, according to legend, kept the marauding Saracen Arabs at bay with his amazing strength. With one hand he was said to have grabbed hold of the Kyreneia mountain range thereby forming "Pentadaktylos", the Five Finger mountain, while with the other hand he heaved a huge rock and tossed it into the sea at the Saracens who were trying to land. The rock still remains and thus gave the region its name. The site is a stop on the Aphrodite Cultural route.
Skiing:
The Troodos mountains are accessible by car a 30-40 minute car drive, with snow January to March.
Golf:
Secret Valley Golf Club is situated not far from Paphos and even closer to Petra tou Romiou. Not surprisingly, Secret Valley plays through a valley, but this is no ordinary valley. It really is quite spectacular, with brightly-coloured rock formations, which change colour in different lights.
The Aphrodite Hills Golf Club:
Imagine a vision of sunny skies and world class sport, picture an undulating course dotted with olive and carob trees, manicured fairways and challenging pot bunkers overlooking the sea, a journey that begins with enthusiasm and ends in immense satisfaction. Aphrodite Hills sits atop 2 plateaus overlooking the Mediterranean coastline
Heading towards Limassol, taking in Curium, is delightful and is littered with the most beautiful views.: Curium was a city in Cyprus which endured from antiquity until the early Middle Ages. Curium is situated on the south shores of the island. Today the site lies within the Akrotiri Sovereign Base Area.
Other Things to Note:
Apartment is cleaned and bed linen/towels changed before and after the arrival/departure of guests. Should you require additional cleaning and or bed linen/towels change during your stay we can arrange this for an additional cost of €20 to be paid on the premises.
The following services are also available on request - Infant & Child Equipment (no charge) Airport Taxi Transfers, Welcome Packs and Additional Cleaning & Laundry. Should you require cots or highchairs for your stay then these are also available.
When guests are not at home we kindly ask that they switch off the lights and air condition units so as to avoid wasting electricity.
Please do not flush down the toilet items such as toilet paper, nappies, sanitary pads etc to avoid blockage of the sewerage system.
This is a non-smoking apartment so please keep this in mind but you can smoke on balconies.
If you have small children please refrain from letting them paint on walls or furniture.
Finally and most importantly please respect the neighbors by keeping the noise down.
Treat the property as if it's your own!
Accès des voyageurs
Accès à la piscine et parking sur place
Access to pool area and parking on the premises
Échanges avec les voyageurs
Certainement, il y aura interaction avec les invités s'ils ont besoin de quelque chose. Notre gestionnaire complexe visite tous les deux jours et peut être contacté en cas d'urgence.
Definitely there will be interaction with guests if they need anything. Our complex manager visits every other day and is contactable in any emergency.
Autres remarques
La propriété bénéficie d'un parking privé à l'extérieur et d'un pool communautaire. La climatisation est fournie partout dans l'air frais et chaud si nécessaire. Les services suivants sont également disponibles sur demande et sont payables à l'échelle locale: Équipement pour bébés et enfants (sans frais) Transferts de taxe d'aéroport Packs de bienvenue Nettoyage et blanchisserie supplémentaires
The property benefits from private parking outside and there is a Communal Pool. There is Air-Conditioning provided throughout for both cool and warm air as required. The following services are also available on request and are payable locally: Infant & Child Equipment (no charge) Airport Taxi Transfers Welcome Packs Additional Cleaning & Laundry
---
Espaces communs
1 canapé convertible
---
Arrivée : À partir de 14:00
Type de logement : Logement entier
Arrivée autonome : Casier sécurisé
---
---
Voyageur supplémentaire Sans frais
Communiquez toujours via Airbnb
Pour protéger votre paiement, ne transférez jamais d'argent et n'établissez pas de contact en dehors du site ou de l'application Airbnb.
En savoir plus
---
L'entrée dans les lieux se fait à partir de 14:00
For long term rentals of over a month air condition is paid locally by meter readings.
---
---
---
Séjour de 7 nuits minimum
---
Our vacation was great and also thanks to Tina and her "team" it was easier to manage out many things, e.g. we rented a car for a good price.... When we contacted her about any problem she was immediately able to do her best to help us. The appartment was clean, fully equipped. Swimming pool in the area for our-self refreshment we appreciated very much. It was close to the beach, approximately 15 minutes and close to the bus stop as well as the main bus station, appr. 15 minutes. The accomodation goes weell with the price
---
Thanks to Tina and Susan we spent a very good time in Paphos! The room was nice and cozy, white and full of sun. Especially I would like to say that the pool was very clean, we saw that the guys were cleaning it several times during our stay. about 10-12 minutes walk to the nearest municipal beach, and about 15-17 minutes to the SODAP beach which is better. Susan was available all the time when we had any questions and helped us very quickly. Thank you, Sue! I would like to note only that it would be nice if some consumables would be provided - not only body and hair wash but also hand wash, paper napkins and linen towels for a kitchen (more than one). Napkins and liquid soap are sold in big packs, so it is not very convenient to buy them for one stay. Recommended!
---
Мы (двое взрослых и ребенок 1.5 лет) жили в данной квартире месяц, в ноябре 2015 года. Апартаменты очень приятные и удобные для семьи из трех человек. Окна смотрят на три стороны горизонта, поэтому солнце заглядывает в гости с утра до вечера. Квартира оборудована всем необходимым, белье и полотенца хорошего качества. Хозяева радушные, помогли нам с переходником для электрической вилки (там розетки под три штырька, как в Британии), предоставили нам новую детскую кроватку-манежик и детский стульчик. Расположение аппартаментов нам очень понравилось - это тихая улочка, без сквозного движения, с дочкой ходили собирать поспевший инжир (рядом 2 дерева), мандарины и лимоны. До моря где-то минут 10-15, зависит как идти, на набережной масса кафе - от простых кебабных до отличных рыбных ресторанов. До большого супермаркета, где мы в основном закупались, около 15-20 минут. Маленький супермаркет - в 5 минутах ходьбы. Пафос - очень уютный, спокойный и безопасный город на берегу моря, где прекрасно отдыхать семьей с маленьким ребенком.
---
Comfortabel appartement op een ideale ligging in Paphos. Wij waren afhankelijk van het openbaar vervoer en waren daarom opgelucht dat het appartement vlotjes met de bus bereikbaar is van de luchthaven! Ook om de rest van het eiland te verkennen zijn er eenvoudig bussen te vinden. Appartement is ruim voor 2 personen! Sue was erg vriendelijk en behulpzaam! We voelde, ons heel erg welkom! Niet zo veel gerief in de keuken dus uitgebreid koken is niet echt een optie. Jammer genoeg maar beperkt zon aan het zwembad, maar wij zaten er dan ook in november wanneer de zon niet meer zo hoog komt. Denk niet dat je je daar in de zomermaanden zorgen om moet maken!
---
The apartment was spacious, clean, and great value, in a quiet area only ten minutes walk from the beach, harbour and bus station. Tina was a very accommodating host, providing information about Paphos and comprehensive directions prior to arrival. Complimentary coffee, tea and bottled water were left for us and arrangements were made to accommodate both our late arrival and late departure. Would definitely recommend this apartment to anyone staying in Paphos.
---
Tina was a great host. She left teas / coffees for us on arrival. She provided plenty of information on the local area in the welcome pack and also ensured we had contact details for the on-site manager. I had lots of queries and she always replied to my messages promptly and she was really helpful. Sue the on-site manager was really friendly and equally as helpful. The description of the apartment was accurate. It's a great little space for a holiday. It was clean and comfortable. The double bed was a definite bonus, they can be hard to find in European hotels. It was lovely having a pool to cool off in too. The apartment is in a good location. Its a 10 min walk from the seafront and beaches which means it's really quiet at night, but it's also in a good location to walk to the old town. (about 20 mins away) Plus its close to the main shopping mall. I would recommend this apartment to anyone thinking of staying in Paphos.
---
Спасибо большое Тине! Нам все очень понравилось! Апартаменты супер! Отдыхали вдвоем с молодым человеком месяц. В апартаментах было все необходимое. Комплекс отлично расположен, посередине между песочным пляжем и большим супермаркетом, в тихой зоне, на улицу выше от бар стрит. С удовольствием бы еще приехали к Тине!
---
Hello my name is Tina and I live and work in London. I am married and have two daughters and 3 grandchildren. We all love our summer holidays in Cyprus. Originally from Famagusta my father now lives in Paphos in the beautiful area of Kato Paphos close to Constantia Gardens Apartments.
Taux de réponse :
100%
Délai de réponse :
Moins d'une heure
Découvrez d'autres options à Paphos et dans ses environs
Plus de logements à Paphos :