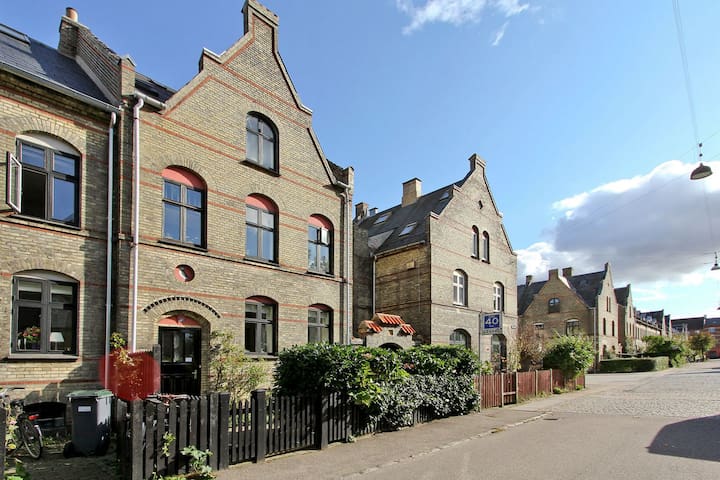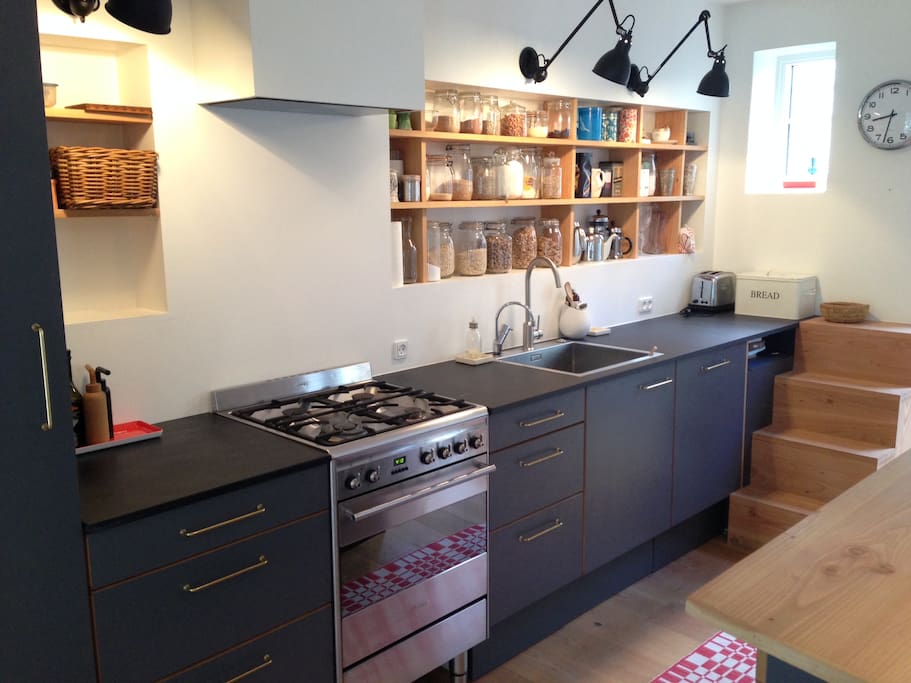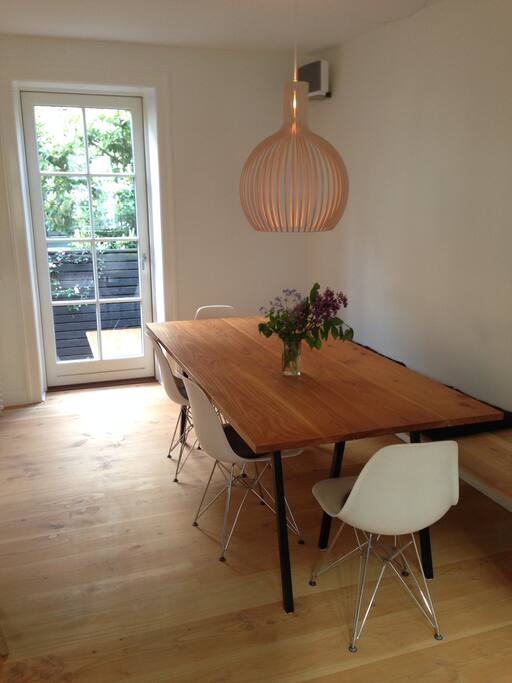 Our house is very suitable for adults travelling with kids as well as groups of 4+ individuals. We have been active members of Airbnb since 2011 and have enjoyed having guests from all around the world. It is a 100% non-smoking house.
Le logement
Our fully equipped Town House, renovated in Fall 2013, is especially suited for families travelling with kids and located only 2 km from City Center in historic Town House area. The house contains 1 Master bedroom, 3 children bedrooms (2 with normal size beds, 1 with a childs bed), 50 m2 ground floor kitchen + dining room + lounge in one, bathroom, 2 toilets, private back patio with grill, free wifi, free parking and for non smokers.
The house is situated in a very nice area, close to shopping for example on the main street Østerbrogade. If you are driving your car the location is close to highway going north out of the city. The house is close to public transportation as you have Nordhavn St. close by. If you feel like going to the beach or the sea - it is located just east from here. Nearby you will find a fitness center and excellent running tracks along the coastline or the parks.
This nothern part of Copenhagen is quiet and nice yet full of shops, restaurants, parks and cinemas.
Parking gratuit sur place
Welcome to Weysesgade 29, our house for the last seven years. This neighborhood of Town Houses is more than 100 years old and called 'The Quarters of Composers' since all the streets are named after famous Danish composers. It's original build to house three families, one on each floor. That's why you'll notice all the floors look the same, we still have locks inside the house and the bathroom is in the basement. In the old days there was just one toilet in the backyard for all to share, but we've skipped that. It's a very social neighborhood, kids are playing in the streets and people greet each other and chit chat across the fences. When the weather is nice the beach is just minutes away and it's a perfect gateway both to the city and the many things to see outside of the city. We hope you'll enjoy your stay!

Practical info:
The house is yours to use! However we expect you respect not using our clothes as well as both loft and backroom in basement are private storage and thus off limit to guests.
Free Wi-Fi
Bed linen and towels
All bed linen and towels you'll find are for guests only.
Bathroom
Using the bath is perhaps the only 'tricky' part about living here. The tub is connected to a water pump that needs to be turned on every time you use it – the switch is located above the washing machine on the left. You'll hear the pump start and simply turn it off once you're done showering. IF by any change the pump won't work, it is pretty easy to fix:
1)Open the soap drawer on the washing machine. On the back side of the front panel you'll find an orange stick.
2)Use the stick to gently open the tile top of water pump, located just in front of the tub. It's a bit heavy but no problem to remove.
3)The pump has a loose, green box connected to the top that needs to be upside down in order for the pump to work. It is most likely facing down, that's why the pump is not working. Turn it up and make it stay by 'locking' it between pump and walls. This should do the trick, test the pump and close the lit.
The shampoo, conditioner and body wash on the table is for you to use and for guests only.
Ventilation of the room is easy, simply open the window.
Stairways lights
Once turned on the lights in the stairway will automatically switch off after a couple of minutes.
iPhone dock
It is located in kitchen. You can also play music this way.
TV and gaming
You'll need to switch on both remote controls to control the TV: the box beneath the TV needs to show the clock before you start using it to switch between channels. We do not have cable but you'll find several local networks as well as a children channel.
You'll find a Playstation beneath the TV and games in the right drawer.
Toys and books
You're welcome to use both toys and books respectfully.
Washing machine
The washing machine is located in the bathroom and is pretty straight forward to use. We do not have a tumble dryer – clothe is to be dried outside on back patio or in front room of basement.
Dishwasher
Pls. do not wash sharp knives, tefal pots and pans as well as crystal glass in the dishwasher. You'll find tablets for the dishwasher beneath the sink in the kitchen.
Grill
It is located on the back patio. Please make sure to turn off the gas and clean the grill when you're done.
Shopping
You'll find bakery, grocery store, bank and take-away just minutes walking distance away on Østerbrogade.
Guest book and AirBnB
For future guests and our own memory we hope you will leave us a nice remark in our guestbook as well as (website hidden)
Contact
Pls. do no hestitate to contact if you have any questions or concerns regarding your stay:
Anton GreiffenbergHenriette Greiffenberg
(phone number hidden)
(email hidden)(email hidden)
Urgent assistance
In case of urgent assistance pls. do not hesitate to contact our next door neighbors i.e.
Stine & David Kendal
Weysesgade (phone number hidden)
Departure
When leaving the house we hope you'll take your time remove all linen and place them in a pile together with the towels.
We wish you the best of stays and hope you will enjoy the City of Copenhagen as well as our house.
The Family Greiffenberg

My family and I truly enjoy renting out our house to other families and travellers - come visit and enjoy a stay in a family friendly neighbourhood close to both the beach, tourist attractions and downtown Copenhagen.
Langues :
Dansk, English, Norsk, Svenska
Découvrez d'autres options à Copenhague et dans ses environs
Plus de logements à Copenhague :