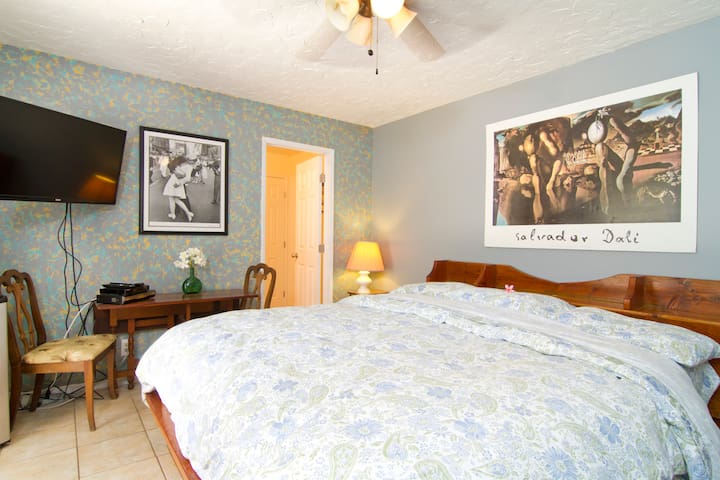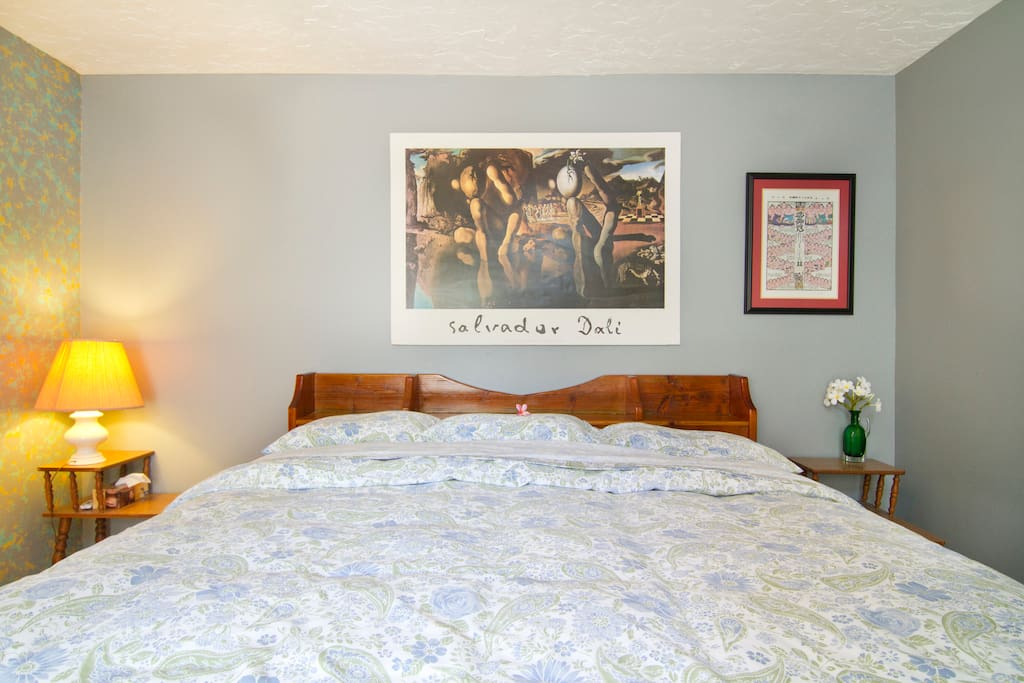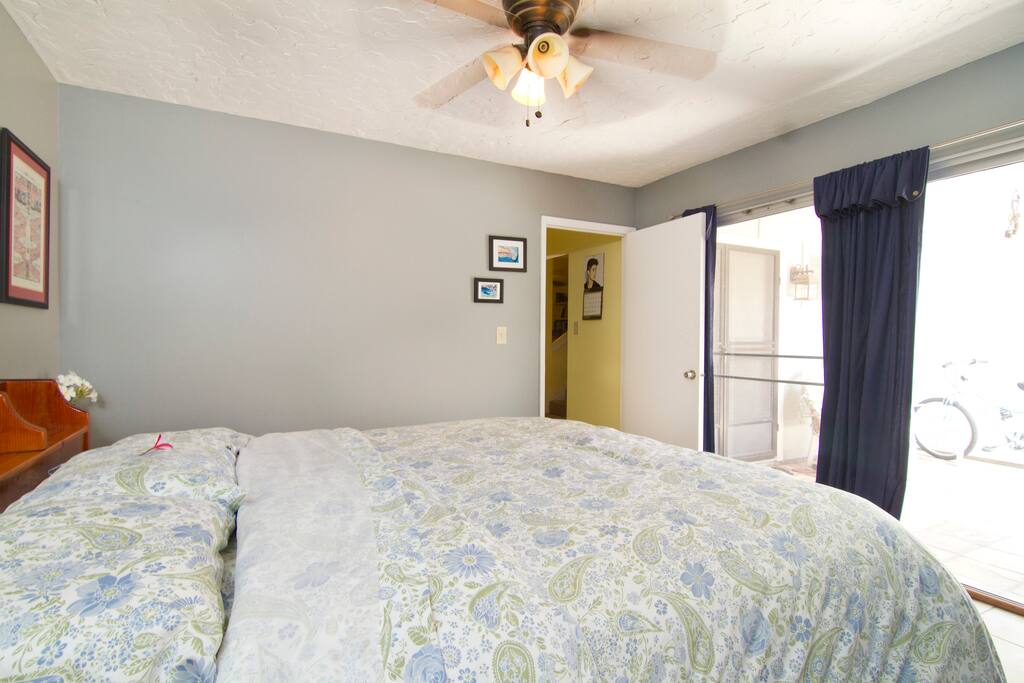 Spacious room, private entrance and bathroom, king size bed, LL Bean sheets, air conditioning, cable TV, movie channels, HDMI cable, mini fridge, coffee maker, tea kettle, coffee, tea, ironing board, iron, bicycle for easy ride to town or beach!
Parking gratuit sur place
Tyler was a gracious host while staying at his Kailua condo on Enchanted Lake in Kailua, HI. The town is beautiful with some of the best beaches in the world. I recommend swimming at Lanikai beach. Tyler let me use his bike during my stay and I was able to get to the beach in abo…
This the first time I have experienced such a negative review on Airbnb. Normally, I wouldn't write a response like this, but I feel like my reputation has been put on the chopping block. I am a very positive, friendly, "moment to moment" guy, and I feel like I accommodated Jodi in my house. I can't change Jodi's perceptions, I'm just offering up my perception of the situation so you can make your own judgment. I encourage you to check out my other reviews as I am very positively reviewed! I have three unfurnished rooms I rent at my house on a month to month basis. These renters share a bathroom upstairs. The kitchen / dining room / living room / entrance lanai is the common area. Right now I live with Nicole (A very friendly and positive yoga instructor and Whole Foods team member) and Katie (Very funny and friendly nurse). They rent 2 of the rooms and a shared bathroom. They are professional women and are very quiet and clean. One of the rooms is still open and I'm looking for a new roommate. I am very selective and plan to get a person with great energy in line with the quiet and clean mentality. My roommates are mostly at work and honestly sometimes never see the guests. These are the "lots of roommates and people coming going" Jodi referred to in her comment. Please read other reviews as most guests have enjoyed our occasional company, and have slept well. Besides sharing the kitchen or the downstairs half bath with them, you have your own private bedroom and bathroom with soap, conditioner, hand soap, lotion, and mini fridge, coffee maker, tea kettle, coffee, tea. Rest assured your rooms are private. The other two rooms in my house are the Airbnb rooms, furnished masters with private bathrooms. Both of the rooms have a lanai off of them. The upstairs lanai is a private lanai. I have already purchased a bed to upgrade the queen. So, one room is a furnished King bed and the other is currently a queen. I'm awaiting sheets to furnish the second king bed. Other amenities of these rooms are: air conditioning, mini fridge, coffee bar, tea kettle and bags, movie channels, 40 inch HDTV, HDMI cable for streaming laptops, bluray/DVD player, iron, ironing board, aux cable for listening to music, shampoo, conditioner, matching palm tree bathroom set that includes: towels, hand towels, wash cloths, tissue box, soap dish, tooth brush holder, and cups. Jodi asked to see the room ahead of time. Normally, the booking is made through the site to protect everyone's privacy, but I went ahead and showed her my rooms anyways. She noticed that my cable was basic and commented how she had movie channels at the hotel. The next day I had the cable upgraded in both rooms to include HDTV, and movie channels. I have also upgraded the downstairs master to have a 40" TV. When using the bike, one day the tire was flat. I gave her a ride to the bus stop and had the tire fixed, and left the bike waiting for her at the bus stop. When the barking dogs next door got to be an issue, I talked to my neighbor and informed him when they were gone, the dogs were barking. That night he got collars for the dogs that emit a noise that discourages barking, and the barking is no longer an issue. If you were to sleep during the day, with the sliding glass door open, without air conditioning, then yes, you can hear the neighbors a little bit when they get home from work. It's a town house and I have neighbors. That being said, other people have slept in that room for months, and have never complained of noise from the neighbors. The neighbors are a married couple in their 30s. He's a doctor at a local hospital and he and his wife are quite friendly and easy going. Also, Jodi's case is different as she was working at night and sleeping in the day. Most of my guests are out exploring Oahu and are mainly around the room at night. The closest grocery store / pizza / health food store / bar is a 16 minute walk from my house on (Hidden by Airbnb) Maps. The ground is flat too. I have two bicycles that are amenities of the two rooms I rent on Airbnb. They are available for you. It is an easy 5 minute bike on (Hidden by Airbnb) Maps. Also, to award winning Kailua and Lani Kai beaches is an flat, easy 11 minute bike on (Hidden by Airbnb) Maps. You'll find other reviews where guests have found the bikes useful, and Kailua an easy town to get around on bikes. Jodi rented my Airbnb room while searching for a place to live here in Hawaii. As I remarked earlier, one of my month to month rooms is not rented. I mentioned to her that the room was opening on June 1st if she would like to rent it month to month. She asked for a day to think about it. The next day we talked and she said she gave me a verbal commitment to take the room starting June 1st so she didn't have to move, and her job was walking distance. But, she wanted a furnished room and needed a bed and a TV at least. I said I would buy a TV and bed, and then provide her a TV and the queen bed that she liked. I spent $900 on a TV and a bed to provide what we agreed to. On June 1st, one day after she should have checked out per our Airbnb agreement, I got the following text: "Hey Tyler. I found a studio apt last minute. It's perfect couldn't pass it up. I left your house early this morning. The keys are in the room & it's unlocked." In retrospect, I should have gotten a rental agreement prior to purchasing any bed or TV. Because I had her word she wanted the room, I wasn't advertising for a roommate. With no notice, she left. Not only did I spend almost $1,000 on a bed and a TV, but now I am short first months rent and deposit, and don't have the room filled. My finances this month are a little delayed as I search for a new roommate. She stayed one day more than our agreement (because I assumed she was my new roommate and was providing her a place to sleep for a day), left early in the morning, and after she had left informed via text that she was not taking the room. Never did she offer any money for the extra day she stayed. After all that I left her a positive review because she was very clean and quiet and totally the type of guest a host would want in the home. She was respectful to my roommates and treated the house, bike, and everything with care. I was a little shocked to see her review, because I knew I had bent over backwards to help her. All in all, just know that I am a man of my word and will work to make your stay perfect. As you can tell I respond quickly and effectively to issues, and I'm available for questions, local site knowledge, or whatever! I have taken so much feedback from guests and implemented it. I'm confident you will feel right at home here! Aloha, Tyler
---
Hi, I'm Tyler. I've been living on Oahu for 12 years now and I love it. I moved here in 2001 as a new submariner in the Navy. I've since gotten out and decided to live here for the rest of my life. I am in the water most days when there's surf. I love to get in the water to …
Délai de réponse :
Quelques jours ou plus
Communiquez toujours via Airbnb
Pour protéger votre paiement, ne transférez jamais d'argent et n'établissez pas de contact en dehors du site ou de l'application Airbnb.
Découvrez d'autres options à Kailua et dans ses environs
Plus de logements à Kailua :