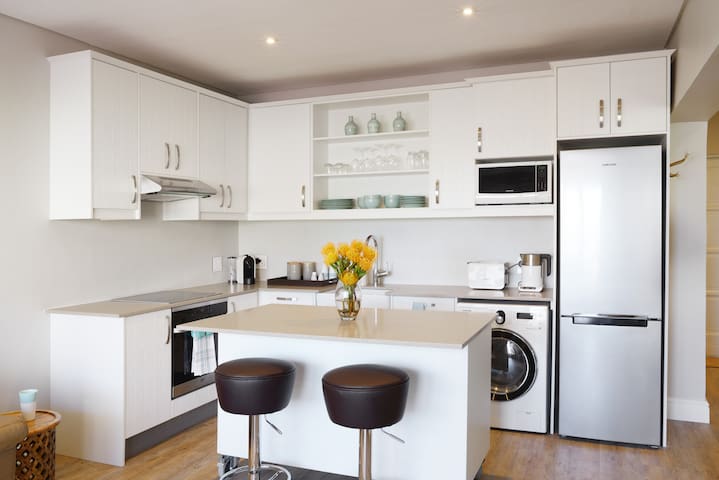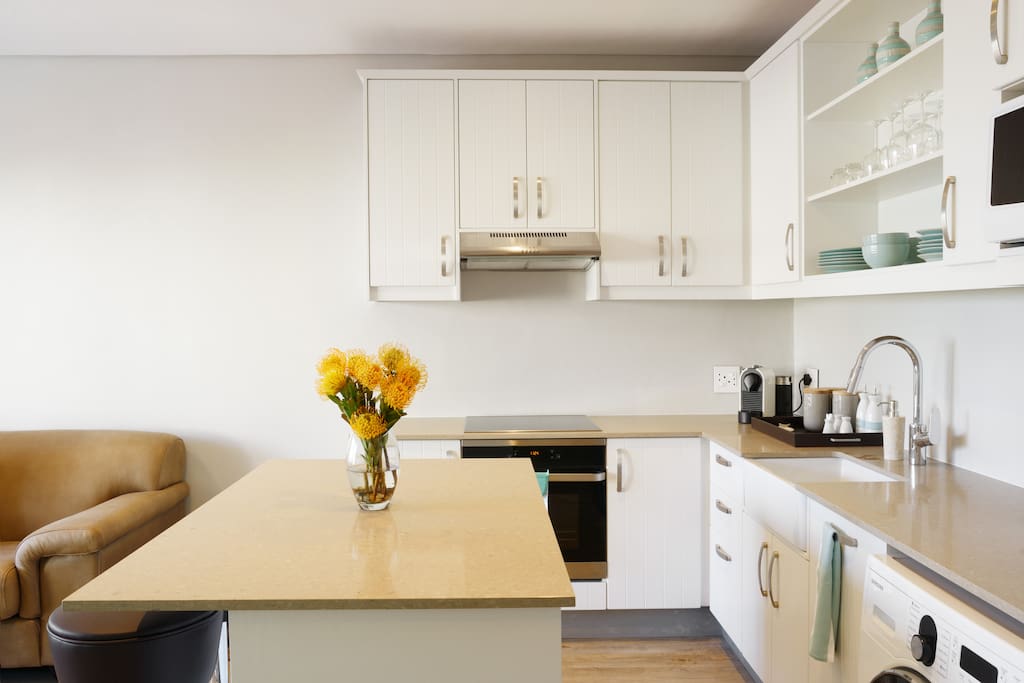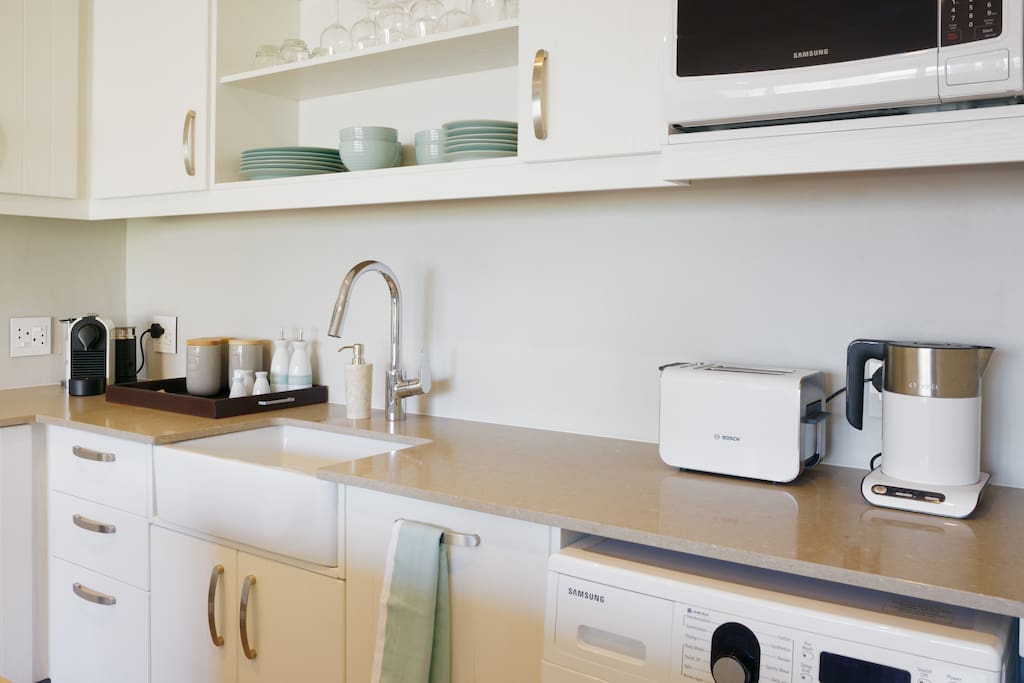 Ensoleillé et lumineux à la frontière de Sea Point et Bantry Bay, promenez-vous sur les plages ou la promenade. Entièrement équipé avec des finitions de qualité et une vue partielle sur la mer.
Sunny and bright on the border of Sea Point and Bantry Bay, take a walk to the beaches or promenade.
Fully equipped with quality finishes throughout and a partial sea view.
Le logement
Situé dans un ancien bâtiment, l'appartement est spacieux et dispose d'un grand balcon pour se divertir. Entièrement rénové de bout en bout, vous vous sentirez chez vous à la minute où vous entrez. L'appartement peut accueillir 4 personnes avec un lit queen dans la pièce principale et un lit superposé avec 2 singles adultes dans la seconde. Les clients ont accès par le foyer ou par la porte arrière. L'entrée est accessible et sécurisée. Il existe également un interphone pour accéder aux visiteurs. Nous serons présents à la main des invités les clés et seront disponibles s'il y a des problèmes. Vous rencontrerez Sea Point et Cape Town authentiques dans toutes les directions depuis l'appartement. Un centre de confort agréable est situé en face de la route et comprend 2 chaînes de supermarchés bien connues et une option de sortie alimentaire saine. Les transports publics via le bus My Citi s'arrêtent juste à l'extérieur. Le stationnement est situé sur la rue et facilement accessible.
Situated in an old building the apartment is spacious and features a large balcony for entertaining.
Completely renovated from top to toe you will feel at home the minute you step inside.
The apartment sleeps 4 with a queen bed in the main room and a bunk bed with 2 adult singles in the second.
Guests have access through the foyer or through the rear gate. Entrance is access controlled and secure.
There is also a intercom for visitor access.
We will be present to hand guests the keys and will be available should there be any issues.
You will experience authentic Sea Point and Cape Town in all directions from the apartment.
A lovely convenience centre is located across the road and includes 2 well known supermarket chains and healthy food take out option.
Public transportation via the My Citi Bus stops right outside.
Parking is on street and readily available.
Accès des voyageurs
Les clients ont accès par le foyer ou par la porte arrière. L'entrée est accessible et sécurisée. Il existe également un interphone pour accéder aux visiteurs.
Guests have access through the foyer or through the rear gate. Entrance is access controlled and secure.
There is also a intercom for visitor access.
Échanges avec les voyageurs
Nous serons présents à la main des invités les clés et seront disponibles s'il y a des problèmes.
We will be present to hand guests the keys and will be available should there be any issues.
Autres remarques
Bienvenue au numéro 12 Piccadilly Court. Notre vision était de rénover un ancien appartement et de créer un espace qui n'est pas seulement au centre de Cape Town, mais aussi à la maison pour les visiteurs de la Mother City. Nous espérons que vous apprécierez votre séjour chez nous et s'il y a quelque chose que nous pouvons améliorer s'il vous plaît informez-nous. Vous trouverez ci-dessous une liste d'articles qui pourraient vous aider à rendre votre séjour plus pratique. Profitez de Natalie & Stephen • Accès au bâtiment et à l'appartement Vous avez reçu une télécommande pour accéder à la porte latérale et un jeton gris pour ouvrir les portes d'accès au bloc d'appartements. Les clés fournies ouvrent la porte de sécurité (clé dorée) et les serrures à la porte (argent) de l'appartement. Sur votre départ, veuillez nous renvoyer les clés ou placez les clés dans la boîte livre sur la console et fermez les portes et la porte de sécurité à la sortie. Vous pourrez sortir du bâtiment à travers le foyer principal en utilisant les boutons de sortie. •Appareils électroménagers Le manuel de la plupart des appareils se trouve dans le dernier tiroir, à gauche de l'évier. L'appartement dispose des appareils suivants: Porte-serviettes chauffant, réfrigérateur congélateur, laveuse sécheuse, micro-ondes, bouilloire, grille-pain, cafetière Nespresso, four, plaques chauffantes et extracteur, télévision, décodeur DSTV. •Serviettes de plage Si vous avez besoin de serviettes de plage pour la plage, elles sont situées dans le placard de la salle de bain. Veuillez éviter de retirer les serviettes blanches de l'appartement. • Lavage corporel, lavage à la main, shampooing et revitalisant Pour votre confort, laver le corps (à droite) et le shampooing (à gauche) ont été fournis dans la douche. • Comptoirs en pierre césartique Les comptoirs de la cuisine peuvent tacher si des liquides sombres ou des aliments sont laissés sur le comptoir ou à partir de pots chauds, des casseroles et des plats étant placés directement sur le comptoir. Pour éviter cela, utilisez les plats proposés ou la planche à découper et pour éviter les taches de nourriture et de boissons, essuyez le comptoir avec le nettoyeur de cuisine fourni le plus tôt possible. •Café thé Du café gratuit, du thé rooibos local, du thé anglais, du sucre et du lait ont été fournis dans la cuisine. •Numéro de contact Si vous avez besoin d'assistance, n'hésitez pas à nous contacter. Nous avons inclus quelques chiffres supplémentaires importants ci-dessous: Ambulance: 10177 Crime Stop: (numéro de téléphone caché) Urgence: (numéro de téléphone caché)) Feu: (numéro de téléphone caché)) Police: 10111 • DSTV / TV par câble Il existe un éventail de chaînes de télévision et de musique à choisir. Pour accéder, allumez le téléviseur et le décodeur situé sous le téléviseur. Veuillez noter que nous n'avons pas configuré de contrôle parental puisque l'affichage est à la discrétion des invités. •Électricité Les prises d'alimentation en Afrique du Sud sont de 220 à 240 volts. Assurez-vous d'utiliser l'adaptateur approprié pour vos appareils personnels afin d'éviter les dommages et le feu. Le tableau de l'électricité est situé dans le placard au-dessus du poêle. S'il y a un problème avec les lumières ou les fiches, vérifiez d'abord ce tableau. Si l'électricité est éteinte en raison de la perte de charge nationale, les bouchons seront tous ouverts. Devraient-ils être en panne, essayez de les retomber et retirez tous les appareils inutiles branché. •Feu En cas d'urgence incendie, appelez le service d'incendie (numéro de téléphone caché) et utilisez les extincteurs situés dans le couloir principal par les ascenseurs. •Meubles et aménagements Ne retirez aucun mobilier ou équipement de l'appartement pendant votre séjour et assurez-vous que les serviettes de plage sont retournées avant le départ. S'il y a des ruptures ou des défauts, veuillez attirer l'attention afin que nous veillions à ce que cela soit pris en compte dans le temps. •Geyser La prise d'arrêt de la geyser est située dans le placard des chambres. En cas de problème, veuillez nous en informer le plus tôt possible. •Sèche-cheveux Le sèche-cheveux est situé dans le placard de la chambre principale. • Déménagement et enlèvement des ordures Les matériaux de nettoyage de la cuisine sont situés sous l'évier et des matériaux supplémentaires et le vide sont situés dans le placard verrouillé dans la chambre. Assurez-vous que cela reste bloqué en tout temps pour éviter les accidents avec ces matériaux toxiques. Les ordures sont recueillies dans les escaliers tous les mardis matin. Assurez-vous que lorsque le bac est plein ou au départ, tous les déchets sont disposés dans la salle des ordures située au bas de l'escalier d'urgence, à gauche. Nous avons un service de nettoyage disponible tous les mardis à vos frais. Faites-nous savoir si vous avez besoin de nous pour prendre des dispositions pour cela. •Blanchisserie La laveuse sèche-linge est disponible pour les invités et les produits de nettoyage ont été Fourni sous le puits. Si vous désirez sécher vos vêtements immédiatement après le lavage, sélectionnez la fonction de séchage lorsque vous réglez votre fonction de lavage. Alternativement, il existe des étuis et des chevilles pour vêtements situés dans les armoires de la chambre principale, ainsi qu'un fer et une planche à repasser. Un laverie convenable est également situé en face de la route. • Brochures d'attractions locales Veuillez noter que nous avons un certain nombre de brochures recommandées dans le cabinet de télévision des attractions locales. Si vous avez apprécié toutes les attractions que nous n'avons pas inclus, n'hésitez pas à nous faire savoir ou à laisser vos brochures indésirables lors de votre départ. Voici quelques-unes de nos attractions préférées: (Site caché) (Site caché) _mountain / (Site caché) (URL HIDDEN) caché) / (Site caché) •Transport local Une excellente façon de voir la ville est de sauter sur l'un des autobus urbains rouges (site caché) Les moyens de transport les plus fiables incluent la location de votre propre voiture (les agences de location de voitures sont principalement situées à l'aéroport), les vélos à la promenade et les autobus de mon Citi (site caché) • Coussins de mobilier de jardin Pour un affichage confortable de la vie urbaine et de la mer de l'Atlantique, les coussins de mobilier d'extérieur sont situés dans le placard de l'unité de télévision. •Parking Un parking est disponible sur la rue et il est conseillé aux clients de se garer dans les zones délimitées. •Les plantes Pour nos clients de longue durée, il serait grandement apprécié si vous pouvez donner aux plantes sur le balcon une tasse ou deux d'eau par semaine, ou bien si le sol a l'air sec. •Animaux domestiques Pour des raisons d'hygiène et d'allergie, l'appartement n'est pas adapté aux animaux de compagnie. •Restaurants Il existe de nombreux choix quand il s'agit de manger à Cape Town et nous avons inclus le site Web suivant pour référence et commentaires. Il est habituel, mais pas obligatoire, de fournir des frais de service sur tous les repas assis (10%). (URL HIDDEN) caché) / article / best-of-cape-town-2 / (Site caché) • Droit d'utilisation Vous êtes invité à inviter des quêtes, mais notez que l'établissement répond à 4 quêtes à la fois. L'utilisation de cet appartement et de ses installations est à risque pour les locataires. Nous n'assumons aucune responsabilité pour les dommages ou blessures causés. •Sûreté et sécurité Malheureusement, dans notre belle ville, il existe un fossé toujours plus grand entre les riches et ceux qui vivent dans la pauvreté. Il en résulte que les individus sont contraints à une vie de crime et nous exhortons nos invités à garder leur possession et à être vigilants. Utilisez la porte de sécurité fournie, fermez les fenêtres et verrouillez les portes lorsque vous quittez l'appartement. Tous les résidents du bloc d'appartements ont leurs propres clés d'accès et les visiteurs peuvent utiliser l'interphone pour accéder. •Achats Les supermarchés locaux, les options de plats santé et les praticiens médicaux sont idéalement situés sur l'ensemble de la route, Woolworth étant le principal détaillant d'aliments complets et Spar. D'autres centres commerciaux incluent Canal Walk, Cavendish, V & A Waterfront et Tygervalley, pour n'en nommer que quelques-uns. Un dispensaire est également situé aux clics de l'autre côté de la route à droite si vous avez besoin de fournitures médicales. •Fumeur L'appartement et le balcon sont non-fumeurs. •Eau L'eau est sûre pour boire, cuisiner et se baigner. Devrait-il y avoir un problème, veuillez nous en informer le plus tôt et la vanne d'arrêt se trouve dans le passage à l'extérieur, à gauche de la porte d'entrée dans un placard. •Wifi L'accès à Internet est disponible et le mot de passe vous sera fourni.
Welcome to number 12 Piccadilly Court. Our vision was to renovate an old apartment and create a space which is not only centrally located in the heart of Cape Town but also a home away from home for visitors to the Mother City. We hope that you enjoy your stay with us and should there be anything we can improve upon please let us know. Below is a listing of items which could assist you in making your stay more convenient. Enjoy Natalie & Stephen
•Access to the building and apartment
You have been supplied with a remote control to access the side gate and a grey token to open the apartment block access gates. The keys supplied open the security gate (gold key) and the locks to the door (silver) of the apartment.
On your departure please arrange to return the keys to us or alternatively place the keys in the book box on the console table and close the doors and security gate on exiting. You will be able to exit the building through the main foyer using the exit buttons.
•Appliances
Manual for most of the appliances are located in the last drawer, left of the sink. The apartment has the following appliances:
Heated towel rail, fridge freezer, washer dryer, microwave, kettle, toaster, Nespresso coffee maker, oven, hob and extractor, television, DSTV decoder.
•Beach towels
Should you require beach towels for the beach, these are located in the cupboard in the bathroom. Please refrain from removing the white towels from the apartment.
•Body wash, hand wash, shampoo and conditioner
For your convenience body wash (on the right) and shampoo conditioner (on the left) have been provided in the shower.
•Caesar stone counters
The kitchen counter tops can stain if dark liquids or food are left on the counter or from hot pots, pans and dishes being placed directly on the counter. To avoid this please use the trivets provided or cutting board and to avoid food and drink stains please wipe the counter with the kitchen cleaner provided, at your earliest convenience.
•Coffee & tea
Complimentary coffee, local rooibos tea, English tea, sugar and milk have been provided in the kitchen.
•Contact numbers
Should you require any assistance please do not hesitate to contact us. We have included some important additional numbers below:
Ambulance: 10177
Crime Stop: (phone number hidden)
Emergency: (phone number hidden))
Fire: (phone number hidden))
Police: 10111
•DSTV/Cable TV
There is an array of television and music channels to select from. To access please turn on the television and the decoder located below the television. Please note that we have not set any parental controls as viewing is at the discretion of the guests.
•Electricity
South Africa power plugs are 220 – 240 volts. Please ensure that you use the correct adaptor for your personal appliances to avoid damage and fire.
The electricity board is located in the cupboard above the stove. Should there be a problem with the lights or plugs please check this board first. If the electricity is off due to national load shedding the plugs will all be up. Should they be down please try to flip these up again and remove all unnecessary appliances plugged in.
•Fire
In case of a fire emergency please call the fire department on (phone number hidden)) and use the extinguishers located in the main corridor by the lifts.
•Furniture and fittings
Please do not remove any furniture or fittings from the apartment during your stay and ensure that beach towels are returned before departure. Should there be any breakages or faults please bring this to our attention in order for us to ensure this is attended to timeously.
•Geyser
The geyser shut off plug is located in the guestroom cupboard. Should there be any problem please notify us soonest.
•Hair dryer
The hair dryer is located in the main bedroom cupboard.
•Housekeeping & refuse removal
Kitchen cleaning materials are located under the sink and additional materials and vacuum are located in the locked cupboard in the guest room. Please ensure this remains locked at all times to avoid accidents with these poisonous materials.
The refuse is collected down stairs every Tuesday morning. Please ensure when the bin is full or on departure that all refuse is disposed into the refuse room located at the bottom of the emergency stairs, to the left.

We have a cleaning service available every Tuesday at your expense. Please let us know should you require us to arrange for this.
•Laundry
The washer dryer is available for guest use and laundry cleaning materials have been provided below the sink. Should you wish to dry your clothes immediately after washing these please select the dry function when setting your washing function. Alternatively there is clothes' drying rack and pegs located in the main bedroom cupboards, along with an iron and ironing board.
A convenient Laundromat is also located across the road.
•Local attractions brochures
Please note that we have a number of recommended brochures in the TV cabinet of local attractions. Should you have enjoyed any attractions that we have not included please feel free to let us know or leave your unwanted brochures on your departure. Here are a few of our favourite attractions:
(website hidden)
(website hidden)_mountain/
(website hidden)
(URL HIDDEN) hidden)/
(website hidden)
•Local transport
A great way to see the city is by hopping onto one of the red city busses (website hidden)
The most reliable forms of transport include renting your own car (car rental agencies are mostly located at the airport), bicycles down at the promenade and the my Citi buses (website hidden)
•Outdoor furniture cushions
For a comfy viewing of the city life and Atlantic sea board the outdoor furniture cushions are located in the cupboard of the TV unit.
•Parking
Parking is available on street and guests are advised to park in demarcated areas.
•Plants
For our long stay guests it would be greatly appreciated if you could give the plants on the balcony a cup or two of water each per week, or alternatively if the soil looks dry.
•Pets
For hygiene and allergy reasons the apartment is not pet friendly.
•Restaurants
There are many choices when it comes to eating out in Cape Town and we have included the following website for reference and reviews. It is customary but not mandatory to give a service charge on all sit-down meals (10%).
(URL HIDDEN) hidden)/article/best-of-cape-town-2/
(website hidden)
•Right of use
You are welcome to invite quests over but please note that the facility caters for 4 quests at a time. The use of this apartment and facilities is at the risk of the tenants. We do not take responsibility for any damages or injuries caused.
•Safety and security
Unfortunately in our beautiful city there is an ever increasing gap between the wealthy and those who live in poverty. This results in individuals being forced to a life of crime and we urge our guests to safe guard their possession and to be vigilant.
Please use the security gate provided, close windows and lock the doors when leaving the apartment. All resident to the apartment block have their own access keys and visiting guests can use the intercom to gain access.

•Shopping
Local supermarkets, healthy takeout options and medical practitioners are conveniently located across the road with Woolworth being the premier whole foods retailer and Spar.
Other shopping centres include Canal Walk, Cavendish, V&A Waterfront and Tygervalley, to name a few. A dispensary is also located at the Clicks across the road to the right should you need medical supplies.
•Smoking
The apartment and balcony is a non-smoking facility.
 
•Water
The water is safe for drinking, cooking and bathing purposes. Should there be an issue please let us know soonest and the shut off valve is located in the passage outside, left of the front door in a cupboard.
•Wi-Fi
Internet access is available and the password will be provided to you.
---
---
Voyageur supplémentaire Sans frais
Communiquez toujours via Airbnb
Pour protéger votre paiement, ne transférez jamais d'argent et n'établissez pas de contact en dehors du site ou de l'application Airbnb.
En savoir plus
---
Chambre 1
1 lit queen size
---
Ne convient pas aux animaux
L'entrée dans les lieux se fait à partir de 14:00
Treat the apartment with respect as you would your own home.
---
La durée minimum de séjour pour cette annonce peut varier.
---
Very pretty flat, very smart, everything was improved of the shower in beds, by way of the kitchen We appreciated this place. We hope to come back once again. This place is very astounding, views are fabulous, Lion s Head, Table Mountain are beautiful The list of curiosities, very nicer they some than others, is interminable The reception by Stephen was very good and its perfect availability We will recommend to rent him without deduction on AirBnB and to our friends. Thank you so much!!!!!
---
Natalie and Stephen were very pleasant host. They gave us all the information we needed about the apartment. By this way it was really easy for us after to use all the devices. The apartment is really well furnished, everything is new, very clean and So beautiful!!! Stephen kept in touch with us during the week to know if everything was good and yes everything was very good! The location is in seapoint close to bantry bay. We had a car it was really easy to park free in the streets, and also to drive between the different places of Cape Town. We found everything we needed in the supermarket in front of the apartment, open 7 days a week from 8 AM to 8 Pm. Great coffee shop, gas station, public swimming pool So amazing and a very beautiful walk along the sea.
---
It was my first time using Airbnb so naturally there were underlying concerns. But the check in was easy and we walked into a delightful, clean and well set out apartment. The up to date kitchen and living appliances are a big plus. Have to say that the shower is amazing too! There are well known convenience stores located just across the building and a coffee shop downstairs along with other eateries and restaurants along the street, which was awesome. The apartment is above a busy street so expect to wake up to the loud hustle and bustle of city life! But the beautiful ocean and Sea Point promenade is within a stones throw away so you have both the city and ocean on your doorstep. If you are hiring a car , make sure to arrange a parking with the host as the parking bays outside on the street are meter running which could add up costs unnecessarily. Traveling around Capetown was so easy from this location and we felt safe both coming in and leaving the apartment with its security controlled access. We had a fantastic and memorable stay at your home away from home - thank you Stephen and Natalie, I'm almost certain we'll be back soon.....
---
The apt is perfect for 2/3 persons, very well located, taxi, Uber, public transportation just across the street. Restaurants and super markets walking distance. Nice neighourhood!!
---
Natalie and Stephen were such gracious hosts, and our stay in Cape Town was perfect because of it! We loved Cape Town, and South Africa so much we cannot wait to return! Their place was located in an excellent location. Very close to a grocery store to pick up supplies (and great wine), restaurants and other fun things to do around Cape Town.
---
Le Cap, Afrique du Sud
Membre depuis mai 2014
Langues :
English
Taux de réponse :
100%
Délai de réponse :
Moins d'une heure
Découvrez d'autres options à Le Cap et dans ses environs
Plus de logements à Le Cap :