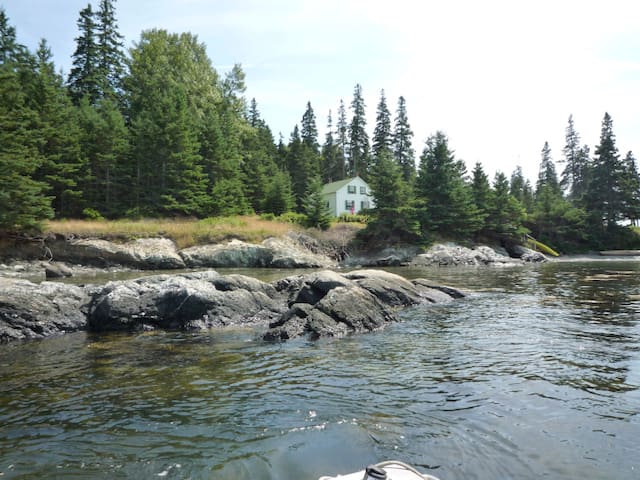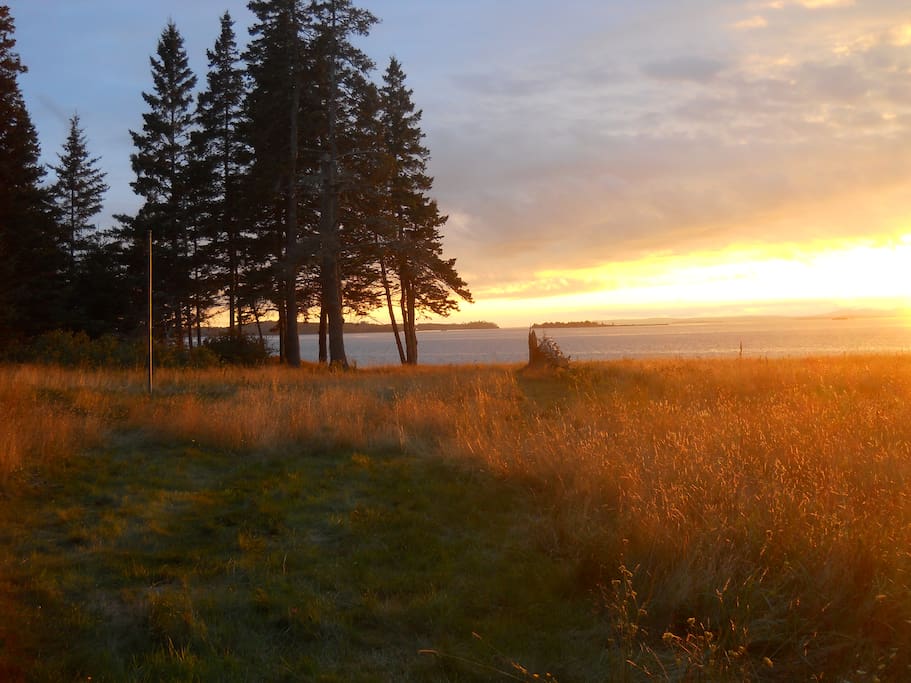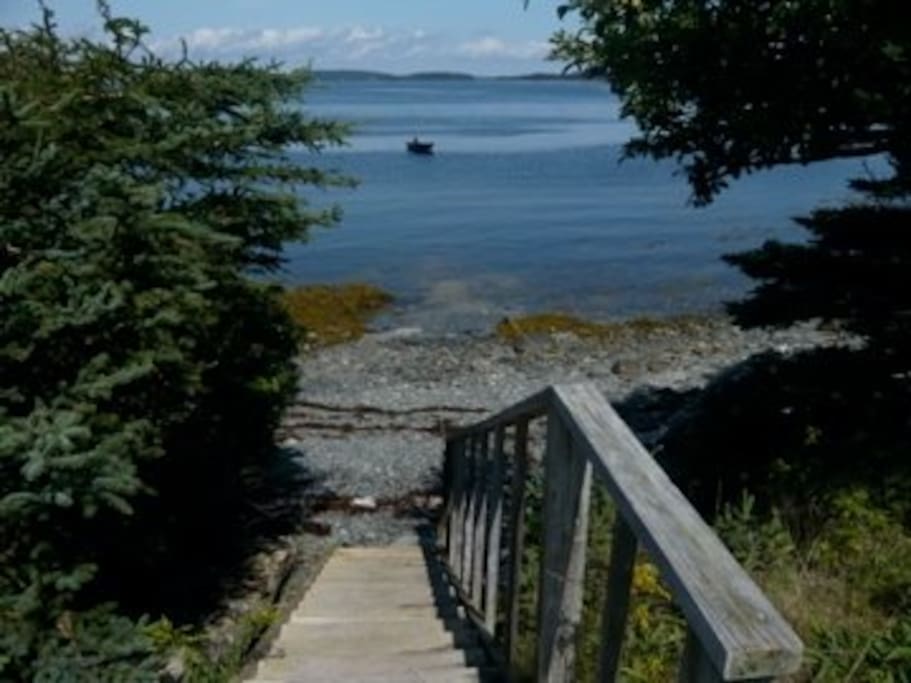 19th Century Island Cottage
Step off-the-grid in this quaint four-bedroom cottage on an island in rustic, coastal Maine for the perfect low-tech getaway. No electricity, running water or indoor plumbing. Propane fridge + stove are among the cabin's few compromises to modernity.
Le logement
A special cabin looks out onto the Penobscot Bay. It is a 19th Century fisherman's cabin on Eagle Island, Maine where modernity takes a back seat to breathing, reading, hiking and connecting.
The house is situated on its own point, affording great privacy to guests. Renters have access to a rocky shoreline directly in front of the house. The point is ripe for exploring, where those who brave the cold Maine water can enjoy a swim, dig clams, and hunt for crabs among the seaweed and tidal pools. Do keep in mind that the island is privately owned. Please respect our neighbors: this is their oasis too! In terms of nearby beach access, the intertidal zone is privately owned above the mean low water mark. However, an easement permits use for fishing (including clamming!) and navigation.
Pack away your smart phone and pack yourself aboard a mail boat out to Eagle Island, and you can visit a world free of the Internet and televisions, running water and shopping. This is a world where less is far more.
Accès des voyageurs
Amenities:
Propane appliances are among this off-the-grid cabin's few compromises to modernity. The propane refrigerator is small at 7.8 cubic feet, including a 1.1 cubic foot freezer. That's about one third the freezer and fridge capacity of the average North American fridge, but just about right for a week or two worth of supplies.
The propane stove/oven cooks up a storm, and the cupboards are stock full of cookware, tableware and spices. To clean up boil water on the kettle, pump rainwater up from the cistern, and apply elbow grease.
Indoor seating for 10 usually comes with a sunset at dinner, and the picnic table makes for great fresh air lunches.
Sleeping and Keeping Clean
There are four rooms for sleeping, and daybeds in the kitchen can also be used to sleep two more. Upstairs you'll find a sweet bedroom with a double bed and gorgeous view, plus a large loft space with two queen-sized mattresses on a platform frame and several cots. Downstairs there's a bedroom with queen bed and views, a small single bedroom, and foam mattresses for two on the dining room's built-in daybed-sized seating.
Bring your own sheets, towels and dish towels for all of the above!
Appearances are maintained with a generous washtub for kids, a classic shaving basin and a shower stall attached to the cabin. For the showers, fill the solar shower bag(s), located in the shed, with cistern water, lay them in the sun to heat, and then string them up in the shower stall behind the house.
With no running water, it's out to the outhouse when nature calls. This modest structure is located forty feet from the cabin. A scoop of peat moss after use keeps it smelling sweet with extra peat moss located in the shed. At night, many prefer the chamber pots.
Échanges avec les voyageurs
Because of the unique nature of this rental, communicating via email and phone is a must. We want to make sure that you will enjoy the island experience as much as we do, and that you fully understand the joys and challenges of this rustic vacation! Because of the remote nature of the cottage, a family representative will most likely not be present to greet you. However, the property caretakers are on the island in case of emergency, and neighbors are able to help in a pinch.
Autres remarques
Visiting Eagle Island requires preparation and education. We ask that you carefully read all instructions to make your experience positive!
Packing List:
1. Bed linens, dishtowels and towels (there is one double bed, two queen beds and several divans and cots)
2. Flashlights
3. lights, lamps and batteries (there are several LED and solar powered lanterns, but maybe not enough for everyone in your party)
3. Mosquito repellent (the critters are rarely much of a problem, but they can be)
4. Some warm garments for evenings and nights. It can be cool.
5. Light wet weather gear—raincoat or the like.
6. All your food and sundries needs, including staples, paper towels, toilet paper, etc. Large grocery stores can be found in Bucksport and Blue Hill, and The Galley on Route 15 in Deer Isle has most staples.
7. Indoor reading or activities in event of rain or fog
8. For the fearless, bathing suits!
9. Extra drinking water.
A Guide to Island Living
Water, and How to Use It
There are three opportunities for water: the well, the cistern, and what you bring with you.
Well water is your drinking water. The well in the backyard is equipped with a bucket on a rope. Drop it down and haul it up, pouring it into a second bucket you've brought along from the kitchen. Do keep small children safely out of range. Adults should check the condition of the wooden well top.
Repeated for emphasis: Well water is for drinking only. Well water can and regularly does disappear during the summer months. As a result we recommend that you bring with you 2 gallons per person per day.
The cistern is your supply of utility water. It is a wooden tank in the basement, which is filled by rain water. You access it by cranking the pump at the kitchen sink. If you're unfamiliar with pump priming, that is what you do when you first arrive to get the water flowing—by pouring cupfuls of water down the hole at the top of the pump and cranking at the same time until you get it going.
Food Storage and Cooking
A smallish gas fridge and 4-burner gas stovetop with oven are your mainstays. The fridge has a tiny freezer of maybe a cubic foot. A makeshift barbecue sits in the backyard. Do not use it in dry weather.
The fridge keeps going on a pilot. Unless you are the first to use it you shouldn't have to worry about that. If you believe it's off, check with the caretaking team. When you go, leave a few hours' time to clean and defrost the fridge, and then close the door.
The gas stove is also on a pilot. Use the oven sparingly, as it takes a lot of gas. Both stove and fridge are fed by the propane tanks at the back. They're unlikely to run out, but if they do talk with our rental managers.
The coolest place outside the fridge is the closet area at the head of the stairs down to the cellar. Store vegetables, wine, beer, etc. there.
Refuse
Keep compostable garbage separate and put it in the compost bin between the house and the outhouse. Trust us, use the compost. It will make the trash you carry off island much lighter and more pleasant to transport. Put all other trash in large trash bags to carry off when you go. Take off cartons, water containers, and anything else that you bring. Refuse you take off should be disposed of at the Deer Isle Village dump, which off the route north from the Village. Go through the Village, bear left and up the hill for maybe a half mile. A road going off to the right from the memorial leads to the dump in maybe a half mile. Recyclables and trash are separate.
Hygiene
In other words the potty. The outhouse is conveniently located maybe 25 yards from the back of the house at the outhouse. Bring toilet paper.
For showering there is an outdoor shower stall behind the house. Use a solar bag to heat water in the sun. Pull it up with the pulley inside the shower enclosure.
Communications
To reach someone on Eagle your most reliable option is walking—or running. Some cell phones work, and some don't. If you're boating you should have a marine two-way radio.
Fire
Fire is a serious danger. Do not use open flame devices in the house, which principally means kerosene lanterns and candles. The Franklin Stove is inoperable. No smoking applies inside the house, shed, and the outhouse. In dry weather be extra cautious even outside. There is a small fire extinguisher in the kitchen and one in the hallway to upstairs, but they are not to be relied upon as they are not tested. And, in any case they would only help to put out a small blaze. Campfires at the beach are safe unless conditions are too dry, or the wind is onshore.
Tide
Anyone can get stuck out on a rock as the tide comes in. It is a special hazard for children. Also, anyone, and not only children, can find themselves being carried out to sea by a strong tidal current. The same caution applies to kayaks or any small craft.
Medical
There's a simple first aid kit in the wooden ice chest in the living area. For important first aid, if you do have a reliable cell phone that can reach the rental managers or anyone else on or off the island, that would be your best bet. On a small island with no medical facilities emergencies will require time.
Wasps
Occasionally there will be a wasp nest on or too near the house. To neutralize it we have purchased a liquid that can be squired into the nest from a distance and after the wasps have returned for the night. If the liquid is in the shed you are welcome to use it. Otherwise the only way to get it may be by special order through the mail boat.
Wildlife
Lions and poisonous snakes have never been discovered. Moose, mink, deer, and garter snakes have.
Children
Keep small children within eyesight.
Other Hazards
There are hazards that you might not have thought of–depending on your exposure to rural and backwoods environs. There are few of these, and you might guess that you're safer on Eagle than most places. It can be helpful to keep in touch with people on the island about anything that may be of current concern.
Swimming
People say the water, at 58 degrees Fahrenheit, is cold. Once you are in—really in—you are numb in little more time than you can swat a fly. That allows most to enjoy a real swim. However, be advised that 20 minutes or so may be tops before you run a risk of hypothermic symptoms like trembling. The warmest water is in the cove down the path to the crescent beach.
Repairs and improvements
Anyone with the time and skills to undertake small repairs and improvements is welcome. If they involve a change of appearance we'd want to be in on it. Several kind people have done marvels and small marvels, and we have been very grateful. Certainly, no obligation.
Suggestions
We promise to read them all, and act on as many as possible.
Again: Please don't hesitate to contact us for clarification and answers to your questions.
---
Type de logement : Logement entier
---
---
Voyageur supplémentaire 9 € / nuit après 5 voyageurs
Réduction à la semaine : 15%
Communiquez toujours via Airbnb
Pour protéger votre paiement, ne transférez jamais d'argent et n'établissez pas de contact en dehors du site ou de l'application Airbnb.
En savoir plus
---
Fire Protocol:
Fire is a serious danger. Do not use open flame devices in the house, which principally means kerosene lanterns and candles. We have provided numerous LED and solar powered lanterns for your convenience. No smoking applies inside the house, shed, and the outhouse. In dry weather be extra cautious even outside. There is a small fire extinguisher in the kitchen and one in the hallway to upstairs, but they are not to be relied upon as they are not tested. And, in any case they would only help to put out a small blaze. Campfires at the beach are safe unless conditions are too dry, or the wind is onshore. Numerous houses on the island have burned to the ground due to negligence. There is no fire department on Eagle.
Water Use:
Water is a precious, limited resource on the island. Please read "Water, and How to Use It" in the Extra Details section.
Shed Rules:
The shed contains tools, including sometimes a chain saw. The chain saw is not for use. Use other tools at your own risk.
The Kayak is not for use because of insurance limitations.
Please clean the house thoroughly before you leave.
Cleaning & Checkout Checklist:
1. Clean and defrost the fridge.
2. Remove anything you brought that you haven't consumed, including foodstuffs. We find it piles up and often has to be thrown out.
3. Sweep out, and tidy up inside and out.
4. Return items to their places.
5. Close but do not lock the doors, unless otherwise requested.
6. Wash, dry and return dishes to their places. Leave a clean sink.
7. Remove all trash and recycling (disposal instructions included in the Extra Details section)
8. In general, clean anything requiring it
9. Alert the rental managers to anything needing attention.
10. If you abide by the girl scout motto, you won't go wrong: "Always leave a place better than you found it."
Many of our renters have rented for ten to twenty years, and they treat the house as they would a home: with great respect. We hope that you will fall in love with the place as we have, and enjoy it with care.
As per standard rental convention, guests are responsible for damages that occur during the stay.

---
---
---
Séjour de 5 nuits minimum
---
Rose's Cottage is a remarkable and very special place. The views are indescribable and each sunset was so lovely. We enjoyed ourselves immensely in this idyllic setting reading, knitting, fishing, hunting for mussels, cooking, feasting, bathing in the outdoor shower, and just sheer happiness. The kitchen is well-equipped and the lookout cushions next the the table are wonderful. We easily navigated the pump, cistern, well water, and outdoor loo. The rhythm of our days was easily established and the hours took on a timeless quality that is rare. Everyone on the island were friendly/helpful and the mailboat and beach landing were done with ease. Thank you!!!!
---
We lived a magical week on Eagle Island! This is truly a unique experience for those who need a bit of adventure and want to escape modernity... Appreciate the simple pleasures of life, walks on the deserted beaches, clamming, cooking... The cottage is exactly as described, the views and location are simply amazing. Transportation was easy with the mail boat and beach drop off, even with little kids. The children (and their parents) will remember this trip for a long time!
---
This cottage and property (and, really, the whole tiny island) is a unique experience that releases you from all the stress and bustle of our modern world. The view is incomparable, whether you are watching the sun's rays illuminate the blue waters of Penobscot Bay, waving to schooners a mere 30 ft off the point, resting beneath the pines in the heat of the day, eating a fresh cooked lobster dinner on the picnic table as the sun sets, or gazing at the black sky and millions of stars. The cottage is simple, clean, and easy to care for. There are a multitude of treasures, from binoculars, to maps, to star charts for children to explore with. Walks around the island are delightful, the multiple beaches are all a little different and very clean. The few neighbors are very friendly and welcoming. Rose is very easy and warm, responds to calls/texts and emails quickly, and very much wants visitors to enjoy her family's summer home. BE SURE TO ASK QUESTIONS ABOUT TRANSPORTATION TO AND FROM THE ISLAND. I feel that the rates are fair, and that the mailboat/beach drop service is excellent. However, some visitors experience sticker shock. Rose has no control over this pricing, but can connect you with Treena, who's family runs the service, and will explain costs and options to you fully. To my family, this is an adventure that is hard to match - I truly encourage you to give it a try!
---
Fairley Point has a miraculous location, high up on a bluff overlooking water on 3 sides. The cottage is the best kind of simple—unfussy, old-fashioned, gently worn and loved. We spent most of our week on Eagle Island outdoors, whether clamming on the beach, wandering through mossy woods, or just reading and relaxing in the beautiful meadow.
---
We had a wonderful stay at this simple cottage on a stunningly beautiful island. The pace was slow and enjoyable. The home was simple and very functional. We took pleasure in the daily routines we began to establish such as enjoying our coffee out on the point, sweeping out the cottage, getting fresh cold water from the well, long beach combing walks, digging for clams, skipping rocks, quick dips in the brisk water, paddling around the island, hiking, reading, sitting around campfires in the beach and cooking. I even found and used a recipe from the house and made a loaf of delicious banana bread. Our boys, ages 17, 7, and 4 had plenty to do to keep them active and busy.
---
We lived staying here. It was idyllic. It is definitely not for everyone, but the listing was 100% honest and accurate, and it was exactly what we were looking for. It is a beautiful, magical spot on a friendly, wonderful island - everyone is friendly, so friendly! Rose was so available and accessible! We would love to return!
---
2015 was my first summer hosting, and I have loved sharing our family cottage with the overwhelmingly enthusiastic and respectful airbnb community almost as much as I have enjoyed being a guest!

When I'm not exploring new places, I spend my time: cooking (currently working my way through the Pok Pok cookbook!), pulling weeds, reading, doula-ing, dreaming about tiny houses and vegetable gardens and working towards a degree in nursing.




Taux de réponse :
100%
Délai de réponse :
Dans la journée
Découvrez d'autres options à Deer Isle et dans ses environs
Plus de logements à Deer Isle :