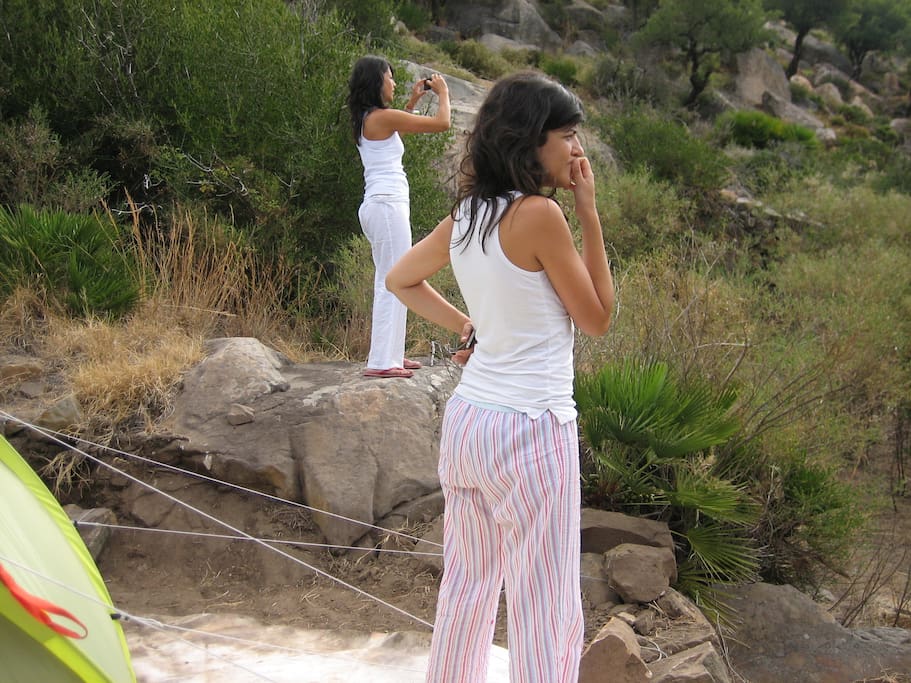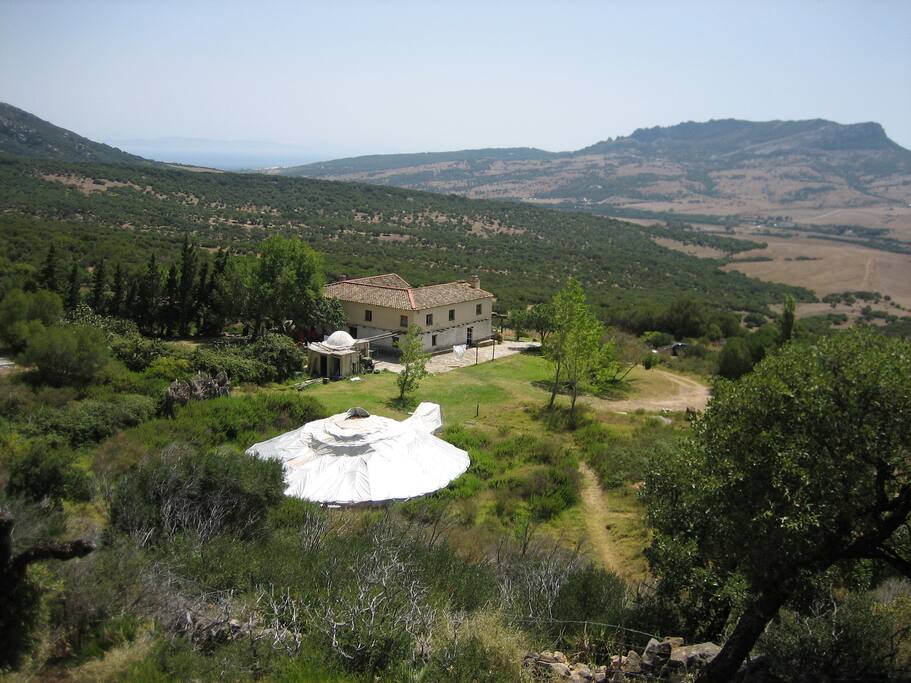 #12 "EAGLE'S NEST" NIDO DEL AGUILA
ENSEMBLE À LA FAIBLE VIE, L'ATLANTIQUE DE LA SALTY BLANC, LES DUNES, LE CONTINENT AFRICAIN, LE TANGER, LE MORROCO, RESPIRANT LE BREEZE FRAIS MINCE D'ÊTRE 100 M AU-DESSUS DU NIVEAU DE LA MER. HANGGLING SUR LES SURFÈRES DE KITE ET DE VENT PARADISE LA PLAGE DE VALDEVAQUEROS
LOOKING DOWN TO THE LOW LIFE, THE SALTY BLUE ATLANTIC, DUNES, THE AFRICAN CONTINENT, TANGER, MORROCO, BREATHING THE THIN FRESH BREEZE OF BEING 100 M ABOVE SEA LEVEL. HANGGLIDING OVER TO THE KITE- AND WIND SURFERS PARADISE THE BEACH OF VALDEVAQUEROS
---
---
Voyageur supplémentaire 8 € / nuit après le premier voyageur
Réduction à la semaine : 10%
Communiquez toujours via Airbnb
Pour protéger votre paiement, ne transférez jamais d'argent et n'établissez pas de contact en dehors du site ou de l'application Airbnb.
En savoir plus
---
SPECIAL HOUSE RULES FOR SPECIAL TIMES (RETREATS ETC.) REGULAR HOUSE RULES, SEE BELOW

A GOOD HEART ALWAYS BRINGS GOOD RESULTS
ABANDON ALL HOPE ABANDONA TODA ESPERANZA GIB ALLE HOFFNUNG AUF
LOVE JOY DANCE THRIVE
AMOR ALEGRIA BAILAR FLORECER
LIEBE FREUDE TANZEN BLÜHEN
Blissful tantric radical honesty, pre- and orgasmic states of Here and Now,
For radically honest free spirits without taboos and whoever wants to glimpse how it works.
Expect to open your heart and connect
Banned or EXCLUDED:
Whatever is not here and now
Small talk and bullshit
Your life's story
Links to the outside world from the guesthouse (please use your mobile phones, laptops etc. only in the business area)
Certain vocabulary (like e.g. you should or don't)
Shame and moral restraints
Radically entering into the eternal here and now
We want to feel each others hearts
Availability on a first come first serve basis, we cannot guarantee you a room but we guarantee you at least an air mattress in an indoor camping space.

Subjects: Radical Honesty, HSIN HSIN MING, AYP (advanced yoga practices), "From the cock into the heart", The 3 stages of "The way of the superior man", Microcosmic Orbit, singing, breathing, cooking, dancing, laughing, drinking, joking, screaming and crying together, "Buddha and Moses and all the noses".
Special arrangements are possible, please ask.
Please leave all your worries in the business area.
If you feel attracted to other non-normals , please come.
Saludos cordiales
Ananda y tripulacion
Association Los Banos de la Luz

REGULAR HOUSE RULES
We assume that our guests know the basics.
The use of the kitchen is communal, that means everybody can use it and store food and provisions in the fridge, cabinets and freezer.
The left behind provisions of previous guests are to be consumed. Please eat first of all the perishable foods. Please separate the different trash, (metal cans and bricks, glass, compost) from the general garbage.
We stock a certain health foods in our warehouse at the main entrance and it can be purchased there during normal business hours.
Our staff takes care of the basic cleaning and washing. If you use the kitchen, cutlery, dishes and glasses etc., please clean and wash them afterwards. If you want to use the washing machine, please coordinate with our staff.
If you rather wish, that our staff does the cleaning for you during your stay, they will gladly do so at a cost of € 12.- per hour.
If you are planning a loud party, please coordinate with us and the other guests on the property (you may have to invite them too). If you watch movies or are listening to music, please coordinate with the other guests or use headphones. Please use your mobile telephone only in the office area at the main entrance.
During the dry season, especially during windy periods, there is a very high risk of fire. Please only smoke or use open fires (grill) in the patio of the house and extinguish cigarette butts with water. Do not smoke in non-safe places or while walking around on the property. In case of fire, call the emergency number: 112 and advise our staff and the other guests and also help extinguish it. There are various water hoses in different places.
If you are bringing your animals, please make sure they do not not harm or disturbs other human or animal inhabitants. Extremely loud dogs may have to spend the nights in the kennel. Dog and cat hairs are extremely difficult to clean. The extra cleaning fee per pet visit is € 15 per stay. If your dog shits in public areas or on the paths, please remove it.
Please make sure that the gates to the property are closed again behind you because otherwise cows, horses and donkeys will enter the property, eat our flowers and the planted vegetables, damage our trees and shrubs and leave their droppings. It is hard work to herd them and send them out again. They like it very much on our land. Please advise our staff, if you see intruder animals on the property or arm yourself with a stick and take care of it yourself.
Thank you for your cooperation
Vous affirmez avoir également pris connaissance de :
Dog(s), cat(s) et other pet(s) live in the house
---
---
---
Séjour de 2 nuits minimum
---
Perfect stay with Buzzel. Very nice person. Extremely beautiful place. The nature and the sourroundings are stunning. All of the staff are very accommodating and always happy to chat. I'd definitely recommend and would come back anytime!
---
Het waren heerlijke overnachtingen in een geweldige omgeving. Het gevoel dat bij ons naar bovenkwam was 'community', het overgrote deel van de gasten zijn bewuste mensen en het familiegevoel was snel aanwezig. Er is van alles te doen en de gastvrijheid is enorm. Midden in een omgeving met mooie stranden en authentieke dorpjes.
---
Staying here was such a great pleasure for me! This place is so beautiful and unique...located in the mountains, surrounded by forest near a quaint village where cows and horses walk freely on the streets. On clear days one can see Marocco and the ocean (the beach is just 15 min. away) . Buzzel is a very nice person and a very obliging host - I got much more than I have been looking for. Thanks for everything!
hello Tao Tao Zur Ehrung des von Dir überbrachten Zhunagzi, der mich seit Deiner Abreise nicht mehr in Ruhe lässt Ex oriente lux? Das Licht der Weisheit geht – wie die Sonne – im Osten auf? – So fragen sich heute mehr und mehr abendländische Sinnsucher. Vielleicht. Doch warum sind es gerade der Daoismus und der mit ihm verwandte Chan (Zen)-Buddhismus, die im Wes- ten zunehmend Konjunktur haben? Als Nietzsche vor gut hundert Jahren sagte: ,Gott ist tot', war die vormoderne, theozentrische Zeit des christlichen Mittelalters und ihrer dogmatischen Metaphysik ,ihrer höchsten Bestimmung nach für uns ein Vergangenes'. ,Wir beugen das Knie nicht mehr', ein Wort Hegels, das für die griechischen Götter ebenso gilt wie für den christ- lichen Gott. Wenn das Licht des Christentums noch immer leuchtet, so ist dies dem Leuchten eines Lichtjahre entfernten Sterns ver- gleichbar, der in Wahrheit längst erloschen ist. An die Stelle Gottes ist in der Neuzeit seit Descartes das Ego getreten, ob wir dies gut- heißen oder nicht. Es ist in Wahrheit zum Glaubenszentrum der Moderne geworden, ob wir das wahrhaben wollen oder nicht. Der bekannte Satz cogito ergo sum – ich denke, also bin ich – ist der phi- losophische Grundsatz der Neuzeit. Grob gesprochen: die vormo- derne, theozentrische Zeit der Metaphysik ist durch die moderne, egozentrische – oder wertfreier gesagt: subjektzentrische Zeit der Metaphysikkritik abgelöst worden. Kritik bedeutet vor allem die strikte Scheidung43 des Ego als des ,denkenden Dings' einerseits und der ,ausgedehnten Dinge' andererseits. Der Mensch als Ego- Monarch steht als ,Meister und Besitzer' der Natur gegenüber, die er bekämpft, beherrscht und unterdrückt. Doch im Blick auf unseren diktatorischen Egozentrismus einerseits und unseren zerstöreri- schen Umgang mit der als feindlich angesehenen Natur andererseits können wir die Augen nicht länger davor verschließen, dass unser spätmodernes Zeitalter der Kritik in eine Krise geraten ist. Auszug aus Zhuanzi Günther Wohlfahrt hasta pronto Buzzel
---
The Airbnb profile page does not give him a choice. There is only one possibility:
("Hi, I° am Buzzel") (°=whoever that is)

Let's try it a little differently:

"Hello", "I° am known as BUZZEL"

Buzzel is beyond description...

After 70 years, Buzzel still does not know, who he° is.

¡To be, or not to be?!

¿Who am I?

¿What exactly is he referring to, when he says "I"?

¿Is there a real "I"?

¿Is God now hereor … ¡God is nowhere!

¿God, Allah, Jehovah, Manitou, Space, Emptyness or Consciousness?
Jesus, Mohammed, Buddha and Moses and all the noses have brought some anwers and a lot of new questions.

¿ What if THAT has been here all along?

¿The divine comedy¡…. ¡The dance of existence?

Questions, questions, few clear answers. ¡Better stop asking!

Buzzel° knows that he° does not know much.

He° knows, that moral and beliefs brings no solution to the enigma.

Certainty, that even all these insights have grown in his° own garden and that there is nothing out there, out there.

He° returned the God they had sold to him. The old clunker is finally gone.

Noone to blame anymore but myself°.

Divinity yes, in every being and thing, yes, the in love, in god feeling remains…

Flowering in it without limits.

There is no Buzzel, there is nothing, to what he° could hold onto.

Living the ecstasy in peaceful bliss.

¡Yes, or maybe not!

Hi, they call me Buzzel, but I° don't have a clue who this is.
Born: Yes, along time ago.
Died: Not yet.

Avoiding the herd, the norms and the "normals".

Buzzel has journeyed and stayed in many places and spaces throughout time.

Come and stay with him for a while, where horses and cows, donkeys, foxes and rabbits roam around freely in the meadows and hills and where you don't have to lock the doors of your car, the doors of the house or your heart. Shed your burden, your clothes and your sorrows.

Enjoy living in our space and share the radically open ways and views of life. Leave your mind, come and share the peace or find it here with us and likewise other travellers, for a brief moment.

¡Be my guest!

Buzzel° is not just trying to sell you the use of a bed for a night or two for a certain number of €uros, £ounds or $ollars. He is offering you an experience:
The space of the place, something you can take with you and where you can return to anytime.

Come here and feel for yourself.

Die Airbnb Profil Seite gibt ihm keine Wahl. Nur eine einzige Möglichkeit:
("Hallo, Ich° bin Buzzel") (°=wer auch immer das ist)

Lass es mich ein wenig anders versuchen:

"Salü", "Ich° bin als BUZZEL bekannt"

Buzzel kann nicht beschrieben werden.

Selbst nach 70 Jahren weiss Buzzel immer noch nicht, wer er ist.

Er lebt in der Gewissheit, dass das Gewissen nicht der Weisheit letzter Schluss sein kann.

¡Sein oder nicht sein?!

¿Wer bin ich?

¿Auf was genau bezieht er sich, wenn er sagt "Ich"?

¿Gibt es ein wirkliches "Ich"?

¿God is now hereor … ¡God is nowhere!

¿God, Allah, Jehovah, Manitou, Raum, Leerheit oder Bewusstsein?
Jesus, Mohammed, Buddha and Moses and all the new noses haben einige Antworten gebracht und noch mehr neue Fragen.

¿ Was wenn ES schon immer hier ist?

¿Die göttliche Komödie¡…. ¡Der Tanz der Existenz?

Fragen, Fragen, Fragen und nur wenig klare Antworten.

Buzzel° weiss, dass er° nichts weiss.

Er° kann das"Ich" nirgends finden und trotzdem erscheint Buzzel in seinem Geist.

Leben in der Ungewissheit. Lieben in der Leere. Alle Wesen nur flüchtige Erscheinungen. Keine Materie, kein Bestand.

"Ja, oder vielleicht auch nicht."

Mit dieser Ungewissheit leben, darin aufzublühen mit aller Kraft. Mit der Kraft der bewussten Unsterblichkeit.

Da ist kein Buzzel, da ist nichts, woran er sich festhalten könnte.

Er° hat den Gott zurückgegeben, den man ihm angedreht hatte.

Jetzt ist niemand mehr da, dem er die Schuld zuschieben kann.

Göttlichkeit, ja, in jedem Wesen, jedem Ding. Verliebt sein mit Allem.

Es ist ihm bewusst, dass all die Einsichten auf seinem eigenen Mist gewachsen sind.

Hervorquellend, ungläubig, wissend, dass es nichts zu wissen gibt. Glorreich und einfältig.

Das Eine tun und das Andere nicht lassen. Den Sinn leben, keinen Nutzen, keinen Zweck mehr im Leben suchen.

Tanzen, weinen, singen und verzweifeln und sich wieder aufraffen, kurz: superlebendig, in alle Richtungen gleichzeitig rennen, um wieder zum Zentrum zurückzukehren.


Bald wird keiner mehr an mich denken. Hat es überhaupt je irgend wer getan?


-----

Buzzel° kann nicht beschrieben werden.


Buzzel verkauft Dir nicht nur den Gebrauch eines Zimmers für eine bestimmte Anzahl €uros, £ounds oder $ollars, er bietet Dir eine Erfahrung, etwas was Du mitnehmen und zu dem Du zurückkehren kannst.

Komm her und sieh für Dich selbst.

-----

Buzzel esta mas allá de una descripción


Buzzel no te vende el uso de una habitación para un cierto numero de €uros, £ounds o $ollars, te ofrece una experiencia, algo que puedes llevarte y a donde puedes regresar.

Ven a verlo por ti mismo.

Por favor lea lo que nuestros visitantes escriben y
por favor se mi huésped.

Bitte lese, was unsere Besucher über ihre Erfahrung schrieben und bitte
sei mein Gast.

Please read what our guests said after having spent time here and please be my guest.


Langues :
Deutsch, English, Español, Français, Italiano, العربية
Taux de réponse :
100%
Délai de réponse :
Moins d'une heure
Découvrez d'autres options à FACINAS et dans ses environs
Plus de logements à FACINAS :