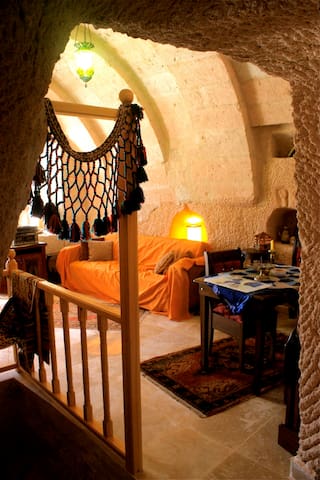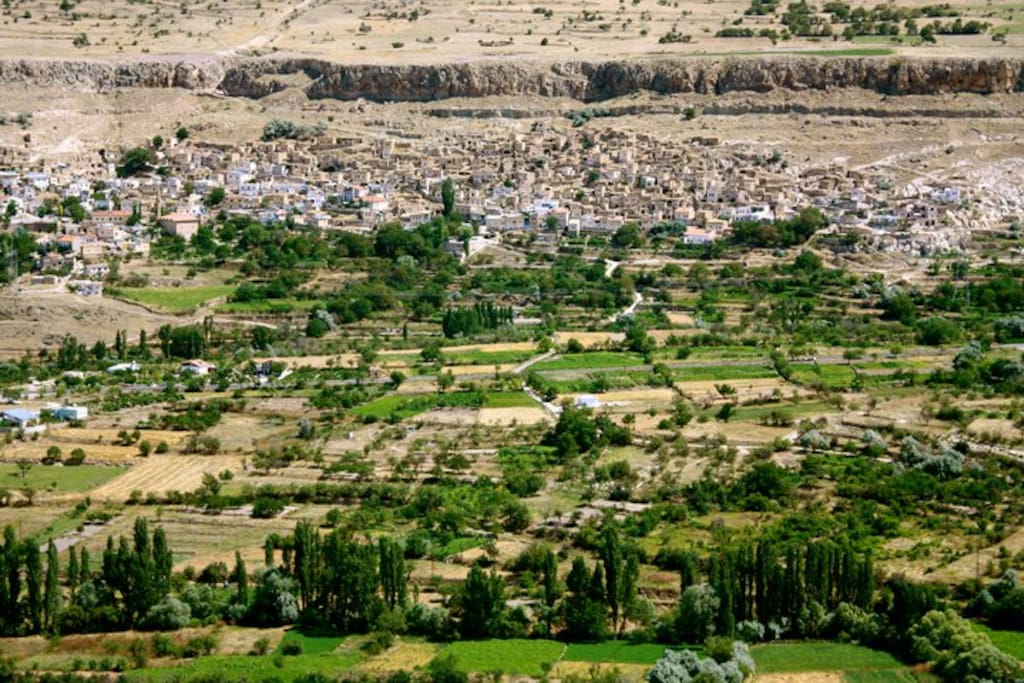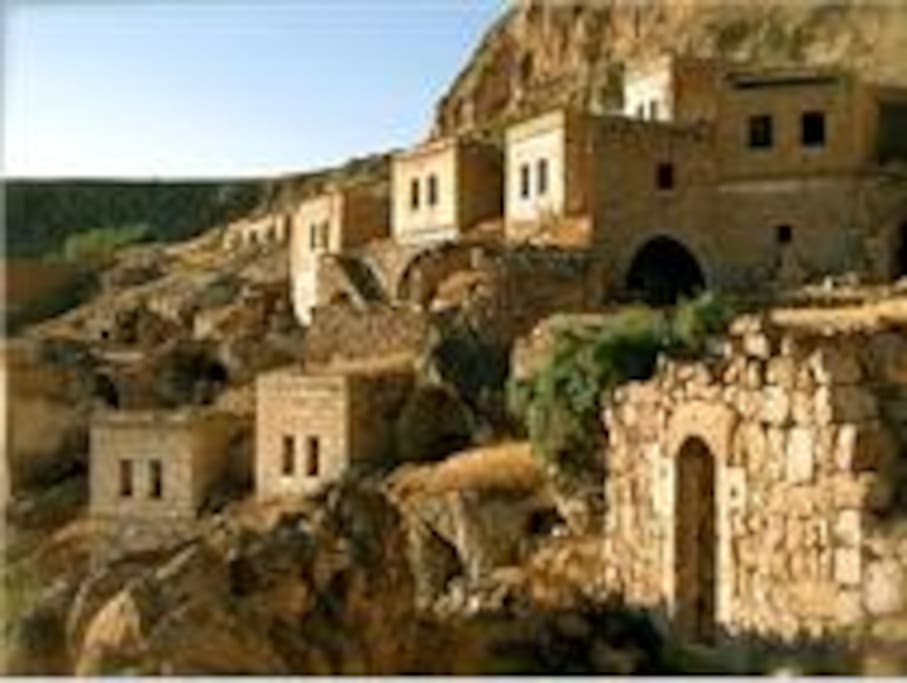 Cappadocia Cave Museum House
Résidence d'artistes entièrement meublée, construite avec des matériaux locaux, décorée de fresques, et dans un cadre historique rustique, très proche de tous les sites importants de la région de la Cité de l'UNESCO en PATRIMOINE MONDIAL de Cappadoce, en Turquie. Le village est un véritable musée.
Fully furnished artists' residence, built with local material, decorated with frescos, and in a rustic historical setting, very close to all important sites in the UNESCO WORLD HERITAGE region of Cappadocia, Turkey. The village is a true museum.
Le logement
Ancienne maison de caverne de Cappadoce, parfaite pour s'échapper dans un village de montagne au milieu des champs fertiles et des vignobles, adapté pour un séjour de courte ou longue durée. Entièrement meublé avec une cuisine ouvrante et une terrasse ombragée. Grande opportunité pour le trekking, le biotourisme, la photographie, l'esquisse, les visites d'histoire ou un simple repos dans la campagne rustique d'anatolie sur un site du patrimoine mondial. La maison elle-même a environ 200 ans, une maçonnerie incroyable, sculptée dans la roche de tuffa volcanique, rafraîchissante dans les étés et chaude dans les hivers, la maison, les jardins biologiques, les musées en plein air. Akköy, où se trouve la maison, se trouve à seulement 10 kms d'Urgüp et se trouve sur une route principale facilement accessible en voiture. C'est un ancien village hittite avec une longue histoire et la communauté rurale qui habitent le village continue de labourer les champs et est la plus accueillante pour les visiteurs. La maison est proche de tous les grands sites historiques et culturels de la Cappadoce et pourtant isolée dans une magnifique montagne avec une vue sur les vallées, les grottes et l'architecture civique cappadocienne exquise. VEUILLEZ NOTER QUE C'EST PAS UNE MAISON DE CAVE À VILLE, IL EST DANS UN VILLAGE CAPPADOCIEN QUI S'APPLIQUERA À L'URGUP ET VOUS AVEZ PAS UN ACCÈS FACILE À BARS, PUBS, CLUBS DE DANSE OU MARCHANDISES, ETC. DES AÉROPORTS DE KAYSERI ET DE NEVSEHIR, IL Y A UNE CHEMINÉE QUE VOUS POUVEZ PRENDRE POUR URGUP ET DE L'URGUP L'ENTRAÎNEMENT EST DE 10 KMS AU VILLAGE SUR UNE AUTOROUTE DROITE. CETTE PROPRIÉTÉ N'EST PAS ADAPTE AUX ARRIÈRES SANS TRANSPORT OU AUX PERSONNES QUI ONT RECHERCHER UN ENDROIT URBAIN. VEUILLEZ ÊTRE AVISÉMENT QUE, EN RAISON DES ESCANDES À LA MAISON ET À L'INTÉRIEUR DE LA MAISON, LA PROPRIÉTÉ N'EST PAS ADAPTÉE AUX COUPLES AVEC DES JEUNES ENFANTS OU AUX PERSONNES ÂGÉES QUI PEUVENT PROBLÈMES DE RESPIRATION OU DE MARCHANDISES. Nous serions ravis de vous accueillir dans notre maison de cave. Dans un cadre ancien village, l'hébergement serait un plaisir pour tous vos besoins en écotourisme pendant votre séjour. Notre établissement respectueux de l'environnement est situé dans l'ancien village de montagne de Cappadoci Akköy. Akköy Evleri Museum House est un établissement unique qui rassemble le passé et le présent. CONTACT Veuillez contacter Nergis Canefe à (EMAIL HIDDEN) pour plus de détails. PROPRIÉTAIRE La Maison du musée Akköy Evleri appartient au Prof. Nergis Canefe, un artiste et un savant. La propriété a été rénovée et décorée par Nergis Canefe. Les fresques, les photographies et les meubles décoratifs ont été fabriqués par le propriétaire lui-même. La maison est conçue comme une résidence familiale de style cappadocien entièrement meublée et adaptée à un séjour de qualité ou à long terme. Il est décoré d'œuvres d'art, d'une maçonnerie intéressante, d'objets historiques, de kilims et de meubles anciens, et la maison a sa propre terrasse. Son emplacement privilégié vous donne la vue complète de l'ancien village d'Akköy ainsi que les vallées environnantes, les villes de Grotte hittite, les monastères anciens, les montagnes avec trois formations villageoises, les champs fertiles et le paysage unique de la Cappadoce. ARCHITECTURE La Maison du musée Akköy Evleri est marquée par son architecture unique, sa décoration et ses œuvres d'art, sa sérénité et son hospitalité réconfortante. Les caractéristiques distinctes du village et les expéditions personnalisées afin de satisfaire vos besoins dans les domaines du tourisme historique, de la photographie et de la nature, de l'écotourisme et du biotourisme. ECOTOURISME: Akköy Village and Valley Excursions: Notre village est l'un des plus anciens de toute la région, avec une architecture civique inégalée et de nombreuses possibilités de photographie car il s'agit simplement d'un musée en plein air. Au dessus de notre village, nous avons des vineries merveilleuses sur les jupes d'Erciyes fréquentées par nos villageois. La promenade prend environ 2 heures et c'est plus agréable en termes de vue, météo et scenary. La montée est modérée seulement pour les 15 premières minutes et après, elle est directement sur un chemin de terre avec des vues incroyables. À PROPOS D'AKKOY: Akköy est un village de montagne calme et ancien, situé à environ 11 km d'Urgup, le centre touristique de la Cappadoce. Cette ancienne colonie accueillait les Hittites, les Asuriens, les Seldjoukites et les Ottomans dans sa longue histoire. Le style architectural unique du village est facilement observable dans les maisons en pierre sculptées dans les formations rocheuses volcaniques. Le village a été définitivement formé pendant les années 1920 et 1930 par des artisans locaux qui ont créé une vue spectaculaire sur les rues en terrasses et les maisons en pierre cubique entièrement équipées de salles de stockage de grottes, de toits, de cuisines ouvertes et de chambres multiples. Akköy Evleri est un bel échantillon de cette architecture civique exemplaire en Cappadoce. Balloon Rides Nous travaillons avec les meilleures compagnies de ballons dans la région depuis 15 ans, et ils fournissent un ramassage de porte à porte et rendent le service de minibus au fantastique Excursion en ballon sur le paysage unique de la Cappadoce. Nous faisons la réservation pour vous et vous proposons leurs meilleures offres pour la saison. Nous utilisons généralement Göreme Balonlarıhttp: (URL HIDDEN) Marché du samedi et bain turc Urgup a un marché historica village le samedi, et nous sommes heureux de faire visiter nos invités gratuitement, de déguster les plats et de profiter des arts et métiers sur le marché. Il y a aussi un beau bain turc dans l'urgup qui est unisexe et donc toute la famille ou les couples peuvent en profiter ensemble. Il est ouvert aux clients pour un tarif modique par personne (environ 20 USD). Akköy, Iltas et Basdere Walking Excursions Notre village et nos villages voisins, Basdere et Iltas, ont 2 très grandes villes de grottes hittites, un certain nombre de petites églises anciennes et des maisons de pigeons accessibles à pied. Ce sont de merveilleuses possibilités pour les randonneurs. Visite du bazar et du marché des tapis Kayseri Kayseri est l'une des villes les plus anciennes de la région centrale d'Anatolie et abrite un bazar séculaire et carrelé avec une fantastique sélection de kilims, tapis, bijoux locaux et cousine. Nous organisons des excursions à Kayseri, le Mont Erciyes et nous guiderons vers les labyrhans du Vieux Marché pour profiter des sons, des paysages et des odeurs des quartiers anciens du Kayseri. INFORMATIONS SUPPLÉMENTAIRES, CLÉS POUR NOS PERSONNES Veuillez trouver le lien vers la carte pour votre arrivée à Akköy Evleri. Les coordonnées GPS sont: (PHONE NUMBER HIDDEN) (URL HIDDEN) DISTANCES De Urgüp Akköy Evleri à d'autres parties de la Cappadoce (approximativement): 11 km / 6.8 milles. De la vallée d'Ihlara: 100 km / 62 miles. De Mustafapasa: 15 km / 9,3 miles. De Göreme: 15 km / 9,3 miles. De Nigde: 110 km / 68 miles. De Soganli: 60 km / 37.2 miles. D'Uchisar: 25 km / 15,5 miles. D'Avanos: 23 km / 14.30 miles. De Kaymakli: 50 km / 31 miles. De Derinkuyu: 60 km / 37 miles. De Zelve: 25 km / 15,5 miles. De Ortahisar: 15 km / 9,3 miles. Prévisions météorologiques quotidiennes pour Akköy, Urgüp (URL HIDDEN) Site de réservation de Turkish Airlines pour les vols vers Kayseri et Nevsehir Aéroports en Cappadoce: (URL HIDDEN)
Ancient Cappadocia cave house, perfect for escape in a mountain village amidst fertile fields and vineyards, suitable for short or long-term stay. Fully furnished with a working kitchen and a shaded terrace. Ample opportunity for trekking, biotourism, photography, sketching, history tours or a simple rest in rustic anatolian countryside at a world heritage site. The house itself is about 200 years old, incredible masonry, carved into volvanic tuffa rock, cool in the summers and warm in winters, housewine, organic gardens, open air museum type village setting. Akköy, where the house is located, is only 10 kms from Urgüp and is on a main road thus easily accessible by car. It is an ancient Hittite village with a long history and the rural community inhabiting the village still tills the fields and are most welcoming to visitors. The house is near to all major historical and cultural sites in Cappadocia and yet secluded in a wonderful mountain with full views of valleys, caves and exquisite Cappadocian civic architecture.
PLEASE BE ADVISED THAT THIS IS NOT A CAVE HOUSE IN TOWN, IT IS IN A CAPPADOCIAN VILLAGE NEXT TO URGUP AND THUS YOU WILL NOT HAVE EASY ACCESS TO BARS, PUBS, DANCE CLUBS OR CARPET MERCHANTS, ETC. FROM KAYSERI AND NEVSEHIR AIRPORTS, THERE IS A SHUTTLE YOU CAN TAKE TO GET TO URGUP AND FROM URGUP THE DRIVE IS 10 KMS TO THE VILLAGE ON A STRAIGHT HIGHWAY.
THIS PROPERTY IS NOT SUITABLE FOR BACKPACKERS WITHOUT TRANSPORTATION OR PEOPLE WHO ARE LOOKING FOR AN URBAN LOCATION.
PLEASE ALSO BE ADVISED THAT DUE TO THE STAIRS LEADING UP TO THE HOUSE AND INSIDE THE HOUSE, THE PROPERTY IS NOT SUITABLE FOR COUPLES WITH YOUNG CHILDREN OR FOR THE ELDERLY WHO MAY HAVE BREATHING OR WALKING PROBLEMS.

We would be delighted to host you in our cave house. In an old village setting, accommodation would be a delight for all your ecotourism needs during your stay.
Our eco-friendly establishment is located at the ancient Cappadocian mountain village of Akköy. Akköy Evleri Museum House is a unique establishment that brings past and present together.

CONTACT
Please contact Nergis (EMAIL HIDDEN) for further details.

OWNER

Akköy Evleri Museum House is owned by Prof. Nergis Canefe, an artist and a law scholar. The property has been renovated and decorated by Nergis Canefe. The frescos, photographs and decorative furniture have been made by the owner herself.
The house is designed as fully furnished Cappadocian style family residence suitable for meium or long-term stay. It is decorated with art work, interesting masonry, historic artefacts, antique kilims and furniture, and the house has its own terrace. Its commanding location gives you the full view of the ancient village of Akköy as well as the surrounding valleys, Hittite Cave cities, ancient monastries, mountains with three such village formations, fertile fields, and the unique landscape of Cappadocia.
ARCHITECTURE
Akköy Evleri Museum House is marked by its unique architecture, decoration and art work, serenity, and comforting hospitality. The distinct features of the village, and custom-designed expeditions in order to satisfy your needs in the areas of historical site-seeing, photography and nature hikes, ecotourism and biotourism.
ECOTOURISM:
Akköy Village and Valley Excursions:
Our village is one of the oldest in the entire region, with unmatched civic architecture and ample photography opportunities as it is simply an open air museum. On top of our village, we have wonderful vineries on the skirts of Erciyes attended by our villagers.
The walk takes about 2 hours and it is most pleasant in terms of the view, weather and scenary. The climb is only moderate for the first 15 minutes and afterwards it is straight on a dirt pathway with incredible vistas.

ABOUT AKKOY:

Akköy is a quiet and ancient mountain village, located about 11 km from Urgup, the tourism centre of Cappadocia. This ancient settlement hosted Hittites, Asurians, Seljuks and Ottomans in its long history. The village's unique architectural style is readily observable in the stone houses carved into the volcanic rock formations. The village was given its final shape during the 1920s and 1930s by local craftsmen who created a spectacular vista of terraced streets and cubic stone houses fully equipped with cave storage rooms, sun roofs, open kitchens and multiple chambers. Akköy Evleri is a fine sample of this exemplary civic architecture in Cappadocia.
Balloon Rides
We work with the best Balloon Companies in the region for the last 15 years, and they provide door-to-door pick up and return minibus service to the fantastic balloon ride excursion over the unique landscape of Cappadocia. We do the booking for you and offer you their best deals for the season. We typically use Göreme (URL HIDDEN)
Saturday Market and Turkish Bath
Urgup has a historica village market on Saturdays, and we are happy to take our guests for a visit free of charge, tasting the foods and enjoying the arts and crafts in the market. There is also a beautiful Turkish Bath in urgup which is unisex and thus the entire family or couples can enjoy it together. It is open to guests for a modest fee per person (about 20 USD).

Akköy, Iltas and Basdere Walking Excursions
Both our village and our neighbouring villages Basdere and Iltas have 2 very large Hittite Cave cities, a number of small antique churches and pigeon homes that are accessible by foot. These are wonderful opportunities for trekkers.
Visit to Kayseri Covered Market and Carpet Bazaar
Kayseri is one of the oldest cities in the Central Anatolian region and it harbours an age-old covered and tiled bazaar with a fantastic selection of kilims, carpets, local jewellery and cousine. We arrange for day-tours to Kayseri, Mount Erciyes and guide our guests towards the labyrenths of the Old Market to enjoy the sounds, scenery and smells of the Kayseri's ancient quarters.

ADDITIONAL, KEY INFORMATION FOR OUR GUESTS

Please find the link to the map for your arrival to Akköy Evleri. The GPS coordinates are: (PHONE NUMBER HIDDEN)

(URL HIDDEN)

DISTANCES From Urgüp Akköy Evleri to other parts of Cappadocia (roughly): 11 km/6.8 miles. From Ihlara Valley: 100 km/62 miles. From Mustafapasa: 15 km/9.3 miles. From Göreme: 15 km/9.3 miles. From Nigde: 110 km/68 miles. From Soganli: 60 km/37.2 miles. From Uchisar: 25 km/15.5 miles. From Avanos: 23 km/14.30 miles. From Kaymakli: 50 km/31 miles. From Derinkuyu: 60 km/37 miles. From Zelve: 25 km/15.5 miles. From Ortahisar: 15 km/ 9.3 miles.

Daily Weather Forecasts for Akköy, Urgüp

(URL HIDDEN)
Booking site for Turkish Airlines for flights to Kayseri and Nevsehir Airports in Cappadocia:
(URL HIDDEN)
Accès des voyageurs
Campagne, maçonnerie de pierre historique, vieille ville, ruines de 2000 ans, ruines héthitiques et asuriennes, églises rupestres, vignobles, vues incroyables et promenades à 1500 mètres d'altitude, nourriture biologique.
Countryside, historic stone masonry, ancient village setting, 2000 year old ruins, Hittite and Asurian ruins, cave churches, vineyards, incredible vistas and walking routes at 1500 meters altitude, organic food.
Échanges avec les voyageurs
---
---
Voyageur supplémentaire 35 € / nuit après 2 voyageurs
Réduction à la semaine : 13%
Communiquez toujours via Airbnb
Pour protéger votre paiement, ne transférez jamais d'argent et n'établissez pas de contact en dehors du site ou de l'application Airbnb.
En savoir plus
---
L'entrée dans les lieux se fait à partir de 13:00
This is an old Anatolian village so please be respectful to your surroundings and dress appropriately. The villagers are most welcoming and friendly and they are engaged in traditional agriculture. You will be safe, and welcome. You can safely go trekking, interact with the locals, and have easy access to all major sites in Cappadocia by car. Do remember, however, you are in a Muslim rural hamlet and please avoid excessively revealing clothing for the sake of civility and respect to local customs.
---
---
Séjour de 4 nuits minimum
---
Le séjour chez Nergis fut merveilleux dans ce village tranquille et authentique. L'accueil des habitants du village fut exceptionnel et la maison s'intègre dans un décor magnifique. Idéal si vous aimez les lieux paisibles et le contact avec les gens. La maison comporte tout le confort nécessaire. La proximité des sites de Cappadoce en font une halte idéale pour visiter la région. Notre étape préférée pendant notre voyage.
---
We had a very nice time at Nergis's home. Akkoy is a typical and quiet village in Cappadocia. Not far from all the touristic point. Nergis was very nice and helpful host, give us lots of informations about the area. It's a cave house, 3 stairs, stay fresh during summer. We felt like home, and very enjoy our time there !
---
She made us feel very welcome, even though we only communicated by e-mail and one telephone call. She has caretakers who live next door. I was able to phone them and let them know we were coming. Even though we didn't speak each other's language, the young woman ran down a path to greet us with a warm smile and gandshake when we arrived. She showed us to the house and showed us how to work everything. Told us we could call anytime if we needed anything. Then, she honored our privacy. I said hi to her every morning over the adjoining wall when we were both outside. The house is as advertised. Although very old, it's been refurbished and has modern amenities. It is decorated beautifully with much of the owner's own artwork. We spent 2 delightful afternoons with the neighbors on the other side. We were able to communicate with the help of Turkish-English dictionary. Very warm, generous people. You need a car to reach this house. Also, you must be able to walk up and down rough paths. Once in the house, steps are modern, but must use steps to go to bedrooms and bathrooms and kitchen. We spent time on the patio enjoying the peacefulness and beauty of the valley. It was magical during the call for prayer times.
---
Nergis was an incredible host. The home is a quaint, lovely house in a remote village. Naturally, I was slightly anxious about how to get to the house and how we were going to get around. Nergis made sure that we knew everything we needed to know and introduced us to a driver, a travel guide, a rental car company, her neighbors... I could keep going. It was such a unique experience to experience Cappadocia from a village with such a local experience. The home was also very adorable and nicely decorated. It did get pretty chilly at night but there were sufficient blankets to keep us warm.
---
We really enjoyed our stay in this amazing, remote location. Highlights included being invited in for tea with Ibrahim and Fatma next door then helping them deliver their new cooker by donkey the next day. Their warmth and friendliness was an unexpected pleasure. The house is a good base for visiting Goreme, Urgup and other places on the Cappadocia tourist trail. The house itself is a fascinating structure, simply equipped and a cool place to be on a hot day. The shaded terrace has outstanding views and a divan to lounge on. As a tall person, I found I had to take care moving around and the fittings (kitchen in particular) would benefit from an update, although this is reflected in the price. If you are looking for an authentic Cappadocian rural experience and are not seeking luxury, I would certainly recommend it.
---
Likes:
Restorative justice, Transitional justice, Crimes against humanity., International criminal law, Clowning, Mime artist, Tori Amos, Türkiye'nin En Büyük Amatör SanatçıLar PLatformu, İSTANBUL MUZİSYENLER BİRLİGİ, Pan Müzik Atölyesi, 45lik Hayranları/Nostalji Rüzgarı, Zemer Chai - D.C.'s Premier Jewish Choir, HaZamir: The International Jewish Teen Choir, Toronto Jewish Male Choir, War Child Music, Amy Winehouse, Sumeyra, Bach, Handel, Yedid Nefesh, Villa Lobos, Eric Satie, Ayse Tutuncu, George Gershwin, Elgar, Jordi Savall, Münir Nurettin Selçuk, Phillip Glass, Schubert, Felix Mendelssohn, Cem Karaca, Arvo Pärt, Ofra Haza, Duman Fan, Murat Aydemir, Toronto Mass Choir, Tom Waits, University of Toronto Gospel Choir, Yasemin Mori, Hans Zimmer, Kronos Quartet, Sonrasi Kalir, Aristotle, Alice In Wonderland, Saatleri Ayarlama Enstitusu, Olmeye Yatmak, The Waste Land, Ben Sana Mecburum, Sevda Ile Sevgi, Eski Türk Filmlerini Bayılarak İzleyenler :), Shadowlands, Sundance Film Festival, National Geographic Channel, The Guardian, Taraf Gazetesi, La Linea di Osvaldo Cavandoli, Recep İvedik, New York Foundation for the Arts, Rudolf Steiner, Adatepe Taşmektep, Sandemons - Sand Sculpture Company, Oregon Kitemakers Retreat, Can this Onion Ring get more fans than Stephen Harper?, HATAY AMİK GÖLÜNÜ GERİ İSTİYORUZ, grafik tasarım dergisi, greentraveller, Éco-Énergie à Montréal, ADALAR, fotograf yarışmaları, Praxis Theatre, Dmitry Dmitriev, TÜRK FOTOĞRAF SANATÇILARI, A Pulkauninko kinetinis teatras. A Pulka Physical Theatre, FOOL - Festival of Oral Literatures, Nazım Hikmet Ran, Cappadocia Photo Clup, indigo dergisi, Arkeo-tr, Sarcasm Society, Bırakın HasanKeyf Keyfine Baksın, Innovo Physical Theatre, IPAN International Performing Arts Network, Circus Minimus Puppetry, Mordillo, CRITICAL RUN, International Music Score Library Project (IMSLP) / Petrucci Music Library, William Morris (), Molière, PUSH Physical Theatre, goran bregoviç, Marcel Proust, National Geographic Photo of the Day, Jewish in Toronto, Amadeo Modigliani, Adile Naşit, Özdemir Asaf, Clowns Without Borders South Africa, Connecticut Guild of Puppetry, Yaya Derneği, High Park Choirs of Toronto, İSTANBUL KÜLTÜR SANAT, Payasos Sin Fronteras - Clowns Without Borders, Cihan Yüce Photography, FTA - Festival TransAmériques, Clowns Without Borders - Canada, Polis Şiddetinin u, The Walrus Magazine, Workmen's Circle/Arbeter Ring, Leopold Center for Sustainable Agriculture, Petr Frolich Photography, UN Watch, Michelangelo, Doğa Derneği, VIVA! Youth Singers of Toronto, Roadsworth, Foundation for Jewish Culture, Russian Jewish Institute, Res Artis, Worldwide Network of Artist Residencies, DANSKEYFİ, Greenpeace Akdeniz - Türkiye, FOTOĞRAF SANATI KURUMU DERNEĞİ ( FSK ), Transitions Global, Loredana Guinicelli Photography, Live Earth, William Saroyan, The International Ecotourism Society (TIES), Nikos Kazantzakis, Annie Leibovitz, Ihsan Oktay Anar, Genco Erkal, Walter Benjamin, Royal Horticultural Society, Osman Hamdi Bey, Gabriel García Márquez, Sustainable Harvest International, Jewish Music Institute, Müşfik Kenter, War Child Canada, AKUT Arama Kurtarma Dernegi, Rainer Werner Fassbinder, Pablo Neruda, Nuri Bilge Ceylan, David Lynch, Friends of the Earth U.S., Nikola Tesla, Dancemakers, Edip Cansever, Why can't Jewish songs go mainstream?, Local Travel, Foto Kadraj | International Clown Hall of Fame and Research Center, Tarihte Bugün, Ailanpa Cafe Winebar, TREKKING & HIKING & CLIMBING, Ecotourism Network, Vacation Rentals, Fotoğraflarla Arkeoloji, Cumartesi Anneleri, 80'li 90'lı Yıllarda Çocuk Olmak, bougainville turizm, Teatron Toronto Jewish Theatre, Gezi Önerileri, ecotopian, SansüreSansür, Günübirlik Turlar, Denizleri seviyorsan dalgaları da seveceksin, Portre Fotoğraf Sevenler, ArchaeoJobs, BUGÜN NE PİŞİRELİM, Dünyanın Fotograf Kulübü / World's Photo Club, The Toronto Institute For The Enjoyment Of Music, DAĞ FİLMLERİ FESTİVALİ, Gayda İstanbul, İstanbul Sualtı, Sustainable Travel International, Puppetry Arts Institute, ¡MI CASA! THEATRE, iyi insanlar için iyi şeyler, The Seed of Hope, Erik, Clowns Without Borders International, Travel Turkey, Adventures Within Reach, HİTİTLER, European Cinema, Multinational Exchange for Sustainable Agriculture, Seaborne Dalış ve Doğa Sporları, ESKI Istanbul, Jewish Culture, Jewish Music Festival, Non-Profits on , Elevate Destinations, Conscious Alliance, Türküler Sevdamız, Fotoğraf, University of Toronto Jewish Studies, Şahin Kaygun, Penguen, The Toronto Jewish Film Festival, Oxygen Outdoor, Babylon Istanbul, Bodrum Sualtı Arkeoloji Müzesi / Bodrum Museum of Underwater Archaeology, mocha | museum of children's art, DİREKLİ MAĞARASI - KAHRAMANMARAŞ, Ast-Tur Ortakent Turizm Bodrum çıkışlı yurt içi ve yurt dışı seyahatler, Küllüoba, European-Ecotourism-Conference, National Geographic Türkiye, Museum Of Puppetry, Bunraku Bay Puppet Theater -- Traditional Japanese Puppetry, EDEN - "European Destinations of Excellence", Bir Hitit Başkenti: Şapinuva, İstanbul, Arkeoloji ve Sanat Yayınları, The Dragon's Path: Cultural Walking Adventures, Archaeology tools and equipment, Museum of Contemporary Canadian Art (MOCCA), Center for Puppetry Arts VOLUNTEERS!, Corning Museum of Glass, ekoVenture, MoMA The Museum of Modern Art, Istanbul Archeological Museums - İstanbul Arkeoloji Müzeleri, The Onion, [places for writers], Center for Puppetry Arts, Vic Campos Photography
Langues :
English, Français, Türkçe
Découvrez d'autres options à Nevşehir et dans ses environs
Plus de logements à Nevşehir :