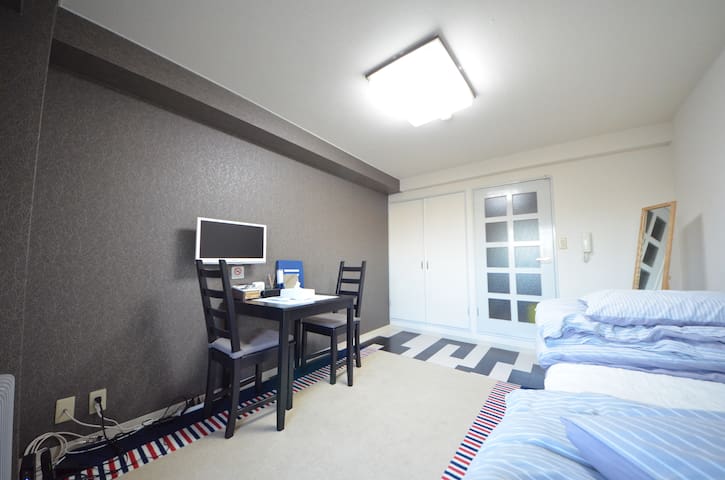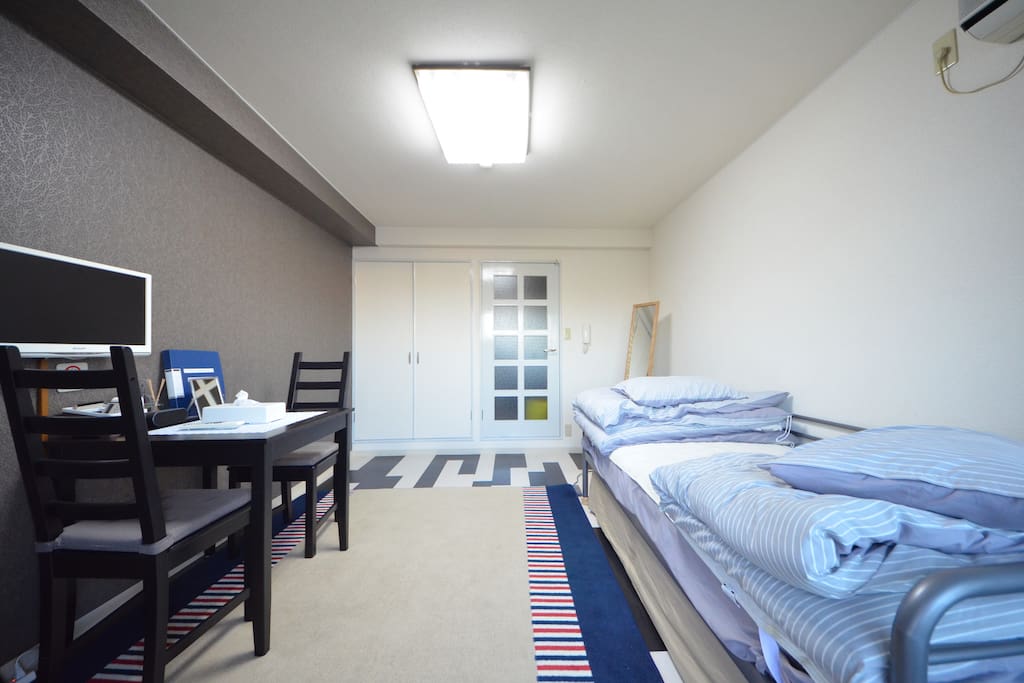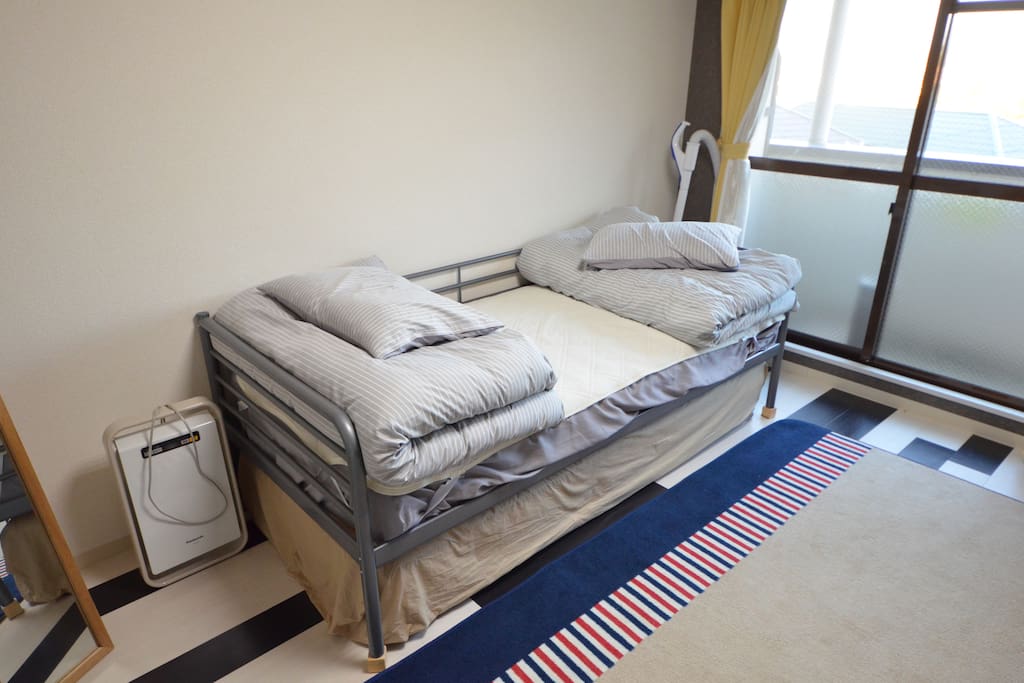 1 minute walk from Kintetsu line Shigisanshita St.
A library and points of interest in near the station. A quiet residential area.
Easy to access from the city (30 minutes from Tennoji)
The peaceful attraction for tourists, "Mt.Shigi", is near.
☆I have the other room☆
If the dates of hope is buried , because there is another room , please visit than " click a face photo → View all listing "!
Le logement
Since living facilities will lend you the whole well-equipped rooms , you can relax slowly you .
☆ If the dates of your stay is filled is , because there are other rooms ,
Refer to than not " click the face photo → View all listing "
出租整個具備所以生活機能的房間,請好好放鬆當作自己家裡。
☆我還有提供其他房型的房間☆
若選擇的住宿期間客滿,我還有提供其他房間歡迎詢問哦!"點我的大頭照→可以看到我整個房間"
希望可以參考看看囉
생활설비가 마련된 방을 그대로 빌려 드리고 있어 여유롭게 쉬실 수 있습니다.
生活設備が整ったお部屋を丸ごとお貸しいたしますので、ゆっくりとお寛ぎいただけます。
☆ご希望のお日にちが塞がっている場合、他のお部屋もございますので
"顔写真をクリック→すべてのリスティング"よりご覧くださいませ。
Accès des voyageurs
基本的にはお部屋の中は自由にご利用いただけます。
Basically, you can use all the equipment in the room.
基本上房間內所有設備皆可使用
기본적으로 객실시설은 자유롭게 사용하실 수 있습니다.
Échanges avec les voyageurs
In general, we meet the guests during check-in and check-out time only.
However, if you have any questions or need the suggestions about travelling spots, please feel free to contact us any time.
基本的にはチェックイン、チェックアウト時のみですが、ご質問や観光スポット情報など、いつでもご連絡可能です。
基本上只有進房退房會交流,不過若您有任何觀光資訊的問題都歡迎詢問哦謝謝!
Autres remarques
1)予約確定後チェックインの関する内容や、お部屋の説明をお送りしますので、必ずメッセージの確認をして下さい。
2)旅行中にあなたはインターネット環境が使えない場合があります。そのような場合でも困らないように、必要なものはスマートホンの画面キャプチャして下さい。
※もし、あなたが私からの連絡を一度も確認せず日本に到着し、電話をしてきた場合、あなたは私が対応するまで長時間待たなければならない可能性があります。
※ 宿泊中は日本のマナーを守って下さい(守って頂けない場合、宿泊途中でもチェックアウトをしていただく場合があります)。
1) 近隣に迷惑をかける行為はおやめ下さい。
・お部屋や共用スペースでは騒がないで下さい。特に夜は騒音にご注意下さい。
・宿泊者以外の方をお部屋に招待しないで下さい。
・ごみを分別してください(瓶・缶、プラスチック、その他)
2)ごみはまとめて下さい。
3)室内、浴室、洗面所などでヘアカラー禁止です。
4)部屋の備品を持って帰らないで下さい。
5)室内の物を壊してしまった場合、すぐに連絡下さい。
6)チェックアウト時間厳守です。無断で遅れた場合は5000円の罰金を徴収します。
・お子様の料金について
12歳以下の子供は1人無料です。

1)When the reservation is confirmed,I will send you about the house information and how to check-in direction to you.Please check the email!
2)When you come to Japan you probably can not use the Wi-fi also you can not connect the (URL HIDDEN) I suggest you take screenshot previously.
※If you come to Japan without checking the mail,that would be take more time to result the problem and keep you waiting long time.
So please check the mail before you abroad.
※ While staying my room please follow the house rule.
(If you can not follow the house rule,I will make you check out the room immediately.
1)Please do not make trouble for neighbor.
・Please keep your noise down when you are in the room or shared space.Especially in the midnight.
・Do not come the apartment except for the guest.
・Please separate the trash.(bottle・cans、plastic、Other)
2)Please make the trash neatly.
3)There is prohibited to hair color in the room,bathroom and wash room.
4)Please do not take all the thing away of the room.
5)If you broke some things please contact me immediately.
6)The check out time is 11:00 a.m. Please Be punctual.
If you late check in for no reason,I will charge you 5,000 yen.
・Children fee
It is for free for under 12 years old.(First children.)
7)If you lost the Wi-Fi,I will charge you 20,000 yen.
1)預約確認後關於入住資訊,房間說明我們將會傳給您,請務必確認信件
2)當您來日本後有可能沒有辦法使用WiFi,請事先拍照或是筆記起來。
※若是沒有確認到信件,等到您來日本後再打電話過來詢問入住方式,可能會花更久的時間!為了讓彼此方便,請一定要確認信件哦!
※當您入住房間後,請務必遵守房間注意事項!若是沒有遵守的話,可能要請您離開,敬請見諒!謝謝
1)請不要妨礙鄰居
・在房間時或是公共場合時請不要大聲喧嘩。特別是深夜!
・請不要帶不是住宿者到房間
・垃圾請分類(瓶・罐、塑膠、其他)
2)請將垃圾整理好
3)室内、浴室、洗臉台禁止染髮
4)請勿將房間備品帶走
5)若不小心損壞室內物品,請馬上跟我聯絡
6)請務必準時11點退房!若沒有準時退房,將向您收取5000日圓,請見諒!
・小孩費用
12歲以下1位免費
7)若遺失WiFi將向您收取20,000日元費用!

1)예약확정 후 체크인에 관련 된 내용이나 방의 설명을 보내드리니 반드시 메시지의 확인을 부탁합니다.
2)여행중 당신은 인터넷 환경을 사용할 수없는 경우가 있습니다.그런 경우에도 당황하지 않도록 필요한 것은 스마트 폰의 화면 캡처 하십시오.
※만약 당신이 우리의 연락을 한번도 확인 하지 않고 일본에 도착하고 전화를 해 온 경우 당신은 우리가 해당 할 때 까지 장시간 기다려야 않을 수 있습니다.
※ 숙박 중 일본의 매너를 지켜주세요.(지켜주실 수없는 경우는 숙박도중에라도 체크 아웃하실 수 있습니다.
1) 이웃에게 페를 기치는 행위는 삼가해주십시오.
・객실과 공용공간에서는 떠들지 마십시오.특히 밤에는 소음에 주의하시기 바랍니다.
・숙박자이외의 사람을 방에 초대하지 마십시오.
・쓰레기를 분리하십시오.(병,캔,플라스틱,기타)
2)쓰레기는 모으십시오.
3)실내,욕실,화장실등에서 헤어 컬러 금지합니다.
4)객실의 비품을 가지고 돌아가지 마십시오.
5)실내의 물건을 망가 졌을경우 즉시 연락을 주세요.
6)체크 아웃시간엄수입니다.무단 늦은 경우는 5000엔의 벌금을 징수합니다.
・어린이의 요금에 대하여
12세이하의 어린이는 1명무료입니다.
7)Wi-Fi를 분실 한 경우 20,000엔의 손해배상을 징수합니다.
---
---
Voyageur supplémentaire 16 € / nuit après le premier voyageur
Communiquez toujours via Airbnb
Pour protéger votre paiement, ne transférez jamais d'argent et n'établissez pas de contact en dehors du site ou de l'application Airbnb.
En savoir plus
---
Ne convient pas aux animaux
L'entrée dans les lieux se fait à partir de 15:00
・No smoking in the room. You can smoke at the balcony.
・Please be careful not to make too loud noise in the neighborhood.
・In case there is any complaint from the neigborhood, the guest may be asked to leave, Please be careful.
---
---
Séjour de 2 nuits minimum
---
Really nice host, nice assistant. They make you feel like home and really reactive staff. Everything you need to have a good time. Good access to Osaka,Nara. Highly recommended place !!! トウキさん、カズさん快適に過ごさせていただき、ありがとうございました。対応がとてもプロフェッショナルで、また是非そちらに泊まりたいと思っています。生活に必要なものが全部揃っています。小さな町でありながら、交通の便が良くて、皆さんに大変お勧めです!
---
Had a good experience staying with Touki, there was a little issue in the beginning regarding the room being ready however Touki was very responsive and got the problem fixed the same day. If you are looking for someplace to stay that is a bit different than the typical places in crowded Osaka I would recommend it!
---
This is my second stay at this location. It is an excellent stay, quiet, clean and low cost location. For those international travellers with the Japan Rail Pass, you can ride the JR line free here as well as to and from KIX. This will save you money. Personally, I enjoy the location here. I love the train ride down here, it's peaceful and the surroundings are beautiful. I always return here to unwind after what is often a hectic stay in Japan.
---
Our stay in Toukis apartment was perfect. The apartment was very clean and well equipped. The information file was very useful. We never got so much information in a apartment before. We could park or car in front of the building. The apartment is close to a trainstation so you can easily do day trips to Nara and Osaka. It has a small downside because you can hear the trains passing. You can also hear the neighbours sometimes because of the thin walls. Both weren't a problem for us though. Touki responded fast to our questions by Mail. The beds are comfortable. We walked to the city center two times to get dinner. The center has some nice restaurants an big shops.
---
성수기라서 제가 오사카로 떠나는날 호텔이며 한인숙박이며 방을 잡을수 없어서 발을 동동 굴렀습니다.그러던중에 에어비앤비라는 존재를 알고 방을 찾다가 도우키씨의 방을 알게 되었습니다.오사카중심부에서 가는데 한 40~50분정도 걸리는게 마음에 걸리긴 했지만 가격이 너무 저렴해서 바로 예약하였습니다.오사카에 도착해서 숙소로 가는길은 전철을 여러번 갈아타지 않아도 되고 사람도 별로 없어서 앉아 갈수 있었습니다.숙소가 있는곳 역에 도착하니 숙소를 담당하시는 분이 나오셔서 숙소까지 안내해주셨습니다.걸어서 한 5분정도 거리에 있었습니다.방에 들어가서 너무 놀랐습니다.이가격에 이렇게 깨끗한 방을 얻을수 있을거라고는 생각도 못했거든요.그리고 온갖 가전기기들도 전부 있어서 진짜 3박4일 편하게 지내고 왔습니다.
---
hello, my name is Touki.

I was born in Osaka and am currently living here, but when I was a child I lived in the United States for about 5 years. It was a great experience for me and because of that I have no problem with English conversation.

I have worked in the hospitality industry for many years at famous hotels doing customer service, so I understand what people are looking for when they stay somewhere away from home.

I like to travel abroad and I frequently went overseas during long holidays. I will try my best to meet everyone's needs so please don't hesitate to ask any questions.

My mobile phone is always on stand-by so feel free to contact me anytime.



こんにちは、私はとうきと申します。

私は大阪生まれで、大阪で暮らしていますが、子供の頃に5年ほどアメリカで暮らしていました。その時の経験から日常の英会話は、問題なく話すことができます。

私自身、海外旅行が好きで、長期の休みにはよく海外旅行へ行きます。
有名ホテルで長年働いた経験もあり、皆様のニーズに応えられるようおもてなし致しますので、何でも聞いてください。

私の携帯電話はほぼ24時間対応しますので、いつでもお気軽にご連絡ください。
Langues :
English, 日本語
Taux de réponse :
100%
Délai de réponse :
Moins d'une heure
Découvrez d'autres options à Ikoma-gun et dans ses environs
Plus de logements à Ikoma-gun :