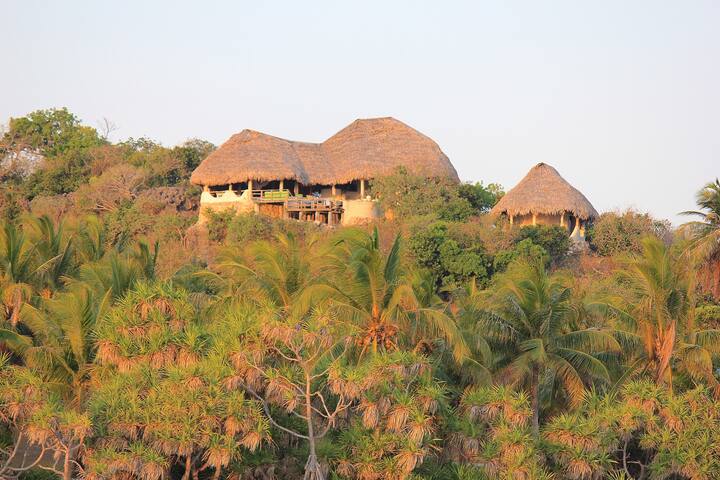 À propos de ce logement
Rote Island Lodge is perched on a cliff with panoramic views of the sea and surrounding countryside. Each bedroom can be rented separately. Please enquire.
We are situated near all the best surf breaks on the island.
The lodge comes fully staffed and all meals are provided.
---
Type de logement :
Logement entier
---
---
---
Rote Island Lodge is perched on a cliff with panoramic views of the sea and surrounding countryside. Each bedroom can be rented separately. Please enquire.
We are situated near all the best surf breaks on the island.
The lodge comes fully staffed and all meals are provided.
Rote Island Lodge is built from locally sourced and sustainable materials. We are fully power independent using solar energy.
We are located on a very beautiful tropical Island that is not on the gringo trail.
The Lodge itself has open spaces with hammocks, day beds and chillout areas. All aspects of the lodge have beautiful uninterrupted views of the sea and countryside.
All our bedrooms come with kingsize beds with Egyptian cotton sheets and mosquito nets.
Guests have access to all areas with all meals, bottled water, coffee and tea included.
The Lodge comes staffed during the day and early evening. They leave after the evening meal and then you are on your own.
We are located above a pristine beautiful beach with good snorkelling. There is a local village about 2km away, and a Nemberala the main town about 7km away.
Reaching us is a very simple process, however, there are a few things that you should take into consideration before booking:
- Wings Air now flies to Rote every day at 15.10 allowing you to reach Rote on the same day you leave Bali. (URL HIDDEN)
- The ferry leaves from Kupang to Rote once a day at 8.30am. It returns from Rote back to Kupang at about 11am. The crossing takes around two hours. There is a Wings Air flight which leaves on a Monday, Thursday and Saturday at 3pm. Providing the ferry leaves on time, you should be able to get this flight. If you are travelling back on the days which the Wings Air flight does not run, then you will have to spend the night in Kupang again.
- There are a few options for accommodation in Kupang: Hotel La Hasienda comes highly recommended, with free pick up from the airport, good food, clean and comfortable accommodation. German owned. They also offer transport to the ferry and can organise ferry and plane tickets. Check them (EMAIL HIDDEN)
Hotel Maliana is a bit more basic with cold water, Indonesian style bathrooms and may score slightly lower on the comfort scale. However, it is very central, cheap ( around $20US for a room with air conditioning) and Bobby the owner will also help to arrange onward travel such as ferry and plane tickets and taxis to the ferry etc. You can SMS to book a room +(PHONE NUMBER HIDDEN). The Kristal Hotel is one of the biggest in the city, and like La Hasienda is located slightly out of town. At about $75US a night, it's not cheap but it is clean and fairly comfortable if not a little soulless. A further option is to stay in a homestay run by a local chap called Dominguus and his wife. Again, he can organise all your onward travel, and he speaks good English. You can contact him on +(PHONE NUMBER HIDDEN).
- To get to Kupang we recommend flying with Garuda Indonesia. There are daily flights between Bali and Kupang, and you can book via their website: (URL HIDDEN) or call their hotline: (PHONE NUMBER HIDDEN) or +(PHONE NUMBER HIDDEN). The cost is usually between 500,00 and 800,00 RP each way. Other airlines: Merpati, Lion Air, Transnusa, Wings Air. A good app to download is Indonesia Flights.
- If you have booked to stay with us we will send Dula to collect you from the ferry terminal. This costs 330,000RP, and you can pay him directly (as we don't take any of this). If you wish to split the costs with other travels, Dula will drop them off along the way.
- It takes a little over an hour to reach us from the ferry. Happy Travels!
Dear Guests,
Welcome to Rote Island Lodge! We really hope you enjoy your time here, and urge you to make yourselves at home as much as possible. We hope you will find the following information helpful:
Lori, Tony and Nonce will be looking after you during your stay. None of the staff live on the premises, so they are not on hand 24/7 like you would expect at a resort. They are however very hardworking and will be willing to bend over backwards to make you as comfortable as possible. Lori is a wonder woman and takes care of pretty much everything! She also speaks very good English. Her phone number is +(PHONE NUMBER HIDDEN). If you have any very last minute changes, or problems with the ferry etc, you can call her and let her know. But for anything else in the run up to your stay, please contact us.
Meals - Our superstar, Lori will be making most of your meals during your stay. She is by no means a "chef", but does what she can with limited island resources. Honesty is the best policy with Lori - if she cooks something you don't like, let her know so she doesn't make it again! She will prepare three meals a day, but if you know you are not going to be around for lunch or dinner, kindly let Lori know so that food isn't wasted. Similarly, if you prefer some privacy in the evenings and would rather cook for yourselves, then just let her know. Lori will buy all the fruit and veg for the week at the Tuesday market. Fish or chicken are the meat options which will be served whenever possible . If you have any specific food requirements which you haven't already told us about, then please let Lori know.Scooter hire - Lori can arrange scooter hire for 60,000RP (around $5) a day from the local village. This fee d not include fuel! If you prefer a push bike, then you can hire one from Dave and Jenet down in Nemberala.
Money - There are no ATM's on Rote! Be sure to take enough cash with you to cover your costs. To give you an idea of what you might spend: bimo ride from ferry to house 300,000Rp, bintang beer 25,000, scooter hire 60,000 a day, fuel 7,500 per litre, boat to surf from Nemberala 20,000 each way , boat charter for a day 1mil. Massage at resort 200,000. Lori can massage for 80,000
Security - Although the island is generally crime free, and it really is very safe, we do advise that all valuables and money are kept locked away when you are not around. Both bedrooms have lockable wardrobes for this purpose.
Medical issues - There is a medical centre and an English speaking doctor down in Nemberala. You can buy basic medical treatment, including antibiotics from her. We recommend that you bring the following: mosquito repellent, antihistamines, antiseptic cream, plasters. Ladies, bring along any sanitary items you might need. Please don't flush these down the toilets though!

Nightlife (!) - Well, if you're looking for a crazy night, then you are probably out of luck! However, if it's just a few beers and a lot of chat about surf that you're after, then you're in the right place! Obviously we think that the best place for a few Bintangs at sunset is right here on our deck! If however, you fancy mixing a little with some fellow travellers then you can venture in to Nemberala to sample a few different drinking holes. The resort is lovely for a gin and tonic at sundown, and you can even get a glass of wine there too! (probably one of the more expensive glasses that you'll buy though). Dave and Jenets restaurant is also a firm favourite, where you can grab a bite to eat and watch a surf DVD (or the news, but who cares about the rest of the world when you're in paradise, right?) Danny's bar is also a good little hang out, selling both Bintang and Anchor beers as well as fruit juices. Bekky Boo's is the newest restaurant in town, and they make a mean burger if you're in need of a red meat fix. Their pizzas are pretty good too.
Activities - There is some fun snorkelling around the reef right in front of the house. There are a few snorkels and masks in the gudang which you are welcome to borrow. If you fancy exploring the island a little, the drive round to Boa and beyond is beautiful, and there is also more good snorkelling out that way.

SURF
-The weather in this region shows 2 main seasons: dry seasons May/September and wet season December/March plus the transitional (shoulder season) March/April and October/November.
The wind pattern typically will see light and variable wind conditions early and late season, making good conditions for the outer islands and some of the right-handers. With firm and consistent E-SE trades blowing offshore in T-land from June through Aug/Sept, Rote picks up all the S-SW to SW swells tracking across the Indian Ocean towards west Australia. Although there can be swell year round the traditional surf season goes from March to November, but is most consistent from May through September/October.
The shoulder season March/April and October/November is a great time to be in Rote with a great variety of waves and hardly anybody around. Swells may be less consistent, but the fishing rocks.
THE SURF BREAKS
T-Land .......7km away(turn right out gate)
Although Nemberala's main break , "T-Land", known by locals by the name of Besialu, has been surfed since 1979, it remains uncrowded, it is a top world class left-hander comparable to a softer G-land that holds up to a very manageable 15ft faces, and it can handle as big as it gets (the bigger the more perfect it gets.)
It breaks with great shape at any size of swell and on all tides, making it very consistent and enjoyable for all levels of surfing.
The waves break into 3 different sections that connect making 200 mt/600 ft long rides a common scene.
The wave satisfies all types of surfers from long boarders cruising, or top to bottom surfing by short boarders.
A bigger board may be required for the bigger days and also when the trade winds are strong, but generally your everyday board will do the job.
As a general rule winds are lighter in the mornings and late afternoons.
This wave is usually off shore all day and because it keeps breaking throughout the different states of tide you can surf it all day at any time making it possible to find times to have it just to yourself and your friends. Lunch time at the surf camps is always less crowded.
Boa.......2 km away( turn left out gate)
This is often a heavier and more advanced wave than others in the area, best at mid tide. The wave starts with a steep often hollow top section which often opens up to a thick down the line wall section. Boa can handle a light trade but is typically best with light winds, very early morning, or during the shoulder and off season months.
Suckies, or Sucky Mamas is 10 minute boat ride or 15min scooter north of Nemberala. It gets its name from the village on the beach with a similar sounding name. Suckies is an often very hollow right hander, but on a higher tide it can be a fatter, steep wave. Suckies is a shorter wave of approximately 50 yards in lengths and it is best at mid tide. Suckies will take the standard trade as off or side-off shore.
There are waves on the outer islands but you will have to charter a boat to enjoy them and they are wind dependant. Jerome is good for fishing and island hopping and Axel for surf charters. Just ask Laurie to give them a call. There are also a few secret spots......but I'm not telling. Happy surfing!!
We really hope you enjoy your stay and experience, however if you experience anything not to your liking please let us know so we can endeavour to put it right as soon as possible.
---
Dartmouth, Royaume-Uni
·
Membre depuis décembre 2014
Taux de réponse :
100%
Délai de réponse :
Quelques heures
Découvrez d'autres options à Tunggoen, Rote Island et dans ses environs
Plus de logements à Tunggoen, Rote Island :