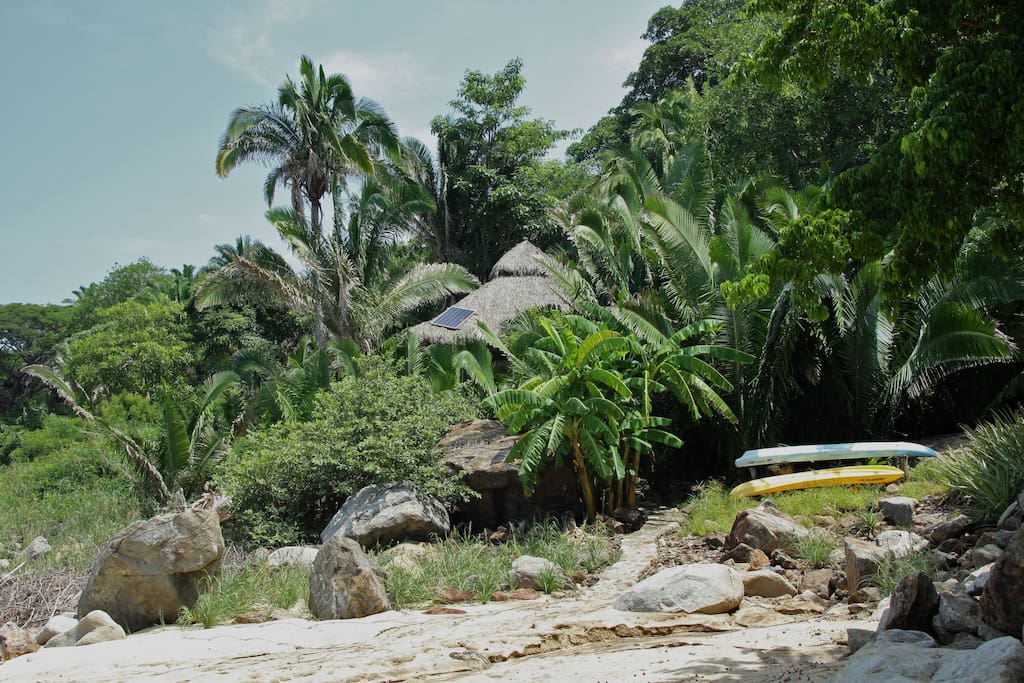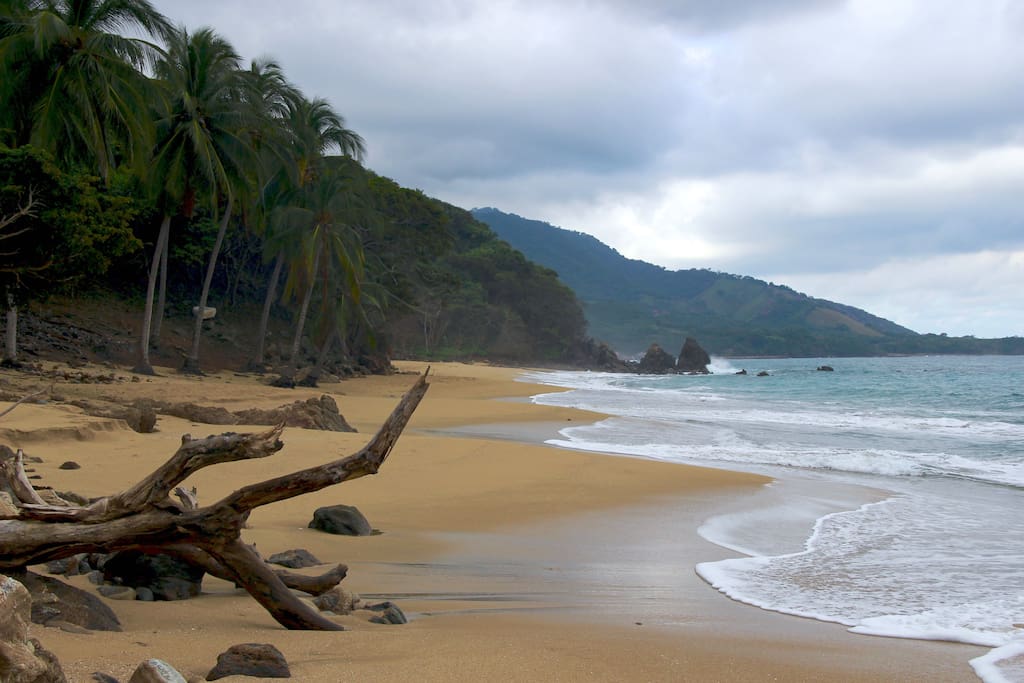 romantic beachfront paradise
C'est l'un des vingt bungalows dans l'idyllique écurie privée de 25 acres de la jungle de Los Chonchos, et le seul sur la plage. Un endroit idéal pour revenir à la nature et se détendre! Montre à la baleine, randonnée dans la jungle, kayak, baignade, tuba, amusez-vous ...
This is one of twenty bungalows in the idyllic private 25 acre jungle eco-preserve of Los Chonchos, and the only one right on the beach.
A perfect place to get back to nature and relax!
Whale-watch, jungle trek, kayak, swim, snorkel, enjoy..
Le logement
La station éco de Los Chonchos est à quinze minutes en bateau au sud de Yelapa. Casa de Pirata est la seule palapa réellement sur la plage, et à une courte promenade du restaurant en bord de mer, reste incroyablement privé avec son propre sentier serpentant à travers les cocotiers et les bananiers au sable. Il y a de grands trekking dans la jungle tout autour, un kayak de mer à votre disposition, et vous dormez au son des vagues qui brisent sur le rivage - bonheur! Notre maison est simple mais confortable, avec des meubles rustiques fabriqués par des artisans locaux. Il y a un lit queen avec vue sur l'océan, une salle de bain attenante à l'extérieur / à l'extérieur avec une douche chaude et une cuisine simple mais bien équipée avec un cuisinière à gaz, un réfrigérateur-congélateur et une station de recharge mobile / portable. À l'extérieur, il y a des ponts sur les deux côtés de la maison, avec des vues incroyables à la fois sur la crique sablonneuse et la jungle et aussi sur l'océan ouvert - fantastique pour l'observation des baleines et des dauphins. Il y a deux chaises longues, un hamac, une aire de barbecue pour les repas en plein air et une douche de rinçage par le sentier privé. Nous fournissons des draps, des serviettes, des robes en coton léger et une fontaine d'eau si vous préférez boire de l'eau en bouteille. Il existe également des gilets de sauvetage pour le canoë, deux ensembles de plongée avec tuba et des jumelles pour observer la nature et regarder des étoiles. Les cieux nocturnes ici sont à couper le souffle car il y a si peu de pollution lumineuse. La station écologique de Los Chonchos n'est accessible que par bateau, ou à pied, tellement paisible et juste le meilleur endroit pour se détendre! L'eau provient d'un printemps au sommet des collines au-dessus et de l'énergie solaire ou du propane: la pollution et le bruit sont minimisés car il s'agit d'un grand site de nidification de tortues. C'est aussi un endroit fantastique pour voir les baleines à bosse, les dauphins, les mantas (ils sautent ici!) Des iguanes, des frégates, des aras, des chauves-souris et des libellules. Il y a une excellente plongée avec tuba de la plage avec une variété incroyable de poissons dans les eaux peu profondes, et la chance de voir les tortues, les dauphins, les mantas et les rayons d'aigle plus loin. La plage de sable à l'extérieur de la maison est une bonne natation de cinquante mètres, ou pour les nageurs vraiment sérieux, notre autre plage bordée de palmiers, à seulement cinq minutes à pied ou en kayak autour du petit promontoire, est beaucoup plus longue ... et c'est souvent le cas. Les seules empreintes dans le sable! L'équipe de soutien ici est tout simplement charmante - ils vous rencontreront et vous feront un arrêt, vous installeront et vous aurez besoin lorsque vous auriez besoin de quelque chose pendant votre séjour. Voici une fiche d'information complète: La saison des moussons (basse) est juillet-septembre et la période la plus chaude et la plus humide de l'année, avec des niveaux de 30 à 32 degrés. Pendant la saison des pluies, nous avons des tempêtes incroyables qui durent une à deux heures, avec de bonnes périodes de soleil entre les deux. Les températures en haute saison de novembre à mai sont des sommets quotidiens autour de 28c, et il y a toujours des brises de mer agréables tout au long de l'année. La température de l'eau de mer est idéale pour la baignade et la plongée avec tuba toute l'année, à une moyenne de 26 degrés à 28 en saison pluvieuse. Nous avons trois plages, la plage principale d'arrivée (une bonne 50 mètres pour nager le long du rivage), une petite plage de galets et notre longue plage à environ 10 minutes à pied ou en kayak tout autour du promontoire rocheux. Comme il s'agit d'une préservation écologique, la réglementation mexicaine stipule que malheureusement nous ne pouvons pas autoriser les animaux domestiques. L'eau potable provient d'un ruisseau de montagne au-dessus, répond à la norme américaine et est charmante! Nous offrons également un distributeur d'eau potable en bouteille si vous préférez cela. Comment s'y rendre L'aéroport de Puerto Vallarta est desservi par de nombreuses compagnies aériennes américaines et canadiennes (Delta, Air Alaska, etc.). Si vous arrivez de l'extérieur de l'Amérique du Nord, Los Angeles ou Mexico sont généralement les meilleurs aéroports de correspondance. Du Royaume-Uni, le moins cher et le seul vol direct est avec Thomson, qui volent tous les jours ou tous les quinze jours, quittant Manchester vendredi et Gatwick samedi matin. De l'aéroport PV, prenez un taxi de l'aéroport blanc ou un taxi jaune beaucoup moins cher de l'autre côté de l'autoroute via la passerelle jusqu'à la rampe sur votre gauche lorsque vous quittez l'aéroport. Résistez aux publicités officielles qui vous aborderont en sortant de l'aéroport - dites simplement que vous vivez là-bas et que vous vous promenez ... ils sont en réalité des lieux de multipropriété à vendre! Le trajet en taxi dans le PV prend environ 15 minutes, et coûtera environ 200 pesos, ou 45 minutes directement à Boca de Tomatlan, à environ 450 pesos (mais permet une heure en cas de trafic). Le taxi nautique de Nayeli (130 pesos par personne par trajet) quitte Boca de Tomatlan à 9h et 15h tous les jours de la jetée à droite en regardant la baie et est une promenade de 1 heure à Los Chonchos. Aller pieds nus et porter des shorts pas longs car il est une pagaie à travers les eaux peu profondes à l'arrivée ... C'est une très bonne idée de mettre n'importe quel téléphone / caméras, etc. dans des sacs étanches juste au cas et ne pas transporter Bagages avec vous lorsque vous descendez du bateau, mais laissez l'équipage le remettre une fois que vous êtes sur le sable. Je suis tombé dans l'eau pour descendre du bateau avec un sac à bandoulière en toile, et mon téléphone et ma caméra ont juste survécu! Il y a normalement un bon comité d'accueil pour vous accueillir car les allées et les sorties du bateau sont un point culminant social dans un endroit où il ne se passe pas beaucoup ... Alternativement, les bateaux courent tout au long de la journée à Yelapa depuis la jetée de Los Muertos en PV (consultez la coopérative de taxi de l'eau de Yelapa en ligne pour les horaires à jour), et vous pouvez ensuite louer un bateau en privé à Yelapa pour vous emmener chez los chonchos plage. Ou passez la nuit à La Lagunita qui est une bonne valeur, mais surtout à côté de la jetée du bord de la plage, donc vous n'avez pas à louer les bagages très loin! - puis ramasser le taxi de l'eau à Los Chonchos le lendemain matin. Nous pouvons également faire en sorte que Arturo vous rencontre à Boca de Tomatlan (150 usd) ou à la jetée Los Muertos (225 usd), bien que cela coûte beaucoup plus coûteux car vous engagez effectivement tout le bateau pour un aller-retour. Notre chauffeur de taxi sympathique, Jésus, peut vous rencontrer de l'aéroport - il parle un excellent anglais, charge les tarifs réguliers des taxis locaux et peut assurer la liaison avec Arturo pour vous assurer que votre voyage d'avion en plage est aussi doux que possible. Son numéro de mobile est (+(PHONE NUMBER HIDDEN). Il est préférable d'organiser cela à l'avance car il aime échanger des photos afin qu'il puisse vous repérer facilement en quittant l'aéroport. Pour votre voyage de retour à Boca, le taxi nautique de Nayeli quitte les chonchos vers 11 heures et 17 heures du soir - nous recommandons de prendre le matin car le bateau de 5 heures peut être perturbé si la mer devient rugueuse pendant la journée, alors que les matins sont généralement calmes. L'équipage peut vous conseiller si elles estiment que le temps pourrait perturber le bateau de l'après-midi ou non. Dans le cas très rare d'une mer agitée qui rend l'atterrissage de la plage difficile, le bateau vous déposera à Chimo fait le reste du voyage à pied, donc c'est une bonne idée d'avoir des bagages faciles à transporter plutôt que des valises à roulettes! Mais encore une fois, il y aura des gens pour aider. Étant donné que de nombreux vols n'arrivent pas à temps pour se rendre au bateau de l'après-midi, beaucoup d'invités optent pour passer leur première nuit en PV et prendre le taxi nautique le lendemain matin. Si vous passiez la nuit, nous recommandons Posada del Roger dans le quartier romantique - bon rapport qualité-prix, les gens adorables et le restaurant toujours emballé. La crevette bleue à une courte promenade sur le front de mer fait de la nourriture incroyable, a un intérieur glorieusement farfelu et un pont qui est l'endroit idéal pour le coucher du soleil - notre photo des sierras bleues a été prise à partir de là. Les villages locaux, les magasins et les restaurants Notre village le plus proche est Chimo, qui est un charmant village de pêcheurs pleinement préservé au sud. Pour faire du trek, il faut environ 45 minutes le long de la plage et des chemins de jungle supérieurs avec des vues incroyables sur le chemin (porter de bonnes chaussures de marche pour le trekking - certains des chemins à travers la jungle peuvent être très rugueux dans les endroits et prendre de l'eau). Ou encore, il s'agit d'environ un voyage de kayak de vingt minutes - atterrir et faire des kayaks sur le sable au coin le plus loin du port où le mur rencontre la plage, et ne vous inquiétez pas de les laisser là-bas, Chimo est très sûr et les gens sont tout simplement charmant ! C'est aussi la fin de la ligne pour le taxi nautique de Nayeli où il s'arrête pendant vingt minutes avant de retourner à Boca, afin que vous puissiez l'utiliser pour un tiret rapide de retour, ou rester pour la journée et récupérer l'après-midi en bateau à Los Chonchos. Il y a quelques magasins qui sont bons pour les provisions de base, mais le choix est assez limité, en particulier pour les fruits frais et les légumes frais. Les invités se contentent de ravir les deux bars / restaurants en bord de mer - Antonio se trouve à gauche et la place d'Arturo Los Socios (sirène et muraille de dauphins sur le mur) à droite en regardant la mer. Les deux font du homard frais fantastique, du ceviche et des fruits de mer / poissons de la journée à des prix incroyablement bas. Ils sont également délicieusement informels - vous ne devinez souvent pas qu'ils sont restos du tout, car ils ne mettent que des tables au besoin ... Arturo vous donnera également un tour en bateau bon marché à Los Chonchos si vous ne voulez pas que le trek retourne pesé avec les achats - il est un excellent ami pour nous tous et fournit la plupart de nos locations de bateaux privés / voyages d'observation des baleines, etc. Il y a aussi une belle promenade si vous traversez la rivière et que vous vous promenez à l'intérieur ou à l'arrière vers le port. Yelapa est notre complexe touristique «développé» le plus proche - beaucoup plus occupé mais toujours agréablement sans trafic, et une belle journée à faire en utilisant le taxi aquatique. C'est en deux parties divisées par une rivière sablonneuse peu profonde que vous remirez, et les deux ont leur propre jetée. Le côté de la plage est plus touristique avec un excellent choix de restaurants sur le sable. Les deux meilleurs magasins que nous avons trouvés sont sur le côté du village - montez le chemin principal de la jetée jusqu'à ce que vous atteigniez le panneau de signalisation laissé à la plage, mais plutôt à droite - les deux magasins sont juste un peu en baisse
Los Chonchos eco resort is a fifteen minute boat ride south from Yelapa. Casa de Pirata is the only palapa actually on the beach, and only a short stroll from the beachfront restaurant, yet remains incredibly private with its own footpath winding through coconut palms and banana trees to the sand.
There's great trekking up in the jungle all around, a sea kayak at your disposal, and you sleep to the sound of waves breaking on the shore - bliss !
Our casa is simple but comfortable, with rustic furniture all made by local craftspeople. There's a queen bed with open ocean views, an ensuite inside/outside bathroom with hot shower, and a basic but well equipped kitchen with a gas stove, fridge freezer and mobile/laptop recharging station.
Outside there are decks to two sides of the casa, with amazing views both across the sandy cove and jungle and also out to the open ocean - fantastic for whale and dolphin watching. There are two deck loungers, a hammock, a bbq area for al fresco dining, and a rinse shower by the private footpath.
We provide bedding, towels, light cotton robes and a water fountain should you prefer to drink bottled water. There are also life jackets for canoeing, two sets of snorkelling gear and binoculars for nature watching and stargazing. The night skies here are just breathtaking as there's so little light pollution.
Los Chonchos eco resort is only accessible by boat, or on foot, so totally peaceful, and just the best place to unwind!
Water is from a spring high up in the hills above, and power simply solar or propane - pollution and noise are kept to a minimum as this is a big turtle nesting site.
It's also a fantastic place to see humpback whales, dolphins, mantas (they leap here !) iguanas, frigate birds, macaws, bats and dragonflies.
There's great snorkelling just from the beach with an amazing variety of fish in the shallows, and the chance of seeing turtles, dolphins, mantas and eagle rays further out.
The sandy beach outside the casa is a good fifty metre swim, or for really serious swimmers, our other palm fringed beach just five minutes walk or kayak round the small headland is way, way longer... and it's often the case that yours are the only footprints in the sand !
The support crew here are just lovely - they'll meet you and off the boat, get you settled in, and be on hand should you need anything during your stay.
here's a full information sheet :
Monsoon (low) season is July-September and the hottest and most humid time of year, with 30-32 degree highs. During rainy season we get amazing lightning storms which last one to two hours, with good periods of sunshine in between. Temperatures in high season from November to May are daily highs around 28c, and there are always pleasant sea breezes throughout the year. The seawater temperature is great for swimming and snorkelling all year round, at an average of 26 degrees to 28 in rainy season.
We have three beaches, the main arrival beach (a good 50 metres for swimming along the shore), a small pebble beach, and our long beach at about 10 minutes walk or kayak just around the rocky headland.
As this is an eco preserve, Mexican regulations stipulate that unfortunately we can't allow domestic pets.
Drinking water comes from a mountain stream high above, meets the American standard, and is lovely! We do also provide a bottled drinking water dispenser should you prefer that.
Getting there
Puerto Vallarta airport is served by many American and Canadian airlines (Delta, Air Alaska etc).
If arriving from outside North America, Los Angeles or Mexico City are normally the best connecting airports.
From the UK, the cheapest and only direct flight is with Thomson, who fly weekly or fortnightly returns leaving Manchester on Friday and Gatwick on Saturday mornings.
From PV airport, either take a white airport taxi, or a much cheaper yellow taxi from the other side of the highway via the footbridge up the ramp on your left as you exit the airport.
Resist the official looking touts who will approach you on your way out of the airport – just say you live there and walk on by... they're actually all selling timeshare places !
The taxi ride into PV takes about 15 minutes, and will cost around 200 pesos, or 45 minutes straight to Boca de Tomatlan, at around 450 pesos (but allow an hour in case of traffic).
The Nayeli water taxi (130 pesos per person each way) leaves Boca de Tomatlan at 9am and 3pm daily from the jetty on the right as you look out at the bay, and is a lovely 1 hour ride to Los Chonchos. Go barefoot and wear shorts not longs as it's a paddle through the shallows on arrival...
It's a really good idea to put any phones/cameras etc into waterproof bags just in case, and not to carry baggage with you as you get off the boat, but rather let the crew hand it to you once you're on the sand. I've fallen over in to the water getting off the boat with a canvas shoulder bag, and my phone and camera only just survived! There's normally a good welcoming committee to greet you as the boat's comings and goings are a social highpoint in a place where not a lot happens...
Alternatively, boats run throughout the day to Yelapa from Los Muertos pier in PV (check Yelapa water taxi co-op online for up-to-date timetables), and you could then hire a boat privately in Yelapa to take you on to los chonchos beach. Or spend the night at La Lagunita which is good value, but most importantly right next to the beach side jetty so you don't have to haul baggage very far ! - and then pick up the water taxi to Los Chonchos the following morning.
We can also arrange for Arturo to meet you at Boca de Tomatlan (150 usd) or Los Muertos Pier (225 usd), though this is a lot more costly as you're effectively hiring the whole boat for a round trip. Our friendly taxi driver Jesus can meet you from the airport - he speaks great English, charges regular local taxi rates, and can liaise with Arturo to make sure your journey from plane to beach is as smooth as possible. His mobile number is (+(PHONE NUMBER HIDDEN). It's best to arrange this in advance as he likes to exchange photos so he can spot you easily leaving the airport.
For your return journey to Boca, the Nayeli water taxi leaves los chonchos at around 11am and 5pm - we'd recommend taking the morning one as the 5pm boat can be disrupted if the sea's become rough during the day, whereas mornings are generally calm. The crew there can advise you if they feel the weather might disrupt the afternoon boat or not. In the very rare event of rough seas making the beach landing tricky, the boat will drop you at
Chimo making the rest of the journey on foot, so it's a good idea to have luggage that is easy to carry rather than roller suitcases ! But again, there will be people to help.
Since many flights don't arrive in time to meet the afternoon boat, a lot of guests opt to spend their first night in PV and take the water taxi the following morning.
If staying overnight, we'd recommend Posada del Roger in the romantic district - good value, lovely people and the restaurant's always packed. The Blue Shrimp a short stroll away on the seafront does amazing food, has a gloriously wacky interior and a deck that's the perfect spot for sundown - our photo of the blue sierras was taken from there.
local villages, shopping and eating out
Our nearest pueblo is Chimo, which is a charming utterly unspoilt fishing village to the south.
To trek there takes about 45 minutes along beach and higher jungle paths with some amazing views on the way (wear good walking shoes for trekking - some of the paths through the jungle can be very rough in places, and take water).
Or alternatively, it's about a twenty minute kayak trip - land and pull kayaks up onto the sand at the far corner of the harbour where the wall meets the beach, and don't worry about leaving them there, Chimo's very safe and the people are just lovely !
It's also the end of the line for the Nayeli water taxi where it stops for twenty minutes before setting off back to Boca, so you can use that for a quick return shopping dash, or stay for the day and get the afternoon boat back to Los Chonchos.
There are a couple of stores there that are good for basic provisions, but the choice is fairly limited, particularly for fresh fruit and veg.
Guests just rave about the two bar/restaurants on the waterfront - Antonio's on the left and Arturo's place Los Socios (mermaid and dolphin mural on the wall) on the right as you look out to sea. Both do fantastic fresh lobster, ceviche and seafood/fish from the day's catch at incredibly low prices. They're also delightfully informal - you often wouldn't guess they are restos at all as they only put out tables as needed...
Arturo will also give you a cheap boat ride back to Los Chonchos if you don't fancy the trek back weighed down with shopping - he's a great friend to us all and provides most of our private boat hire/whale-watching trips etc.
There's also a lovely walk if you cross over the river and wander along the bank inland or back to the harbour.
Yelapa is our nearest 'developed' tourist resort - a lot busier but still pleasantly traffic free, and a nice day trip to do using the water taxi. It's in two parts divided by a shallow sandy river you paddle across, and both have their own jetty. The beach side is more touristy with a great choice of restaurants on the sand. The best two stores we've found are on the village side - climb up the main path from jetty till you reach the signpost left to the beach, but instead turn right - both stores are just a little way down on the left. The range is still fairly limited, but a lot better than Chimo with some good fresh fruit and veg.
There's a great walk up to the beautiful waterfall there, a lively yoga scene, and you can do a range of activities like pony trekking and paragliding. There's also a community of Huichol artists around Yelapa - if you're interested, Susan (a restaurateur dropped out from New York) who runs Cafe Bahia on the village jetty is a good contact for that, and hers is the best food we've found as well as being a great place to sit and wait for the afternoon boat instead of hanging around on the pier.
There are a couple of vegetarian places in Yelapa, but the choice for us eating out is pretty limited in general!
The morning boat leaves Los Chonchos at around 11 am on its way to Yelapa - you hail it by putting up the white flag on the beach - and returns at around 330 pm. It always stops at both jetties in Yelapa. You can also negociate cheap private boat lifts at the beachfront restaurants if you want to get back any other time.
For self-catering we'd recommend stocking up as far as possible while in Puerto Vallarta, particularly for less standard items like soya/nut milks, tofu etc. If pressed for time, arrange for our friendly taxi driver Jesus to pick you up from the airport as he's fantastic at working out where best to take you and pointing out where the things you need are in each store. PV has a couple of Walmarts, Jesus has a Costco card you can use, and knows where all the health food stores and fresh markets are too, along with where to go for the best currency exchange rates. Remember there's no need to buy bottled water as that's already provided for your stay.
There is cute, simple restaurant at Los Chonchos in a perfect position overlooking the main beach, with tables on shaded or open verandahs. It's owned by our friend Robb and run by Alphonso who treks in from Chimo to open up as needed. Prices are quite a lot higher than elsewhere because of this and it's necessary to book in advance. Alphonso's lovely and makes delicious food (ask him to make you his tomato soup - amazing!), but as most guests have felt that it represents poor value for money our advice is to book your first day or meal there if you'd like to use it, see what you think, then pay Alphonso in pesos in advance for any further meals you decide you'd like to arrange during your stay. The restaurant can also serve margaritas and beers, though again, these may need to be requested in advance.
current prices are breakfast 13$, lunch 18$ and dinner 25$, or all three for 55$ per day.
Internet and wifi
We don't have broadband or wifi at Los Chonchos, though mobile signals are good at Pirata depending on your provider. I'm with Vodafone, and my daughter Lara uses O2 - both of which get really good reception. Should you need a fast connection back to the modern world, a lot of the restaurants in Yelapa provide wifi.
healthcare
There is a clinic in Yelapa at el Jardin, though we haven't visited it. The nearest hospital is Puerto Vallarta. In case of emergencies Arturo and Jesus can be called to provide fast transport there.
There's also a basic first aid kit in the palapa.
cash and currency
There are no ATM machines in the area, so it's best to stock up with pesos for your trip. Exchange rates are better in downtown PV bureaux de change - avoid using the airport as they charge higher commission. There is a money changer in Yelapa on the way down to the beach from the village, and several of the restaurants there will accept card payments.
excursions/snorkelling/diving
We can arrange boat excursions whale watching/fishing for 65 usd per hour (for the whole boat, 4 hour minimum) - so better value the larger the group of people going.
and a 6 hour excursion to the Marietas Islands with food and drinks at 450 usd. These have incredible geological features, a hidden inland beach, and fantastic snorkelling.
There are several dive operations in and around Puerto Vallarta, and one of the most popular dive sites is just offshore from Chimo – with cathedral tower rock formations rising from the sea bed, and a great spot to swim with Manta rays. There are several dive operations in and around PV, check current prices and availability on the net. Some offer pick ups, so it may be possible to arrange them to collect you from and drop you back at Los Chonchos.
Snorkelling is great straight off the beach - very little in the way of coral, but a rich variety of fish and if you're lucky, turtles, rays and dolphins to see.... There are wildlife spotting sheets in the palapa for local marine life/butterflies/birds etc. Avoid snorkelling near the rocks if waves are up - it's very easy to get disorientated in white water foam and the push and drag against the rocks can be dangerously strong. We provide a couple of reasonable silicone masks and purge snorkels, but no fins at present.
safety and security
Take normal precautions in Puerto Vallarta, Boca de Tomatlan and Yelapa against petty theft.
Los Chonchos is super safe, as it's private and very rarely has any visitors other than those working or staying there - hardly any of us ever lock our doors. There is a lock up drawer in the palapa for your valuables though should you wish to use it. Our main caretaker Gabriel is a fantastic guy, and keeps a watchful eye on the place. He's a total turtle nut and often happy to do guided treks up into the jungle with you.
Mosquitos are not a bad problem outside of monsoon season, though you should bring repellent, especially if you plan to do jungle trekking.
We all spray our palapas regularly to keep scorpions out, (I've never seen one, but would love to - er - outside the palapa ! I find them fascinating..) but take care walking on jungle paths at night and use the flashlight provided.
Use the lifejackets provided for kayaking, and always push off from a sandy stretch of beach away from boulders just in case you get washed back!
Feel free to smoke outside the palapa, but please not inside, and do take care lighting candles etc, and use only in windproof jars. Fire there would be catastrophic - these are houses of straw !! Also please don't light fires around the palapa but use our fire/bbq pit on the beach at the end of the pathway. There are some small fire extinguishers provided.
casa del pirata
Our casa is a traditional Mexican palapa with rustic furniture made by local craftspeople. It's one large open plan space, with wooden floorboards and shutters throughout, and a palm roof. It will be made up to welcome your arrival with fresh white cotton bedding, a choice of soft or firmer pillows (check the wardrobe), bath and hand towels, beach towels and light cotton robes. These are refreshed weekly for longer stays, but let us know if you'd prefer fresh laundry more frequently than that, or might need personal laundry doing. Chileno, who takes care of change-overs, charges 12 dollars per load, and can normally return it next day.
The bathroom has a hot shower - ask Gabriel to show you how to operate it on arrival. It's not a power unit ! - the tank's pretty small so the best way to get a reasonably long shower is to run the hot water at medium rate ('c' faucet/tap) and add cold to taste...
Also ask Gabriel for the key if you wish to lock passport and valuables away during your stay.
Please bear in mind that the solar panel powered electricity is adequate for fridge, lighting and laptop/phone charger station, but not capable of running power hungry devices like hair dryers, travel kettles etc...
The laptop/phone/tablet charging station is under the sink along to the left. Power it up using the switch on the right, then plug in whatever you wish to charge up. please switch off again after use. There's an adaptor for UK plugs. It's most efficient to re-charge devices while the sun's shining too.
There's an ocean kayak and life jackets along with two sets of snorkelling gear for you, though at present please bring your own fishing gear. Our kayak is at the end of the pathway, and life jackets and snorkel gear hang in the bathroom courtyard. Please rinse everything after use and hang up again. There are bags for the snorkel masks if you want to pack them into beach bags.
There are amazing views from the outside decks on two sides of the palapa, with a good choice of sun and shade. And the night skies are just breathtaking as there's so little light pollution.
outside there are two sun loungers, two beach chairs, a hammock and a separate patio area for al fresco dining. There's a second lightweight hammock in a blue bag hanging in the lounge to use on the beaches. The main hammock hangs indoors, and hooks up from the palm tree to the wall outside - please hang it back indoors on leaving or if there's a chance of rain - it's not very weatherproof !
also provided -
beach umbrella
a pair of binoculars for nature watching and stargazing 2 yoga mats
bbq set for the fire pit at the beach end of the pathway cool bag with picnic set and ice-pack (in the freezer) waterproof bag for kayaking and day trips
beach bag
selection of novels - there are also books in the restaurant sketch pad and some pencils etc
smoke alarm and fire extinguishers
first aid kit
chess, cards and connect 4
crib for infants
foldable camping bed for children aged up to around 4
kids beach toys
laundry bowl, detergent, clothes pegs and washing line
flashlight - use this if walking around in the dark - especially on the outside pathways as there are often lots of tiny hermit crabs you might step on.
solar light strings and solar lamps for the deck - if using indoors remember to put them out in the sun again in the morning to re-charge.... and do disconnect the fairy lights if you want darkness for stargazing, but plug them back in again next day.
spare toilet paper, pegs for the washing line and candles/night lights etc are on the bottom shelf of the cupboard or under the sink. If using night lights, please use the glass containers provided for safety, and to stop them blowing out in the breeze !
mosquito net - needs pegging to ensure good overlaps, but I've had so little problem with mosquitoes that I sleep with it open.
All garbage is recycled where possible – please sort into the relevant bins for collection - you can find them going left along the main pathway near Lapa Lapa.
On leaving, simply leave the fridge running.
kitchen
The kitchen is basic but well-equipped, with a two burner gas hob and oven, and solar powered fridge freezer with ice trays.
Keep fruit and food in the fridge or the sealed container under the sink - in rainy season we get a lot of cute little pink crabs that are harmless but will eat anything !!
it comes equipped with -
range of glasses, mugs, crockery and cutlery
set of chef's knives and bamboo chopping boards
stainless steel pan and frying pan, casserole dishes
plastic storage containers
colander/strainer and mixing bowl
coffee press/cafettiere
stove top kettle
manual blender (by the time you've made a smoothie, you've worked up more than the appetite needed to down it in one !)
cooking implements, wine key and can opener etc
basic staples (rice, pasta, sugar) condiments, herbs and spices
olive and other oils
dilmah ceylon tea and peppermint tea bags, ground coffee
we try to stay well stocked, but would appreciate guests replenishing items that get used up where possible.
bathroom
The ensuite bathroom is partly outdoors, but its courtyard keeps it totally private.
We provide olive soap and l'Occitane lavender liquid soap, along with childrens' sun cream, but no cosmetics like shampoos etc. There's also a small bottle of chinese white flower water which is great should you get any mosquito bites.
do ask if there's anything you'd like to know that's not covered here, and most of all - enjoy !!
We love this place and hope you will too.... :)
mike and Lara
---
---
Voyageur supplémentaire Sans frais
Réduction à la semaine : 15%
Communiquez toujours via Airbnb
Pour protéger votre paiement, ne transférez jamais d'argent et n'établissez pas de contact en dehors du site ou de l'application Airbnb.
En savoir plus
---
L'entrée dans les lieux se fait à partir de 09:00
we'd appreciate no smoking inside our palapa
---
---
Séjour de 3 nuits minimum
---
I'm English, but was raised in East Africa, Uganda, and have lived in France and worked extensively in Australasia. I'm a visual effects artist working in movies, currently at Lucas Film in Singapore. I love travel, swimming, snorkelling, kayaking, gliding, photgraphy and music. I practice yoga and meditation, and get out of the city as much as possible in search of peace and nature. I've an eighteen year old daughter, Lara Kia, who's just on a year's travelling before starting a creative writing degree.
Langues :
English, Français
Taux de réponse :
100%
Délai de réponse :
Moins d'une heure
Découvrez d'autres options à Puerto Vallarta et dans ses environs
Plus de logements à Puerto Vallarta :