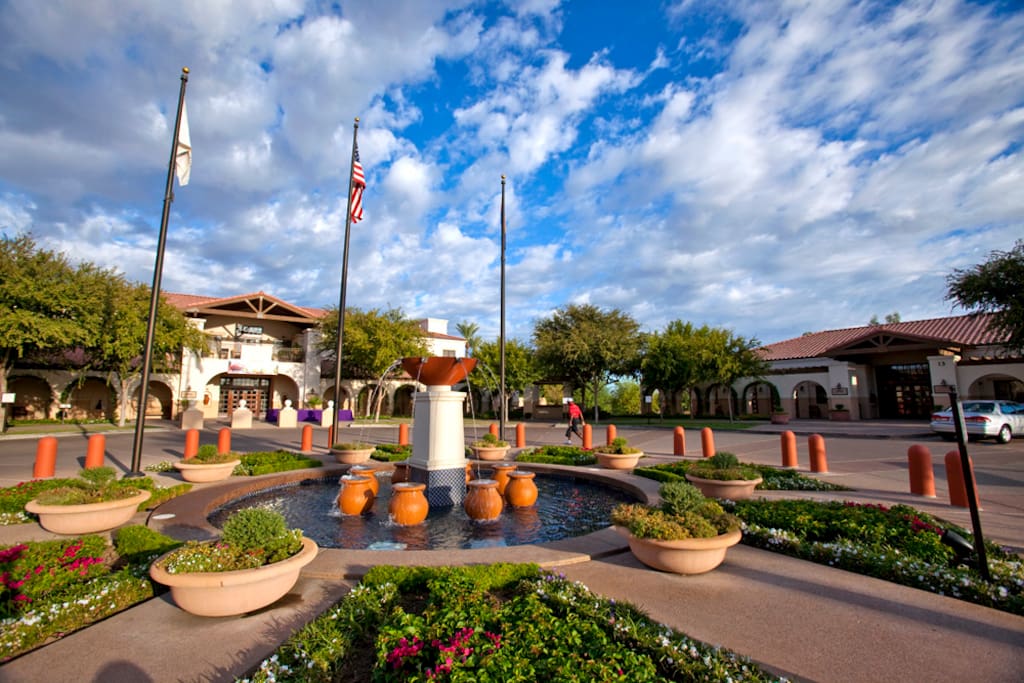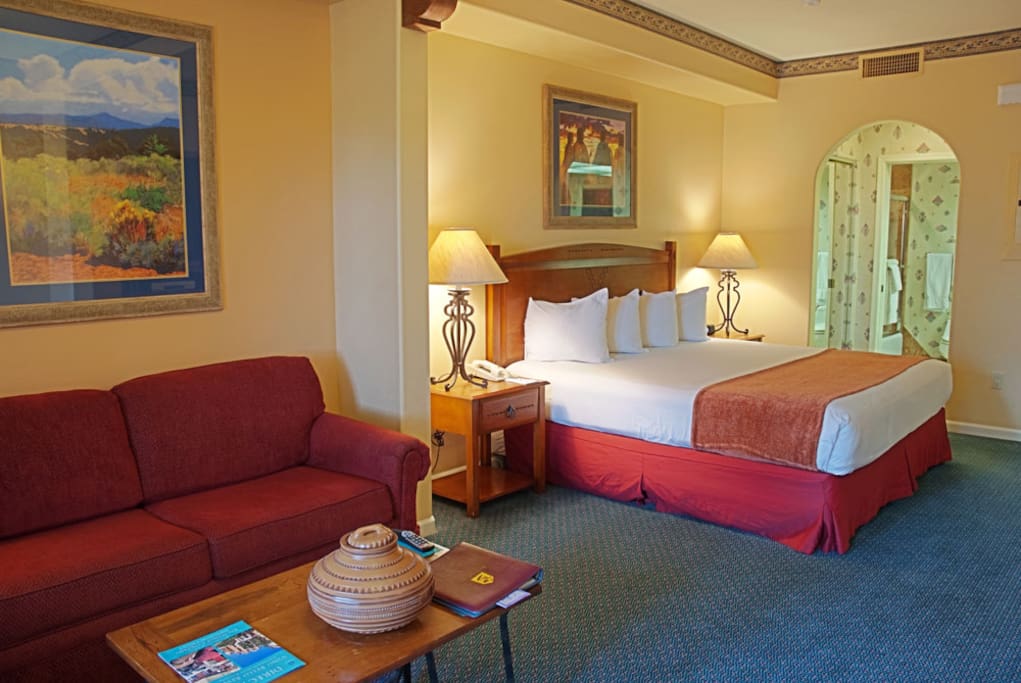 328 beautifully appointed luxury guest suites housed in 12 separate buildings. Decorated in Spanish mission-style with rich wood cabinetry and earth-toned fabrics, each suite features a full kitchen or kitchenette, bath, and balcony or patio.
Le logement
Studio Suites:
The Legacy Golf Resort's studio suites combine relaxed charm and modern comfort. Each suite offers 419 square feet of living space with a king bed and sofa bed, two person dinette set, fully equipped kitchenette, refrigerator, dishwasher, and washer & dryer. The studio suite has a partial living room area and a patio or balcony. Each suite has individual climate control, dual-line telephone with voice mail, and free high speed wireless internet.
Amenities:
Tiled entryway
Washer & dryer
In-room Safe
Private balcony or patio with outdoor table and lounge chair
Large Living Area Amenities:
Full-size sofa bed
Armchair and cocktail table
Table and two chairs for dining or business
Deluxe Kitchenette Features:
Refrigerator
Two-burner range top
Microwave oven
Coffee maker and toaster
Dishwasher
Cooking utensils, pots and pans, and tableware for four
Bedroom Features:
King-size bed
Armoire with 27" TV, DVD player and clothes drawers
Alarm clock radio
Spacious closet with full-length mirrored doors
Iron & ironing board
Bathroom Features:
Enclosed tub with shower
2 marble vanities
2 hairdryers
Telephone

Accès des voyageurs
Tee off in style at The Legacy Golf Resort's 18-Hole Championship Golf Course
18-Hole Championship Golf
Designed by renowned architect Gary Panks, The Legacy's 6,908-yard, par 71 golf course was the site of the 2000 LPGA Standard Register PING tournament. The native vegetation and horticulture introduced by the Heard family, was carefully incorporated into the course design and layout.
Full-Service Pro Shop
Complete Practice Facility
Tournament Coordination
PGA Certified Instructors
Variety of Golf Packages
Rating/Slope: 72.1/128
Also named one of the "Top 10 Golf Courses To Play in Phoenix" by Golf Digest, the Legacy Golf Resort is the former setting of Dwight B. Heard's 7,500-acre ranch from the early 1900's. Our Phoenix golf resort is rich in heritage and history, the legacy has taken great pride in preserving the remaining structures and monuments along its 18-hole championship golf course - giving golfers an added opportunity to experience a taste of Arizona history and the Heard legacy. The Legacy was also the host site for the 2000 LPGA Standard Register Ping Classic won by Charlotta Sorenstam.
Now you have the chance to book your Legacy Golf Tee Time with Points. Just call 1-877-SHELL-10 to start the booking process.
Course Features:
Designed by renowned golf course architect Gary Panks, The Legacy's lush green fairways, forgiving rough, well-placed hazards, and manicured greens offer a challenge for golfers of all skill levels.
Indigenous grasses, flowers, shrubs and trees surround the rolling terrain. Its elevation provides exceptional views of Camelback Mountain, Squaw Peak and the downtown Phoenix skyline.
Hole #1
The historic Sierra Vista House to the right of the tee welcomes you to this beautiful opening hole. This four hundred yard straightaway par four will reward an accurate first drive, but miss the fairway to either side and a bunker awaits. The green is also protected by a bunker to the front/right side.
Hole #2
A four hundred and fifty yard par four. Although this hole is void of any bunkering and relatively straightaway, it may prove to be the most difficult hole on the golf course. Both distance and accuracy are a must to successfully navigate this giant.
Hole #3
The shortest of the three opening par fours, this three hundred and eighty yarder is well guarded off of the tee by fairway bunkers and out of bounds to the right . A large bunker protects the green from any shot missing short and left.
Hole #4
This very well guarded one hundred and ninety yard par three proves that reaching the green is only half of the battle. This large rolling green will test the putting skills of all levels.
Hole #5
Although it is the shortest par four on the golf course, this three hundred and fifty-five yarder places the emphasis on accuracy and shotmaking. Menacing fairway and greenside bunkers await any shot struck just slightly off line.
Hole #6
The longest hole on the golf course is this doglegging left five hundred and seventy-five yard par five. Well placed bunkers are in play on any of the three shots it will take to reach this modest yet undulating green.
Hole #7
This one hundred and thirty five-yard par three is no pushover. A shallow green guarded by four intimidating bunkers place a premium on concentration and short iron execution.
Hole #8
Accuracy off the tee will ease this hole up a bit, but this five hundred and fifty -five yard par five has plenty of teeth. Out of bounds to the right side and bunkers in play on the second and approach shots have to be avoided to reach this green in three.
Hole #9
Hitting South towards downtown Phoenix, this four hundred and forty yard par four is a challenging finish to the first nine. An accurate drive will avoid three fairway bunkers, while the approach shot must carry a transition area crossing the fairway and pass by a greenside bunker before landing softly on the putting surface.
Click here to book a tee time at the Legacy Golf Club
Hole #10
A long slight dogleg to the right, the four hundred and five yard par four tenth starts the homeward nine off with a bang. Avoid the left side fairway bunkers and take a mid to long iron approach to a green guarded by a bunker to the right.
Hole #11
A beautiful one hundred and eighty yard par three. Guarded by a large greenside bunker, a shot that misses this green is better off to the right. Hit the green and the contours will challenge even the best putters.
Hole #12
The first encounter with water lures you to this challenging four hundred and sixty yard par four. From the championship tees the drive must carry one hundred and sixty yards of water before finding grass on the opposite side. Avoiding the deep faced bunkers to the right of the fairway, the player will have a mid to long iron approach over a rolling fairway.
Hole #13
Four hundred and fifteen yards lay between the golfer and birdie on this generous par four. Be careful hitting to this elevated green, a right side bunker and greenside mounding await an errant approach.
Hole #14
This five hundred and sixty-five yard par five plays to a slightly elevated green which is guarded by a ten thousand square foot bunker to the left and further guarded by a landscaped timber wall, providing the only separation between the bunker and a left side lake. One must make a careful club selection on the second shot here, for risk and reward will play a key role in the decision to proceed towards this well protected green.
Hole #15
A beautiful one hundred and sixty yard par three which demands a carry over water and several well placed bunkers protecting the front of the green. This elevated green may have some well guarded pin placements, but do not use too much club as the shot coming back may be just as intimidating as the tee shot.
Hole #16
With Squaw Peak dominating the horizon, this three hundred and ninety yard par four will require extreme accuracy off of the tee. A narrow landing area and right side fairway bunkers must be navigated before attempting an approach to this well bunkered green.
Hole #17
The largest bunker on the golf course waits to swallow any shot hit left on this magnificent two hundred yard par three. A bail out area to the right provides some relief for a shot that misses the green. Make par and move quietly to the eighteenth tee.
Hole #18
The original Heard Ranch grain silos to the right were once the tallest structures in Maricopa County, but do not let them take your attention away from this five hundred and ten yard par five. Avoid the fairway bunkers and going for the green in two is a definite possibility. But, the green is well bunkered and surrounded by severe banks, this shot demands accuracy.
Échanges avec les voyageurs
Services & Amenities:
328 suites
Gary Panks-designed 18-hole golf course
Swimming pool with two hot tubs and poolside cabana bar
Children's pool and playground
Fitness center
Spa services (fee, advance reservations required)
Golf lessons and personal instruction offered by PGA pros
Full service golf shop
Daily guest activities
Sand volleyball courts
Shuffleboard courts
BBQ area
Tennis courts
Vending machines
Concierge services
24-hour front desk
ATM machine
Trail's End Bar & Grill serving breakfast, lunch and dinner, bar/lounge
Complimentary parking
Complimentary high-speed Internet access
Free Internet kiosk in lobby

Autres remarques
The Legacy Golf Resort offers you a study in contrasts. A Phoenix golf course that prominently displays well-preserved artifacts of the Old Southwest in contrast to a contemporary golf school that employs leading-edge technology. An executive resort with all sorts of business amenities and plenty of family-friendly activities. Absolute peace and quiet (with soothing spa treatments) and easy, convenient access to vibrant Phoenix, Scottsdale, Tempe, Chandler and Mesa. Your choices?
Tee up on The Legacy Golf Course. Designed by renowned golf course architect Gary Panks, the 6,908-yard, par 71 golf course is noted for beautifully manicured greens, aesthetic uses of indigenous plants, and its homage to the area's rich western history. The first tee box is located near a western bunkhouse, built in 1899, that once housed Teddy Roosevelt and Poncho Villa. Grain silos, built in 1902, line one of the fairways.
Disconnect with to-order spa treatments. Order a body wrap, an invigorating scrub, a deep cleansing facial ... and sink into total bliss. Advance reservations required.
Plug into the resort's scheduled activities. The Legacy Golf Resort's onsite activities director organizes a range of family-friendly activities in Phoenix. Daily activities, some requiring modest fees, include spirited bingo competitions, pizza-and-movie nights, guided hikes, arts and crafts, and scavenger hunts.
Experience Phoenix, Scottsdale, Tempe, Chandler and Mesa.
Centrally located, The Legacy Golf Resort is the perfect location to take in a Diamondbacks game or follow the Cactus League – the Chicago Cubs. Chicago White Sox, Colorado Rockies, Kansas City Royals, Anaheim Angels, Milwaukee Brewers, Oakland A's, San Diego Padres, San Francisco Giants, Seattle Mariners, Texas Rangers - during Spring Training.
Experience the quiet thrills of the FBR Open (formerly called the Phoenix Open) or the downright noisy thrills of NASCAR at the Phoenix International Raceway and drag racing at the Firebird Raceway. Head to Sun Devil Stadium, home of the (website hidden) Bowl, or University of Phoenix Online Stadium, home of the Arizona Cardinals or the games and events at ASU. Or try your hand and your luck at table games and slot machines at Casino Arizona.
Then, tap into your softer side strolling Phoenix's local museums and art galleries, enjoying first-rate performances at the Scottsdale Center for the Arts, sitting back for stellar performances from the Phoenix Symphony and Ballet Arizona.
Attractions and Museums
Check out the abundance of local attractions and activities that Phoenix has to offer. For those who want to venture outside of Phoenix, take on a day trip to visit some of these Arizona attractions.
Apache Trail/Superstition Mountains
Located at the base of the Superstition Mountains is the gateway to the Old West. The town features shops, Dynamite Mine, Lost Dutchman Museum, a steakhouse, jeep/helicopter tours and more.
Arizona Museum for Youth
A participatory fine arts center especially for young adults. 35 N. Robson St. (phone number hidden)
Arizona Science Center
Big innovations and shows, including 350 hands-on exhibits, a 206 seat planetarium with a 60 foot dome, and a giant screen theater with an Iwerks projection system. 600 E. Washington St. (phone number hidden)
Arizona Snowbowl
Located on majestic San Francisco Peaks, Arizona Snowbowl lies 14 miles outside of Flagstaff (approximately 2 hours from Phoenix) . The resort opened in 1938 and is one of the oldest, continually run ski areas im the US. And now, visiting Snowbowl from the Phoenix metro just got easier, through Desert Snow Connection. Desert Snow Connection makes skiing and snowboarding affordable and convenient for Phoenix visitors by offering coach transportation to Arizona Snowbowl from Phoenix plus the option to buy your lift tickets and bypass long lines. Visit (website hidden) and reserve your seat today.
Arizona State University
The fifth largest university in the U.S. serves about 44,255 students at three anchor campus locations throughout the Phoenix Metropolitan Area. The university is a major provider of academic, cultural and social activities for Greater Phoenix.
Desert Botanical Garden
Located in the heart of Papago Park and bordered by Scottsdale, Phoenix and Tempe, the Garden's 145 acres showcase the Sonoran Desert and more than 20,000 plants representing 4,000 species. Open daily 8 a.m.-8 p.m. 1201 N. Galvin Pkwy. (phone number hidden)
Grand Canyon
The North Rim features the virgin pine forest of the Kaibab Plateau and view-points 1,200 feet higher than those of the South Rim. The South Rim offers some of the best viewpoints and is located just a short distance from Grand Canyon Village. Breath-taking views of the Painted Desert, Colorado River, and the Marble Canyon are just some of the beautiful sites.
Heard Museum
Started in the 1920's by Dwight and Maier Heard with their private collection of Native American art and recently expanded to include multiple galleries, a cafe, auditorium, museum shop and bookstore, education center, courtyards and an amphitheatre. Open daily 9:30 a.m.-5:00 p.m. 2301 N. Central Avenue (phone number hidden)
House of Broadcasting, Inc. (Radio and Television Memorabilia)
Walk back in time with Arizona's radio and television legends. This museum offers a compendium of personalities and paraphernalia from this dynamic broadcast industry, preserving for all time Arizona's beginnings, for generations to experience and treasure for years come. Located at 7150 East 5th Avenue, 2nd floor of Santa Fe West. Free admission. Open Monday-Sunday, 10am to 6pm. 7150 E. 5th Avenue, Scottsdale, AZ (phone number hidden)
London Bridge
London Bridge was falling down, and the economy in Lake Havasu City wasn't doing all that much better. So in 1968, a man who built an empire on chain saws decided his western Arizona kingdom could use a new old-fashioned bridge, buying London's for $2.46 million and transporting it to the desert. A tourist oddity was born.
Montezuma Castle
Visit Montezuma's Castle, a beautiful pre-historic Indian cliff dwelling.
Out of Africa
A full day of excitement and fun! Nine great shows! Lions, tigers, leopards and even cougars all live together. Instead of tricks and routines, you will see the staff playing, swimming, and interacting with the exotic cats. Located two miles north of Shea off the Beeline Highway.
Papago Park
A spacious desert area with many facilities for entertainment and recreation. 56th Street and East Van Buren
Phoenix Art Museum
Phoenix Art Museum is the largest in the Southwest, with world-class exhibitions and a collection of over 17,000 works of American, Asian, European, Latin American, modern and contemporary, and Western American art, and fashion design. Not to be missed are the Thorne Miniature Rooms of historic interiors, shopping in The Museum Store, and lunch in Art Museum Cafe by Arcadia Farms. The Museum presents a variety of public programs, including film showings, lectures, Family Sundays, gallery talks, and more. Free parking and barrier-free access. Closed Mondays. 1625 N. Central Avenue, Phoenix, AZ (phone number hidden)
Phoenix Civic Plaza
An exciting, professional, high-quality, service oriented venue featuring 300,000 square feet of comfortable and economical convention, meeting, and special event space in an atmosphere conveying the history of the Southwest and the Arizona experience. 225 E. Adams. (phone number hidden)
Phoenix Museum Of History
Interactive and revolving exhibits, programs for children, and displays probing such topics as famous Phoenix families, the city's first jail, early nutrition, and the survival secrets of the Hohokams. Open Monday-Saturday 10 a.m.-5 p.m. and Sunday 12 p.m.-5 p.m. 105 N. 5th Street (phone number hidden)
Phoenix Zoo
Home to some 1,300 animals including 200 endangered or threatened birds, mammals, and reptiles from around the world. Open daily 9 a.m.-5 p.m. 455 N. Galvin Pkwy. (phone number hidden)
Pueblo Grande Museum and Archaeological Park
Experience a prehistoric Hohokam Indian ruin. Outdoors you can explore a 2/3 mile (1km) interpretive trail featuring the archaeological site and walk through the Hohokam Houses exhibit with reconstructed homes. Inside the Land and the People exhibit tells the story of the ancient Hohokam. The changing gallery showcases exhibits on topics such as archaeology, southwestern cultures, and contemporary American Indian arts. Let your children discover the excitement of archaeology in our hands-on exhibit: Explore Archaeology. Exciting workshops, tours and events are available year round. The Museum Store features authentic Indian arts, books on the Southwest, and other unique items. 4619 E. Washington Street, Phoenix, AZ (phone number hidden)
Rawhide
An authentic replica of an entire 1880's Western town complete with gunfights, stagecoaches, gold panning, and an Old West museum. 5700 West North Loop Road, Chandler, AZ (phone number hidden)
Scottsdale Main Street Arts District
Explore contemporary art, architecture and design in the heart of Old Town Scottsdale. Located south of Indian School on Main Street and Scottsdale Road.
Scottsdale Museum of Contemporary Art
Located in Scottsdale's popular Old Town district, the Scottsdale Museum of Contemporary Art (SMoCA) features the most compelling modern and contemporary art, architecture and design from around the globe. Designed by award-winning architect Will Bruder, SMoCA's minimalist building (an ingenious renovation of a former movie theater) includes a public "skyspace" by the acclaimed artist James Turrell (one of only a handful in the world), where visitors can experience the ever-changing light of the desert sky. SMoCA also presents a wide variety of changing exhibitions, educational programs and special events for adults and families. 7374 E. Second Street, Scottsdale, AZ (phone number hidden)
Sunrise Park Resort
In the heart of Arizona's White Mountains is Sunrise Park Resort, Arizona's Premier ski destination. This recreational paradise offers a wide range of fun and exciting winter activities. Ski or ride on Sunrise's three mountains offering 65 runs promising adventure for skiers of any level. There is also a separate snowboarding area, cross country ski trails and a special childrens's "ski-wee" area. And now, visiting Sunrise from the Phoenix metro just got easier, through Desert Snow Connection. Desert Snow Connection makes skiing and snowboarding affordable and convenient for Phoenix visitors by offering coach transportation to Arizona Snowbowl from Phoenix plus the option to buy your lift tickets and bypass long lines. Visit (website hidden) and reserve your seat today.
Taliesin West
Taliesin West was built by Frank Lloyd Wright and his apprentices in the 1930s and was constantly expanded and modified by the architect until his death in 1959. Wright and his apprentices literally created Taliesin West out of the desert by gathering rocks from the desert floor and sand from the washes to keep the design in balance with the surrounding environment. The site, considered one of the Wright's greatest masterpieces, was designed to serve as Wright's personal home, studio and architectural laboratory. Today, visitors can choose from a broad range of tours that showcase Wright's brilliant ability to integrate indoor and outdoor space.- Open during the winter months. 12621 Frank Lloyd Wright Blvd. (phone number hidden)
Wildlife World Zoo
Arizona's largest collection of exotic animals up close and personal. Take a safari train ride through animal exhibits or visit the giraffe feeding station. 623.935.WILD
Family Fun parks
Roller coasters, bumper boats, go-carts, miniature golf, arcades, batting cages, modern driving ranges, waterslides, and wavepools can all be found at the Valley's many Family Fun Parks.
Big Surf
1500 N McClintock Dr, Tempe, AZ (phone number hidden)
Castle and Coasters
9445 N Metro Parkway East, Phoenix, AZ (phone number hidden)
Cracker Jax
16001 N Scottsdale Rd, Scottsdale, AZ (phone number hidden)
Water World
4243 W Pinnacle Peak Rd (phone number hidden)
Shopping
Arizona Center
Specialty shops, retail carts, and a food court arranged in an open air center. Many popular restaurants and nightclubs. 455 N. 3rd Street (phone number hidden)
Arizona Mills
A 175-unit shopping, dining, and entertainment complex featuring many well-known outlets. I-10 and SR(phone number hidden)
Biltmore Fashion Park
World-class shopping in a beautiful outdoor park setting. 24th Street and Camelback Road. (phone number hidden)
Kierland Commons
Scottsdale's newest Shopping center! Enjoy great shopping, dining and entertainment all in an outdoor setting. 15205 N Kierland Blvd, Suite 150, Scottsdale, AZ (phone number hidden)
Old Town Scottsdale
Shop along world-renowned 5th Avenue. More than 225 specialty shops featuring gifts, fashions, Native American handcrafts, home-furnishings, and open-air cafes. 7087 5th Avenue. (phone number hidden)
Old Town Tempe
Mill Avenue between 3rd and 7th (just north of University) features specialty shops such as craft shops, boutiques, coffee shops and restaurants.
Paradise Valley Mall
Includes five major department stores, over 145 specialty shops, a large food court and movie theaters. Cactus and Tatum Roads. (phone number hidden)
Scottsdale Fashion Square
Arizona's foremost mall, featuring three levels of great shopping, dining and a multiplex cinema. Scottsdale Road at Camelback, Scottsdale. (phone number hidden) E. Camelback Rd. (phone number hidden)
Sports
For the sport enthusiast, Legacy Golf Resort is the perfect location to take in a Diamondbacks game and follow the Cactus League – the Chicago Cubs, Chicago White Sox, Colorado Rockies, Kansas City Royals, Anaheim Angels, Milwaukee Brewers, Oakland A's, San Diego Padres, San Francisco Giants, Seattle Mariners, Texas Rangers and Diamondbacks – during Spring Training. Catch a game. Go golfing. Whatever your fancy, you'll find it in Phoenix.
Cactus League Baseball
Twelve Major League Baseball teams warm up under the Valley's sun during Arizona's Cactus League spring training in March and April.
Anaheim Angels
Tempe Diablo Stadium
48th St. and Broadway
(phone number hidden)
Chicago Cubs
Hohokam Park
1235 N. Center, Mesa
(phone number hidden)
Milwaukee Brewers
Maryvale Sports Complex
3600 N. 51st Ave.
(phone number hidden)
Oakland A's
Phoenix Municipal Stadium
5999 E. Van Buren St.
(phone number hidden)
San Francisco Giants
Scottsdale Stadium
7408 E. Osborn
(phone number hidden)
San Diego Padres
Seattle Mariners
Peoria Sports Complex
16101 N. 83rd Ave.
(phone number hidden)
Arizona Diamondbacks
Chicago White Sox
Colorado Rockies
Kansas City Royals
Seattle Mariners
Texas Rangers
Chase Field Ballpark
The only sports facility in the world featuring a retractable roof, air conditioning, and a natural turf playing field, this unique venue is home to Major League Baseball's Arizona Diamondbacks. 401 E. Jefferson St. (phone number hidden)
Firebird Raceway
A 1/4 mile NHRA sanctioned dragstrip, a 1.1 mile lake for IHBA Drag Boat racing events, a 1.25 mile East Track, a 1.6 mile Firebird Course, a 1.1 mile West Track, the Bob Bondurant School of High Performance Driving, and Proformance Driving Events! 20000 Maricopa Rd., Chandler. (phone number hidden)
Glendale Arena
Home to NHL's Phoenix Coyotes and the NFL's Arizona Cardinals. 9400 W Maryland Ave. Glendale, AZ (phone number hidden)
Phoenix International Raceway
Home of Phoenix's biggest race - NASCAR! Join the action and be part of fun and excitement. 7602 S. Avondale Blvd., Avondale, AZ (phone number hidden)
Sun Devil Stadium
Home to Arizona State University's football Sun Devil's. (phone number hidden)
Turf Paradise RaceCourse
Enjoy live and simulcast racing in a paradise setting. Featuring casual and fine dining, family picnic park, and a sports bar. Live Racing Fri - Tue 12:30pm. 1501 W. Bell Rd. (phone number hidden)
US Airways Center
Home to the NBA's Phoenix Suns, AFL's Arizona Rattlers, WNBA's Phoenix Mercury, NHL's Phoenix Coyotes, and a variety of family entertainment. 201 E. Jefferson Street. (phone number hidden)
Theater
Celebrity Theatre
Intimate 2650 seat theater in the round features concerts, corporate parties, and special events. No seat is farther than 75 feet from the stage. 440 N. 32nd St. (phone number hidden)
Grady Gammage Memorial Auditorium
Offering the best in performing arts from Broadway shows to concerts, dance, comedy, and more. Located on the campus of Arizona State University. Mill Ave. and Apache Blvd., Tempe. (phone number hidden)
Herberger Theater Center
A two-stage complex featuring year-round music, drama and dance performances presented by six resident professional performing companies. 222 E. Monroe. (phone number hidden)
IMAX Theatre at Arizona Mills
Arizona's first combination IMAX and IMAX 3-D theater. Images come to life on a screen more than six stories high. 5000 Arizona Mills Circle, Ste. (phone number hidden).IMAX
Phoenix Civic Plaza Convention Center and Symphony Hall
Phoenix's totally renovated convention and exhibition complex. Center for the performing arts and home of the Phoenix Symphony. 225 E. Adams. 800.ATC.IVIC
Marquee Theatre
Tempe's number one music venue. Popular bands both big and small cannot make it through Arizona without stopping here first. Formerly the Red River Music Hall. 730 N. Mill Ave., Tempe. (phone number hidden)
Union Hall
2000 seat historic auditorium adjacent to the Arizona Center. 512 E. Van Buren. (phone number hidden)
The Legacy Golf Resort's onsite concierge is happy to assist you in finding the perfect Phoenix activities for your perfect visit. Contact us at (phone number hidden).
---
Type de logement : Logement entier
---
---
Voyageur supplémentaire : Sans frais
Tarif week-end : 172 / nuit
Communiquez toujours via Airbnb
Pour protéger votre paiement, ne transférez jamais d'argent et n'établissez pas de contact en dehors du site ou de l'application Airbnb.
En savoir plus
---
Strictes
Si vous annulez jusqu'à 7 jours avant le voyage, vous recevez un remboursement à hauteur de 50 %. En cas d'annulation au cours des 7 jours précédant le voyage, la réservation est non remboursable.
---
---
Our stay here was great! Our family of four (kids are 9 and 13) stayed while in town for Spring Training baseball. The roof was great and I especially loved having a washer and dryer unit. Close to Target and a grocery store if you want to get food to prepare and save a little money. Pool area is great. We loved it and we would definitely go back!
---
Great location, friendly staff for the most part, great view and afternoon sun on the second floor deck, and thats stovetop and blender were used daily during my stay. If you're a light sleeper like myself, you may also have some issues getting to sleep but otherwise it was private and secure.
---
We rented the place for a week. It was a bit small for us and our daughter but the price was good. The resort has awesome amenities and its close to great hiking and the stores you need. Unit is nice and close to the pool with a south facing deck that gets lots of sun. The only knock was the noise. We could hear seemingly everything from or neighbours. The fellow had a deep voice and seemed to talk all day.
---
Amazing host with great communication and understanding! Small issues with amenities; however, the host made it right. It is a timeshare so host may be unaware of pool not being opened (our case), so please be sure you contact resort if the amenities are the main reason for your book. If you are not familiar with the area and/or mosquitoes, be sure to bring your repellent. Its an absolute beautiful place; however, the greenery/landscaping do attract them. I will be prepared next time when I returned. Thanks Jennifer for your patience with us.
---
Time share owner, foodie, traveler. I have access to many locations not listed here, so if you're looking - let me know where and I'm happy to check in to it for you.
A hébergé 2 voyageurs du pays suivant : France
Taux de réponse :
99%
Délai de réponse :
Quelques heures
L'adresse exacte est communiquée uniquement lorsque la réservation est confirmée.
Découvrez d'autres options à Phoenix et dans ses environs
Plus de logements à Phoenix :