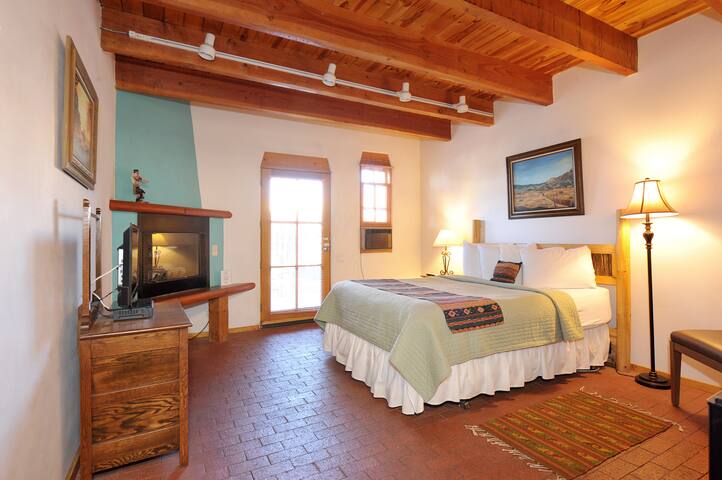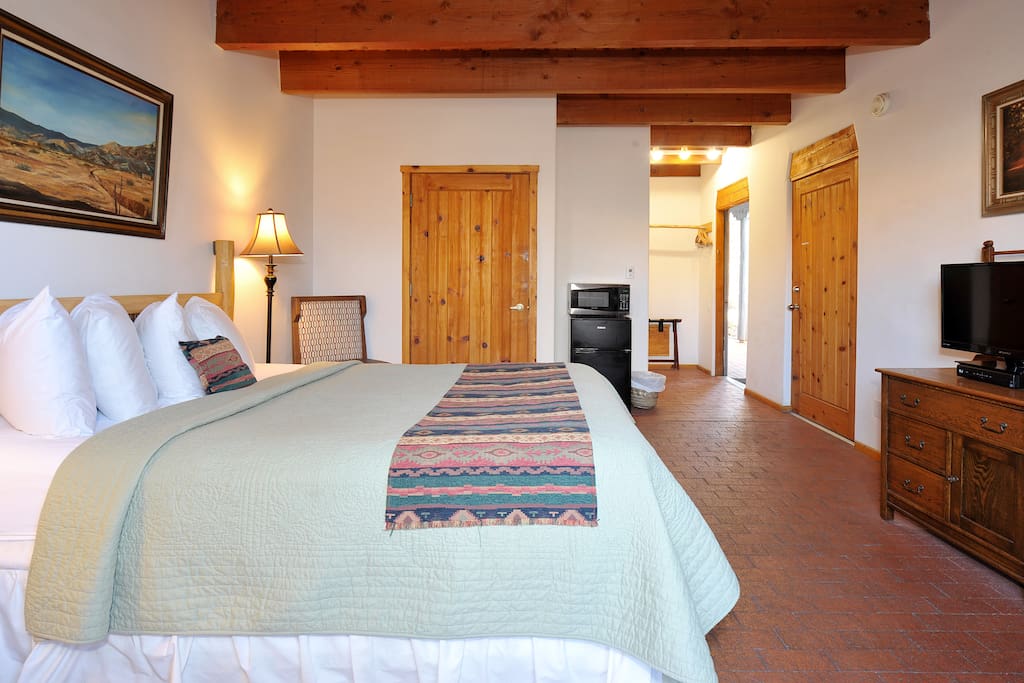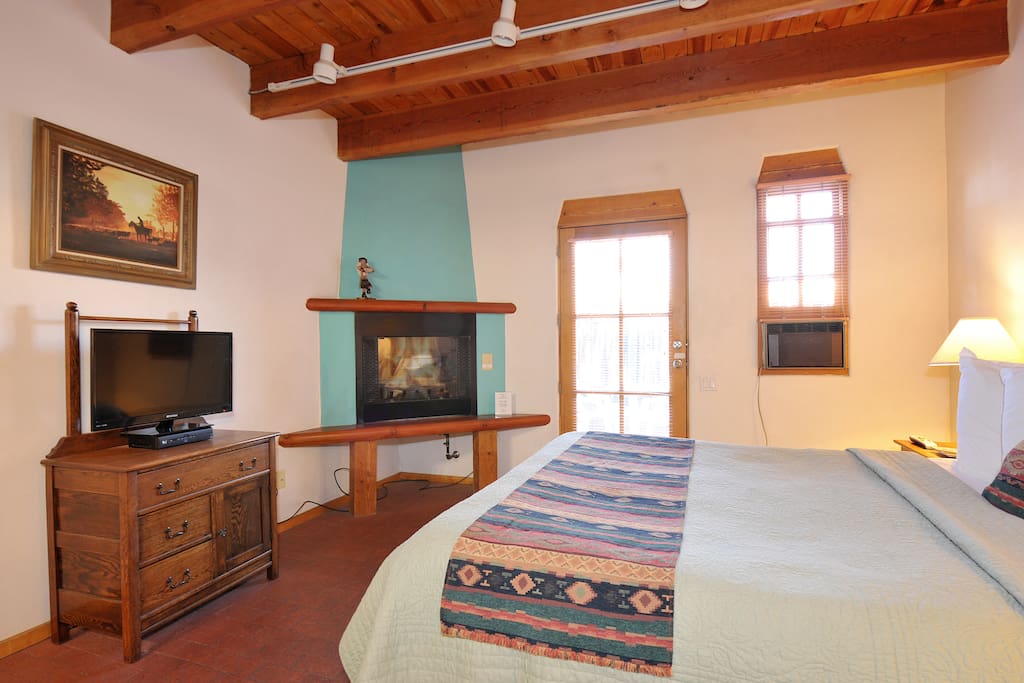 We are located steps away from the Guadalupe shopping and dining district and only 4 blocks from the historic Santa Fe plaza!
Enjoy Southwestern Roomsfree ParkingWiFi, and Friendly Service
Le logement
About The Guadalupe inn
The property on which the Guadalupe Inn is located has been owned by someone in our family for 150 years. It was sold to our great grandmother in 1863 for $1.00 so that her sons could have something for themselves.
We, the current owners, are three siblings, Dolores Q. Myers, Henrietta Quintana, and Pete Quintana. Our parents were Pedro "Pete" and Concha Quintana. We purchased this property in 1984 from our Grandpa Quintana's estate and decided that an Inn would be the best use of the property. Our Mother had always been an active person, and we felt it would be great for her to visit with the guests. She "worked" with us every day for 19 years. Now that she is gone, we realize that she was our most valuable asset.
Some of our earliest memories are of our Grandpa Q (Alejandro Quintana) and our Grandma, Josefita Quintana who owned and operated a grocery store on this property. Many of us grandchildren had the opportunity to work in that store. It was a sad day when we finally had to close the store in 1958 after he died. Grandpa and Grandma Quintana had 12 children. Grandpa was a not only a store-keeper and liquor store owner, he was a butcher, a landlord, a jeweler and an inventor.
Our Grandpa and Grandma, Enrique (Henry) Sanchez and Benigna Lobato Sanchez lived one block down Agua Fria Street. They too had 12 children. Grandpa Sanchez made carpentry his life's work. According to our Mother, Grandpa Sanchez was the greatest carpenter in the world after Jesus Christ. He did a great job handing down his skills to his heirs.
Pedro A. Quintana and Concha Quintana were our parents. They were a humble, generous couple who had 7 children. Everyone was welcomed to our table for something good to eat. Her biscochitos (cookies) were made individually for family, friends, Governors and even the King of Norway! Our Dad, Pete, was a sheetmetal worker, an HVAC contractor, a jeweler, and an ornamental tin and copper artisan. His work is mentioned in several books. Most especially he was a lover of people. Just ask the boys in our family about the fishing trips they had with "Uncle Pete."
We, the owners of the inn, pursued different vocations in our early years. Pete continued working in the field that he learned from our Dad. He is a contractor who,with his son and a small crew, built our inn. Dolores was an accountant who worked at our local hospital and at an insurance agency before she managed at the Inn. Henrietta was an educator at the local school for deaf children. She worked in every department at the school except maintenance!
It is our goal to offer an authentic Santa Fe experience at moderate rates. We believe an Inn is an extension of one's home, and while we grew up in a modest home, it was filled with love and comfort. If you are looking for a family atmosphere, run by down-to-earth folks, then this is the place for you.
Come to Santa Fe and enjoy all that this great "City Different" has to offer. And, if you enjoy a bit of local color, come stay with us. "Mi casa es su casa." (My house is your house.)
The Neighborhood
From our Inn, we can also direct you to Museum Hill and other nearby attractions. The high desert and surrounding mountains are a paradise for outdoor enthusiasts. Northern New Mexico offers an abundance of recreational activities including hiking, horseback riding, hot air ballooning and white water rafting. In the winter you can enjoy downhill and cross country skiing in the Sangre de Cristo range of the Southern Rocky Mountains.
---
Parking gratuit sur place
---
We felt welcomed from the moment we arrived. David and the staff were very friendly and helpful. Our room was large and very comfortable. Having our own private patio was a bonus. The breakfasts were very good with lots of choices including homemade muffins! The hotel is located within easy walking distance to the downtown square, museums and shops. We would definitely stay here again.
---
The area around the hotel was beautiful, easy walk to the plaza and restaurants. The room itself was lackluster, not updated at all. The fireplace didn't work at all, and the air conditioner was a very old window unit that didn't work very work. Aside from the location, we felt that it was a little overpriced and could use some updating.
Shelby, We appreciate your recent stay with us at the Inn. We are very proud of our family property, our location, and our pricing. As you probably noticed by the full parking bay, we are in the process of remodeling/refurbishing our property. We're sorry you did not like Room 7 - we do apologize that your air conditioner, although working, has not yet been replaced by a new one. Our fireplaces do not have the pilot lights turned on for winter - we normally don't run the air conditioners and fireplaces at the same time! We wish you well in your future travels.
---
The Guadalupe Inn is the perfect place to stay in Santa Fe. It's an easy walk to downtown, super friendly owners, relaxing and very clean rooms. We loved it and will stay again!
---
Everything at the Guadalupe was exactly what I hoped for--ambience, accommodations, people. The rooms were gorgeous, clean, well kept and borderline luxurious, very spacious with a jacuzzi tub under a skylight in the giant bathroom. The night manager whose name is slipping me right now, was very gracious (we were late arrivals) and had great recommendations for "about town." Great yet simple variety of breakfast offerings with super friendly morning staff. Can't wait to come back! Also, I really want one of their punched tin light fixtures.. would love to know where they got them.
Monica, We appreciate your recent stay and your very nice comments! Abby (our night manager) and the rest of us do our best to provide guests with true Santa Fe hospitality. We're glad you felt it! We made all the tin and copper light fixtures, drop us an email or call if you are interested in owning one. Thanks again for your business.
---
Excellent location. We were able to walk to the plaza in 10 minutes. Our room was on the street side and we were concerned when we first arrived that it would be too noisy but once evening arrived all was quiet. Very comfortable and clean room. Very affordable compared to other options in Santa Fe. We will stay again.
---
The host and staff were very friendly and welcoming. The Inn is very conveniently located (just a 10-15 minute walk to the Plaza area). The room was spacious and well kept. This place was a perfect home base while we explored Santa Fe!
---
Taux de réponse :
100%
Délai de réponse :
Dans la journée
Découvrez d'autres options à Santa Fe et dans ses environs
Plus de logements à Santa Fe :