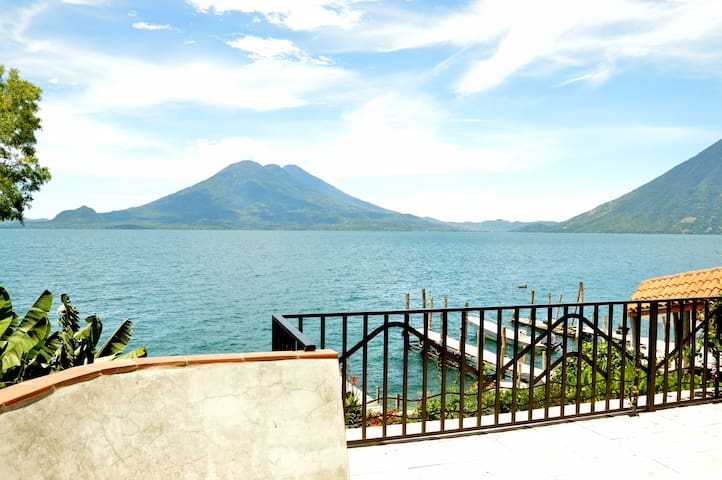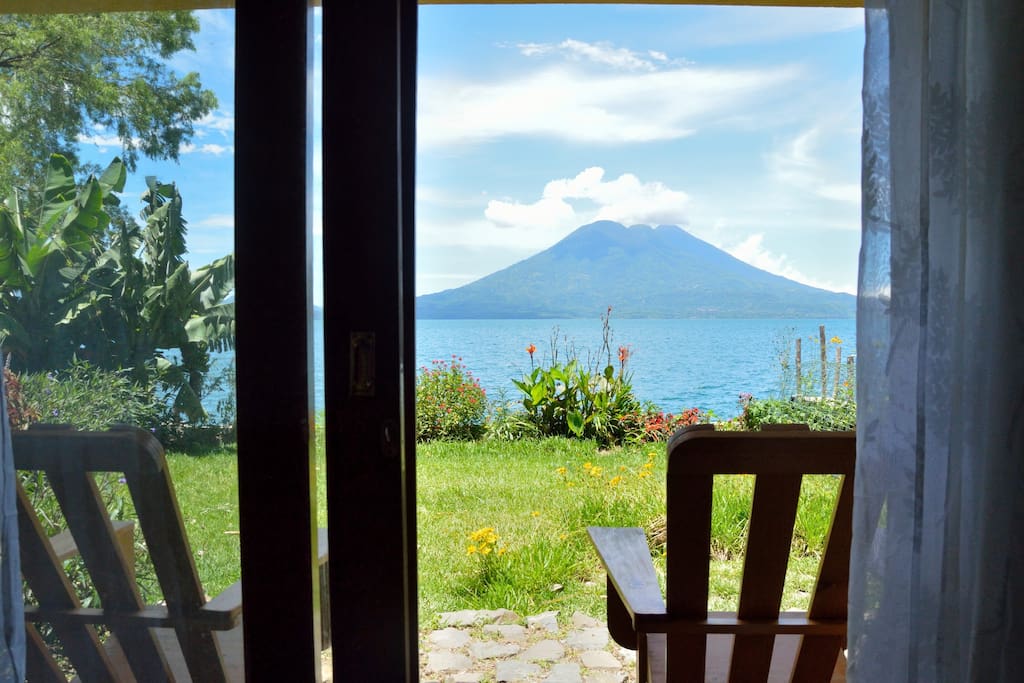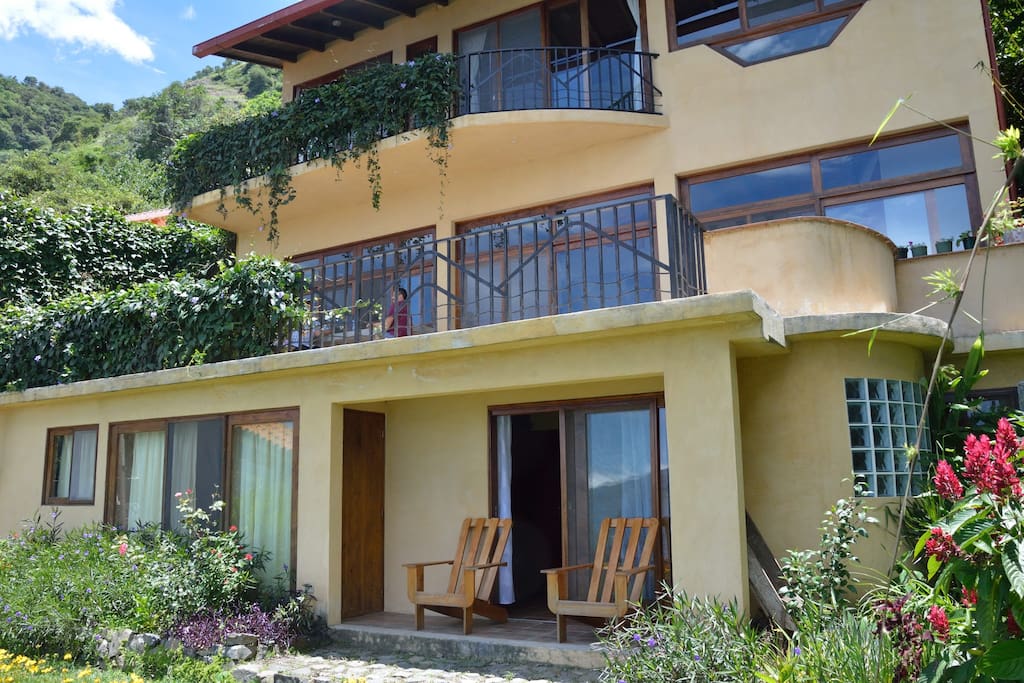 À propos de ce logement
Lakeside villa with private dock and private lakefront on Lake Atitlan (Lago de Atitlan) in Guatemala. View of three beautiful volcanoes. Peaceful retreat with tropical plants and fruit trees. Modern kitchen with dishwasher.
---
Type de logement :
Logement entier
---
---
---
Lakeside villa with private dock and private lakefront on Lake Atitlan (Lago de Atitlan) in Guatemala. View of three beautiful volcanoes. Peaceful retreat with tropical plants and fruit trees. Modern kitchen with dishwasher.
CASA 3 VOLCANES

Welcome to Casa 3 Volcanes (The House of 3 Volcanoes).
Casa 3 Volcanes is a lakeside villa on the north shore of Lake Atitlan, a tranquil and magical spot in the Guatemalan highlands. The author Aldous Huxley was so taken with Atilan that he wrote, "Lake Como it seems to me, touches on the limit of permissibly picturesque, but Atitlan is Como with additional embellishments of several immense volcanoes. It really is too much of a good thing."
The house has a private dock and lakefront, as well as a spacious yard with avocado and banana trees. Enjoy a private massage, have a meal prepared for you at the house, take Spanish lessons, climb a volcano, shop for handmade textiles and crafts, relax.
We have a fulltime caretaker who can pick fruit for you or help with errands and a local property manager who speaks English and can help with anything you need. The house has a large master suite, a second bedroom with a full-size bed and a third bedroom with two double beds. Each of the bedrooms has its own private bathroom with a shower. But don't miss our favorites: the outdoor shower on the master suite's side balcony and the "volcano-view" bathtub in the master suite's bathroom, which we designed on an elevated platform so you could take a bath while looking out on the magnificent view of three volcanoes: Atitlan, Toliman and San Pedro.
The house was built by local craftsmen and the stonework was done with stones from the property. Check out the gorgeous wall in the downstairs hallway.
This guide is intended to help make your stay an enjoyable one. The guide has four sections: Practical information, house information and things to do/recommendations and contact information.
PRACTICAL INFORMATION:
1.Transportation
If you are coming from outside Guatemala, fly to the Guatemala City airport, which is serviced by major carriers, such as Delta and American Airlines.
From the airport, a 2 ½ to 3 hour ride by taxi or prearranged van brings you to the town of Panajachel, on the lake. Transportation can be arranged when you arrive at the airport at the help desk, but you may want to reserve a private van in advance, which will be waiting and take you directly to the lake. This can be done by contacting the van drivers/companies directly.
In Panajachel ask your driver to take you to the public boat dock, where you can get a public water taxi (called a "lancha") to the house or – if you've made arrangements in advance – meet your private boat operator.
The dock -- "muelle" in Spanish (MWAY-YAY) – is sort of a water version of bus station. Boats runs every half hour until dark. The sun sets at about 6:30—it's easiest to arrive by daylight, but not too difficult at night, especially if someone is meeting you at the Panajachel dock, which can be arranged.
In Panajachel, there are two routes. The house is on the San Pedro/Santa Cruz "line." We pay a slightly different rate than locals – 8 Quetzales for locals, 10 for tourists. The additional 2 Q are to compensate for the extra stop that the boat makes.
The house is approximately a 20-minute boat ride from Panajachel. The boat taxi makes regular stops in Santa Cruz and Jaibalito. But the drivers will take you directly to our private dock—just be sure to let them know in advance that you are going to the yellow house with two chimneys that is close to Pamakanya (la casa amarilla con dos chimineas cerca Pamakanya). The drivers are familiar with the house.
One of the things we love about the house is that it is not accessible by road, which makes it especially private and peaceful. There is a small path at the back of the property that leads to the small village of Jaibalito. Whenever you want to go into Panajachel or one of the other villages that ring the lake, you just need to go to the end of our dock and wave over a water taxi – or better yet, as Anastacio, our wonderful caretaker, to wave one down for you.
2.Climate
Guatemala has been called the "land of eternal spring." The lake area is quite temperate. The high temperatures tend to hover in the low 80s. Bring a sweater or light jacket because the temperature drops a bit in the evenings, and a rain slicker or umbrella during the summer months when there tend to be late afternoon or early evening rain.
3.Food
If you're planning to prepare meals at the house, we recommend that you make a grocery stop in Guatemala City prior to heading up to the lake. The grocery stop is included in the transportation cost. There are several modern grocery stores. All the drivers know where they are.
We also recommend pre-ordering a home-cooked meal. Maria, a hotel-trained chef comes to our house prepares a meal and has it waiting for you when you arrive. It's very affordable and just makes you arrival that much more pleasant. If you want to do this, please contact our property manager who can make the arrangements for you in advance or call Maria directly.
There are also two small grocery stores in Panajachel and a very small farmstand in Jaibalito that sells bread and vegetables.
4.Water – bottled water will be waiting for you at the house, though you might want to pick up some additional water at the grocery store. The house is equipped with a modern water filtration system, but – as in all of Latin America – you should not drink the tap water. And you should wash fruits and vegetables that you do not peel in a disinfecting liquid. (There's usually some at the house, but you might want to pick up a bottle at the store just to be certain.)
HOUSE INFORMATION
1.Swimming – Jump right off our dock into lovely, clear waters. There are several hot springs within just a few feet of our dock. The best time to swim is in the mornings and early afternoons. In the late afternoons, the lake can get a bit choppy because of a wind known as the "xocomil"—pronounced SHOW-co-mill.
2.Cable -- The house has one television set (in the sitting area of the master suite.) It is equipped with satellite cable and gets a variety of English-language and Spanish-language programming, as well as some German-language programming.

3.Internet – Our property manager can help you make arrangements with a local provider for short-term service.
4.Kitchen – The house is equipped with all the kitchen basics, such as pots, pans, dishes, glasses, corkscrews, etc. We have a drip coffeemaker, as well as a stovetop espresso maker and a coffee bean grinder.
5.Keys – Get from our property manager. If you are arriving on a weekday, Anastacio will be there to greet you and let you in. He can also help bring in your luggage.
6.Fireplaces – We have fireplaces in the main floor living room, as well as the master suite sitting area.

CONTACT INFORMATION
1.Property manager
Armand Boissy – Armand is your one-stop shop for any questions or advice. He is a Frenchman who has lived in Guatemala for decades. His home is a short boat ride away from ours and his office is in downtown Panajachel. The Washington Post called him the "Jeeves" of Atitlan.
(EMAIL HIDDEN)
(PHONE NUMBER HIDDEN)
Aaron Salguero – Aaron works with Armand. Very helpful and responsive person.
(EMAIL HIDDEN)
(PHONE NUMBER HIDDEN).For transportation
You can pre-arrange private airport transportation through Armand or Aaron. The cost is $110 for a van.
If you'd like to make arrangements yourself, here are some companies that we have used or our tenants have used. (If any of these numbers don't work, please let us know so that we can update our list. Thank you.)
•Jairo Maca – a very reliable driver who we have used many times. (PHONE NUMBER HIDDEN) or (PHONE NUMBER HIDDEN)
(EMAIL HIDDEN)
•Atritrans. Telephone: Panajachel (PHONE NUMBER HIDDEN); Antigua (PHONE NUMBER HIDDEN); (Reservations can also be made (EMAIL HIDDEN) The 'contact us' page is located on the Spanish version of their site. If you don't receive an email reply, follow up with a phone call.) NOTE: Lately we've been getting better rates from the Panajachel office—so we recommend calling them to come pick you up at the airport. Approx cost (varies depending on number of people) $100-$110.
•Servicios Turisticos Atitlan. Telephone, Panajachel: (PHONE NUMBER HIDDEN); Antigua (PHONE NUMBER HIDDEN)

•Giovanni Grijalva. An independent businessman with a ew minivan with seat belts. Speaks English, Spanish. (PHONE NUMBER HIDDEN). (We've had one bad report from a renter, many good ones) He may be busy and offer to send a friend (who may or may not have seat belts.)
•Vinicio Lopez. This Antigua-based van driver/operator is the uncle of a producer who (EMAIL HIDDEN) and is billed as conscientious and reliable. His cell number is (PHONE NUMBER HIDDEN).
The country code for all of these numbers 502.
These transportation services are also available for day trips and in-country travel during your visit.
Please note that the road from the airport to Panajachel is winding, so if you tend towards motion sickness, take appropriate precautions (e.g. Bonine, wrist band, Dramamine) before embarking on the trip to the lake.
3.Maria, housekeeper, cleaner and cook extraordinaire. (PHONE NUMBER HIDDEN).La Casa del Mundo, Jaibalito (PHONE NUMBER HIDDEN).Vulcano Lodge, Jaibalito (PHONE NUMBER HIDDEN).Villa Sumaya, Santa Cruz (PHONE NUMBER HIDDEN).Toliman Excursions, Avenida Santander, Panajachel
8.The Galeria (an amazing art gallery in Panajachel—worth a visit just to see, and maybe meet the owner Tomas Schaff(PHONE NUMBER HIDDEN).Isla Verde (PHONE NUMBER HIDDEN)

RECOMMENDATIONS/THINGS TO DO
1.Club Ven Aca
Located on the shore of Lake, Jaibalito.
Phone: (PHONE NUMBER HIDDEN)
Good for: Families with children, Romance, Doing business, Special occasions, Entertaining clients
Dining options: Breakfast/Brunch, Reservations
Description: Nice restaurant with pool, Jacuzzi and international food.
2.Restaurante Colibri - Hotel Arca de Noe
Located on the shore of Lake, Santa Cruz la Laguna
Contact: (EMAIL HIDDEN)
Good for: Families with children, Romance, Doing business, Special occasions, Entertaining clients
Dining options: Breakfast/Brunch
Description: Nice restaurant with a Local Chef.
3.Call for a private boat to take you around the lake and make stops at villages. Armand or Aaron can help you make these arrangements, so can Anastacio.
Here are some drivers we have used or have been used by tenants or friends. (Please let us know if any of these numbers don't work.)
oRamos (PHONE NUMBER HIDDEN), or one of his family members
o Matilde (PHONE NUMBER HIDDEN)
o Andres (PHONE NUMBER HIDDEN)
o Ramos, Jr. (PHONE NUMBER HIDDEN)
o Rodrigo (PHONE NUMBER HIDDEN)
oDomingo Chavaiav is a local guide who speaks English well and is fun company. Call him at Domingo's Excursions, (PHONE NUMBER HIDDEN).
oPascal (large boat for hire) (PHONE NUMBER HIDDEN)
oIt is best to arrange for a private boat a day ahead of time.
Depending on the distance, time and number of people, a privately hired boat will cost you anywhere from $20 to $80. (This may fluctuate with the length of ride, and cost of gasoline.)
4.Have a private massage. There are wonderful masseuses who will come to the house and provide massages. They bring their own tables. Arrange this through Aaron or Armand.
5.The nearest village is Jaibalito, which is a 20+ minute hike on a footpath which includes a somewhat challenging but usually doable scramble down a short but steep rocky slope. Some renters find it a breeze while others consider it impassable. (The weather and how much rain there has been have a strong effect on the path's condition so please take this into consideration.) This small village of 360 people has a kiosk that sells drinks and snacks at the dock, a couple of very basic 'tiendas' for food staples, and two hotels that serve meals: Vulcano Lodge and La Casa del Mundo. Alternatively, it is a fifteen minute kayak trip to Casa del Mundo. Call ahead for meal reservations. For more information, see the Other Activities section below.
6.Hiking: In the back of our property there is footpath that is the local "road". To the left will take you towards San Marcos and to the right toward Jaibalito and Santa Cruz. The path is safe, but we still recommend walking in pairs. Both directions (to Santa Cruz or San Marcos) offer fairly strenuous hikes with gorgeous views and pretty coves along the way. Wear good shoes, suntan lotion, a hat, and take water. If you are afraid of heights or narrow paths, these hikes may not be for you. A hike to lunch in San Marcos (approximately 2 hours) or Santa Cruz (approximately 1 hour) and a boat ride back makes for a fun half day excursion. San Marcos is also a good spot for massages, yoga and other natural therapies. Making reservations ensures that a masseuse will be available. Most yoga classes are offered in the morning. See the guidebooks and the Key Phone Numbers section of this booklet for phone numbers.
7.Take Spanish classes with a private tutor—either in one of the nearby villages or arrange for a tutor to come to the house!
Local teachers:
Ramon Peneleu, Coordinator, San Pedro Spanish School. (PHONE NUMBER HIDDEN), cell (PHONE NUMBER HIDDEN).Speaks very good English and will arrange for teachers for you.
Sol, Argentinian, (PHONE NUMBER HIDDEN). Speaks a little English. Is very organized and will work with you to create a custom program to fit your needs.
Claudia, (PHONE NUMBER HIDDEN) Fluent in English
8.Climb Volcanoes. The best months for this are November through to February. Local guides may be found at the public docks or arranged through Casa del Mundo and other places.
9.Climb the "Indian's nose" near San Pedro.
10.Climb 'el cerro del oro' … the 'hill of gold' also known as the 'sleeping elephant' which you may recognize as the snake that ate the elephant in The Little Prince.
11.Ride Mountain Bikes. Pueblo Viejo Outfitters, Casa del Mundo and others can arrange rides. See (EMAIL HIDDEN) Telephone: (PHONE NUMBER HIDDEN).Rent out the big hot tub at Casa del Mundo. Order at least a day in advance.
13.Ride Horses in San Pedro. Call Toliman Excursions or skip the "middleman" and ask in San Pedro or Pana. We have had a good experience with Francisco Gonzales in San Pedro at (PHONE NUMBER HIDDEN). (Our horses, guide and trail were excellent—and we learned to overlook the littered fields on the outskirts of San Pedro.]
14.Visit a local market on market day—and pick up excellent local produce while you are there.
15.See the museum or nature reserve in Panajachel (the latter is good for kids since you get to feed the monkeys).
16.Take a guided hike or visit local sites, under the care of a local civic improvement group: Jovenes Maya in San Marcos…Antonio, (PHONE NUMBER HIDDEN) or Francisco from Amigos del Lago Atitlán NEED NUMBER. They can come and meet you at the house.
17.Visit the San Juan Women's Textile Cooperative to support a good cause while purchasing naturally died textiles. (Then take a pickup truck to San Pedro for coffee…)
18.Have cushion covers made? Anyway, we really like the tailor: Ciriaco Ajiquichi Tuiz, on Calle 14 Febrero Casa 2-15 in Panajachel. Ph(PHONE NUMBER HIDDEN). He also sells nice beaded purses and jewelry at very reasonable prices.
19.Eat a delicious meal (breakfast, lunch or family style dinner (one seating/set menu – 90Q per person / 75Q vegetarian)) at Vulcano Lodge in Jaibalito. They often having visiting chefs and, if so, you're in for a real treat but even their daily fare is quite good. You must call in the morning to let them know you are coming. Here's what the Norwegian owners say… "Hello— … please come to our place next time you are around. We are a Norwegian family of 4. Me, Monica and my husband Terje, Alma Sofie 5 years and Oscar 2 years. Our restaurant is open from 08.00 to 15.30 for breakfast, snack, drinks and lunch. Dinner we served family style (all guests eat together) at 18.30 and it is a set menu. It is only the dinner we need reservations at least 4 hours before. The phone number to the hotel is (PHONE NUMBER HIDDEN). We look forward to meeting you!"
20.Eat a family style meal (one seating/set menu) at La Casa del Mundo in Jaibalito. The cost is about $10 per person. (You MUST call several hours ahead for reservations, and still may not get them. If you'd like a boat ride home afterwards from La Casa del Mundo for about Q 50, ask the manager if he can arrange one, as soon as you arrive. Service is spotty.) Food is usually good although we've found the quality variable…but there is always a good crowd and an opportunity to meet other travelers. Vegetarian meals are available. Wireless internet access is also available for a fee. Or just kayak over for a smoothie during the day.
21.Attend a local festival. Villages have them on their patron saint's special time of year.
22.Get a massage from Jennifer, an American masseuse who lives in Pana ((PHONE NUMBER HIDDEN)). She works on Avenido Santander.
23.…or get your hair done by her professional hairdresser friend, Nuri ((PHONE NUMBER HIDDEN)). He trained at the Vidal Sassoon academy in London.
24.Have a Saturday night barbeque at The Iguana in Santa Cruz. This is a good opportunity to meet other travelers and local gringos. Reservations and prearranged transport are necessary. Vegetarian meals are available.
25.Go out for lunch in one of the many good places around, including:
a.Bombay Café and The Deli (our favorite, with two locations) on Avenida Santander in Panajachel
b.For pizza try the Circus Bar in Panajachel
c.Shanti Shanti in San Pedro. Delicious food in a shack. (To the right at the first intersection up the hill from the dock) (URL HIDDEN)
d.Hike to Isla Verde for a smoothie, brunch, lunch or to use the internet. Isla Verde is located on the path towards Santa Cruz about 20 minutes further than Casa del Mundo. It is a bright red building with several small cabins behind it, on the left side of the path, just before you reach Santa Cruz. If you spend 35Q there you can use the internet for free. Sometimes they make a big Sunday meal and make a party of it. Call them for details: ((PHONE NUMBER HIDDEN).Local village summary. See the guide books for much more information.
•Panajachel: Good restaurants and shopping. Excellent high end art gallery: La Galeria; and interesting unique pottery from San Antonio Palopó at Rincón Palopó along Avenido Santander. Good place to buy textiles and handicrafts from the vendors. Daily mercado (fresh food). Other activities too.
•Santa Cruz: Low key and friendly, with a few restaurants (e.g. the Iguana) and a dive school along the shore.
•San Marcos: New age offerings, including massage, meditation, yoga, several restaurants, small stores, and more.
•San Pedro: Scruffy, a bit run-down, but friendly hippie hangout. Lots of Spanish schools. Not many crafts. Good fresh food at the market. Best place on the lake to buy coffee including organic coffee. Several restaurants.
•Santiago Atitlan: A traditional stronghold, especially on "market day." Lots of lovely textiles and crafts galore. Excellent place to buy high quality local paintings…for the really good ones, skip the main stores of paintings and ask for the few special shops. Several restaurants. A locally famous church. [You can take a boat to San Pedro or Pana then catch another to Santiago from either place or hire a private boat to take you.]
•Solola: Good place to visit a local market and great way to experience a chicken bus without having to go too far!
Local market days (these sell produce, baskets, clay objects, and household goods to local villagers):
•Solola: Tuesday and Friday. Extensive and very traditional.
•Santiago Atitlan: Sunday.
•Panajachel: daily. Larger market on Thursday and Sunday.
Textile market on Tuesday and Friday mornings, across from Pana Super on Calle Principal.
27.Chichicastenango market: Thursday and Sunday. Famously huge. Fabulous selection of sophisticated Guatemalan goods, for the ardent shopper. Fascinating old church. Pretty drive. Day trip, arrange transportation from Panajachel.
Things to know:
1.Security. The lake area is calm and peaceful place. However, as anywhere, it is best to be cautious and aware. Don't hike alone. If you'd like to hire a guide to walk with you and tell you about the area—all while supporting a local development organization, call Jovenes Maya in San Marcos…Antonio, (PHONE NUMBER HIDDEN). They can meet you at the house.
2.While you are away during the day, lock the house. DO NOT leave cash, cell phones, or valuables lying around, even during the day, especially in the smaller houses, as there was one instance where cash may have been stolen.
3.Scorpions & other local wildlife. The lake ecosystem is healthy—and includes spiders, scorpions, beetles and other insects. Don't worry though…the common spiders don't bite (and they eat mosquitos) and although the scorpions can sting, they prefer to hide and their sting is no worse than a bee sting and does not have a lasting effect. We recommend that you check your bed before going to sleep and shake out all bags and shoes before using them. Keep your suitcase zipped when not in use. Throw any scorpions outside, over the wall – you can catch them by putting a glass over them and slipping paper underneath (they cannot crawl out of a glass). Black widow spiders, which do have a nasty bite, live it this region but are rarely seen. There are many species of birds to enjoy as well. The local belief is that a teaspoon of sugar will calm a scorpion sting.
Medical care. There is a hospital in Solola, and dentists and doctors in Panajachel. See the Pana phone guide for details, or ask Armand for recommendations. Need a quick, cheap diagnosis of an intestinal problem, and possibly antibiotics? Visit the Viviamos Mejor laboratorio clinico in Panajachel. Call for details: (PHONE NUMBER HIDDEN).
Trash recycling. Please separate the trash by recyclables (bottles and cans), burnables, compost, and trash. Please try to minimize trash as it needs to be boated back to Panajachel. Anastacio will take care of the recycling, burning, compost and trash. You can ask him to empty any full trash cans, or put them out back.
Do not leave any perishable items.

What to bring
Casual clothes, bathing suits, light rainjacket
Hiking shoes, water shoes, sandals, or flip flops
Warm clothes (e.g. fleece jacket, jeans) for the evenings
Suntan lotion, sunglasses, baseball caps
Flashlights or headlamps (very useful if electricity goes out)
A few Candles for the same reason (we try and stock them but they go quick)
Extra Batteries (please take home any expired batteries that you may have)
Bug spray (there are not many bugs, but occasional mosquitoes or no-see-ums)
Basic toiletries & medications
Dramamine/Bonine (for the ride to/from the airport if you are prone to carsickness)
Snorkeling equipment (if need more than available)
Children's life jackets, swimming safety supplies, as applicable
Canvas bags for trips to supermarket
Binoculars (if you're interested in birding or just peering at things close up!)
Ipod and cables/Itrip to attach to the stereo, or CDs
Diving equipment if you are a diver.
(Visit (URL HIDDEN) for more information)
As well as the obvious: Passport, credit cards, ATM card, camera, etc.
---
Séjour de 3 nuits minimum
Washington, District of Columbia, États-Unis
·
Membre depuis juin 2015
Taux de réponse :
100%
Délai de réponse :
Quelques heures
Découvrez d'autres options à Jaibalito et dans ses environs
Plus de logements à Jaibalito :