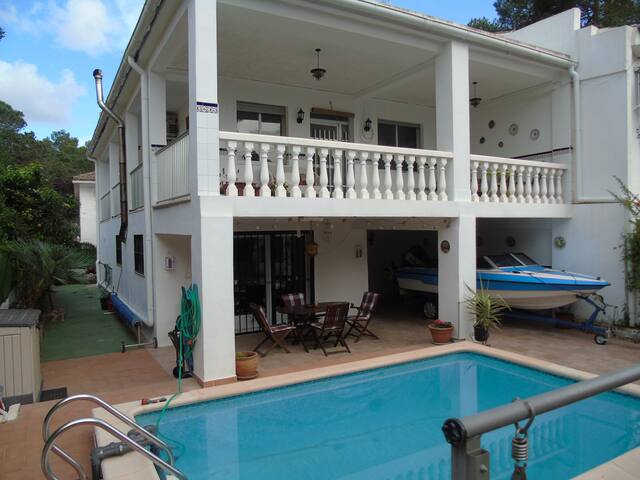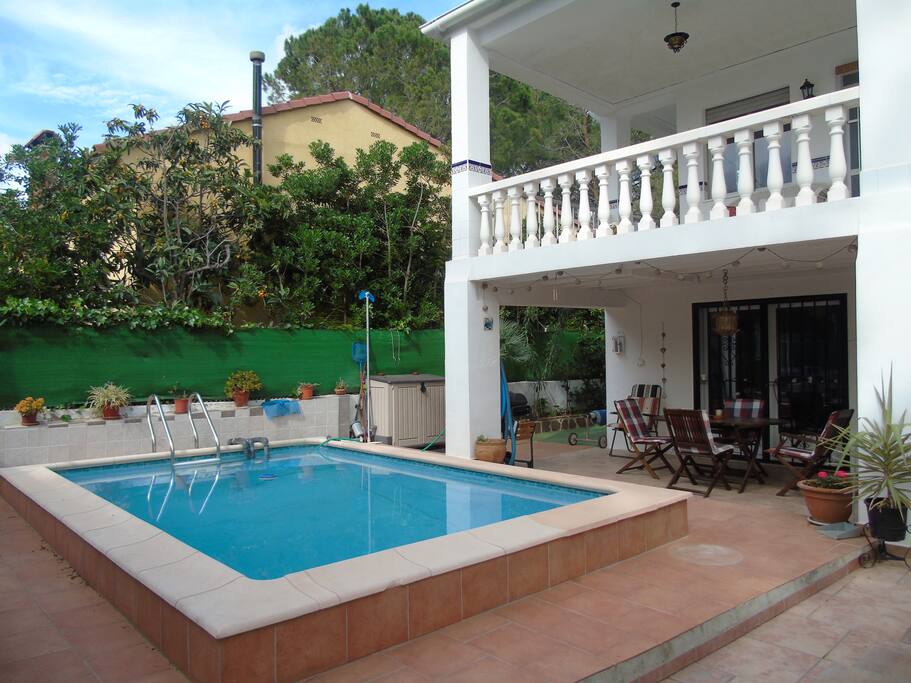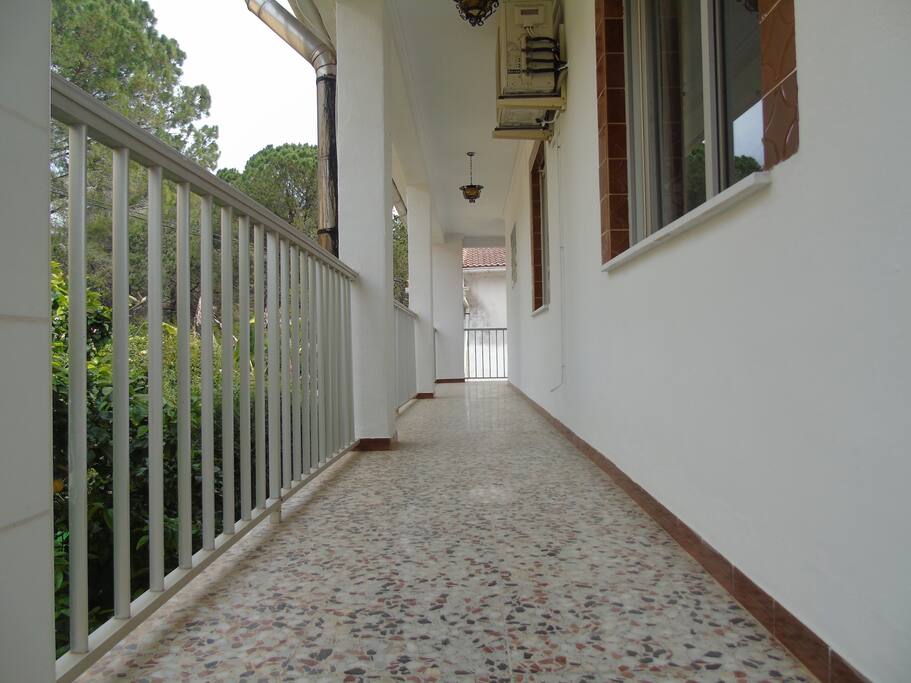 Villa with Pool and Sun Terrace
Situé à 10 minutes en voiture de la ville principale de Gandia avec ses magnifiques plages primées au drapeau bleu. Un endroit tranquille à portée de toute commodité de la ville principale. Située à Marchuquera, cette propriété est située entre les orangers.
Situated 10 minutes drive from the main town of Gandia with it's beautiful blue flag award winning beaches. A tranquil location yet within easy reach of all amenities of the main town. Situated in Marchuquera, this property sits among orange groves.
---
---
L'entrée dans les lieux se fait à partir de 15:00
---
Como ya leí en otros comentarios la dirección que puedes usar desde Airbnb es incorrecta, te lleva al pueblo de Gandia y esto es Marxuquera una urbanización hacia la montaña. A nosotros esto no nos afecto porque éramos conscientes de que no estábamos a pie de playa, pero el lió de tres coches inicial nadie lo evito. Tuvimos problemas con la limpieza de la casa y el anfitrión puso todo de su parte para solventarlo, pero desde tan lejos es complicado y esto ya provoca que te involucres en algunas cosas que das por hecho están hechas y pierdas tiempo de tus vacaciones, Airbnb nos recompenso por las molestias. El menaje del hogar es limitado para 8/10 px, no hay una cazuela para tanta gente, la reclamamos pero nunca llego. El mantenimiento exterior es de un par de días a la semana, pero nosotros solo vimos un día a alguien. Las personas que van a resolverte problemas son ingleses, lo cual te obliga a controlar el idioma o estas perdido. La casa es realmente espectacular pero tiene necesidad de una supervisión presencial por parte del anfitrión. Finalmente y tras superados y asumidos estos pequeños detalles todo espectacular, realmente depende del grado de exigencia que tengas.
---
La UBICACIÓN de la casa era INCORRECTA. El anuncio indicaba que estaba a 2 km de la playa (25 minutos andando), pero estaba a 15 km! El anfitrión cambió la ubicación en el anuncio a posteriori y se disculpó, pero se negó a aceptar cualquier tipo de responsabilidad. Empezó a decir que desde la ubicación real costaba 12 minutos llegar a la playa, lo cual es MENTIRA. Cuesta 25 minutos en coche (20 con mucha suerte), basta consultar (SENSITIVE CONTENTS HIDDEN) Maps para darse cuenta. Además, MINTIÓ descaradamente acerca del AIRE ACONDICIONADO. Antes de hacer la reserva, me dijo en un email que TODAS las habitaciones (5) disponían de aire acondicionado. Cuando llegamos, descubrimos que una de ellas directamente no tiene aire acondicionado instalado. En otras dos habitaciones no funcionaba (el ventilador funciona, pero proporciona aire a temperatura ambiente). Solo 2 de las 5 habitaciones (una individual y otra doble) disponían de aire acondicionado que funcionaba. Nos ofreció una compensación de 150 EUR, lo cual es ridículo. Pusimos una reclamación en AirBnb y nos descontaron casi 400 EUR (más razonable pero, en mi opinión, insuficiente) y nos regalaron un bono de 170 EUR. The LOCATION of the house was WRONG. It was supposed to be 2 km away from the beach (25 minutes walking), but it was 15 km away! The host changed the location in the advert afterwards and apologized, but refused to take any responsibility. He even had the nerve to say that from the actual location it takes 12 minutes to reach the beach by car, which is a shameless LIE. It takes 25 minutes by car (20 if you are really lucky), one just needs check (SENSITIVE CONTENTS HIDDEN) Maps to realize it. Also, he blatantly LIED about the AIR CONDITIONING. Before I did the reservation, he explicitly said in an email that ALL the bedrooms (5) have air conditioning. When we got to the house we found that one of them doesn't have air conditioning installed. In 2 of the other bedrooms it doesn't work (the fan works, but it doesn't provide cold air, it provides air at room temperature). Only 2 of the 5 bedrooms (a single one and a double one) have air conditioning that works. He offered a compensation of 150 EUR, which is ridiculous. Upon complaining to AirBnb we got a reduction of almost 400 EUR (more reasonable, but I still consider it insufficient) plus a voucher of 170 EUR.
Our add on the website has always said that the villa is a drive from the beech, i don't know which route they where taking but i drive to the beech everyday when i stay and it's never ever taken me longer than 12 mins so i don't know where they get there times from plus when this guest asked me about the bedrooms with air/con they did all have A/c the 5th room use to be a office/gym then i decided to change it to a bedroom which would have had no A/c, The aircon in the first 2 upstairs bedrooms broke down a couple of weeks before this guest was due to stay i did have an engineer out who is still trying to souce the parts to repair the units i told the guest all this and that the website map was not our fault, i offerd 170 euro as a good will guestrue for the aircon problem but this guest just went behind my back to airbnb looking for unjust big discount if i was so unhappy with a villa i would leave and seek compencision plus, These guest where just trying to get some sort of free holiday well good try and no one lied to you all you have to do is not just look at pictrues and map you must READ the full add
---
La casa esta bien cuidada. La distancia a Gandía son 20 minutos y no 10. Hemos tenido un problema con el aire acondicionado pero el anfitrion nos va a devolver parte del dinero y estuvo muy atento. La casa es muy comoda y tiene de todo. Para pasar unas vacaciones con la familia es recomendable.
---
La localización de la Villa era incorrecta, lo que nos causó tener que ir a la playa en coche todos los dias. Esta situada en Marchuquera, no en Gandia. A unos 20 min en coche. Nos devolvieron parte del dinero por el perjuicio causado. La casa en cambio estaba perfecta, menos mal.
The location was not incorrect, in the listing it states perfectly clear that it is in Marchuquera. The listing also states the times to the beach and the town. We have done the journey many times to the beach and it is exactly 12 minutes and 10 minutes to the centre of town by car. The original map was incorrect but that was from Airbnb not us, but even so the listing actually always stated Marchuquera, Comune di Gandia.
---
Découvrez d'autres options à Gandía et dans ses environs
Plus de logements à Gandía :