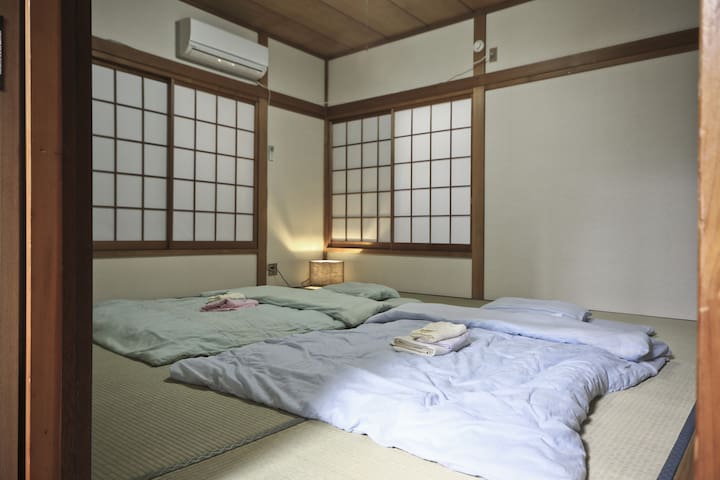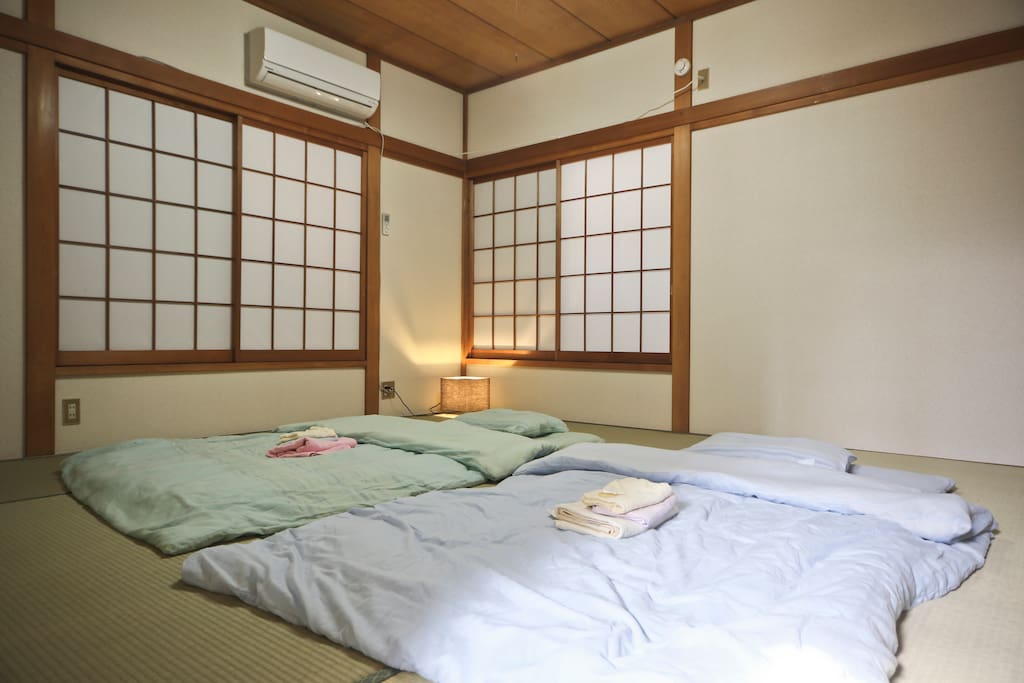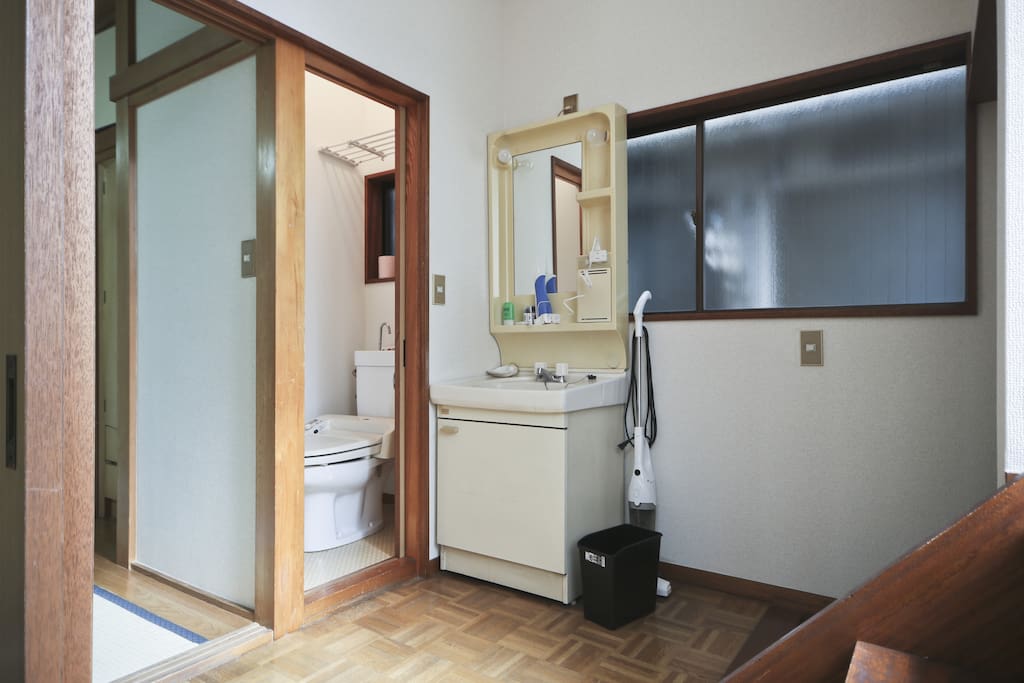 À propos de ce logement
2 min. walk to the nearest convenience store. Aircon & water purifier installed and you can drink the healthiest water in the world. Built in 1953. 6 min.walk from Minowa station. Also a walking distance from JR Minami Senju station. Direct access to Ueno, Akiba & Tsukiji. Good for 2. You can get a FREE LUNCH if you beat me in chess. I've published more than a dozen of books in my career and one books sells more than 110k copies. So I can give you tips on publishing a bestseller. Hablo Español.
---
Arrivée :
À partir de 15:00
Type de logement :
Chambre privée
---
---
Voyageur supplémentaire :
Sans frais
Réduction à la semaine :
8%
---
2 min. walk to the nearest convenience store. Aircon & water purifier installed and you can drink the healthiest water in the world. Built in 1953. 6 min.walk from Minowa station. Also a walking distance from JR Minami Senju station. Direct access to Ueno, Akiba & Tsukiji. Good for 2. You can get a FREE LUNCH if you beat me in chess. I've published more than a dozen of books in my career and one books sells more than 110k copies. So I can give you tips on publishing a bestseller. Hablo Español.
Free Wifi available.
Free eyemask & earplugs provided upon requests.
Free lunch for a day if you beat me in chess.
Free dinner for a night if you stay for more than 20 nights.
Free Japanese tea available. (Barley or Okinawa Jasmine, plus Russian black tea)
Hydrogenerated water purifier installed. You don't need to buy heavy bottled mineral water anymore.
Free laundry machine available.
A fridge, microwave, coffee maker, and rice cooker in the kitchen.
Two toilets, including one Washlet
Balcony is open to all guests.
If you plan to stay in Tokyo longer and are looking for an apartment and/or job, let me know. You can get a contact of real estate agency and some job infos in this house.
I'm freelance and don't have to go to the office every day. I'm at home most of the time. You can play chess with me anytime and you can go to some interesting meetups with me; a meetup for media-related people on Saturdays, yoga at Shinjuku gyoen on Sunday mornings, and fitness center almost every day.
Plus, this is a 3-bedroom apt.; one for myself, and two for guests. It means this is a place you can interact with not just myself, but also guests from other countries. Dinner parties with my friends are also held regularly. It is a place where you can get to know who's who in Japan, along with international-minded people from different continents!
Minowa station is just 2 stations away from Ueno. JR Minami-Senju station is also just 7 min. walk from the house and you can use JR railpass easily.
Some 100 yen shops and supermarkets are located near Minowa station and shopping mall near Minami-Senju station.
From Minowa, You can go to Ueno, Akiba, Ginza, and Roppongi without transfer by Hibiya Line.
From Minami-Senju, you can get on JR and Tokyo Metro Chiyoda Line.
From Narita:
1, Get on a limousine bus to Tokyo station. (900JPY) then go to Ueno station by Yamanote Line. Then Get on Yamanote Line, Ikebukuro/Shinjuku bound and get off at Ueno. After that, transfer to Hibiya Line, Kita-Senju bound and get off at Minowa station. Just 4 min. from Ueno.
or

2, Get on Keisei Skyline and get off at Keisei Ueno, the last station. Then transfer to Tokyo Metro Hibiya Line, Kita-Senju bound. Minowa is just two stations away from Ueno. (4 min.)

From Haneda:
1, Get on Keikyu Line and transfer to Yamanote Line, Tokyo-bound at Shinagawa station. Then get off at Ueno station and transfer to Hibiya Line, Kita-senju bound. Just two stations away.
Or
2, Get on a limousine bus for Akihabara and get on Hibiya Line, Kita-Senju bound.
Either way, when you arrive at Minowa Station, go to Exit 3.
*This is a trust-based house. There's no key lock for each room, including mine.
*a half of the dining table in front of the entrance might be a bit messy sometimes, because it's also my office! Oh, you can eat here anytime, even during my working hours.
---
Ne convient pas aux animaux
L'entrée dans les lieux se fait après 15:00
*This house is extremely old-fashioned and neighbors are really living close. So please be quiet after 10pm.
*Please refrain from smoking inside the house. An ashtray is in the balcony.
*There are two office chairs in the room. When you have a seat on them, please let the wheels stay on the mat. They may damage the floor.
*Please turn off the lights when you go out.
*Please shut the window while taking a shower.
*No pets.
*No stranger in the house, please.
This is not a dormitory for high school kids. So there's absolutely no curfew.
---
Détecteur de monoxyde de carbone
---
Séjour de 2 nuits minimum
Taito, Japon
·
Membre depuis août 2014
I'm a professional English interpreter, Spanish translator, and journalist. Spent my college years in NY and Tel Aviv for 2.5 years. Actually, I don't have a degree, just like Bill Gates, Steve Jobs, and Michael Dell.
So far, translated 2 Spanish books on Mourinho, one on Vicente Del Bosque, 6 English books including two biographies of Cristiano Ronaldo and Hope Solo etc. "Serve to Win" by Novak Djokovic exceeds 110k copies as of Nov. 2016. This book gains huge popularity among professional athletes and even helped a boxing champion defend his title. This book was alsofeatured on a TV news anchored by Takeshi Kitano and many others. 13 books and nearly 220,000 copies in total. My latest book on CR7 gets published in July and reprinted in a week. Most recently, Jamie Vardy's biography and a chronicle of Leicester City FC.
My articles appear frequently on various magazines and I occasionally appear on TV.
I have a nickname in the publishing industry; "The Angel". I always submit an article or draft one week before the deadline, which is extremely rare in this field. In addition, editors don't have to do much for revision. A true professional is always fast and accurate, just like me.
Believe it or not, I'm from a project in a small town in Japan, Just like "Good Will Hunting" household and "8 Mile" hometown. So I didn't have my passport until I was 20. Since then, I've visited;

Seoul, S.Korea in 1999.
All over the U.S., some major cities in Canada, and Mexico in 2000.
Istanbul, Israel, Spain, France, the Vatican, and Italy in 2001.
Morocco, Gibraltar, Spain, France, Switzerland, the Netherland, Germany, and Belgium in 2002.
Toronto, NY, LA, and San Diego in 2003.
Austria, Slovakia, the Czech Republic, Poland, Switzerland, and Taiwan in 2004.
Amsterdam, Paris, London, Dublin, and Hong Kong in 2005.
Seoul, Tijuana, LA, Dallas, Phoenix, Taiwan, Kuala Lumpur, and Singapore in 2006.
Hong Kong, Kuala Lumpur, Singapore, and Taiwan in 2007.
Gran Canaria, Berlin, Potsdam, Frankfurt, Seoul in 2009.
Taiwan, the Philippines, Koh Samui in 2010.
Bangkok and Laos in 2014.
Vladivostok and Khabarovsk in Dec.2015
Bangkok in Jan. 2016 and August 2016.
Busan in May 2016

After that, I'm also planning to swim either Gibratar or Bonifacio by the summer of 2021. I'd be the youngest Japanese if I complete it. It's also possible I'm going to visit Fiji for volunteer work.

From 2010 through 2013, I've written subtitles for all major TV stations in Tokyo. To name a few, I got involved in the following news;

*Rescue operation of Chilean Miners.
*Earthquakes in Christchurch, NZ.
*Qatar 2022 World Cup bidding.
*World Baseball Classic.
*IOC Tokyo 2020 bidding
*London Olympic
*Tokyo Marathon
*A fixed match in Nigeria
*Typhoon Haiyan
*U.S. Forces in Okinawa etc.

Organized a charity event for flood victims in Serbia during World Cup in Brazil in June 2014. Organized a charity event again for Nepal in June 2015 in the name of "Ranko Popovic Fund". He's a Serbian who is ex-Head coach for Real Zaragoza in Spain and very active in philanthropy.
Also for Hunter Garland, a 17 y/o American boy who is diagnosed with a brain tumor. Hunter's grandmother is my professor in college.
The most recent one is a belly dance show for Cyclone victims in Fiji.

Started Airbnb in December 2014. As you can see in reviews, it went quite well and I've received positive reviews from all over the world.
I believe in the value of Airbnb, and I believe Japan must open the gate, plus Tokyo must be ready for rugby World Cup in 2019 and Olympic in 2020.

While I'm active in publishing and Airbnb, I'll start working as a fundraiser for a Youth Tennis tournament, which is expected to be held in May 2016. This would be a friendly between Japan and Serbia. Occasionally I'm also involved in a bobsleigh project. Plus, I'm also monitoring a future champion of Shogi (Japanese chess) since February 2015. He's a 13 y/o prodigy and I'm planning to make a fortune by ghostwriting his autobiography in 10 years... Oh, I'm glad to inform you he became the youngest professional Shogi player ever in history at the age of 14 years and 2 months old!

Currently I prepare for my first full marathon in Kumamoto in Feb.2017. So far, I've completed 2 half marathons in tiny islands; Tsushima, which is 50km south of Busan, S.Korea in July and Kakeroma, between Kagoshima and Okinawa in Nov. 2016. It was 1:57:13, if interested.

I speak English, Spanish, and Japanese professionally, plus Korean and Hebrew non-professionally.
I'm also an open water swimmer, amateur historian, chess lover and crazy Gleek. I do yoga, as well as marathon.

I've read over 8000 books in 9 languages in my whole life. to name a few, the books (available in English as of August 2015) below influenced me a lot;

The End of History & Trust (Francis Fukuyama)
The Lexus and the Olive Tree & The World is Flat
(Thomas Friedman)
On Wings of Eagles (Ken Follett)
The Aladdin Factor (Mark Victor Hansen & Jack Canfield)
The Wealth and Poverty of Nations (David Landes)
Moneyball (Michael Lewis)
The Art of Seduction (Robert Greene)
Direct from Dell (Michael Dell)
Lords of the Realm (John Helyar)
Man, the Unknown (Alexis Carrel)
Memoiren (Leni Riefenstahl)
Power (Jeffrey Pfeffer)
Language in Thought and Action (S.I.Hayakawa)
The Millionaire Next Door (Stanley & Danko)
etc.

Movies? I've watched over 500 during my highschool years and maybe 1200 in my lifetime. My all-time best movie is "Braveheart". Other than that, "Scent of a Woman", "Amadeus", "Shawshank Redemption","Pretty Woman", "Far and Away", "White Squall" ,
"No Man's Land","Bend It Like Beckham", "With Honors", "Any Given Sunday", "17", "The Client", "Wild Heart Can't Be Broken","ONCE",
"Good Bye Lenin", "Rush", "Invictus", "42", "Rudy", "Notting Hill",
"John Q", "3 Idiots","Vengo", "La Vita e Bella", "New Cinema Paradise", "Leon", "North Country" ,"Don't Stop Believin'","About Time", "Love Actually", "Truman Show", "Yes Man", "Changeling",
"KANO","Argo", "Gran Torino" etc...

Music: Lady Antebellum, Queen, Journey, The Corrs, Enya, Scorpions, Bryan Adams, Firehouse, Skid Row, Mr.Big, Aerosmith, Shania Twain, Celine Dion, Sarah Brightman, Laura Pausini, Avril Lavigne, Delta Goodrem, Taylor Swift, Keira Knightley...

My mottos:
"A patriot must always be ready to defend his country against his government".
"Government is not a solution to the problem; Government is the problem".(Ronald Reagan)
"Every man dies. But not every man really lives"(Braveheart)
"Se non ora, quando?" (If not now, when?)
"Semper Fidelis" (Always Faithful)
"O importante é ganhar. Tudo e sempre" (Ayrton Senna)
"王侯将相寧有種也"

I don't drink alcohol due to my Baha'i faith. Quit smoking almost ten years ago. But I do enjoy cigars and sheesha (nargile) occasionally.
Taux de réponse :
100%
Délai de réponse :
Moins d'une heure
Découvrez d'autres options à Taitō-ku et dans ses environs
Plus de logements à Taitō-ku :