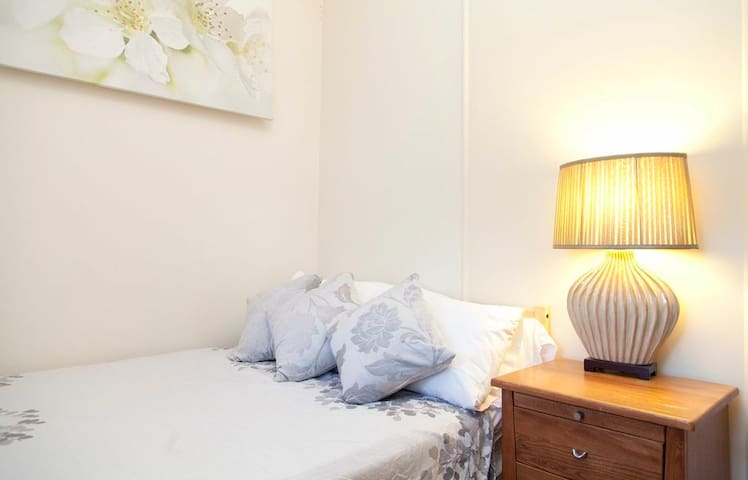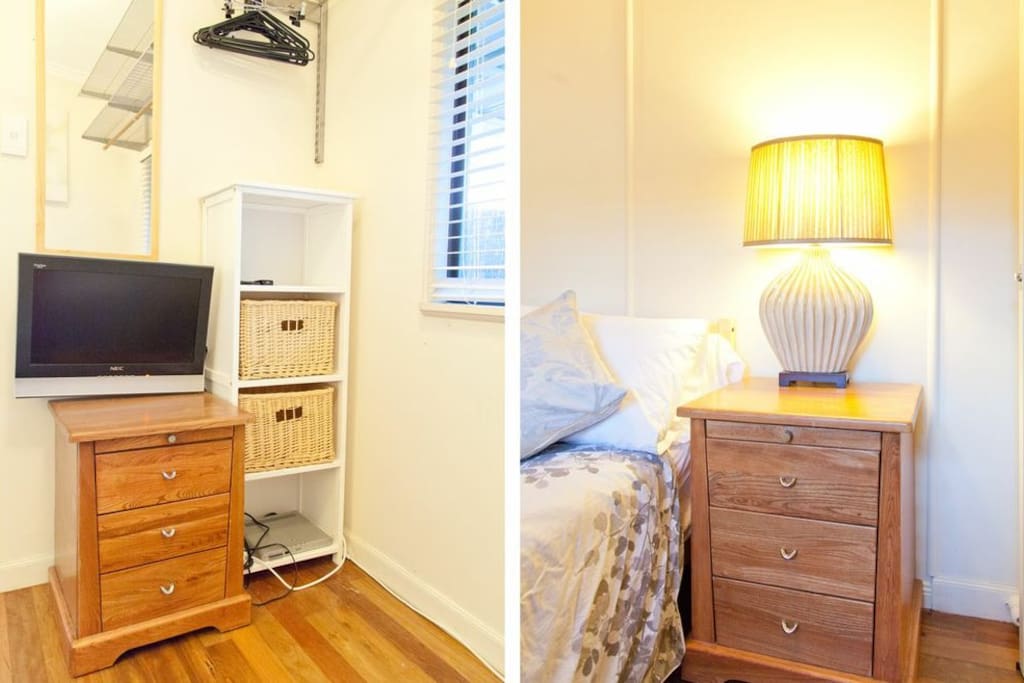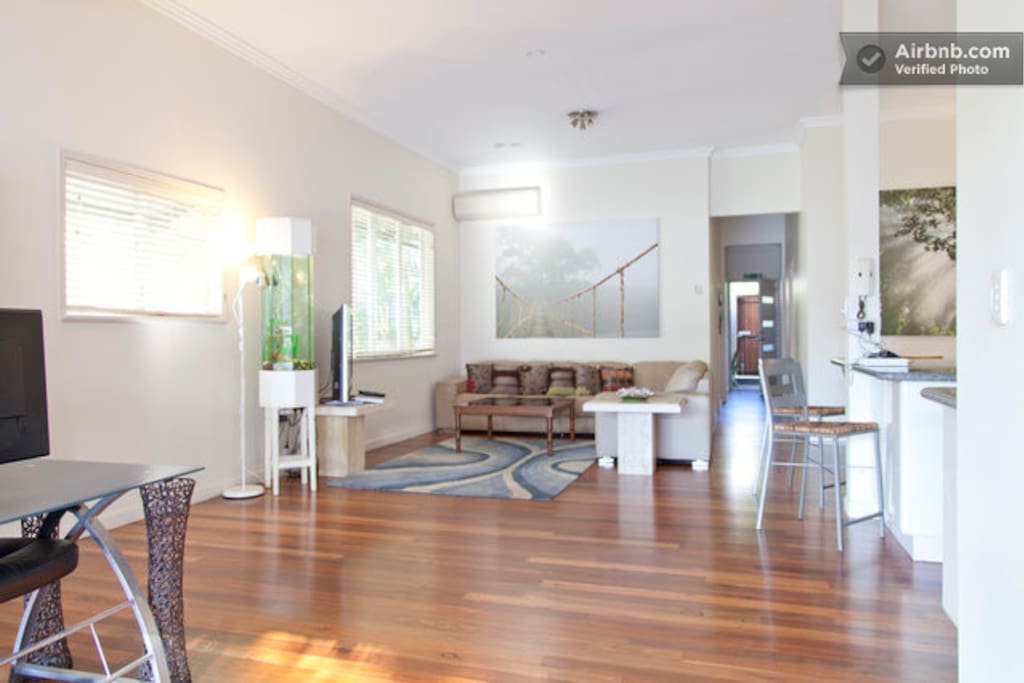 Cette grande maison située dans le centre est la zone la plus souhaitable de Brisbane. La région est connue pour les restaurants, les magasins, les cafés et les bars. Calme encore à quelques pâtés de maisons de la CBD et Fortitude Valley.
This large centrally located house is in the most desirable area in Brisbane. The area is known for restaurants, shops, cafes and bars. Quiet yet a few blocks to the CBD and Fortitude Valley.

Le logement
Salut, Merci de consulter notre page. Nous sommes Leon et Andi et nous sommes là pour vous aider pendant votre temps à Brisbane. ** QUATRE grands classeurs pleins de choses à voir et à faire à Brisbane, y compris les restaurants, à faire et à faire à Brisbane, des excursions d'une journée dans les îles et les dauphins, les voyages à la plage et plus encore, en plus d'un check-out détaillé et personnel Carte pour que vous puissiez garder à votre arrivée, y compris la façon de marcher vers les supermarchés locaux, les cafés, les installations, le fleuve et toutes les informations pour tirer le meilleur parti de votre voyage à Brisbane ** ** Libre à Borough 4 vélos et casques disponibles pour emprunter Kit de pique-nique Équipement sportif Fournitures de plage Et bien plus encore, demandez simplement :) BENEFICES DE CHAMBRE: * Petite salle de budget avec grandes fenêtres et stores * Ventilateur mural * Verrouillage à clé de la porte * Téléviseur à écran plat avec chaînes par câble à paquet complet * Wifi gratuit * Entièrement meublé - 1 x lit double confortable, table de chevet, lampe, armoire ouverte, attelle, miroir, travail d'art) * Literie de qualité (protecteur de matelas, feuille de base, drap plat, couvercle supérieur, quatre oreillers, protecteurs d'oreillers, couvertures et coussins et deux serviettes) BÉNÉFICES DE MAISON: * Entièrement équipé et meublé * Nettoyé quotidiennement * Machine à laver * Cuisine avec ustensiles et équipement de cuisine * Petit-déjeuner continental - Toast, Spreads, Cereal, Fruit, Milk, Tea & Coffee fourni * Salon avec canapé en cuir et télévision par câble foxtel avec des chaînes comprenant des sports, des films, de la musique, du divertissement et plus encore. * Très central, à pied de cafés, restaurants, transports, ferry, parcs, CBD, vie nocturne, bars, discothèques, nourriture 24/7, beaucoup d'épiceries, etc. très facile à marcher. * BBQ sur le pont arrière avec vue sur les jardins tropicaux * Internet WiFi dans toute la propriété Lorsque vous arrivez, vous recevrez votre propre carte et vous indiquera les endroits et comment s'y rendre. C'est un bon moment pour vous de planifier davantage ce que vous souhaitez faire à Brisbane. Je propose certainement de nombreuses suggestions sur les choses à faire et vous informer des événements locaux survenus pendant votre séjour. En tant que résidents de longue date qui sont également des voyageurs mondiaux, nous savons combien il est utile de recevoir cette information et vous pourriez avoir des choses que vous aimeriez en savoir plus sur ce que vous avez lu sur ce profil. Au moins un de nous est toujours à la maison, donc, si vous avez besoin de quelque chose de jour ou de nuit, veuillez simplement nous demander, car nous sommes toujours heureux de vous aider. Pendant votre séjour, si vous souhaitez nous contacter pour quelque raison que ce soit, il est aussi simple que de demander en personne, d'envoyer un message airbnb, de ramasser l'interphone ou d'envoyer un texte ou un courrier électronique (ce que nous recevons tout de suite), alors laissez-nous connaître. J'espère que vous êtes enthousiaste à propos de votre prochain voyage à Brisbane - car c'est certainement l'endroit idéal, il y a toujours quelque chose qui se passe et l'emplacement ici est certainement parmi les actions. Il y a tellement de choses à voir et à faire localement. Nous sommes dans une belle région arborée de maisons magnifiques dans une belle poche («la prestigieuse« colline de Ténériffe) bien que si proche de tout, il est étonnamment tranquille et tranquille. Nous avons également un beau parc assez privé avec vue sur la ville et les promenades de brousse situées juste au coin de la rue, c'est un endroit idéal pour se détendre avec un espace barbecue gratuit et une aire de jeux surplombant le paysage naturel, les pistes de brousse vous montrent une faune et une flore australiennes autochtones. Les promenades en rivière sont à proximité et sont un excellent moyen de se déplacer aussi. Il y a tellement de choses à faire dans ce voisinage local (facilement à pied) que vous serez gâté pour le choix. Situé parmi les nombreux cafés, bars, marchés, restaurants, boulangeries, boucheries, vie nocturne, centres artistiques et une vaste sélection de restaurants différents, à une distance de marche facile. Il y a sept (grands et petits) supermarchés dans une distance de marche de 15 minutes Il y a beaucoup à faire ici, en fait, vous pouvez marcher vers de nombreuses attractions et installations locales différentes. À la fin du bloc se trouve un marché local avec une section de café qui mérite une visite. En fait, promenez-vous dans n'importe quelle direction et vous êtes susceptible de trébucher sur les cafés et les magasins, etc. d'un niveau élevé. Littéralement une promenade de cinq minutes est l'arrêt City Cat Ferry (ceux-ci sont très convertis à Brisbane) et sont merveilleux de vous accueillir pacifiquement dans la CBD, alors que vous vous tenez au dos d'un bateau à moteur à haute puissance (de 6h à minuit) et prenez Dans les sites touristiques que vous voyagez dans la rivière Brisbane (AKA the River City) Il y a aussi beaucoup d'autres bus qui vont encore plus près de notre emplacement. À côté de l'arrêt City Cat, les autobus express dans la CBD (appelé 'City Glider') en moins de dix minutes en heure de pointe. Il y a aussi d'autres bus encore plus proches de notre emplacement. Si vous voulez entrer dans La CDB alors vous pouvez facilement y arriver (conduire en heure de pointe est de 5 minutes) marcher en 25 par la rivière et sous le pont Story. Ou, si vous voulez profiter des attractions locales, il y en a certainement plein dans une promenade de 15 minutes. À côté de l'arrêt City Cat, Vernon Terrace, peuplée de bars, de restaurants, de spécialités culinaires et spécialistes de la bière, vaut vraiment le coup d'œil. À l'arrêt City Cat, nous avons une promenade en rivière qui vous emmène au dessus de l'eau jusqu'à New Farm Park, un magnifique parc sur la rivière, qui abrite les grands marchés agricoles de deux semaines et le PowerHouse qui est un immeuble bâclé Les pièces de théâtre, la comédie, les bandes, l'art, les conférences et ainsi de suite. En outre, à environ dix minutes à pied de notre place, nous avons le tout nouveau complexe Gasworks, avec une grande épicerie, un marché biologique, un restaurant au chocolat et de grands cafés et restaurants. L'incroyable hôtel historique Waterloo a été rouvert et est très populaire. Le bar / restaurant a une ambiance Art Déco et c'est un plaisir de profiter. De la maison dans l'autre direction, nous avons également la célèbre rue James en cinq minutes à pied. Il est bordé de choses à voir et à faire, y compris le cinéma du palais, la pizzeria, les bars, les restaurants, les magasins de vêtements, les boutiques, les marchés paysagers, les cafés. Certainement l'endroit à voir et à voir, peut être assez occupé le week-end et les gens de Brisbane affluent dans cette région. Non seulement cela, nous avons aussi «The Emporium» qui est proche de nous et est rempli de merveilleux restaurants de la plus haute qualité et des boutiques et magasins incroyables. Vous pouvez également marcher jusqu'à Fortitude Valley, qui est le quartier de la vie nocturne et du marché du week-end, qui a également China Town Mall où il y a des restaurants asiatiques incroyables à bon prix. Dans Fortitude Valley, il y a un centre commercial piéton avec des lieux de restauration 24 heures sur 24 et tous vos endroits habituels à emporter. Il y a aussi d'excellents endroits pour recevoir 8 $ de steaks avec tous les accompagnements habituels, donc ça vaut le coup d'œil. Les marchés du week-end sont amusants et il y a quelques «magasins de 2 $» ici aussi si vous avez besoin d'éléments de base, y compris des souvenirs d'escompte. Brunswick Street, se connecte facilement à notre rue et est bordé de restaurants, de bars, de galeries d'art, de plats à emporter, d'hamburgers, d'IGA, du magasin de nuit Owl ouvert 24h / 24 et 7j / 7. À côté de l'intersection avec Brunswick Street et Kent Street (Notre rue) est la perspective du pont de l'histoire où vous pouvez profiter du parc et une vue étonnante et également commencer le * shortcut dans le CBD * de notre emplacement, où vous empruntez le sentier Direct, qui se déroule sous le Story Bridge lui-même et jusqu'au centre de la ville via une promenade en rivière (à dix minutes du parc) Vous pouvez prendre le City Cat (cinq minutes à pied de notre place) à de nombreux endroits intéressants autour de Brisbane, y compris la célèbre banque sud, ce qui est vraiment merveilleux, y compris une immense piscine et une plage faite d'hommes alors que vous regardez l'horizon de la ville, entouré par Des BBQ gratuits, un parc remarquable, un centre de performance, une galerie d'art, un musée, un centre de sciences, une galerie d'art moderne et une bibliothèque d'état, il est facile d'attraper le chat de la ville ici et il est vraiment ouvert. Aussi, n'oubliez pas le ferry GRATUIT de la ville intérieure! Si vous avez besoin de connaître un endroit où manger, il suffit de nous demander. Nous avons également une énorme quantité de menus pour que vous puissiez regarder (ainsi que des brouchers de choses à faire) alors assurez-vous de les vérifier. Il y a des escapades merveilleuses avec une promenade d'une heure ou plus ... et de belles excursions d'une journée à réfléchir: les options incluent les dauphins, les îles, les forêts tropicales, les plages, la natation et plus encore. S'il y a quelque chose de particulier que vous voudriez faire, assurez-vous de le mentionner, car nous pouvons avoir des informations privilégiées pour vous. Nous avons beaucoup d'informations sur les choses à voir et à le faire si vous souhaitez une certaine inspiration, faites-nous savoir quelles sont les vacances que vous recherchez et nous vous proposerons des suggestions et vous présenterons des dépliants. Le train le plus simple est la gare de Brunswick St (Fortitude Valley), où se situe la vie nocturne, c'est l'une des principales arrêts majeurs, ce qui signifie que vous pouvez aller à peu près n'importe quelle direction par train (y compris la Gold Coast, la gare de bus Roma Street Et les aéroports) Le train pour l'aéroport est un train spécial et coûte 16 $ par personne. Si vous souhaitez un ascenseur à l'aéroport, il peut être arrangé pour 30 $. Ces endroits locaux que j'ai mentionnés sont si proches, si vous ne marchez pas là-bas, vous regardez environ un taxi de 5 $ à 10 $ CUISINE Vous pouvez cuisiner pour vous-même et profiter de la cuisine haut de gamme avec des bancs en granit et tout ce dont vous aurez besoin pour cuisiner. Sans oublier le barbecue sur le grand pont supérieur et le deuxième jardin extérieur barbecue équipé de lumières de fête et d'installations de musique et Insect Vac p
Hi,
Thanks for checking out our page. We are Leon and Andi and we are here to help you while you enjoy your time in Brisbane.
**FOUR large binders full of things to see and do in Brisbane including restaurants, what to do and what's on in Brisbane, day trips to the islands and dolphins, trips to the beach and more, in addition to a detailed check in and personal map for you to keep upon your arrival including how to walk to local supermarkets, cafes, facilities, riverwalk and all info to make the most of your trip to Brisbane**
**Free to borow
4 Bikes and helmets available to borrow
Picnic kit
Sporting gear
Beach supplies
and much more, just ask :)
ROOM BENEFITS:
* Small budget room with big windows and blinds
* Wall Fan
* Keyed Lock on Door
* Flatscreen TV with full package cable channels
* Free WiFi
* Fully Furnished - 1 x comfortable double bed, bedside table, lamp, open wardrobe, draws, mirror, art work)
* Quality Bedding (mattress protector, base sheet, flat sheet, top cover, four pillows, pillow protectors, spare blankets and throw pillows and two towels)
HOUSE BENEFITS:
* Fully Equipped and furnished
* Cleaned Daily
* Washing Machine
* Kitchen with cooking utensils and equipment
* Continental Breakfast - Toast, Spreads, Cereal, Fruit, Milk,Tea & Coffee provided
* Lounge with leather couch and foxtel cable tv with channels including sports, movies, music, entertainment and more.
* Very Central, walk to cafes, restaurants, transport, ferry, parks, CBD, nightlife, bars, nightclubs, 24/7 food, lots of grocery stores etc very easy to walk to.
* BBQ on the back deck with view of tropical gardens
* WiFi internet throughout the property
When you arrive, you will receive your own Map and shown where things are and how to get there. It's a good time for you to plan further what you would like to do in Brisbane. I certainly make plenty of suggestions on things to do and will let you know of local events occurring during your stay. As life long residents who are also world travellers, we know how useful it is to receive this information and you may have things you would like to know more about that you have read on this profile.
At least one of us is always home so if you need anything day or night just please simply ask us as we are always happy to help you. During your stay if you would like to contact us for any reason, it is as simple as asking in person, sending an airbnb message, picking up the intercom or sending a text/or email (which we get straight away) so please let us know.
I hope you are excited about your upcoming trip to Brisbane - as it is certainly the place to be, there is always something happening and the location here is certainly amongst the action. There are so many things to see and do locally.
We are in a beautiful tree lined area of gorgeous houses in a beautiful pocket ('the prestigious' Teneriffe Hill) although so close to everything, it is surprisingly tranquil and quiet.
We also have a beautiful fairly private park with city view and bush walks located just around the corner, it's a great place to chill out with free BBQ area and playground overlooking the natural landscape, the bush tracks show you some native Australian fauna and flora.
River walks are near by and are a great way to get around as well. There's so much to do within this local vicinity (easy walk away) that you will be spoilt for choice.
Set amongst plentiful award winning cafes, bars, markets, restaurants, bakeries, butchers, nightlife, arts centers and a huge selection of many different restaurants, all within an easy walk away. There are seven (large and small) supermarkets within a 15 minute Walking Distance
There is plenty to do here, in fact, you can walk to many different local attractions and facilities. At the end of the block is a local market with cafe section which is worth a visit. In fact, walk in any direction and you are bound to stumble upon cafes and shops etc of a high standard.
Literally a five minute walk is the City Cat Ferry stop (these are very converted in Brisbane) and are wonderful to take you peacefully into the CBD, while you stand on the back of a high powered Catamaran boat (from 6am til midnight) and take in the sights as you travel the Brisbane River (AKA the River City) There are also lots of other buses that leave from even closer to our location.
Next to the City Cat stop are the express buses into the CBD (called 'City Glider') in under ten minutes in peak hour. There are also other buses even closer to our location.
If you want to go into the CBD then you can easily get there (to drive in peak hour is 5 minutes) walk in 25 via the river and under the Story Bridge.
Or, if you want to enjoy the local attractions, there are certainly plenty of them within a 15 minutes walk.
Next to the City Cat stop is Vernon Terrace, which is populated with lots of bars, restaurants, cocktail and beer specialist places, definitely worth a look.
At the City Cat stop we then have a River Walk that takes you across the top of the water down to New Farm Park, a beautiful park on the River, home to the fortnightly large Farmers Markets and the PowerHouse which is a funky converted building housing plays, comedy, bands, art, talks and so on.
Also, about ten minutes walk from our place we have the brand new Gasworks complex, complete with large Grocery Store, an organic market, chocolate restaurant and great cafes and eateries and worth a mention. The amazing historic Waterloo Hotel has been reopened and is very popular. The bar/restaurant has an Art Deco feel and is great to enjoy.
From the house in the other direction, we also have the famous James Street within a five minute walk. It is lined with things to see and do, including palace cinema, pizza place, bars, restaurants, clothes stores, boutiques, farmers markets, cafes. Definitely the place to be seen and get seen, Can get quite busy on the weekend and people from Brisbane flock to this area.
Not only that, we also have 'The Emporium' which is close to us and is filled with wonderful restaurants of the highest quality and amazing boutiques and stores.
You can also walk to Fortitude Valley, which is the night life and weekend market district, which also has China Town Mall where there is amazing Asian Restaurants at good prices.
In Fortitude Valley, there is a pedestrian mall with 24 hour food places and all your usual take away places. There are also some great places to get $8 steaks with all the usual accompaniments so it's worth a look. The weekend markets are fun and there are a few '$2 shops' here as well if you need any basics including discount souvenirs.
Brunswick Street, Connects to our street easily and is lined with restaurants, bars, art galleries, take away food, burger joints, IGA, Night Owl Convenience store open 24/7.
Next to the intersection with Brunswick Street and Kent Street (Our street) is the outlook of the story bridge where you can enjoy the park and amazing view and also start the *short cut into the CBD* from our location, where you take the footpath direct, which goes under the Story Bridge itself and through to the center of the city via a River Walk (ten minutes from park)
You can take the City Cat (five minutes walk from our place) to lots of great locations around Brisbane including the famed South bank which is really wonderful including a huge swimming pool and a man made beach as you look at the city skyline, surrounded by free BBQs, amazing parkland, performance center, art gallery, museum, science center, gallery of modern art and state library, it's easy to catch the city cat back to here and it's open really late. Also, don't forget the FREE inner city Ferry!
If you have any need to know a place to eat, just ask us. We also have a huge amount of menus out for your to look at (as well as brouchers of things to do) so be sure to check them out.
There are wonderful getaways with an 1 hour or so's drive....and beautiful day trips to think about: options include dolphins, islands, rainforests, beaches, swimming and more. If there is something particular you would like to do be sure to mention it to us as we may have some insider info for you.
We have lots of information about things to see and do so if you would like some inspiration, let us know what kind of holiday you are looking for and we will make some suggestions and show you some flyers.
The easiest train is Brunswick St Station (Fortitude Valley) which is where the night life is, this is one of the central major stops meaning you can go in pretty much any direction from here via train (including the Gold Coast, Roma Street Bus Terminal and The Airports) The train to the airport is a special train and is $16/each. If you would like a lift to the airport it can be arranged for $30.
These local places I've mentioned are so close, if you aren't walking there, you are looking at around a $5 - $10 taxi
COOKING
You get to cook for yourself and enjoy the top of the line kitchen with granite benchtops and everything you will need to cook.
Not to mention the BBQ on the large upper deck and the second outdoor garden BBQ equipped with party lights and music facilities and Insect Vac protection. Please ask to use BBQ so we can show you how they work.
WALKING DISTANCE TO SUPERMARKETS:
(Small Organic Market and Deli 5 minutes, Woolworths 10 Mins, IGA open til midnight 10 minutes, ALDI 15 minutes, Coles 15 minutes, Organic Market Gasworks 10 minutes, James St Fine food Market 10 minutes plus 24/7 convenience stores all walking distance.
Your Room
You have your own TV, wifi, foxtel, and key for your own small room, with a fan and large window. Amazing, everything is very well appointed. Lots of storage, polished wooden floors, big windows, shelves and clothes rail, new linen, new mattress, new furniture, exceptional quality house.
The room is small but functional, perfect for an affordable central location to base yourself as you explore the city. Great storage options with 3 sets of draws and built in clothes rack with addtional shelves above, plus storage space under the bed.
If you are looking for a large room, please see our other listings.
Very easy to take public transport to the center of the city in around 15 minutes. The house is freshly renovated with every mod con and need cated for.
Please contact us if the dates you are looking for are not available. There are other rooms you may be able to move to for part of your stay and please see our other listings.
The House
Upon entering through secure gated entry the house opens to reveal a large entertaining area/lounge/kitchen/dining area, open plan living with polished wooden floors throughout.
Bifold doors open completely which takes you out onto the triple sized deck with views of the mini rainforest like tropical oasis we call the back yard. The design of the BBQ area down the back is perfect for relaxing or entertaining. A hidden paradise to enjoy a great Aussie BBQ.
The house has every modern convenience such as super fast wifi access throughout the property, complimentary cable tv, reverse cycle airconditioning, linen and bedding of a top quality and a fully equiped kitchen.
Your Hosts:
We have travelled extensively throughout the world and love chatting with fellow travellers, we have all of the insider info about great places to go and things to do in the great city of Brisbane.
We had a great time travelling around with airbnb so when we got back home to Australia we decided to offer rooms in our gorgeous house so close you can walk to the CBD or Fortitude Valley.
The house has every modern convenience such as super fast wifi access throughout the property, complimentary cable tv, reverse cycle airconditioning, linen and bedding of a top quality and a fully equiped kitchen.
THE AREA
New Farm/Teneriffe where we are located are some of Brisbane's most desirable neighborhoods, with heaps of restaurants, cinemas, night clubs, cafes, shops, boutiques, bottle shops and more just a very short stroll away.
WHAT TO DO:
Want to relax?
We are in a residential area and yet within a very close walking distance from many different restaurants and entertaining establishments, we are in a quiet tree lined pocket of this desirable inner city suburb. Enjoy the beautiful greenery view from our upper level deck. Enjoy the bush scape serentity of Teneriffe Park, just a three minute walk will have you getting back to nature where you can enjoy a bush walk, playground and BBQ with some city views. Take a stroll along the teneriffe river walk taking you from the house to the renown New Farm Park, one of Brisbanes best parks which fronts the river.
Want to eat out?
We have three onsite BBQs, a cafe on each corner, a multitude of restaurants spoils you for choice all walking distance away, we have many different menus available for your perusal. Italian, Thai, Seafood, Chinese, Asian, Vegetarian, Indian, Australian, Fusion and more are all in the local area for you to enjoy. For late night options, enjoy china town and the Brunswick street mall. James street has great restaurants and the trendy Vernon Terrace is packed full of fantastic eateries and concept bars. The Emporium is another great restaurant and shopping precinct with loads of fantastic top notch restaurants and designer stores a 15 minute walk away.
Want to self cater?
We have the IGA supermarket a few blocks down open til midnight seven days, the 24 hour night owl, the very large coles supermarket open til 9pm, the Jan Powers Farmers markets (twice a month) at new farm park - take the river walk there, and the very fancy James Street Markets with amazing top notch quality produce on offer. You can cook in one of our two fully equipped kitchens.
Want to party?
Walk to the heart of the nightclub precinct in 15 minutes, where there are heaps of clubs, china town and bars. There are also pubs/bars even closer which are lively and happening and packed full of locals. Further there are also great bars in Teneriffe including specialist cocktail and beer places. There are three bottle shops all a short walk away, take some back here with you and relax on the deck and enjoy.
Want to Park your car?
Free street parking on Kent Street, out the front of the house (unlimited this side of the street, two hours the opposite side of the street)
Want to Catch Public Transport?
The most fun is the City Cat, a fast catermaran boat, will wizz you up or down the Brisbane River, taking in the sights where you can stand on the open front or back deck and feel the wind in your hair. There are heaps of bus options including the central "City Glider" a bus stop on the corner, so many bus options: Buses include the 199, the Night Bus N199, 196 (Brunswick st and Kent st) 193 (chester Street exit) as well as the city glider (express bus into the CBD from the Tenriffe Ferry/City Cat)
The closest train station is Fortitude Valley ("the valley") 15 minutes walk away. We also offer airport pick ups or drop offs for $30 one way.
Want a great view?
The end of our street has a great view of the famous Story Bridge, on the top of the cliffs which offers a magnificent view, there is a park on the corner, with picnic tables and the ambience is great, day or night (there is also a public exercise station) this is often the backdrop featured on local TV shows.
Want to go for a walk?
Take the river walk to new farm park and back, walk to the valley in 15 minutes, walk to the center of the CBD in about 25 minutes, take a bush walk through the lovely local secret park called teneriffe park or anywhere you shoes choose to take you. If you want a big walk, you can walk to the top of the cliffs, under the story bridge, down to the city, through the botanical gardens and over the foot bridge to the famous Southbank.
Want a coffee?
We provide coffee and tea facilities, there is also heaps of cafes around including cafes in both directions no more than five minutes walk away for perfect Italian coffee (and cake)
Want local entertainment?
The James Street Centro Cinema is fantastic and James Street in general is great, Southbank is excellent, complete with man-made sand beach lagoon (
no waves) where you can swim infront of the city skyline - take the city cat there - there are lots of restaurants, weekend markets and more to do. Enjoy the sites of New Farm park, the amazing local hotspot, the New Farm Bowls club, where you can do barefoot lawn bowls with a mixed age crowd and enjoy very affordable drinks and food with a great view of the Brisbane River. There are summer moon light cinema in the park showing movies after dark, relax on beanbags, watch a film and have snacks and drinks. The amazing Powerhouse Arts Center is an amazing venue for all kinds of performing arts, including comedy, performers, arts shows complete with riverside restaurant, take the river walk to New Farm park to get there. The Judith Wright Centre is also walking distance and has on many various shows. Or simply relax in your room (or lounge) with your own TV with foxtel (cable television) with a large variety of channels including movies, there is fast WiFi throughout the property and you can relax on the amazing deck or the BBQ area down the back. There is heaps more to do in Brisbane and the surrounding areas so get in touch if you want more info.
Want to Shop?
Don't miss James Street with its various boutiques, trendy cutting edge clothes can be found at the Valley, take the City Cat or City Glider Bus to West End where there are great local designers and fantastic clothes at good prices.
Anything Else?
More information is available should you like to message or ask us.
Your Hosts
We have travelled extensively throughout the world and love chatting with fellow travellers, we have all of the insider info about great places to go and things to do in the great city of Brisbane.
We had a great time travelling around with airbnb so when we got back home to Australia we decided to offer rooms in our gorgeous house so close you can walk to the CBD or Valley.
More information is available should you like to message us.
Thanks and we hope to see you soon!
Andrea and Leon.
More information is available should you like to message me, or see my other listings.
Accès des voyageurs
L'espace est entièrement équipé, vous pouvez utiliser: Toutes les installations de cuisine, De nombreux plateaux et plateaux de service Cuisine complète avec lave-vaisselle Fer à repasser, planche à repasser et vaisselle à vêtements Internet WiFi Foxtel Télévision par câble avec toutes les chaînes, y compris les films et le sport Machine à laver et sèche-linge ainsi que ligne de vêtements Grande terrasse arrière avec deux grands espaces à manger en plein air Deux tables à manger intérieures Grand barbecue Vivre à l'intérieur / à l'extérieur Des tas de verres à vin, des assiettes et des couverts etc. Mixeur Juicer Refroidisseur de vin Cuiseur de riz Débarras pour la cuisine - dans les paniers Thé et café Petit déjeuner: céréales, toasts, pain, beurre, tartinades, lait, jus, fruit Papier toilette Shampooing, conditionneur, lavage corporel Draps propres, couvertures, serviettes fournies et plus d'extras disponibles sur demande Disponible pour emprunter Vélos et casques Kit de plage - lunettes, palmes, tuba, parapluie, couverture, serviettes, etc. Set de pique-nique - panier, assiettes, tasses, coutellerie, couverture etc. Sporting gear - cricket, baseball, tennis, ballons, ping pong, etc. 4 Massive A4 Binders pour que vous puissiez lire, plein de dépliants et d'informations sur les choses à faire et à voir à Brisbane, y compris ce qui se passe, points forts locaux, attractions touristiques, voyages en île, excursions d'une journée, visites de plage, menus de restaurants et bien plus encore - s'il vous plaît Demandez-le pour que nous puissions vous le dire :)
The space is fully equipped, you are welcome to use:
All cooking facilities,
Many serving trays and platters
Full kitchen with dishwasher
Iron, ironing board and garment steamer
WiFi Internet
Foxtel Cable TV with all the channels including movies and sport
Washing machine and dryer as well as clothes line
Large back deck with two large outdoor dining spaces
Two indoor dining tables
Large BBQ
Indoor/Outdoor Living
Heaps of wine glasses, plates and cutlery etc
Blender
Juicer
Wine Cooler
Rice Cooker
Pantry supplies for cooking - in baskets
Tea and Coffee
Breakfast: cereals, toast, bread, butter, spreads, milk, juice, fruit
Toilet paper
Shampoo, conditioner, body wash
Clean Sheets, blankets, towels provided and more extras available on request
Available to Borrow
Bikes and Helmets
Beach kit - goggles, flippers, snorkel, umbrella, blanket, towels etc
Picnic set - basket, plates, cups, cutlery, blanket etc
Sporting gear - cricket, baseball, tennis, balls, ping pong etc
4 Massive A4 Binders for you to peruse, full of leaflets and information sheets of things to do and see in Brisbane, including what's on, local highlights, tourist attractions, island trips, day trips, beach visits, restaurant menus and much more - please just ask for it so we can give it to you :)
Voyageur supplémentaire Sans frais
Communiquez toujours via Airbnb
Pour protéger votre paiement, ne transférez jamais d'argent et n'établissez pas de contact en dehors du site ou de l'application Airbnb.
Ne convient pas aux animaux
Ne convient pas aux enfants (0-12 ans)
The house rules in general include everything to do with being clean, tidy, quiet and mindful of others. Please exercise safety and caution at all times.

CHECK IN
As per your itinerary check in is at 12 noon and check out is at 10:00am. While we try to be as flexible with check in times as possible, it is very important you let us know what time you will be arriving so we can arrange to meet you.
For instance, if you would like to arrive at 4:30pm please let us know in advance so we can schedule our day accordingly. Also, if you are not going to be there on time, please also let us know as soon as possible by airbnb message, text message, email or phone call.
As a guideline, the room will be ready for you by 12:00 noon. If you would like to arrive earlier, you can request to drop your bags off in advance and come back for 12 o'clock however this may not always be possible.

CHECK OUT
Please check out of the room by 10:00am, if you would like this to be later it is with prior advance arrangement only. When you are leaving please: a) ensure you have your things, b) if you have happened to damage anything or stain sheets etc please let us know, c) leave the key in the room, d) switch off all appliances and close/lock the windows, e) lock the house up when leaving f) place your rubbish bag from the bin in your room in the appropriate garbage bin outside the front gate. For bonus points, remove the sheets and pillows slips etc from the mattress and place appropriately in the room.

CONTACTING YOU
Make sure you let us know your Australian telephone number when you get one or if you are still on your international number ensure that you can be contacted by us on that number.

US APPLIANCES
DO NOT WORK in Australia. Please do not try, there is different electricity systems and it is dangerous to try, this is whether you have a converter travel plug or not!!

CLEANING
There is all the cleaning equipment you will need to clean up your own mess, this includes food you spill on the floor while cooking or other mess made. There is a dyson vacuum cleaner available for your use, simply plug it back in to charge when you are finished. Similarly there is a broom, mop, bucket, cleaning liquids, clothes, rags etc supplied for you to take care of your own mess.
The common areas of the house are cleaned daily and we expect them to stay in that condition. We spend hours each day cleaning and maintaining the house and gardens you are enjoying so please don't deflate our spirits by leaving a mess in the house for us to come home to after work, it's just not fair.

INTERNET
Illegal downloads or illegal activity is strictly prohibited and not acceptable.

ELECTRICITY
We would really appreciate it if, you could please:
Not use US appliances here.
Turn your TV off, preferably at the switch.
Turn OFF other appliances, kettle etc at the switch.
Don't leave phone or internet charges plugged in.
Use your fan over the air-conditioning where possible.
Turn the house lights off, when last to bed, especially the deck light if you are last to sleep, there are nightlights plugged in which come on in the darkness so you can find your way if need be.

BATHROOM
Please don't spend too long in the bathroom and no longer then ten minutes in the shower.

DAMAGE
Please let us know if there has been damage to the house or contents, including things such as stained sheets etc. If you spill something on the sheets for example the faster your can soak, treat the stain and wash them the more likely it is to save them. Please be mindful of the house and treat it and others with respect.

CHILDREN
Your kids are your own responsibility and must be supervised at all times. The house is not baby proof and you must be mindful and considerate of (EMAIL HIDDEN)ING INTO THE HOUSE LATE OR EARLY
Be mindful of people asleep, maybe take your shoes off and not stomp around if it is early or late and people are sleeping. Be considerate.

FRONT GATE
MUST be locked at ALL TIMES. Don't leave it off the latch.

YOUR THINGS
You are responsible for your own items and belongings, there is a keyed lock on the bedroom door and be sure to make use of it.

MAIL
Please DO NOT have your mail sent to this address, especially without prior permission. It will be returned to sender. The mail boxes are locked.

NOISE
Excessive noise between 10:00pm and 8:00am is not appreciated or allowed, please be mindful of others.

RESPECT
The kind of guests we appreciate are those who realise what a wonderful opportunity they are enjoying staying in a place like this, so close to everything and for such a good price. The least you can do is understand and appreciate these rules and be friendly, polite and considerate.

YOUR HOSTS
We are very busy people with many different activities and business interests keeping us busy all day and night. Although we are happy to help in anyway please be mindful that you didn't come all the way here to hang out with us and you will in general be left to your own devices to get on with your adventures in Brisbane.

NEED SOMETHING?
Let us know by intercom, email, text or phone call. If you have any concerns you must let us know straight away. If the first we hear about it is on a review, what's the point for you? You won't get the issue sorted straight away like you could if you informed someone. Not that we expect you to have any issues, if there are it is usually something that can be sorted so feel free to let us know.


Nous avons passés quelque jour en attente de notre avion , l'endroit est vraiment cool cosy. Une terrasse incroyable . Tout est propre on se sent comme chez nous . La maison Est située à 20 Minutes du centre et une dixains de Minutes des restaurants et commerce . Je vous recommande cette endroit .
---
The room and house conform to the pictures and description. The bedroom is just a bit small when you have big baggages but the house is big and you can enjoy the big living room and balcony with others guests (4 rented bedrooms). Great location and parking available in the street. Next to the city (20 min walk). Breakfast available (cereals, orange, tea, coffee, milk...)! Good host! He gave us a map of the city and informations about things to do and the ferries.
---
Leon was very nice, we had the chance to talk with him when he pick us up at the airport. We shared the apartment with 3 other hosts, we didn't really expect that. Unfortunatelly, there was a couple with a baby at the same time next to our room, not really the best to get some rest. Despite this, the house is very nice, and the neighborhood is quiet.
---
We are Leon and Andi and we are well travelled Australians with a gorgeous house to shared with like minded people!

At least one of us is usually always home if you need anything night or day please just ask as we are always happy to help you!

Leon is a keen yachtsman and enjoys boating, fishing and camping. Leon enjoys completing projects to improve the property and studying. He is a keen foodie and loves to cook, make friends, enjoys music and exploring the Great South East of Queensland.

Andi is studying Natural Medicine and enjoys cooking, yoga and pilates. She is a keen musician and loves meeting new people, having fun and enjoying the beautiful area of Brisbane we live in called Teneriffe.

We also have a cute cat, a little bengal who looks like a little leopard. He is very friendly and well behaved, loves a pat and never scratches but doesn't like being picked up.

Our gorgeous puppy is the center of attention and is just Devine!!

We love chatting with fellow travellers, we have all of the insider info about great places to go and things to do in the great city of Brisbane, South East Queensland and Australia in general.

We can also give you advice if you are moving to Brisbane to help you to settle in.

Are you international? I use my "samsung translate" to communicate with you if you do not speak english. You will hear a voice speak in your language. Now you can understand everything without needing to speak english. You can use the phone too, now you can ask me questions in your language so I can know what you need. It is very good. We can communicate together easily.

Chinese: 你是来自中国?我用我的"三星谷歌翻译"与您沟通,如果你不说英语。你会听到在中国一个声音说话。现在,您可以了解一切,而不需要说英语。您可以使用手机也是如此,现在你可以问我在你的语言问题,所以我可以知道你需要什么。这很棒。我们可以很容易地相互通信。

Korean: 당신은 한국 에서 입니까? 나는 당신이 영어 를 못하는 경우 와 통신하기 위해 " 삼성 구글 번역 "를 사용합니다. 당신은 목소리가 한국어로 말을 듣게 될 것입니다 . 지금 당신은 영어를 할 필요없이 모든 것을 이해할 수있다. 당신은 내가 당신이 필요 알 수 있도록 지금 당신은 나에게 해당 언어로 질문을 할 수 도전화를 사용할 수 있습니다 . 그것은 아주 좋은 것입니다. 우리는 쉽게 서로 통신 할 수 있습니다.

Japanese: あなたは日本から来ましたの?私は、あなたが英語を話せない場合はあなたと通信するために「サムスンが翻訳」を使用します。あなたは声が日本語で話す聞くことができます。今、あなたは英語を話すことを必要とすることなく、すべてを理解することができます。あなたは今、あなたはので、私はあなたが必要なものを知ることができる私に日本語で質問することができ、あまりにも携帯電話を使用することができます。とても良いです。我々は簡単に一緒に通信することができます。

French: Êtes-vous de la France ? Je utiliser mon " Samsung translate " pour communiquer avec vous si vous ne parlez pas anglais . Vous entendrez une voix parle en français . Maintenant, vous pouvez tout comprendre sans avoir besoin de parler anglais . Vous pouvez utiliser le téléphone trop , maintenant vous pouvez me poser des questions dans votre langue pour que je puisse savoir ce que vous avez besoin. C'est très bien. Nous pouvons communiquer facilement ensemble .

Italian: Sei in Italia ? Io uso il mio " samsung translate " per comunicare con voi , se non si parla inglese . Si sente una voce che parlava in italiano . Ora si può capire tutto senza bisogno di parlare inglese . È possibile utilizzare il telefono anche , ora mi puoi fare domande in italiano , così posso sapere che cosa avete bisogno . È molto buono. Possiamo comunicare insieme facilmente .

Brazil: Você é do Brasil? Eu uso o meu " samsung Traduz " para se comunicar com você, se você não fala Inglês . Você vai ouvir uma voz falar em português . Agora você pode entender tudo sem a necessidade de falar Inglês . Você pode usar o telefone muito , agora você pode me fazer perguntas em português para que eu possa saber o que você precisa. É muito bom. Nós podemos comunicar -se com facilidade

Langues :
English
Taux de réponse :
100%
Délai de réponse :
Moins d'une heure
Découvrez d'autres options à Brisbane et dans ses environs
Plus de logements à Brisbane :