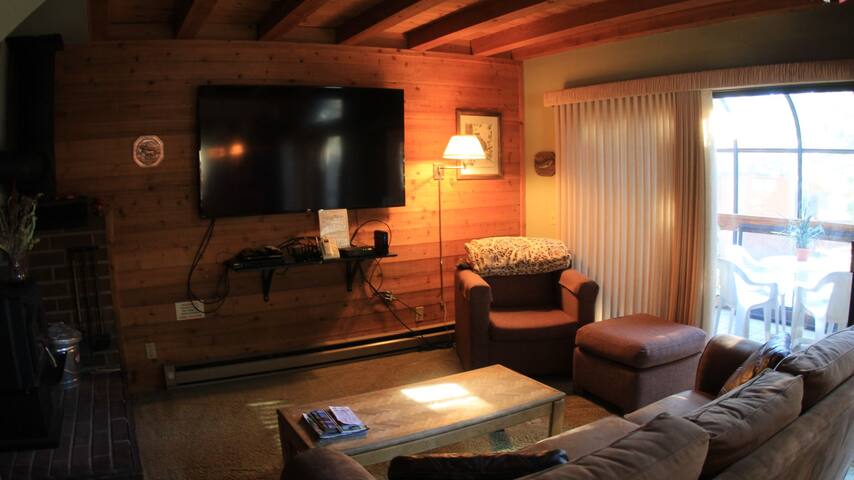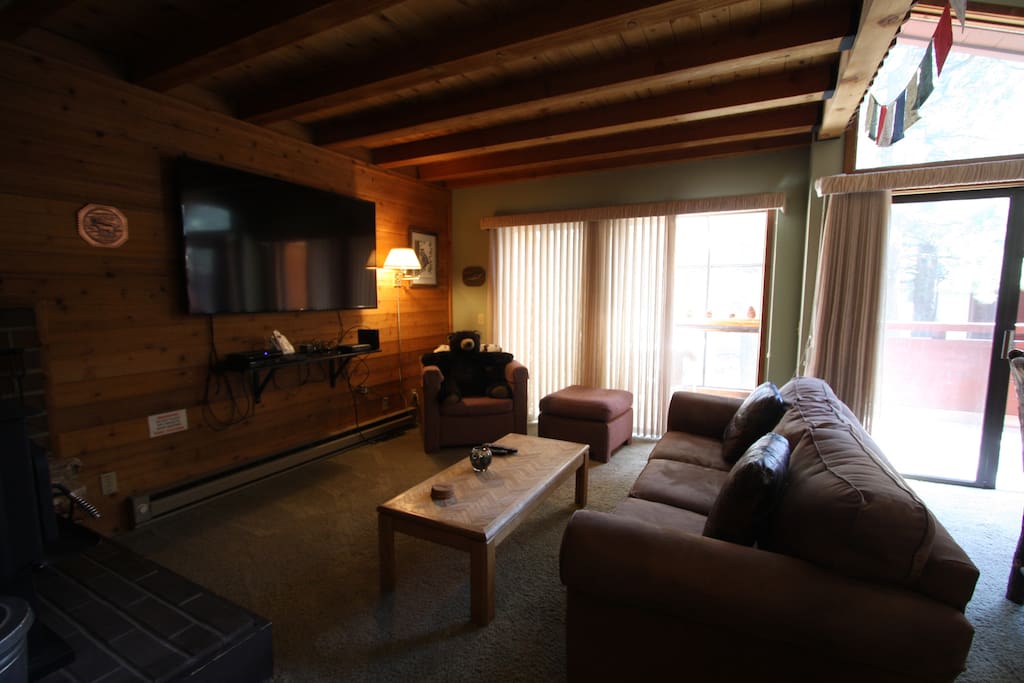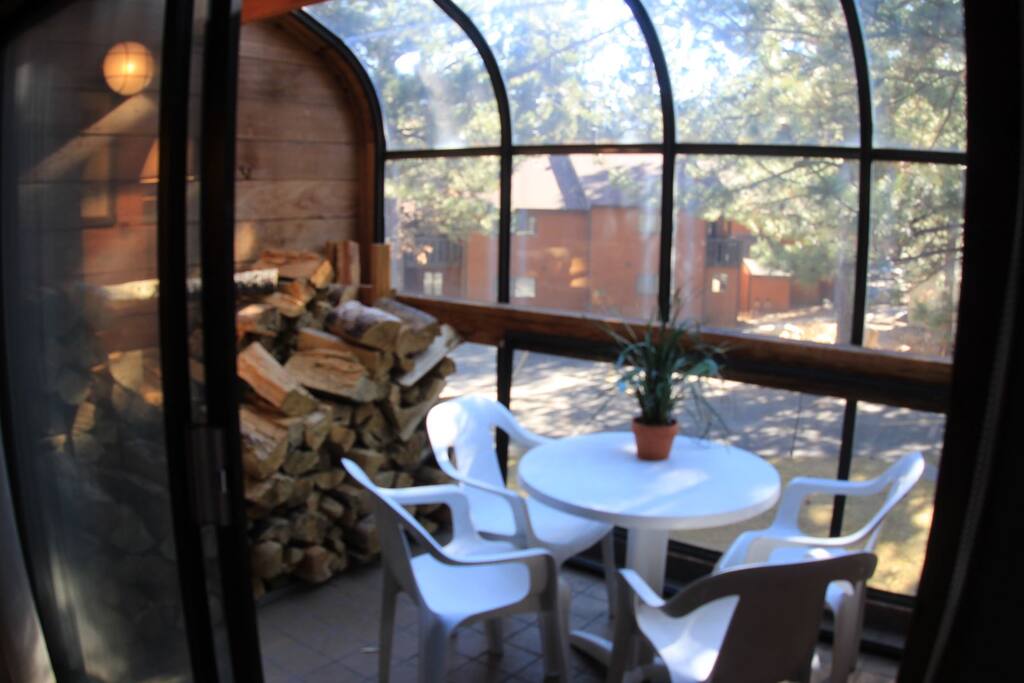 Great, home in a small, quiet complex for a small family. There is enclosed atrium off of the living area. The firewood and you are kept dry especially during those blizzards. Also a real plus with a washer/dryer combo in the separate loft (bedroom). Free night with 5/6 night stays.
Autres remarques
Please let me know if there will be any pet(s). We love our pets as much as you love yours, however, there are restrictions with having pets in our pet friendly homes!! There is an additional $15 per night, per pet or $75 per week. The HOAs has a strict pet policy and that pets are never allowed to be left alone unless crate-trained. Pets are unpredictable when not in their comfortable surroundings and damages occur when pets are left alone! They are not allowed on the furniture or bedding.
---
---
Chambre 1
1 lit queen size
Espaces communs
1 canapé convertible
---
L'entrée dans les lieux se fait à partir de 16:00
NO SHOW/EARLY DEPARTURE POLICY – Agents are not responsible for Guests inability to arrive on time nor if Guests choose or are required to depart early for any reason, nor if members of Guests party do not show. NO REFUNDS OR REBATES will be offered.
REFUNDS – This Condominium Rental Agreement is a legally binding agreement between Guest, Agency and Owner. Your reservation binds you to a specific period of time. Agent will make every effort to correct any problem that arises during your stay in a timely manner subject to the terms in this agreement. There will be no refunds or compensation for events out of Agent's control including but not limited to: Acts of God, Mother Nature, acts of war or government agencies, road maintenance, gas shortages, power outages or water outages, construction or maintenance work in the vicinity, equipment failures, road conditions, flight cancellations/changes, proximity to other dwellings, business closures and area event schedule changes.
MAXIMUM OCCUPANCY – The maximum occupancy is stated in all accommodation Descriptions. These limits are required by law and are for the safety and protection of occupants and Owners. Any child two years old and above is considered an occupant and must be included in the occupancy total. Rollaway beds, cots, inflatable mattresses and sleeping bags or other temporary or portable sleeping device not specifically provided by the owner and intended for use to accommodate extra persons are prohibited. Guest shall not sublease the unit or have more occupants than agreed or have more occupants than the maximum allowed. Absolutely no overnight visitors are allowed. Violation of occupancy limits can and will be considered a breach of contract and will result in immediate eviction with forfeiture of Guest's rent and security deposit. Guests: No other persons shall occupy the Rental Property at any time, except those registered in this Rental Agreement.
Pets: We know that you love your pets as much as we love ours and many of you simply can't or just don't want to leave them at home. Fortunately, some of our homeowners understand this as well, and allow well-behaved pets in their vacation rentals. Please review the policies below set forth by the HOA and Owners: there is an additional $15 per night, per pet fee and a returnable damage deposit of $500 applied to your reservations. Pets must never be left unattended inside, unless crated. Unattended pets are the number one cause of damage to properties. Pets are comfortable in their own surroundings. When left alone, may become unpredictable and agitated with unfamiliar sounds and noises such as snow and ice shedding off of roofs, loud equipment, thunder/lightning, and workers and others in and around buildings and entryways. Guests agrees to pay for damages caused by pets. Pets must be completely housebroken and well behaved. Mammoth Lakes has a leash law and pets must be leashed at all times while on the property grounds. We live in a forested area; a doggie Paradise! But, it is still our backyards and guest agrees to dispose pet waste in dumpsters provided on the grounds. Failure to comply with pet clean up policy on the premises may result in additional cleaning charges! There are residents that keep a close watch over the complex. With some HOAs, Agent is required to sign a waiver with the manager. If your pet enjoys jumping up and laying on furniture or bedding, we suggest bringing old sheets from home to cover furniture and beds. Be aware the climate in Mammoth Lakes is very dry and stat icy and pet hairs shake and stick everywhere. Do not toss bed covers, pillows, blankets, etc. onto carpet and floors. If housekeepers have to pick fur from furniture or clean bed covers, this will be considered extra cleaning resulting in extra cleaning charges! Should your pet have an accident in the property or should any damage occur, contact Agent immediately! The pet fee does not cover damages. Please bring doggie's toys, bedding and bowls.

SECURITY DEPOSIT: It is the obligation of the Tenant to surrender the rental property in good condition by the time specified, except for reasonable wear and tear. Guest shall pay for any damage to the Rental Property caused during his/her possession, or the costs to repair, replace any damage or loss to the Rental Property or the contents thereof, and any other charges and expenses for which the Guest is responsible pursuant to the terms of this Agreement. Any extra cleaning will be considered damage. Any eye and facial make-up STAINED or extra dirty towels/DAMAGED/MISSING linens and towels will be considered damaged.

Premises are to be left clean, undamaged condition, and Guests must follow check in and check out procedures, along with the pet policy. Properties have been cleaned and inspected prior to Guests arrival. Guests must call Agents if any damages or defects are noticed within 12 hours of their check in time.
CONDOMINIUM/LISTING INFORMATION – Information on listings is as accurate as possible but cannot be guaranteed. Rates, furnishings, fees and taxes on listing are subject to change without notice. Please call or email to confirm information prior to booking.
RIGHT OF ENTRY – Agents reserve the right to enter property at any time to investigate disturbances, check occupancy, check for damages, make repairs, alterations and improvements as Agents deem necessary.
REPAIRS - If the Rental Property or any of the contents are damaged, not working or otherwise in need of repair or replacement, the Guest must promptly notify the Agent. The Agent will have a reasonable amount of time to make repairs. If the guest must vacate the premises because of damage not resulting from the Guest's act or neglect, the Guest will be refunded the rent for such period of time that the Guest is unable to occupy the Rental Property, prorated on a per diem basis commencing on the date that the Guest was forced to vacate and calculated to the date on which the Guest was able to re-occupy the Rental Property or the end of the rental period, up to the date of destruction. The Agent is not responsible for any inconvenience or interruption of services due to repairs, improvements, or any reason beyond Agent's control, and no refund will be given in this event. Tenant understands and agrees that Agent may enter the Rental Property at any time for the purpose of making needed repairs.
URGENT/EMERGENCY SERVICE CALLS – In case any equipment malfunctions, guests shall follow the instructions in the condominium book and notify Agents immediately to arrange for repairs and initiate an urgent service call. Every effort will be made to correct any urgent situation in as little time as possible. Agent cannot guarantee against malfunctions of heating, electricity, water, any appliances, Jacuzzi tubs, cable, satellite, television, telephones, electronics, grills, gas fireplaces, etc. No refunds or compensation will be given for failure of the above. Any service call requested by guests that is a result of guest's action, abuse, misuse or negligence may result in a $50 service charge plus $50/hour of onsite labor. NO refunds or rebates will be offered in conjunction with false or mistaken service calls.
NON-ESSENTIAL SERVICE CALLS – Every effort will be made to provide clear concise procedures at the condominium for operating equipment such as satellite TV's, DVD players, fireplaces and key lock boxes as well as clear accurate directions to the condominiums itself from major highways. Agents are not responsible for guest's inability to operate equipment or locate the condominium.
CABLE/SATELLITE TV – Rental properties are individually owned and Agents cannot guarantee TV channel availability. Rental properties do not necessarily offer premium packages, ie, Movie Channels, Sports Channels, Pay Per View, etc. Agents cannot under any circumstance activate premium channels. NO EXCEPTIONS! NO REFUNDS OR REBATES will be offered.
FURNISHING/FURNITURE – All condominiums are privately owned property furnished and equipped by its OWNER. As such, Agent(s) cannot make any changes to the furnishings or equipment provided by the owner. If Guest requires special appliances or equipment, please bring them with you or inquire about renting from a third party service. Furnishings are subject to change without notice. Rearranging or moving of furniture is prohibited and will result in a fee of no less than $100 due to extra housekeeping services. Loss of these items, as well as damage to the property or furnishings in excess of normal wear will be charged to Guest(s). Certain areas in each rental property are locked for the OWNERS personal storage and are not included in this rental.
LINENS – A standard supply of linens is provided in each property. Bed linen and bath towels, equal to the maximum of occupants, are not changed during your stay. The startup kit of hand soap, toilet tissue and trash bags are not replenished. However, housekeeping service and other cleaning arrangements during your stay are available for an additional charge. Stained or missing linens and or towels will be considered damaged!
MAID SERVICE: Daily maid service maybe available on request at an additional charge. Please call our office for arrangements. Agent will attempt to provide a sufficient supply of hand soap, toilet tissue and trash bags, based on the number of registered occupants, however, there is no guarantee that the supply of any of these items will be enough to last to the end of the Rental Period. Please contact agent for any additional items needed. All other needs must be provided by the guests at Guest's sole expense.
NON-SMOKING – NO EXCEPTIONS! Properties do not allow smoking. Guests agree to pay not less than $350 for odor abatement.
ICY/SNOWY ROADS – Roads leading to many rental properties are curvy, mountainous and sometimes icy. Agents are not responsible for conditions of road or any damages from conditions of road. Guests should make every effort to use a vehicle that can tolerate these types of wintry driving conditions. NO REFUND OR REBATE will be offered if Guests are unable to arrive to premises as a result of vehicle or road conditions. During winter months please carry chains and we suggest bringing a snow shovel.
TERMINATION BY OWNER/SUBSTITUTIONS – Agents strive to comply with all reservation requests for specific vacation properties. However, due to ownership changes, properties being removed from rental use, mechanical problems, or other unforeseen circumstances outside of Agent's control. Agents reserve the right to change property unit assignment to a comparable property without liability within a reasonable time frame should rental property become unavailable. A comparable property will have similar or better value, accommodations, function, unit amenities, or size as determined by the Company. No refunds will be offered when comparable properties are available. Should Guest decline the comparable property, Guest may reschedule or change their reservation to another available date and property at the published rates under the parameters of the rescheduling policy but no refunds will be offered. If comparable properties are not available, Guests will have the option of selecting from any other available properties for their reservation dates and pay or receive a refund of the difference in the total cost or may choose to receive a full refund.
NOISE: The Guest shall not make or permit any excessive, disturbing or annoying noise in or on the grounds of the Rental Property by himself, his family, agents, servants or visitors, nor permit such persons to do anything that will interfere with the rights, comforts, or conveniences of neighbors or other persons in the surrounding area. No noise is permitted after 10 p.m.
COMPLAINTS: Any complaints to the Police Department concerning the behavior of the Guest, Guest's family, other occupants, or visitors while occupying the Rental Property shall, at the Agent's sole option, result in immediate termination of the Rental Agreement.
Lock-Out Policy: In the event the Guest and/or other registered occupants are locked out of the premises, the Guest must contact the Agent for a replacement key. If the lock-out occurs after regular business hours, a charge of $50 must be paid by the Guest for obtaining the key after business hours. If a locksmith is required, the Guest will be responsible for payment of the locksmith's invoice.
INDEMNIFICATION AND HOLD HARMLESS – Guests agrees to hold Owners, Agents, employees, and officers, including third parties free and clear of any damage to self or property resulting in accident, injury or loss due to rain, sun, flood, negligence, defective construction, fire, theft or any other reason. Guests shall be solely responsible for any property damage, accident or injury to any person or loss sustained by any person, including loss of money, jewelry, and other items of personal property, arising out of or in any way related to Guests use of the premises or the items of personal property provided by Agent(s), the owner at Guests request. Guests shall inspect and be familiar with proper use and application of such items prior to using them. Guests assume the risk of injury or other losses relating to any recreational activities and will hold owner and its Agents harmless with respect thereto.
---
Kathryn aka "Kathy" Wright is listed as the host; yet, I discovered after renting a"pet friendly upgraded one bdr, loft, in town" condo for three nights that Kathy is actually a property manager and works for the rental agency, Mammoth Accommodation Center. I've used airbnb since 2015 but this renting experience through a property management wasn't a quick one and this listing has the most detailed rules by far. Here are summaries of my unique experiences : The rental terms and conditions: I've signed electronically the "house rules" in order to proceed with the rental request. Kathy was diligent to confirm that I read the rental terms and conditions via emails prior accepting my request. After accepting my booking request, she then asked for my personal email address because she can email me her rental "terms and conditions" to be "printed, signed with a wet signature and mail it". Pet fees: additional $15/night/pet fee charge was not included in the reservation initially and an alteration request was created by Kathy for a total of $90 for two medium size dogs/3 nights. However, I received an alternative charge request of $100. After emails to Kathy and to airbnb customer support, the alternative fee charge of $100 included a $90 pet fee and a $10 service charge by the airbnb. Check in/check out rules and other potential fees: I received an email two days before the trip; here's a brief list-a.wear slippers or walk in socks while in the home; b. HOA, managers, owners and agents have their individual rules as well.( I was confused as there seems to be other rules in addition to the "rental terms and conditions" and "check -in/out instructions"); c. Use cosmetic or self-tanning products that do not contain Dihydroxyacetone (DHA). Excessively stained items will be charged at replacement cost to the renter. There will be a $25 charge for excessively dirty or makeup stained linens/ towels. D. Check In time is after 4PM; agent will use reasonable efforts but cannot guarantee the exact time of occupancy. Check out time is 10AM-NO Exceptions. Guests that do not vacate the rental property by 10am or guests returns without the consent of the agent, guest will be charged a fee equal to the rental rate for one day. E. Please be aware housekeeping will charge an additional $100 if furnishings are not left in the same state prior to checking in. F. Agents are authorized to charge the guest's credit card on file for the costs of re-keying or replacing the locks, ...of approximately $50/key. G. Agents are not responsible for any items left on premises; items will be confiscated; agents are authorized to charge a $25 handling fee plus applicable shipping costs for the items returned. Two single beds: they are covered in waterproof mattress protectors; they caused sweating and created additional static heat when tossing and turning.
---
Kathryn was by far more responsive and accessible than some of the other broker hosts in the Mammoth Lakes area. It was however clear that she had some past experiences that caused for extreme caution when approving our use of the requested condo. I have to say I felt a bit interrogated. Granted she did not know us and was doing her best to be sure we were going to be respectful law abiding occupants. Little did she know that I do not drink, do drugs and always leave the place better than how I received it. We actually purchased a dish drying pad, large coffee mug and cookie sheet for the condo and left them there for the next guests to enjoy. We also took care of the condo like it was our own. As it turned out there was a scheduling snafu where Kathryn double booked the unit listed and we were asked to take unit #37 in the Crestview Condos. We were flexible and happy Kathryn found us a back up plan. The condo was very warm and one of her select properties that really felt like it was someone's home and not a complete striped down rental unit. The only problem we had with the unit was that it was the ground floor unit and the neighbors up stairs were far from light on their feet. In fact it felt like they were dancing in their ski boots until midnight one night... not great. The TV power buttons on the remotes also need some work. We received new snow and loved the proximity to the Village. All in all a good trip.
---
Taux de réponse :
100%
Délai de réponse :
Dans la journée
Découvrez d'autres options à Mammoth Lakes et dans ses environs
Plus de logements à Mammoth Lakes :