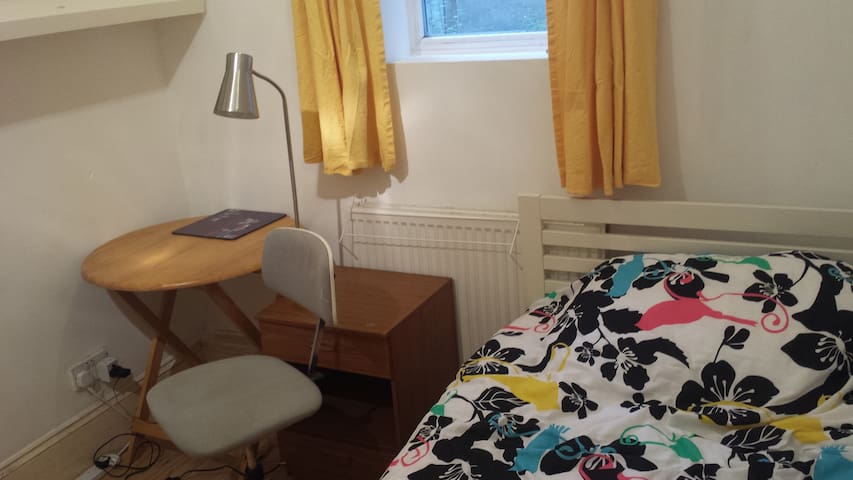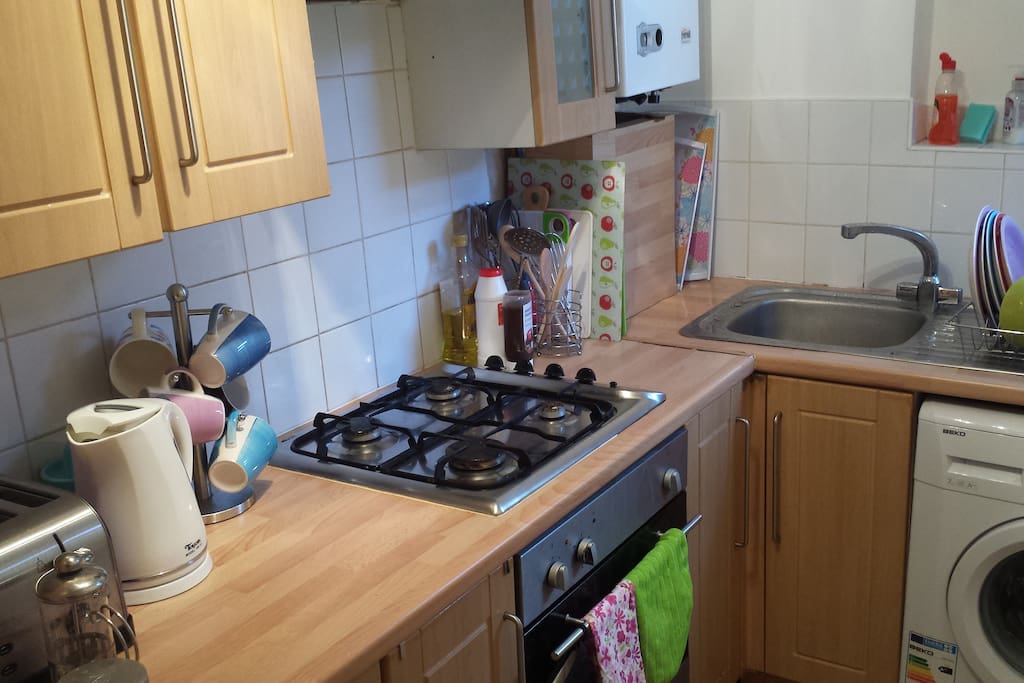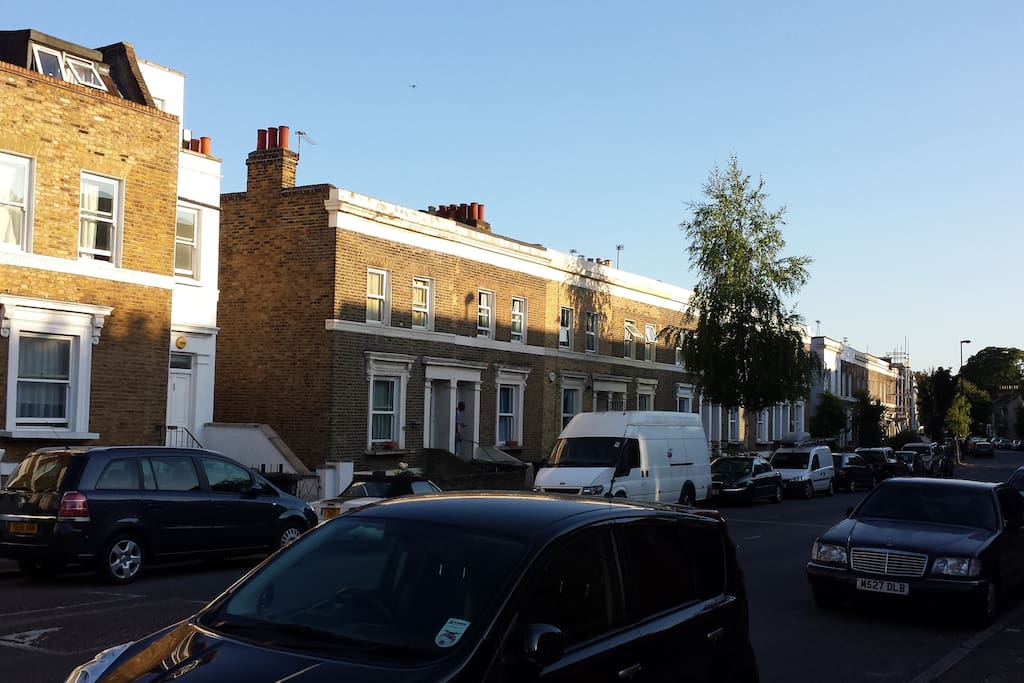 Cute single Garden 25min to Centre
Une chambre généreusement aérienne avec lit simple et jardin dans la zone 2 - 1 arrêt 7 min à London Bridge. Cuisine / salle de bain complète partagée avec d'autres clients Airbnb et professionnels / universités. Possibilité de ramassage de l'aéroport dans la limousine de luxe (moins cher que les taxis).
A generously airy room with single bed & garden in zone 2 - 1 stop 7 min to London Bridge. Full kitchen/bathroom shared with other Airbnb guests and professionals/university people. Possible airport pickup in luxury limousine (cheaper than taxis).
Le logement
Bonjour invités! Je suis Kai et je suis ici pour vous héberger ou répondre à vos questions concernant mon appartement près de New Cross et Brockley dans la zone 2 de Londres au Royaume-Uni! Je parle un peu français (et un bébé italien!) Et mon partenaire parle chinois indigène (Mandarin) - n'hésitez pas à vous demander tout ce dont vous pourriez pouvoir vous aider. J'espère que les 10 points ci-dessous vous fourniront toutes les informations dont vous avez besoin au sujet de notre appartement. Si vous avez d'autres questions, n'hésitez pas à me contacter. Avec les salutations les plus chaleureuses de Londres, Kai (et Whitney) 1. LIEU ET TRANSPORT Cet appartement est situé dans un excellent emplacement pour Londres: - New Cross station (zone 2) 9min à pied (train 7min pour London Bridge 1 stop) - New Cross Gate station (zone 2) 11min à pied (train 7min pour London Bridge 1 stop) - Station Brockley (zone 2/3) 12min à pied (train de 11min au pont de Londres 2 arrêts) - Station Lewisham (zone 2/3) 22min à pied (ou bus 10 min) - Goldsmiths College (Université de Londres) 9min à pied - Magasin ouvert 24 heures ouvert 2min à pied - Supermarchés (Tesco et Sainsburys ouvrent jusqu'à 10h tous les jours) 5 ou 7 minutes à pied - Distributeur automatique de billets 24 heures sur 24 à 3 minutes à pied - Jardins verts et parcs et terrains de sport 1, 11, 22 min à pied - Autobus ((PHONE NUMBER HIDDEN)) à partir de 2 minutes à pied du centre de Londres (Victoria, Paddington, Vauxhall, Waterloo, London Bridge, St Paul, Liverpool Sreet Station etc et aussi vers le sud comme Lewisham) dont 24 - Des bus de nuit. (Bus à Victoria 40min, bus à Waterloo 30min, bus à St Paul 50min etc. - Pendant les heures de trafic occupées, ajoutez 5 ou 10 minutes au dessus de ces temps de trajet). 2. PRIX DE CHAMBRE Les prix de cette salle sont les suivants: Pour 1 personne: GBP £ 28 par nuit GBP £ 146 par semaine (plus de 25% à partir de £ 196) GBP £ 567 par mois (plus de 33% à partir de £ 852) Veuillez noter que les nourrissons de moins de 2 ans (ceux qui n'ont pas encore eu leur 2ème anniversaire) restent avec un adulte sans frais, donc le taux ci-dessus s'applique. Pour les enfants âgés de 2 ans et plus séjournant chez 1 adulte, consultez mes autres annonces pour 2 ou 3 personnes. 3. DISPONIBILITÉ & JARDIN Veuillez vérifier mes listes et la disponibilité. J'ai 4 salles privées, y compris celle-ci. Elles sont - Chambre double avec accès direct au jardin (jusqu'à 3 personnes) (cette chambre est celle que vous regardez maintenant). - Chambre double en suite avec vue sur le jardin (jusqu'à 2 personnes) - Chambre double avec lit double (pour 2 personnes maximum) - Chambre simple avec un lit simple (pour 1 personne) Tout le monde séjournant dans cet appartement (et les deux appartements à l'étage) a accès à un jardin et un patio. (Veuillez noter que le jardin partagé est en cours de rénovation et sera beaucoup plus agréable d'ici la mi-août 2015. Actuellement, il ne semble pas encore prêt. Nous travaillons là-dessus.) 4. CE QUI EST INCLUS DANS LE PRIX - Le prix comprend tout ce qui comprend les frais de nettoyage, donc vous n'avez absolument plus rien à payer comme frais de service, etc. Dans votre chambre, vous trouverez toutes les literies et les serviettes (pour 1 personne) et la salle de bain partagée avec des papiers toilettes, shampooing / conditionneur et gel de douche . Vous ne payez aucun de ces. Et bien sur, il y a un wifi gratuit. - Vous avez un accès complet à une cuisine commune entièrement équipée avec tout ce dont vous avez besoin pour cuisiner et manger. - La chambre est entièrement meublée et dispose d'un lit simple, d'un bureau, d'une chaise, d'une grande étagère, d'une fenêtre, d'un tiroir, d'un bureau et de lampes de chevet, de rideaux et d'un cheval de vêtements. S'il vous plaît noter que, comme beaucoup d'endroits à Londres, cet appartement n'a pas de salon (également appelé un salon ou un salon), mais il a un petit bar communal dans le cadre de la cuisine avec chaises hautes où vous pouvez vous asseoir et manger Ou se mêler avec d'autres personnes dans l'appartement. 5. PICKUP DE L'AÉROPORT J'ai souvent donné un ascenseur vers et depuis les aéroports de ma voiture vers nos invités Airbnb entrant / sortant de Londres au Royaume-Uni pour une charge modeste. (Compte tenu du temps qu'il faut pour conduire à destination et en provenance des aéroports, je ne réalise pas vraiment de profits en faisant cela. Je récupère juste les coûts de l'essence et je le fais pour aider nos clients Airbnb à se sentir à l'aise et à l'aise.) Parfois, j'ai des réunions, des engagements de travail Et peut être absent - je peux généralement confirmer ma disponibilité pour ce faire pour vous 3 ou 4 jours ouvrés avant votre arrivée ou votre départ dans et hors des aéroports de Londres. (Si je ne suis pas disponible à la date de vos vols, je peux recommander ou réserver des entreprises de minicab (taxis de location privés agréés) pour vous. Mes frais pour ce faire (ce qui est bien sûr moins cher et plus confortable que les taxis) pour le ramassage de l'aéroport Ou déposer sont: - Heathrow £ 55 un chemin - Gatwick 60 € aller simple - Stansted £ 70 aller simple - Luton £ 80 aller simple Je conduis un Voiture semi-classique, une limousine Mercedes S classe des années 1990 qui est un salon exécutif de luxe très silencieux (double vitrage) (ou une berline telle qu'elle l'appelle en anglais américain) avec une jambe généreuse pour les passagers avant et arrière. (Mon autre voiture est un coupé Cadillac Eldorado des années 1970 mais je conduis généralement Mercedes.) Veuillez noter que je peux avoir quatre passagers à la fois (car la voiture est un 5 places incluant le conducteur) et si vous êtes un groupe de 2 ou 3 personnes, j'aurai besoin de savoir combien de bagages vous aurez avec votre taille approximative avant de pouvoir confirmer ma disponibilité pour vous emmener ou vous emmener dans les aéroports. N'hésitez pas à vous renseigner sur les transferts de l'aéroport car je serai là pour répondre à vos questions afin de vous aider et trouver une solution concurrentielle pour vous. 6. COMMERCES, PARCS ET ÉQUIPEMENTS À PROXIMITÉ Il y a un magasin de coin à la gestion familiale de 24 heures à seulement 2 minutes à pied de l'appartement (vous pouvez acheter de la nourriture et des boissons à partir de là), et les petits supermarchés (Tesco / Sainsburys) ouvrent jusqu'à 23h00 et 22h00 respectivement tous les jours à 5 et 7min à pied. Il y a un grand supermarché (Sainsbury) ouvert jusqu'à 20h en semaine 13min à pied (derrière la station New Cross Gate). 7. PARKING GRATUIT, PARCS ET GYM / PISCINE - Si vous conduisez et arrivez ici dans mon appartement en voiture, il y a un parking extérieur gratuit juste à l'extérieur de notre bâtiment. (Cela signifie que vous pouvez vous garer gratuitement sur cette rue gratuitement). Généralement, il existe de nombreux espaces pour garer des voitures. (J'ai moi-même 2 voitures! - Plus j'ai plusieurs vélos!) - Il y a une zone verte de voisinage communautaire (comme un jardin pour toute la rue) juste derrière l'appartement (1 mn à pied) et il y a des parcs (comme Hilly Fields) à 20 mn à pied. Hilly Fields donne une vue panoramique sur Londres, y compris une belle vue sur Canary Wharf et le Shard of London. - Il existe un centre public de loisirs et de loisirs avec une immense piscine, un jacuzzi, un sauna, un hammam, une salle de sport et des cours d'exercice à seulement 10 minutes en bus ou à 22 minutes à pied de notre appartement. (Centre sportif Glass Mill à Lewisham). 8. NOMBRE D'HÔTES, AUTRES DANS LA MAISON ET LES VOISINS Cette chambre est pour une occupation maximale de 1 personne (sauf les nourrissons de moins de 2 ans peuvent séjourner avec 1 adulte sans frais). Nous disposons de 3 autres chambres pour 2 personnes et 3 personnes chacune (elles ont tous un lit double, un lit simple pliant en plus pour la 3ème personne et un autre avec sa propre salle de douche attenante), donc si vous êtes un Groupe de 2 personnes ou plus jusqu'à 8 personnes dans votre groupe, regardez mes autres annonces dans le même appartement. L'appartement dispose d'une 1 salle de bain partagée (avec baignoire, douche et toilettes) partagée avec d'autres personnes dans l'appartement (à l'exception d'une des chambres doubles a sa propre salle de bains privative avec douche et toilette). Il y a 4 chambres dans cet appartement, y compris cette chambre. La chambre double en suite (pour 2 personnes maximum) a tendance à avoir d'autres clients Airbnb, une autre chambre double (jusqu'à 2 personnes) a tendance à avoir des locataires à la fois ou à court ou à long terme, et la plus grande salle 9 pour jusqu'à 3 personnes) a tendance à avoir la même chose (invités Airbnb). Lorsque nous avons des invités à court ou à long terme, ils ont tendance à être des étudiants qui étudient à l'Université Goldsmiths College de Londres (car notre appartement se trouve à moins de 10 minutes à pied de cette université) ou des professionnels travaillant à Londres, du Royaume-Uni, d'Europe ou d'autres parties de la Monde, habituellement à long terme mais parfois à court terme aussi. Cet appartement est le sous-sol (appartement A) de 3 appartements à cette adresse dans ce bâtiment et a sa propre entrée que vous ne partagez pas avec les deux appartements. Au-dessus de cet appartement se trouve une famille voisine (Flat B au rez-de-chaussée) qui est une jeune famille européenne (parlant espagnol) avec un bébé et un petit enfant (3 ans). (Comme nous et nos invités Airbnb, ils sont également tous non-fumeurs et ils n'ont pas de chambre libre, donc ils n'ont pas d'invités restés). De votre chambre ou cet appartement au sous-sol, je crois que vous pouvez Je n'entends pas ce voisin ou les enfants parler ou pleurer, mais parfois, vous pouvez entendre et ressentir le petit enfant courir dans l'étage à l'étage. Mais ce n'est pas souvent ou constant - ce n'est que de temps en temps que l'on entend entendre le gamin dans l'appartement voisin situé à l'étage. (Au-dessus de cet appartement voisin, il y a Flat C, au 1er étage au-dessus du rez-de-chaussée plat, qui est mon appartement de partenaires. C'est là que nous passons la plupart du temps. Nous avons deux chambres de rechange là-bas et nous avons souvent un hôte Airbnb dans Si vous êtes intéressé par l'appartement de mon partenaire qui est différent de celui du mien mais à la même adresse, recherchez en ligne "Hey, je suis Whitney! Londres, Royaume-Uni Membre depuis septembre 2012 Taiwan Airbnb", vous allez Voir sa photo dans un champ vert tiré par le dos qui montre ses deux listes, une chambre simple pour 1 personne et une chambre double / triple pour 3 personnes maximum.) 9. FUMER Notre appartement i
Hello guests! I am Kai and am here to host you or answer any enquiries you have about my apartment near New Cross and Brockley in zone 2 London UK! I speak some French (and some baby Italian!) and my partner speaks native Chinese (Mandarin) - please feel free to ask anything you need that I can help you with. I hope the 10 points below will give you all the information you need about our flat. If you have any more questions, please feel free to contact me. With warmest greetings from London, Kai (and Whitney)
1. LOCATION & TRANSPORT
This apartment is in an excellent location for London:
- New Cross station (zone 2) 9min walk (7min train to London Bridge 1 stop)
- New Cross Gate station (zone 2) 11min walk (7min train to London Bridge 1 stop)
- Brockley station (zone 2/3) 12min walk (11min train to London Bridge 2 stops)
- Lewisham station (zone 2/3) 22min walk (or bus 10 min)
- Goldsmiths College (University of London) 9min walk
- 24 hour open corner shops 2min walk
- Supermarkets (Tesco and Sainsburys open till 10pm daily) 5 or 7min walk
- 24-hour cash machine 3 min walk
- Green gardens and parks and sport grounds 1, 11, 22 min walk
- Buses ((PHONE NUMBER HIDDEN)) from 2min walk to central London (Victoria, Paddington, Vauxhall, Waterloo, London Bridge, St Paul, Liverpool Sreet Station etc and also to further south like Lewisham) including 24-hour night buses. (Bus to Victoria 40min, bus to Waterloo 30min, bus to St Paul 50min etc. – During busy traffic hours, add 5 or 10 min on top of these travel times.)
2. ROOM PRICE
The prices of this room are:
For 1 person:
GBP £28 a night
GBP £146 a week (over 25% discounted from £196)
GBP £567 a month (over 33% discounted from £852)
Please note that infants of younger than 2 years old (those who have not had their 2nd birthday yet) stay with an adult free of charge, therefore the above rate applies. For children aged 2 years old and over staying with 1 adult, please see my other listings for 2 or 3 people..
3. AVAILIBILITY & GARDEN
Please check my listings and availability. I have 4 private rooms in total including this one. They are
- Double room with direct access to garden (for up to 3 people) (This room is the one you are looking at now.)
- Double room en-suite with garden view (for up to 2 people)
- Double room with a double bed (for up to 2 people)
- Single room with a single bed (for 1 person)
Everyone staying in this apartment (and the two flats upstairs) has access to a garden and patio. (Please note that the shared garden is undergoing revamping and will look much nicer by mid to end of August 2015. At the moment it is looking not quite ready yet. We are working on it.)
4. WHAT'S INCLUDED IN THE PRICE
- Price includes everything including cleaning costs so you have absolutely nothing more to pay like service charge fees etc. In your room you will find all bedding and towels (for 1 person) and the shared bathroom has toilet papers, shampoo/conditioner and shower gel. You don't pay for any of these. And of course there is free wifi.
- You have full access to a shared kitchen which is fully equipped with everything you need for cooking and eating.
- The room is fully furnished and has a single bed, desk, chair, tall shelving unit, window, drawers, desk and bedside lights, curtains and a clothes horse.
Please note that like many places in London, this flat does not have a lounge (also called a living room or a sitting room), but it has a small communal bar area as part of the kitchen with high chairs where you can sit and eat or mingle with other people in the apartment.
5. AIRPORT PICKUP
I have often given a lift to and from airports in my car to our Airbnb guests flying in/out of London UK for a modest charge. (Given the time it takes to drive to and from airports, I am not really making profit by doing this. I just recover petrol costs and I do this to help our Airbnb guests feel welcome and comfortable.) Sometimes I have meetings, work commitments and can be away - I can usually confirm my availability for doing this for you 3 or 4 working days prior to your arrival or departure into and out of London airports. (If I am not available on the date of your flights, I can recommend or book minicab (licensed private hire taxis) firms for you. My charges for doing this (which of course is cheaper and more comfortable car than taxis) for airport pickup or drop off are:
- Heathrow £55 one way
- Gatwick £60 one way
- Stansted £70 one way
- Luton £80 one way
I drive a semi-classic car, a 1990s Mercedes S class limousine which is a very quiet (double glazing windowed) luxury executive saloon (or sedan as they call it in American English) with a generous legroom for both front and back passengers. (My other car is a 1970s Cadillac Eldorado coupe but I usually drive Mercedes.) Please note that I can have four passengers at a time (as the car is a 5-seater including the driver) and if you are a group of 2 or 3 people, I will need to know how many pieces of luggage you will have with you and approximate size of them, before I can confirm my availability for taking you to or bringing you from airports. Please feel free to enquire about airport transfers as I will be there to answer any questions you have in order to help you and find a competitive solution for you.
6. SHOPS, PARKS & AMENITIES NEARBY
There is a 24-hour family-run corner shop just 2min walk from the flat (you can buy food and drink from there), and small supermarkets (Tesco/Sainsburys) open till 11pm and 10pm respectively everyday just 5 and 7min walk. There is a large supermarket (Sainsbury) open until 8pm weekdays 13min walk (behind New Cross Gate station).
7. FREE PARKING, PARKS AND GYM/SWIMMING POOL
- If you are driving and arriving here to my apartment by car, there is free off-street parking just outside our building. (It means you can park anywhere on this street free of charge.) Usually there are plenty of spaces to park cars. (I myself have 2 cars! – Plus I have several bicycles!)
- There is a communal neighbouhood green area (like a garden for the entire street) right behind the flat (1min walk) and there are parks (such as Hilly Fields) 20min walk. Hilly Fields gives a panoramic view of London including a nice view of Canary Wharf and the Shard of London.
- There is a public leisure-sports centre with a huge swimming pool, Jacuzzi, sauna, steam room, gym and exercise classes just 10min by bus or 22min walk from our flat. (Glass Mill sports centre in Lewisham.)
8. NUMBER OF GUESTS, OTHERS IN THE HOUSE & NEIGHBOURS
This room is for maximum 1-person occupancy (except infants under 2 years of age can stay with 1 adult free of charge). We do have 3 other rooms for up to 2 and 3 people each (they all have a double bed, one has a folding single bed in addition for 3rd person and another has its own en-suite shower room), so if you are a group of 2 people or more up to 8 people in your group, please have a look at my other listings in the same apartment. The flat has 1 shared bathroom (with bath, shower and toilet) shared with other people in the apartment (except one of the double rooms has its own private en-suite with shower and toilet).
There are 4 rooms in this apartment including this room. The en-suite double room (for up to 2 people) tends to have other Airbnb guests, another double room (for up to 2 people) tends to have the same or short or long-term tenants, and the biggest room 9for up to 3 people) tends to have the same (Airbnb guests). When we have short or long-term guests, they tend to be students studying at Goldsmiths College University of London (as our flat is less than 10min walk from this university) or professionals working in London, from UK, Europe or other parts of the world, usually long-term but sometimes short term tenants as well.
This apartment is the basement flat (Flat A) of 3 flats at this address in this building, and has its own entrance that you do not share with the two neibouring flats. Above this flat is a neighbour family (Flat B on the ground floor) who are a young European (Spanish speaking) family with a baby and a small child (a 3 year-old). (Like us and our Airbnb guests, they are also all non-smokers and they don't have a spare room so they don't have guests staying over.) From your room or this flat in the basement, I believe that you can't hear this neighbour or the children speaking or crying, but sometimes you can hear and feel the small child running around in the flat upstairs. But it is not often or constant – it is only occasionally that you can hear the kid running about in the upstairs neighbouring flat. (Above that neighbouring flat is Flat C, on the 1st floor above the ground floor flat, which is my partners flat. That is where she and I spend most of time. We have two spare bedrooms there and we often have Airbnb guest staying in this top floor flat. If you are interested in my partner's apartment which is different from mine but at the same address, please do search online " Hey, I'm Whitney! London, United Kingdom Member since September 2012 Taiwan Airbnb", you will see her picture in a green field shot from back that shows her two listings, a single room for 1 person and a double/triple room for up to 3 people.)
9. SMOKING
Our flat is for NON-SMOKING both in and immediately outside of entrances and the garden/patio. (For definition and clarity, people who smoke electronic cigarettes (also called vaping) are counted as smokers.) Please note that smoking is not allowed anywhere in the building or anywhere in the patio or garden area, and also just outside in front of the entrance to the building or on the pavement on the street just outside our building.
The reason for the above is because if you smoke either just in front of the front door or the back garden patio, the cigarette smoke goes into the window of one of the double rooms of this flat (which is situated immediately next to the entrance door to the flat), and the cigarette smoke goes up into the window of the neighbouring flat (where they have a baby and a small 3yo child) on the ground floor (flat B) or into the window of the top floor flat (flat C) where my partner and I are based with other Airbnb guests. This causes not only inconvenience but damage to heath of other people in this and neighbouring flats (including the ones with a baby and a small toddler child), and I can get complaints from my neighbour. Also the garden is for everyone's use (all three flats at this address) and the neighbouring parents and their baby and small child and other Airbnb guests as well as my partner and I have a use of it, and we therefore need the whole of the garden to be smoke-free.
If you wish to smoke, please go to the space between our address and the address next door (the one to the right when you are facing our front door), there is a gap between these two buildings, and you may smoke there. But if you do, please ensure that you are standing between the two buildings in front of the metal gate for garden access, and thereby not too close to the entrance doors of any of the flats at our address or to the window of the single room (which is behind the metal gate for garden access). Please ensure that you dispose of the cigarette buds in the black rubbish bin in front of the flat (and not throwing it down on the ground).
Please note that failure to observe the rules on smoking as per the above may result in you losing part or all of the deposit.
10. DEPOSIT
There is a security deposit of GBP £85 which will be returned to you after you have moved out as per T&C and as per the point 9 on smoking above.
That is about it! I hope this will have answered all the questions you have about this room and this apartment. If you have any more questions, please get in touch. English, French (and even Chinese Mandarin) languages are OK to communicate with us (my partner and myself). With warmest regards from London, Kai (and Whitney)
---
---
Réduction à la semaine : 22%
Communiquez toujours via Airbnb
Pour protéger votre paiement, ne transférez jamais d'argent et n'établissez pas de contact en dehors du site ou de l'application Airbnb.
En savoir plus
---
Détecteur de monoxyde de carbone
---
---
Logement bien équipé, pas trop cher pour Londres et Kai m'a emmené à l'aéroport ce qui a été bien pratique!
---
Kai is definitely one of the greatest hosts I have ever met. He made my stay in London enjoyable. Kai communicates regularly and makes everything possible to help his guests. The flat is clean, one can has anything she/he needs. I stayed one month at Kai's and will definitely come back! Thanks a million Kai for being such a lovely host.
---
I don't know where to begin with this review, but Kai has been very accommodating on my end. As a host, Kai took the time to really introduce me to the London environment, weather, transit system, cellphone plans, and everything. Not only that, Kai even took the time in the beginning of my check-in to introduce me to the flat, letting me know where things are located inside the flat, and where the nearest supermarkets, and which supermarkets, stations, etc are close by! The room I'm staying in is very cozy and is enough to accommodate me as I am living by myself. The location is excellent as it is within reach of buses, stations, take-out places, and supermarkets. Will definitely book again in the future.
---
This was my first airbnb stay and I'm extremely pleased. Everything was perfect, no surprises at all. On the contrary, it was even better than expected. All the necessary commodities were there, everything was clean and functional. Kai is an incredible host, and I'm planning on booking very soon again. Thanks again!
---
I am new to Airbnb but my partner is not. – If you search " Hey, I'm Whitney! London, United Kingdom Member since September 2012 writer tour guide", you will see her Airbnb profile coming up towards the top with her profile picture with long hair in a dark dress. As you would see, she has been on Airbnb for around 3 years with around 100 positive reviews from former guests (some have mentioned me too) who have stayed in our spare rooms. I have moved into another apartment (a basement flat) at the same building as my partner, and now it is me welcoming you to my home!

I am someone of a cosmopolitan outlook, having lived in half a dozen countries and visited over 30 countries. I love the local London life here and interacting with local and international guests and friends.

What else about me? I drive classic cars (90s and 70s!) and I am into arthouse films, classical music and smooth nostalgic songs. My professional background is creative arts and science project and research management. I enjoy a variety of food from mild spice to super hot chili, and to burn off all those calories I work out everyday scoring long distance shots (half and three-quarter court) in basketball.

And you? Please do airbnb me as I am awaiting to welcome you here and get to know you!

Regards from London,
Kai (and Whitney)

Taux de réponse :
100%
Délai de réponse :
Dans la journée
Découvrez d'autres options à Londres et dans ses environs
Plus de logements à Londres :