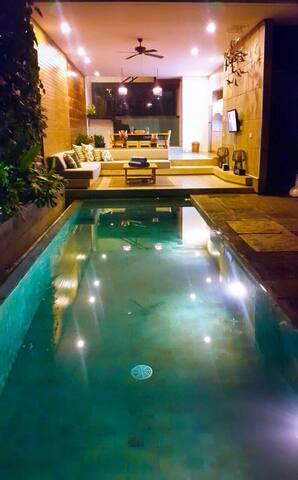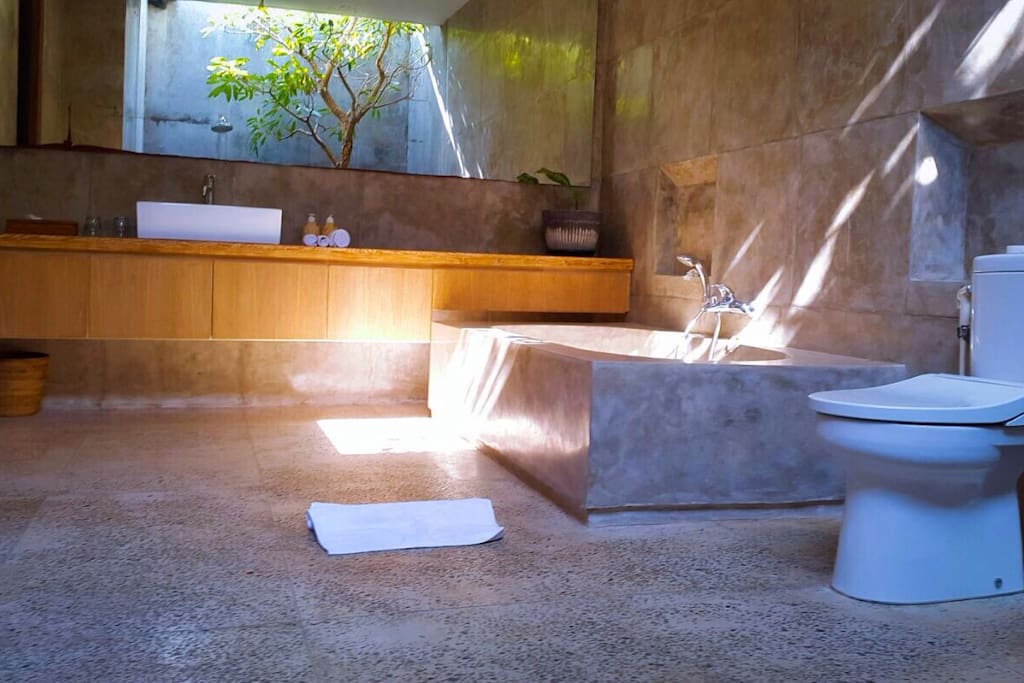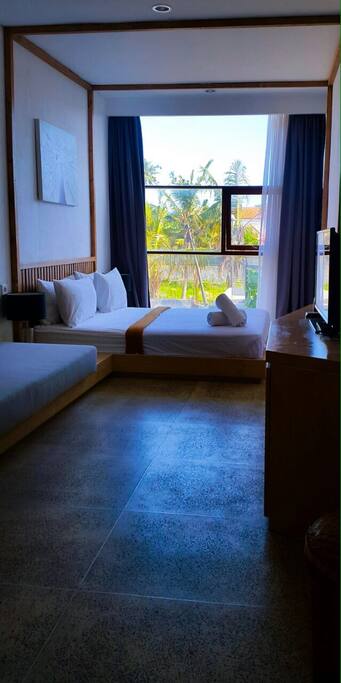 3 Kamar villa Jimbaran Bali
Villa de 3 chambres

WiFi
Lecteur DVD
Majordome privé

Région de Jimbaran, à 15 minutes de l'aéroport International de Ngurah Rai
(près de la plage de jimbaran - uluwatu - GWK - dreamland beach - Plage de pandawa - nusa dua beach - Plage de balangan - point bleu)
Le logement
Très privé et tranquille ❤️
Accès des voyageurs
Jimbaran beach - kedonganan beach
Échanges avec les voyageurs
Tous les jours je vais demander ce dont ils ont besoin, et la coordination avec mon personnel qui est en charge à la villa
Autres remarques
Tout ce que vous avez besoin à bali, vous pouvez nous le demander
Nous vous aiderons autant que nous le pouvons ️
---
Ns avons séjourné 2 semaines ds le logement de Rundown. La villa est tres jolie, tres agréable à vivre. En particulier Le salon ouvert sur la piscine ainsi que la suite parentale (tres grande) avec 1 superbe salle de bain (baignoire en pierre et douche en plein air). Wifi parfait. Seul Le ménage de qques placards doit être revu (je l ai signale). Il est également noté majordome, mais ns ne l avons pas vu... il est venu changer les draps et serviette 1 fois pdt notre séjour. Rundown est serviable et répond à toutes les demandes que vous pourriez faire. Pour les taxis : La villa est situé au bout d un chemin, je vs conseille de vs mettre près de route pour tte course c plus simple car pas tjrs évident à geolocaliser. C est un tres bon point de départ pour ttes les destinations sur l île. La plage est tte proche, Le marche également + sur la rue principale il y a les commerces épicerie etc... Nous avons passer 1 tres bon séjour.
---
This place is a stylish modern tropical villa which is surprising roomy and private. The location looks rough and lost down a service lane but once inside its all style. With the living rooms being outdoors you share the place with nature so cover you food at night or share it with the geckos. Its just off a street which has a sprinkling of tourist services and blue taxis can take you to the beach for sunset dinners. The walk is about 800m but its not along active streets. I had a scooter which made everything seem around the corner even the Movenpic hotel with its cluster of super clean them restaurants around a small square. Nice if you just need a moment of westernised Bali. I ate fish at the beach cafes at night with the sunset instead. Take up the host on the free transport to the Villa. Its not easy to find the first time. Rundown was very helpful with everything and the assistant who lives next door quick to get onto any issues. I'll be back as it is a great base for the bukit beaches but not lost down the south of the island. In that regard the villa is in a class of its own.
---
The villa itself has great potential... But the cleaning wasn't up to standard and there are lots of maintainace issues. We were quite disappointed to start off with, because Rundown promised a car from the airport, but it did not materialise. However, after we paid 3x the going rate (silly us) we made it there fine. As it has been mentioned, the villa is down a long driveway, which is a little scarry at night. When we walked in, we though wow this is great! But after I found the kitchen quite messy I started to see past the initial glow (cupboard under sink was very filthy with dank water and bugs, a bag of oil filled with dead bugs, and a large amount of someone else's food in the dirty kitchen sink). Other issues were that the toilet brushes must be years and year old (so gross!) and one night a mouse was crawling through the kitchen. HOWEVER, there had been effort to ensure the house was generally clean. We didn't end up using the pool... We were worried it wouldn't be clean given the other issues. As mentioned in other reviews, there are lots mozzies, geckos, frogs and other bugs - but this should be surprising - it's Bali and it's an open style home. Also, I think the butler lives under the house... There seemed to either be storage or a room under there because a gate which undermined the villas security was sometimes open and sometimes closed. Overall, this place is way cheaper than the hotels, so if you want to cram a heap of people in for a party weekend you'd probably have a great time. As for us, next time ill be forking out the extra $.
---
I would give my experience a 2/5. After reading all the great reviews I though that it was a great deal. The design was nice, the butler was helpful and communication with the host was good. It is also close to the airport. However that's all the good I can say about the place. Don't be deceived by how good looking the photos are. Make sure to check the street maps to see if this area is ideal for you as it's not in the nicer part of town. Not to mention it is so hard to find that cab drivers have difficulty locating it. We got lost trying to get there after providing the exact address given by the host. It's at the end of a really small and tight street that is really dark at night. Not ideal for women traveling on their own. There is no blow dryer and toilet paper. The sheets had stains. It was full of mosquitoes and we had about a dozen bites each after leaving the place. Wifi is only good in the living room. As soon as you get to the bedroom it's almost non-existent. It was annoying because if we had to go to the living room that meant we had to be prepared to be bitten multiple times by mosquitoes. There was also a whole bunch of debri from the construction site across the street that they piled onto the floor of the entrance which was very unsightly. Did not have a good experience and I will not come back.
---
I have been in Bali for one month now and I liked this place so much I came back to stay for another week. I just want to touch a bit on some of the previous comments regarding the cleanliness. As you can see from the pictures, this is an open concept home. Meaning there is no wall between the kitchen, living room and the pool area. So, obviously some small bugs and geckos will be found in the villa. However, this is bali! I stayed there for almost 2 weeks altogether and there is no house keeping, and the floors never got dirty. If you think you can do better, go down the street to the intercontinental and pay 300-500$ a night for a one bedroom without a private pool. I guarantee you will still find geckos in your room. Here you get 3 bedrooms, 3 bathrooms, a kitchen and a beautiful private pool. Ac and tv in all the rooms and the wifi works perfectly. I promise you won't be disappointed.
---
Taux de réponse :
100%
Délai de réponse :
Quelques heures
Découvrez d'autres options à Jimbaran et dans ses environs
Plus de logements à Jimbaran :