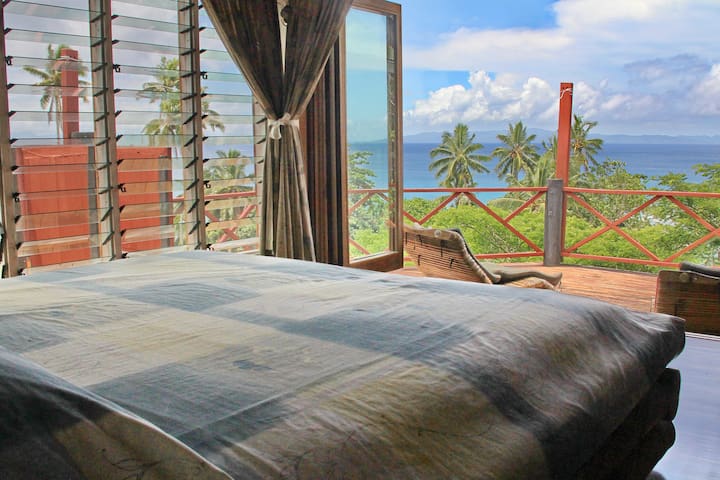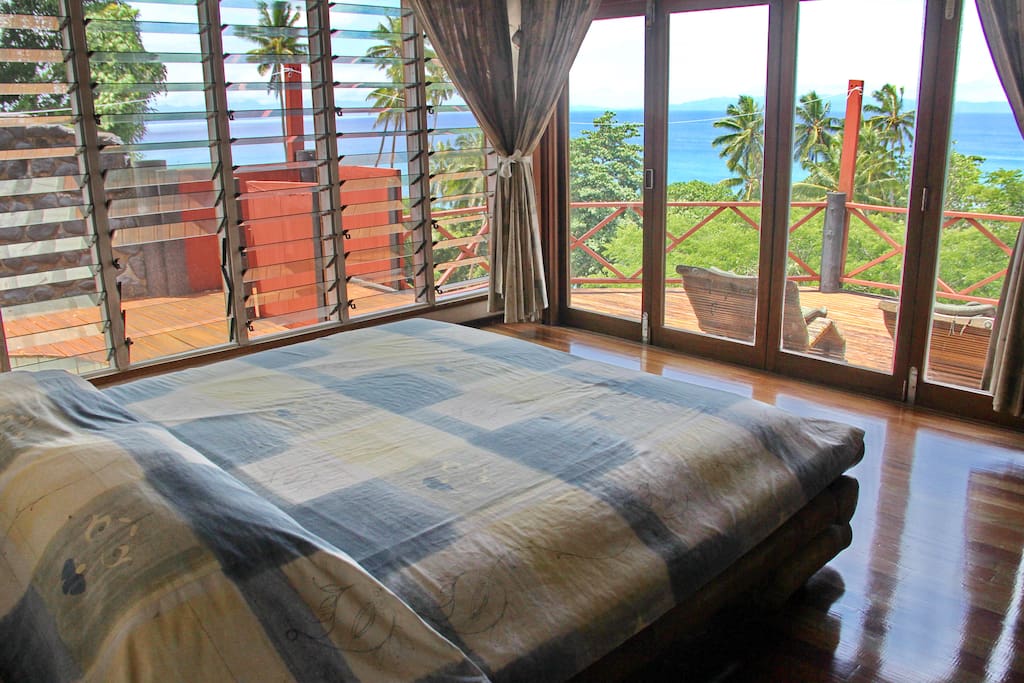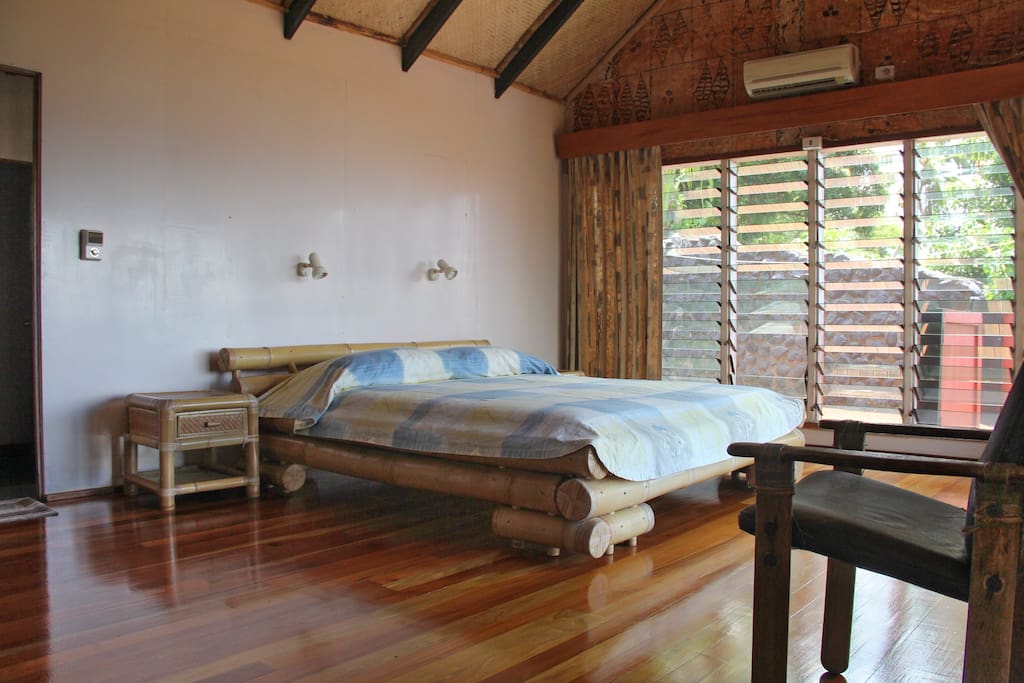 À propos de ce logement
The Hideaway is located on a lush lookout above colourful tropical reefs of the Somosomo Straights and white sandy beaches of Taveuni's northern tip.
---
---
---
The Hideaway is located on a lush lookout above colourful tropical reefs of the Somosomo Straights and white sandy beaches of Taveuni's northern tip.
Immerse yourself in the wonders of the Fiji Islands. This unique and opulent opportunity offers couples, families, and perhaps even battered backpackers a place to relax and rejuvenate amid a flourishing postcard-perfect paradise. You can see happiness from here.
**THE DESTINATION**
Taveuni, aptly named Fiji's Garden Isle, is the country's third largest island and is comprised of one very large, but dormant,volcano. Steeped in nature's sweetest secrets, with a Mataqali (family) of friendly Fijians charged as her caretakers, the island and surrounding waters are home to the Rainbow Reef, one of many world-famous dive sites; Lake Tagimoucia, the hiding place of the fabled Tagimoucia flower; Bouma National Heritage Park, Waitavala Waterslide and Lavena Point, which each boast several majestic mid-jungle waterfalls; as well as Ravilevu Nature Preserve and Taveuni Forest, two of the island's most prolific bird sanctuaries.
Incredibly, the island offers even more. Eco-industry abounds here, keeping the island in its presently pristine condition. The land is laden with organically grown fruit, root and vegetable gardens. Fresh fish are sustainably farmed. Even the sweet-smelling coconut and frangipani massage oils are sourced from the islands own natural resources and created using practices passed down through generations of earth-aware Fijians.
With so much natural beauty, tradition and inherent culture, it's easy to see why discerning vacationers and enchanted expats,along with their fellow Fijians, have been hiding away here all these years.
**THE ACCOMODATION**
Maravu, the sprawling resort of which your private rental is a part, is nestled nicely between Welagi and Naselesele villages, right around the corner from the Matei Airport, and within walking distance to the beach, bus and local convenience shops.
Our Hideaway, the most romantic villa on the property, is fitted out with the finest of Fiji furniture. Happiness mysteriously appears as you step upon the hardwood planks and look out at the miraculous view beyond. The Somosomo Strait stretch as far as the eye can see. Tropical paradise looms at every angle…
**THE DEAL**
A slight twist on the conventional is what really makes Maravu surprisingly special. This remote resort has been reimagined into a humble lodge, where local interaction and eco-living are the order of the day.
Structures on the property are provided with Fijian-made candles (and bright twinkling stars) to light their night once the sun has set.
Staff operate serenely, on Fiji time, and can often be found conversing quietly with guests or giving weaving, cooking and other village-life lessons. Happily they share their culture with any eager ears they happen to come across.
Although your private Hideaway is set slightly apart from the larger resort compound, you are welcome at any time to join other guests in resort activities or make use of the restaurant, bar, pool or spa. Alternatively, you may choose to relax in the reclusiveness of your romantic sanctuary and allow our smiling staff to provide you with in-room food, beverage and massage services.
Our concierge booking desk is also at your disposal, and our local team is ready at all times to share their secret island knowledge to help you plan-out, make reservations and schedule transportation for your idyllic day.
All main resort amenities in the neighbour resort property.
Your preferred level of privacy will be respected.
We are surrounded by beautiful, simple island villages. It is important to respect local dress and customs when exploring the neighbourhood.
Complementary transfers to and from the Taveuni Airport are available. Feel free to send through your flight number to secure a free airport pickup plan.
2 local buses a day going to the east-side and 2 going west. No buses on Sunday.
Ferries run everyday to/from Savusavu and twice weekly to/from Suva.
3 flights daily to/from Nadi. 2-3 flights weekly to/from Suva.
Please note that i (Henry) no longer live in Taveuni, but i have a great Honeymoon Hideaway team to take care of all the Hideaway guests :)
---
L'entrée dans les lieux se fait entre 11:00 et 22:00
**THE BREAKDOWN**
• $120USD is per night per couple.
• Transfers to and from Taveuni Airport are complementary. Feel free to send your flight number to secure a free airport pickup plan. Transfer from Taveuni Wharf can be arranged for a small fee
**WHAT'S PROVIDED**
• Sun chairs, beach towels
• Unlimited access to the Maravu Resort facilities including swimming pool, lounge, free wifi and nature/culture/adventure activities daily.
• Daily housekeeping
• Bed linens
**EXTRAS AVAILABLE UPON REQUEST**
• Diving, snorkelling and surfing
• Fishing Rods
• Fiji Fusion Meal Plans
• Special food and beverage items
• Catering for special occasions (weddings, birthdays etc.)
---
Modérées
Si vous annulez jusqu'à 5 jours avant votre voyage, vous recevez un remboursement intégral, frais de service compris.
---
A really wonderful location with sensational views over the ocean and the friendliest of local staff. Good Fijian food and drink at reasonable prices. A great snorkeling expedition to the Rainbow Reef. And kava drinking nightly! Some of the facilities are showing their age so don't expect Sofitel standards but staying at the Maravu Resort is a much richer and more rewarding experience than any grand hotel can offer. The grounds are beautiful and the whole island of Taveuni is glorious.
---
A large room with a great view, unfortunately it is very tired looking and part of a very run down resort 'it used to be 5 star' is all i heard. Well it's not any more and it needs to be raised to the ground and rebuilt using new materials if it is to acquire that status once more. The grounds leading up to the steep climb are not maintained and i had to request that a lime tree canopy was removed from across the path so i could access my room - something that was so obvious, but staff are too busy doing nothing to bother to keep the grounds tidy. the pathways are full of weeds and the steps are full of debris, so lots to slip or trip on. No lighting was put on at night past the bridges, so you walked at your own peril negotiating the cane toads everywhere. As far as the rest of the resort is concerned the food was absolutely disgusting and breakfast is not included. In fact nothing was included in the £110 or $275 fijian dollars per night room charge. Breakfast will set you back another $15-20, they charge $40 to hire snorkel and mask for the day! I was quoted $215 to go snorkelling for two hours! When i checked in i left a very valuable leather travel wallet with reception to put in the safe, when i got this back it had been ruined by them putting sellotape on it to secure paper with my name on! However, overall I did have a relaxing stay in a budget style room on a run down resort. Fortunately i found local people who took me snorkelling (for free) and educated me on the reef regeneration program that is operation in the bay. I would recommend having dinner outside the resort. This place has a really bad reputation with the locals who no longer eat there. Lots of work needed to bring this place up to the standard required for the prices being charged.
Bula Rebecca, Thanks for the feedback and apologies that expectation and reality mismatched in this case. Your range of feedback has been shared with my team and we'll target improvements accordingly. I know the Hideaway is imperfectly beautiful, but it is a surprise to hear that it has fallen so far short of expectation in this case. We are not seeking to 'acquire' a 5 star status, but rather maintain an approx 2.5 or 3 star level. In any case, I've sent is a projects team to refresh and renovate based on your feedback... When the Plantation was operating on a 5 star standard, the Hideaway rate was US$800, but we've recreated the experience to be simple and humble and reintroduced the property with a rate of US$120. Previous guests have even recommended that the rate should be higher, but i try my best to keep it as low as possible.. I've also never included breakfast in the rate for any of my previous airbnb properties, and i've never encountered a guest who expected it. Your passionate & persistent breakfast demands were a great surprise, and i would certainly love to know where this breakfast expectation popped up from so i can ensure future guests do not have their expectation mismatch in this way.. I have received 125 reservations so far, and although no-one has ever expected breakfast, i can understand that the name of the website could be misinterpreted. I always saw there was an option to choose 'breakfast included' as part of my listings, but i never ticked that box, and have honestly never even considered the mandatory breakfast aspect. But now that you mentioned it, i just searched around on the 'airbnb community' page for any relevant discussion about his issue. I found a stream, 'Do all guests expect breakfast to be provided?', and found various responses including 'No, guests should not expect breakfast unless your listing specifies that you offer it.', and 'No one should expect anything that is not in the description of the listing'. I also cross checked the amenities section on my listings and the breakfast has a strike through the middle of it. Considering this, there are many tropical fruit trees around the property and guests are welcome to pick and bite :) Regarding the food, your 'disgusting' complaints were also a great surprise. The Plantation has recently introduced a Fiji Fusion Kitchen Team since your stay, and guest feedback has been amazing. We warmly welcome you to return and taste some delicious local flavours one day! I sincerely seek to create a suitably simple expectation of the amenities and experience on the Honeymoon Hideaway description. We encourage the 'less is more' concept to keep the property as pristine as possible. Significant steps have been taken to create a humble guest expectation, but please let me know if you feel there is anything additional that i could can target to ensure that my future guests match expectation and reality. I always evolve & develop the airbnb description based on guest feedback, and any further comments about the guest experience are much appreciated.. For travellers with high expectations for a perfect holiday, i can recommend to look into alternative property options. But for travellers seeking a simple Hideaway located on a lush lookout above colourful tropical reefs of the Somosomo Straights and white sandy beaches of Taveuni's northern tip, i can recommend to stay here! Vinaka vaka levu and wish you well, Henry
---
The honeymoon hideaway at maravu resort is absolutely Stunning. Really cool design cabin with An epic view of the beach. There is about 5 restaurants nearby including the maravu resort. The resort food was limited due to stock(perhaps as it was holiday time). Tramonto pizza was awesome. Also we had several traditional home style meals next door at Annamorina's restaurant. Our advise is to book for dinner wherever you are going. Don't be in a rush. If you are it will likely take longer! Great diving spots. Amazing waterfalls and hikes. Good to team up with Other guests to make a small tour group. Car hire was a good option too. We loved our stay here. Vinaka Kent & Loren
---
We had the pleasure of staying at this location for two weeks and loved it. The views are stunning and there is beach access right across the street. The room is located on the larger property of Maravu and it provides the perfect blend of privacy and accessibility to the resort. I highly recommend taking advantage of the outings that the resort offers and engaging with the staff for local insider tips. This location is a great place to enjoy all of what Taveuni has to offer. It will be hard to leave without lifelong friends. Highlights: Lavena Coastal Walk (it seems pricey but it is well worth it!) Tavoro Waterfalls (visit the first and third falls). The first waterfall is family friendly but the hike to the other two falls is rigorous and not suitable for children under 10. Snorkeling! Staff!
---
This BnB was probably one of the best experiences I've had on AirBnB, truly a gem among all of the places in Fiji. My husband and I got married, and took a flight out to Fiji the very next day, so we were hoping for a beautiful, relaxed atmosphere, and that's exactly what we got. We stayed in bure 16, and while it is definitely not a 5 star resort, its BEAUTIFUL. The view is one of the best in all of Fiji, the bed is comfortable, and the bure itself is beautiful. We have a private path to the beach, and a private path to the actual main resort area. For those of you that want some privacy, but the ability to socialize when you want, I recommend this place. One thing to note is that resort used to be a 5 start resort, but 5 years ago, it was abandoned. Just recently, someone purchased it up, and they're making it beautiful again. So, do be aware, that there are some things that are not fully functional: there is not always hot water, there are definitely a lot of bugs, some of the windows and doors don't work, but who cares, you're in one of the most beautiful places in the world. The people working here are amazing, they're so nice and they're willing to chat, get to know you, show you around, etc. One of the guys, who guided our coastal walk, went mango and pine apple hunting with us, he brought us to the town center, and told us all about himself, and Fiji. However, as usual in Fiji, every activity has an extra price. The activities are fun (coastal walk, dateline, fishing, snorkeling, etc), but they DO cost money. There are a couple small super markets about 20-30 minutes walk, and the town center is a 15 minute taxi drive (you can ask them to drive you there). The food is amazing (breakfast, lunch, AND dinner), but somewhat pricey. Overall, please go here, because it's amazing and beautiful and exactly what my husband and I needed after our wedding.
---
Definitely one of the most beautiful places we've stayed at! secluded nicely on the hill overlooking the beach with a massive, sunny deck, very clean, Maravu staff are super friendly and go out of their way to help you have an excellent stay. If anyone was to leave a non-5 star review about this place it's probably just to scare people away to keep the bookings open for their next trip back!
---
Fidji

·

Membre depuis août 2010
I love islands, beaches, seafood, volleyball, culture fusion, but most of all, i love travelling. I've travelled around the world and found my favourite spot...Fiji!

My family's business is hospitality based and i manage a couple of tropical enterprises including impossibly beautiful properties in the luscious Taveuni area. Our style is simple, fun, eco, adventurous, and atmospheric that works in harmony with outer island villages. I'm excited to be involved with airbnb.com, to open the door for intrepid travellers, to an immaculate tropical island paradise.
Taux de réponse :
100%
Délai de réponse :
Quelques heures
L'adresse exacte est communiquée uniquement lorsque la réservation est confirmée.
Découvrez d'autres options à Taveuni Island et dans ses environs
Plus de logements à Taveuni Island :