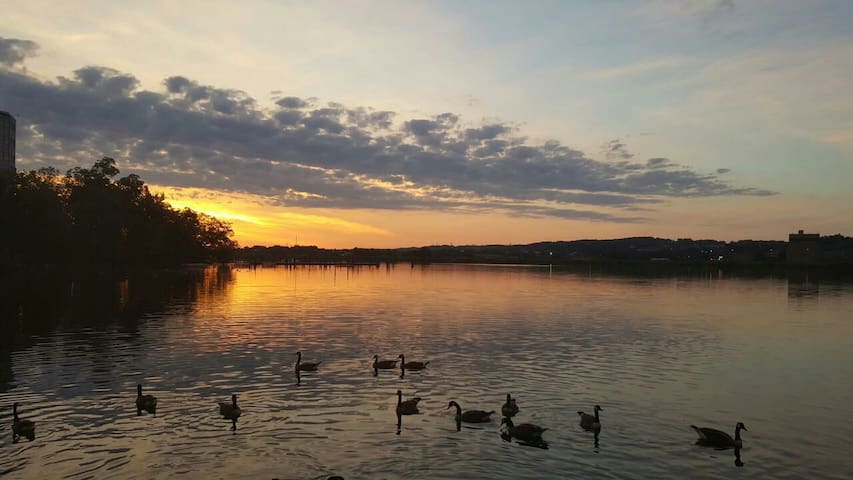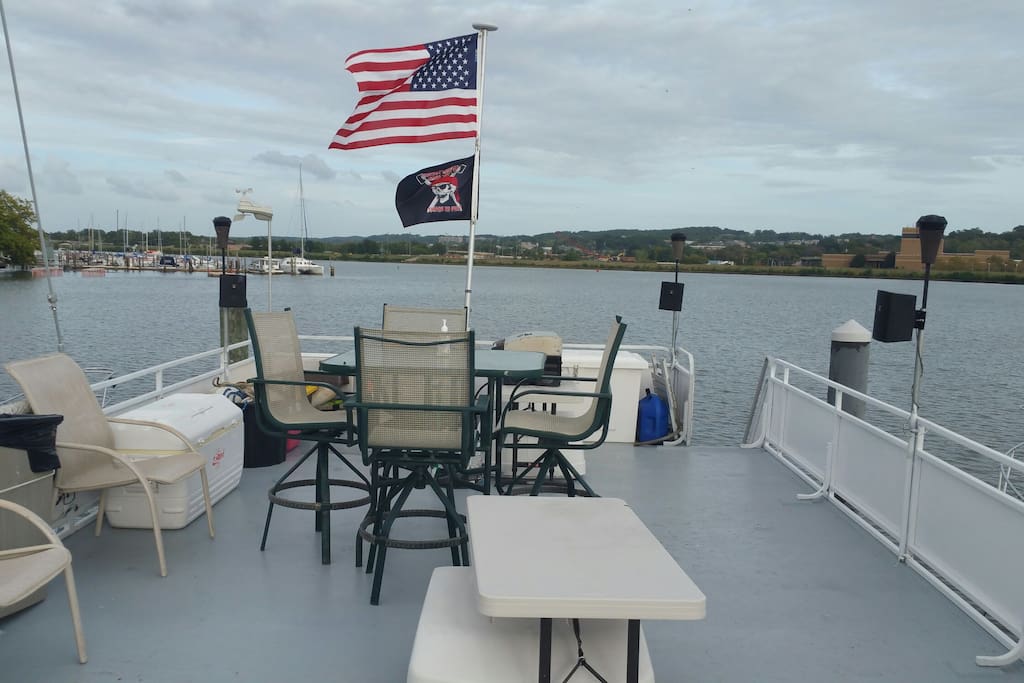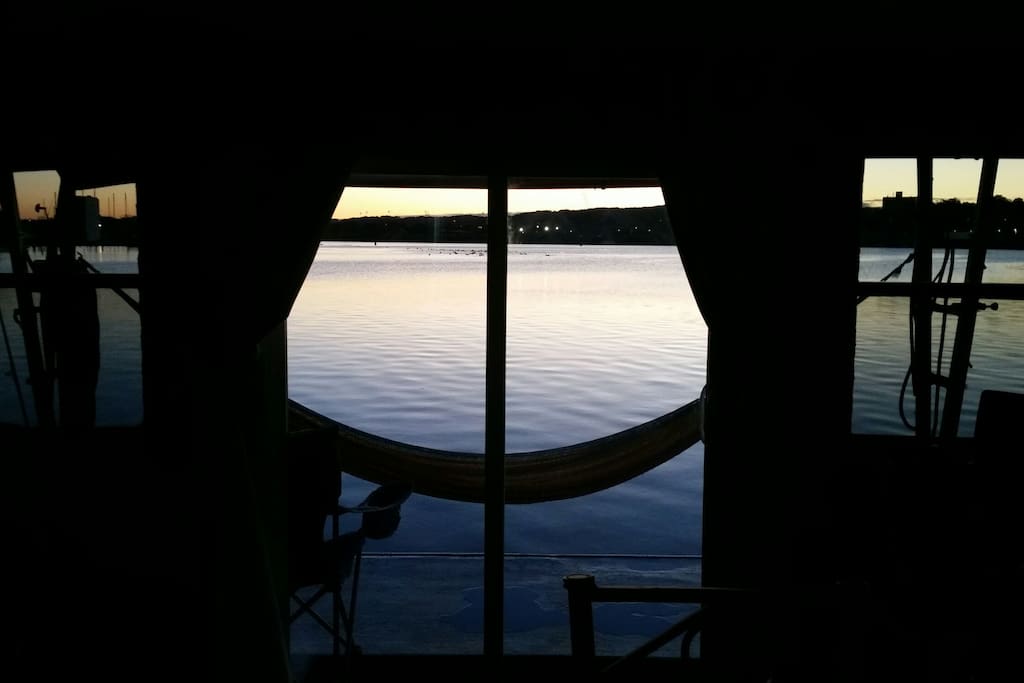 À propos de ce logement
DC Water living at its best! Million dollar view of the water and beautiful yachts. Large living area and top deck . It is a warm condo on the water with all the same amenities that goes with a home, including climate controlled environment.
---
Arrivée : À partir de 15:00
Type de logement : Logement entier
---
Parking gratuit sur place
---
Voyageur supplémentaire : 19€ / nuit après 2 voyageurs
Réduction à la semaine : 10%
Tarif week-end : 120€ / nuit
---
DC Water living at its best! Million dollar view of the water and beautiful yachts. Large living area and top deck . It is a warm condo on the water with all the same amenities that goes with a home, including climate controlled environment.
Large stable catamaran that boasts one of the largest living and deck areas in the metro area (for a yacht, 42 feet long x 14 feet wide). Unique experience for the cultured traveler or just the curious local. It has Wifi and 60 inch 3d TV.
The yacht rides low in the water so the feeling of the closeness to the water is unbeatable. Just walking down the dock to the Catamaran gives a feeling of relief when you ingest the ionized air that only a large body of water can provide. The boat is easy to enter from the dock given the deck is the same level as the dock, thus making it easy to bring luggage.
The Master bedroom is a queen bed (2 people), the second bedroom has bunk-beds (top a twin size -1 person- with bottom bed folding into a sofa or a full bed (with 3 inch memory foam) and the living room has a comfortable full size memory foam foldout couch/bed (2 people) and a firmer full pullout couch. The firm grey pull out couch can be used either reclining your legs or pulling out to a full sized bed (1-2 depending on your size)
Large 6 speaker (with large subwoofer) Bluetooth stereo systems on top and bottom decks. It has the common appliances found in most homes: refrigerator, mini oven, cooktop, dishwasher, sink, microwave, blender, and washer/dryer combo.
Heating and air conditioning make for a comfortable environment. Given the catamaran style hull boat, mooring snubbers and hydraulic stabilizers that are in place on all four corners of boat, rocking is minimized. There is a Playstation 3 too for playing games (request games) or watching 3d movies on 3d tv.
Large two person Yucatan hammock on front of boat gives the feeling of floating above the water with outdoor speakers to enjoy some NPR. Top deck has zero gravity chairs and tables for relaxing with your favorite book. There is also a table top heater that puts out a beautiful glow at night. I have Sherpa blanket throws available too if it is a bit chilly out.
The yacht is all for your enjoyment; I will not be staying on boat while you are there; thus your privacy is maximized. I may stop by, if I have to check out a boat function (notice will be given in advance).
Catamaran has bathroom and shower. Additionally, the marina has men and women's showers (one each) and toilets. The marina bathrooms can each handle up to 4 clients at a time. Top deck of boat is available too for your enjoyment.
I or another person will meet you at boat to show you access and amenities. Alternatively, I can provide youtube links on the important points of boat if you are coming in late or I am working.
FREE PARKING AT MARINA for my guests (up to two cars) Low crime national park with locked gate to dock. Parking lot is patrolled by four different police forces and reside next to secure military base. The marina area is on a well maintained national park. The walkway to boat has lighting and there is a significant amount boaters that frequent the walkway. There are two local grocery stores: Safeway and Harris Teeter.
There are several local bars/restaurants: Blue Jacket (brews own beer), Cantina Marina (nice seasonal outdoor seating), Ziegfeld's Secrets (gay bar), Gordon Biersch (brews own beer), The Big Stick (sports bar) and Station 44(better dressed crowd). Just web search "bars" or restaurants for more. A liquor store is within a mile too.
The marina is in a prime location for anyone interested in exploring Washington, D.C. "The National Mall" is just 10 mins away by Uber or taxi, featuring the Smithsonian Museums, Washington Monument, Lincoln Memorial, White House and Capitol Hill. Washington's Southwest Waterfront is also minutes away, where you can enjoy boat rides to George Washington's Mount Vernon in Alexandria, a dinner cruise on Washington D.C.'s Oddysey, or explore DC's floating fish market. If you enjoy walking, the Tidal Basin is just minutes away by driving, which includes the Jefferson Memorial, Martin Luther King Memorial and the Cherry Blossom Trees during the spring! The Washington Nationals Park is also just a short walk to the north where you can enjoy a baseball game during the summer or Canal Park - Ice Rink during the winter time! You can't beat this location for enjoying all that the nation's capital has to offer.
They are building a soccer stadium nearby so the roads are a bit rough. Keep in mind too this marina is not in the heart of the club and restaurant areas, but a quick 5 minute UBER ride can get you the nearby ones.
Metro is 1.1 miles (22 min walk) away. The ridesharing services Uber and Lyfts rarely take more than 5 mins to arrive at marina. Bus stop is within half mile near the corner of P Street and 2nd Street or this address:
SW P St & SW Canal St
Metro bus route 74
Plenty of free parking at marina (I will give you pass)
Uber from Reagan is around $10-13 and takes about 10 mins
Alert! If you never used LYFT you may be able to get a free ride! Sign up for LYFT and then see below:
PLEASE USE LYFT CODE TODD641 to get free $20 ride.
To walk to metro you just walk down First street then take left on P street and then first right on 2nd street which will also take you to the Mall Museum area.
!!!!Please read before booking!!!
FAQ
What zip is boat at?
20024
Does the boat have WIFI?
Yes, it has its own wifi and the marina also has wifi, so there are two available free wifi services.
I am new to Airbnb and I have no reviews, no ID verification, no social network verifications, no picture,but can I still book your boat?
First of all you sound very sketchy if you can not muster up at least a couple of those items. This is not a cheap motel that caters to the masses. I want my guests to have a pleasant experience and have reasonable expectations that I can meet. This can be virtually impossible if you have never been a guest on Airbnb. Staying at an Airbnb is not a motel/hotel experience; people are opening their most intimate part of their life to you: their home. Moreover, staying on a boat is an even more a unique experience (versus dirt dweller Airbnb) that few people in their lives will experience, but there is slightly more dangerous aspect to it versus a hotel given you are literally surrounded by water. I desire responsible, safe individuals that can follow simple rules so everyone can make the experience wonderful. Someone who just blasts me with a request or inquiry without reading through the listing carefully can be a danger to themselves. I do not do exclusively host for the money, a good portion of the reason I host is to meet cultured, interesting people that I can learn from. I have on rare occasions had guests that had zero feedback, but they had other credentials and had a good working knowledge of the description I have given.
Is check in time flexible?
You can check in anytime after 3 pm. If I can't be here to meet you, I will send welcome videos that goes over everything.
I have bags that I need to drop off for before the 3 pm check in, do you have a spot for them?
I may have a place for your bags if you give me prior notice.
Can stay past 11 am check out?
If I have another guest coming that day then you will need to leave by 11 am (I have to prep boat for new guest), if not, I may be able to allow you to stay longer as a courtesy.
Do you have a place for my bags on the day of checkout?
I can usually find a place to put your bags of you for example if you have a flight at 5 pm and want to visit DC before your flight and not have to drag your bags around.
Is it cold on the boat?
Even in the coldest weather the boat can easily maintain 72 degrees inside.
The boat can heat around 70 degrees higher than the outside ambient temperature, so this means if it is 10 degrees outside it can heat the interior to 80 degrees. I also have auxiliary propane heater than can boost the heating capability around 20 degrees. This means it can be -10 degrees outside and the boat can be 80 degrees inside. The boat will be warm when you arrive.
Where are the keys to the boat?
Boat keys are located in clear glass dish next to coffee maker in the boat. Boat will be left unlocked for you to retrieve the keys.
Do I need a parking permit to park?
Monday-Friday you need parking permit which is located in clear dish next to coffee maker.
What are codes to gate and marina bathrooms?
The codes are located in the house manual found on the AIRBNB website. Once you book the boat it will give you access to the manual.
What amenities does the marina have?
There marina is at a national park which has grilles, restroom, showers, dog walking area, volleyball court and seating areas.
Can I use grille?
Please ask permission from me to use outside grille (requires some instructions). Please grill after 730 pm in summer and 5:30 pm in the fall.
The marina also has charcoal grilling areas too that can accommodate dozens of people.
Can I use Paddle boards and kayak?
There is stand up paddle board, sit down kayak and tandem kayak available. Lifejackets are in top deck white box, they are required to do water sports.
Can I drive boat around?
Boat stays at marina unless you charter the boat to take to different anchorage (fees apply), there are several beautiful places to stay the night (or just day) on the water in DC that no other boat can get to given the boat only needs 18 inches of water . Chartering details upon request. On average the boat with a driver is about $100 hour to drive the boat around.
You mentioned water turned off in winter?
After it starts freezing (November) to mid March the water is shut off to boat from the marina; no fear though, because I have storage tank (around 100 gallons) and a water treatment plant which provide all the water necessary for reasonable usage. What I do ask during this winter time is to just monitor the water storage tank to make sure it doesn't run dry (tank under the bed). Around March 15 water is turned back on so the above issue with water pumping and storage is moot (boat will be on city water, so use all you want). It is generally suggested to bring shower shoes anytime you travel. I have video that show the procedure and using the water treatment plant during the winter.
Is there hot water?
There is a 20 gallons hot water heater on the boat.. it is usually good for 3 back to back 10 minutes showers.
Are pets OK?
Pets need to be brushed thoroughly before and during stay on boat. Please no dog hair on beds and couches. Fee will be assessed for excess hair removal. Cleaner charges me $40 to remove dog hair off couches and bed covers.
Do you have metro passes we can use?
There are a few Metro card passes in the glass dish next to the coffee machine. These will save you from paying extra $10 for Metro card pass. Please use them but return them when you are done as to help future guests save money.
Do you have Iron and/or hairdryer?
Clothes Iron and hairdyer is available on boat.
Is boat safe and/or can it sink or float away accidently?
Given the design of the boat (water tight sealed pontoons) it is extremely unlikely it will sink (unlike other boats that have a bilge area). Rest assured the only way it can take on water is if it hits an iceberg at 20+ knots along its side (unlikely again, given it can't go that fast and it is parked at the marina) or it hits a submerged explosive mine (which is also unlikely given mines usually are set off by metal.. boat is fiberglass). The boat is secured by no less than 6 lines, 5 of which have 8500 pound rating and the last one has 13500 pound rating, so there is an extremely low probably of the boat leaving the dock on its own, even in a category 4 hurricane.
How far away is the Metro?
Nearest metros are Waterfront and Navy Yard. Waterfront is 1.1 miles (22 min walk), Navy Yard is 1.2 miles (23 min walk)
How far away is the mall area with the museums?
Mall area is 2 miles away, about 37 minute walk.
What is the best way to get around?
The best way to get around DC are the ridesharing services UBER and LYFT. UBER you can use "POOL" option to save money. If you have a group bigger than 4 and or a lot of luggage then you will need to get and UBERXL (has much more space).
Can I swim?
The water quality varies with storm events. If there has not been a large storm event in DC which washes the street water in the river then the water quality Index according to the last EPA report on the area is safe for swimming. There are lifejackets on the top of boat in a white box, feel free to use. There is also a swim ladder that can be put out to make it easier to get on the boat.
Is there any shade on the top deck?
There is a large umbrella that can be put in the table. Make sure it is removed when not being used as it can fly away in the wind.
How late can we play music on the top deck?
Generally try to keep the noise down by 10 p.m. on weekday, midnight on weekend.
Is it safe to walk to Metro and Mall?
There is a economically disadvantaged neighborhood about .5 miles away that some people see when coming to marina but they don't frequent the marina. I, nor any friend or guest has any problems walking to the Metro. The walk to the Metro is along a monitored walkway along a military base. The area has a large police presence given the military base and national parks.
Is there stereo on the top deck of boat?
Yes there is 2000 watt stereo system on the top deck which is controlled by Bluetooth from your phone.
How far away is baseball stadium?
The baseball stadium is about .5 miles away. They have $5 no seat tickets there if interested.
Is there a light on the top deck?
The stairs are all well lit, the umbrella when fully open has a light you can attach to it to make it easier to see your food while dining in the evening. The light is found in brown storage box next to stairs. There is also a light that goes in place of an umbrella.
Is there a weight limit on the chairs?
For our bigger guests, I have 300 pound capacity folding chair on the top deck brown storage container.
Do you have guest standards to book?
Yes, I prefer 3 reviews and ID verification. I may be able to work with lower number of reviews based on how many verifications you have. I had problems a couple times in last with guests with no reviews, no bio, no ID , no pocture or social media verification.
Can I fish?
Technically you need fishing license, but not to catch non native invasive specie fish. The blue channel catfish are non native invasive specie and is what is caught 99% of time. I have fishing poles and tackle. I use hotdogs for bait.
Should I shut down ac or heaters when I leave?
No leave them on, to help maintain comfortable temperature on the boat.
Can I put tampons down toilet?
Only urine, poop and toilet paper should ever go down toilet. The toilet has a masserator that will get damaged from foreign materials. If toilet is stopped up with something besides the items listed above then a $100 plumber fee will be assessed to fix.
Can I use the two foot massagers?
Yes, they are great after a long day of walking.. please use clean socks.
Can I eat candy in freezer?
Chocolate in freezer is for guests..enjoy
Where do I get ice?
Ice is sold at end of dock and at Marina Office
Are there any other bathrooms and showers available besides on boat?
There is a cinderblock building at the entrance of marina that has Men's and Women's bathroom and showers.
How is the fishing?
The fishing is great. You technically needs a license to fish, but I have never seen it enforced. I generally feed the catfish on the front deck cat food, you can pull in a couple dozen and then you can hand feed them chips while leaning over the deck and pet them while pulling the chip forward in you hand. Warning though, after you pet the catfish it might lessen your desire to fish.
Can I use the washer/dryer?
Yes, it is available for you to use. It washes and then can dry afterwards. The cycle can take up to 5 hours given the all-in-one nature of the washer/dryer.
Do I get fresh towels everyday?
I will supply 1 fresh towel for every guest at the beginning of the stay. You can freshen up the towels by putting them in the washer/dryer before you leave for the day and they will be fresh again when you get back (wash dry cycle can take up to 5 hours).
Do I get fresh sheets everyday?
Guests get fresh sheets on first day of stay only. There is a wash/dryer available to wash them if you desire.
It is hard to get on the boat?
It is possibly the easiest boat to get on at the marina. The deck is almost the same height as the dock so virtually no vertical step and the gap between the dock and the boat deck is usually under 8 inches.
How far away it Reagan National airport?
It is about 6 miles away, 12 mins in regular traffic 17 mins in bad traffic.
By public transportation about 50 minutes.
How much is Uber from/to Reagan National airport?
About $14 when I last checked.
How far away is Union station and price by Uber?
3 miles away 12 -15 minute ride. $5-$7
How far away is Dulles airport and cost by Uber?
30 miles 36-42 mins away by car/ub(PHONE NUMBER HIDDEN) hours by public transportation.
How far away is the national zoo?
It is 25 mins by car or Uber and 50 mins away by public transportation.
Any tour suggestions?
"Bike and Roll" is a nice biking tour. They also have "DC Ducks", "Hop on Off tours", "Big Bus (top deck open air) tours" and DC Segway tours.
Do you have bicycles we can use?
They also have bicycles you can rent called Capital Bike Share. Search online for them, good service. I may be able to get you a personal bike upon request.
Do you offer discounts? Please don't even ask if it is 1-6 day stay. My pricing automatically adjusts with demand so the price given is what it is. For 7 days or more it automatically discounts by 10%. I especially get irate when someone who has zero feedback, just signed up for Airbnb that day, have zero verifications, no bio, no pic and doesn't read the listing in its entirety, wants to book for one day and give them a discount..
---
Peut ne pas convenir aux bébés (moins de 2 ans)
L'entrée dans les lieux se fait à partir de 15:00
Maximum 10 people on top deck. Absolutely no jumping on top deck.
No black soles shoes or high heels on top deck (black soles mark up stairs and heels are dangerous going up and down stairs)
Pets Ok (faux grass potty pad provided..please notify me if used).
If you have shedding dog, please brush or vacum dog down. My cleaner charges me a fortune to remove dog hair.
Smoking OK on top deck.
Only the guests you have booked for stay the night on boat, if you want to have more stay the night please notify me.
The boat is not a party venue, (unless you book a charter and I am supervising) so I expect the guests you have are well behaved.
Do not drink the tap water from November until March (Marina water is shut off) chilled bottled water is found in bottom drawers of the fridge. From March until November the city water is carbon filtered water outlet at dock. Please put tap water into to filtered pitcher to create the highest level of safe water I can provide (besides bottled water found in drawers).
Guests should have a couple Airbnb reviews and be ID verified to rent.
---
Flexibles
Si vous annulez jusqu'à 24 heures avant le voyage, vous recevez un remboursement intégral, frais de service compris.
---
Détecteur de monoxyde de carbone
---
Séjour de 2 nuits minimum