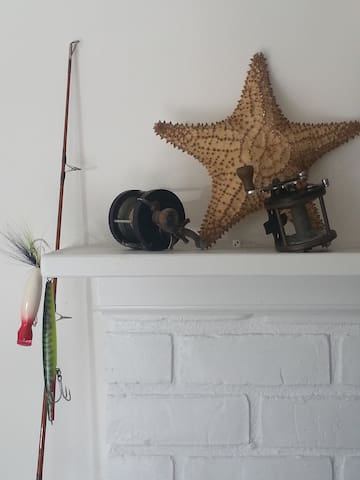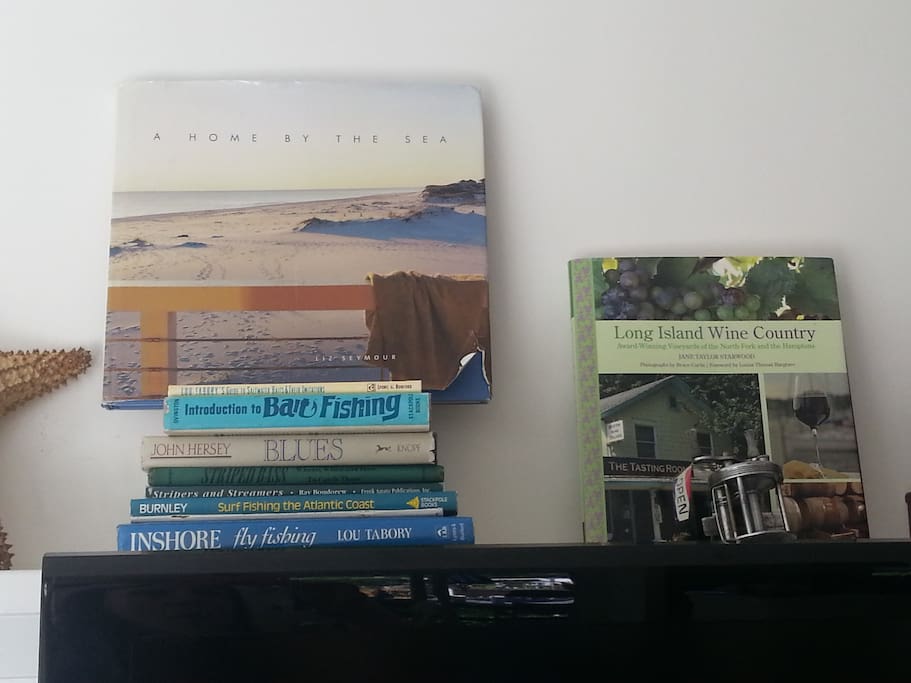 COMMENTAIRE À LA UNE
Nous avons passé 6 jours à Mattituck. Tout a été simple à notre arrivée, les clefs étant à disposition. Le contrat de location semble un peu chargé mais finalement pas vraiment de contraintes sur place. La maison est située au calme à 10 minutes en voiture des commerces. La maiso…
Le logement
Listen to the ocean waves and smell the tomotoes ripening on the vine from your deck at this meticulous beach house in exclusive Captain Kidd Estates. You will feel like you have unearthed buried treasure when you experience the lore of the North Fork and then retreat to this cozy property which accomodates up to 6 adults/children in an open floor concept. The four bedrooms contain :
One bedroom: 1 Queen bed
Second bedroom: Bunk beds (twin)
Third bedroom: 2 Full beds
Fourth bedroom: 1 Queen bed
From the gourmet kitchen with top of the line stainless steel appliances, granite counters and tumbled stone backsplash you overlook the pedastal dining room table and cozy living room fitted with white wash brick fireplace and 40" High Def Plasma TV. Only one hour and twenty minutes from NYC and minutes from dozens of wineries, local produce farms, golf courses, outlet shopping at Tanger Riverhead and Historic Greenport Village to name just a few ways to spend your stay. As for beaches, from the Sound to the Bay or even the short drive to the Hamptons on the Atlantic, there are a number of picturesque locations to choose from.
Our Mattituck home is our gem-we have completely renovated this home since we purchased it and made it the perfect getaway from city life. It is at the same time accommodating and cozy, simple yet refined with the quality furnishings we have used. Many of the shells in the house were accumulated when running on the beach and fishing books and vintage reels are my husband's treasures, an established surfcaster for over twenty years.
Our home is located in a beautifully landscaped neighborhood, tucked on a quiet street of 3 homes just behind the bluffs facing the ocean where it is legend that Captain Kidd has buried treasure. The property is fenced in and borders environmentally protected land which is ideal for young children despite the rare traffic in the area. Also ideal for children is the open backyard which has never been treated with pesticides-a common practice for others who don't have a fenced in area.
We enjoy our home and all the North Fork has to offer; we're happy to share our "treasures" with you as you hunt for your own. If you are interested in learning more about our home, please inquire for more information.
Accès des voyageurs
The owner will provide the required permission to obtain beach permits available to residents only.
---
Parking gratuit sur place
---
Voyageur supplémentaire 35 € / nuit après 4 voyageurs
Tarif week-end 349 € / nuit
Communiquez toujours via Airbnb
Pour protéger votre paiement, ne transférez jamais d'argent et n'établissez pas de contact en dehors du site ou de l'application Airbnb.
---
L'entrée dans les lieux se fait à partir de 16:00
We will require a signed contract and safety deposit with every reservation.
All adults must be at least 25 years of age. The bunk beds are made for youth and can accommodate up to 70 pounds only per bed.

Our home is our gem. We use the property and maintain it meticulously as do all our neighbors..this is why it is such a desirable and beautiful area. Shoes are not to be worn inside the house. We ask that you use the outdoor shower to remove any sand from the beach before entering the house. We only eat in the dining area and outside-not in bedrooms or the living room. The tv is in full view from the dining room and even the balcony and because it's 40" you won't miss a thing. You will enjoy the birds and the ocean sound because everyone respects each other's vacation time. As such, there should be no loud music or commotion from the house or when using the outdoor area. The same holds true at the local beaches. We also request that no food is kept out, that counters are wiped clean every night and no dishes are left unclean in the sink. Additional housekeeping can be made available for an additional charge upon request.
---
---
Séjour de 5 nuits minimum
---
Nous avons passé 6 jours à Mattituck. Tout a été simple à notre arrivée, les clefs étant à disposition. Le contrat de location semble un peu chargé mais finalement pas vraiment de contraintes sur place. La maison est située au calme à 10 minutes en voiture des commerces. La maison est bien aménagée, confortable et décoration cosy, avec air conditionné. Les 4 chambres sont très appréciables pour une famille de 5. Il manque le wifi et une machine à laver le linge. Plusieurs plages et vignobles à proximité en voiture. Pour les plages, il faut un "beach pass" (il permet de stationner dans les parkings prêts des plages, sinon difficiles d'accès) qu'il faut aller chercher à Southold (20 min en voiture). Il coute 40 dollars. L'accueil d'Helen et Jim fut excellent, toujours à l'écoute. Ils nous ont toujours aidé dans nos recherches. Pour le départ, très simple, il faut juste déposer les poubelles à la déchèterie (10 min en voiture). Nous avons vu Helen et Jim à notre départ et le contact fut très chaleureux.
---
This house is lovely--perfectly located and a beautiful home. The house was clean, tastefully decorated, and well air-conditioned. Helen and I had a long talk the day before I arrived about her favorite restaurants and beaches, and I felt completely prepared for the trip. There's a gorgeous backyard with a large grill and fruit trees surrounding the house (alas, it was not yet season for pears, apples or peaches!). We walked to the Sound beach several times (a nice walk) and spent many pleasant evenings drinking wine in the backyard while taking turns at the grill. I was relieved not to have access to wifi, since it fostered lots more conversation. I rented with two other couples whom I trusted to be responsible and respectful--but if you/your friends/family don't like following the rules (no shoes in house, eating only at the tables) you'd probably be better off elsewhere.
---
The house is in a great location. It's less than 10 minutes from Love Lane and a number of restaurants in the area. We walked to a private beach (which was less than 10 minutes) and there was hardly anyone there. I like the house setup. Two bedrooms, a full bath, kitchen, dining room and living room on the main floor. Two bedrooms on the upper floor. It has a old New England feel- the hosts did a great job setting it up. There is also a wrap around balcony with a full backyard and a hammock (perfect for afternoon naps). Neighbors were very friendly and very helpful. We really enjoyed our stay and would recommend this home to anyone looking for a relaxing getaway near a number of attractions.
---
Jim and Helen have a beautiful house in a beautiful neighborhood but unfortunately this AirBnB experience turned into a nightmare. I've never had such an unpleasant, uncomfortable, and emotionally stressful dealing with a landlord. I rented this house to spend my small but hard-earned vacation with my mother, my wife of fifteen years, our 5 year old son, and our 3-weeks old newborn son. As my previous reviews can surely attest, I am a responsible and easy-going AirBnB'er. Yet, whenever an issue arose the landlord made us feel like we were teenagers just throwing parties and trying to wreck her house. It ruined what could have been a lovely vacation. The A/C unit in the master bedroom was extremely loud and did a very poor job of cooling the room down. We respectfully complained and four days later she replaced it with a properly working unit, but not before hearing the unpleasant remarks that these issues were simply "a matter of personal preference." She also made me feel bad that she had taken time off of work to replace the A/C. This was akin to when we pointed out that there was no light in the backyard to finish grilling as it got dark out, her response was: You should grill earlier. A few days into our stay, we had a misunderstanding about the extra costs of having additional guests over 4 guests, and when I expressed surprise at being charged extra for a fifth guest in a house that accommodates eight, Helen very aggressively accused me of being a liar and witholding information and made threats, causing me and my family much stress and upset. She immediately seemed to take the starting position that we were trying to cheat her. To try to salvage the remaining days of the vacation, I agreed to write her a personal check for the extra costs. During our stay, when my brother leaned back one of the deck chairs, it completely broke and collapsed. Luckily he was okay. The landlord charged us $150. When I contested the charge suggesting that a chair should not collapse, and that it could be a liability, she wrote back viciously accusing us of "smashing" her deck chairs. She called me "cowardly" for suggesting that the chairs could be a liability. I was shocked at the level of hostility, but paid her to honor her requested amount. During one of our family dinners we accidentally spilled wine on the table cloth. She charged us $110 for the stained table cloth, dish towel, and broken wine glass. I was happy to cover these costs. These are the kinds of wonderful dealings you can look forward to with this landlord. Overall I feel that this kind of defensive, hostile, and antagonistic demeanor—a mindset rooted in the notion that landlord and tenant are inherently in conflict—is not what AirBnB is all about. I certainly don't recommend this property for families with kids.
Nicolas was the worst guest we ever had and the most misleading, disrespectful and unsanitary in our experience. I would never allow this family back into my home. He comes across as a lamb but is ruthless and will lie to try to avoid responsibility. He yelled at me and called me names (which he later apologized for). We delivered an immaculate house (which he recognized) and found a pig pen with damages that he didn't want to pay for! !!. We rented our home to a Grammy winning dj in July and they left the home respectfully and in 100 times better condition than this family. We even replaced a working air conditioner because it was too loud for their liking!!!! Nicolas initially made the reservation request for 1 and before I accepted I asked him to confirm how many guests he would have. He said it would be his family of 4 and his mother. I asked him to resend the reservation request because we need to know all people staying in our house and to properly compute the cost of the rental SO HE WAS WELL AWARE of this requirement. He took advantage of our trust and had various people staying in our house without informing us. Under our agreement, i could have terminated his stay (which i never even pointed out to him) but instead i told him we will work it out. We are responsible home owners and neighbors and expected honesty about the use of our home from our guests. We saw the condition of the house when we came with the brand new AC unit and it was heartwrenching to see how quickly they undid all the cleaning and preparation we provide to each of our guests. Of all the damages, the most significant was the destruction of our wooden teak chair which Nicolas told me occurred during his brothers misuse. YOU CAN'T LEAN BACK ON A WOODEN CHAIR! The respect I had gained for him again in that moment of honesty completely dissipated when he didn't want to pay for the chair c and thought he could scare us into a lawsuit for renting an unsafe home to him. Ruthless behavior and I forewarn anyone who cares about their home like we do to allow them to vacation with you.
---
The kitchen is fully equipped which was nice since we did stay in to cooked some of our dinners and the house is located in a very quite neighborhood. The bedrooms were a nice size, the upstairs rooms could have used a set of drawers. The house did not have cable or WiFi but they did have Dish Satellite with only the basic channels and no instructions on how to use it; needless to say, going to the library every day was a bit inconvenient. The half-bath described was actually the outdoor shower where we had to wash up before entering the house, the owner was a bit defensive when I mentioned this to her; In my opinion, a half bath consists of a toilet and wash basin. I was reluctant to mention the stained upholstery and dirty floors, we had no choice but to wear our flip-flops in the house as the floors turned our feet black. The owner did not provide the required permission to obtain beach and parking permit, I had to fill out the form and have it notarized and go to Southold Town Hall to pick up the permit as the owners were in Greece. Lastly, we could not hear ocean waves or smell vine ripened tomatoes from the deck.
Adrienne left a number of text messages that the house is just lovely and they were truly enjoying it. This review is offending as it accuses us of holding back information and accommodation and opposite of all my interactions with Adrienne. 1/2 bath: As soon as I received the txt from Adrienne regarding the half bath, I had a very lengthy, costly although pleasant conversation with Adrienne from Greece to explain that this is an airbnb.com issue. I explained that the airbnb.com website listed the outdoor shower as a half bath and that we placed pictures of everyroom of the house to address any confusion. In my opinion, she is confusing "explaining" with being "defensive". Black feet: Our house is immaculate and this comment of black feet is something they must have brought in from the vineyards they visited. There were black feet marks on my pure white dkny coverlet which thankfully removed fine. (I put this in my private comments to Adrienne). Beach permit: The town beach permits require a license plate number which is why each guest must obtain their own. most beaches are only for the use of residents which is why a guest permit is required. Im sure this is why the area is so attractive to visitors. Again, this is a town issue and has nothing to do with my desire to accommodate or about my house. Ocean Waves and Smell Vine Ripened tomatoes: If the ocean flat, you won't hear waves. Early morning and late night is normally when we hear them. I'm sorry you were unable to identify the sound-it is lovely. Tomatoes ripen in August and your visit was in July.
---
Jim and Helen, have been wonderful, the place is great, clean, in a great and quiet neighbourhood. Helen texted me all the needed informations, and we also spoke right away on the phone. I appreciate the because at that time, they were travelling in Europe, and were always available. No brainer. Thank you again Jim and Helen. Sandy.
Thank you Sandy! So happy you enjoyed our home and noticed all the great things we love about it too. Wi-Fi in the area is not optimal and would probably lead to frustrating download and user experiences so we have opted out for now. When needed, we carve out time and head to Starbucks or the local library, 5 minutes away. We continue to check with the local providers and our neighbors about the status and will be sure to install when it will work properly. You are welcome back anytime!
---
My family and I had a wonderful stay at Jim and Helen's home in Mattituck. The house is immaculate and it's clear that Jim and Helen put a lot of love and care into the place. They were excited to share their home with us and we treated the home with the same care that they put into it. Mattituck has a lot to offer and Helen was very helpful in providing information on the various places and events to check out while we were there. We had an excellent vacation at their gem of a home and would love to stay again.
---
Taux de réponse :
100%
Délai de réponse :
Dans la journée
Découvrez d'autres options à Mattituck et dans ses environs
Plus de logements à Mattituck :