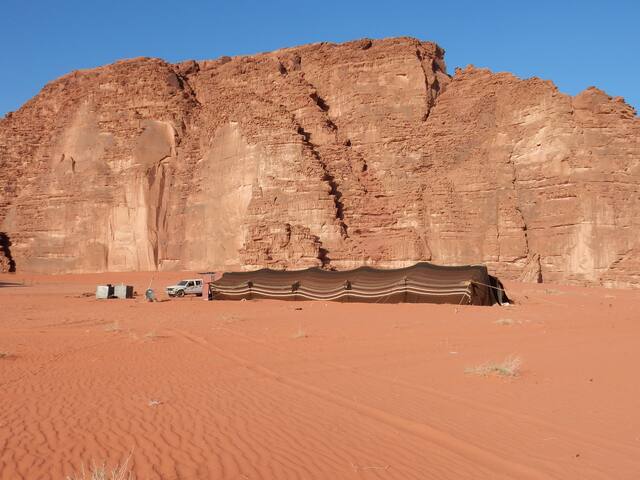 À propos de ce logement
Avec Airbnb, vous pouvez trouver des hébergements uniques chez des particuliers, aussi bien des appartements et des maisons que des cabanes dans des arbres ou des igloos. Les informations du logement ci-dessous détaillent ce que vous allez y trouver. Si vous avez des questions, n'hésitez pas à contacter directement l'hôte.
---
Type de propriété :
Tente
Chambres : 1
Salles de bain : 1
Lits : 6
Animal sur place : Autres animaux
---
---
Voyageur supplémentaire :
37€ / nuit après le premier voyageur
Prix à la semaine :
1326€

/semaine
---
Description
A unique opportunity for an unforgettable experience in a genuine Bedouin camp and to live the Bedouin life. Join us for a while and enjoy my mother's cooking as well as learning about us!
Jeep tours, Camel Treks are also available at request.
*ALL PRICES INCLUDE MEALS AND TRANSFERS*
**If the days that you wish to stay have already been booked by another party, please contact us directly. We will be happy to set up a separate tent for you**
The Wadi Rum desert is a truly awe-inspiring destination. Uniquely shaped mountains rise vertically out of the pink desert sand, separating one dark mass from another in a magnificent desert landscape of strange breathtaking beauty.
The Bedouin people have lived in Wadi Rum and the surrounding area for centuries.The village of Rum has now grown as the only permanent settlement within the protected area, but there are still some Bedouin who still live far out in the desert. They move wherever the grass grows to provide food for their livestock.
I am a Bedouin who grew up in the desert, but I now live in Wadi Rum in order for my children to go to school. My mother is also no longer nomadic and lives in her tent about 8 kilometers away under the desert stars. Her tent has four separate spaces as well as a kitchen, toilet and animal pen. It is in walking distance from one of the most popular sites in Wadi Rum, Lawrence Spring under the shadow of the great Jabal Rum.
We invite you to spend a night with her, listening to her stories and drinking tea around the fire and watching the sunset. She enjoys hearing about other countries and learning different languages. You will share a hearty traditional meal with her before viewing the starry sky. The room in her tent can sleep a family of 6. With many clean mattresses, blankets and pillows you will be very comfortable and warm. Once you awake and enjoy breakfast you can go see the goats or perhaps she will teach you the old Bedouin game of Sije.
This is a unique opportunity not only to sleep in the desert but also to learn about the traditions, culture and daily life of a Bedouin.
Out here in the desert life is fairly simple but at our camp you will still have access to a clean bathroom and toilet and new, clean bed linen as well as clean mattresses, pillows and blankets.
The thing you will really like though is the food, dinner time is sacred here and we invite you to share with us a delicious meal, perhaps cooked in the Zarb (an oven beneath the desert sands!) or even a traditional Bedouin BBQ.
Of course throughout your whole stay you will be accompanied by the gentle Bedouins. If not me personally then by my Mother and the rest of my family. I'm sure you will find it easy and enjoy the Bedouin life. However, you also have the freedom to explore the area on your own if you desire.
+ Plus
---
Aucun
Détecteur de fumée
Détecteur de monoxyde de carbone
Kit de premiers secours
Fiche de sécurité
Extincteur
---
---
Ce qui ressort du commentaire
The location is great and we enjoyed a fantastic sunset and moonrise.

Though I didn't spend too much time with Eid, he and his family were great hosts.

I would recommend to take sleeping bags, as we didn't and the blankets we were given were far too heavy to have a comfortable night.

Eid was really a great host, he arranged everything that was needed, told our taxi driver where to bring us and had his nephew pick us up.
---
Absolutely wonderful hosts, so humble and welcoming. Had blast. Wadi rum is soooo beautiful. Definitely recommend
+ Plus
All in all I had a quite nice experience in Wadi Rum with Eid! The camp I stayed in was fun and well-situated, and Eid was very helpful in finding me a tour of the area and transport back to Aqaba. Truly a very easy way to see one of the most naturally scenic areas in Jordan!
+ Plus
Sunset sand-racing in the 4x4; bbq under the stars. This is exactly what were looking for and Eid's camp did not disappoint. Recommend to everyone. Just. Book. It :)
+ Plus
Eid's camp is incredible!we spent one night and it was incredibile! We made a little tour and it was good!!! The bbq dinner was amazing as the dinner!!!! I recommed it to everyone!!!
+ Plus
Eid & his family welcomed us with many smiles. The guide he sent for us & who showed us all the sites was Sultan his relative. He was fantastic, very knowledgeable friendly & fun. He spoke excellent English. Eids beautiful children were lots of fun, & his wives & mother were friendly. Bring gifts for kids. The location is stunningly beautiful with dramatic naturally sculpted rock mountains & red sand; several ancient inscriptions & hidden places.
The accommodation is in an isolated place in the desert, magnificent. We slept in the courtyard on mats or outside in the desert. We were served delicious dinners , one large plate everyone ate at together with fingers, Eid played his oud which was lovely with singing. We had a fresh cooked delicious lunch picnic in shade on one of our trips. We slept outside under full moon & enjoyed the experience thoroughly. It is very authentic with no frills, unusual & fascinating. very basic accommodation, bathroom & kitchen could do with a good clean. Some fruit & omelette for breakfast would be nice. This is not 5 star! Expect rustic & a true adventure into Bedouin life. Bring your own flashlight, pillow, sheet bag, tissues, hand sanitizer.. We thank Eid , his family & especially Sultan for a very special experience. We love Jordanian people.
+ Plus
Eid's Sunset Camp was beautiful. His hospitality was great as well, dinner delicious, Sultan (desert guide) very friendly and ready to answer any of our many questions. The night at the camp was almost out of this world, with skies so clear and no sound at all. I highly recommend his camp.
+ Plus
Eid and his family were beyond gracious hosts. Having lived in Jordan for 3 years back in (phone number hidden), I was excited to go back and show my boyfriend the wonders of Jordan... and thank god we found Eid's camp on Airbnb... I have experienced over a dozen different "bedouin cmaps" in Wadi Rum over the years - and Eid's was the most authentic experience I've come across. This is the sort of hospitality you can only find when you live in this country and wander into the desert on the weekends, hoping you might run into a friendly bedouin to share a cup of tea with. I had no idea Airbnb would provide this sort of experience! We drank tea with Eid, Eid's nephew Sultan (who is also a rock climbing guide), Eid's mother and wife and 3 out of 8 of his kids. We had maqloubeh for Dinner to break their fast (it was Ramadan after all) and ate together with our hands - the traditional way - like family (you can eat with a spoon if you prefer!); we drank copious amounts of tea with mint, and shared stories until it was time for bed. Then they left us at the camp to settle in and sleep under the stars. After our hike through Petra earlier that day, this was the sleep in the outdoors I was craving. In the morning, we had "breakfast in bed" while it was warming up outside with the sun coming over the mountains... This was an authentic and magical experience that I would be ready to do again in a heartbeat. What a gem of a place!
+ Plus
À propos de l'hôte, Eid
Hello there, my name is Eid Hamdan I'm a Bedouin from Wadi Rum and I live in a traditional Bedouin tent where my mother has lived her whole life and where I grew up too. We have animals such as goats, dogs and camels at our camp and we live a happy, simple life among nature.
I am happy to invite you to explore our Bedouin life and culture as well as to enjoy our traditional foods with us.
We offer tours by jeep and by camel as well as hiking and trekking, if you are interested please let us know!
With my best wishes,
Eid Hamdan
+ Plus
JO
Membre depuis février 2013
Taux de réponse :
100%
(90 derniers jours)
Délai de réponse : Moins d'une heure
---
Découvrez d'autres options à Wadi Rum et dans ses environs