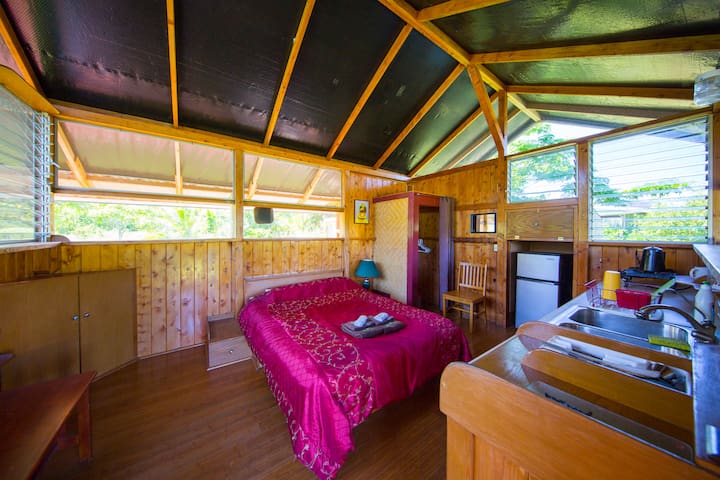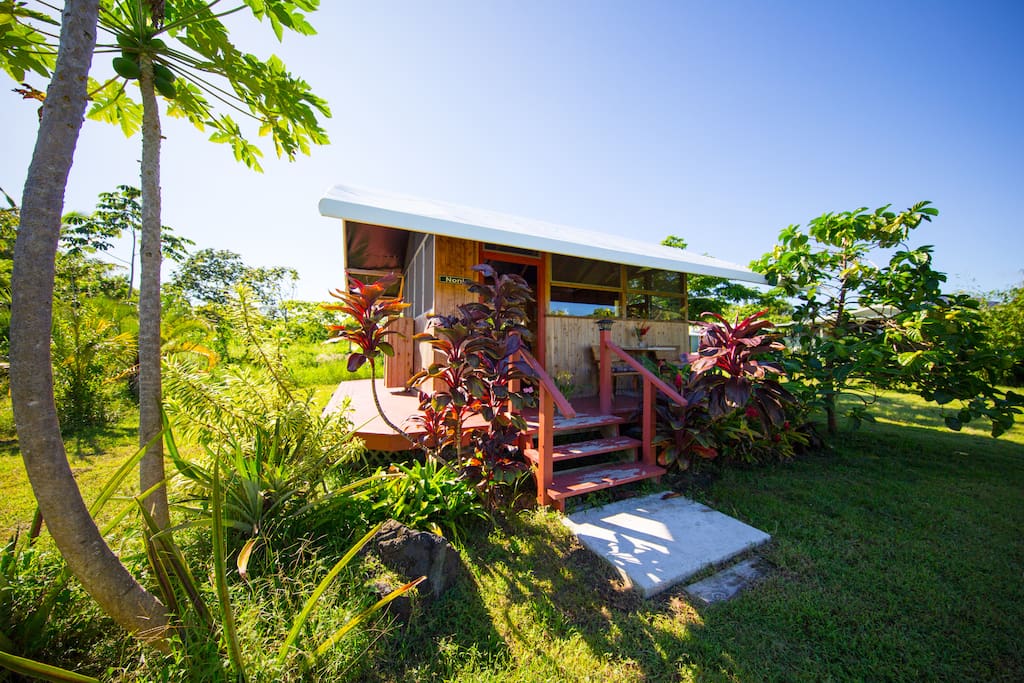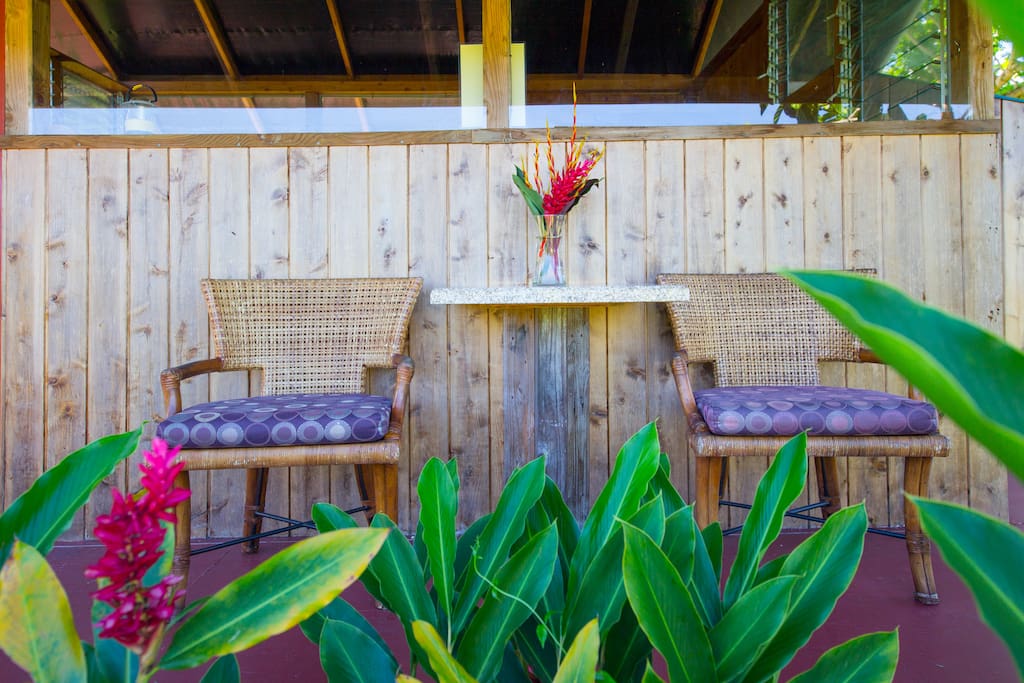 Our recently remodeled studio cabin is surrounded by avocado and noni trees. It is fully self-contained with its own kitchenette, full outdoor bathroom, and a wrap around lanai (deck). Ideal for anyone who wants healing, spiritual growth, and peace.
Le logement
KIRPAL MEDITATION AND ECOLOGICAL CENTER (KMEC)
Our recently remodeled studio cabin is tucked away in the back of an 11 acre orchard. It is fully self-contained with its own kitchenette, full outdoor bathroom, and a wrap around lanai (deck).
Our spacious and open 11 acre property is surrounded by a buffer of jungle and features 150+ trees with 30 or so kinds of tropical fruit. You're welcome to enjoy the freshest fruit possible whenever they're ripe!
Swimming is half a mile away at Isaac Kepo'okalani Hale Park, one of the few safe places for swimming on this rugged, extremely scenic, coast.
A body-temperature warm-pond park is just a half mile further, as well as excellent snorkeling in the wave-protected Kapoho Tide Pools with dozens of corals, and thousands of brightly colored fish.
The nearly constant lava-flow area is just half an hour to the West of us, and perfect for a sunset, or sunrise, hike where you'll often see a cascade of red-hot lava plunging 50 or 60 feet into the ocean boiling below. Truly awesome! A peak experience for most of our guests.
Shopping, a natural foods market, and delicious restaurants are 10 minutes away in Pahoa town. Several large Farmer Markets operate on the weekends too.
We have a 1000 square foot Yoga Hale for small groups and events with a phenomenal view of the Pacific. We have a resident yoga teacher that hosts yoga classes for guests daily at 8 am for $12.
Our teak Meditation Pavilion was made in Bali and is, to us, a very holy and special place for prayer and reflection. We don't preach, or otherwise "reach out"...., it's simply there if you would like some peace and tranquility - which is, as most people tell us, is our main product. :-)
Check-in time is 3 pm or after, and we ask that you please arrive no later than 8 pm to ensure someone is awake and available to show you to your cabin. Late check-ins can be arranged, but you have to let us know ahead of time. Keep us informed in your route to us.
The cost contained herein is all inclusive covering the required Hawaii Hotel Room Tax and the Hawaii General Excise Tax (13.25%).
Check out our reviews on AirBNB! They speak for themselves. KMEC is the best value around for places under $100.
Mahalo Nui Loa,
Len & the gang
Accès des voyageurs
Guests have full access to all of the community spaces including: community kitchen with fridge and cooking space, dining gazebo and picnic tables, 3 full bathrooms on property, 1 half bathroom by yoga hale, meditation pavilion open 24 hours, yoga hale, and always welcome to walk throughout the 11 acre organic fruit orchard.
Échanges avec les voyageurs
We will be happy to direct you to all of our local wonders and our community happenings. Guests are welcome to come to daily yoga classes for a drop-in fee. We hold free meditation sittings twice a week and upon request, so we are happy to share guided meditation and discussion with any guests that are interested.
Also, we offer airport pickup and drop off for $70 one-way, or $140 round-trip only for Hilo International Airport. This must be arranged ahead of time to ensure availability.
Autres remarques
All of our cabins (unlike a hotel) are open to the elements. They are screened in to protect from pesky mosquitoes and bugs, however the Hawaiian jungle is full of geckos and screens don't keep them out. They are harmless and just enjoy being around humans, and especially love eating sweet treats if you leave any food out. Please be aware that you may see a few during your stay, but there won't be a large number of geckos. In case of gecko droppings we do put a painting drop cloth over the bed to maintain cleanliness of bedding and towels until your arrival. These are removed to be washed on a regular basis. This is typically placed under the bed during your stay, in case you choose to cover the bed while you are out during the day.
---
---
Réduction à la semaine : 14%
Communiquez toujours via Airbnb
Pour protéger votre paiement, ne transférez jamais d'argent et n'établissez pas de contact en dehors du site ou de l'application Airbnb.
En savoir plus
---
L'entrée dans les lieux se fait à partir de 15:00
KMEC GUIDELINES
First and foremost, our staff serve with Aloha--the loving spirit of the Hawaiian islands. Let us know if you need anything or have any questions before and during your stay with us. We are knowledgeable of all the great sightseeing, tours, beaches, etc. that the Big Island has to offer and are happy to share our recommendations with you. Below are some basic guidelines that we follow here at KMEC to honor Mother Nature and the sacred space we have created. Mahalo!
CHECK-IN AND CHECK-OUT
Check-in time is 3 pm or after, and we ask that you please arrive no later than 8 pm to ensure someone is awake and available to show you to your cabin. Late check-ins can be arranged, but you have to let us know ahead of time.
Check-out time is 12 pm. You are welcome to stick around and use the communal space, but we ask that you are out of your cabin by 12 pm so that housekeeping can clean and prepare it for the next guest.
FOOD IN ROOMS
There is a plastic bin in each cabin for food storage of dry goods. Our cabins are integrated with nature and food left out in the open can draw ants or other eco friendly bugs into the cabin, especially for longer stays. We have a large fridge in the community kitchen for guests to use, as well as labels to write your cabin name if you would prefer to leave your dry goods in the kitchen cabinets.
FRUIT ORCHARD
We have an amazing selection of tropical fruits in our orchard. Our staff regularly harvest from the trees and properly clean the fruit. You are welcome to enjoy the fruit that is in the fruit basket in the community kitchen. If there is no fruit left in the basket, please find one of our volunteers to pick and clean the fruit for you.
OFF GRID
We comfortably exist on a large solar electric system, some propane, and mostly catchment rainwater. You don't have to scrimp, but we do ask that you be mindful of your use to conserve these kinds of "off grid" systems. The entire property is off grid but you will still experience the luxuries of "on grid" living including full flush toilets, instant hot water, hot showers, delicious filtered drinking water, and electricity in every cabin. We even have 2 high-efficiency washing machines onsite, and offer laundry service to guests for a fee of $8.
ECO FRIENDLY
Because we are a completely off grid community, all of our showers, sinks, and laundry has an effect on our local environment. Therefore, we encourage the use of eco-friendly products. All soaps, cleaning supplies, laundry detergent, fabric softener, etc. on property are eco friendly and many are homemade by our volunteers with simple, healthy ingredients. As our guest it is certainly not mandatory to use eco friendly products, but if possible please use this as an opportunity to choose shampoo, shower gel, and soaps that are healthier for you and the environment. If interested, we are happy to provide feedback and guidance on good brands that have natural eco friendly ingredients.
A VEGETARIAN FACILITY
KMEC is a strictly vegetarian facility. Meat eating and non-vegetarian guests are most welcome at KMEC. However, no meat, fish, fowl or eggs (both fertile and infertile) can be prepared in the kitchens on the property. If you are new to vegetarian cooking and you'd like to experience some beautiful vegetarian meals made with fresh local ingredients, we do have an onsite chef offering breakfast for $10 as well as dinner for $20. We will make every effort to accommodate you and provide you with the most enjoyable stay possible.
DRUGS, TOBACCO, ALCOHOL AND INTOXICANTS
KMEC is a drug, alcohol, tobacco and intoxicants free center. Our focus is on meditation, spirituality, healing our body, giving peace to our soul and healthy living. The owners and our staff totally abstain from the use of drugs, alcohol, tobacco and intoxicants on the property (and for many this practice carries over to everyday life off the property too). We recognize that not all of our guests are similarly oriented and you will be welcome in any event. Feel free to advise our Director of your particular preferences, if any, with regard to these issues and we will make every effort to accommodate you.
KMEC BELIEFS
KMEC is a place that promotes non-violence, truthfulness, humility, purity, selfless service, meditation and healthy living. KMEC does not discriminate based on age, race, religion or sexual preferences.
Privacy Policy
Our Mission
At KMEC, we are dedicated to protecting your privacy and safeguarding your personally identifiable information.
Information Collection
Our main purpose in collecting your personal information is to provide you with a streamlined experience in making reservations at KMEC. We only collect information about you that we consider necessary for achieving this. Personally identifiable information is only obtained when making a reservation.
We sometimes use data collection devices such as "cookies" on certain pages of the Site to measure effectiveness and safety. A "cookie" is a small file that gets placed on your harddrive that helps us provide our services. You are free to decline cookies if you choose too.
Security
At KMEC, we take security seriously. When users make a reservation we use every precaution to safe guard it online and offline.
Your payment and personal information is always safe. Our Secure Sockets Layer (SSL) software is the industry standard and encrypts all of your personal information, including credit card number, name, and address, so that it cannot be read over the internet.
Policy Modifications
KMEC may amend this Privacy Statement from time to time in order to meet changes in the regulatory environment, business needs, or to satisfy the needs of our guests, properties, strategic marketing partners, and service providers.
---
---
Notre coup de coeur du voyage! Relaxant, réconfortant et confortable. Tous les gens que j'ai eu la chance de rencontrer sur cette magnifique propriété sont accueillants, chaleureux, prêts à nous aider. On se sent à la maison dès notre arrivée. Vous aimez le contact privilégié avec la nature que le camping offre? Vous l'aurez ici, sans les tracas de celui-ci! La cabine Noni est géniale! Confortable, propre, avec une cuisinette et une salle de bain exceptionnelle! Je recommande à tous ! J'aurais aimé y rester plus longtemps. Amélie
---
My girlfriend and I stayed in the Noni Cabin for 2 nights in June. The property is beautiful, as is the cabin itself. The sounds of the surrounding jungle at night were incredibly relaxing, and the morning yoga class was wonderful. The one negative for us was the lack of privacy- the windows on the cabin go down quite low, do not close, and lack curtains. And the cabin is really close to a number of the other cabins, with the nearest ones just a few steps away. We were very excited about the outdoor bathroom and shower, which is connected to the cabin on the back deck- but we had envisioned it surrounded by view-inhibiting jungle, which it is not. And the cabin is situated in a location where other guests occasionally stroll by right behind the cabin, directly in front of the bathroom, which can be (and was for us) very awkward when you happen to be using the toilet at the same time. Overall a very nice place to stay, but we'd recommend it more for people not overly concerned with privacy, or for solo travelers. Do not expect a secluded romantic cabin, but rather a beautiful place to stay in a very communal and welcoming environment.
Réponse de Kirpal Meditation And Ecological Ce :
Aloha Dan, Thank you for your feedback. We have immediately added a Privacy fence of palms, ferns, and flowers transplanted from our orchards to create a much more private experience for our guests staying in the Noni cabin. We are very sorry for any awkwardness this created and are thankful you were still able to enjoy your stay with us! Full coverage curtains and plans for a beautiful walkway directing our visitors where to walk will also help. These are under way and will be completed soon. Let us offer you a complimentary evening in one of our secluded cabins, Ocean Vista or Dragonfly should you find yourself back on the Big Island in the future. Mahalo for your review and your consideration. Blessings, James Hill
---
We had a fantastic and enriching four day stay at KMEC. The simple cabin in the middle of a tropical orchard was sensational and we have never experienced a similar atmosphere before. The sound of birds, insects, frogs and pigs was music to our ears. The "Noni" cabin was perfect for our needs - we had enough room to store our luggage for our long Hawaii trip, enjoyed a refrigirator - but best of all - an outdoor bathroom with view into the jungle. The people in KMEC were extremely friendly and the yoga classes in the morning of very high Quality. We did not know what to expect from a vegan kitchen and tested breakfast and dinners. We were amazed about how tasty and full of variety vegan dishes can be and we didn't miss anything from our standard food. Overall, KMEC was the perfect joice for us - many thanks.
---
Out of all the airbnb places that I have stayed at.. hands down, the Noni cabin was by far the most unique and my favorite place out of all the places I've experienced. I really enjoyed the drive to KMEC, I don't know what it was about the trees but it felt like we were driving through the enchanted forest! Make sure you don't get here when it's dark out or else you'll miss out on the scenic drive. The cabin was exactly as pictured and clean! I love the convenience of the kitchen amenities and refrigerator. We didn't have any issues with bugs but we did spotted a few geckos. The geckos kept out of our way and ran away from us so they didn't scare me. At night time, we really enjoyed listening to the sound of nature which soothed us straight to sleep. The highlight was definitely the outdoor bathroom. At first when I told my bf about the Noni cabin, he was bit skeptical about the outdoor bathroom, but once he experienced it himself..he was really glad I picked this spot!! All in all, thank you KMEC for hosting such a cool place to stay that I highly recommend for those who enjoy trying new things!
---
Pāhoa, Hawaï, États-Unis
Membre depuis mai 2012
Kirpal Meditation and Ecological Center is a half mile from the ocean on the eastern tip of the Big Island of Hawaii, approximately seven miles from the small village of Pahoa. The 10-acre ocean-view property is blessed with average daytime temperatures of 85° F year-round, and 65° F at night, with cool, fragrant trade winds, surrounding tropical flora, including old growth mangoes, nearby swimming, surfing and snorkeling.

This property was once a papaya farm and is now newly planted with bamboo, papaya, palms, banana and many other fruit trees. The octagonal Balinese meditation pavilion is set among shade-trees with an expansive view of the ocean. The island wildlife is all around us – a variety of birds by day and at night there's the pleasant chirping of Coqui frogs – and there are no snakes. Natural wonders include Volcanoes National Park, for lava and crater viewing, volcanically heated warm ponds and steam vents (as outdoor saunas) and other wonders of the lush tropics.

Kmec opened in the summer of 2008 for pre-arranged seasonal meditation retreats and private meditation-vacations on request. Additionally, we would like to extend our welcome to Big Island travelers offering cozy cottages and open air kitchen and bath. We offer daily free meditation instructions and practices at our beautiful Balinese meditation pavillion. Additionally, we offer Yoga and nature tours upon guest's request (donations accepted).


Langues :
English
Taux de réponse :
100%
Délai de réponse :
Quelques heures
Découvrez d'autres options à Pāhoa et dans ses environs
Plus de logements à Pāhoa :