Saisissez la date d'arrivée au format jj/mm/aaaa
Saisissez la date de départ au format jj/mm/aaaa
Logements que vous pouvez réserver sans attendre l'approbation de l'hôte.
Saisissez les dates souhaitées pour connaître le prix total. Des frais supplémentaires s'appliquent et des taxes peuvent être ajoutées.
Cet été (juillet et août), vous pouvez essayer l'un de ces 100 logements les mieux notés, dans toutes les gammes de prix, pour découvrir Sonoma d'un point de vue local. Entrée dans les lieux 24h/24, réservation instantanée, mais aussi vin et petites spécialités locales à disposition… autant d'invitations à vous détendre et à profiter pleinement de votre voyage.
It's a charming house with a big beautiful garden and fine decorated! An original Swedish style wooden house facilitated with modern furniture. Big open space in the dining room and nice sleeping rooms. One and half floors. Beds/sofa/tables included.
The house was built in 1930. Quite many classic Swedish wooden house were built with big solid wood material during 30s. The house is one of them, but renovated quite well. It also has two large garages beside the house. It is near by Orsa lake and cross country ski tracks. You can jog and take cross country ski. The AirBnB confirmed guests get access to the whole house with facilities as below: - 2 X Double Beds - 2 X Single Beds - 1 X Soffa - The entire garden - Washing machine - Storage/utility rooms - There is parking space for multiple cars on the premises - Fully equipped kitchen - Terrace Free cross country skiing tracks are just few minute away from the house. Jogging tracks at the forest nearby. You will have access to the entire house with garden, garden furniture, outdoor dining place except a cabinet which contains my private stuff in the tool room beside the kitchen. Email and any social medias are always preferable. You can call me at daytime or call me at any time if emergency occurs.
Activities available in the region: Cross-country ski racing series: - Vasaloppet 06 Mar, 90 km - Öppet Spår söndag 28 Feb, 90 km - Öppet Spår måndag 29 Feb, 90 km - Stafettvasan 04 Mar, 90 km - Tjejvasan 27 Feb, 30 km - Halvvasan 01 Mar, 45 km - Kortvasan 26 Feb, 30 km - Ungdomsvasan 28 Feb, 3/5/7/9 km - Barnens Vasalopp Cycling racing series: Cykelvasan 90 13 Aug, 94 km Cykelvasan Öppet Spår 12 Aug, 94 km Cykelvasan 45 12 Aug, 45 km Cykelvasan 30 12 Aug, 32 km Ungdomscykelvasan 12 Aug, 32 km Barnens Cykelvasa Cykelvasasprinten Long-distance running racing series: Ultravasan 90 20 Aug, 90 km Ultravasan 45 20 Aug, 45 km Vasastafetten 20 Aug, 90 km Barnens Springvasa Tourist attractions: - ZORN Museum - Orsa Grönklitt - Tomteland (The Land of Santa Claus) - The Lake of Siljan - The Dalahorse Factory - Siljanturism (The Lake of Siljan) - Gesunda Alps - Orsa Alps - Orsa Björnpark (The Orsa Bear Park) - Siljan Runt - Solleröloppet - Gesunda (The Mountain of Gesunda) - Sollerön Golf - Mora Golf - Dalarhäst Factories - Ostnor (MORA, FM Mattsson) If needed, cross-country ski equipment, alpine ski equipment, mountain bikes, racing bikes, and so forth can be rented at an agreed price from local suppliers or nearby regions. You need to come by car. It takes about 10-13 minutes to drive from the house to Mora City down town. Buses to the center of Mora is also available, and it just take 3 minutes by walk to the bus station. Meet and send service by car is possible by charge of 50 SEK. The nearest grocery store KIOSK is about 5 minutes walk from the house. Please not that bed linen/towels are NOT included and that you clean the house yourself upon departure. Bed set (incl. 7 pieces: bed sheet, quilt, quilt cover, pillow, pillow case, hand towel, and shower towel) is delivered on demand. The cost is 150kr (ca. 11 euro) per set. If you bring your own bed set, which we highly recommend you choose to do according to the Scandinavian cottage culture, then there would be no cost in this regard. Additionally, fire woods also can be offered on agreed price. The last but not the least, any customers need to address your special needs and detailed travelling information before your arrival!
Très gentil accueil.
Anne
July 2016
Nous savons séjourné une nuit seulement chez Pei, puisque nous étions seulement de passage près du lac Siljan. Pei étant en déplacement professionnel à l'étranger, il n'a malheureusement pas pu nous accueillir dans sa maison. Cependant, nous avons pu trouver très facilement et nous installer. Il est juste dommage qu'il y ait eu un malentendu avec les précédents invités qui avaient éteint le chauffage avant de partir. Il faisait donc plutôt froid dans la maison à l'arrivée. Malgré ce problème, Pei a été très cordial et arrangeant. Nous recommandons tout de même cette jolie maison (les rénovations en cours que Pei réalise sont très charmantes), avec son grand jardin et sa belle cuisine. A bientôt en Suède. Cordialement. Sébastien
Seb
June 2016
Maison idéale pour 4 personnes et situation géographique idéale pour visiter l'ouest du lac siljan. Pei et vraiment très disponible et très attentif à ses hôtes
christine
May 2016
Such a wonderful and gracious host. Even took the time to drive and show us highlights of Mora. Truly a delightful experience for me and my family. :-) well recommended
pearl
June 2016
Nöjda med boendet!
Evelina
November 2016
We had a wonderful time at Pei's house in Bornas. Pei is a VERY nice person. He was punctual and dedicated to support us during our stay. He came to greet us when we arrived and he also came to say goodbye when we left. He willingly answered all our questions and was eager to tell us about the many attractions in Mora and Dalarna. We used only the ground floor of his house which had a room with a double bed and a room with a single bed and which had recently been renovated. We did not use the bedrooms on the first floor which had not yet been renovated. We recommend Pei as a dedicated host without any hesitation!
Britta K.
February 2016
We chose this place for the location to head to a national park. The home was nicer than the pictures let on. Pei was a very gracious host. If we are ever returning to the Mora area, we would stay here again. If you choose to bring your own linens, please keep in mind that includes hand towels and dish towels. To end on a positive, there is free wifi and TV.
Becky
June 2016
Really nice house and Pei was really helpful I think it is the best place to visit dalarna : orsa, mora, siljan lake... I recommend it !
Thierry
April 2016
Type de logement
Logement entier
---
Type de propriété
---
Capacité d'accueil
12
---
Chambres
4
Mora N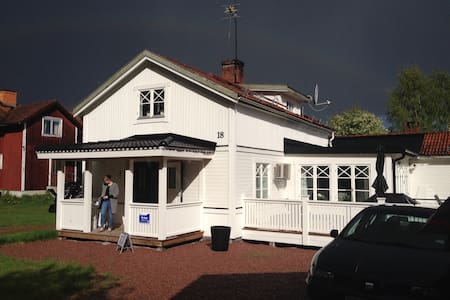 Välkomna till ett modernt och hemtrevligt hus som bjuder på fantastisk utsikt mot Lindvallen, högt i tak och stora härliga ytor för umgänge. Närhet till skidåkning, cykling, restauranger och mat, familjevänliga aktiviteter och nattliv. Boendet passar par, ensamäventyrare, affärsresenärer, familjer (med barn), stora grupper och fyrbenta vänner (husdjur).
Panoramovy över Lindvallen, nära till Sälens by, stora härliga umgöngesytor Bastu, 3 badrum, tvättstuga, 75 tums TV, fullt utrustat kök, veranda, husdjur välkomna
Trevliga, vänliga och hjälpsamma grannar. Barnvänligt område med knappt någon trafik. Nära till skog och natur. Bussar i Sälens by ca 10 minuters gångväg från huset Det bor 2 barn i huset, så det finns gott om leksaker och annat för barn att underhålla sig med. Musikanläggningen är gjord för att kunna spela musik med fantastiskt ljud
Type de logement
Logement entier
---
Type de propriété
---
Capacité d'accueil
10
---
Chambres
4
Malung N