Niché sur la crête de la bouteille Creek, ce paradis des amoureux de la nature offre la possibilité de rester dans votre propre cabine privée ou louer le pavillon entier pour votre auto, les amis et la famille. Kayaks, Paddleboards et la location de véhicules sont facilement disponibles.
3 nuits de séjour minimun
We stayed for 3 nights at the 2-person cabin and rented a car from Scooter. The cabin is truly a "cabin in the woods" on the scarcely populated North Caicos. It is very secluded and fun. We biked (free) down to the creek. We did not get a chance to kayak (free) to the sandbar and cays in the creek, but it would have been a great thing to do on a nice day. We rented a fishing pole in town with very reasonable price. Yan picked us up from the airport, drove us to grocery, then to the ferry, and also picked us up when we are back to Provo. Scooter and Yan are nice and responsive. The cabin is cozy. We used the stove and grill to cook. It took me a while to find the bathroom, so in case you are looking for it, it is sort of in the main cabin. I found the outdoor shower fun and refreshing, and mostly showered with cold water. The only issue as the other travelers pointed out is the bugs. They are aggressive (at least in March)! You don't have to pack baby oil since there is plenty left by previous travelers, but they are also of limited use. Interestingly the bugs don't seem to bite the locals that much, and I wonder what makes the difference. Bug sprays help a little. Long pants and sleeves help a little. The canopy over the bed helps a little so recommend putting that up. I might suggest packing one of the electronic bug repellers and see if that helps. Overall if you like camping, you probably would like it, but if you emphasize comfort a lot probably not the way to go.
Iris
2017-03-17T00:00:00Z
It was good experience.Yan picked me up at the airport and drove me to the (URL HIDDEN) take 30 minuts to get to North Caicos and cost me both ways 50$.It was easy to find my car and Bob's place. Accomodation is very simple but clean and charming,very close to water.Kitchen is good equipped.Shower behind the cabin.Toilet U need to share with hosts but it didn't bother me. If U need info Bob and Judy are for You and very helpful.
Dorota
2014-12-29T00:00:00Z
We were picked up at airport by Yan and she gave us a car to go to grocery before we caught the ferry. She was awesome! The lodge is amazing and perfect for fishing. I would recommend getting groceries and alcohol before going to north Caicos. We will definitely be coming back.
Claire
2016-12-12T00:00:00Z
I stayed at the Fish Camp in Bottle Creek, hosted by Scooter Bob. This trip was the 75 year anniversary of my great grandfather's attempt to start a Utopia on East Caicos Island. I only had 6 days to investigate the history of my family on the Caicos Islands. The location and host were perfect for such an adventure! Before the trip Scooter Bob emailed me suggestions of people to speak with regarding access to East Caicos. When we arrived, we were met at the airport by Yan who made sure we had everything we needed before delivering us to the ferry (concierge and taxi service free of charge). Once on North Caicos, we drove to the Fish Camp where we settled in to the fish camp as our second home. The little bungalow was perfectly clean and had everything you need. We chose to cook breakfast, make our lunches and eat out for dinner. We watched the stars from the top deck of the big house and walked to kayak on Bottle Creek where bone fish ran from under our paddles. The fish camp allowed us to explore these amazing islands from the comfort of an island bungalow! The people, the accommodations and the scenery is second to none.
Melissa
2015-03-30T00:00:00Z
Very cool place, glorified camping at its finest. Short walk to Bottle Creek, quick easy drive everywhere else. Yan was very sweet and helpful and the car they rented us was cheaper than the other local options. One big thing to mention: BUGS! This place is infested with "no-see-ums"! Would I stay there again? Yes, but with first knowing the locals secret: baby oil. Make sure your windows are closed between dusk and around 9pm, same with early morning. And lather your body up with oil; the noseeums won't bite you. Definitely travel to middle Caicos to Mudjin Harbor - it's beautiful there, one of the best beaches your eyes will see! Notable food: Daniels Cafe in middle Caicos, the restaurant at the Mudjin Harbor resort, and the Last Chance in Bottle Creek. Mr. Gibbs is a riot! If you're looking for relaxation and luxury, stay in Provo. If you're looking for adventure and experiencing the local vibes, north and middle Caicos will be just right for you. That is with proper preparation for wildlife!
Sophia
2016-03-25T00:00:00Z
My girlfriend and I stayed at the fishing camp (Wuka Nuka) for 3 nights in mid-November, and had an absolutely fantastic experience. As the other reviews note, it's not exactly a 5-star accommodation, but included everything we required to achieve our ideal getaway (glorified camping is a term I've seen used, but even that's selling it short, I feel). I might have been due to the time of year, but we didn't have much of an issue with bugs in the room or on the veranda. That said, we came prepared with baby oil and bug spray, which definitely came in handy when exploring North and Middle Caicos. The location is great, with a short walk down to Bottle Creek, and a quick drive to a number of restaurants, stores and attractions. I'd strongly suggest renting a vehicle, as it allowed us to conveniently explore the islands at our leisure, and quickly run out for supplies when needed. Also, be sure to bring a sufficient amount of cash to the North/Middle Caicos islands, as there is no way to get it once you're there. We didn't bring quite enough, and had to use credit if we wanted to buy anything at all. We managed alright, but a number of establishments are cash-only.
Kyle
2016-11-18T00:00:00Z
We were not able to get in touch with Scooter Bob to get transportation from the airport to the ferry, then we missed the ferry, and could not use our phones. So unfortunately we never met him. However we figured it all out and I must say Scooter Bob's property is WELL worth it!! The walkway down to the water feels very private and it's perfect for a relaxing getaway. Bikes, kayaks, snorkeling gear. Not another house in sight. All i will say is definitely arrange for a rental car when you get off the ferry, and look on a map before you get there. I would absolutely love to stay at this property again!!
Lydia
2016-02-18T00:00:00Z
Scooter bobs is great for the adventurous traveler! North Caicos provides a wonderful area for discovery and meeting locals. If you are in search of unknown areas and the great outdoors with a break from the shopping and jersey shore-like aspect of Provo, this is the spot!
Laura
2015-01-27T00:00:00Z
Type de logement
Logement entier
---
Type de propriété
Cabane
---
Capacité d'accueil
2
---
Chambres
Bottle Creek, Caicos Islands, Îles Turks et Caïques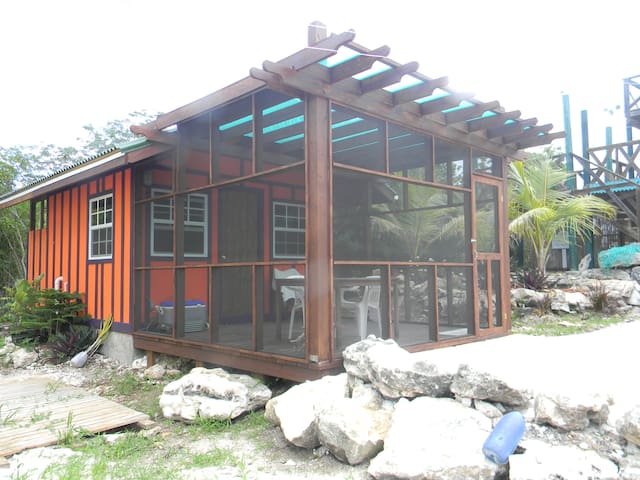 Niché sur la crête de Bottle Creek, cet amoureux de la nature paradis offre la possibilité de rester dans votre propre cabine privée ou de louer tout le lodge pour votre auto, les amis et la famille. Kayaks, paddleboards, et la location de véhicules sont facilement disponibles sur demande. Venez profiter de la nature à son meilleur!
150 $ / nuit pour la maison principale (3-4 personnes) Séjour de 3 nuits minimun
Notre voisin le plus proche à WukaNuka est d'environ un mile de distance qui rend WukaNuka ultra privé!
The host canceled this reservation 56 days before arrival. This is an automated posting.
James
2016-01-07T00:00:00Z
Spent an amazing week in the big cabin at Scooter Bob's. It's quite simple, but really had everything we needed. The island is beautiful and very uncrowded, and the fishing is great. It's not luxury; if you're after luxury, I'd stay on Provo. It was just what we needed, and would go back again in an instant. Incredibly helpful hosts in every way - can't fault them.
Louisa
2014-01-18T00:00:00Z
We stayed for 3 nights at Bob's house. It was just a great experience. Away from tourists and big resorts, his house will provide you with a relaxing and amazing experience. Renting a car is def a must do. So you can explore North and Middle Caicos Islands. The people are really friendly so is Bob. I would def come back in a heart beat. Thank you Bob!
F
2014-03-24T00:00:00Z
We were a group of three adults. Spent 7 nights. We really had a great time staying at the cabin. Scooter's cabin was very well equipped, Weber BBQ grill in the screened porch, small kitchen, fridge, coffee maker, toaster, microwave, enough pots and pans and utensils. We were cooking everyday. We run out of the propane gas and Scooter helped us right away. He was very nice and helpful. His rent a car was convenient. Cable TV and a stereo were nice. WiFi was not always working though. There were two beds in our cabin. One of them was in the loft. There is a long driveway down to water and kayaks were there. Bottle Creek is very shallow and beautiful color of water. We explored all over North Caicos and Middle Caicos. It was a great fun trip. We didn't see many tourists except at Mudjin Harbor in Middle Caicos. Amazing and beautiful island!!! (Groceries were expensive, more than double price. Gasoline was more than $5 per gallon. ) Next time I will bring more food and baby oil and after bite cream for sand flies. I want to go back there again soon.
Yumi
2016-01-08T00:00:00Z
My buddy and I thoroughly enjoyed our stay at scooter bob's eco lodge on North Caicos. With the help of his very capable and trusty assistant Yan, we were picked up at the airport and delivered to the ferry on a tight schedule. And when we arrived at Sandy Point, our rental suv (highly recommended) was there waiting for us. The lodge was nicer than the pictures suggest, and it had everything we needed. Sand fleas were present but not in great numbers. We found that the use of the fans directly on you particularly while you slept kept them at bay (they have tiny wings I suspect lol). Groceries and restaurants are nearby, and use of the kayaks was much appreciated. I would definitely stay again. Ron
Ron
2016-02-13T00:00:00Z
I absolutely loved staying at Scooter Bob's eco lodge. The photos you see on here do not do it justice. It is incredibly cute and quaint. Everything is clean and comfortable. It is great value $150 for two full beds. The view from the porch every morning and every night is breathtaking. The kitchen was very well-equipped -- we made breakfast and dinner every day. There was a gas grill outside as well, and we frequently grilled the fish that we caught. North Caicos and Middle Caicos are great islands to explore. Quiet and remote with pristine beaches and untainted nature. Really a wonderful place for relaxation and outdoorsy fun. I could not have asked for a better vacation.
Elizabeth
2015-12-30T00:00:00Z
We LOVED staying at Scooter Bob's place. We actually met his daughter at a bar the night before who helped us make connections for the next day. Then we talked with Scooter's son the next day and he helped us get everything together to find the place that afternoon. They were all SO helpful! The place was remote and had such a wonderful feel. Definitely a great place for people who want an abandoned island paradise feel.
Betsy
2014-04-20T00:00:00Z
Scooter is the man! The place was perfect for what we were looking for. The flats are unreal, you will have North & Middle Caicos almost completely to yourselves. Definitely will return.
James
2016-04-06T00:00:00Z
Type de logement
Logement entier
---
Type de propriété
Cabane
---
Capacité d'accueil
4
---
Chambres
Bottle Creek, Caicos Islands, Îles Turks et Caïques
Artemis Retreat is a private beach cottage, located in a quiet residential neighborhood. It is nestled in a peaceful green oasis, just minutes from famous Grace Bay Beach. We welcome couples, small groups and families. Come stay with us! To learn more about the Turks and Caicos, here are some sites we like: (URL HIDDEN) (URL HIDDEN) (URL HIDDEN)
Artemis Retreat est un cottage 'old school' des Caraïbes de plage, dans un beau quartier. Il dispose de trois chambres à coucher, contenant deux lits queen et un jumeau. Il y a une salle de bain avec WC, lavabo et douche. Une douche supplémentaire à l'extérieur, est accessible à partir de cette salle de bains. Il y a aussi un lavabo dans la chambre à deux lits. Le gîte dispose d'une cuisine et une buanderie complète. Il y a un barbecue au propane extérieur.
Il est une communauté sûre, fermée, dans cinq à dix minutes en voiture des commodités. Artemis Retreat est trois à cinq minutes à pied de la partie la plus privée de la plage de Grace Bay.
Nous avons vraiment eu l impression d être chez nous. Tout était parfait, juste à côté de la plage. Nous reviendrons et encore merci aux Gordon de partager ce paradis
nadine
2015-09-26T00:00:00Z
The owner is very kind and helpful.The description and the pictures of the house are the truth,the cottage is perfect to spend a vacation as you were at your home.In this cottage we have found linen,beach towels,soap and everything you need.The location is perfect if you love the sea,in fact it is very very close (five minutes by feet ) to Leeward beach,but far from the centre (it necessary to have a car to reach markets or for shopping ).We are just arrived to our home but we wish we come back to Artemis retreat.Great,great cottage!
Giuliana
2016-01-06T00:00:00Z
Excellent accommodation! Clean,comfortable,very close to the beach. The house has everything needed for a comfortable stay.
Dmitry
2016-12-09T00:00:00Z
Amazing cottage immersed in nature and 5 minutes walk to a wonderful beach. Olga, the property manager was so helpful when we first arrived and communication with both Ruth and Olga was great. We had no issues and just loved the house and it's location. Thank you for letting us stay!
Chiara
2017-02-27T00:00:00Z
This was our first time using airbnb outside of the US/ for a beach vacation. This place definitely exceeded our expectations. It is located within a great, quiet neighborhood, with security. The house had a hammock and wraparound porch to relax on, bikes, beach chairs, an umbrella, cooler bags to take drinks to the beach, etc, etc etc. What more could you ask for?! Highly recommend!
William
2017-03-12T00:00:00Z
Ruth was an excellent host, and the unit was great, and exactly what we had been hoping for. In advance of our trip, Ruth was on the ball in giving us a heads up on things we would need to know (food, transport, etc.). The unit was clean and well furnished, and there Ruth prepared a very helpful binder with information on the local area, how to take care of the unit, and who to contact if help was needed. The house itself was lovely, clean, and literally a 5 minute walk from an isolated beach. The outdoor shower is a pretty sweet touch. The neighborhood was quiet and the area in general very good for tourists. Overall, the experience was fantastic.
Adam
2016-05-17T00:00:00Z
We had a lovely time in the house: the porch was perfect for lounging and the beach is less than a 5 minute walk. It was also the MOST BEAUTIFUL beach - absolutely gorgeous and almost deserted. It is difficult getting around the island without a car, so we stayed pretty local, but other than that it was perfect. The house also has a cool outdoor shower. We would love to come back!
(EMAIL HIDDEN)
2016-04-07T00:00:00Z
We had a blast at Ruth's place. The house is in a perfect location, just a short 2-3 minute walk from a beautiful beach. The house is much more spacious than the pictures make it look, which is the opposite of most airbnb rentals. We especially loved spending morning and evening on the porch. Reading in the hammock out front was my favorite part of my morning routine. Overall, the Artemis Retreat offers an incredibly value for the island. We would love to stay here again!
adam
2015-08-14T00:00:00Z
Type de logement
Logement entier
---
Type de propriété
Cabane
---
Capacité d'accueil
4
---
Chambres
Providenciales, Turks and Caicos Islands, Caicos Islands, Îles Turks et Caïques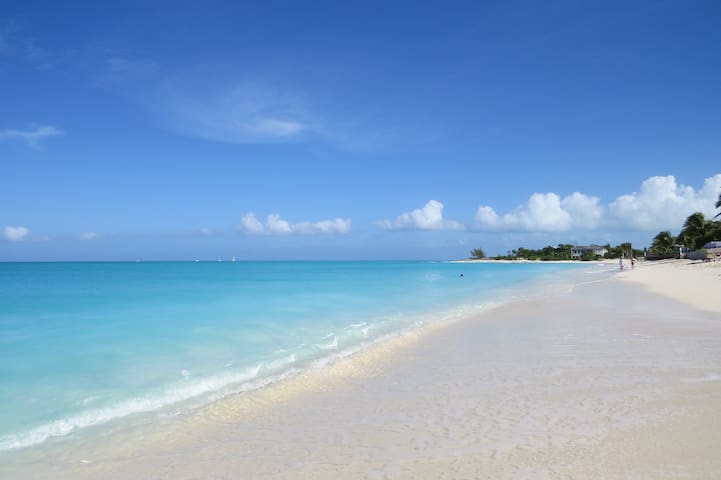 Notre Cottage est situé sur la baie Discovery Intracoastal Waterway. Nous fournissons des articles de sports nautiques gratuits tels que Double Ocean Kayak, SUP, le train d'Snorkel, chaises de plage, glacières et plus. En option Jeep ou SUV Location, Location Seadoo ou bateau. Notre répertoire des clients fournit des instructions aux îles 7 plages et les meilleurs endroits pour mettre vos chaises de plage et les équipements dans chaque emplacement tels que: Bar de la plage pour la nourriture / boissons, salle d'eau, douche extérieure, stations à visiter, bars de la piscine, les récifs .
Le Guest Cottage est une structure autonome de 400 m² / pi avec une belle Caraïbes bois poutre au plafond. Nous installons haut de gamme en porcelaine Tuiles en 2008 et peint avec Waterbury crème de Benjamin Moore Designer Couleur dans une coquille d'oeuf Terminer. La garniture, porte de la salle, le plafond, les étagères et la porte du placard sont peints en finition semi-blanc brillant de décorateur. Blanc Armoires de cuisine, étagères de rangement sur mesure et micro-ondes Shelf entre le poêle et réfrigérateur. Magnifique noir en granit avec des mouchetures d'argent vraiment l'air agréable quand la lumière se reflète sur eux. Spacieuse salle de bain 3 pce avec des carreaux correspondants, Poterie rideau Grange, tapis de sol, meuble avec lavabo et miroir. Il y a un sèche-cheveux avec un bouton de refroidissement et produits de nettoyage en dessous. Il y a une unité de stockage de verre sur le dos des toilettes contenant TP, serviettes blanches bain, Serviettes, débarbouillettes, Q-Tips, Make Up Rounds matelassée en coton, serviettes de plage. Nous fournissons Crabtree & Evelyn La Source Chambre Savons & Body Wash pour nos clients. Dans la cuisine / salle de bains leur sont beaucoup de tampons extras tels que composeront matelassées, q-tips, un petit tube de pâte dentifrice dans le cas où vous avez oublié le vôtre, la portée de la taille de Voyage, shampoing, etc.
Les maisons ont été construites par un constructeur canadien « Chris Wright ». Le développement était connu comme Palm Breeze Villa de. Ils sont tous les lots Waterfront sur le canal Discovery Bay. Chaque maison dispose d'un minimum de 50 pieds ou front de mer jusqu'à 200 pieds de front de mer. Douce Évasion Villa est sur un cul-de-sac avec 4 maisons à côté de l'autre sur le canal. Notre propriété a le plus grand nombre et va de Waterview St & Mahogany Fermer où le mur de soutènement blanc et entrée fermée est, tout le chemin vers le Dock sur le canal. La Villa est le plus proche du canal et il est projeté dans le porche fait face à la station d'accueil. Le Guest Cottage se trouve à 30 pieds derrière la villa et son projeté dans le porche fait face à son propre jardin, palmiers, coin salon et hamac en face de la villa. Le terrain est entièrement clôturé avec des arbres matures et arbustes à fleurs. arbustes à fleurs bordent la clôture et font belle et privée. Le voisin de l'est, un agent immobilier et ils ont une double Garage & Guest Cottage que vous ne voyez pas. Le voisin à l'ouest est Wayne et Caroline de TCKiteboarding. Ils vivent dans le bungalow et louer leur maison d'amis à des années KITEBOARDER, les voyageurs, et amis. Il n'y a pas de l'autre côté du canal de sorte que vous avez ne vous regarde quand vous êtes sur le quai. Il est tout à fait privé. En outre, il n'y a pas de trafic sur le canal que nous sommes à l'extrémité supérieure. Seuls nos deux voisins vont acheter une fois par mois quand ils ont la chance d'aller pêcher. Nos clients ont le front de mer tout à eux-mêmes. Lorsque vous descendez le canal vers South Side Marina & Cooper Jack Bay Beach, vous passerez beaucoup de maisons de canal avec des bateaux amarrés le long du chemin. Il y a un lac intérieur appelé queue de tortue. Il est l'océan donc il y a une marée de 3 pieds et un courant que vous obtenez près du lac. Il est tout à fait un beau quartier. La plupart des gens sont retraités ou partis travailler pendant la journée. Promenade Turtle Creek vous emmène jusqu'à la route sous le vent qui est à 2 voies est et ouest 2 voies à 40 mph. Chaque intersection a un tour un bateau avec un lien vers la Route Océan. La première étant Turtle Cove Marina, le 2ème étant Pratts route vers le parc pour enfants Bight, Gansevoort Hôtel, Resort Coral Garden où Quelque part sur la plage Restaurant & le Parc national Princesse Alexandra Off système Reef Roped est. Ce récif et de Smith à l'embouchure de la couverture des tortues sont les deux meilleurs sites de plongée avec tuba de la plage. L'autre est à Malcolm Beach. Autres que les 3 région de vous aurez besoin de réserver une excursion 1/2 journée sur un catamaran à moteur ou voilier catamaran vous emmènera vers de nombreux sites de plongée avec tuba incroyable. Cette région est également renommée mondiale Destination Plongée sous-marine. Je suis un plongeur de sauvetage et je peux vous dire que la TCI BARRIERE DE CORAIL est en très bonne santé. Du côté nord de l'île, vous pouvez voir les vagues qui se brisent sur le récif. Il y a des coupures dans le récif avec des marqueurs de canal, de sorte que les grands bateaux peuvent sortir ou à travers la coupe sans toucher le récif. A l'intérieur du récif profondeurs comprises entre 6 et 50 pieds. A l'extérieur du récif leur est un mur qui court 1000 de pieds de profondeur. Scuba Diver est parti en général un maximum de 100 pieds à moins d'être un plongeur commercial avec différents équipements et l'éducation. Il y a plusieurs curiosités de plongée à Grace Bay. Il y a plusieurs curiosités de plongée à North West Point et West Caicos, South Caicos, Grand Turk, Salt Cay et au sud de Provo Cay français. Si vous êtes intéressé à apprendre à plonger, vous pouvez vous inscrire à ce qu'on appelle un cours Discover Scuba qui coûte environ 250 $ par personne. Il y a plusieurs entreprises sous-marine sur l'île. Ils auraient un instructeur vous prendre dans une piscine pour vous enseigner les bases. Puis le lendemain matin vous aller sur le bateau de plongée avec eux à un vrai site de plongée. Vous resteriez avec votre instructeur et aller à un rythme plus lent et descendre à un maximum de 40 pieds. Votre instructeur assurera la sécurité est # 1, il n'y a pas de précipitation, c'est un excellent moyen pour vous de voir si vous voulez investir pour devenir un plongeur certifié. Si vous voulez devenir un plongeur certifié, vous pouvez commencer des cours en ligne à la maison avant d'arriver à Provo. Vous pouvez même aller dans la piscine à la maison de sorte que lorsque vous arrivez à Provo, vous pouvez réserver à vos Dué 5 plongées Open Water avec l'un des instructeurs locaux et apprendre à plonger dans l'océan dans quelques-unes des meilleures conditions du monde. Signification des plages de température de l'eau de 70 à 83. Ainsi, il vous suffit d'un costume mince humide ou shorty et en été, vous pouvez plonger sans combinaison si vous voulez. J'ai toujours où un costume humide parce que je suis maintenant acclimatés mais quand nous avons l'habitude de venir du Canada, on n'a pas besoin de vêtements humides. Ils servent le déjeuner entre les deux plongées. Leur est un refroidisseur d'eau et les boissons gazeuses. Vous pouvez également apporter une collation sur le bateau avec vous. Il y a une autre société appelée Snuba TCI qui est amusant pour toute la famille. Je pris mon fils quand il avait 8 ans et il était tellement adorable. Vous pouvez marcher depuis la plage avec un dispositif de respiration dans votre bouche, votre masque, une ceinture de poids pour vous aider à couler progressivement, votre instructeur aura tous les réservoirs dans un radeau qui suit vous autour du système des récifs barraient à Coral Gardens. Vous pouvez aller jusqu'à 30 pieds à votre propre rythme pendant 1 heure à 1 heure et demie. Il y a Kayak & Stand Up eco tours à bord Paddle à Big Blue Unlimited ou vous pouvez le faire sur votre propre et laisser de la Leeward plage au nord de Blue Haven Marina, sur le point que vous pouvez voir Little Water Cay et paddle board boui la Leeward Cut Little Water Cay sur l'île Iguana. Faites une visite guidée sur la promenade de bord. Ensuite, continuer à les Mangroves du côté sud de Little Water Cay à travers Half Moon Bay. Faire une glacière et un pique-nique, apportez un frisbee et profiter d'une journée incroyable. Ne pas oublier votre crème solaire. Je recommande 50 spf à 70 spf et un chapeau quand vous êtes sur l'eau toute la journée. Vous aurez toujours un très beau bronzage et cela vous évitera de brûler ou insolations. Si vous avez des passe-temps et que vous voulez savoir où faire ici, il suffit de demander.
Sweet escape is a charming little villa that is perfect for two people to have a quiet, private holiday. It was clean and in a great location. I do recommend a car for your stay. Katherine went out of her way to ensure a fantastic stay. I rented her Jeep as well and it was the quintessential island car that safely got me around the island.
Ash
2016-12-20T00:00:00Z
We had a wonderful 8 night stay at Katherine's Cottage. The location was minutes from many of the best beaches on the island. The cottage was charming and cozy, and supplied with everything you need to have a great stay. We appreciated all the extras such as the beach chairs, umbrella and cooler. The neighborhood is very quiet. Renting Katherine's jeep was a bonus. Communication with Katherine and her staff was exceptional. Highly recommended!
Brad
2017-03-07T00:00:00Z
Type de logement
Logement entier
---
Type de propriété
Cabane
---
Capacité d'accueil
4
---
Chambres
Caicos Islands, Caicos Islands, Îles Turks et Caïques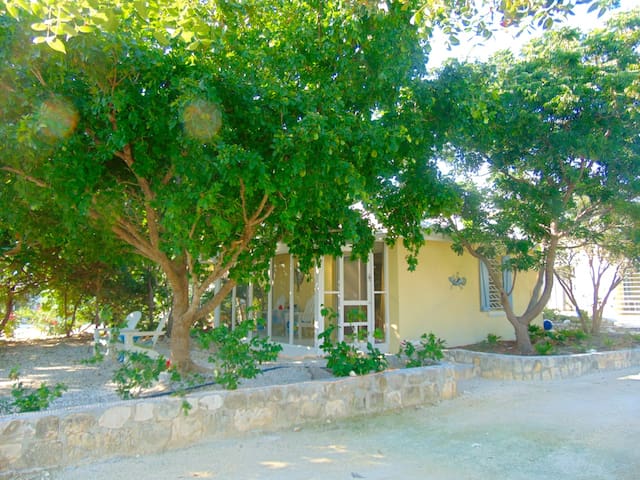 Saisissez les dates souhaitées pour connaître le prix total. Des frais supplémentaires s'appliquent et des taxes peuvent être ajoutées.