Your sun-flooded room is located on the second floor of a unique Maltese town house with a balcony, overlooking the courtyard/garden. Our house is over 100 years old and we kept the patterned tiles, high ceilings and the original limestone when we recently renovated the house. It is now a large but cozy house, where modern amenities mix with traditional features. You are welcome to share the house with your host family. Breakfast and dinner can be provided.
Our house is in a quiet side street of Rabat, a traditional village in the center of Malta. The village core is 2 minutes away and all kinds of shops and restaurants are literally around the corner. Your bedroom has 2 doors that open to a balcony and a terrace. From the balcony you can reach the roof of the house. The room has a high ceiling and a traditional patterned floor. The private bathroom has a shower.
Rabat has beautiful churches and museums, air raid shelters, catacombs, restaurants and plenty of shops. Mdina, the beautiful silent city and old capital of Malta is a stroll of less than 10 minutes away. Mdina is practically car free and one of the prettiest walled cities. There are over 10 restaurants in short walking distance - from very basic local food and pizza to very fancy fare. Same for traditional bars and band clubs as well as a bakery, convenience shops, 2 banks with ATMs, etc. St. Pauls catacombs are situated less than 2 minutes from our house.
Christina has a beautiful home and is very welcoming. We had a lovely bedroom with private ensuite and despite there being children and 2 adorable dogs, the house is very quiet Location is amazing
Marie
2017-03-15T00:00:00Z
Type de logement
Chambre privée
---
Type de propriété
Maison de ville
---
Capacité d'accueil
2
---
Chambres
Ir-Rabat, Malte
This house of character is conveniently situated in Rabat, which is a historical town close to Imdina, Malta's old capital city. It is close to all amenities and an easy bus ride to most of Malta's attractions. You will love its authentic features and homely feel, and the tranquility of the surroundings while being close to the action.
This house of character is full of original features such as arched ceilings, exposed walls and a traditional, Maltese, wooden balcony. The house is full of natural lighting, which, together with the contemporary decor, adds to the warm and cozy ambiance. Like most old Maltese houses, it is built to keep cool and airy in the hot summer period, thanks to the numerous windows / doors overlooking the narrow alleyway. The spacious kitchen is fully equipped, and is part of an open plan dining / living area consisting of a six-chair dining table, a comfortable couch and a 40 inch flat tv (with some basic tv channels). The bedroom contains a large double bed (not two singles!) a desk with chair, ample wardrobe space and a fan. Bed linen and towels are provided. A strong wifi connection is available throughout your living space, with a weaker signal on the roof. Etienne, one of the hosts, is a teacher and uses the room on the ground floor to give private tuition for a few hours a week. This means that Etienne will be available at the house at those times. It is possible that Etienne or one his students might use the bathroom.
Rabat is a well-preserved historical town full of beautiful sights but still retaining its local flavour. The townhouse is located in a typical narrow alleyway which happens to be one of Malta's most photographed roads. The pedestrianised road is tranquil yet just a stone's throw away from the village centre. There are numerous touristic sites in the area, including Casa Bernard (right in front of the house), St. Paul's church and Catacombs (1 minute walk) and the Domus Romana (Roman Villa, just down the road), amongst many others. Should you like to rent a car, you can easily use the car park next to the Roman Villa. Mdina, Malta's old capital city and one of Malta's most visited and historical sites, is just a few meters away from the Roman Villa. The bus terminus is also situated near the Roman Villa car park, and it takes just 15 minutes to Mosta and 30 minutes to Malta's Capital city, Valletta. The house is very close to numerous amenities including convenient stores, banks and ATM's, restaurants, local cafes and bars. Should you want to enjoy Malta's countryside, you can visit close places like Buskett, Dingli Cliffs, and Bahrija.
Type de logement
Logement entier
---
Type de propriété
Appartement
---
Capacité d'accueil
3
---
Chambres
Ir-Rabat, Malte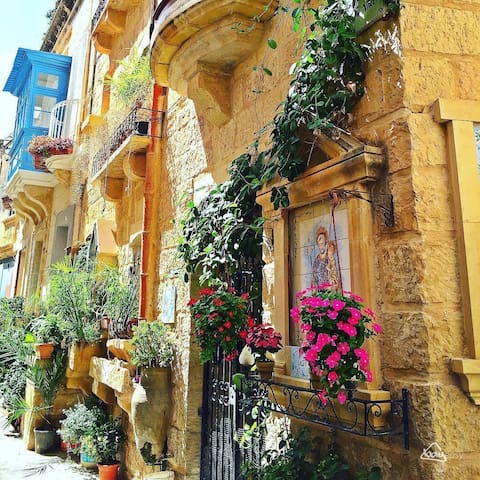 Cosy double bedroom (we can arrange to have two single beds) in a typical maltese townhouse (the house has indeed the traditional covered balcony!). The bathroom is not in the room but it is on the same floor and it's exclusive for the guests.
Typical independent townhouse. We are a couple of art lovers and collectors odd/bizarre curiosities from all over the world: you'll find here essential furnishing but many curious details.  Our cats, the persian Max and the blind Elie will easily make you feel at home.
Rabat is a lovely maltese town and the historical centre is little and just a few steps far from home. Indeed nearby you can find everything you need as shops and services. Here around there are good typical restaurants, as well,  at fair prices. Just at 10 minutes of walking from home, you can reach Mdina, the ancient capital fortress and amazing historical town, visited by tourists all the year.
Séjour super! Dario et sa femme étaient à l'écoute et présent ! La chambre superbe et la salle de bain était top et privative !
Perrine
2016-11-09T00:00:00Z
L'accueil de Dario a été sympathique , la photo publiée sur le site est conforme mais ne reflète pas l'atmosphère des autres parties du logement mises à disposition du voyageur (cuisine, salle de bains), qui sont moins accueillantes, et pour lesquelles il faudrait faire quelques aménagements destinés à ce que l'hôte se sente un peu plus choyé, de même que pour le petit-déjeuner qui est lui aussi très basique. L'emplacement du logement est bon pour les visites à faire dans Rabat.
Roland et Béatrice
2016-01-25T00:00:00Z
disponibilité et situation à proximité de Mdina
Nicolas
2015-12-13T00:00:00Z
Nous sommes arrivé facilement à trouver la maison grâce aux explications de Dario. La maison est très bien située (à quelque pas de la belle Mdina) et agréable. Grand lit confortable. Possibilité de se garer à proximité et d'utiliser la cuisine librement . Dario et Giulia ont été très agréable et de bon conseils : par exemple, ils nous ont conseillés un très bon restaurant dont le service était top. Bon rapport qualité/prix, nous le conseillons !
Audrey
2015-11-02T00:00:00Z
The house is well situated in Rabat near to the main street and to Mdina. Our bedroom and the bathroom were very clean. Dario was a nice host and very avaible. He also booked a taxi for us. I think the bedroom and the sort of living room near the room can be redecorated to be more cosy and homely.
Malika
2016-04-08T00:00:00Z
Dario's place was very nice and clean. Close to Mdina which is a beautiful town. Dario was very kind and welcoming to us even when we had to have a very late check in
Hayley
2016-09-10T00:00:00Z
Perfect!! Thanks.
Guillaume
2015-12-30T00:00:00Z
EVERYTHING was just excellent, my best holidays ever! Really nice people, nice room, clean accomodation, thanks a lot and... See you soon!
Piotrek
2016-07-10T00:00:00Z
Type de logement
Chambre privée
---
Type de propriété
Maison
---
Capacité d'accueil
2
---
Chambres
Rabat, Malte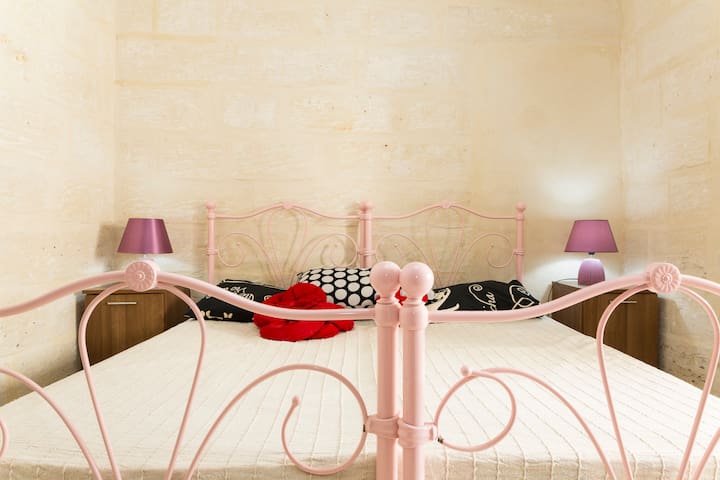 A house of charm, history and character awaits you on the island of Malta, a land of ancient temples and old traditions. 7 Batholomew Street is located centrally between two great Maltese destinations - Mdina, the silent city, formerly the ancient capital of Malta and Rabat the birth place of Christianity on the islands. Enjoy an authentic experience within the 16th century walls of this 500 year old town house. Do you need a larger house? please see my other listing.
Keeping romance alive without resorting to typical clichés is not always easy, a 16th century moon and candle lit house can greatly transform your mood, but our main tip here is to keep things simple and explore the wonders of the 500 year old setting together as a couple. A unique evening deserves a special location and spending a night at 7 Batholomew will marry the two perfectly. Take one of small streets to meander through the city to experience the unique character firsthand. Whisk that special someone off for a birthday, anniversary or romantic getaway with style. Be spontaneous. Be affectionate. And trust us, being romantic on otherwise ordinary days is a sure way to earn extra points. Fully renovated in 2016, open space with a lot of charm. Boasts two large rooms on ground level and one at basement level
Rabat & Mdina : Casa Bernard Wignacourt Museum St. Paul's Catacombs Visit Mdina after dark The Mdina Experience Nunnery of St Benedict National Museum of Natural History Banca Giuratale Chapel of St. Agatha Palazzo Santa Sophia The Carmelite Priory Torre dello Stendardo Palazzo Falzon Cathedral Museum Mdina Dungeons Howard Gardens Domus Romana - The Roman Villa Church of St Paul and Grotto
Emplacement idéal pour visiter la ville de Rabat. La proximité des falaises de Dingli est aussi un atout considérable. Quelques pièces de mobilier supplémentaires pourraient améliorer ce beau logement.
Pierre
2016-08-24T00:00:00Z
Nous avons été très bien accueillis par Martha qui était bien présente à l'endroit convenu à l'heure prévue. Elle nous a amené à l'appartement, très bien situé et agréable, puis nous a fait faire un petit tour du quartier en nous donnant des recommandations sur les restos et endroits à visiter. Nous sommes restés deux nuits et nous recommandons fortement cet appartement, idéal pour visiter Ir-Rabat et Mdina.
Jeremie
2016-11-11T00:00:00Z
Très bon accueil, la maison correspond bien aux photos, bon emplacement, parfait !
Laura
2016-08-27T00:00:00Z
Superbe logement avec beaucoup de charme! L'appartement a été fait avec beaucoup de goût! Très bonne accueil par la maman de Ian, avec des produits frais dans le frigo. La maman de Ian nous a aussi très bien d'écrit les alentours. Le logement est situé dans une petite rue piétonne très calme. Situé au centre de Malte, donc idéal pour visiter l'île ou se relaxer.
anthony
2016-08-21T00:00:00Z
We loved the house and its character. It is beautifully decorated with beautiful paintings and drawings. The house feels very clean and welcoming and it is a great place to relax and enjoy the Maltese atmosphere. The house is in a quiet area but very very close to everything (even to public buses which takes you to the other parts of Malta). Among the best things about this house is the owners. We met Ian's parents Marthese and Marco and spent a very lovely time with them. Very lovely, funny and helpful people and made us feel like at home :)
boris
2016-08-12T00:00:00Z
Everything was perfect, especially hosts. I'd recommend it to everyone, worth every penny!
Artur
2016-09-11T00:00:00Z
Esperienza straordinaria. Un fantastico mix tra antico e moderno
cecilia
2016-08-05T00:00:00Z
Great hosts. The house is a one bed with a basement room that can be used as a second bedroom. It has an old character and is in a great location.
Ash
2016-06-15T00:00:00Z
Type de logement
Logement entier
---
Type de propriété
Maison
---
Capacité d'accueil
4
---
Chambres
Ir-Rabat, Malte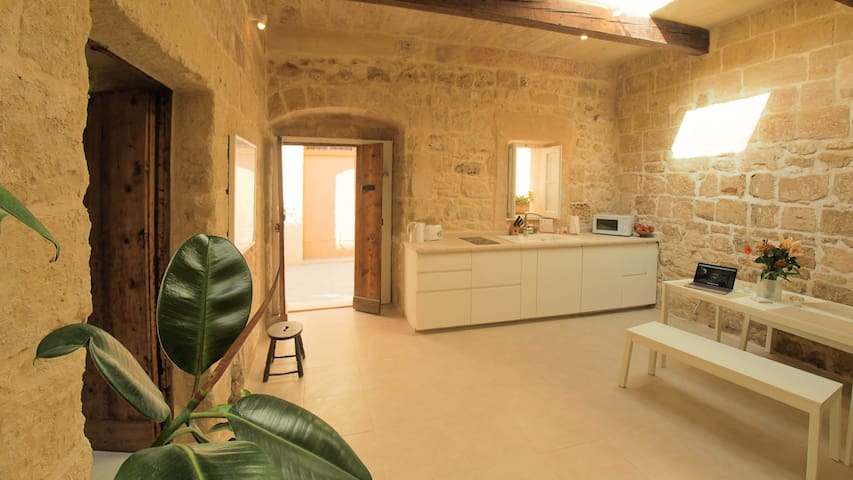 My place is close to Old Mdina capital city, public transport, free car park & family-friendly activities. In the house one can enjoy original old features which date over 300 years, spacious rooms, comfy beds and a relaxing outdoor BBQ area on private roof. Set in a quite neighborhood with peaceful surroundings ideal for couples, solo adventurers, business travelers, and families (with kids). Amenities include washing machine, full eqquiped modern kitchen, dish washer, satellite T.V and wifi.
Situato in una zona tranquilla con un ambiente tranquillo ideale per coppie, avventurieri solista, viaggiatori d'affari e famiglie (con bambini). I servizi includono lavatrice, cucina moderna americana separata, lavastoviglie, T. V satellitare e wi-fi.
The house is lovely, full of character and history. It has a well-equipped modern kitchen, good sized bedrooms and just about everything you could need, including WiFi. All the rooms are well furnished, bright and comfortable. The location of the house couldn't be better; tucked away down a typical old Maltese street only a short distance from the medieval town of Mdina, the catacombs and Roman Villa. There is a bakery just around the corner, (try the traditional Maltese bread) other shops for groceries etc. are not far away. We had a hire car, and whilst you can't park directly outside the property, there is a small parking area close by and we always managed to find a parking spot, no matter the time of day. There is no central heating, but electric fan heaters have been provided; it can be chilly in February! A little gem of a place.
Joanna
2017-02-26T00:00:00Z
Jo was a great host, easy to contact and no problem with receiving keys and closing up. They even prepared a small wine bottle for us with their favorite Maltese wine. The house is in walking distance to Mdina in a safe neighborhood of Rabat. Arriving by car, it was perfect. You cannot drive up to the house but have a parking 3min. away. The house is a beautiful antique house, modernly renovated and has lots of charm. It is an old house, though even for this the only down point was that it was quite dusty and dirty, corners, stairs, a lot of spider webs on the ceilings, bathroom could be cleaner, however we mentioned it to the hosts and we are quite certain that they will have it cleaner from now on as they are still new to Airbnb. Heating is sparse if it gets cold, only a few tiny electric heaters. We travelled to Malta end of March and it was still quite fresh. In summer obviously no need, though in winter it could become very chilly.. All in all a wonderful stay in a great setting and kind easy-going hosts! Would recommend.
Aniela
2017-03-26T00:00:00Z
Superb house in beautiful location, quiet, local feel, beautiful old home. Recommend this place /host!
Luca & Anna
2017-04-02T00:00:00Z
Really beautiful, stylish place, few hundred meters from the Cathedral in Mdina. Neiberhood Lively but not too crowded. Joe is really helpful and kind person.
Paweł
2017-03-13T00:00:00Z
A very special and charming house! It's even better that it seems in the photos, full of special and stylish details integrated in an ancient house but with all the moderns appliances that you may need. The walls of stone, the lighting and the location in an special neighbourhood with narrow typical streets create a special atmosphere. There are several places to have breakfast and eat just around the corner. Furthermore, It has the perfect host,Joe that was always taking care of our requests.
Laura
2017-03-30T00:00:00Z
Type de logement
Logement entier
---
Type de propriété
Maison de ville
---
Capacité d'accueil
4
---
Chambres
Ir-Rabat, Malte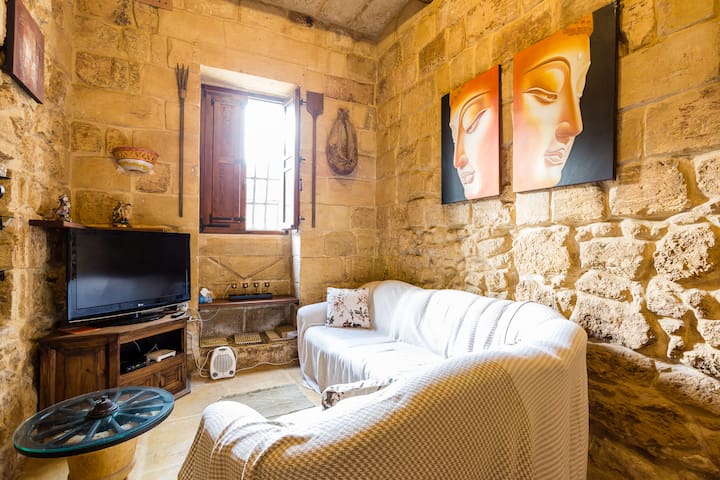 Our antique house is ideal for couples and families with children. It is well equipped to make one's trip fully satisfying, having everything that one finds in a home. Breakfast is provided on a self-serving basis. Kitchen / dining area and all bedrooms are fully air-conditioned and there are 3 TV's around the house. Parking and bus terminus are both very close. Rabat in itself has a lot to offer, including museums, catacombs, churches, gardens, restaurants and the picturesque old city of Mdina.
The 600 year old house is modernly refurbished, but we made sure to keep its character and charm. The street used to make part of the old city Mdina before the Arabs reduced its size to be able to fortify it better. One can notice this when walking along these narrow quiet streets.
Although Rabat is a touristic location, the area is still very quiet and calm. Parking is not difficult either as there is a parking field (free of charge) just a few meters away.
La maison de Janice est magique! Typique, énormement de caractère, très bien située, parfaite pour une famille avec 2 enfants. Janice nous a très gentillement accueillie et a tout fait pour que nous nous sentions bien. Vraiment a recommander!
Catherine
2017-01-28T00:00:00Z
L'accueil et l'attention que nos hôtes nous ont réservés étaient exemplaire. La maison est située dans un des quartiers de la ville tout à fait charmant — Mdina est à 10min à pied. De plus les boutiques du quartier permettent un ravitaillement suffisant. En ce qui concerne la maison, elle est fantastique, très agréable et dans un esprit qui parvient à synthétiser l'ancien et le contemporain de façon très harmonieuse et pratique. Merci Janice.
jean-charles
2016-10-10T00:00:00Z
Nous avons passé de très bonne vacances. Janice a été aux petits soins avec nous. Egalement adapté avec bébé (lits bébé disponible sur simple demande). Localisation idéal pour explorer l'ile
Loïc
2016-11-26T00:00:00Z
Nous avons beaucoup aimé notre séjour dans cette belle maison décorée avec beaucoup de goût et d'attention pour les petits détails. La rue est typique de Rabat et le quartier a beaucoup de charme, avec tout ce qu'il faut à proximité (restaurants, petite épicerie...). L'emplacement est idéal pour découvrir bien sûr Mdina (5 minutes à pied) de jour, de nuit, au coucher du soleil... mais aussi la côte Sud (Blue Grotto, Dingli Cliffs) et le centre de l'île.
Aude
2017-03-29T00:00:00Z
Beautiful historic house upgraded with modern amenities in a sensitive way. Well placed to explore town and surrounding countryside. Very quiet day and night. In the middle of a historic area. Narrow streets (no cars), great restaurants, Mdina on the doorstep.
Realtan
2017-02-25T00:00:00Z
Super vacànces!
Delphine
2017-02-14T00:00:00Z
Janice's flat is absolutely stunning, our favourite place that we have stayed at using Airbnb so far. The place has lots of character and has been beautifully refurbished and it's in a great location, walking distance to Rabat and Mdina. Janice welcomed us and gave us a tour of the place and we would like to thank her for a wonderful and memorable stay. Highly recommend!
Marta
2016-10-20T00:00:00Z
Rabat, this locality has got a magical spirit about itself. Place it's near by the Mdina aproximately 5 minutes by walk. The interier of this property it's amazing, the purennes is in top level. Janice is very friendly, nice person everything it was amazing. This experience is higly recommend! Must be seen!
Petra
2016-10-02T00:00:00Z
Type de logement
Logement entier
---
Type de propriété
Maison
---
Capacité d'accueil
4
---
Chambres
Rabat, Malte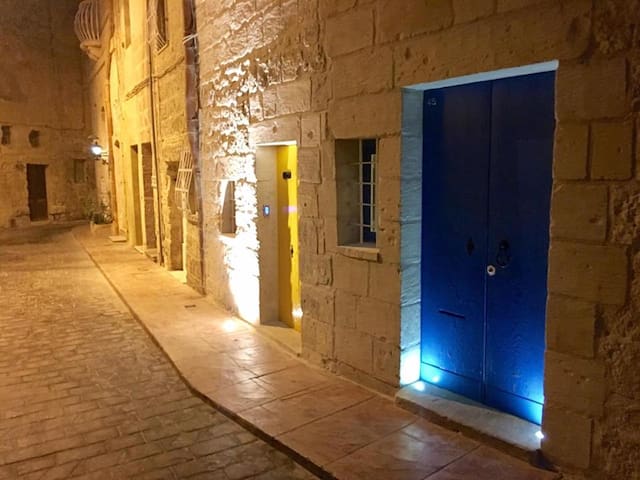 My cozy apartment gives you a true feeling of a sens of belonging. Beautiful light in the morning. Watch the moon,stars,and festa fireworks at night . It is located a few minutes away from the village centre. Close to bus stop and bus station.
My cozee and comfy place takes in three guests. It has two bedrooms, 2 real beds ( can be used as a double bed) and one single bed. It has a cozy living room where you can interact with other guests. The best thing about my listing is that it is situated in a unique historical town going back to the neolithic period. The historical town of Rabat is found in the North of the Island, five minutes walk to the romantic Medieval City of Mdina and less than a 20 minute drive to the Baroque Capital City of Malta Valletta. The nearest beaches to Rabat are Gnejna Bay and Ghajn Tuffieha which are a 25 minutue drive away. Rabat is packed with attractions like the Grotto of St. Paul's, catacombs, highly decorated old Churches and chapels, museums, cafes and besides normal restaurants , one will also find fine dining restaurants. In less than 45 minutes by walk one will arrive to other places of interest like the Dingli Cliffs, Buskett and the amazing cart rut junction.The apartment is about 10 minuteswalk from Mdina with all its passion and romanticism. The apartment is less than 5 minutes' walk from the Centre of Rabat and is in a very quiet street with low level of traffic. The urbanised area of Rabat is surrounded by a magnificent natural environment. Walking in the wilderness of Rabat one will see the history of the island folding in front of his eyes due to the fact that the history of Rabat and Mdina can be described as the history of Malta which goes back to the Neolithic period. The Kucizzjoni Temple which can be found at Bahrija is an old agricultural hamlet that lies in the confines of Rabat.Bahrija is highly appreciated and known for rabbit dining with both locals and travellers. If you like the idea of living here for a while do not hesitate to ask for a DISCOUNT!!!
It is a quiet area and yet with friendly neighbours. It is close to all amenities,including a doctor who is right opposite the front door. Walking distance to bus stops, and walking distance to town centre, and the old capital Mdina. You can go to centre and have morning tea in one of the bars and get talking to native villagers. On the parish church steps you will find the friendly elderly people chatting the daily gossip!! You will love it!! And of course there is the majestic Mdina lit by night!!
Petit cadeau de bienvenue, elle est venue me chercher au bus et pour repartir a fait la même chose. Le logement était parfaitement décrit....
Francoise
2014-09-07T00:00:00Z
Merci à Marthese pour son accueil chaleureux et sympathique. L'appartement est très bien placé dans la ville de Rabat, non loin du centre et des restaurants, à 10 min à pieds de Mdina, et dans une petite rue très calme. Cosy et très propre, on se sent comme à la maison.
Anne
2015-10-22T00:00:00Z
Quartier sympathique, pas trop urbain. Excellent accueil de Marthese, personne chaleureuse et serviable. Joli logement très propre, agréble quoique pas trè lumineux. Néanmoins c'est un bel appartement agréable, avec de superbes chabres.
Yves
2015-05-22T00:00:00Z
Marthese est une super hôte, tres sympathique. C'est très agreable de parler avec elle. Son logement est idéalement placé, confort et propreté impeccables.
Catherine
2015-06-11T00:00:00Z
Marthese est une hote formidable, super gentille et accueillante. L'appartement est très jolie et les chambres sont aussi très belles. Je recommande fortement
jessica
2016-07-13T00:00:00Z
I thoroughly enjoyed my stay at Martheses house. I found Marthese to be a kind, thoughtful and incredibly helpful host. She went out of her way to pick me up in nearby Naxxar which was fantastic! The room and house were spotlessly clean and within easy walking distance of Mdina and the bus stop. I highly recommend staying here!
Rebecca
2014-08-30T00:00:00Z
The host is very Kind and nice with us She recommended us nice places to see and eat! Thanks for everything
Marga
2016-09-22T00:00:00Z
marthese is a wonderful hostess. she meet me by the busstation, drive me by car to her bnb, cooks a coffee and share time with me. the rooms are modern, very clean and tasteful furnished and decorated. thank you very much for to be here!
Hannes
2015-10-04T00:00:00Z
Type de logement
Chambre privée
---
Type de propriété
Appartement
---
Capacité d'accueil
1
---
Chambres
Rabat, Malte
Situated in the historic area of the picturesque town of Rabat, this newly refurbished room has great privacy and enjoys its own bathroom/shower, & coffee/tea facilities. The room, situated on the 2nd floor, looks onto charming back garden; set in a gorgeous, old townhouse, full of character with valley/sea views. Walking distance to Mdina, Buskett, cafes, restaurants, cathedrals, catacombs, boutiques and food stores, and bus terminus, enjoys all the characteristics of a small town.
Great Privacy Valley/Sea Views Surrounded by Lavish Palaces Internet
Rabat is littered with little cafes, restaurants, tea-shops, authentic bars, and shops. Keeping the traditional settings of post WW2 and the British colonialist era the town feels like a set from an epic movie. In fact the house itself has been used as a location in 9 distinct local TV Dramas and movies. Exactly next door, Steven Spielberg shot scenes from the movie Munich. In walking distance (5mins) you will be at the gates of Mdina, the oldest (Medieval) walled-city of Malta, a World Heritage Site and the local set used for the famed TV Series 'Game of Thrones'. Other-wise you can walk towards Buskett, enjoying the forested hunting grounds of the Grand Masters of the Knights of St.John. Alternatively ride a bus north shortly reaching the majestic cliffs of Dingli or the sandy beaches of the North.
La maison est très belle et la chambre vraiment agréable. Nous aurions aimé pouvoir y rester un peu plus de temps !
Thomas
2016-09-06T00:00:00Z
Martin and Linda are perfect hosts! They both made us feel at home and they provided us with all the necessary information about Malta. We loved the house and the location. Literally 2 min. walk to the bus station and 10 min. to Mdna (the most beautiful city in Malta). We definately recommend Martin and Linda to be your future hosts!
Danai
2016-08-03T00:00:00Z
Martin and Linda are very nice, they give good advices and they are very helpfull. The house is nice. If you like dogs, you will love Kito!
Eva
2016-11-16T00:00:00Z
We have been guests in Linda's and Martin's house for 7 days and nights. They both are very warm host, friendly and helping. Martin connected us to a cheap rent a car 2min away. Linda informed us about interesting places to go. On some of our evenings we sat together in the beautiful garden, Kato (the dog) next to our table and listening to every word that had to do with eating. If anybody wants to discover Malta, here you are in the middle of everything!! Most important: lovely Mdina two steps away. Treat them well, we love to come back.
Rike
2016-09-04T00:00:00Z
è come venire accolti da amici cordiali e premurosi. ed una volta che si è capito Rabat, diventa un posto unico in cui soggiornare a malta
daniela
2017-04-02T00:00:00Z
Linda and Martin are great Hosts! I really enjoyed my time staying at their house. They both can give you a lot of good tips for activities in Malta. The house and the room are beautiful and the bed is so comfortable. Rabat is a very nice little town and you can get to any places by bus really easy. so when you want to visit malta you should stay at Linda and Martins guesthouse!
Fabian
2017-03-25T00:00:00Z
Martin's and Linda's house is a nice place to stay in Rabat. You have a room, with your own bathroom and a lovely balcony with a nice view. You have access to a well equipped kitchen, a nice guarden and a lovely dog ;) The house is surrounded by many shops, restaurants and busstations. From here you can perfectly discover Rabat, Mdina, the blue grotto, the dingly cliffs, etc. Martin and Linda are lovely hosts, who are very helpfull and give you tipps for sightseeing or eating/drinking. They also provided a little table in your room with coffee, tee and water.
Patrick
2016-09-25T00:00:00Z
Linda and Martin are super nice, they made me feel very welcome. Thank you for that!
Katharina
2016-10-04T00:00:00Z
Type de logement
Chambre privée
---
Type de propriété
Maison de ville
---
Capacité d'accueil
2
---
Chambres
Rabat, Malte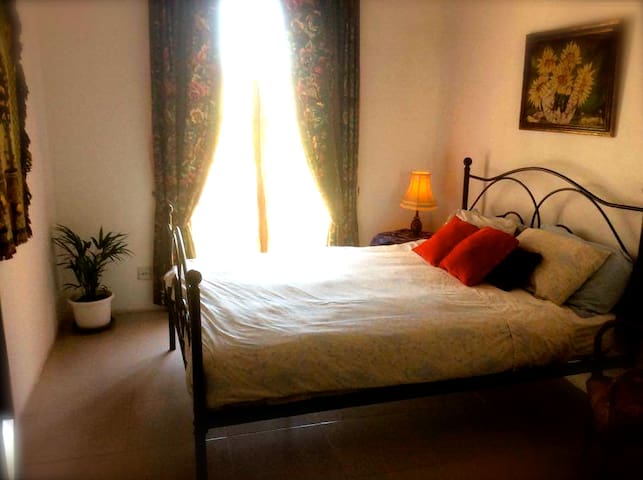 CASERI property is professionally made for the purpose of short letting and couple holiday-makers.
CASERI Property strives to give its clients two main qualities through the service and the property it offers; mainly an environment of calmness and relaxation. The property is not newly built, built without the use of today's technological facilities, and represents a lot of hard work and dedication. The main aim of CASERI Properties is to make you unwind and relax in the best way possible. Values C – Customization – Our aim is to give a customized service to each and every individual customer; A – Accuracy – The property and service we offer are described in the most accurate way possible and in this way, potential customers can better evaluate if CASERI Properties is what they are looking for; S – Service – We believe in great service and thus, we will do our optimum and our best to give the top service possible to our clients; E – Energy – Positive energy is a feeling that leads to memories of a lifetime. We strive to give such energy through our property and service; R - Re- accommodation – Our aim is to have returned customers, and this can only be done through customers being completely satisfied; I – Integrity - Our promises are kept at all times with all customers. What will you expect? A beautiful vintage, quite house full of character which surely will make your holiday one to remember. The area The property is situated in a quite alley, away from all the noise pollution and hectic life going on around. It is also a few minutes' walk away from Mdina (The Silent City), restaurants and needed amenities. The House Built on various levels; it is a traditional way of how houses were built back in the time. Once you enter the property, one will find a welcoming living room which then leads to the kitchen. A bathroom is found a few steps up from the living room, and the corridor leads to the bedroom. On the upper area of the house, one can find a living / relaxation area and also, this leads to the roof of the house. The views The roof enjoys views which make an outdoor dining experience unforgettable. Table and chairs are available on the upper roof. The service Normally, I always welcome guests on their arrival. However, if this is not possible on the day due to the timing of such arrival, I ensure that I meet all guests myself on an agreed date and time, generally the following day. All clients and potential clients are welcome to ask any questions with regards to any requests that they might have.
Accueil charmant et très efficace.Mark est un hôte très courtois, accueillant et de bons conseils. Disponible même tard en soirée, il vous reçoit avec le sourire et une bouteille de vin bien frais. L'appartement mis à disposition est réparti sur plusieurs niveaux, chacun ayant une fonction bien précise. L'aménagement est très fonctionnel et de très bon goût. Mark a eu le talent de rendre cette maison ancienne adaptée à toutes les exigences du 21ème siécle. Wifi, TV grand écran, et équipement moderne en cuisine vous rendent la vie très simple. L'emplacement dans Rabat est idéal, place de parking à proximité et très bons restaurants à quelques minutes à pied. Merci Mark, nous reviendrons avec une immense joie dans ta magnifique résidence.
Arnold
2016-06-29T00:00:00Z
Une bouteille de vin nous attendait dans la cuisine. Nous avons apprécié cette délicate attention . Le logement est conforme à la description. Une belle Terrace avec une jolie vue sur la ville et la mer au loin. La maison est décorée avec goût , équilibre subtile entre moderne et traditionnel . Le quartier est calme.
PATRICIA
2016-05-01T00:00:00Z
Marc, notre hôte, s'est occupé de nous d'une manière exemplaire. Non seulement il nous à montré les endroits à visiter ou faire les achats, il nous a même amenés à l'Aéroport à 06:30 le matin! Nous avons trouvé l'appartement/maison comme décrit et présenté sur internet. L'endroit est calme et très bien situé. Mdina, la station de bus ou les magasins sont à quelques minutes à pied.
Hans-Peter
2016-05-18T00:00:00Z
Mark nous a lui-même accueilli pour nous faire visiter son superbe loft, particulièrement bien rénové et modernisé, dans le strict respect de l'architecture locale. Rabat est une ville calme ; l'appartement se situe dans une ruelle ombragée, à proximité des commerces et de la place centrale, non loin de la vieille ville de Mdina. Une bouteille de vin italien nous attendait au frais !
Charlotte
2016-07-29T00:00:00Z
C'est un très bel endroit authentique et décoré avec beaucoup d'élégance. Mieux encore que sur les photos. De plus, Rabat est l'endroit idéal pour rayonner partout dans l'île. Mark est un hôte charmant, disponible et prévenant. Très agréable séjour. Thérèse et Stéphane.
stephane
2017-02-13T00:00:00Z
Très bel appartement bien décoré et très belle vue ☺ mark est un hôte fantastique qui sait recevoir et nous a aidé des que nous avons eu besoin lors de notre retour ☺
Candice
2016-08-08T00:00:00Z
Super séjour chez Mark, il nous a gâté par son accueil chaleureux! Le logement est somptueux et très bien situé. Je vous le recommande vivement!
Isabelle
2016-11-14T00:00:00Z
Le séjour fut très agréable, le logement de Mark est entièrement rénové, propre et agréable. Les deux terrasses sont un plus non négligeable, surtout pour le petit déjeuner. Mark nous a communiqué un plan pour trouver le logement plus facilement, une attention bien agréable. Je recommande sans problème
Joffrey
2016-06-10T00:00:00Z
Type de logement
Logement entier
---
Type de propriété
Maison
---
Capacité d'accueil
2
---
Chambres
Rabat, Malta, Malte
My place is close to the old city of Mdina, the town of Rabat which is full of historical sites and the breathtaking cliffs in Dingli. You'll love my place because of its quiet location and because of its size and décor. My place is good for couples, solo adventurers, and families (with kids).
The maisonette, which has a separate entrance, is equipped with a brand new, spacious open plan kitchen with living room. It has a larger than usual shower with toilet and sink. There are also 3 spacious bedrooms - 2 have double beds and one has a single bed. The bedrooms are air conditioned to the highest standards. In one of the bedrooms there is a space where you can keep luggage tucked away neatly. This property also has a washroom with washing machine and in summer guests can enjoy our outdoor space - a BBQ area is included in this property - which makes this property a truly special one!
The area is a quiet, residential area. A bus system runs throughout the day and the bus stop is very close to our residence. However, if you have a car it will be much easier as parking is really not a problem.
Maison dans un quartier très calme et bien située pour une visite de l'île en voiture. Les propriétaires sont charmants et les photos sont conformes à la réalité.
Oddoux
2016-12-26T00:00:00Z
Really a huge flat, where everything we expected was found. Wifi connection is perfect. The area is great for exploring the island by car. a busstop is not far away too. We loved staying in this quite area of Rabat where you are part of every days life in Malta. A convinience shop which is open 7days from 9-21h is only 3 corners away. We enjoyed being with Helen who is a wonderful host and will do everything for making your holiday as relaxed and unique as possible.
Cornelius
2017-02-20T00:00:00Z
Rustig gelegen appartement aan de rand van Ir-Rabat op voetafstand van het centrum en de Mdina. Er zijn eveneens bushaltes kortbij. Ruim appartement met voldoende opbergruimte indien je langere tijd verblijft. Spijtig dat er overal wifi is behalve in de woonkamer. Het meubilair in de slaapkamers is wat gedateerd maar verzorgd. De keuken is behoorlijk ingericht en samen met de woonkamer zéér ruim. De badkamer is basic. Wij deden véél met het voortreffelijke openbaar vervoer en huurden ook een aantal dagen een wagen. Een ideale plaats om van daar het eiland te verkennen en Malta te leren kennen.
Luc
2017-01-29T00:00:00Z
Our stay in Helen's place is excellent. We practically had the whole place to ourselves. Good place for families or groups of 5 since it has three rooms and two rooms has a double bed. Location wise, it's strategic since it's between two towns - Mdina and Rabat. So if you're the type who likes to walk and stroll in the town to get to the places, then it's perfect for you. Otherwise, might as well book on a more central location. The apartment itself is very homey, so it's perfect for families, especially if weather isn't good and you have to chill inside. Helen and her family are very warm and accommodating people, always there to help us out, even offer us a ride to some places. Definitely recommended :)
Joseph
2016-12-16T00:00:00Z
A very spacious, comfortable and well fitted flat that would be great to spend even a long holiday in.
William
2017-04-02T00:00:00Z
Helen was on hand to welcome us and could not have done more to help, both on our arrival and throughout our stay. The apartment occupies the whole of the first floor and is huge and very well equipped including a washing machine. In short, everything we could have wished for and more. The apartment is situated in a quiet part of Rabat whilst at the same time being very close to the town centre and also to Mdina with easy access to all parts of the island. Excellent value for money. We would strongly recommend this apartment and it would definitely be our first choice next time we are planning a trip to Malta.
linda
2017-01-05T00:00:00Z
Type de logement
Logement entier
---
Type de propriété
Appartement
---
Capacité d'accueil
5
---
Chambres
Ir-Rabat, Malte
Property is close to countryside. Also historic places are within walking distance, such as, Mdina, Roman Villa, St. Paul's Catacombs, Sunday Market , and close to bus stop.
Would like to come back!
Inese
2017-03-27T00:00:00Z
Type de logement
Chambre privée
---
Type de propriété
Maison
---
Capacité d'accueil
2
---
Chambres
Ir-Rabat, Malte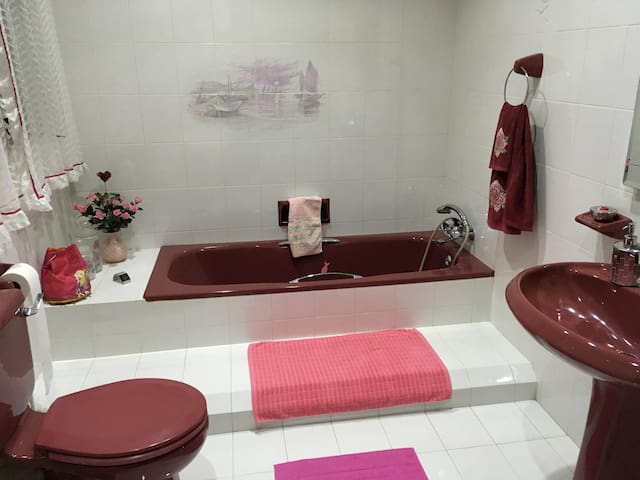 My place is close to the city center and restaurants and dining. (10 - 15 minutes walk) You'll love my place because of the ambiance, the outdoor space, and the sunlight. My place is good for couples, solo adventurers, and business travelers.
Your room is sunny and airy. There is plenty of parking if you have a car.
There is a farm across the road so you may hear some animal sounds. Also, the street traffic can be busy at times and can be heard in the apartment. There is a small grocer just under the apartment and a pharmacy a few doors away. There are other small shops in the area.
Hôte accueillant et sympatique!!
Mailys
2016-10-27T00:00:00Z
Andrew was erg vriendelijk en communicatie verliep goed. Het appartement was gezellig ingericht en we hadden gezelschap van twee andere aribnb'rs, erg gezellig. Samengevat was het een aangenaam en prettig verblijf.
Freek
2016-10-24T00:00:00Z
Comfortable room in a great location (10 mins from the centre of Rabat, and 15 from Mdina), with its own sunset beer deck (a small veranda!), plus a corner shop right underneath the apartment. And what a great guy – really friendly and very laid back. People new to Airbnb might feel awkward about staying in someone else's home but, clichéd though it sounds, Andrew really does make you feel right at home, and nothing is too much trouble – he arranged pick-ups from and to the airport in the early hours and even did some washing for me! I also met some of his friends and joined him and his cousin for superb dinner at a great restaurant that only the local people know.
Paul
2016-10-12T00:00:00Z
Andrew is very nice and helpful guy. So he was a perfect host. Generally I can say that it was a good value for money the accommodation. The location is good and no problem with parking. I could recommend without any problem his place.
Gergely
2016-10-17T00:00:00Z
Location is very good, walking distance to Rabat centre and Mdina. Close to public transport, several bus stops around the corner. This was a hiking trip for me, and the location is excellent for that, you can walk right out the door and you are on your way to Golden Bay, Mgarr temples, the Dingli cliffs, Buskett gardens or the Blue Grotto. Andrew is a very kind and hospitable host! Tip: If you are going to the airport, take bus 201, departing hourly, it will take you along the Dingly cliffs and through the country side, rather than the suburbs of Valletta. Travel time about an hour.
Lene
2017-03-22T00:00:00Z
Mr Andrew is a very amazing and wonderful host of all mamma mia he is very patient and open minded human..the room is perfect and cool.we enjoyed our stay with Mr Andrew..we are even plan for another stay next month or
Sadiq
2016-09-30T00:00:00Z
Andrew is a wonderful host! We had no problems with communication. He arranged us a free ride from the airport, so we had no problems finding the place. But when you go to the centre of Rabat (or somewhere else), make sure you remember the roads, so you can find the way back later (otherwise you can easily get lost). He also answered to all the questions we had and drove us to the sandy beach the first day when we were not familiar with the public transport yet (which is by the way a bit confussing; you need some time and the map of the routes to get used to it). The apartment was very nice nice and clean. The kitchen was fully functional. We were also kindly allowed to use the washing machine. There is a store in the same building and also some other small stores in the neighbourhood. I would recommend staying with Andrew to everyone. Thanks for hosting us!
Marjeta
2016-09-28T00:00:00Z
Type de logement
Chambre privée
---
Type de propriété
Appartement
---
Capacité d'accueil
2
---
Chambres
Rabat, Malte

Newly refurbished modern apartment near Mdina. 2 double bedrooms both with en suite, equipped kitchen, sofa bed & terrace. Located in the centre of the lovely historic village of Rabat just a 5 minute walk from Mdina, a medieval walled city full of history and character.
Two spacious double bedrooms on two separate floors are found in this apartment both with their own en suite. All basic necessities like linen, towels and soap are provided on your arrival. Both rooms have a 32 inch flat screen television connected to an android box which streams live TV and a large variety of movies and TV shows on demand. Wi-Fi connection is available giving you the ability to connect phones, tablets, laptops or any other electronic device. Each room has a small balcony overlooking the street below, which is convenient for smokers. A cot can be catered for on request. The third and top floor is a glass room with lovely views of Rabat and its surroundings. It is equipped with a sofa bed which can sleep up to two persons and a kitchen with all the necessities you would need during your stay including burners, portable oven, microwave, kettle, toaster, small fridge/freezer and kitchen accessories. A lovely terrace is accessible from this floor which is great to sit in the evenings for a lovely relaxing time. A coin operated air conditioning system is installed on all three floors.
Medina Lodge is located in the centre of Rabat, a village very well known for its history and culture. It is surrounded by many shops including traditional bread bakers, supermarkets, restaurants, cafe's, and the famous pastizzi shops. A market is set up every Sunday in the street below giving you a truly Maltese experience. The bank, hop on hop off buses and the bus interchange are just a five minute walk up the road. Mdina which is a very popular tourist site is just a five minute walk from the apartment. The history of Mdina traces more that 4000 years. Mdina has had different names and titles depending on its rulers and its role but its medieval name describe it best 'Citta Notabile': the noble city. It is one of Europe's finest examples of an ancient walled city and extraordinary in its mix of medieval and baroque architecture. Many historical sites are found in the area of Rabat and Mdina including: Mdina Cathedral Wignacourt Museum St. Paul's Cathedral and Museum Mdina Dungeons Knights of Malta Mdina Glass Palazzo Falzon Historic House Museum Fontanella Tea Gardens Palazzo De Piro Don Mesquita Cafe / Wine Bar and many more...
Super logement conforme aux photos, Pierre est un hôte très accueillant, nous avons passé un super séjour. Je recommande ce logement
Inès
2016-07-26T00:00:00Z
Un super logement propre et spacieux! L'emplacement géographique est idéale pour se balader dans les petites ruelles de Rabat et pour visiter Mdina à pieds. Très bon accueil de la part de Pierre.
Joseph
2016-08-04T00:00:00Z
L'appartement est très propre et récemment aménagé. La cuisine + terrasse avec vue sur les toits de Rabat et Mdina est très agréable. Possibilité de garer la voiture facilement (et gratuitement) dans la rue où se situe l'appartement. La ville fortifiée de Mdina est à 10 mn à peine à pied. Par contre, quelle surprise de découvrir une climatisation PAYANTE (ok, c'était indiqué dans le descriptif !). Nous voyageons beaucoup et c'est bien la première fois que nous voyons ça ! Un peu dommage..... La cuisine "équipée" n'était pas pratique du tout (deux plaques électriques sur un mini four....). Mieux vaut ne pas prévoir de cuisiner !
JEAN-MARC
2016-09-13T00:00:00Z
Denise, la fille de Pierre, nous a accueilli avant l'heure du check-in, nous avons pu laisser nos valises et nous disposions des clés pour revenir quand nous voulions une fois le ménage terminé. La terrasse est très agréable, la cuisine à l'étage aussi, sans doute un peu chaude en (URL HIDDEN) chambre avait tout le confort requis! Nous avons déjeuné au restaurant de Pierre à Mdina, nous y avons passé un très bon moment, Pierre s'est montré très disponible, très agréable et (URL HIDDEN) nous avons partagé une très bonne assiette maltaise! Merci pour cet accueil et la rapidité des réponses de Pierre à nos questions.
Melanie
2016-05-02T00:00:00Z
Très bel endroit, deux chambres confortable, très bien équipées (douches, literie,...) et la cuisine tout en haut du logement nous offre une vue magnifique sur Rabat et ses alentours.... La cuisine est très bien équipée. Pierre et sa fille se sont avérés très gentils, chaleureux et serviables, une belle rencontre....
David
2016-04-30T00:00:00Z
We had a great stay in Rabat. The house was perfectly placed for local grocery stores, a ten minute walk into Mdina (lots of buses to all over the island from there) and lots of parking outside. The rooms and en suite bathrooms were recently decorated and spotlessly clean, the kitchen had everything we needed and there was lots of information about things to do locally. The only downsides might be there are quite a lot of stairs, each room is on a different floor - we liked this as it meant that the kitchen/living space was high up enough to get a lovely breeze through the windows and on the terrace area for eating breakfast, drying washing etc and lovely views! Pierre was incredibly helpful when we had questions and made us feel very welcome. We're already recommending it to friends!
Gwen
2016-07-03T00:00:00Z
we had a very nice stay in rabat. pierre's daughter arranged everything immediately when booked so that we could stay for a couple of days. everything was really clean, the bathroom looked like new, the bedroom is big, there's wifi and tv and there is a kitchen and a terrace you can use as well. it is in the main square of the village 5min walk to the medina. we really recommend it!!
Mariona
2017-03-13T00:00:00Z
We had a very enjoyable stay at the apartment. It is a very good size over 3 levels and is very close to all the Mdina attractions. Pierre was also very helpful with booking cabs for us. I would certainly recommend staying here.
James
2016-08-02T00:00:00Z
Type de logement
Logement entier
---
Type de propriété
Appartement
---
Capacité d'accueil
5
---
Chambres
Rabat, Malta, Malte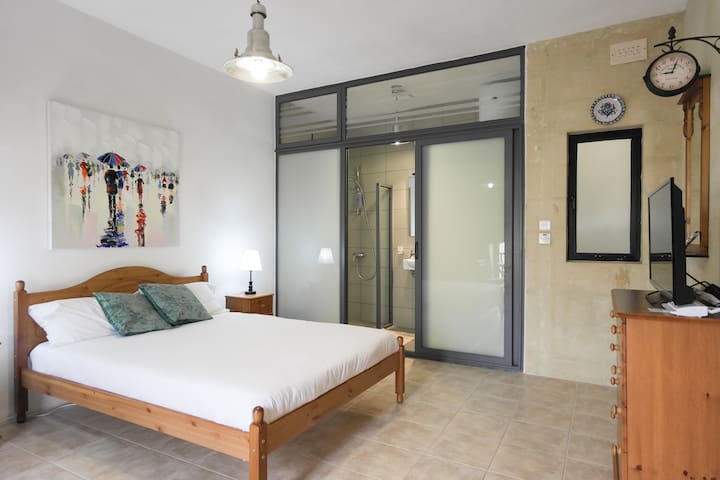 A 3 story terraced house with ample space consisting of a large kitchen/ living, an additional piano lounge room, washroom and large terraces. Rabat is ideal for history lovers! This room is a private twin bedroom on the 2nd floor opposite a large roof terrace.
Dom gościnny jest usytuowany w cichej okolicy Rabatu niedaleko centrum. Okolica jest bardzo bezpieczna i spokojna zarówno w ciągu dnia oraz nocy.
Le logement est très propre et confortable. Bien localisé avec tous les équipements nécessaires. C'est tout de même dommage de n'avoir pas pu rencontrer les propriétaires. Une bouteille de vin nous attendait et ce fut très apprécié! En revanche nous n'avons eu le panier snack/petit-dej que le premier jour.
Benoît
2016-10-20T00:00:00Z
Nous avons eu une chambre spacieuse au dernier étage avec frigo privé, en face d'une petite cuisine équipée d'une cuisinière au gaz à partager avec les autres résidents. La grande terrasse est très agréable pour petit-déjeuner. L'accueil est sympathique et les hôtes généreuses en bons conseils. Un petit panier garni de snacks pour déjeuner attend devant la porte de la chambre; ça fait toujours plaisir. Seul petit bémol: la salle de bain est commune, il y a donc la file pour la douche à certaines heures stratégiques. Des travaux sont prévus pour régler le problème! Je recommande comme point de chute pour découvrir Rabat-Mdina et la région.
Marie-Cecile
2017-03-01T00:00:00Z
Chambre dans Guest House, avec cuisine équipée en libre accès donnant sur terrasse au dernier étage ; sdb-wc commun (seul petit bémol pour l'instant). Très bon endroit même pour un long séjour ! Elles feront des travaux d'amélioration prochainement ce qui sera qu'encore mieux ! Centre-ville à 2 pas, proche toutes commodités (Mdina à 10 min à pieds !!). Je recommande vivement et à bientôt !
Jessica
2017-02-22T00:00:00Z
La maison de Rochelle est magnifique, spacieuse, grande terrasse et lits grand confort. Merci Rochelle
ISABELLE
2016-03-18T00:00:00Z
Sehr ansprechende Unterkunft. Pauline hat uns mit einem pikanten Auflauf gleich bei der Ankunft verwöhnt. Herzlichen Dank!
Siegfried
2016-10-28T00:00:00Z
Fantastic place to stay! Would happily recommend
Matt
2017-03-22T00:00:00Z
The apartment was tidy and clean. Only check-in was a bit troublesome.
Geert
2017-02-11T00:00:00Z
Great communication, setup and hospitality.
J.J.
2016-02-13T00:00:00Z
Type de logement
Chambre privée
---
Type de propriété
Maison
---
Capacité d'accueil
2
---
Chambres
Rabat, Malta, Malte
This new building is situated in the heart of Rabat, just 11 minutes away from the Medieval City of Medina. One can find himself at home, go for a walk in the country side and even visit archaeological sites which are situated nearby the apartment.
This modern spacious apartment hosts 2 to 3 guests, as there is a sofa bed in addition to the double bed. Rabat is situated in the North of Malta, which is easily accessible from the airport through the direct route bus X3. From Rabat, one can effortlessly reach other places throughout the island. In fact, it is just 26 minutes away from Valletta and 15 minutes away from Gnejna Bay which is the nearest bay from Rabat. The prime location is surrounded by natural environment in which one can go for a walk in the countryside. Rabat is filled with attractions like Saint Paul's Grotto, the Catacombs, Domus Romana, Parish Church of St. Paul, Casa Bernarda, Wignacourt Museum and one can even visit the Chadwick Lakes. There is even cafeterias, restaurants and fine dinging restaurants in the same area. A Train tour service is also available near the Roman Villa, in which describes and explains the area better throughout the years. Nearby towns to Rabat are Dingli in which one can visit the Dingli Cliffs in just 7 minutes, Buskett Gardens, Bahrija, Mtarfa and Mgarr which are at a maximum of 12 minute far from Rabat.
It is a quiet area, pretty close to the principal amenities, in fact in less than a 5 minute walk a new supermarket have just opened. A polyclinic and a doctor clinic is also available in the area. There are clothes shops in around 7 minutes away, and a plentiful of hairdressers and beauticians within the area. For those who wish to try something local, a bakery is situated just 6 minutes away, with fresh Maltese bread available throughout the day. We have the 'Tattingers' night club in Rabat as well, in about a 15 minute walk and other night clubs are available like Numero Uno in Ta' Qali and Gianpula which are the nearest to the town. For fine dining, we have a 5 star hotel just 10 minutes away in Mdina. Other restaurants which cater for those who wants to try something locally authentic are also available.
L'appartement est très bien situé à 10mn de l'arrêt de bus central de rabat. J y ai passé deux nuits avec deux amies et nous avons été très bien accueillies par Emmanuel. Il est très disponible, de bon conseil et très généreux avec les voyageurs qu'il accueille. Il nous a fait goûter les fruits de cactus de son jardin. L'appartement est tout neuf et encore en travaux de finitions mais tout est très fonctionnel. Je recommande pour un passage à rabat mdina.
Anne-Sophie
2015-08-17T00:00:00Z
Mariosa est une hôte extrêmement à l'écoute et aux petits soins. La maison est située au centre de la medina. complètement refaite à neuf et disposant au niveau du même espace d'un grand lit (très confortable), d'une petite cuisine et d'une salle de bain. Très propre et très bien entretenue et à quelques minutes de l'arrêt du bus et du centre de la medina. Il y a également toutes sortes de commerce à proximité (supermarché, vendeurs de gourmandises de malte, détaillants, vendeurs de fruits, supermarché). Si vous vous y rendez considérer qu'ils ferment un peu tôt . Il y'a également une machine à laver et un sèche linge moyennant 5 euro.
insaf
2016-08-14T00:00:00Z
Nous avons passé une très belle semaine à Malte! Notre arrivée tardive le samedi soir n'a posé aucun souci et pour notre départ très matinal vers l'aéroport le samedi suivant, Emmanuel nous a réservé un taxi. Sa famille et lui ont été très accueillant et disponible tout au long de notre séjour. La chambre que nous avons occupé ( avec une salle de bain et une cuisine) était neuve donc en excellent état. Quand à la localisation elle est également agréable, à une dizaine de minute de l'arrêt de bus et Rabat est une très jolie ville. Merci à Emmanuel et sa famille pour leur accueil.
Margot
2015-08-15T00:00:00Z
Manuel et Mariosa ont été très accueillants. Nous avons eu un peu de mal à trouver l'appartement mais Mariosa est venue nous chercher pour nous y conduire. L'appartement est très bien situé pour visiter Rabat, Mdina et le sud de l'ile. Séjour très agréable.
Marie
2016-09-05T00:00:00Z
Logement conforme à l'annonce. Bien situé pour profiter de Mdina et Rabat.
Jean-Philippe
2016-04-06T00:00:00Z
Super séjour à Malte. L'appartement correspond bien à la description. Il est tres propre, fonctionnel et bien situé. Merci pour tout !
Coralie
2016-09-10T00:00:00Z
Nous avons passé 3 jours en mai dans cet appartement. Il a été refait à neuf et était agréable et propre. L'appartement est fonctionnel dans le centre de la ville proche des commerces, de la ville fortifiée de mdina et des arrêts de bus. En revanche, nous avons été dérangés par les femmes de ménage qui parlaient fort dans le couloir le matin des 9h, ce qui est désagréable lorsqu'on veut se réveiller plus tard pendant ses congés. Sinon notre séjour sest très bien passé dans cet appartement.
Thierry
2016-05-11T00:00:00Z
Confortable appartement proche du centre ville de Rabat (commerces à 2 pas) et proche de Mdina, possibilité de tout visiter à pieds. Si vous êtes véhiculés, il y a de la place pour se garer. Mariosa a été très disponible. À recommander!
Marion
2016-10-08T00:00:00Z
Type de logement
Logement entier
---
Type de propriété
Appartement
---
Capacité d'accueil
3
---
Chambres
Rabat, Malta, Malte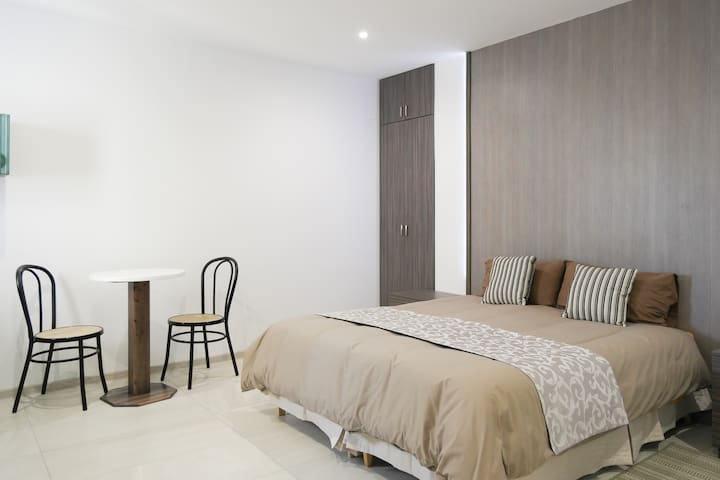 House of Character situated in a historic area just a stone throw away from Mdina. The old capital city of Malta. The house is 300 years old and has been recently converted. Close to all amenities. All you need is just within walking distance. Restaurants, coffee shops, groceries and souvenir shops are just within walking distance. All you need packed in one location. All my review state the location is exceptional.
The house is in a quite alley yet at the centre of all you need to immerse yourself in such a beautiful and historic village.
Rabat is the oldest part of Malta. It has many historic features and the place to be for peace, quiet and a relaxed environment.
Marco a été extrêmement sympathique aussi bien pour l'accueil que pour le départ. La maison est située dans une ville superbe , calme . Elle est spacieuse et très bien équipée. Je recommande vivement.
bertrand
2016-08-30T00:00:00Z
Marco a un vrai sens de l'accueil. Le logement était très agréable.
noura
2016-09-10T00:00:00Z
Bon suivi des notre arrivée Problème de gaz vire rétabli
Seb
2016-07-14T00:00:00Z
marco est venu nous attendre au bus,il nous a accompagner sur les lieux donner des infos pratiques,ainsi que de l'eau au frais nous attendais,et il nous a ramener a l'aéroport .merci.
Jeannine
2016-08-12T00:00:00Z
Marco was extremely helpful and answered all communications promptly. There was a small problem with a sink and it was rectified within an hour of us letting Marco know about it. Marco is a considerate host and even left some bottles of water for our arrival.
Emma
2016-11-09T00:00:00Z
Communication was smooth from the beginning to the end with Marco and later with his wife. The apartmant was exactly as you'd expect based on the photos, a medieval feeling mixed with all modern amenities. We loved to have our breakfasts or late evening wines on the rooftop terrace. Location was ideal, close to historic center, restaurants and 10-20 minutes from beaches by car (it is recommended to have one, if you want to learn more from the island). Price value ratio was excellent! Thanks for hosting us, we would definitely return.
Laszlo & Attila
2016-07-24T00:00:00Z
Marco made us feel very welcome and was very helpful throughout our stay, taking us to the airport at the end. The house is in a brilliant location, 10 mins walk from Mdina and close to restaurants and small shops in Rabat. It is also 5 mins from the bus station. There is lots to do in both and lots of lovely places to eat. The house feels spacious and quiet and is very attractive. It is very well equipped and comfortable and just as described. Being able to sit on the roof terrace is a very nice feature. We loved our week here and would come back.
Sue
2016-09-20T00:00:00Z
Mooi karakteristiek huis in Rabat, centraal gelegen op Malta. Het huis ligt in een rustige buurt en is van alle gemakken voorzien. De verbeterpuntjes heeft de verhuurder toegezegd te verbeteren (vocht/geur). Prima plek om Malta te verkennen
Ingrid
2016-10-19T00:00:00Z
Type de logement
Logement entier
---
Type de propriété
Maison
---
Capacité d'accueil
4
---
Chambres
Rabat, Malte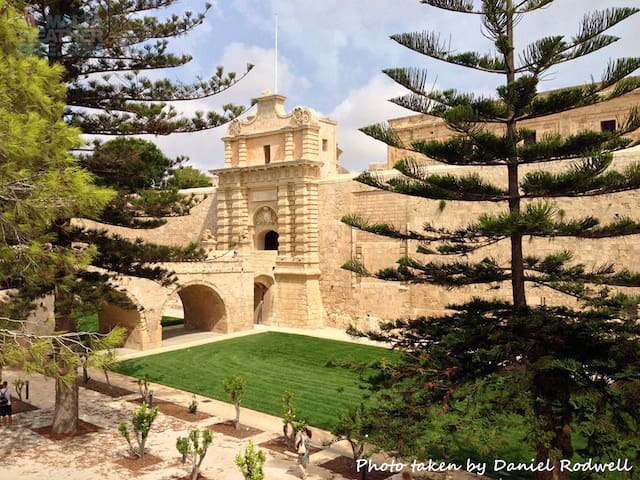 Cet appartement confortable et accueillant une chambre réside dans la vieille ville silencieuse de Malte. Mdina est une ville médiévale fortifiée située sur une colline dans le centre de l'île.
L'appartement est plus de 800 ans à partir du 12ème siècle, il a été rénové dans un style contemporain, mais en gardant les anciennes caractéristiques frappantes. Tels que les hauts plafonds. Il y a un terminal de bus juste à l'extérieur de la ville, la variété de bus peut vous emmener tout autour de l'île. Vous pouvez également prendre un bus direct de l'aéroport, qui vous emmène à l'extérieur de Mdina.
Accueil très chaleureux ,Joséphine c'est mis en 4 pour nous, un grand merci pour toutes les petites attentions, l'appartement très beau et fonctionnel et très bien équipé .on a passé un bon séjour.
Yannick
2016-08-09T00:00:00Z
Josephine nous a acceuilli avec un sourire chaleureux, nous souhaitant la bienvenue à Mdina, Malta. Une hote chaleureuse, elle nous a laisse des biscuits, directions et avis. Son apartment est propre et beau milieu de Mdina, nous ramenant à travers le temps.
Morena
2015-08-22T00:00:00Z
Nous voici rentrés de notre super voyage à Malte ! Quel bonheur d'avoir pu loger au coeur même de la charmante ville de Mdina ! Dès notre arrivée à Mdina, grâce au permis de stationner demandé par Josephine (un plus !), elle est venue nous chercher pour nous conduire à l'appartement, elle avait eu la gentilesse de nous mettre à disposition une bouteille d'eau très utile et tout ce qu'il fallait pour le petit déjeuner. Nous avons aussi adoré le calme de cette ancienne cité aux pierres couleur miel ! Nous recommandons ce logement avec grand plaisir :-) entièrement meublé, rien ne manque ! Merci pour tout Josephine ! Tout été parfait !
Pauline
2016-06-07T00:00:00Z
From booking, Josephine was the perfect host. She kept in regular communication, making sure that everything from our arrival to our departure, and everything in between, went smoothly. She was attentive and friendly without being 'too much'. The apartment is gorgeous, full of quirks and character. Mdina was my favourite place in Malta a few years ago when I visited with my, then boyfriend, now husband. The silent city truly lives up to its name. It is so peaceful, even in the hustle and bustle of the day it's not too distracting. If you want to be away from the crowds, this is the perfect apartment for you. I can't recommend Josephine and her beautiful apartment enough. We are already discussing when we would like to come back to visit as a family of 3 after bump makes an appearance! Thank you Josephine! Xx
Laura
2016-08-01T00:00:00Z
Josephine was a fantastic host. She was already waiting at the citygate, guiding us "home". The appartment was really beautifull and comfortable. Josephine checked every morning if we where alright or need something. She even helped us with the booking for a ridingtour. Thanks for everything !
Anna
2016-10-22T00:00:00Z
Josephine made sure we had everything we needed, and was even helpful to buy groceries as we arrived late, and the shops are closed on sundays. We truly enjoyed living in the apartment, where you can feel the history in the walls, and the location is extraordinary. Mdina is a beautiful city, and fantastic in the evenings, when the tourists leave, and the city really lives up to its name "the silent city". Mdina is a great place to stay for a while to get a authentical feel of Malta's history, and Josephine was a great host. Thank you!
Viktoria
2015-06-24T00:00:00Z
Staying here in Mdina was the highlight of our trip! Being able to stay right in Mdina and in such a romantic place was really magical!! The apartment is so well equipped and full of character! We both hope to return here very soon. Josephine was so wonderful and hospitable and made us feel so at home. Can't wait to get back!
Niamhee
2015-07-09T00:00:00Z
The place is very nice and makes you experiment and enjoy the athmosphere of the citadel of Mdina. Josephine is a very attentive and kind person, she is always ready to answer your needs and questions.
Pascaline
2015-04-26T00:00:00Z
Type de logement
Logement entier
---
Type de propriété
Appartement
---
Capacité d'accueil
3
---
Chambres
Mdina, MDN1121, Malte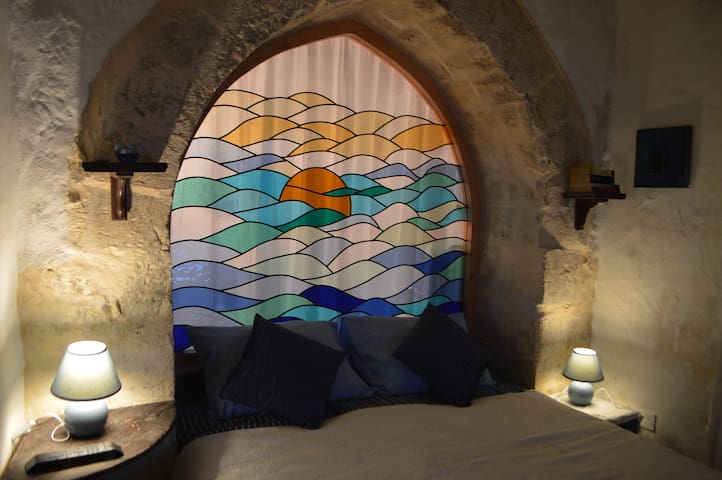 My place is within a short walking distance to the town centre, public transport, grocery stores and so much more. You'll love my place because of the high ceilings, the antique floor tiles, the quiet location, the community and the ambiance. My place is good for couples, solo adventurers, weary business travellers, and families (with a small kid).
This spacious renovated post-war ground floor maisonette with original hand made floor tiles, situated in a quiet area of Rabat, has all the home comforts that you have in your own home. At the back of the maisonette, leading off from the main bedroom, there is a small courtyard with garden table and chairs if you want to sit out under the stars at night or sun yourself during the day. It's completely private and secure.
The local people are very kind and friendly. Rabat has such a close community and everybody helps each other. People are always willing to help a lost tourist/traveller. Rabat is next to the Silent City of Mdina, a great attraction to tourists from which you can see magnificent views of the island. The other nearby attractions are Buskett Gardens and Dingli cliffs. In Rabat itself there is the famous Roman Villa, St Paul's Catacombs, St Agatha's Catacombs and underground labyrinth of war shelters, plus a variety of restaurants and bistros to dine in.
Amanda is a great host. She pick us at the airport and left some food and fresh bread for the breakfast. She was avalaible and kind. The maisonette is good located to visit the island and walk distance to the Mdina! We hardly recommand her.
Julie & Arthur
2017-03-29T00:00:00Z
Type de logement
Logement entier
---
Type de propriété
Appartement
---
Capacité d'accueil
3
---
Chambres
Ir-Rabat, Malte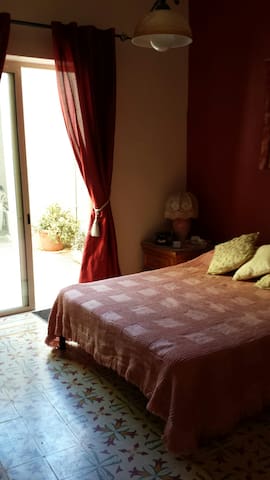 1

–

18

sur

300+ locations
Saisissez les dates souhaitées pour connaître le prix total. Des frais supplémentaires s'appliquent et des taxes peuvent être ajoutées.