Mind-blowing location, super-quirky set-up: an old wooden boat (possibly a Dunkirk 'Little Ship') stationed on land for the foreseeable future with a unsurpassed view of the Dyfi estuary. You'll love it.
Starting at the stern: the galley with gas rings, kettle, sink, all that kind of thing. Then the main saloon with woodburner, dining table, sofa, record player, all my books. A set of steps leads to the wheel house mezzanine with its unsurpassed view. There is a bathroom (with no bath) - just a sink with fresh water. Then finally at the bow is the bedroom. Outside is a 'conservatory' (more a 'lean-to') - the best place to sit outside sheltered from the elements, still with the view. At the other end is the compost loo and shower. There is also an pergola with swing seats and oak table, and a great bbq set-up.
Nick is sometimes around. And Geoff. Good people.
Well what an experience! Have stayed in many random and quirky places but nothing quite like this! It was brilliant get away from start to finish, Such a warm welcome from a roaring log fire and a bottle of red! ..The comfy bed, the views and setting were just outstanding!
Kat
2016-05-01T00:00:00Z
We had a lovely night on the boat, it really was a new experience for both of us and for anyone looking for a cosy, relaxing, 'get-way' weekend, this is your place! Giles was very friendly and my partner very much enjoyed the Hereford wine - thank you for the kind touch :)
Laura
2016-08-29T00:00:00Z
We had the best time staying in this beautiful boat. The boat itself was an inspiring space to be in, so cosy and full of little nooks to curl up in. The estuary was stunning and Giles kindly lent us a boat to go for a paddle around the place. We felt truly relaxed during our stay and never wanted to leave!
Jess
2016-09-15T00:00:00Z
Sadly we did not meet Captain Giles, as he was away to London Town (selling vials of mermaid promises we suspect). We have determined he's a lovely friendly, thoughtful, kind, genuine chappy. And probably a pirate - but not a rascally one. From the cheerful emails to the bottle of red and copy of a farmers weekly alongside (lovely touch!), to the stunning location and wonderful pal Nick - who kindly waited to show us around Boat after a long journey and late arrival. The whole experience was a delight. Our 3 night stay felt longer due to the peace and serenity (plus possibly a lack of demanding livestock) and we realised that the real joy of Boat, is to just sit and love her in between scheduled events. You don't simply use Boat as a base. Boat is your holiday, the rest - the actual reason for staying in the locality - becomes somehow weirdly peripheral. (Though the sheep dog trials were excellent - well done Wales!) Top tips: 1) Eat at Sea Breeze in Aberdovey. 5* Book in advance though! 2) Sit and read in the upper mezzanine at the end of your day. Turn on the fairy lights and watch the sun set. The beauty of it will make your scalp blush. 3)Take plenty of champagne. She lends herself to it, especially drinking the fluffy stuff out of jam jars. (It will also aid with the scalp blush thing.) 4) Light the woodburner and play King Creosote & Jon Hopkins 'Diamond King' on the turn table (whilst drinking champagne out of a jam jar). Your scalp may combust at this point. So to stay or not to stay? Heck! Don't think twice! That is unless your bag is a 5* click your fingers for room service kinda package; there is a fabulous outdoor shower and compost loo in place of the traditional 'bathroom', ingeniously screened by a colourful sail. Boat is a perfect package for those who love nature, and skilled ingenuity; the whole boat yard has a wonderful feeling of ephemeral transience, as if one freak esturial swell could remove it all. It adds to the charm. Just one word of warning - a clickety clack train track bypasses the boat yard with an advantageous view of the estuary. Thus beware of standing on the sand, soaking in the glorious views in little more than a pair of yellow wellies at sparrow o clock. Thank you Giles so much for sharing your home. She is an absolute delight, you gave us an experience we'll never forget. Magical. =D
Fleur
2016-09-12T00:00:00Z
I had a lovely stay on Giles' boat as it took me back to my youth a little bit - with an emphasis on reading books and listening to records, rather than watching telly and working on computers. This was a really great place to bring a dog to, as she loved the outdoors lifestyle and the close proximity of water.
michelle
2016-08-28T00:00:00Z
A totally amazing place to stay, the views are incredible, the boat charming and you will not find a nicer place to stay. Giles was a great host and we loved our weekend away.
Victoria
2016-07-18T00:00:00Z
Our stay here was gorgeous. Loved the location, the boat was a joy....the glampiest of all glamping places with every home comfort...beautiful log burner, great record collection, and wonderful views...we loved it. Thank you x
Jason
2016-05-30T00:00:00Z
It's hard to put into words just how incredible this place is. Giles's boat isn't just a place to stay - it's a way of life! Inside you can lounge among his books, records, photos, nautical knick knacks and hand-crafted furniture, while outside you've got the Dyfi estuary rising and falling with the tide. If it's raining just stick a record on, climb up to wheelhouse and watch the weather rolling in from the sea. At night, go to bed dry and snug from the wood burner and listen to the sounds of the outdoors, whether thats the rain, wind or the creak of a yacht mast. Of course, you've got the whole of Snowdonia on your doorstep too, but you might find it difficult to leave! The boat is kitted out with everything you need, including a hot shower (outdoors but very private), a well-equipped kitchen and a small fridge. But it's all the personal touches rather than the necessities that will seduce you about this place! Giles was the perfect host - he stays close by and showed me where I could find him if I needed anything but he also gave me the space to enjoy the solitude. He loves sharing his home and seeing other people enjoy it, and trust me - you will!
Rachel
2016-08-23T00:00:00Z
Type de logement
Logement entier
---
Type de propriété
Bateau
---
Capacité d'accueil
2
---
Chambres
Gwynedd, Royaume-Uni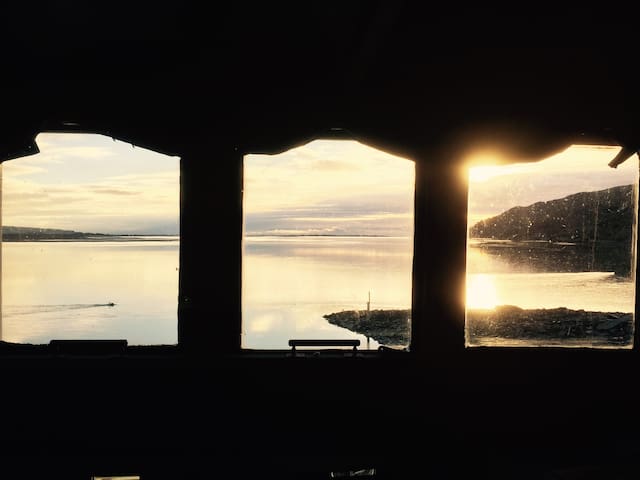 Beautiful vintage safari carvan sleeps 2 with upside boatshed ( shed of the year winner 2013) used as a basic kitchen chill out space overlooking the Cambrian mountains. Due to the fact we are surrouded by sheep no dogs are allowed.
Safari Caravan sleeps two Boatel sleeps two Award winning shed of the year Upside boatshed to be used as a kitchen /chill out space. Guests share the boat roofed shed with other guests and residents and no one has exclusivity on this structure.
We are on top of a hill that overlooks the cambrian mountains . very stunning views.
The hosts were very friendly and keen to make sure we felt welcome. The location is stunning and the views are spectacular (even at night, we'd never seen so many stars and even saw a shooting star!) The listing it true, the dogs really DO want to play frisbee and it was so lovely to have animal companions for the weekend.
Sarah
2015-09-21T00:00:00Z
Thank you Sarah and Alex for a wonderful experience of Wales, we had such a memorable time and the caravan will go down as one of the quirkiest and unique places to stay ever! Alex was great company on Saturday night and we can't wait to come back. The location was amazing and it was a real bonus to have 3 dogs to play with the whole weekend! Will be back to try the Boatel next time.
Lauren
2016-07-24T00:00:00Z
Unfortunately we didn't get to meet Sarah as we arrived quite late, but she sent us easy to follow directions and left the place accessible for us. The caravan was perfect, we also had access to the boat-shed slightly up the hill which had everything we need. The views were absolutely phenomenal, could've sat there for a week and (EMAIL HIDDEN)es highly recommended.
Joe
2016-07-09T00:00:00Z
From Sarahs description of how to get there we found this gem of a spot without any trouble at all. Sarah, family, and friends were all having a summer evening together and as we got out the car to be greeted we were met with genuine warmth and made to feel like friends coming to visit too. The spectacular view across to Cadaer Idris, especially as the sun was setting behind it, was an absolute winner. As was the lilting conversation we all had as the night drew in and the wood burner in the boatshed glowed red hot keeping us cosy warm. The facilties are everything one could need for a good night's sleep, to cook with ease, and to have a decent wash. But don't expect luxury. The description of the solar shower doesn't do it justice. It's not one of the bags you hang on the side of a caravan that barely gets warm. It's a full on proper shower enclosed in a little porch of its own round the back of the house, with a thumping great thermal store heated by an solar thermal array on the roof. We loved sitting on the grass reading in the sun, we liked playing with the dogs all evening... And morning. And we couldn't even get angry when Rex cheekily stole our croissant supply. Cefn Gwyllt Coch has lots of quirky features, (we had our breakfast in our tree house!) and the hosts Alex and Sarah are salt of the earth. We'd happily spend more time there. Xx Alex and Katy xx
Alex
2015-08-08T00:00:00Z
We had a lovely warm welcome. The view across the hills to Cadair Idris in the morning was rather wonderful.
richard
2016-11-05T00:00:00Z
If you always live whole your life in the city and if you want to have a direct holiday-feeling , than this is a good opportunity. It 's totally not only the caravan or boat where you sleep but also the total environment which is absolutely superb ! The host Sarah give us directly the feeling that we were at home.
niek
2015-08-03T00:00:00Z
This is my favorite Airbnb so far. Sarah and Alex are very warm and gracious hosts. Their animals are friendly and loving...you are in excellent hands here!The views from the camper and shed are truly magnificent, and it's a pleasure to breathe the air up there. It's like camping, but instead of sleeping on the ground with zippered up nylon around you, you are in a super comfy bed with a view of the mountains. The shed is quirky and very comfortable. There is even a sound system in there! We cooked all of our hiking food up there in one night and then packed that with us for day hikes. It was well provisioned and they provided basics. The hot shower in the main house was welcome on a cold evening. We would be thrilled to go back some day. My only regret about this stay was that we spent too much time driving around England and didn't come straight here!
prianka
2016-08-16T00:00:00Z
Amazing stay! We had a few transport issues and didn't arrive till very late at night. Nonetheless Alex made us a cup of tea, and gave us an incredibly warm welcome - as did the dogs! The Caravan itself is cosy, well equipped and has an incredibly comfortable bed. It's in beautiful surroundings and it was lovely to spend time with other staying at the farm in the Boatel area late into Saturday night! Alex and Sarah's caravan is in the most beautiful surroundings - perfect if you want to explore the welsh countryside!
sophie
2016-08-22T00:00:00Z
Type de logement
Logement entier
---
Type de propriété
Bateau
---
Capacité d'accueil
2
---
Chambres
Cemmaes Road, Royaume-Uni
Aberdyfi - Airbnb
:
Moyenne de

5

sur

5

étoiles sur les

66

commentaires des voyageurs
Saisissez les dates souhaitées pour connaître le prix total. Des frais supplémentaires s'appliquent et des taxes peuvent être ajoutées.